Are you searching for the perfect gift for your boating buddy, or do you just want to upgrade your vessel for the next season? Then this article will help you decide which best boat accessories, to get and enjoy.
We will tell you how to improve your experience on the waters, including product reviews, and answer some of your burning questions. It doesn't matter if you own a deck, jet, fishing, or sailboat, these are the accessories every captain needs.
It can be very hard to choose which items are novelties, and which are the goodie must-haves to always keep aboard on your adventure. We are here today to recommend you the best boat accessories on the market!
What Exactly Are Boating Accessories?
Unexpected things happen when out on the water, and this is what boat accessories are trying to help us with. Will it be a storm, wind, empty fuel tank, or leak? There are always some accessories that might help us reach shore easily and safely.
That is the reason we are giving so much thought and time to finding the best quality, lowest price, and longest-lasting accessories on the market for you. We are bringing you the gadgets and gear we use when leaving the dock.
Buying Guide for the Best Boat Accessories
Even for newbies or the experienced skipper, a new accessory can lighten their load and make their chart more enjoyable and easier.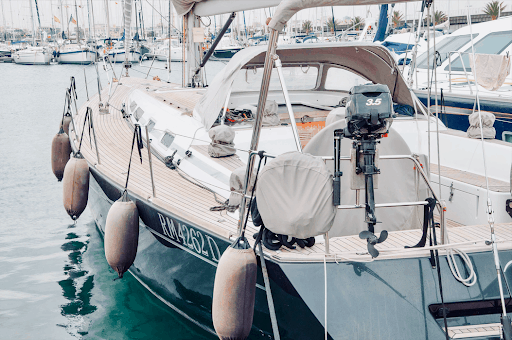 What Types of Accessories Are There? 
A first aid kit and a life vest can't compare when it comes to importance in a sticky situation. So we drew out a list of different accessories that might help you set your goals straight. These might include novelties, must-haves, gadgets, fishing accessories, and gear.
Must-Haves
The must-haves are a set of accessories that are basics on any and every boat. This means, if you set out to sea (or lake), without these items, your health and security might be at risk. Every boating enthusiast knows what these might be, and they range from first aid kits and fire extinguishers to life vests.
Accessories like this aren't just there to fulfill the law. They're here to make sure everyone on board is safe and sound, in case something unexpected happens. These basics improve your boating time by letting you know that you are secure, even if there is a storm or power outage on your boat. Experienced boaters know how unpredictable the waters can be.
Gadgets
To make any navigation easier, every skipper has a GPS. This is one of the most important gadgets for navigation. Items on this list also include lights, compasses, bilge pumps, or anemometers. Any modern boat ride would be unimaginable without these amazing devices that make life easier for boat-owners.
This means if you are looking for the gadget-oriented captain's perfect gift, or if you're looking for a great way to upgrade your voyage, you might consider some gadgets we picked out for you. These items will make your boating experience easier. "Why is that?" you might ask.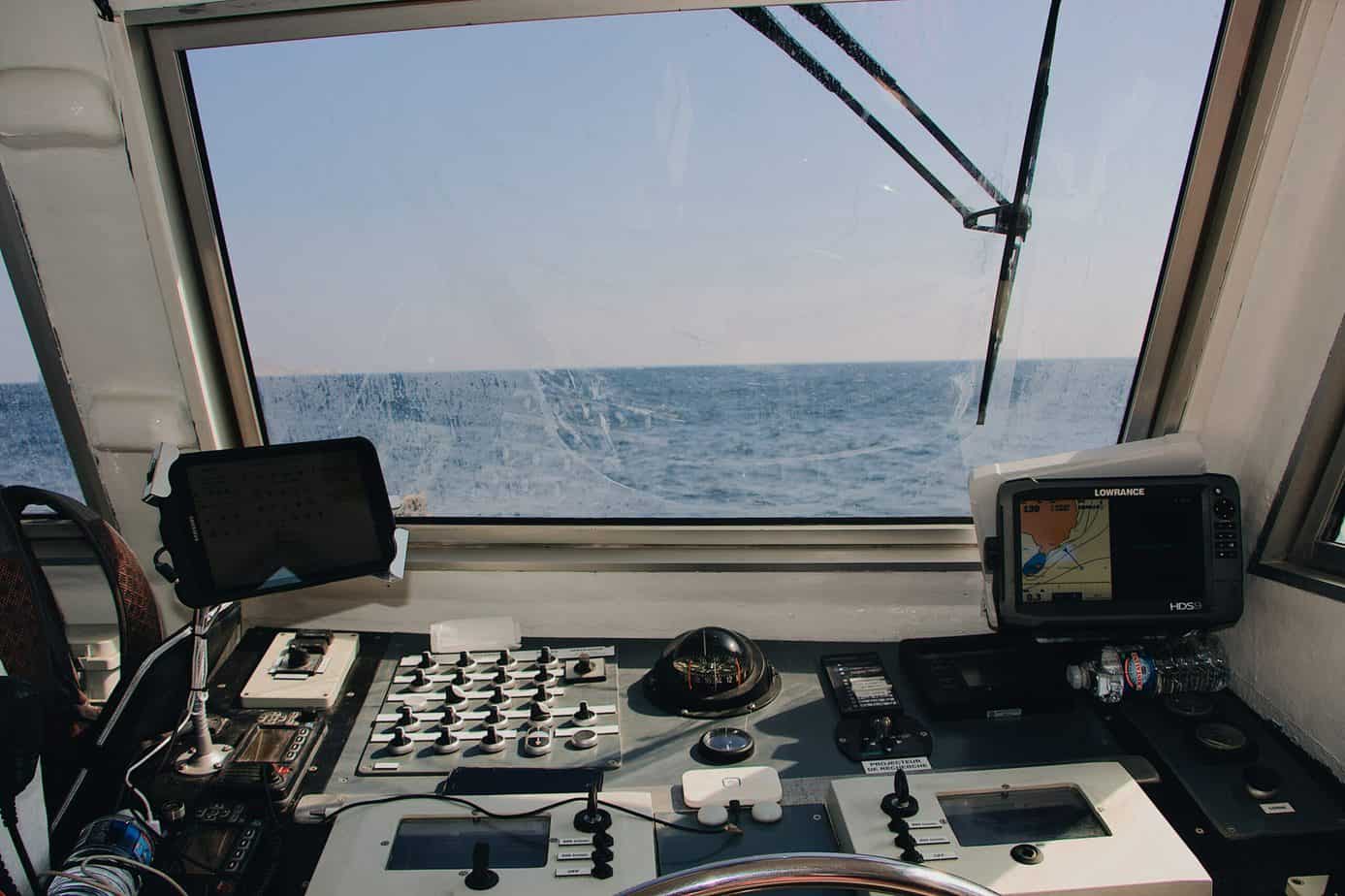 An upgrade in navigation will make your time worthwhile, and pumps or anemometers will also save time and work. No one wants to use a map and compass or bucket to empty their bilge. The accessories we picked out in our gadget section will both save time and manual labor, to offer you more precious moments with your family.
Gear
When talking about boating gear, we think about accessories for the boat owner. There's nothing better than going fully prepared on your next trip, without having to worry about what the waters have in store for you.
If you're expecting some stormy weather, prepare your storm gear and a dry sack. If the weather is going to be sunny, bring your hammock and water carpet. When organizing a fishing trip, prepare your no-cut gloves. Accessories like these are must-haves but are sometimes forgotten. They help boat-owners stay on top of the weather, prepare for some relaxation, and make sure they stay safe and sound.
Fishing Accessories
Every fisher's dream is a boat with which he can sail out to the open seas alone. If you're a boat-owner and angler, this is the best combination there could be. Thus you can combine two of our favorite activities: fishing and boating!
If you are searching for some gear or accessories for your next fishing trip, you might want to consider a fishing kit, cooler, or a fish finder, the most useful gadget of them all. These accessories will make it easier for you to capture your dinner and come home with an unbelievable catch.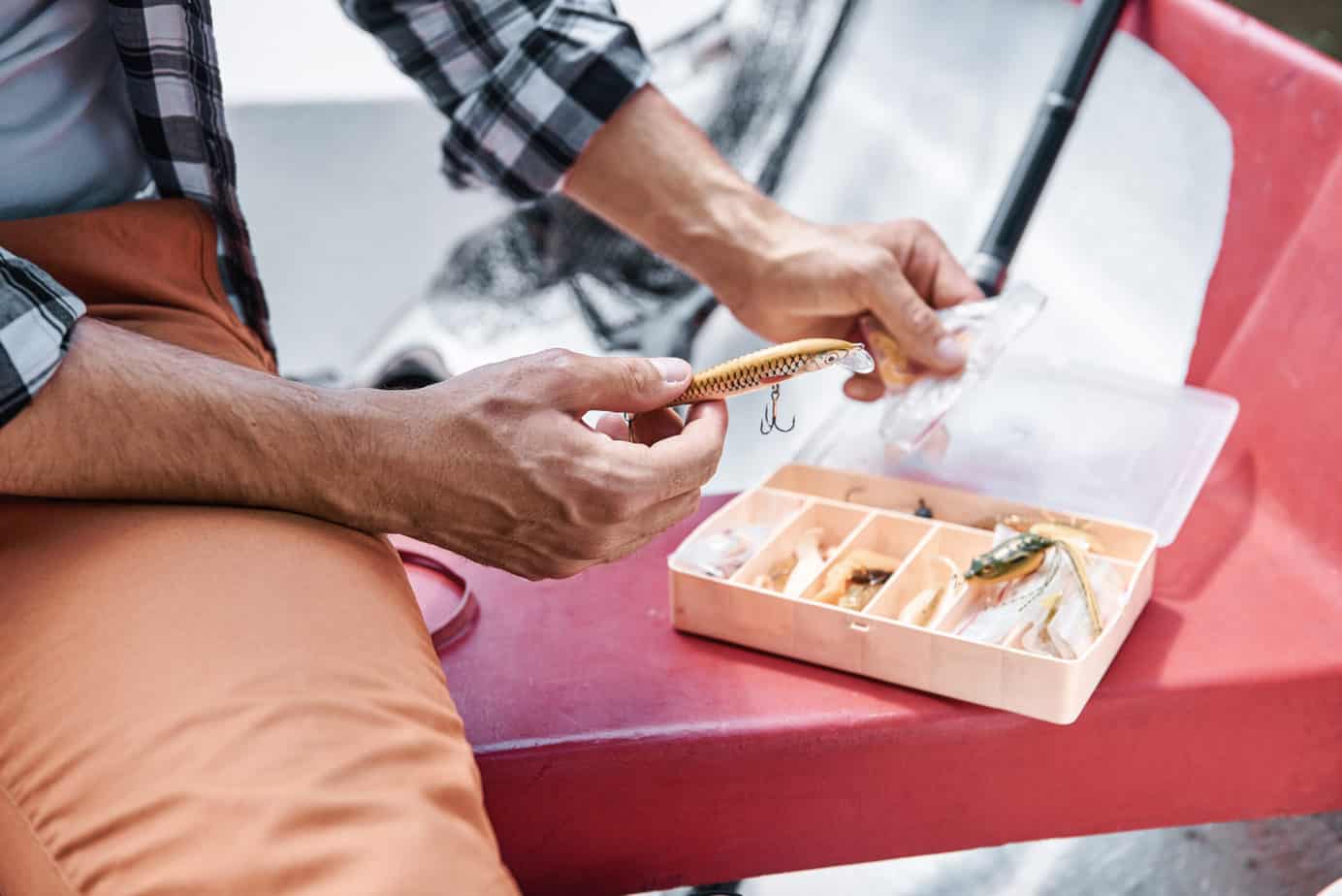 Novelties 
In this section of accessories, we can include eye-catching items that serve no purpose other than making the captain and the boat itself seem polished. These might include things like keychains or decoration of the boat's interior. Novelties aren't a looked-down-upon accessory, because they can serve as thoughtful gifts for your boating buddy or as great conversation starters for guests aboard.
Without an ornament, there is nothing that can set a boat apart, so these gifts can be something that gives a vessel its charm and soul. Novelties can't directly improve your boating experience but can give you lifelong memories of great boating ordeals with wonderful people and offer you memorabilia that lasts a lifetime.
How to Choose the Best Boat Accessories?
After listing all the possible boating accessories to buy, you're probably wondering: "So what should I get first?".
There is no unified answer to this question. We would like you to think about what is your priority when it comes to accessories.
If you are a beginner in boating, you probably just bought your first boat, initially get the essentials. Make sure your boat has life vests, fire extinguishers, lines, anchor and rode, documents, first aid, safety kits, and communication devices. If there is no sign of this basic gear on your boat, make sure you don't leave the dock without it.
If you are preparing for a longer boat trip, you should get an accessory from our gadget or gear section. These will make your boating experience stress-free and open to new possibilities. But, if you or a loved one enjoys fishing, get some of our fishing accessories on board too.
That was our short elaborate on which gear to consider. First, make sure you know which of these categories you or your boating family member or friend falls under. Get them their appropriate gift by checking out our sections.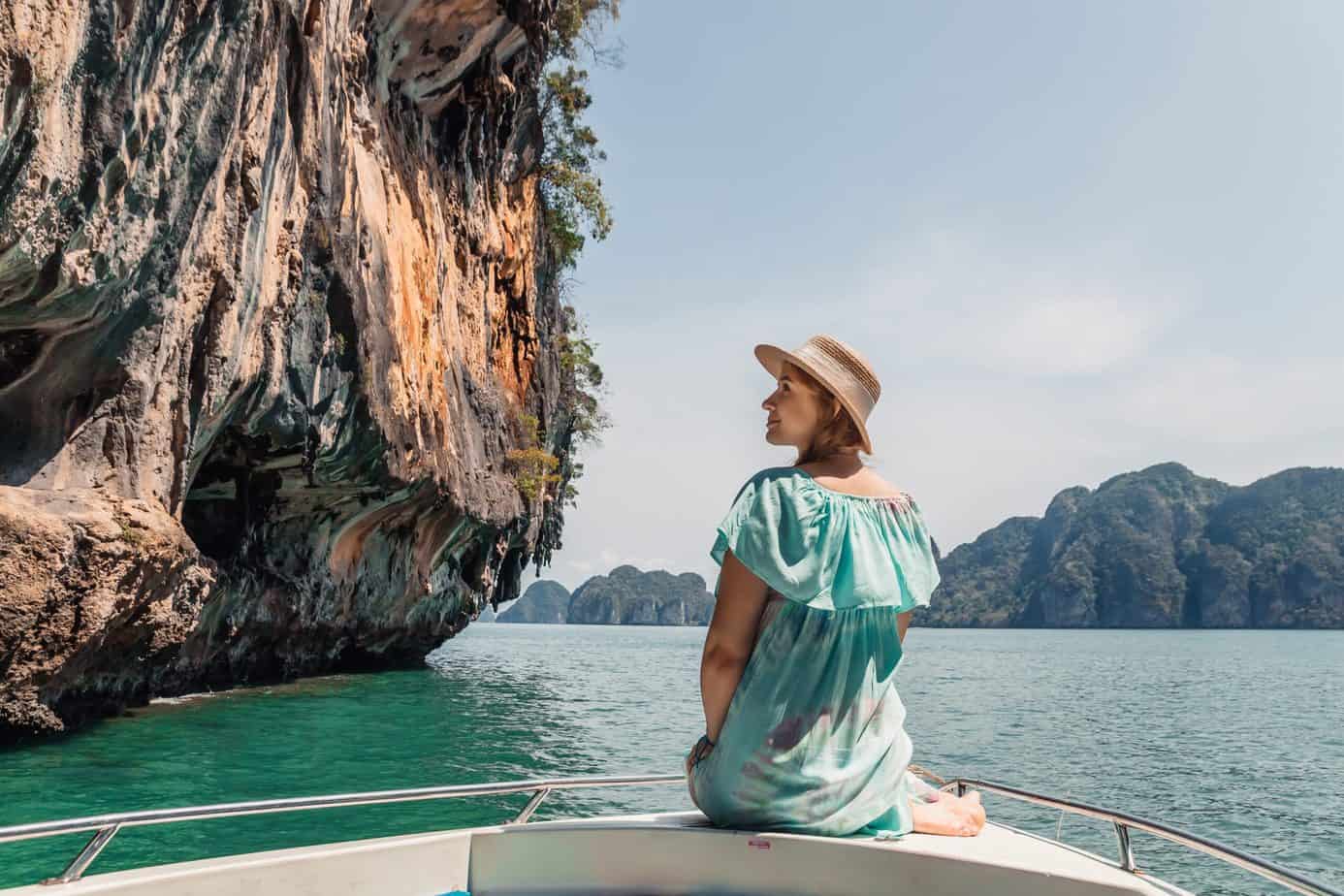 What Are the Best Boating Accessories? 
Most people say that when it comes to boating gifts and gear, the best one is the one you can use every day and the one that has multiple uses. From fishing rods to multi-purpose tools, everything can be a thoughtful present, when you have the boater on your mind. One can be assured, the captain will also think about them when using one of the cool gadgets we picked out.
Let's review what the best boating accessories must possess:
Must be long lasting
Have an acceptable price
Must be the best quality
Should be designed for boating
Water-resistant and wind-proof if applicable
Must-Have Boat Accessories
We have picked out some of the most basic beginner boat accessories every boat needs. Read carefully through it and never leave the dock without them!
What is a boat without a life vest? Unsafe, and that's for sure. By law, every boat needs to have sufficient life vests for all individuals on board. Therefore, we picked the most state-of-the-art O'Neill vests out there.
O'Neill designed these for both sweet and salt waters, and a variety of water sports. There's nothing wrong with using them on your boat as life vests either.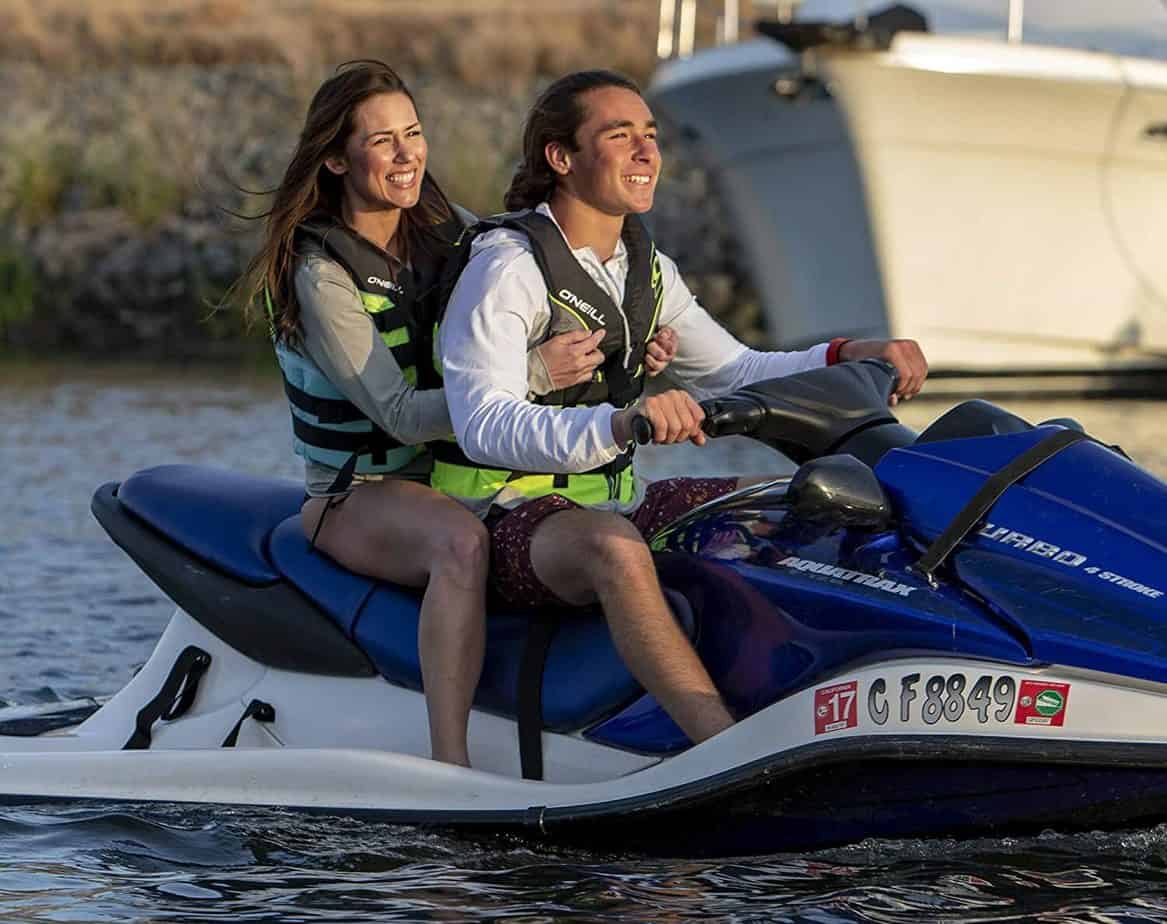 Pros
Made of fast-drying material
Includes 4 belts for maximum security
Anatomically designed and cut
Comfortable fit for anyone
Comes in different colors and sizes
Cons
When buying, one should upsize
Things like foghorn malfunction can happen even to the most experienced boaters. We always need a backup to make sure all security measures are respected. So we picked out a rechargeable air horn, to have in store for such situations.
The Shoreline air horn is easily accessible to anyone and very easy to set up. Just apply the plastic horn with the button on top of the can and you are ready to make some noise.
Pros
Easily rechargeable with new cans of gas
Comes in different sizes
Easy to set up in 3 steps
Can reach up to 120 decibel
In line with the U. S: Coast Guard standards
Cons
Reports of cans leaking
Looses power if opened and unused
Ever had a safety kit specially designed for boating? The developers of this product developed it so that it comes with a water-proof container and holds all the crucial safety components a boat needs. We can use it on any kind of vessel, both big and small.
The kit comes with a first-aid, that has all the accessories, but also an electronic flare that never expires. It holds a multi-tool that will serve as anything: from bottle opener to knife or even screwdriver.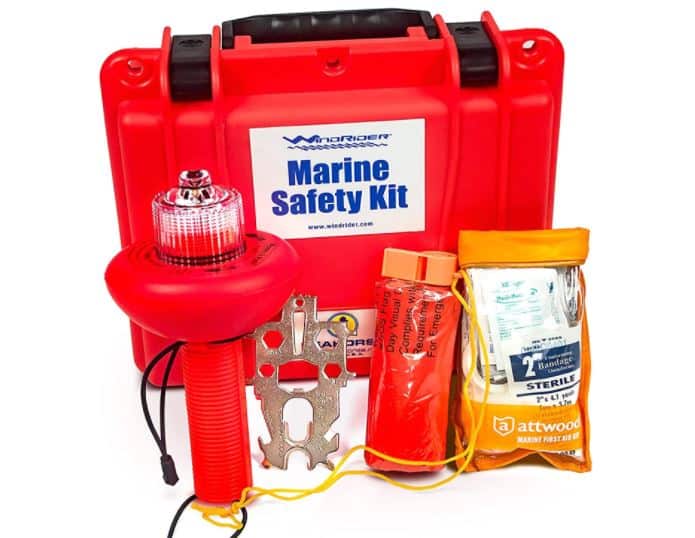 Pros
Comes in a small packaging
Useful for even smaller vessels
Waterproof container included
Multi-tool, first aid kit, electronic flare, and whistle included
Cons
Flare is battery-powered and comes with no batteries
A fish finder and depth finder lately come as a two-in-one gadget, since they both use sonar for data readings. A fish finder isn't on our list for mandatory gear, but a depth finder is definitely a must. People use this gadget to tell just how deep the water underneath the hull is.
It has helped many boaters stay clear of shallow waters so far, and why shouldn't it help you? It will also tell you how deep and whether there are fish under your boat. What a wonderful gadget to take home with you!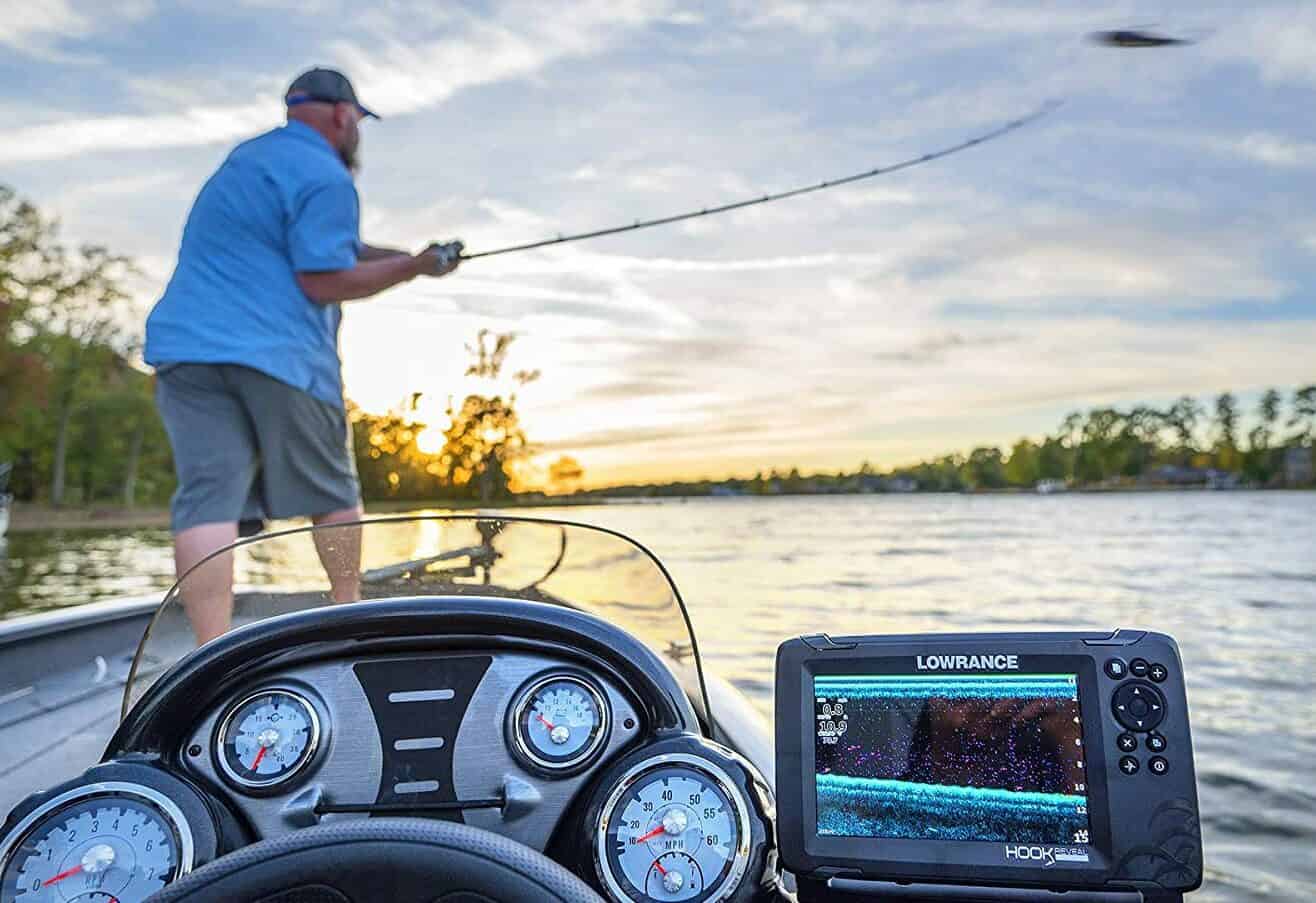 Pros
Tells depth around the hull of the boat
Finds fish with sonar
GPS plotter for navigation
Waterproof
Cons
Some models don't have pre-installed maps
If you are planning on pulling up on beaches to take a few plunges, a ground anchor will come in handy. The Orange Screw is a popular ground anchor many boaters love to use. It comes in different packages and is usable in different terrains, from sand to dirt.
Pros
Lifetime guarantee for no-breaking
Different attachments to the screw
Long and lightweight item
Cons
Might not ˙work in very dry or hard terrains
Not suitable for bigger vessels
Last but not least on our list is boat fenders, which come in different shapes, colors, and sizes. Boat fenders will make sure your boat stays as far away as possible from things that might damage it, like docks or beaches. Most boaters think that there is no such thing as too many fenders and that it's always good to have a few extra on hand.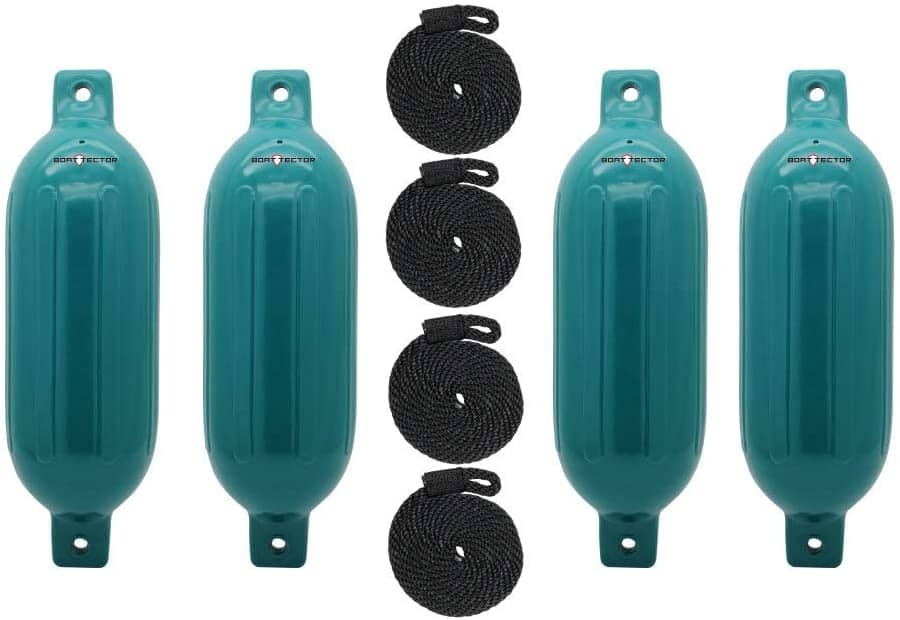 Pros
Comes in different shapes, colors, and sizes
Includes fender lines as well
UV and chemically standardized
Cons
Color fades due to long exposure to sunlight
Gadget and Gear Boat Accessories
Here comes our favorite type of boat accessories, and those are gadgets and gear. If you are looking for a gift designed for an intermediate boat-lover, check out our picks.
If you love to use your boat and live off the grid, consider getting a solar boat battery charger. It can be useful during accidental power outages but also to charge your phone battery to 100%.
This battery charger is waterproof, doesn't just charge batteries but also maintains them, and protects the environment by saving energy. Your boat will appear polished and composed to visitors.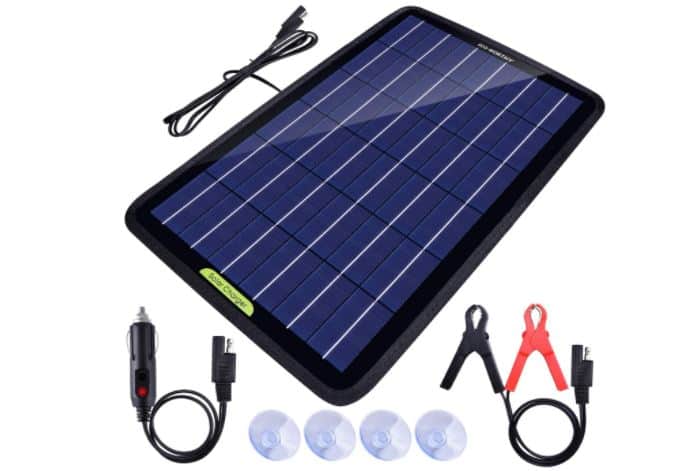 Pros
Solar charger and maintainer for different types of batteries
Comes with a cigarette lighter plugin for phone charging
Works for cars, boats, motorcycles, and RVs
Output up to 12 Volt or 10 Watt
Cons 
Energy output is sometimes lower than 10 Watts
There is no way you can be too safe when it comes to marine navigation. A backup for tracking and navigation is a must in the boating world. Then again, if you are a boat person, this marine GPS would be a true treat for you.
Garmin has so far been a dominant factor in the handheld GPS market, and their first marine-market-oriented item would be the Garmin GPSMAP 78S Marine GPS Navigator and World Wide Chartplotter.
Pros
Designed for maritime navigation
A worldwide base map included
Waterproof GPS
2.6-inch display
Floats on water
Compass and altimeter pre-installed
Works as a chartplotter and a normal GPS navigator
Cons
On the pricey side
Maps are hard to install
No other communication waypoints, other than GPS
If you are bringing someone along that has problems with motion sickness, or somebody unexpectedly getting sick on your boating trip, consider getting an anti-nausea wristband. These come in many shapes and sizes, but the one we picked for you has the fastest and best results.
No need for medicine or holding back from inviting everyone in the family to the boat ride with this wristband. Just apply the gel on your wrist and position the wrist band with different intensities.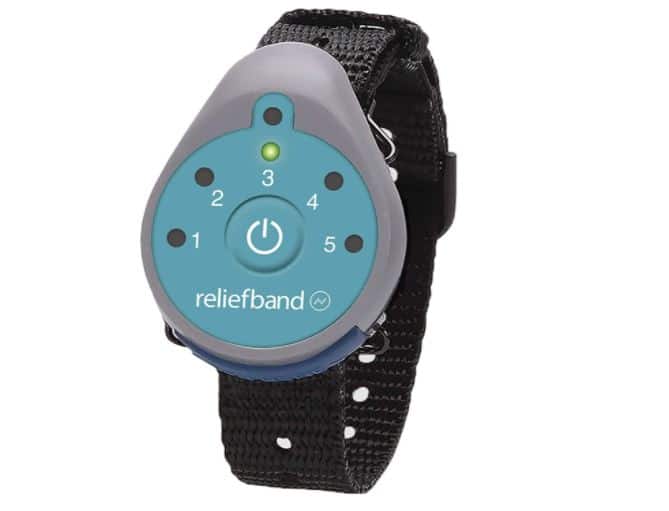 Pros
No medicine needed
Easy to install and position on the wrist
Lightweight item
Adjustable intensities
150 hours work-time
Cons
Some people have had allergic reactions to the gel
Only 85% effective
There is nothing as crucial during a storm as keeping dry and warm. Therefore, we would like to recommend the Navis sailing jacket and pants. The company designed them especially for sailing and boating, and we all know how bad these conditions can get. So we prepared for you the waterproof combination any sailor needs.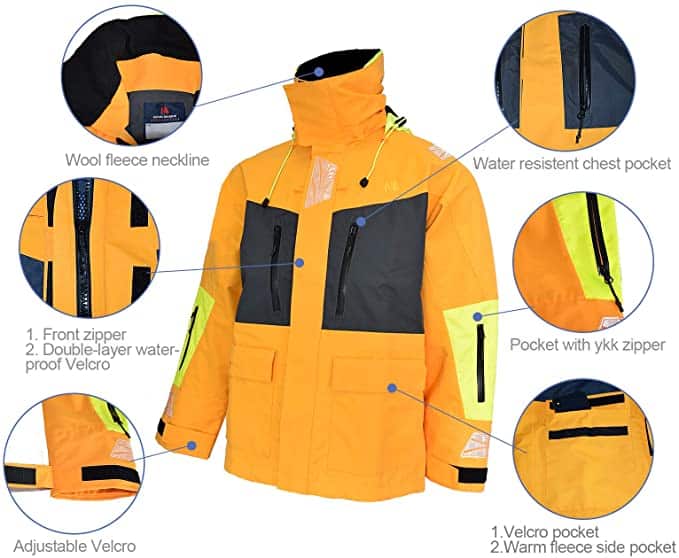 Pros 
Comes in different colors and sizes
Designed for sailing and harsh conditions
Reflective details for easy visibility
Waterproof and windproof
Cons
On the hotter side, when used in hotter climates
Small hood that doesn't give enough protection to the face
If your boat outing or trip will extend throughout the night, you might want to consider lighting. When energy is scarce and you want to save some of it, a rechargeable LED spotlight will do the trick. This spotlight is designed for boating, and with a maximum power of 3000 lumens.
Pros
Impact-resistant case
Waterproof and doesn't sink
Three light modes
Rechargeable batteries
Cons
Battery lasts only 30 minutes on maximum mode
Small spotlight
On the pricy side
Fishing Accessories and Novelties
If you are searching for the perfect gift for a fisherman, then you've come to the right place. We have prepared for you some of our favorite picks when it comes to boat fishing.
If we are dealing with an angling lover, make sure you get their favorite type of set that includes a fish lip gripper, fishing pliers with sheath, and a hook remover with a lanyard. This set has it all, just add a boat and some water. If you ask us, this would be the perfect gift!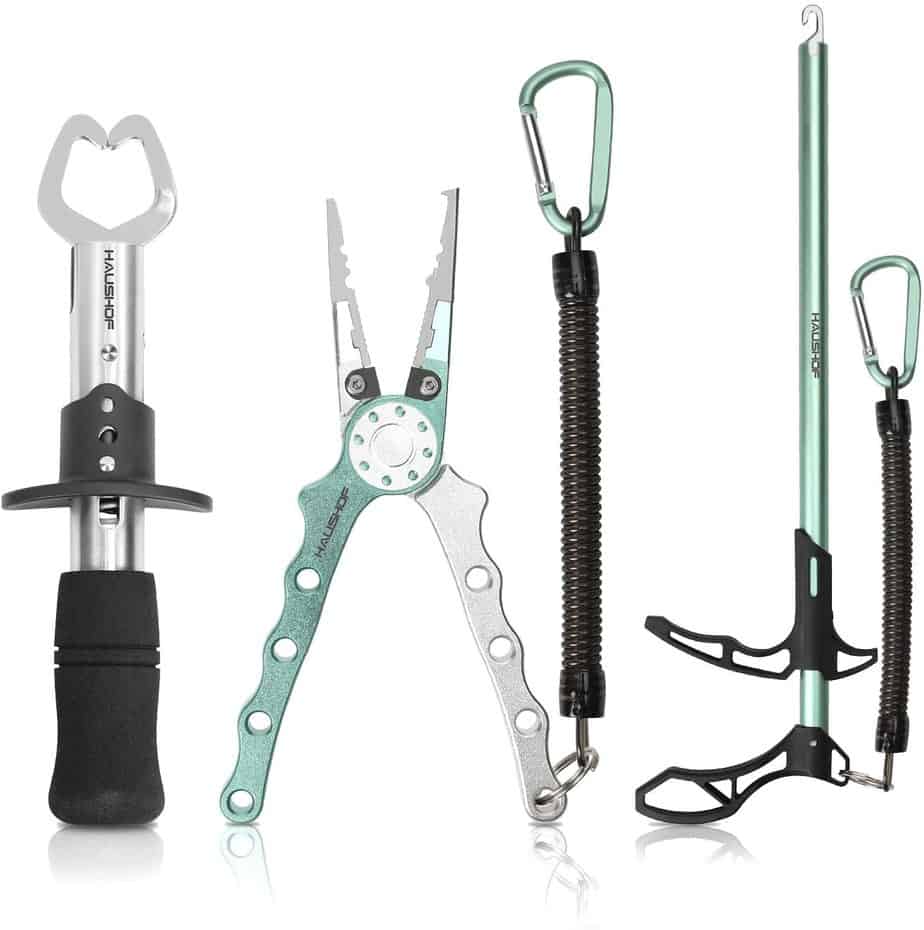 Pros 
Made of aluminum
Designed for one-hand-use
Anti-rust coating applied
Easy to carry with lanyards
Lanyards come with small carabiners for easier attachment
A novelty item that will make anyone laugh is a key chain designed to float. If your boat-lover drops the keys in the water sometimes, this will definitely make them laugh. The key chain can be of use not just as a cool gift, but also as a floatie. This key chain keeps your keys afloat on the water if you drop them!
Pros
Good present for anyone
Cheap and useful novelty item
Colorful design
Cons
Might not work if your keys are too heavy
Safety Tips for Boat Accessories
After going through a very long list of different boat accessories, we have to point out some tips for safety in boating. These might include:
Always use accessories how the manufacturer devised
Always have backup communication, escape route, and energy source
Have a safety and first-aid kit with you at all times
Prepare for your trip and plan to bring accessories accordingly
Check your boat and get boat insurance
List of Top Recommendations
After we have reviewed over a dozen items that fall in the best boat accessories category, we should move over to choosing the best ones. We believe that no boat should ever float without its accessories, as the owner should never go onboard without his or her gear and gadgets.
After a long list of accessories one might take into consideration, we have hand-picked the ones we want to point out.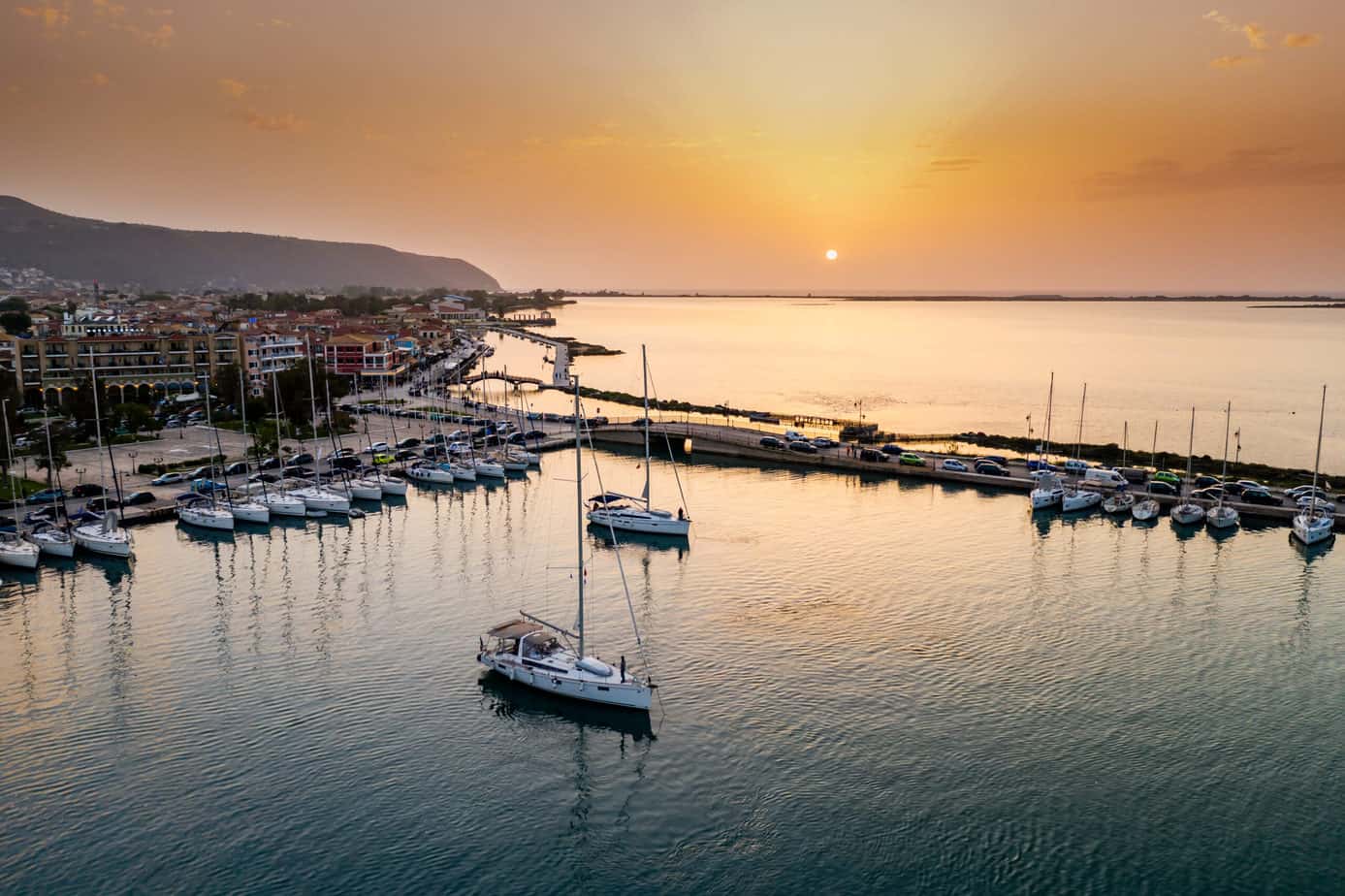 This item is on our must-have list because it serves multiple purposes. The inside is waterproof, includes a beacon that can be used at any time. Yes, a con is that the beacon doesn't come with batteries, but who would go on a boating trip without extra batteries?
Besides the beacon, the box contains a first-aid kit and multi-tool. The best part for us is the portability. All the essentials in one waterproof box! It's available for even the smallest vessels because it's lightweight and uses up minimal space.
Its maritime design and portability are why we put this accessory on our Top Recommendations list!
This is a marine navigation tool. It comes from a renowned manufacturer that has built up a name for itself by staying on top of the business for years.
This gadget will not just tell you your coordinates but act as a navigator, course setter, and compass at the same time. All the features and its maritime design are why we put it on our best Top Recommendations list!
Last but not least, comes our utility pick between the Top Recommendations. This item isn't only there for the cold weather but will offer you protection during storms and winds you might come across on the open waters. Every experienced boater knows how hard it might be to exit the cockpit and go fight the waves and wind.
Therefore our waterproof and windproof pick, specially designed for this type of weather, should help. Make sure you have your sailing jacket and pants ready for your next adventure before setting the sails.
FAQ About the Best Boat Accessories
Question: What does every boat need?
Answer: Every boat needs the must-haves from our list, and these accessories include: safety gear, food and water, lines, documentation, anchor and rode, communication devices, and energy source.
Question: What to get someone who has a boat?
Answer: If you are here for a gift idea, read through our article and choose accordingly. If none of these ideas work for you, you might gift them generalized gifts like anti-spill cups or an ice chest.
Question: What is the best boat for beginners? 
Answer: If you're just starting out with boating, consider starting small. Beginner boats could be bowriders, center consoles, jet, and pontoon boats.
Question: When should I buy my boating accessories?
Answer: There is no right time or place to buy your accessories, the general answer is whenever you need to. But buying before the season or out of season can help you save some cash on sales.
Question: When and how should I buy a boat?
Answer: If you are dreaming of buying a boat, we have thought of the best place and time to get it done. Most people say that the month of December is the best time to buy a boat, and the place should definitely be at boat shows. This is because only special deals are available there, and you might save some money with a special warranty or plan only available at shows.
Question: Where should I buy my boat accessories?
Answer: If you are thinking of buying your boat accessories for your or your family's boat, make sure you read through our article and see what best boat accessories we have in store for you.
Conclusion
Every boat owner wishes to have the best gear and gadgets for their boat. Therefore, we set up a list of our best boat accessory picks available on the market. Through our expertise and know-how in terms of boating, we conducted a list with over ten items to help you prepare for the waters.
For us, the WindRider USCG Boating Safety Kit is our favorite pick. This item stood out the most, and this is what we believe our no.1 pick should be. It is a portable, light, and easy-to-store safety kit that every boat needs.
We hope that after reading our picks and figuring out which ones you need, you won't have to ask yourself again: "What are the best boat accessories?". We hope that your picks are something that floats your boat!