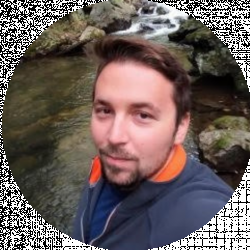 Latest posts by Coty Perry
(see all)
Are you in search of a 50 HP outboard motor? If so, consider getting the 50 HP Mercury outboard. The engine provides great features such as SmartCraft capability. You also get comprehensive propulsion and boat monitoring system. Such features provide you with detailed performance data and engine status for all engine functions.
There are other great features to ensure your boating experience is unparalleled. This review is designed to give you information on Mercury 50 HP outboard and the best alternatives for the same. Read on to learn more.
Bottom Line Up Front
The 50 HP Mercury is a fairly priced and efficient outboard motor. Go for the Tohatsu MSF50A if you are an avid angler and need variable trolling. The Honda BF50 is a great choice for people looking for a substantially powerful 50 HP outboard motor. Yamaha and Suzuki are also great choices if you didn't like the three above.
I talked to Mercury Marine designers, developers, and engineers. From the information I gathered, I was able to come up with a detailed review of the 50 HP Mercury outboard motor. Details on the outboard and its features are provided below.
Mercury 50 HP Fuel Requirements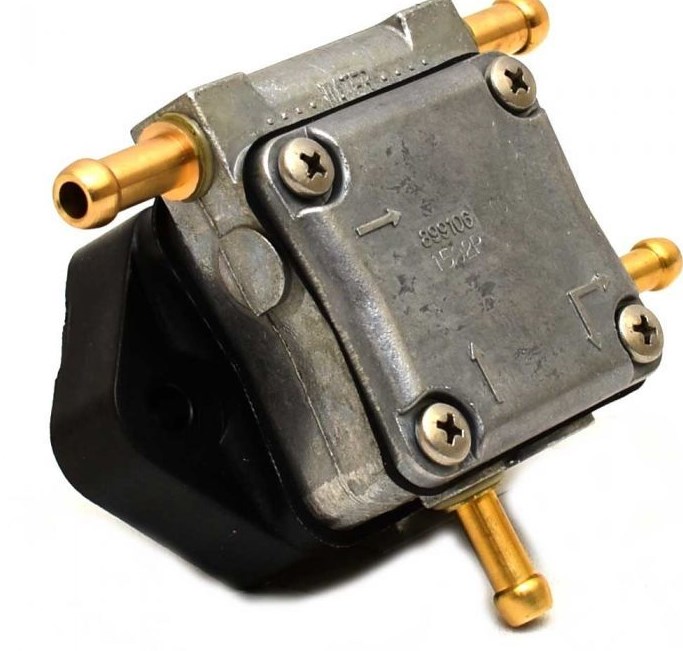 In any outboard motor, the use of improper gasoline may damage your engine. Damage arising from such a scenario is deemed misuse of the engine and nullifies the warranty.
For all Mercury outboards, the operation is smooth as long as you use any major brand of unleaded gasoline. The specifications needed are region-specific. For example, in Canada and USA a posted pump octane rating of 87 (R+M)/2 is the minimum requirement. Most models, including the Mercury 50 HP, can use premium gasoline 91 (R+M)/2. Never use leaded gasoline.
Outside Canada and USA, the minimum is a posted pump octane rating of 91 RON. 95 RON premium gasoline is also acceptable. Leaded gasoline is not recommended outside the USA and Canada.
SmartCraft Product
SmartCraft is an instrument package designed for Mercury 50 HP and other outboards made by the company. There are some functions displayed by this instrument package. The most crucial are engine operating hours, fuel consumption, and engine RPM.
Functions such as battery voltage, water pressure, oil pressure, and coolant temperature are also displayed. Engine Guardian diagnostics are also aided by the SmartCraft instrument package. You are also shown potential problems and critical engine alarm data.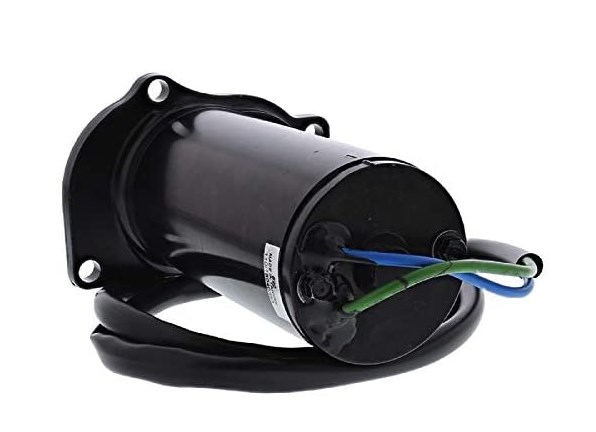 Power trim is the Mercury 50 HP's trim/tilt control. You can easily adjust the position of the outboard when you press the trim switch. Trimming in or down is achieved by moving the outboard closer to the transom. Trimming out or up is achieved by moving the outboard further from the transom.
Trim is a term that generally refers to adjusting the outboard within the first 20-degree range of travel. It's the range boaters use to operate their boats on plane. On the other hand, tilt is when the outboard is adjusted further out of the water.
The outboard should be tilted out of the water when the engine is turned off. Take note the outboard can be tilted past the trim range at low idle speed. You can use this to permit shallow water operation.
Engine Guardian System
It's used to monitor critical sensors on the engine. This ensures you get any early indications of engine problems. Engine Guardian only functions when your engine is operating. It gives you peace of mind considering you don't have to be concerned about whether or not you are protected.
The system works by sounding a warning horn for 6 seconds in case of a potential problem. Alternatively, it reduces engine power to ensure the engine is protected.
Reduce throttle speed anytime the Engine Guardian system is activated. If possible, the problem needs to be identified and corrected. You need to reset the system before operating the engine at higher speeds. To reset the system, go to the idle position by moving the throttle lever back.
Warning System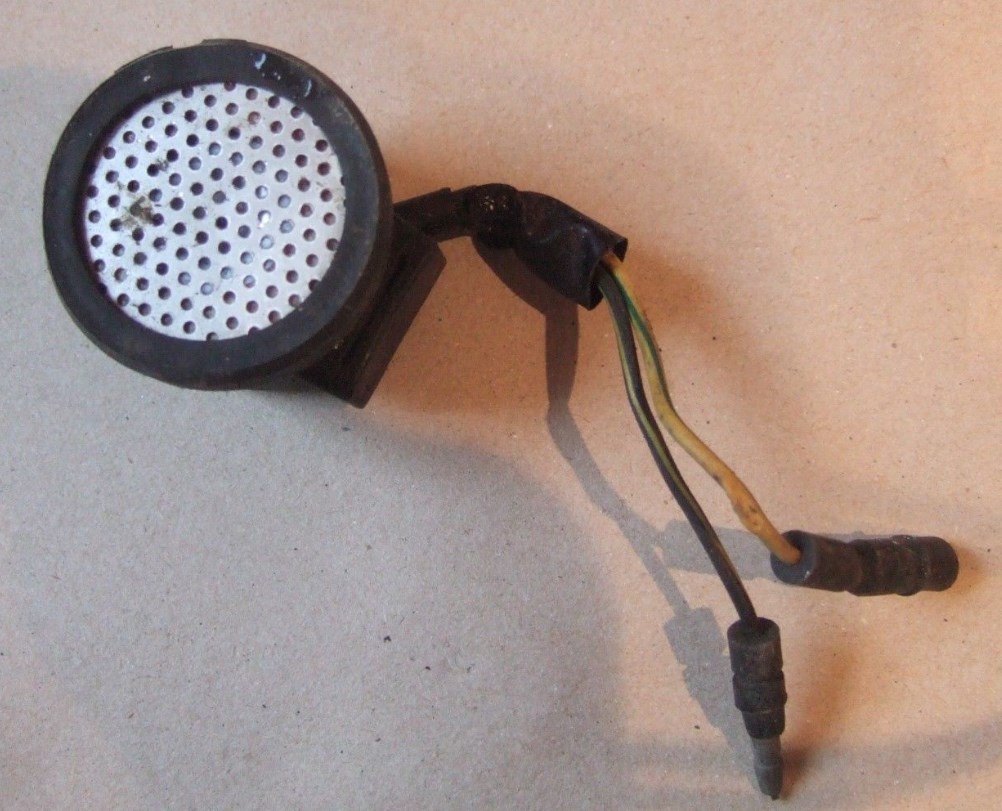 A warning horn inside the boat is part of the 50 HP Mercury outboard's warning system. Remote control models have two locations for the warning horn. It's either connected to the ignition switch or inside the remote control. The ignition key panel is the warning horn location for tiller handle models. To alert you of an active problem, there are two types of warning horns.
The first one is a continuous 6-second beep. It indicates a critical engine condition. Depending on the problem, the Guardian system protects the engine by reducing its power. If this is the case, return to the port immediately and consult a service dealer.
The second type is 6-second intermittent short beeps. They indicate a non-critical engine condition. Such a condition does not need immediate attention.
You may continue using yours depending on the nature of the issue. Take note the power of the engine may be limited by the Guardian system to protect the engine. Make sure you contact a service dealer as soon as possible.
Keep in mind that in any of the above scenarios, the horn sounds only one time. If the problem is still there and you turn your engine off and on, the horn will sound one time. If you need a visual display of the additional engine data and specific engine functions, use SmartCraft.
Specifications
Weight: 248 lbs.
Electric start
Tiller steer
Gear ratio: 1.83:1
Displacement: 995 cc (60.8 cu. in.)
RPM Range: 5,000 – 6,000
Shaft length: Long shaft (20")
4-Cylinder
Propshaft: 50 HP
Engine Type: 4-stroke
Standard propeller: Not included
Pros
Power trim and tilt
18-amp alternator
SmartCraft ready
Water-cooled
EFI (Electronic Fuel Injection)
3 gears (forward, neutral, and reverse)
3 years warranty
Cons
Propeller not included
Available in one color
50 HP Mercury Outboard Alternatives
You may have read the features and specifications of the Mercury 50 HP outboard and found it's not for you. If this is the case, don't worry. I have prepared a list of alternatives that are the best. I gathered information from owners of other 50 HP outboards to come up with a list of the best alternatives. They are: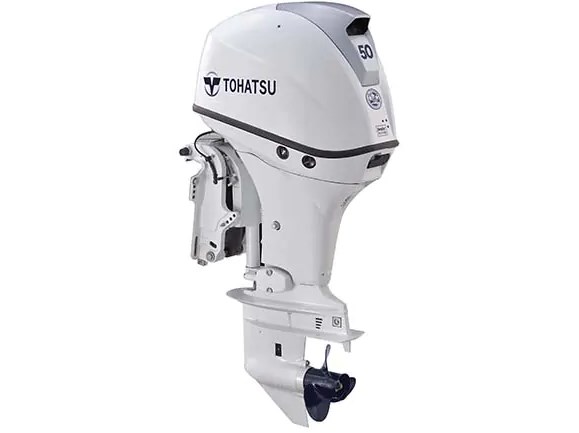 The first thing I noticed with this outboard is that it's a simple belt-driven SOHC design. It has the normal low-pressure sequential multipoint EFI and 6 valves. The MFS50A from Tohatsu develops 49.3 brake horsepower at 5,500 RPM. It has a rev limiter set at 6,500 RPM and a wide-open throttle range of 5,000 RPM to 6,000 RPM.
MFS50A has an 866 CC crossflow powerhead that is OEDA 3-star exhaust emissions compliant. Its alternator pumps out 21 amperes maximum and is voltage regulated.
The Tohatsu MFS50A puts out 60 Nm at an amazing 2,000 RPM. It also develops 71.6 Newton meters at 4,500 RPM.
One of the features that made me like this outboard is the variable trolling RPM control. It's the only four-stroke three-cylinder competition only troll down to 800 RPM. Holding in the ignition key for a second at a time allows you to vary the RPM from 650 to 950 RPM. Varying the RPM is done in steps of 100 RPM.
The powerhead layout is clever considering the starter motor is mounted at the forward end. This design ensures instant access to the spark plugs, bowl-type fuel filter, canister oil filter, and engine oil dipstick.
You can flush the engine without running it thanks to the freshwater port. Instead of plastic air intake manifolds that can distort the engine if it overheats, Tohatsu uses alloy.
The Tohatsu MFS50A comes with a 2.4-liter oil capacity. This is great for absorbing oil sludging between oil changes. You are advised to use a quality FCW SAE 10W30 oil if you are in temperate climates. Lastly, the product comes with a 3-year recreational use warranty.
Specifications
OEDA 3-star rating
3-year warranty
Gear Ratio: 2.08:1
Weight: 97 Kg
Stroke x Bore: 75 MM x 70 MM
Displacement: 866 CC
Type: Four-stroke three-cylinder petrol outboard motor
Recommended RPM range: 5,000 RPM to 6,000 RPM
Rating: 50 HP
Pros
2.4-liter oil capacity
Freshwater port for flushing the engine without running it
Alloy air intake manifolds
Variable trolling
Cons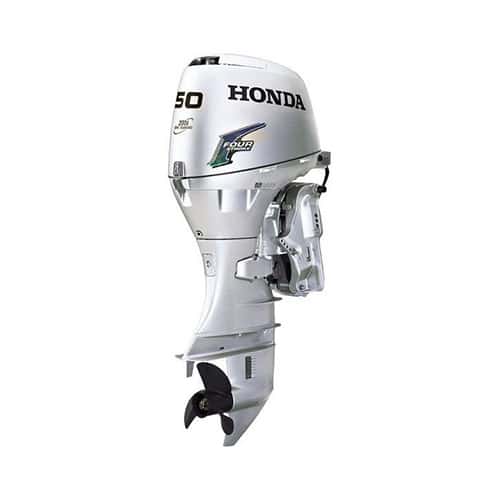 The first thing you need to know about this outboard is it's perfect for aluminum boats and inflatables. With BLAST and other specifically-designed features, the gear case assures you of higher top speed and improved acceleration. The BLAST system is activated by a quick movement of the throttle. This advances the ignition curve aggressively.
Acceleration and "hole shot" are vastly improved because more horsepower ensures the hull is up on plane faster. Additionally, advanced ignition timing develops more HP at low revs. You will notice acceleration from 0 – 50 is substantially strong.
There's a set of four warning lamps to alert you in case of various malfunctions. They include fuel injection system malfunction, charging malfunction, overheating, and low oil pressure.
Honda BF50 has a high-performance gearcase that is designed to go fast. It reduces drag, minimizes spray, and reduces porpoising. At the same time, it increases top speed and acceleration. Furthermore, the gear case has been enhanced with an optimized shift rod seal and other improvements.
When it's time for maintenance, the BF50 has an easy "screw-type" valve adjuster system. It doesn't require any shims and reduces maintenance costs. Easy access to side-mounted oil filler and oil filter makes maintaining your outboard a breeze.
You can use this Honda outboard with a wide range of boat types thanks to its compact and lightweight design. Compared to Honda's previous model, noise levels have been reduced by 1.0 dB. You can get a wide range of info delivered to your head-unit display because this motor is NMEA2000 compatible. It also comes with PEFI (Programmed Electronic Fuel Injection) to deliver a precise amount of air or fuel to each cylinder.
Pros
Auto-start enrichment
Gas-assisted tilt function
Freshwater flushport
Patented non-linear rubber mounts
Cons
Lack of variable trolling
Suzuki DF50A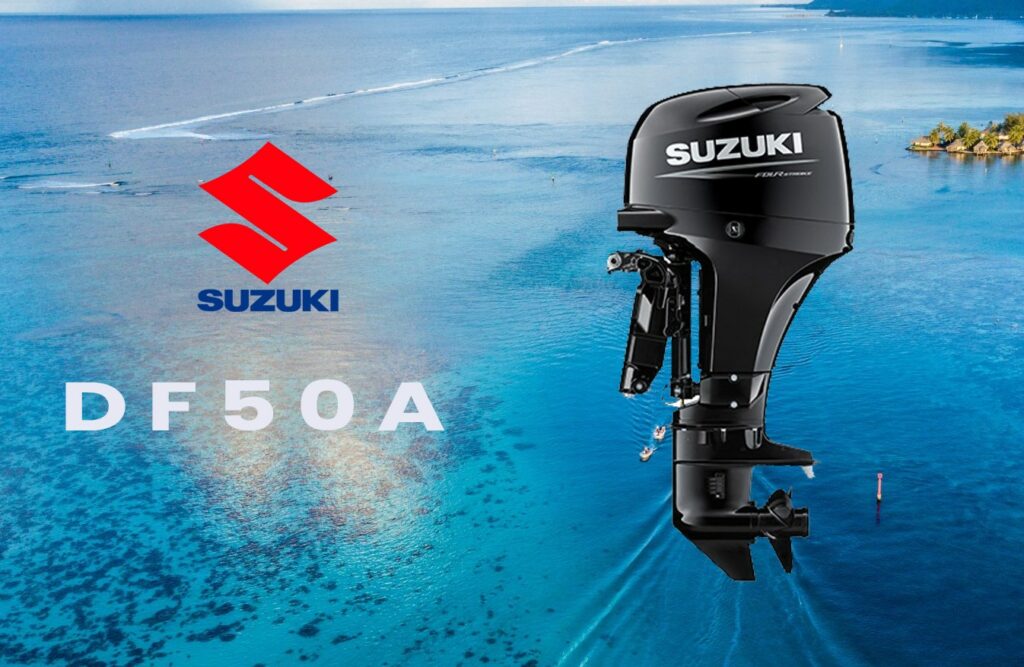 Engineers at Suzuki use a mechanically efficient DOHC 12-valve engine on their Suzuki DF50A. This is a high-performance engine that comes with a displacement of 941 cm³ and a DOHC powerhead. It's the only DOHC engine used in the 29.4 kW (40 PS)/36.8 kW (50 PS).
To improve efficiency, each component was analyzed and redesigned in a bid to reduce mechanical loss. For instance, there is a new oil pump design to increase the internal airflow efficiency. The result is better lubricated moving parts, increased energy efficiency, and better fuel consumption.
Suzuki DF50A has a Lean Burn Control System. It's an intelligent system developed to monitor the engine's operating and performance conditions. The system predicts fuel needs and provides the engine with a leaner fuel mixture. This means fuel economy improvements from low speeds to cruising speeds.
Suzuki has an Easy Start System for easy and quick starts. It delivers improved and smoother starts.
A multi-point sequential electronic fuel injection is used in the DF50A. It gathers operating data from sensors located in all key areas of the engine. The data is processed and calculations are made to get the optimum amount of air and fuel needed for the engine. You enjoy reduced emissions, excellent fuel economy, maximum operating efficiency, and smooth starts.
To protect the exterior of the outboard from corrosion, the DF50A has a specially formulated anti-corrosion finish. This means you don't have to worry if you plan on using the outboard in saltwater. Lastly, the product incorporates a timing chain. It's maintenance-free, self-adjusting, and oil-bathed to provide you with years of dependable service.
Pros
Large capacity 19A alternator
Maintenance-free timing chain
High-performance DOHC 12-valve
Lean Burn Control System
Cons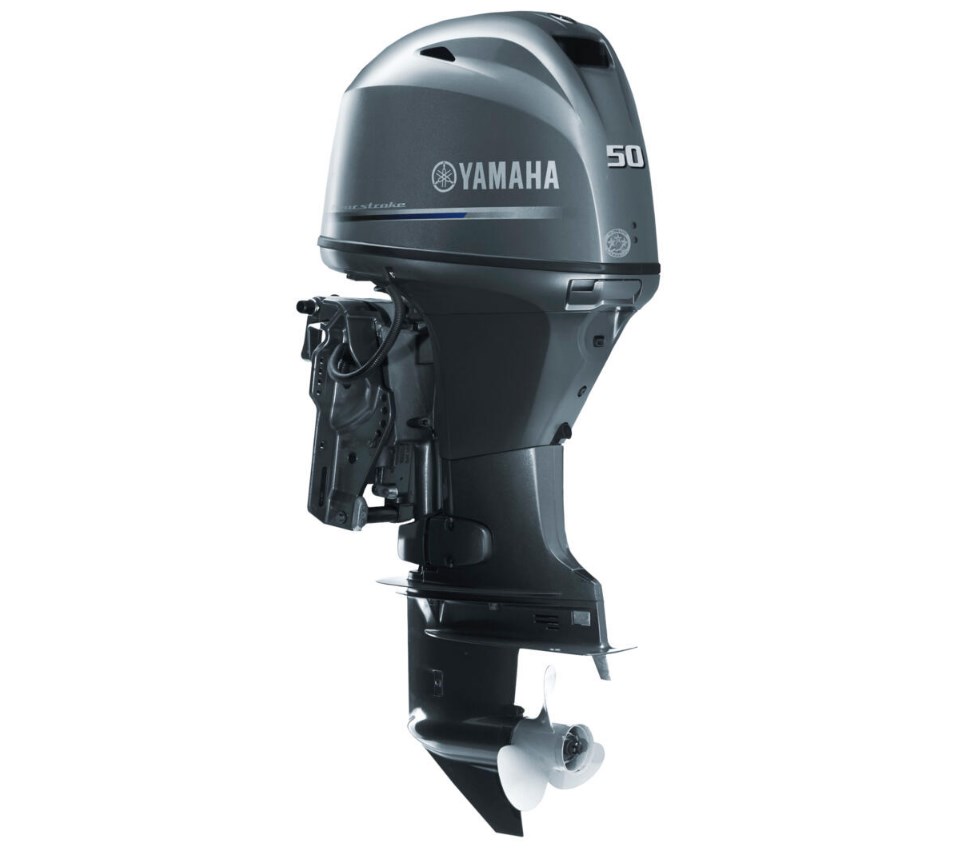 It doesn't matter if its cylinders or strokes, Yamaha understand the power of four. This is why their 50 HP EFI uses 4-stroke technology. It's designed to give you useable, ultra-smooth power with low vibration and noise levels.
If you need digital gauges, this outboard comes with Yamaha Digital Network Gauges compatibility. They are designed to deliver information so you can maximize engine efficiency and performance. It monitors fuel economy, tank capacity, variable RPM control, warning lamps, oil pressure, trim angle, hours, run, and RPM.
Discover the power and versatility of this outboard thanks to its push-button control to make tilts and trim adjustments. If you want to improve acceleration use, the negative trim settings to bring your boat onto the plane quickly.
Engineers have produced a solid one-piece top cowling and compact shape for the 50 HP. It's a 996 CC powerhouse that is lightweight. This means it has a power-to-weight ratio to suit a wide range of boats.
Yamaha is renowned for its advanced warning systems. The comprehensive warning systems on the Yamaha 50 HP measure a few functions. They include engine temperature, oil pressure, and other key variables. This is done to offer clear audio or visual warnings of any potential problems. In case there is an issue, RPM is automatically reduced to ensure your engine is protected as you head for shore.
Y-COP (Yamaha Customer Outboard Protection) is an optional immobilizer system. It's simple to use and highly effective. With a push of a button, you can prevent your outboard from going on any unauthorized rides. It's a simple and neat remote control that unlocks or locks the engine
Pros
Optional tilt limiter system
EFI for more efficient and cleaner performance
Shallow water drive
Freshwater flushing system
Cons
Outboard Motor Buying Guide
To have the best boating experience you need to choose the right engine. I have gathered information on two-strokes and four-strokes outboards. I have also added a section on horsepower needs and prop selection. Read on to learn and understand how to choose the right outboard motor.
4-stroke vs 2-stroke
I have seen experts and boating fans in heated debates on whether a 2-stroke is better than a 4-stroke. The majority of boaters believe the better of the two is 4-stroke. The truth is that it depends on several factors.
2-strokes engines run by burning gas and oil. On the other hand, 4-strokes burn gasoline within the cylinders. Oil is circulated using a separate system. People state 4-strokes are better because they are more fuel-efficient and quieter.
Some people prefer 4-strokes because they are believed to have greater longevity. If you have a small and light boat, you are likely to go for a 4-stroke. If you are not sure, consult with your local outboard dealer.
Horsepower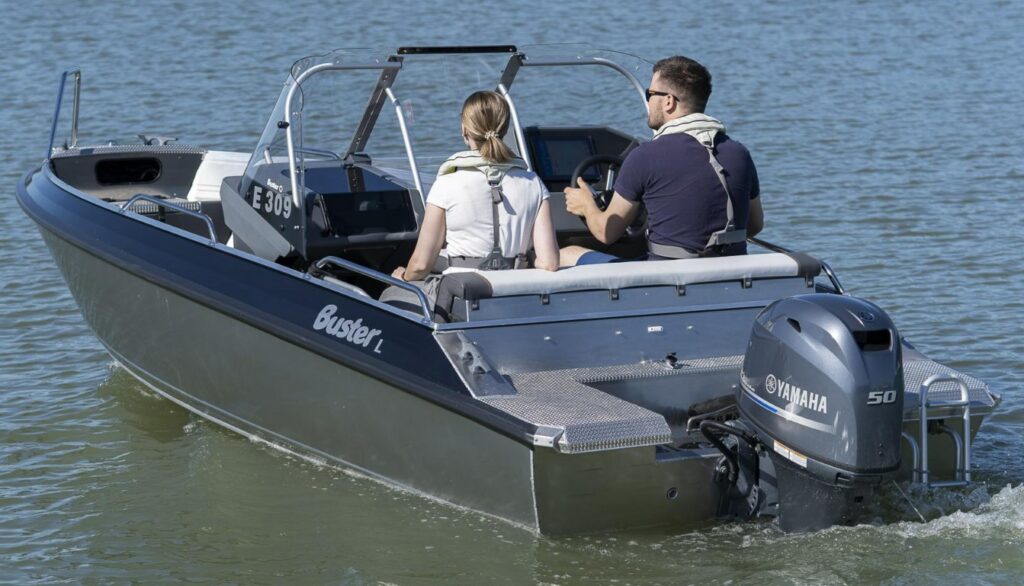 Horsepower is one of the first things you need to consider before you purchase an outboard motor. Ask yourself what you plan on doing with your boat. Do you need to get from one point to another in a hurry? Do I need to slowly cruise the waters? What you plan determines the amount of horsepower you need.
Take note that before you do anything, you need to check the horsepower limits of your craft. You also have to consider the boat-to-horsepower ratio. Generally, your horsepower power matches the size of your boat. The larger the boat the more horsepower you need for the best performance.
Your fuel efficiency considerations should be taken into account. Keep in mind a larger outboard motor doesn't necessarily consume more gas than its smaller counterparts. They are many horsepower options to choose from. This means finding the right one for your boat should be a breeze.
When thinking of buying an outboard motor, take into consideration the number of people you will be carrying. You should also think of how you are planning to use the craft.
For example, you may be planning to ski behind a heavy boat. This means you need more power quickly for this kind of thing. In such a scenario, you should for the most horsepower within your manufacturer's limits.
Propeller
The type of propeller required to be mounted to the engine is another thing you should consider. The type you select is not as important as the condition of the prop.
Make sure you get a new prop. If you are getting an old one, try looking for defects like cracks. Of course, with a used prop you aren't 100% sure what to expect. A damaged propeller can destroy your engine. It does so by creating unnecessary resistance.
The majority of boaters prefer getting stainless steel propellers. One of the main reasons is it's five times stronger than aluminum. On the other hand, aluminum is softer, cheaper, and will help protect the lower unit.
Lastly, stainless steel is not all that good too. If the prop is hit and fails to break, the force will damage or destroy the lower unit. If aluminum breaks, it saves the unit. It may be the reason why some people go for aluminum props. They look at it as more cost-effective for the long-term expense of boat ownership.
50 HP Mercury Outboard FAQs
Question: How Many Hours can I get from a 50 HP Mercury Outboard?
Answer: It depends on how you use it, the type of water you use it on, and how well you maintain it. A typical well-maintained 50 HP Mercury outboard lasts for about 3,000 – 4,000. Keep in mind these figures can increase or decrease due to various factors.
Question: How Can I Check the Hours on my Mercury 50 HP?
Answer: Just like other manufacturers, Mercury's engine hours can be found on the gauges located on the console. For most 50 HP gauges, hitting the mode button navigates to a log of the hours.
Question: How Long Will My 50 HP Mercury Outboard Last?
Answer: A typical Mercury 50 HP outboard should last 1,500 runtime at the minimum. It doesn't matter if it's a two-stroke or four-stroke. Now let's do some math to clarify.
Let's you spend an average of 200 hours on your boat. This means your outboard should last for at least 7 ½ years. You can increase this number more by changing your oil every 50 hours. Combined with regularly flushing the engine, the outboard should last for more than 10 years.
Question: Is a Mercury 50 HP Outboard Fast?
Answer: It depends on your definition of fast. However, with a 16-foot boat and a Mercury 50 HP four-stroke outboard, the speed ranges from 30 MPH to 35 MPH. Take note these speeds may decrease depending on the amount of weight or number of people on the boat.
Bottom Line
The 50 HP Mercury outboard is one of the best 50 HP outboards you can find on the market. It has many great features like being SmartCraft ready, using EFI, water cooling, and a long shaft among many others.
If you don't like it, check out the alternatives we have provided. They will give you insight into different options for different uses. For example, if you want a great trolling outboard, go for the Tohatsu MSF50A. If you are long for a fast and powerful 50 HP outboard, get the Honda BF50 because of its BLAST feature.
If you didn't find anything that meets your needs, I have provided an outboard buying guide. It will ensure you make the right decision when you are planning to buy an outboard.
Looking for more interesting readings? Check out: