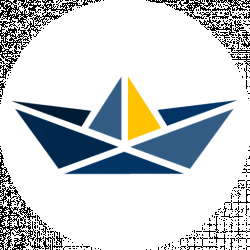 Latest posts by Jeanne Murugami
(see all)
If you're an adrenaline junky and love shallow water bass fishing, you understand the need to acquire a top-grade bass boat. Since the inception of the first bass boat models in 1961, improvements in their robustness and performance have taken tremendous advances. But which are the top 10 bass boats and models?
We all want a bass boat that provides us with an edge in performance, maintenance, and longevity. However, with the diverse bass boats and models in the market, how do you realize the most superior?
Worry not. We've undertaken scrupulous research to fashion you with instrumental information regarding the top 10 bass boat types and models. This review has rated the bass boats depending on size, budget, weight, engine power, fuel capacity, and accessories.
Ranger Z521L Bass Boat: Best Bass Boat for Fresh and Salt Waters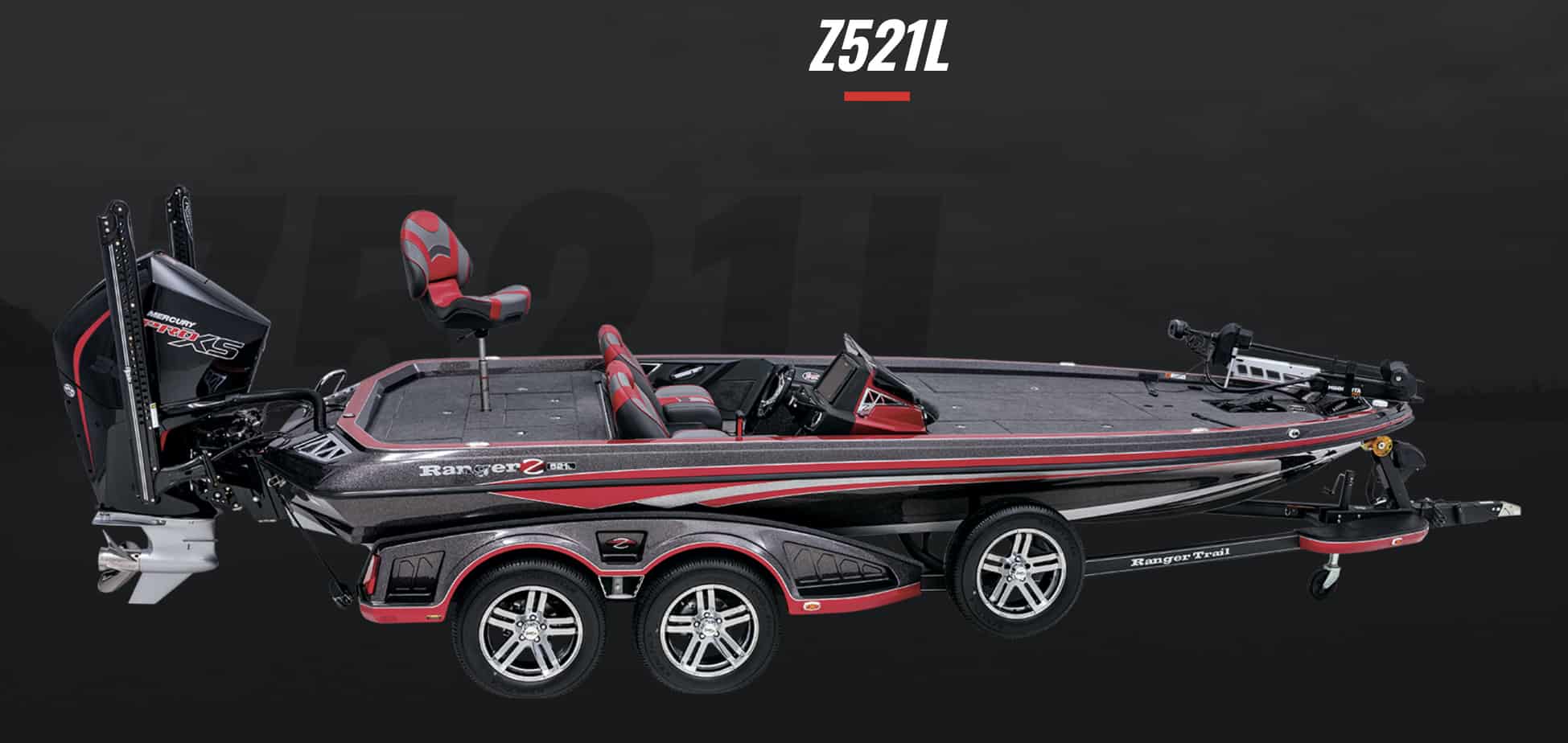 Welcome to the world of quality bass boats strictly meant for bass fishing. The Ranger Z521L is a speed master on the waters, and it's fitted with a 300Hp engine. That's real power in the boating world. It's designed to comfortably tackle shallow and deep waters, something you won't find with every bass boat. The Rangers team has prioritized interior design by incorporating stylish quality bucket seats and unique consoles.
The Ranger bass boats come in different versions to suit your needs. You'll find models meant for either fresh or salty waters, and there are also models made from aluminium or fiberglass material. It mainly depends on your preference and the waters you intend to sail through. This bass boat is also tournament-proven, meaning it's been rigorously put through tests to prove its robustness.
The Ranger can accommodate five adults, which is impressive, and has a 31-gal Livewell to store and keep your catch alive. 
Pros
Large storage space.

Its aerodynamics create stability, especially at high speeds.

The use of non-skid material ensures safety isn't compromised.

Innovative storage compartments.
Cons
The comfort of the bucket seats is not as many would want because of the small cushions.

The price is astronomical.
Bass Cat Puma FTD: Best Bass Boat for Racing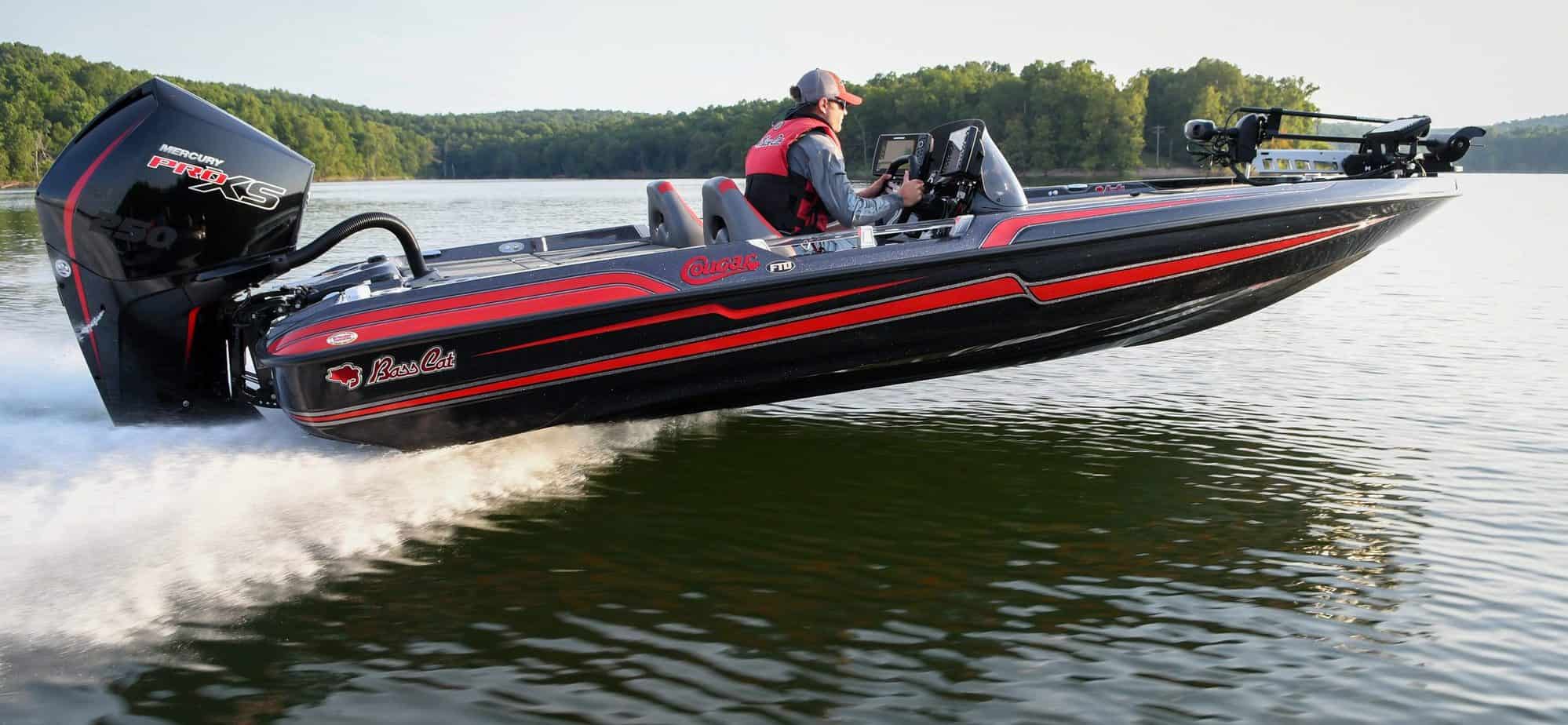 In this list, we can't forget the Bass Cat Puma FTD. This is another speed star and quickly reaches 70mph on open waters. The Honda outboard makes this bass boat a choice for many who understand the reliability of Honda machines. Other than speed and reliability, the fishing aspect is incorporated in this bass boat. For example, you'll get nine-rod lockers per side, each measuring eight inches.
It has many spacious storage compartments, especially on the front deck, and a Livewell that drains 1000 gallons per hour. The comfort segment comes customized. It's up to you to decide whether you want one or two seats, LED lights on the rail guard, charging ports, and much more.
The below deck of the Bass Cat Puma is filled with foam which helps mitigate vibrations when cruising at high speed. 
Pros
It has a powerful and efficient outboard.

The bass boat is spacious with tons of storage space.

A large fuel tank to keep you in the waters fishing for long.

It stays stable even in rough waters.
Cons
The major drawback with the Bass Cat is the compartment lights failing after a while.

The stickers around the boat also tend to peel off fast.
Lund Bass Boats: Best Bass Boats for Family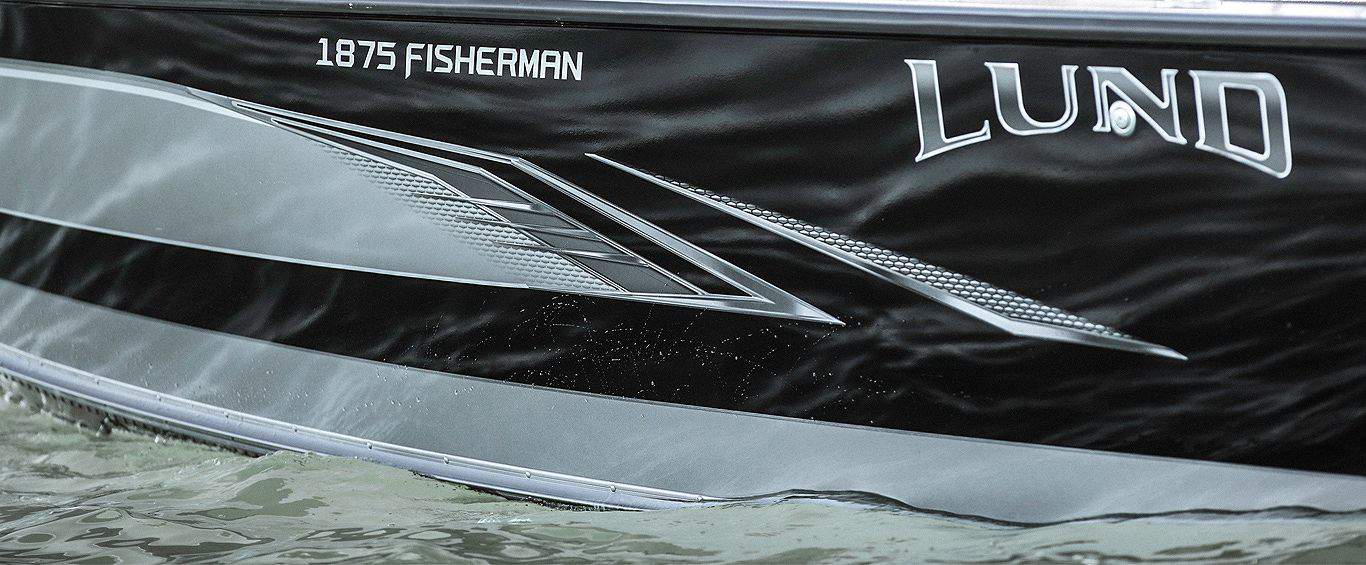 Lund bass boats are any angler's dream. It's predominantly because they're spacious and if fitted with bow cushions hence it's possible to tag along with your whole family. The Lund boat comes in different series, with the difference being the outboard and size. Among them, you'll find the Lund Tyee Magnum, the Pro-V, and the 1875 crossover.
It has a 32gal fuel capacity and a live well that holds 18gal of water. Two bucket seats are fitted at the front and one swinging seat at the front deck with one fishing rod locker. At the back, you'll find seats that, when flipped, create more fishing space.
The Lund bass boat comes with a pre-installed audio system and LED lights fitted at the bow peak. The lights are helpful accessories, especially if you're fishing at night.
Pros
It tackles different water conditions with ease.

Its dead space is ample for all models.

Perfect for either salty or freshwater fishing.

Lund boats are spacious and fit a small family.
Cons
The common problem with aluminum Lund bass boats is leakage.

Also, the floor is covered with wood, and after some time, they tend to rot.
Crestliner 1700 vision Bass Boat: Best Aluminum Bass Boat for Tournament Fishing

Aluminum is the most common material used for making bass boats, but the Crestliner 1700 vision stands out. The quality welding on this bass boat and the aluminum thickness is why anglers highly regard it. The floor is made from vinyl which makes cleaning super easy.
There are five different storage compartments, three at the front and two at the back. The central locking storage holds 7 rods measuring 6 inches long. You'll also find fishing rod holders on the sidewall if you need more room to store your rods. It has a stern Livewell with a 13gal capacity.
It comes with bass boat technologies such as a fish finder and a stereo system with two waterproof speakers. The fish finder is a great addition when angling in open waters. It has a 20gal fuel capacity, and the outboard provides you with a maximum power of 115 Hp.
Pros
Large storage area.

The bass boat comes with unlimited accessories essential for angling.

It's durable, and it doesn't leak.

Perfect for both shallow and deep-water fishing.

The console is configurable; you can have it in the middle or on the side.

Large sitting capacity of about six people.

The price is a bargain.
Cons
It's not designed for salty water angling.

Some owners have reported a drainage issue with the Crestliner.

There is also an issue with fuel filling because of the small fuel vent on the outboard.
Triton 21 TRX: Best Bass Boat for Rough Waters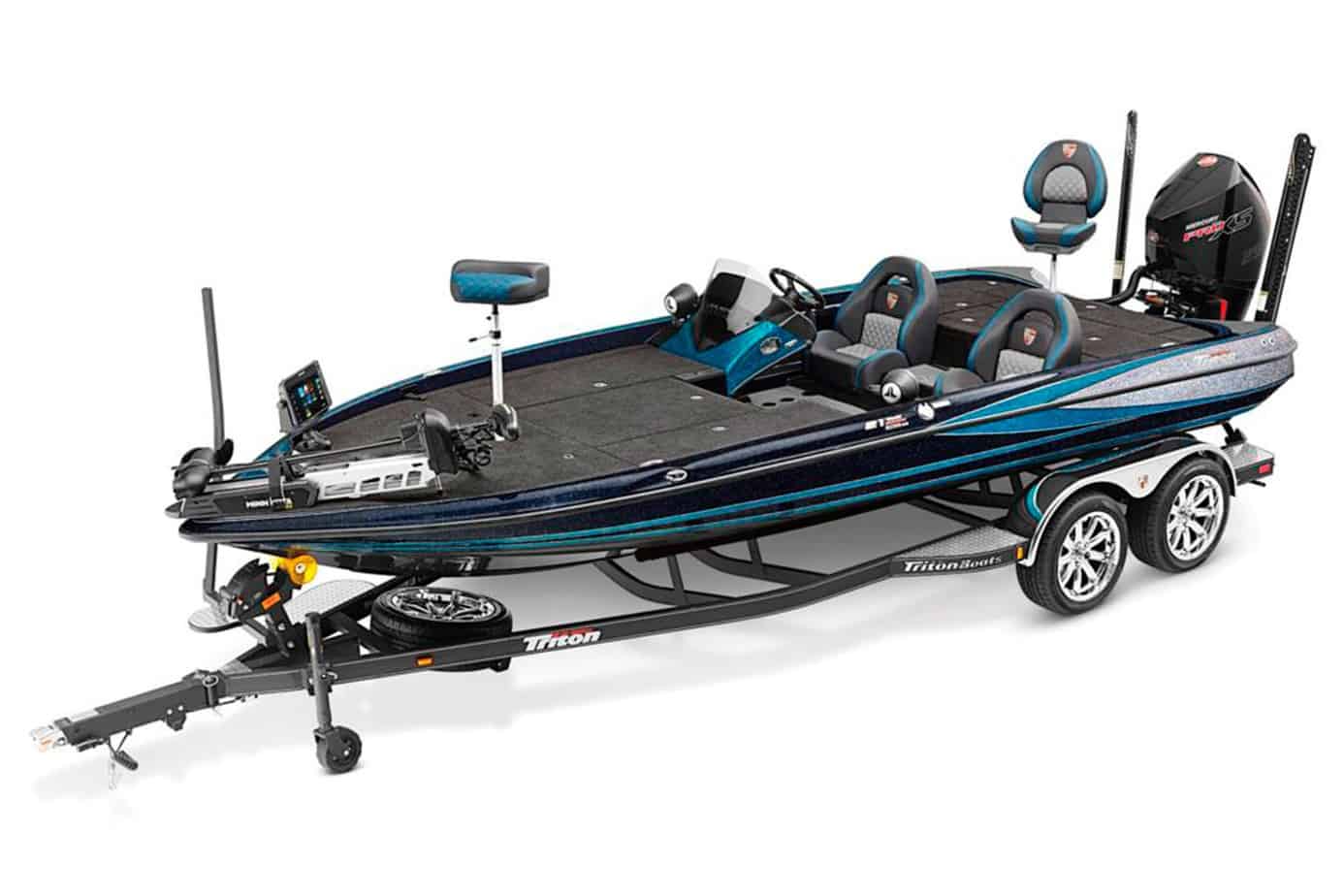 The Triton 21 TRX makes the top 10 bass boats and models. It's considered a powerhouse with a 250Hp outboard. If you're in the market for a bass boat strictly designed for fishing, the Triton is a perfect choice. It has a 47gal fuel capacity and a timed aerated Livewell that holds 44.5gal. The beam or wideness measures 95 inches, and this creates more room for storage space.
A chest cooler is fitted at the front deck, where you also find a rod locker and a stern light. For comfort and convenience, the cockpit seats are designed to rise and drop. A fiberglass windshield is fitted at the front to protect you against raging winds when at high speed. Note that the windshield is removable.
The driver and passenger seat are fitted with suspension mechanisms to protect you from absorbing direct impact in rough waters. The boat floor is covered using a plush no-skid carpet, and all storage compartments have LED lights.
Pros
The Triton 21 TRX has a powerful engine or outboard.

It's incorporated with much technology.

Spacious legroom for driver and passenger.

Since it weighs less, the fuel consumption is minimal, and it's easier to drive.

It's ideal for riding under all conditions.

It comes with retractable boarding and passenger grab handles
Cons
There is a model series that was recalled because of hull cracking.
Nitro Z21 Pro Bass Boats: Best Fiberglass Bass Boat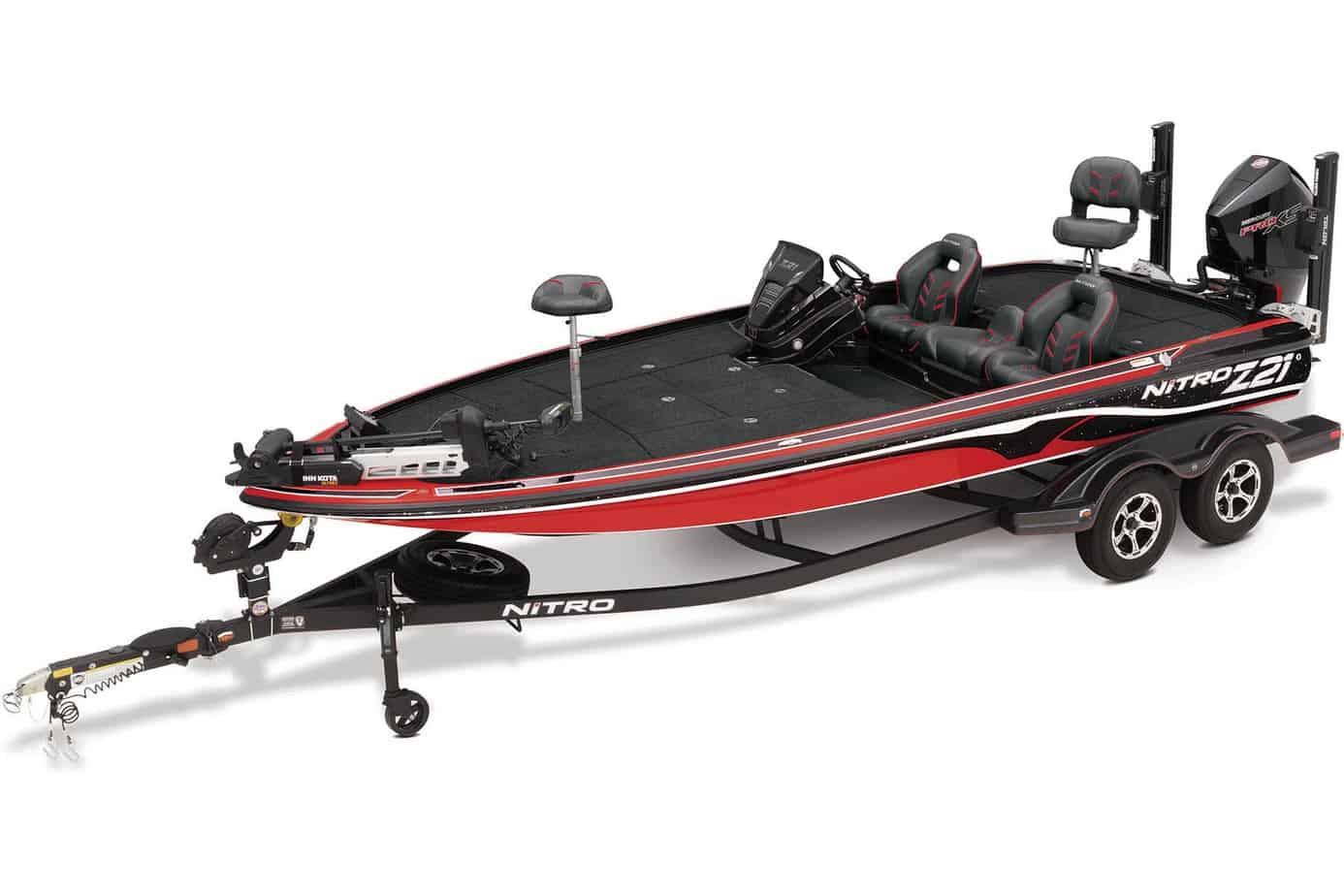 Most bass boats are made using aluminum material, but it's also possible to find fiberglass bass boats. If your preference is this, then the Nitro Z21 Pro Bass Boats is an exquisite choice. 
The standard version uses a four-stroke master mercury outboard with a 55gal fuel capacity that produces 300Hp. It's a speed maestro on water, and with that fuel capacity, you can ride beyond the shores. It carries a maximum of four passengers, and the recommended total weight is 825 lbs. 
The Nitro boat has two 19gal Livewell fitted with an automatic aerator for draining, and each Livewell is equipped with an individual oxygen generator. Both will hold 750gal of water per hour.
Its seats have hydraulic pedestals, and the boat deck is padded to provide you with extra comfort and easy mobility. You'll find several sidewalls, bow ports, and an outsize lockable bow partition that stores rods measuring 2.4 meters. 
It's equipped with fish finder technology, a dash light, and LEDs. Lastly, all storage areas are fitted with ventilation air fans to keep them cool and dry.
Pros
The fiberglass makes the Nitro Z21 ideal for rough waters where it maneuvers seamlessly.

It's furnished with a wealth of technology onboard.

There is a fair amount of storage space on this bass boat's deck.

When speeding, it doesn't get blown away by the wind.

It's stable, quieter, faster, and offers a smooth ride.
Cons
There are complaints regarding the high cost of maintenance and repair.

It doesn't go on plane mode until it hits 25mph.
Skeeter FXR21 Apex Bass Boat: Best Bass Boats for Bass Fishing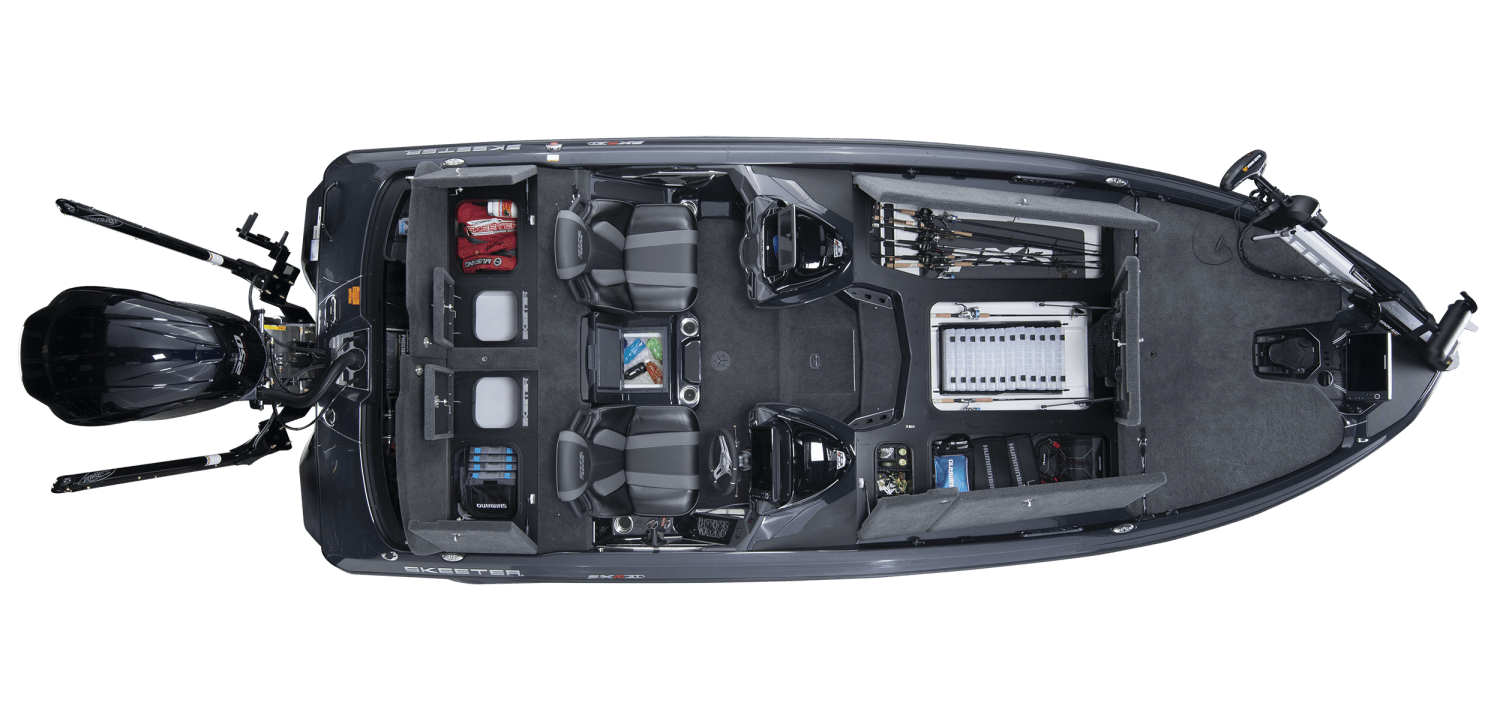 When we talk about uncompromised quality, Skeeter represents that. This brand has been around for decades, and the manufacturer keeps improving its standards. It's no surprise that many anglers have come to trust the brand with time. 
You won't find a boat like this with a fusion of aluminum and fiberglass materials. The deck and most reinforcements are all aluminum, but the hull is all fiberglass. The Skeeter FXR21 Apex Bass Boat boasts a huge Yamaha VF250LA outboard that dissipates 250 Hp with a 48gal fuel capacity. Its top speed is 75mph. 
Due to the outboard's large size and to protect the boat from damage, the jack plate comes fitted with hydraulics.
To establish stability, a thin layer of foam is sandwiched between the upper and lower floors. Two luxurious bucket seats are fitted on both sides, and a small seat is fitted between the two. 
Below this seat, there is an air-conditioned storage compartment. The rest of the storage sections are at the deck area and the back. Accessories such as a battery charge indicator and a Bluetooth stereo are standard with the FXR21 Apex.
Pros
Its radical design allows it to reach top speed fast.

The Skeeter bass boat is very stable in rough waters.

It has a powerful outboard.

Skeeter bass boats are usually long-lasting.

Its storage capacity is appealing.
Cons
Some of the latest models may have a minor issue with fiberglass.

There are also issues to do with vapor lock and overheating of aerators.
Tracker TARGA V V-19 WT Bass Boats: Best Bass Boats for Deepwater Fishing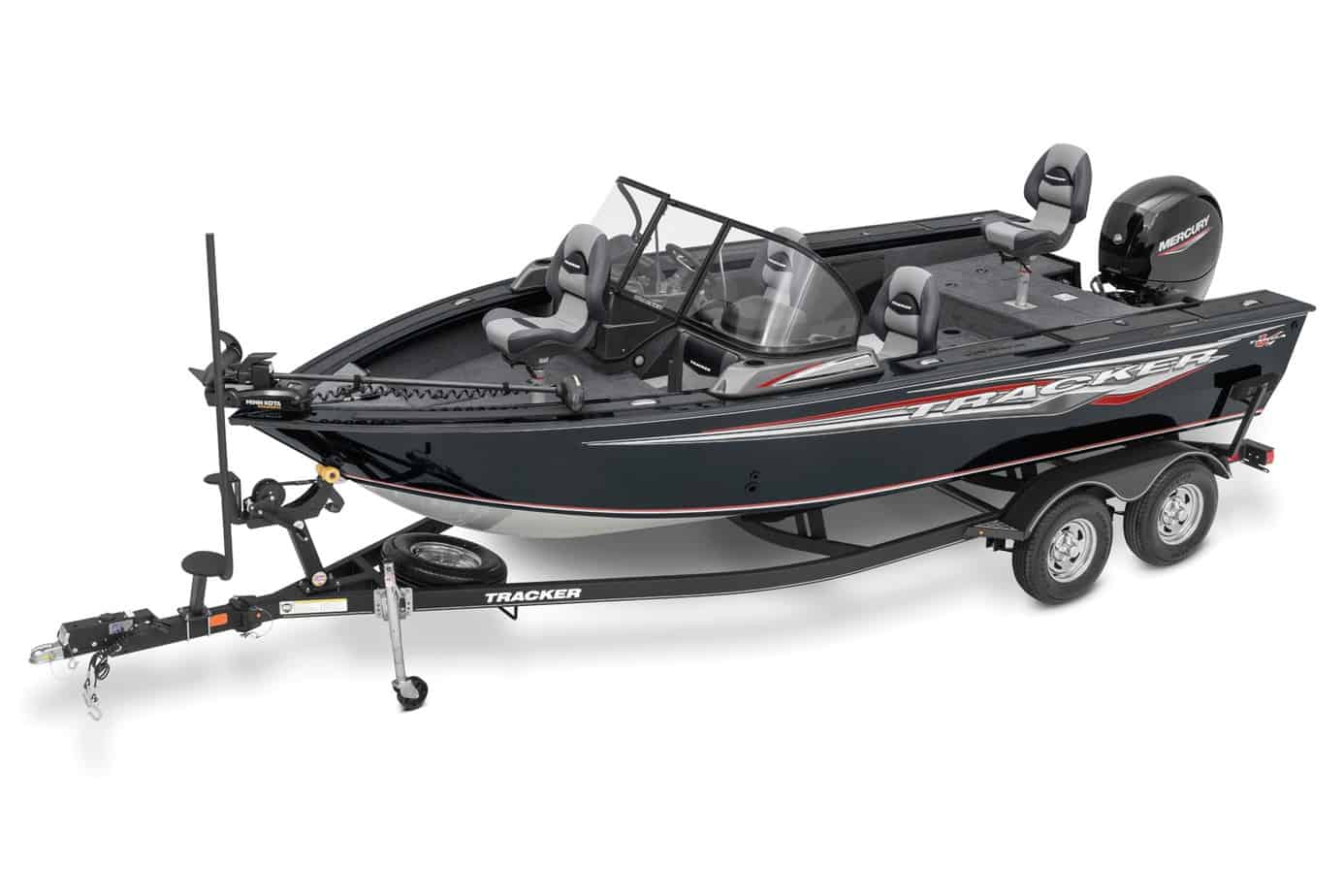 The Tracker TARGAV V-19 WT Bass Boat is the newest kid on the block for the Tracker series. This model is a work of art, and engineers seem to have had some good days in the office while designing this model. It represents optimal brilliance. This bass boat's carrying capacity is eight persons with 1100lbs as the determined weight.
All pedestal seats are detachable, and therefore, if you're taking that lone ride and need space to fix a swinging seat at the back, the mechanisms are there. Its hull is made from aluminum measuring 0.12 5 inches, and it's welded, unlike some riveted series. The outboard holds 47gal and produces 225Hp maximum.
Its Livewell has a 30gal capacity and comes with a recirculatory, pump-out system and timer to automatically drain the water at set intervals. The Livewell corners are circular, and this eases cleaning. The windshield is designed to open and close at the center for easy front deck access.
Accessories include a color fishfinder, navigation, and console LED lights, among others. 
Pros
Lifetime warranty.

The strakes on the Tracker are pressed in to improve performance.

When it comes to handling, it's very responsive.

It consumes less fuel.

A lot of practical accessories.
Cons
A small percentage of owners have experienced leakage, and this is due to substandard welding.
Xpress X21 Pro: Best Bass Boat for Colossal Space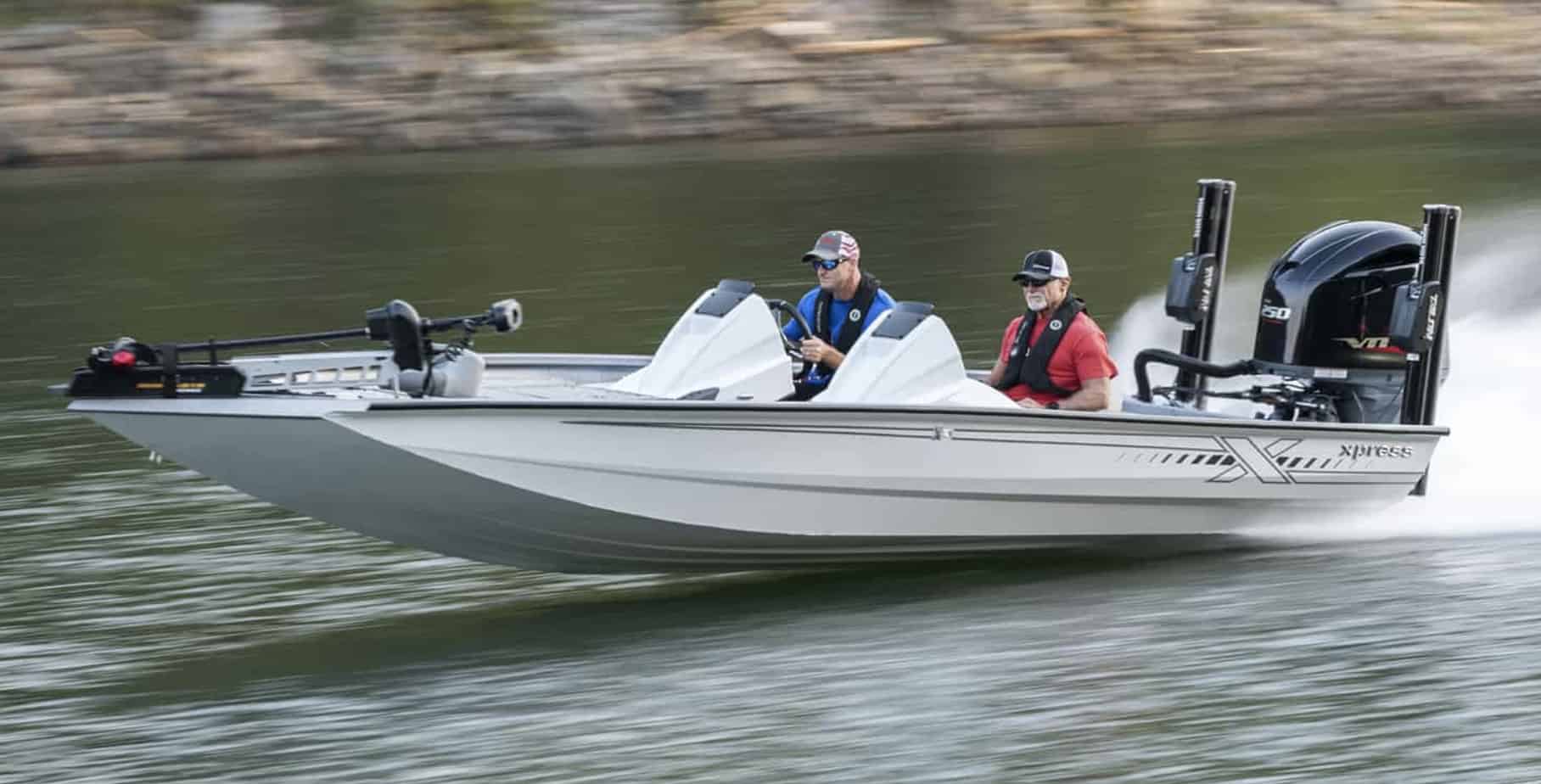 The Xpress X21 Pro is here for anglers who've been yearning for a spacious bass boat. Its length and beam measure 21 feet and 95 inches, respectively. This watercraft with its various features, is worth every penny. It's made using grade 5 aluminum and fitted with a YamahaVF175LA outboard which carries 40gal of fuel.
The boat engine produces 150-250Hp. If you wish to have the outboard reach the maximum horsepower, you must purchase hydraulic steering. Its layout allows increased storage units of about eight, four at the front deck, two behind, and two on the side. 
Other astounding standard features include the aerated Livewell and a floor rod box. Compared to other Xpress bass boat series, the X21 is an actual upgrade and perfect for tournament fishing.
Pros
The X21 Pro is welded to excellence.

Its Hull design is significant and increases the overall stability of the bass boat.

The plane mode comes faster than other boats.

Unbelievable speed.
Cons
It gets blown by the wind easily, therefore not ideal for rough waters.

The storage compartments are never dry if the boat is on water.
SeaArK BC 210 Bass Boats: Best Bass Boat for Beginners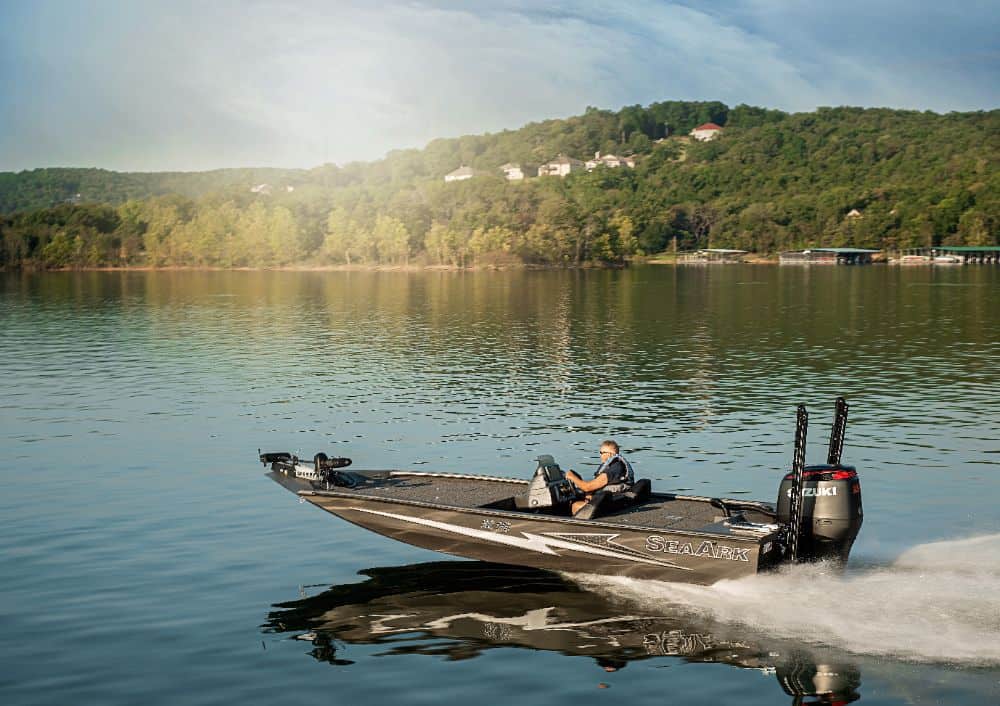 Among the different bass boats and models, the SeaArK BC 210 Bass Boat is a new entry into the market, and it has its share of wonderful features. The BC210 is all-welded, and the hull design is the first of the kind with this new model. At 10 degrees deadrise angle, you get improved speed, performance, and efficiency. There are a total of 6 storage boxes, all lockable.
Two of the boxes can store 22 fishing rods, and another two have LED lights. The BC210 comes with an inbuilt cooler and a 43gal Livewell. Its horsepower is rated at 250 and has two fuel tanks, each carrying 19gal of fuel. Note that the whole bass boat is made from aluminum, and no single piece of wood is used.
For easy navigation, the SeaArk model is fitted with detachable LED lights. An automatic anchor is also available upon request. These are just some of the many accessories you'll find on this bass boost. 
Pros
Has hydraulic steering.

It's solid and durable.

Unlimited storage space.

Relatively fast and powerful.
Cons
Its weight capacity is low, considering how heavy the boat is.
Factors to Consider When Acquiring a Bass Boat-Buyers Guide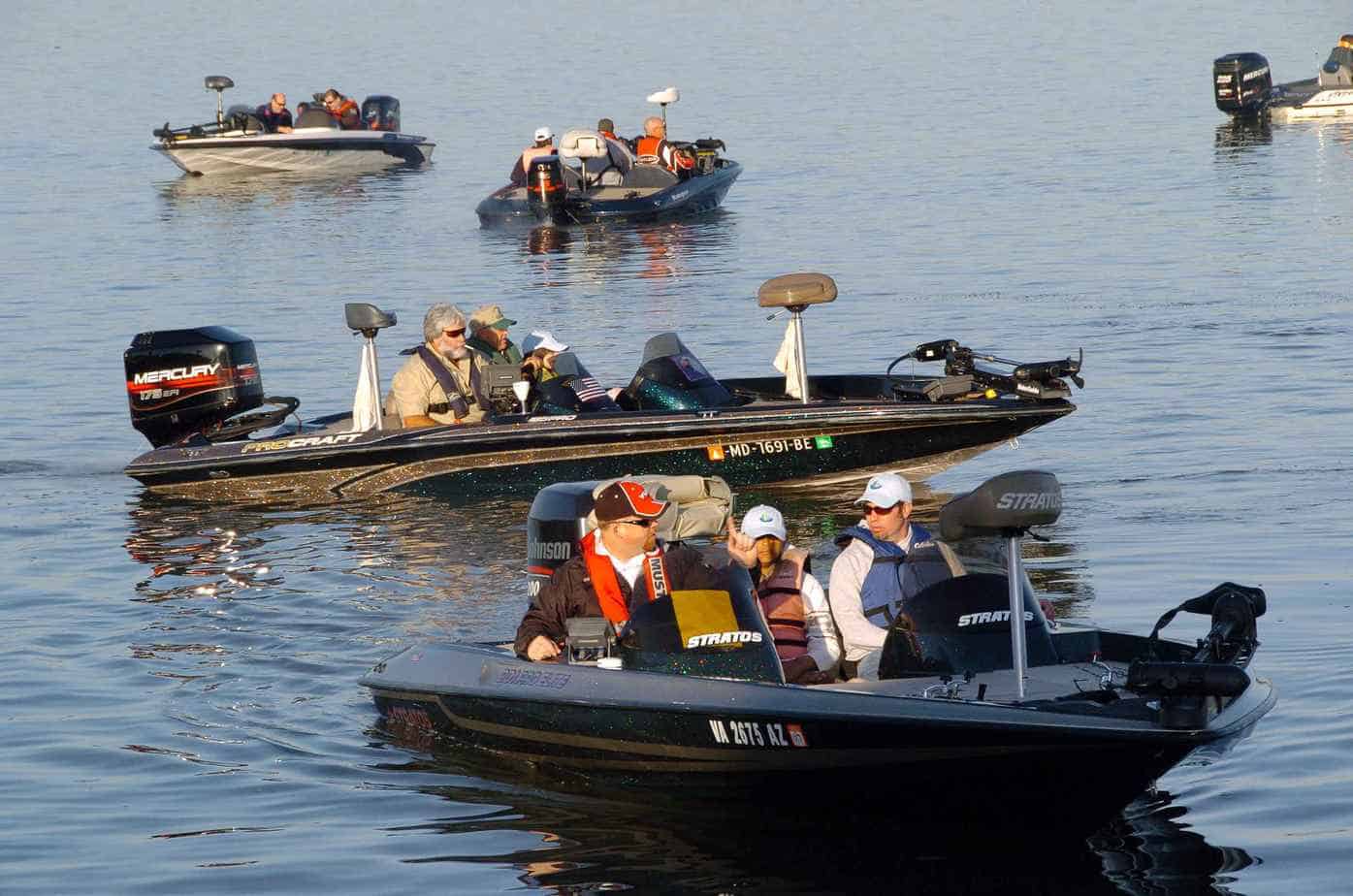 Without a doubt, buying an asset worth thousands of dollars requires due diligence. Here are some factors you should consider before acquiring a top-drawer bass boat.
Material Used: Fiberglass or Aluminum?
Most of these speed stars are either made using fiberglass or aluminum. Each material has its pros and cons, but notably, many models are manufacturing bass boats using aluminum. It might be because it's cheaper than fiberglass, but fiberglass bass boats take the day when it comes to performance and efficiency. 
Towing Trailer
When buying a brand-new bass boat, you'll find many models that incorporate a towing trailer in the price. You might choose to purchase separately or both at once. In this case, the primary determinant is the vehicle you'll be using to tow the boat. Will you use a van, truck, or caravan? Hence, it's vital to deliberate on the towing trailer factor before making a purchase.  
The Bass Boat Model
There are many models in the market, and more are introduced every day. Each model will vary when it comes to design, performance, accessories, and storage. Realize what you need in a bass boat first before deciding on which fits you best.
Hull Design
Bass boats come with different hull designs, and it's imperative to ponder this because the design influences the boat's performance. If the deadrise angle is at least 10-16 degrees, the efficiency of that bass boat is unmatched.
The Fuel capacity
Used chiefly in fishing tournaments, bass boats require a large fuel tank holding a minimum of 40gal. Some water bodies where these fishing competitions take place tend to be massive. If you fail to contemplate on the fuel tank, rest assured you'll go home early.
Price
The prices differ depending on the bass boat model or series. Some have exorbitant price tags which match the boat's performance, while others are exaggerated. Ensure you make a comparison between the price and what the bass boat has to offer.
Warranty
Warranty is a sensitive issue, especially for bass boats made with fiberglass material. Not all, but some boat manufacturers offer a lifetime warranty. A warranty is essential since we've seen that some bass boats tend to have hull leakage issues because of failure from the manufacturer's quality control department.
Frequently Asked Questions (FAQs)
Question: Should the Bottom of a Bass Boat be Waxed?
Answer: When detailing a bass boat, it's okay to wax the bottom of the hull. It does help tune the boat's efficiency since friction experienced between the hull and water is reduced.
Question: How are Bass Boats Different?
Answer: The only differences between bass boats and other fishing boats are size and space. Bass boats have more space, and it's the reason many anglers prefer them. The Livewell also sets it apart from other fishing boats.
Question: Can Bass Boats handle Rough Waters?
Answer: If pushed to the limit, many bass boats can handle rough waters, but not all. It depends on the hull design and power. However, some are designed to handle both calm and turbulent shallow reservoirs.
Question: Why are Bass Boats Fast?
Answer: Their streamlined body and lightweight allow bass boats to move at incredible speeds. With a strong outboard, the bass boats can be so fast. Some have a cruise speed of 75mph.
Question: Do Bass Boats Sink?
Answer: No, not usually. Bass boats don't sink under normal circumstances, but they can sink if there are significant leaks on the hull and clogged drainage. Therefore, unless you hit a rock when fishing, bass boats will stay afloat.
Conclusion
Staunch bass boat anglers understand the need for a speedy machine with lots of storage space. If you've been adamant about upgrading to a new model or snapping up a new bass boat, don't worry. We have done thorough research to provide you with credible and reliable information on the top 10 bass boats and models.
If you're still in a dilemma on which model will give you the best bargain, we can still recommend the best.
The Nitro Z21 Pro bass boat wins since it blends all the essential factors in providing you with a superior base boat. Its hull is made from fiberglass, comes with a 300-horsepower outboard and a fuel tank that holds 55 gallons. It's hard to beat that.
Looking for more interesting? Check out: