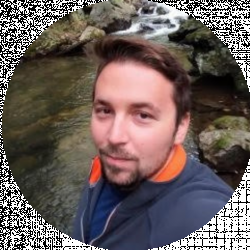 Latest posts by Coty Perry
(see all)
Are you looking for a boat with safety, fine craftsmanship, and excellent offshore performance? If that is the case, a good choice would be a Boston Whaler boat.
Combine the mentioned features with a solid reputation of being unsinkable, and you know you are buying a hardcore watercraft. So which model is best suited for your needs?
We scoured the internet and the official Boston Whaler website to gather a list of this boat brand's most popular types and models. The list below gives you information on the most popular Boston Whaler watercraft and an insight into their features. Check them out get one that will suit your offshore needs. 
Our Top 10 Boston Whaler Boat Picks
The following is a list of the best 10 Boston Whaler types that are the most popular. The information includes the boats' features as well as their merits and demerits. 
Conquest 345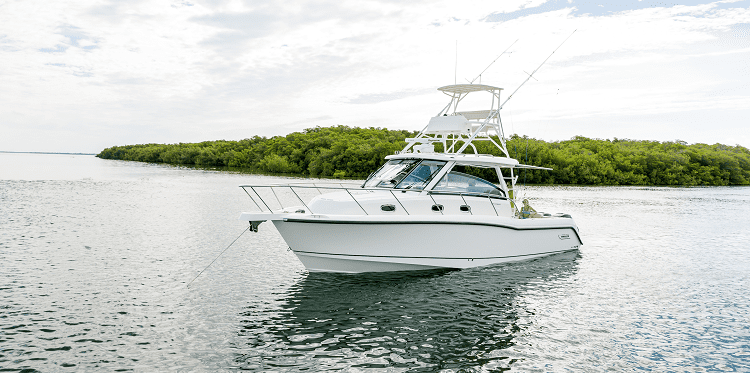 On this watercraft, you get well-thought-out jump seats. These can be folded when you need more fishing room. There are also comfortable leaning posts that are complemented by stainless-steel toe rails. 
The Conquest 345 comes with a convenient and nice port prep station. It features an electric grill (for cooking or preparing warm meals), 35-quart Yeti cooler as part of dedicated cooler storage, and a fully equipped pull-out prep area.
The grill's design maximizes comfort by minimizing smoke. A starboard cockpit wet bar and comfortable seating are part of the cockpit cabin. 
What about the belowdecks? There is a roomy and cozy private cabin to provide you with pleasant sleeping quarters should go for long-distance trips.
Dynamic Cabin System is one of this boat's great features. It's an award-winning system that transforms your V-berth dinette table into a queen-sized island bed by pressing a button.  
You also get a starboard settee you can convert into a double berth. There is also a U-shape seating you can convert into another berth. Such features make it a great boat for large groups of friends or families. The other option is using it as additional storage. 
What about entertainment and utilities? A fully-equipped galley, DVD player, and 28-inch flat-screen are standard. There is also a VacuFlush toilet and pull-out showerhead in an enclosed head. 
When it comes to performance, you get the Triple Mercury FourStroke Verado engines. For outstanding control and power, the engines are paired with Joystick Piloting. Combined with an ultra-large windshield, large foredeck, and deep V hull, she can handle anything you throw at her. 
The V-Hull ensures you can rock the blue see offshore cruising challenges you may want to undertake with Conquest 345. When powered by Triple Mercury 400 Verado, it can reach a top speed of about 56 MPH at about 6,800 RPMs. The time to plane was almost 10 seconds. 
Last but not least, fishing features you may like include 3 rod holders at the aft deck and several on top, just behind the flybridge. Additionally, the watercraft comes with an easy-to-reach port insulated livewell, tackle storage drawers, and dual fishboxes. 
Specifications
Capacity: 14 people

Hp Capacity: 1,200 hp

Weight: 14,200 lbs.

Draft: 22 inches

Beam: 11 feet, 8 inches 

Length: 35 feet, 11 inches
Pros
Solo operation thanks to skyhook autopilot

3 fridges

The cabin below deck comes with 4 skylights

The cabin can be enclosed for all-weather comfort

A retractable SureShade awning
Cons
The plane is likely to slide off in rough sea due to the ceramic element on the galley below
Outrage 250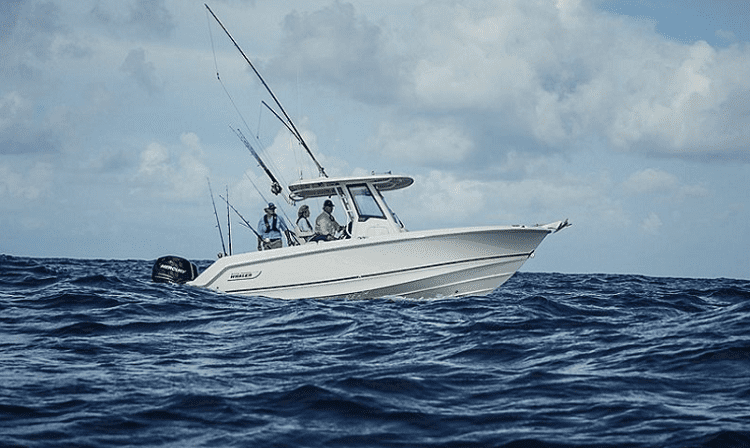 It's designed for angling with comfort and confidence with the performance and power avid fishermen need for offshore adventures. The Outrage 250 is a midsized and affordable beast designed for live bait fishing. For instance, it has an additional port livewell at the aft. Ideal for cut fishing, this livewell is a great choice if you prefer fishing for groupers and barracuda. 
Functional seating is present throughout Outrage 250. Included a fold-away stern seat offering additional room when you are fishing. Additionally, there is an open and nice seating area in the bow and a built-in cooler in a forward-console seat. 
There is room at the helm to accommodate a single 16-inch display or two 12-inch displays. Plus you get seating and foot-rest adjust for added comfort. There is an enclosed head with a pump-out inside the helm console. 
According to Outrage 250 owners and users, performance is responsive. The majority stated the boat was capable of handling rough seas like a larger boat. She can reach a top speed of about 52 MPH at 5,800 RPMs thanks to the Dual Mercury 200 V6 CMS. 5.3 seconds is the average planing speed.
Other extras include 30-gallon pressurized livewell, raw and freshwater washdowns, tackle storage drawers, bait-prep area, starboard and port fishboxes, stainless-steel toe rails, under-gunnel rod racks, and transom and gunnel-mounted rod holders.
Specifications
Capacity: 12 people

Hp Capacity: 450 hp

Weight: 5,350 lbs.

Draft: 20 inches

Beam: 9 feet 

Length: 25 feet, 5 inches
Pros
Leaning posts all wound the cockpit

Wraparound seating in the front

Reinforced body for confidence in swells 

Spacious thanks to the 9-foot beam

Great performance in rough seas
Cons
It may not be long enough for spacious and comfortable fishing 
Realm 380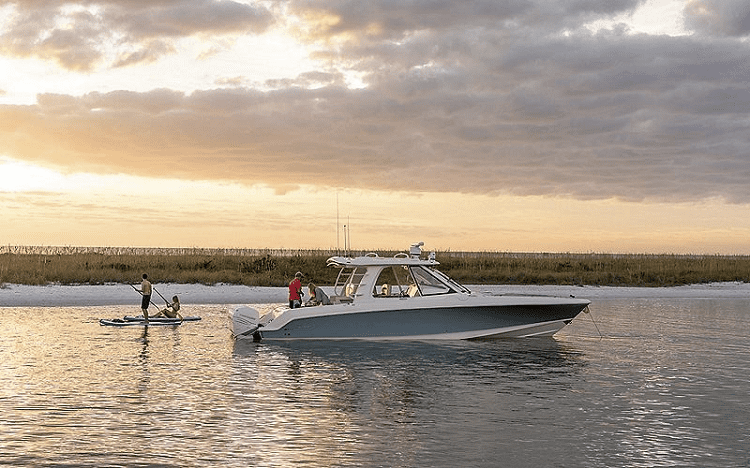 Are you looking for a cabin cruiser that's ideal for long-distance journeys and all-day cruising? If so, the Realm 380 comes with superb fit and finish, outstanding performance, and amazing comfort, making it an ideal choice. 
For starters, it has a vast and open bow area. It comes with an enjoyable lounge featuring a built-in easy-to-access 70-quart cooler, armrests with cup holders, side speakers, and seating for three. You can increase your comfort by opting for a sun pad filler cushion, a table, and a bow sunshade. 
On the cabin, there is a beautiful wraparound windshield. It ensures great visibility, protection, and bow access. The state-of-the-art helm station houses a wide captain seat including a flip-up bolster and three display screens.
There's a fully equipped prep center on the cabin's port side. It features a stainless-steel fridge, a sink, and a grill. 
The roomy aft deck comes with a flip-up transom bench. There is also a conformable and wide reversible seat that has a 260-quart cooler underneath. Even though the Realm 380's design had entertainment in mind, it also offers a fishing option.
For instance, there is an expansive aft deck and a 15-gallon livewell in the transom. Also included are fresh and raw water washdowns, fishboxes, and flush-mount rod holders. 
Comfortable overnight accommodation is available on the belowdecks. You get a fully enclosed head that comes with a shower, an entertainment center, a convertible V-berth, and a galley.
At 6,000 RPM and a top speed of about 58 MPH, the Quad Mercury 300 V8 AMS delivers a dry and smooth ride. Users state the plane speed was reached at an average of 8 seconds.  
Specifications
Capacity: 16 people

Hp Capacity: 1,600 hp

Weight: 17,000 lbs.

Draft: 29 inches

Beam: 11 feet, 8 inches 

Length: 38 feet
Pros
Multiple social zones

Well-thought-out design

Tons of space

Powerful engine

Large 260-quart cooler 
Cons
No windows on the private cabin 
Vantage 320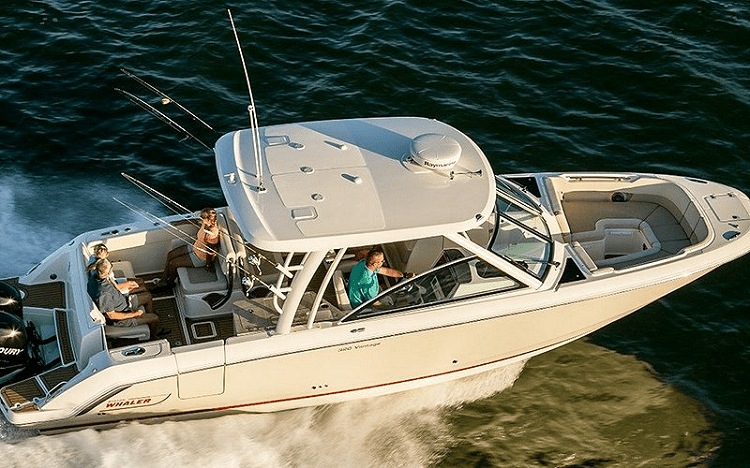 Some of the features that make this vessel the ultimate offshore family boat is a safe and stable ride, solid construction, and a high level of adaptability.
The Vantage 320 is a great boat for various activities on coastal cruising and blue water locales. It's a versatile boat that is great for going tubing with the kids, relaxing, entertaining, diving, or fishing.  
The bow is spacious, comfortable, and open. A few distinguishing features of the bow include the freshwater washdown, convenient boarding ladder, and center seat with a molded-in insulated cooler underneath. For added functionality, you can use the optional bow table. 
A cozy and private cabin is nestled under the port side console. Some users have mentioned it's a great place for an afternoon siesta.
You also get a head with a shower and toilet inside the starboard console. The captain's seat has an electric pedestal with high/low settings. Two touchscreens are provided at the helm, and they come with a VesselView display and Raymarine electronics. 
This model has a cockpit with convertible portside seating providing an array of configurations. There is a utility center located on the starboard side. It features a prep surface, an 18-gallon cooler, and a sink. The fridge and grill are optional in this model. 
Over at the aft deck, you get an extended swim platform and a flip-up transom bench seat. The former has a stainless-steel ladder attached to a robust side dive door.
If you want to fish, you can use the insulated 18-gallon cooler/livewell from the utility center. Other extras are rod holders across the hardtop and at the transom, fishboxes, raw and freshwater washdowns, and transom toe rails.
If you don't like the double convertible port lounge seat, you can opt for a deluxe prep center with another livewell. 
A top speed of about 55 MPH at 6,800 RPM is possible thanks to the twin 400 Mercury Verado. 8.5 seconds is the average time to plane.
Specifications
Capacity: 14 people

Hp Capacity: 800 hp

Weight: 9,800 lbs.

Draft: 22 inches

Beam: 10 feet, 4 inches 

Length: 38 feet, 6 inches 
Pros
Efficient cruising

Customizable for entertaining, tubing, fishing, or family activities

Retractable showerhead onboarding ladder

Great performance in rough seas

Sturdy overall construction
Cons
No screen cover for the cabin skylight
Outrage 380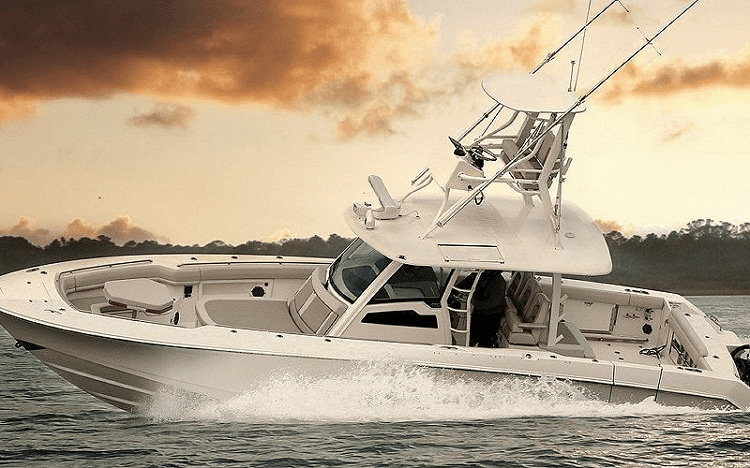 Are you a serious angler who needs a well-equipped offshore fishing platform? Are you a modern boater who appreciates a good boating experience? If you answer yes to either of these questions, then the Outrage 380 is the Boston Whaler you need. It delivers performance, versatility, and comfort to suit your needs.
Under the bow, there's a forward deck wraparound seating and a massive storage space. When you remove the cushions, you get a nice casting deck. A teak dinette table is a cool option for the bow. You can lower or raise it with the push of a button. 
You can fish from the cockpit or the bow. 45 square feet is the space you get from the bow. Other features in these two areas are a large 60-gallon transom livewell with a divider, washdown spigots, strategically placed rod holder, and dual fishboxes.  
The good news is you get a stern bench seat at the cockpit. When fishing, you can fold it away to increase space. There's an aft-facing couch directly across this bench. Its back is easily converted to become a bait prep station. 
An air-conditioned center-console helm deck is present under the fully integrated hardtop. It comes with customizable seating for a captain and two individuals.
A private and cozy cabin is available belowdecks. It features a settee you can transform into a double berth. Furthermore, you get a fully enclosed head with a shower and a compact galley with a microwave and sink. 
Do you need more options? If so, you can get a Summer Kitchen for added entertainment, Whaler Watch technology for 24/7 security, a deluxe leaning post (with a second livewell designed for serious sportfishing), and Seakeeper gyro-stabilizing system.  
Under rough sea conditions, this watercraft is very responsive. Go for the optional Joystick Piloting for effortless control and easy docking. Speeds of more than 50 MPH at 6,000 RPM are possible when equipped with Triple Mercury 300 V8 AMS. 8.2 seconds is the time to plane.
Specifications
Capacity: 16 people

Hp Capacity: 1,600 hp

Weight: 14,500 lbs.

Draft: 23.5 inches

Beam: 11 feet, 8 inches 

Length: 38 feet
Pros
Top-notch electronics and motor room

Aft deck with a big fishing area

Solid construction

Weather mitigation thanks to aft and fore-sun shade and helm A/C

Spacious 
Cons
May cost more than other brands with similar features
Montauk 210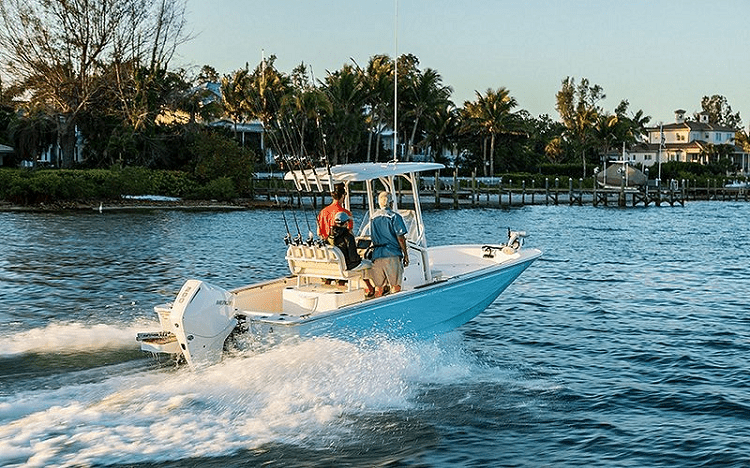 Although this boat is not the most versatile or feature-rich Whaler, it's a force to reckon with. For starters, it offers a safe, comfortable, and functional inshore and offshore fishing platform.
The Montauk 210 is a low maintenance, safe, and solid center console developed for a user-friendly, quick launch, great, and mostly an easy go and hosing down experience. 
Take note all Montauks boast a spacious layout featuring two rear casting platforms and a forward casting deck. The upside is the former can be converted to individual seats. Additionally, there are a forward insulated fishbox and rod holders.
On the downside, you need to consider getting a package to get additional features. For example, there is the Deluxe Leaning Post and Fishing Package. 
The Deluxe Leaning post comes with a raw-water washdown, rod holders, and a 30-gallon livewell. For the Fishing Package, you get tackles drawers, rod holders, and a 94-quart cooler seat. Lastly, a big bow pad and enclosed head with pump-out are added. Are these packages cool or what? 
Don't forget, under the console, you get a head to ensure you can enjoy this vessel for short/long fishing, vocational, or small offshore/onshore water adventures. 
40 MPH at 4,800 RPM is what you get from Montauk's 210 Mercury 150 FourStroke. From our research, the 210 reached an average planning speed of 5.6 seconds. Now let's look at the specs, advantages, and disadvantages. 
Specifications
Capacity: 9 people

Hp Capacity: 200 hp

Weight: 2,650 lbs.

Draft: 15 inches

Beam: 8 feet, 6 inches 

Length: 24 feet, 4 inches
Pros
Unswampable 

Easy to clean

The bow can convert to lounge making a backrest using the same holes as the backrest

Great casting platform on the bow

Good performance and easy operation
Cons
A turning knob on torque effect would improve steering when turning to starboard
Super Sport 160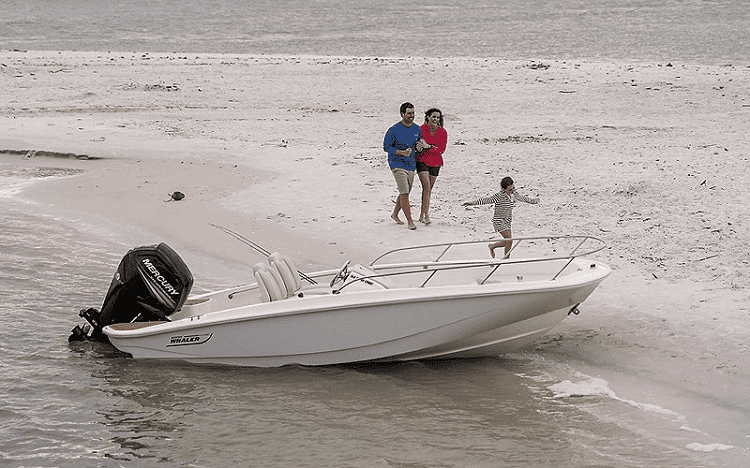 Aaahhh!! Effortless operation, spacious layout, and sleek line makes this Boston Whaler's Super Sport. Its performance on day trips, tubing, and runabout fishing is unparalleled. Additionally, it's affordable to buy and maintain. What more can you ask for an unsinkable sporting boat?  
Let's go! From the keel-up redesign and cool new features to a handy water-resistant lockable storage compartment and dual aft swim compartments, it's easy to love it! There are two models of the Super Sport 160, with the bi-mini or tube tower-armed model getting more horsepower. 
Are you a watersport kind of person? This boat gives you the option of adding a ski tow bar making waterskiing a possibility in a plethora of options considering it has a 10-inch draft. Finally, you can get on a top speed of 37.7 MPH at 5,500 RPM and get on plane at about 3.7 seconds max. 
Specifications
Capacity: 6 people

Hp Capacity: 90 hp

Weight: 1,600 lbs.

Draft: 10 inches

Beam: 6 feet, 10 inches 

Length: 17 feet, 5 inches
Pros
A great option for water skiing

Easy to clean

Low maintenance

Optimized layout 

Great for use on the occasional (fast) boat trip

Quality at the price point 
Cons
Basic interior

Single storage compartment 
Dauntless 220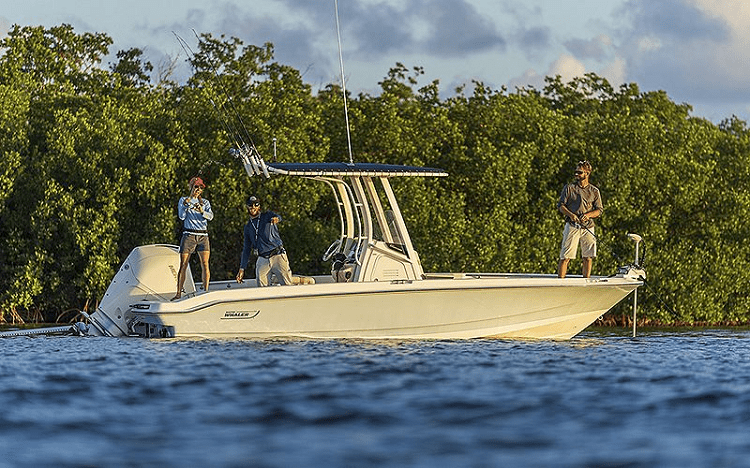 This is a versatile and elegant watercraft that effortlessly accommodates active family enmities as well as serious anglers' conveniences. It's a great option for offshore and bay trips. You get a spacious elevated casting deck that comes with a large fishbox. In this model, the bow cushion is optional. 
The Dauntless 220's front center console comes with a comfortable double lounge seat. A head with a removable porta-potti is standard on this model. The helm station features SmartCraft gauges and optional Fusion stereo. The helm seat has an integrated cooler and features a locking backrest.
There are 3 rod holders and two casting platforms at the transom. At the bow, there are additional rod holders. Across the transom, you get 2 seats with folding backrests. Additionally, there is a swim platform combined with a telescoping ladder. 
Other options include a trolling motor panel, a bow pedestal fishing seat, a ski pylon for watersports a reversible pilot seat with livewell, and a hardtop to escape from the sun. This boat delivers a top speed of approximately 51 MPH at 6,000 RPM. 3.6 seconds is this boat's planning speed.  
Spe

cifications
Capacity: 9 people

Hp Capacity: 250 hp

Weight: 3,040 lbs.

Draft: 15 inches

Beam: 8 feet, 6 inches 

Length: 22 feet
Pros
Plenty of rod holders

Quality instrumentation enhances ease of operation

Elegant colors

Fast

Easy to handle
Cons
Boston Whaler Buying Guide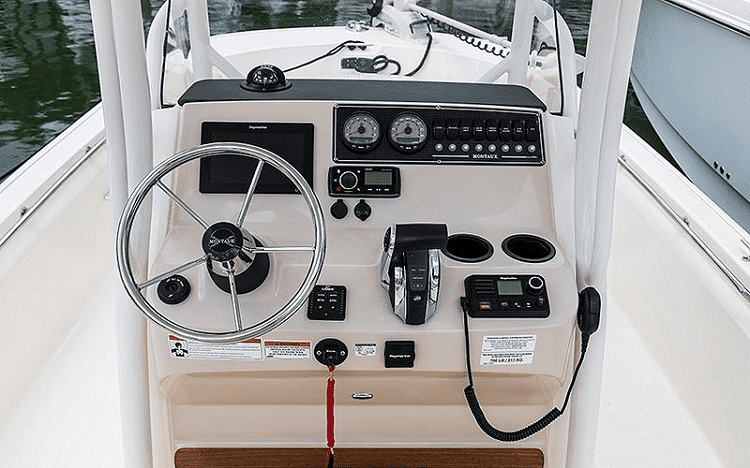 If you plan to buy a Boston Whaler boat, you need to know the different types available. The following information is a guide on the types of Boston Whaler boats and their features.
Conquest  
Thanks to Mercury Verado power, wide beam, and sleek deep-V hull, the conquest tackles sophisticated entertaining and saltwater fishing. Cutting-edge technology and ample fishing amenities result in successful and confident offshore excursions.
Fully adjustable and premium seats convert the cockpit into a fantastic alfresco dining space. Comfortable overnighting is possible due to the well-appointed cabin with an entertainment zone, galley, and enclosed head. 
Super Sport
Are you looking for the ultimate load-and-go readiness? Look no further than the Boston Whaler Super Sport. 
Apart from being incredibly fun, safe, and simple to operate, it's easy to park in your garage and is easily trailerable. This model combines durable, rigid construction with strong and reliable Mercury power. That is why they are excellent workboats or yacht tenders. 
Montauk
Hands down, this model is one of the most popular center console boats in the market. It has an easy "hose-and-go" cleanup as well as a rugged utility and practical design. A shallow draft allows for a stable and dry ride as well as quick planing. 
The center console is spacious and provides ample storage for you and your friends, family, or colleagues' gear. Go wakeboarding, go fishing, or just go. The Montauk makes all these possible thanks to its trademark unsinkability, time-tested design, and a plethora of comfort-minded details. 
Dauntless
The center console on the Dauntless comes with options that suit specific on-water pursuits as well as a host of amenities. This makes it well equipped for offshore fishing and watersports. 
Fishing capabilities are expanded by an optional reversible seat with livewell and pedestal fishing seats. Included is an All-Activity Tower great for extra watersports exhilaration. Other features that make the Dauntless a good option for the active family are plenty of space for gear and people, reliable, and unsinkably safe. 
Vantage 
The capabilities and space active families demand can be found on the Vantage. Remarkable stability, handling, and comfort are the result of combining an impeccably crafted hull and leading-edge design.
Offshore cruising is taken to another level due to best-in-class options and amenities. You can play all day and enjoy dinner on this watercraft. It's a great boat for entertaining in saltwater.
Outrage
Customizable electronics and effortless Mercury Verado power are some of the features that make the Outrage a great boat. It's a battle-ready offshore fishing machine thanks to the integrated hardtop, in-floor fishboxes, and huge livewells. 
Effortless entertaining is made possible by thoughtful amenities such as a Summer Kitchen in the roomy cockpit. If you have a mega-yacht, an Outrage is your ideal yacht tender. 
Realm
The Boston Whaler Realm is on another level. It's a family of boats delivering comfort-minded amenities of a cabin cruiser and an open-cockpit versatility of a center console. The features empower activities, including traveling to far-off destinations, entertaining, diving, and fishing.
State-of-the-art propulsion and navigation make the Realm a breeze to operate. Do you want to treat friends and family to unforgettable new experiences? Get the Realm 380 or 350 turn adventure possibilities into reality. 
Boston Whaler Alternatives
Even though it's almost impossible not to get a Boston Whaler boat that meets your preferences, it happens. If that is the case, we have compiled a list of the three best alternatives. Check them out below! 
Best Center Console for Entertaining – 3200 Century Center Console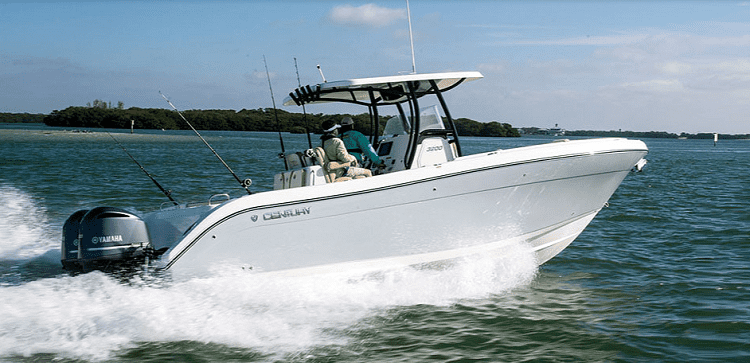 Apart from being a true beauty, the 3200 Century Center Console's appeal isn't just superficial. It's luxurious and functional. For starters, it comes with loads of fishing features making it perfect for competitive or recreational anglers.
Not a fan of fishing? Don't worry. This boat has a plethora of convenience and comfort features that make it ideal for entertaining. 
It's designed with 4 forward fish boxes, 62-gallon and 2-pump baitwell system, and ample storage. There is a host of amenities such as tilt-out tackle trays, gunwale rod holders, bow cushions and bolsters, an enclosed electric head, and an entertainment table.
Pros
Twin outboard Yamaha power

A hoist of fishing savvy features

Great for entertaining

Enclosed electric head

Luxurious and functional
Cons
Best Multipurpose Alternative – EdgeWater 340 CC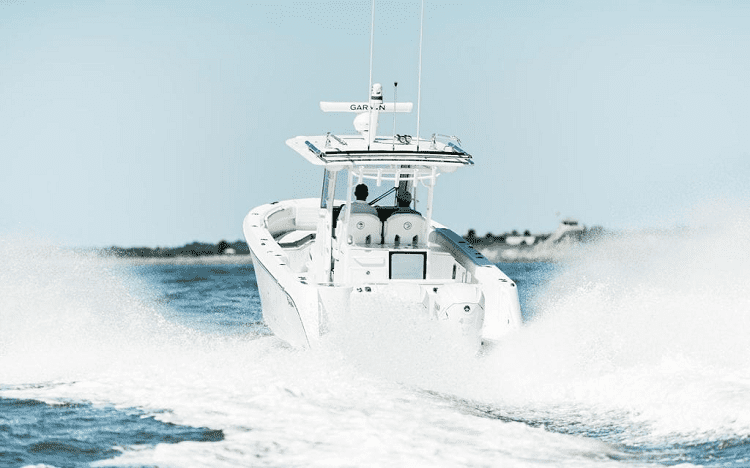 Are you looking to combine fishing and family-friendly features in a center console boat that offers one sleek package? Then go for the EdgeWater 340 CC. For starters, it comes with 2 Yamaha XTO 425 HP engines. Combine these with the optional Seakeeper, and your boat stays stable in rough waves. 
The console head has plenty of storage and ample room. The deck comes with three rod holders. There is a stowaway bow table great for taking family or friends out on the water. A plush sun pad lounge offers your guests a comfortable seating area.
Pros
Offers outstanding performance and comfort

Ample cabin headroom

Ideal for entertaining and fishing 

Option Seakeeper for improved stability

Sun pad lounge 
Cons
High-speeds cause wet rides
Best Sportfishing Alternative – Contender 44ST
If you are a sportfishing enthusiast, the Contender 44ST is designed to meet your needs. For instance, fuel efficiency and high performance are combined without affecting the ride.
You get to choose between three or four-engine configurations. This means you can easily be the first to get to a hot offshore fishing site. Do you want to go to South Florida to do some kite fishing?
Do you want to venture into the Atlantic Canyons and hunt for big tuna? If yes, then the Contender 44ST is the boat of choice.
Pros
Perfect for offshore fishing

Plenty of navigation packages

Powered by triple or quadruple Yamaha engines

Built for speed and range

Stylish 
Cons 
Boston Whaler FAQs
Question: How Can I Use a Boston Whaler Boat?
Answer: as an owner, you can use your boat for anything from overnight cruising to hardcore offshore fishing and from simple socializing to watersports. They can also be used as tenders for superyachts to smaller yachts. 
Question: Are there Any Good Old Boston Whaler Boats?
Answer: Yes, there are! Boston Whaler made some of the best boats in the world during the '80s. Unfortunately, these boats are no longer being manufactured. Additionally, these old boats hold their value better than their counterparts.  
Question: Is it True Boston Whalers are Unsinkable?
Answer: These boats are designed with special foam construction. Furthermore, Boston Whalers float when they are swamped or filled with water. That said, it is virtually impossible to sink these boats. 
Question: Do Boston Whalers Hold their Value?
Answer: Like cars and airplanes, Boston Whalers depreciate with age. However, they don't do so quickly. Take note in the first few years, the boat will depreciate quickly. After that, the boat depreciates slowly. In some cases, at a certain age, the boat can gain value.  
Bottom Line
Boston Whaler is a great boat. The fact that it's unsinkable means you get great value for your money. You don't risk losing it due to sinking. Check out our list of the best Boston Whaler models above to help you make a great buying decision. We have included a buying guide to help narrow down your choices.
For some, they may not like the options provided. Others may not be able to make a decision using the buying guide. If so, check out the alternatives for best options for sportfishing, entertaining, and multipurpose. All this information should help you make the right choice whether you are buying or leasing one.
Looking for more interesting readings? Check out: