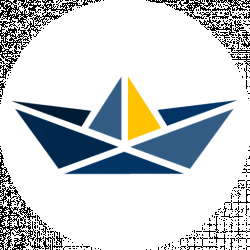 Latest posts by Jeanne Murugami
(see all)
If you are a pontoon fisherman that enjoys a relaxing time in the waters with family or friends, you can now have a barbecue while sailing.
Whether it's grilling fish, sausages, veggies, or meat, it's all achievable onboard. Furthermore, you'll do the grilling without compromising on safety and we will show you have to find the best grill for your pontoon boat.
Factors to Consider
A lovely barbecue will go a long way to having an entire fun-filled time while out in the waters. This is because recreation and food go hand in hand, but it gets better if all food is freshly grilled on that pontoon. However, grills come in different shapes and with different functions and this affects their performance.
Here, we will look at some essential factors to look at before purchasing that boat grill.
Source of Fuel
When you look at the different boat grill models, they're fueled by either propane gas or charcoal. Since we're in an era where the world is trying to fight carbon emissions, many users and manufacturers do not fancy the latter. 
Therefore, it's increasingly challenging to find charcoal boat grills. Even though charcoal grills make the best barbecue, propane-fueled grills are the most common and perform equally if not better than the counterpart.
Then again, in the case of propane-fueled grills, there is the issue with the size of the gas tank. Make a point of checking whether the grill can accommodate a larger cylinder. This is because most come with a one-pound cylinder that might not be enough if you're grilling for long.
Size
When we talk about the size, we mean the grilling area and not necessarily the actual structural size. This is vital and the primary determinant to how much barbecue to prepare each time. If you have a group of at least five individuals, then you'll want a good size grill measuring 300 sq inches or more.
Heat Produced
BTU is a unit that relates to the heat produced by the grill's burner. The higher the BTU, the faster the glides heat. If you don't want to waste so much time waiting for the glide to heat, then look for a grill producing more than 15,000 BTU per hour.
Portability
A perfect boat grill should not weigh more than 25 pounds. This is because most grills require setting up, and it wouldn't be ideal if it's heavy. Also, for grills that are attached to pontoon rails, too much weight would interfere with the boat's stability. 
Material Used
The quality and durability of a boat grill are determined by the type of material the maker uses. Today, you'll find most grills are fabricated with stainless steel, but the grade will differ.
For grills built with this material, cleaning or washing them is easy. Therefore, ensure you check on the material used for you to acquire a quality pontoon boat grill.
Top-Tier Pontoon Boat Grills, Our Finest Picks
Pontoons are some of the few water vessels that accommodate onboard grilling mainly because of their stability and space. All the same, we know that you need comprehensive information that will guide you in identifying some of the best pontoon boat grills.
Therefore, before we go any further, we must help you understand some crucial features to look out for before acquiring a boat grill. These features include the mount, source of fire or fuel, size, material, portability, safety, stability, and durability. 
So, if It's feasible to find a grill that matches all these features and others we'll mention down the line, then you'll have made an actual score.
Our review, therefore, features the best pontoon boat grills by safety, stability, durability, material, and portability.
Cuisinart Pontoon Boat Grill: Top Rated Pontoon Grill Worldwide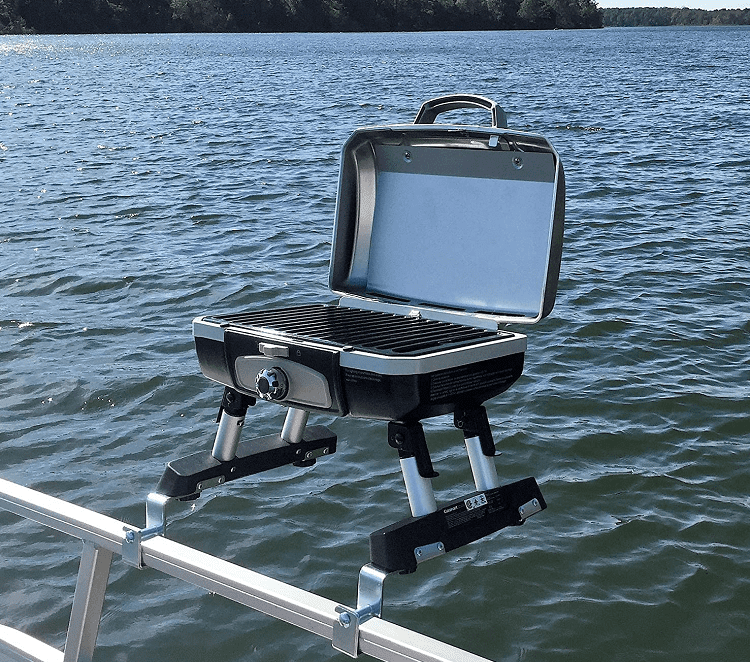 Cuisinart is well known for home balcony grills, however, the manufacturer has taken a step ahead to gift pontoon owners with a boat grill model.
Nonetheless, among the highly rated pontoon boat grill types and models, you'll find the Cuisinart pontoon boat grill. Being the Rolls Royce of pontoon boat grills, it weighs just 8 kgs, meaning it will comfortably carry almost double its weight.
This is because meat products tend to lose a certain moisture percentage during grilling hence becoming lighter. The grill is all stainless steel, and its brackets come pre-installed with mounts measuring 1.25 inches. 
It's very compact, making it easy to install and detach on pontoon railings. You only need a spanner or pliers for tightening the locking system, but according to the maker, you won't need a tool.
The stainless-steel brackets will not cause any rust on the pontoon's rails regardless of how long the grill stays attached or the waters you're sailing on. It comes with a locking lid, and a drip tray made using stainless steel to favor durability and reduce corrosion when grilling.
This pontoon grill uses propane gas, and you get a propane tank with a solid and dependable mount. All these functions come pre-installed for you.
Pros
Easy to install and remove.

Handles are available for easy portability.

Its installation is hands-free.

The grill is price-friendly.

It doesn't rust.
Cons
The brackets will flip if not well tightened.

Cleaning the drip tray might be challenging.
Magma Newport Boat Grill: Best Gas Pontoon Boat Grill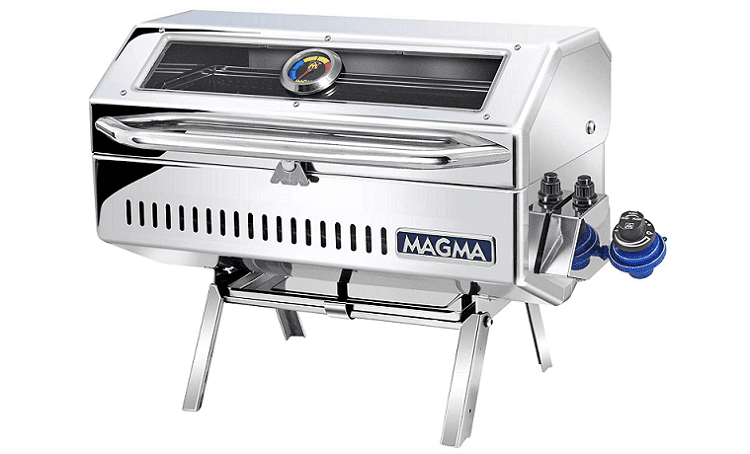 We present you with another highly rated pontoon boat grill according to users' reviews and top-rated features. The Magma pontoon boat grill is a unique model that encompasses utility and multi-functionality.
It uses the standard propane gas barrels but also accommodates CNG or LPG gas systems. Its ignition or lighting is electrical, so you don't have to carry a lighter.
This boat grill maker uses marine-grade stainless steel, which is mirror polished to improve quality and style. It has a pre-installed thermometer to help realize the right grilling temperature depending on the meat you intend to grill.
Its cover is all tempered glass to give you a clear view of how your meat is roasting. The maker has created an all-rounded grill design and a state-of-the-art combustion system for efficiency.
With this system, you know that the grill will withstand windy conditions, familiar with most water reservoirs. The tray locks perfectly to minimize unwanted movement experienced in rough waters, and the grill's legs unfold to enable you to set it at your preferred height.
The anti-flare technology allows the grill to produce flares with intensity while reducing fire outbursts evenly.
This helps your roast to burn evenly while giving it that smokey scent or flavor that most of us love.
Pros
It has a thermometer for heat control.

The grill has an elegant look.

It's possible to switch from propane to LPG.

You can use it in rough waters.

In case of high winds, the flame won't blow off.

Possible to control the temperature.

It's very roomy.
Cons
You have to clean the infrared elements regularly.

The pan might require extra adjustment.
Royal Gourmet GT1001 Grill: Most Advanced Pontoon Boat Grill
When you look at its quality and advanced features, you'll probably like the Royal Gourmet GT1001 Grill. It's a professional grill that encompasses reliability and an affordable premium value.  
The grill delivers 10,000 BTUs, which heats the grill fast enough to get you cooking in no time. It offers a sizable cooking area at 280 sq inches and incorporates a removable grease tray that collects any residue produced when grilling, making cleanup easy.
The Royal Gourmet Grill is fitted with a thermometer connected around the gauge for monitoring temperature. It weighs just below 20 pounds, and you'll find handles mounted on both sides for portability.
To ignite the grill, it has a Piezo system which starts by just pushing the button. Its flame tamer is uniquely designed to ensure that flames are distributed consistently and with precision.
Another unique feature is the gas tank regulator, which indicates how much gas flows from the tank.
Pros
Lightweight and compact.

Easy to assemble.

Durable and portable.

Affordable.

It's advanced.
Cons
The flame tamer is too close to the top.
Momentum Grill 13742: Best Travel Pontoon Boat Grill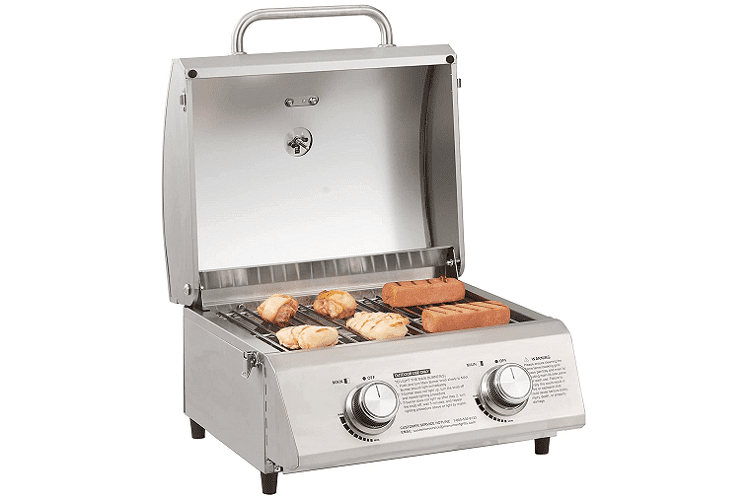 When boat owners think of getting a piece of pontoon equipment, versatility is always the main focal point. This plays a huge role considering that you'll be sailing in choppy waters most of the time. However, the Momentum travel boat grill is a unique model that offers users an unparalleled experience.
It comes with travel locks that help in keeping it secure while in transit. The Momentum boat grill is all stainless steel from the cooking grates, the burner, and the holistic structural design.
To fuel the grill, the maker installs a universal gas valve to facilitate other LPG gas models and sizes, this aids in offering diversity according to your preference. The cooking area is sizable, with at least 207 square inches of grilling space. Like many modern pontoon boat grills, it has a pre-mounted digitized thermometer for you to keep tabs on its temperature.
Pros
It has two stainless steel burners.

You get a sizable grilling space.

It's portable.

The Momentum boat grill is very versatile.

Built-in thermometer.

It's sturdy and easy to handle.
Cons
Propane cylinder sold separately.

You can't use it in rough waters.

The boat grill doesn't have rail grips.
Weber Q1200 Grill: Best Portable Pontoon Boat Grill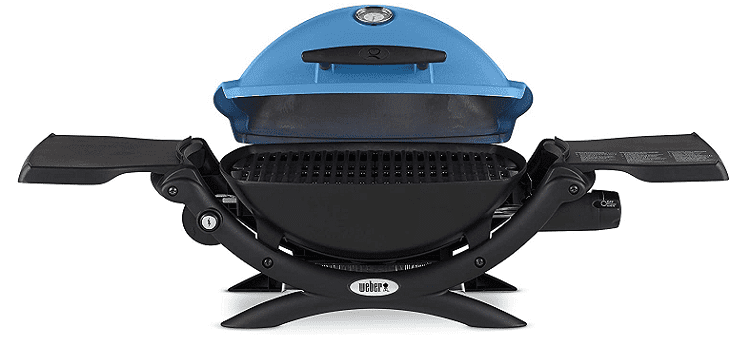 Considered the lotus flower of boat grills, it's impossible to go wrong with the highly-rated Weber Q1200 Grill. Since it doesn't have rail locks, you should use it when the boat is anchored or at the shores.
It has a 189 square grilling area with a burner that produces 8500 BTU per hour, which heats the grill relatively fast. Just like many modern boat grills, the Weber has an electronic lighting system.
The grill uses liquid propane that comes in a disposable LP cylinder. But with its valve setting, it's possible to connect a cylinder of your choice.
Its cook box shape and the shroud are designed for efficient heat circulation around the grate to cook your food evenly. The manufacturer has spent hours perfecting the boat grill to ensure that its assembly is fast and stress-free.
You'll find a 3D assembly instruction manual in the package to facilitate its assembly; alternatively, the manual is also available through the BILT app.
Pros
Requires minimal maintenance.

It's easy to clean.

Durable.

The boat grill is efficient.

Lights fast.

It has a grease management system.

Its price is pocket-friendly.
Cons
It takes time to reach maximum temperature.

You can't use it when sailing.
Blaze Professional Boat Grill: Premium Boat Grill for Offshore Cooking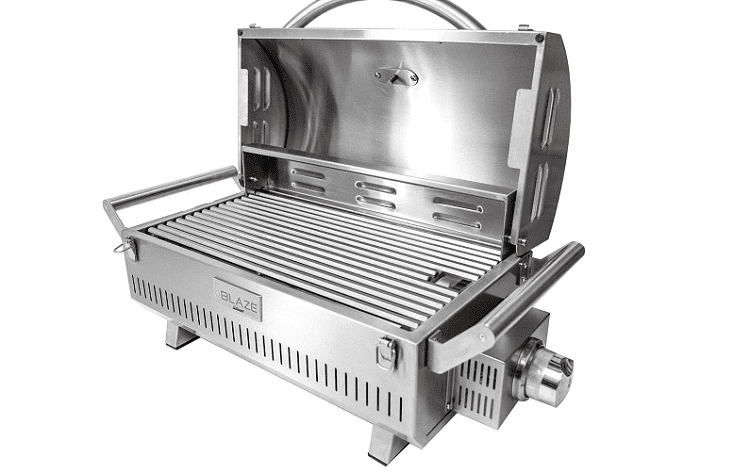 If you want to whip up a mouth-watering meal for your family or friends offshore, the Blaze Professional boat grill should spring to mind. It's one of a kind grill with one knob for ignition and gas regulation. 
With a marine-grade stainless-steel exterior, the grill is resistant to saltwater corrosion, consequently enhancing its durability. It has two lockable clasps at the front to facilitate storage and transportation.
The Blaze boat grill uses propane gas, and the manufacturer offers you two-cylinder tank choices, 1 lb, and 20 lb. The burner can produce 12,000 BTUs to heat the grill and this reduces the heating time and helps save gas.
Therefore, three to four minutes after lighting it, you should start cooking your food. The flame-thrower ensures uniform and steady flame distribution.
Its heavy-duty cooking rods let the grill reach searing temperatures to enable you to grill what you want. Unlike many boat grill models, the Blaze grill maker offers a lifetime warranty with every purchase.
Pros
Corrosion-resistant

Portable.

Superior Quality

It lights fast.
Cons
Pit Boss Grill: Most Spacious Boat Grill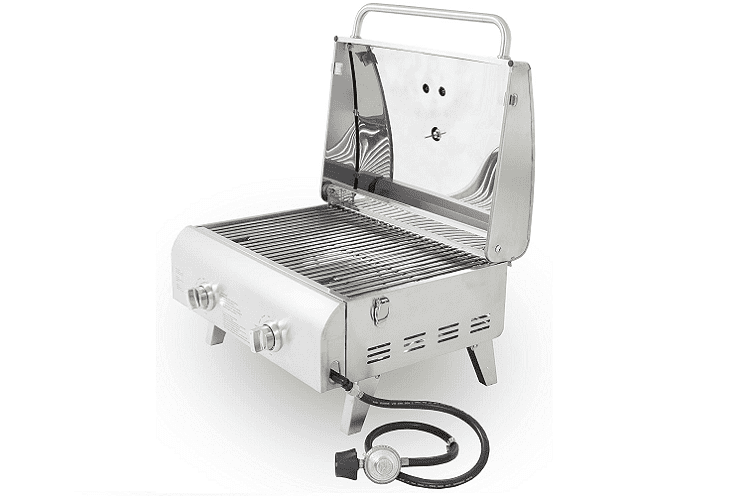 For anyone looking to buy a boat grill, the first feature to consider is the grilling space. With a roomy grill, you'll cook more and serve more people. If you want a family-size grill that's also affordable, the Pit Boss Grill is what you need. The grilling area measures 275 square inches. This places it at the top of the list of spacious grills.
It weighs just 27 pounds making it lightweight and easy to carry. Since some foods require different cooking temperatures, the brand maker realized this and installed a dome thermometer.
It has a push-and-turn ignition that aids in regulating the fire. With its 20,000 BTUs, the two burners heat the grill fast, and it's imperative to note it uses propane gas.
Both the interior and exterior are 430-grade stainless steel, which supplements its durability and cleaning.
Pros
Light Weight.

Affordable.

It has a pre-installed thermometer.

Spacious.

It heats fast.

The exterior doesn't heat that much.
Cons
When you lift the grill, its legs tend to collapse.
Arnall's Pontoon Grill: Most Affordable Pontoon Boat Grill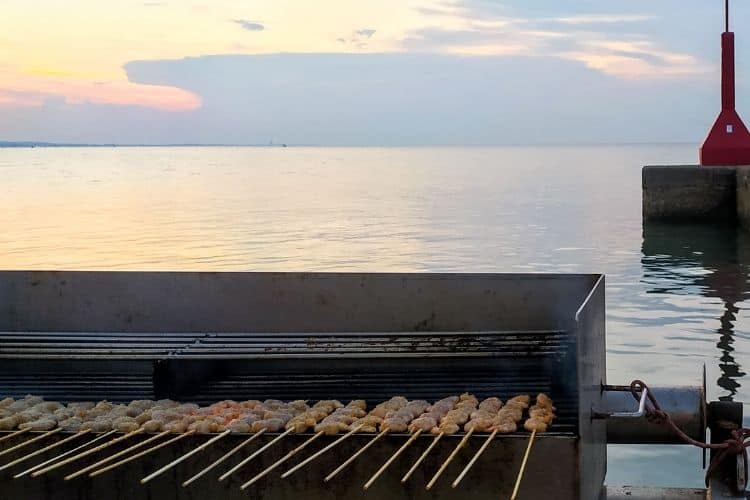 Some have an enclosed layout, while others are open. Your preference and the efficiency of the grill should guide you on which to buy. An example of an open grill is Arnall's Pontoon Grill. 
The maker uses seven-grade marine stainless steel to fabricate the grill, which significantly minimizes the possibility of corrosion.
It comes with a set of universal rail brackets, therefore, regardless of the size of your rail's pontoon, the rail brackets should fit. Also, the bracket's rubber sleeve design ensures rails won't get scratched. Its cooking area measures 1.24 sq inches, which is perfect to grill barbecue burger meat and other small foods.
Pros
Strong and durable.

Its price is pocket-friendly.

Sturdy and durable.

It won't scratch the railings.
Cons
You might have to drill pilot holes to fit the rail brackets.

Small cooking area.
Martin Pontoon Boat Grill: Fast Heating Boat Grill
The Martin Pontoon Boat Grill is valued by barbecue lovers precisely because of its two glides. One for direct grilling and the other for warming. Whether you want to grill that steak fast or slow, the maker has made that possible by installing a thermometer and an adjustable knob to control the temperature.
It's known for how quickly and uniformly it heats the porcelain cooking grid since it produces 14,000 BTUs. The stainless-steel lid is fully sealed to ensure that the hot air and aroma don't escape.
Your food retains the barbecue aroma and cooks evenly. The grill is fitted with a grease catcher to collect unwanted remnants to keep the grill clean and neat. It has a massive grilling area that measures 354 square inches. Its ignition system is modern and starts by just pushing a button found at one side of the grill.
Pros
It has a heat indicator.

Possible to control temperature.

Its grilling area is impressive.

The grill cooks evenly.

It's easy to clean.

It heats up fast.
Cons
The gas valve may slip out sometimes.

Small grease pan.
Giantex Grill: Most Versatile Pontoon Boat Grill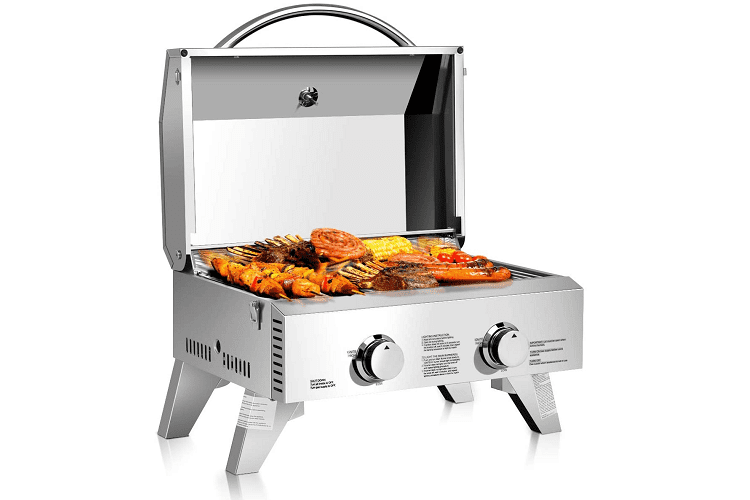 It would be discriminatory to complete this detailed list without mentioning the Giantex Grill. Perceived as the best outdoor grill, it uses propane gas and produces an impressive 20,000 BTUs. When you combine this heat quantity and its two burners, the grid temperature elevates rapidly, thus saving you time.
The burners use independent push and turn knobs for ignition and it's a fast and straightforward means to start the grill.
The maker uses 430-grade stainless steel for fabrication, making cleaning easy and facilitating its durability. Safety hasn't been left to chance with the Giantex. The grill is CSA approved, which is equivalent to a standard mark of quality. It weighs just 26 pounds, and its lockable lid makes storage and transportation hassle-free.
Pros
Its assembly isn't complicated.

Lightweight.

It heats quickly.

Large grilling space.

Good quality and performs incredibly well.

Wonderful design.
Cons
The one-pound gas tank is insufficient.
Frequently Asked Questions. (FAQS)
Question: Is it Legal to Barbecue on a Pontoon Boat?
Answer: It's legal to barbecue or to have a grill on a pontoon. However, to be safe, it's vital to keep in mind the safety factor, especially if you're offshore where you can't reach help immediately.
Question: Is it Safe Grilling on a Boat?
Answer: It's quite safe to grill on a boat, but first, you have to consider the grill type. Camping and portable grills will slide around the boat if not tip over in case of high winds or waves. So, the best grill is the attachable type. But if you have to use the portable type, anchor your boat first or use it onshore.
Question: Do Pontoons Have Grills?
Answer: Pontoons don't come with grills as a standard accessory, but it's possible to accommodate one if you need it.
Question: Can You Have a Propane Grill on a Pontoon Boat?
Answer: Yes, as long as you're going to set up the grill in an open area. In addition, propane gas grills are the most favored today because of their portability and the space they occupy.
Question: What is the Average Pontoon Grill Size?
Answer: Pontoon boat grills vary in size, and on average, most will measure 500 square inches and have a glide measuring 300 square inches.
Conclusion
In this review, we've provided credible information regarding the best pontoon boat grills.
Nevertheless, if you still can't make up your mind, allow us to recommend the best pontoon boat grill. Among the models we've reviewed, the Pit Boss Grill is strides ahead when compared with the rest.
Looking at its quality and advanced features, you'll be impressed. The grill heats the grid fast and has a 275 square inches roasting space. It's lightweight, and the manufacturer uses 430-grade stainless steel making the grill sturdy and durable. It also has a pocket-friendly price.
Hence, if you love your barbecue and want to purchase a quality pontoon boat grill, you should highly consider the Pit Boss grill.
For more interesting readings check out: