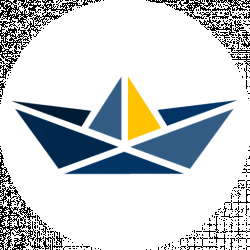 Latest posts by Jeanne Murugami
(see all)
After buying a pontoon, you usually buy a cover first, buy a trailer and learn how to haul your boat. Trailering your boat might sound simple and easy but don't be fooled because that's not the case.
Meanwhile, let's take a step back because we aim to help you learn about trailers and their colossal impact on pontoon boats' transportation and durability. Therefore, knowing the significance of this type of equipment, we'll guide you on the best pontoon trailer options and provide you with relevant information regarding trailers.
To pull a pontoon boat, you can't do it with just any trailer. It's because the boats have their own uniquely designed trailers. Understanding this, let's put into perspective the importance of a boat trailer.
What You Primarily Need to Know About Pontoon Trailers
Unquestionably, trailers are vital, and that's why some dealers sell them as a pair. Then again, some pontoon owners might not feel inclined to purchase the boat momentarily or at all. The latter is probably because the reservoir is in a non-trailerable location or you live near a water source where there's docking space.
 If you decide later that you need to purchase a trailer, it's advisable to have the boat maker's boat trailer guide. This manual will guide you on the features you'll need for your pontoon trailer, including the essential one, which is the size.
Other than that, you should understand the different categories of pontoon trailers to know which will fit your vessel.
Types of Pontoon Trailers
Generally, there are only two types of pontoon trailers, and each has its benefits and downsides. To settle the debate revolving around the best trailer type, check whether the trailer's features match your boat's as dictated by the maker. However, let's look at each category and see whether we'll realize the difference.
Bunk Type Trailer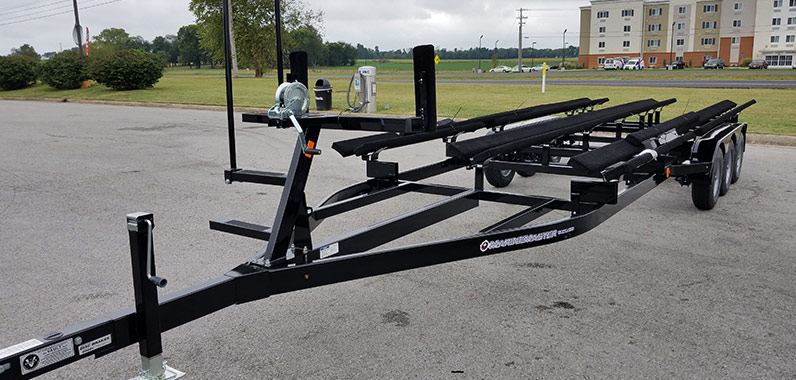 Bunk trailers are the everyday boat haulers which you commonly see around. They have an uncomplicated design that includes minimal mechanics; this makes them relatively cheap and minimizes maintenance. Since there's minimal stiction force, a bunk trailer enhances both launching and loading with just a press of a button. The downside with this trailer is it doesn't launch or load on shallow water.
Due to this, the rare axel is usually wholly immersed in water. This trailer type is perfect for deep water launching.
Roller Type Trailer
Just like the name suggests, the trailers in this category use a winch and rubber rollers that create a smooth glide path to launch and load your boat. The trailers have a high price tag, and maintenance isn't any different. With the many rolling parts, you'll have to part with more money for repairs than you would with bunk trailers.
The roller-type trailers are ideal for shallow and low-tide launching. Nonetheless, it will give you a hard time during launching and loading.
Scissor Type Trailer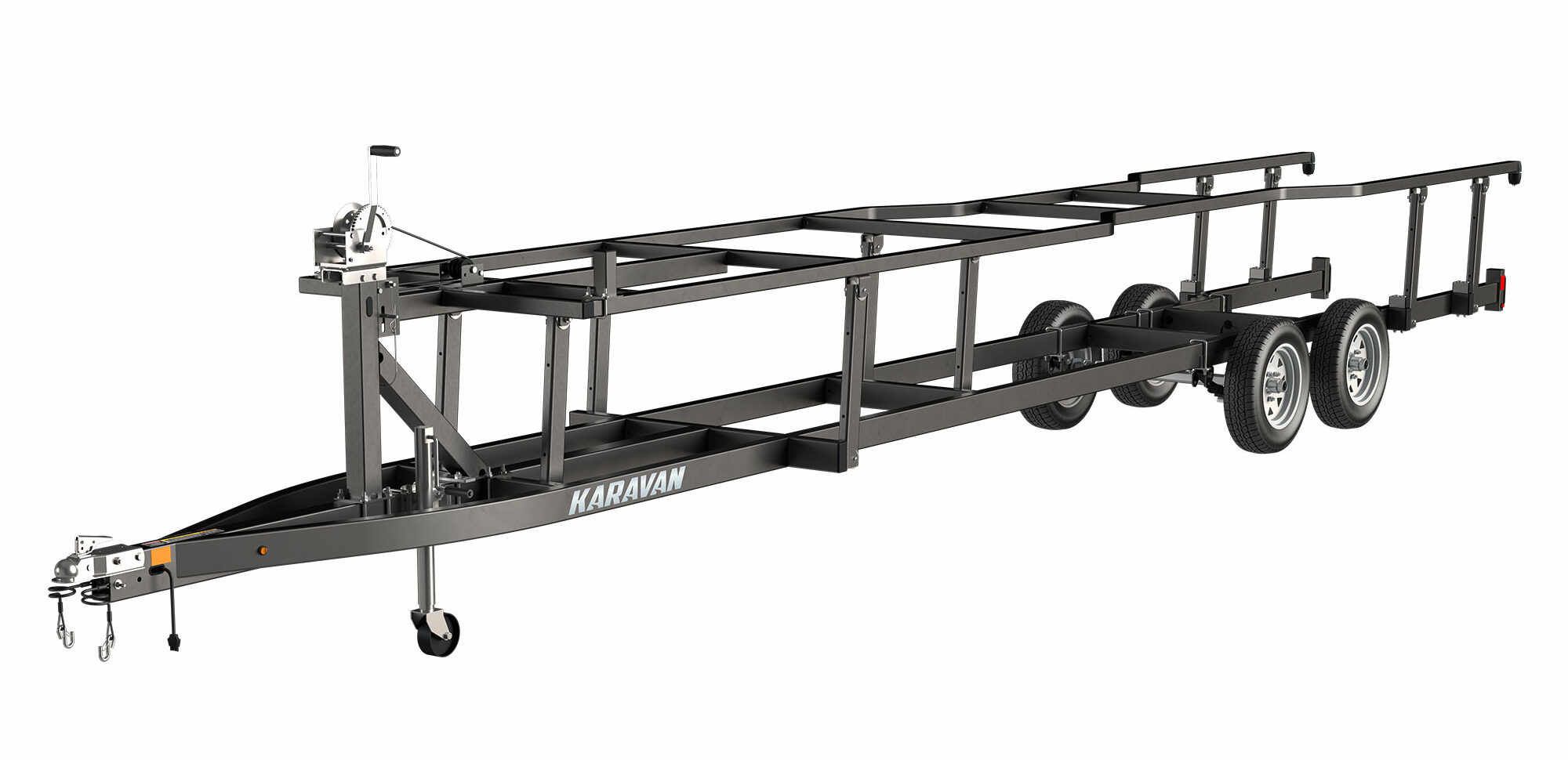 This category of trailers, also known as fold-downs, consists of a narrow rectangular frame where a boat rests. The maker fits these trailers with tandem axles, increasing stability and enabling them to haul heavy loads.
Also, it's possible to raise and lower the trailer's base to enhance loading and launching. With all these incredible features, scissor-type trailers allow shallow-water launching, and they are relatively cheap.
Factors That Influence a Pontoon Trailer Performance
Unquestionably, finding the best pontoon trailer options shouldn't be an uphill task. Nonetheless, without knowledgeable facts at your disposal, you'll have a strenuous time.
Granted this, we'll take you through some things to contemplate to acquire that sturdy pontoon trailer.
Size
Size takes center stage, and that's evident. If you don't want to acquire a trailer that fails to fit your pontoon, you have to follow the measurements recommended by the manufacturer.
However, it's wise to have the size of your trailer at least three or four inches longer than the pontoon. For the beam or width, ensure the measurements are the same since stability is paramount.
So, if your vessel measures 21 inches long, the trailer should measure 24-25 inches.
Weight Capacity and Axle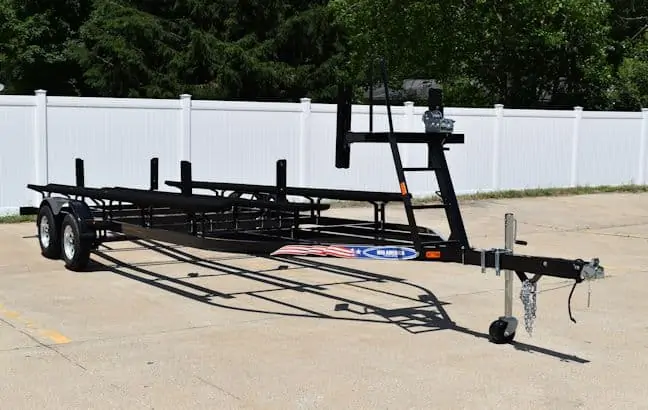 Pontoon boats have diverse weights, but on average, their maximum weight is 2000 pounds. Yet, when you factor in the outboard's weight depending on the model, the boat will weigh 2200 Lbs. On the other hand, most single axles weight capacity of 2250 pounds.
For tandem axle trailers, they have a 4800Lbs weight capacity, and this shows they'll comfortably handle most pontoon boat models. Ideally, a single axle trailer is perfect if you are transporting your vessel for a short distance. But if you'll be hitting miles on the highway, it's best to go with a double axle trailer.
Trailer Type
As we've seen above, there are three types of trailers, Bunk, Roller, and Scissor Type Trailer. Each has its benefits and so many factors come into consideration to find which suits your boat. For example, first, you need to consider how deep or shallow the waters are because of launching.
If you need a trailer type for shallow water launching, roller types perform best, and in the case of deepwater launching, bunker-type trailers will not disappoint. Thus, it's about considering what you need for your pontoon trailer and comparing which type favors hauling your boat.
Material
Boat trailer makers use either galvanized steel or aluminum. Between these two materials, galvanized steel is the strongest, but aluminum is more sturdy. However, corrosion determines the durability of trailers made from either material.
Aluminum is known to corrode faster when it comes in contact with saltwater through a process known as galvanic corrosion. In this process, when an electrolyte (saltwater) comes in contact with two different metals, the end product is corrosion.
Hence, if you're going to buy a fabricated aluminum boat trailer, it's wise if you'll be launching on shallow freshwater. Nonetheless, if you have to embark on saltwater and you don't want your boat getting jalopy and losing value, it's imperative to hose the pontoon boat before loading it on the trailer. Even so, this cuts across the board because corrosion doesn't discriminate.
Conversely, trailers made from galvanized steel are not very problematic because the material's corrosion rate is minimal. So, they're best for launching vessels on deep rough salt or freshwaters. When we consider the weight, aluminum trailers weigh less than their counterparts.
It's vital to note that the insurer won't compensate if your trailer breaks down because of metal corrosion since insurance policies don't cover such damages.
Price
The market has different trailer models fabricated using diverse metal materials and encompassing futuristic futures. In this case, each model will have its unique price tag, depending on its quality and durability.
Pontoon trailers made from aluminum tend to be more expensive than those built with galvanized steel. It's because aluminum trailers are heavy-duty and last longer when well maintained.
Therefore, many elements come into consideration when figuring out which trailer model offers the best price. But by checking its specifications and features, you'll be in a better place to make a judgment.
Other Factors to Consider
Securing the Boat
When loading a pontoon boat on a trailer, you'll need to secure it for a safe haul using ratchet straps firmly. If you don't do this, the vessel might destabilize and fall over, causing accidents and damaging your valuable investment.
Following this, you need your trailer to have hook straps at the front, back, and both sides to attach the ratchet straps. Without these stringent mechanisms, having your boat wholly secured on the trailer is just a dream.
Grounding
Any electrical wiring installation needs to be grounded or earthed. Since trailers have electrical accessories, including braking, indicator, or hazard lights, earthing is vital. It's the only way to ensure excess current or power from the source is dispersed or directed to the earth for neutralization. It aids in protecting the vehicles and trailer accessories from frequent damage.
There are two ways to earth your trailer. The most common is having the lights mounting studs in contact with the trailer or including a jumper cable running from the lights to the trailer's frame. All in all, have the connectors grounded at the trailer's front since the trailer frame acts as the ground. It's the easiest method, according to electrical experts.
Tires
When searching for the best pontoon trailer options, consider the tires because trailer tires are not your everyday tires. They are smaller and capable of holding a considerable amount of weight. With that said, there are two types of trailer tires, radial or bias-ply.
Most pontoon trailer owners have a dilemma trying to figure out the best between the two models. Nevertheless, we'll furnish you with this information.
A radial trailer tire has steel belts, while a bias-ply uses nylon belts for fabrication. The former runs at a 90-degree angle while the latter runs at a 45-degree angle of the centerline thread.
For efficiency, consider radial tires since they absorb more heat, thus allowing them to run faster and cover a longer distance. Still, if you're covering a short distance at slow speed and you need a cheaper option, the bias-ply tires are meant for just that.
Best Pontoon Trailer Options: Our Top 5 Picks
Our review features the best pontoon trailer options by cost, size, trailer type, and weight capacity.
Wolverine Pontoon Trailer: Best Single Axle Pontoon Trailer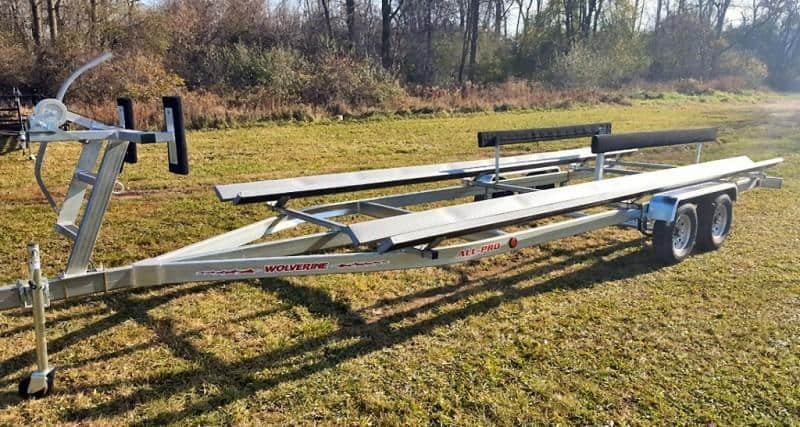 Most pontoon boat owners prefer these heavy aluminum trailers because of their features and quality. Wolverine trailers tires are radial type filled with nitrogen, allowing the tires to hold air for an extended period even in doldrum. The tires allow a smooth haul and last longer. Its rims are all aluminum making them lighter than stainless-steel rims.
All nuts are gorilla acorns that protect hub studs that prove to be sturdy. The center wheel offers protection to the bearings, hence covering dust. Most of these boats have a five-year to lifetime warranty activated when you register the tires. With this, you get two-year road assistance for free.
It's adequately fitted with lubricated spindles, an inner and outer bearing that enhances how far it sits from the ground. So, when the trailer sits low, it eases launching and loading.
On the other hand, its axle is all galvanized steel which is better than the painted type. Hence, since it sits low, the Wolverine trailer is perfect for low-profile launching and loading. Still, with the low profile, you'll find the axle rusts first because it gets in constant contact with water when launching.
All five wheel nuts are also steel galvanized, making rusting forgettable. Its floor is all treated wood, but aluminum floors are still available. The maker provides you with two strong ramps measuring five feet by sixteen feet for an effortless transition. To make the pontoon trailer more visible at night, the maker has installed four LED lights, two on each side and three at the back.
You also get a plastic license plate holder and a four-way harness protected by a safety loom. For added protection, the maker fits the rest of the wiring harness in the aluminum tube. It goes ahead to show the trailer is fully grounded.
Pros
Ramps provided.

Durable.

Sturdy tires.

It runs smoothly.

Perfect for shallow water launching.
Cons
The trailer is frail.

It consumes more fuel.
WFB Pontoon Trailer: Most Versatile Pontoon Trailer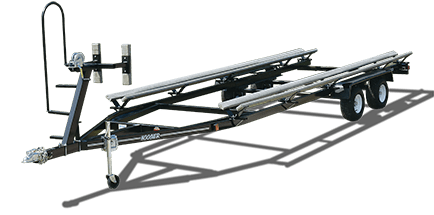 The WFB Pontoon Trailer is a Float-on trailer product. The maker is known to be a leading manufacturer of aluminum trailers that embrace modern features and functionality. Usually, all parts on this trailer are aluminum except for the fasteners, which are stainless steel. Its design facilitates durability, safety, and style.
Therefore, this is the real deal if you need a dependable trailer that fully secures your pontoon boat. The manufacturer has modernized the trailer by including disc brakes and torsion suspension for better stability.
It's a proper saltwater trailer that makes launching your pontoon boat easy in shallow water. However, this majorly applies to an axle which is the accurate measure of stableness. Its wide axle measures 84 inches and has a wide track to enhance safety and stability.
Depending on the WFB trailer model, the hubs come carpeted, and this offers extra protection. The trailer can adjust to fit the different pontoon sizes. The trailer is available in three models categorized depending on axles. These are single, double, or tandem and triple axle pontoon trailers.
A remarkable fact is that the trailer has 13 different models with adjustable bunks. Being a bunk model, you get a winch stand, safety chain, tongue jack, and taillights that are water-resistant. Therefore, regardless of the model you choose among the 13, you're assured of performance.
Pros
Adjustable.

Versatile.

Diverse models are available.

It has brilliant accessories.

Sturdy.

Safe and stable.
Cons
Limited features on each model.

Best Pontoon Trailer Options
Venture Trailer: Best Trailer That Supports a Wide Range of Pontoons

Most of the time, marine enthusiasts are looking for a universal trailer that is hard to find. Even so, with this kind of trailer, adjustability plays a crucial role, and it's part of the reason it trends among boat owners. The Venture Trailer is unique and distinct when we're talking about versatility.
There are very few pontoon trailers that match its features and capabilities. The maker has developed a trailer that will support different pontoon models allowing you to choose a single or tandem axle. The boat trailer structure and parts are all made from galvanized steel which facilitates its travel and launch.
Its solid tubular frame is quite intriguing since it offers protection to all electrical wiring and brake lines. The trailer is a bunk type and offers excellent resistivity towards corrosion. Its maker offers you a first-rate package that includes secure winch straps and diamond plate fenders.
It's fitted with radial tires, which are appropriately balanced to increase the boat's stability.
Pros
It comes with a ladder and safety handrails.

Corrosion-resistant.

Durable

Galvanized steel increases stability.

Sturdy plate fenders.

Its lights are plug-and-play.
Cons
The rear cross-member tends to snap at the weld.
Karavan Trailer: Best Tandem Axle Pontoon Trailer
If you're in the market for a large pontoon trailer with double axles, then you need the Karavan Trailer. It's ideal for pontoons measuring 25 feet long, and the tandem axles facilitate long hauls. With the Karavan trailer, you get safety, better handling. The trailer is either galvanized or coated with a powder that enhances how it looks to augment its durability.
It's fitted with a sway control system to minimize the rhythmical back and forth swing during hauling. The system might not be necessary but having it on your trailer improves safety. Its axle is adjustable, and the tubular frame is well welded. Its hauling is quiet since the maker uses spring axles with nylon bushes incorporated.
If you're wondering about the electrical system, it's all plugged, fully concealed, and grounded. For easy wheel maintenance, the sure-lube system allows quick and clean greasing.
The trailer comes with a tongue jack and a mechanism that enables the cable to coil back automatically when not in use. It has a 5000 pounds carrying capacity and is ideal for pontoon boats measuring 300 inches in length maximum.
Pros
Long-lasting.

Compatible with tritoons.

The trailer Enables quiet hauling.

It's grounded.

Low maintenance.

Estimable carrying capacity.
Cons
Load Rite P-Series Pontoon Trailers: Best Galvanized Pontoon Trailers

Trailer makers will use diverse methods to accomplish a quality steel frame. All the same, the Load Rite P-Series Pontoon Trailers are fully galvanized with welding and machining done before the galvanization process.
It ensures all parts of the trailer are corrosion-free. The boat tires are bias-ply, fitted on leaf spring axles for increased rigidity. With this trailer, you get disc brakes that are self-adjusting and self-cleaning; hence, the needed maintenance is minimal.
12-inch wheels have plastic fenders for this trailer, but the trailer will need more oversized aluminum fenders if the wheels measure 13 inches and above. Its hubs are greaseable, and as long as you ensure the hub's lubricant level is as at the recommended level, you'll mint an elongated service from the trailer.
To facilitate safety, the Load Rite trailer manufacturer fits the hauler with waterproof LED lights, which are more reliable than the incandescent type. The trailer's bunks are made from copiously carpeted wood to protect your pontoon boat from damage during loading and launching. The trailer's design enhances the protection of break lines and all wiring.
For ultimate protection and support, the Load Rite bunks have adjustable brackets.
Pros
It's ideal for both saltwater and freshwater Launching.

It delivers top performance.

The trailer comes with LED lights.

It's a low-profile and float-on design.

The trailer enhances loading and launching.

It's corrosion-resistant.
Cons
Its grounding is

Ephemeral.
Frequently Asked Questions (FAQS)
Question: What Kind of Trailer do You Need for a Pontoon?
Answer: Without deception, the trailer needed for your pontoon boat circumscribes around structural soundness, integrity, and durability. However, pontoons are heavy, and with the furniture interior, its weight shoots off the roof.
All the same, these boat models are heavy, and the weight distribution is on the trailer's axel. Hence, if the vessel measures 21ft and above, it will need a tandem or two axles, but if it measures less than 21 feet, the boat is okay with a single axle trailer.
Question: What's a Tandem Pontoon Trailer?
Answer: When searching for a pontoon trailer, the number of wheels and axles plays a considerable role. With this in mind, a tandem pontoon trailer has two axles and four wheels for long heavy hauls. Nonetheless, the number of tires will vary because some single axles will hold a pair on each side.
Question: How Much is a New Pontoon Trailer?
Answer: The question is delicate since you can't put a universal price tag on all pontoon categories. Nevertheless, heavy-duty pontoon boat trailers measuring 25 feet will cost between $2000 to $4000. So, in most circumstances, the size is directly proportional to the price.
Question: What Happens if The Trailer's Tongue Is Too High?
Answer: When the trailer tongue gets too high, you have an overload, or the boat isn't sitting well on the trailer. The automobile's rear axle will levitate and become destabilized if this happens, making it hard to control the vehicle. If you're using a truck with rear-wheel drive, it might be impossible to move or brake.
Question: What's the Preferred Ground Clearance for a Trailer?
Answer: Trailer wheels sit low, which has to do with stabilizing the load when it's on transit. The recommended clearance is between six to seven inches, and this is between the hitch and the ground.
However, depending on the size and weight of the pontoon boat, the clearance will vary. If the trailer has adequate ground clearance, the trailer will move freely without hitting curbs and other raised areas on the road.
Conclusion
To put you in a position of comfort, we've compiled a dependable piece to ensure you don't get crestfallen when choosing a favorite pontoon trailer. So, you can't be complacent if you want to find some of the best pontoon trailer options.
Nevertheless, we understand you might need some support structure or information to ensure you don't miss out on finding a top pontoon trailer. That's why we'll recommend the model which we feel encompasses a perfect trailer.
The cordial option is the WFB Pontoon Trailer. It's from a maker known for manufacturing some of the best aluminum trailers. The engineering and design enhance safety and durability by including torsion suspension and disk brakes. It's very stable, and you'll love launching and loading your pontoon boat from this trailer.
The hubs come fully carpeted to offer extra protection to your pontoon boat. So, the WFP pontoon trailer is one of the best trailer models, which will give you an authentic hauling experience.
Looking for more interesting readings? Check out: