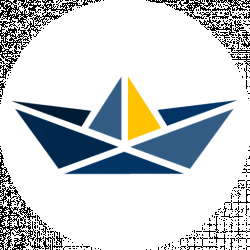 Latest posts by Jeanne Murugami
(see all)
There's minimal evidence to suggest that epoxy paints don't achieve the required application standards. Consequently, according to our research, we'd say regardless of how you use this paint, it's impossible not to realize its quality and effectiveness. That's why it's one of the most trusted paints by boat owners and marine enthusiasts. But still, we understand your curiosity regarding finding the best marine epoxy paint for diverse purposes.
In this article, we've compiled credible information using in-depth research to aid in quenching this curiosity. But let's first understand a few things revolving around marine epoxy paint.
What's An Epoxy Paint?
Manufacturers use these resins to make paintings, adhesives, coatings, primers, and sealers, just to mention a few products. Therefore, with that in mind, epoxy paint is a robust protective paint with exclusive properties that make it resistant to water, corrosion, moisture, bacteria, and chemicals. Sailors prefer it across the marine sphere since it's a perfect coating applicant with characteristics that favor water vessels. 
Epoxy Paint Categories
Epoxy paint categorization has three distinct categories:
Epoxy acrylates

Polyester raising

Pure epoxy
It's essential to have this in mind to choose the right type depending on its use.
Pure Epoxy
Pure epoxy is ideal for water vessels but best used as a lay-up than a laminating element because it doesn't cure fast and well when exposed to air.
Epoxy Acrylates
This epoxy paint category usually cures fast and under low temperatures. It offers excellent chemical resistance when compared to pure epoxy, and its application is not limited.
Polyester Resin
The polyester dries relatively fast after application, unlike acrylates and pure epoxy because of its rapid adsorption to surfaces. Its drying element makes the raisin perfect for construction projects where contractors most favor it. Whether it's developing buildings or fabricating boats, this polyester resin will work magic.
Uses of Epoxy Paint
The epoxy paint has a variety of uses, but it depends on the category since each class application is different. Nonetheless, this paint has diverse applications, including painting walls, floors, ceramic, PVC, wood, fiberglass, plastic, and other paintable surfaces, including boat hulls.
Thus, epoxy paint will match your needs, and whether it's painting laboratory walls and floors, food areas, or hospital rooms, the paint won't disappoint. Thus, let's dig in deep and have a holistic understanding of epoxy paint while regarding the above information as our guide.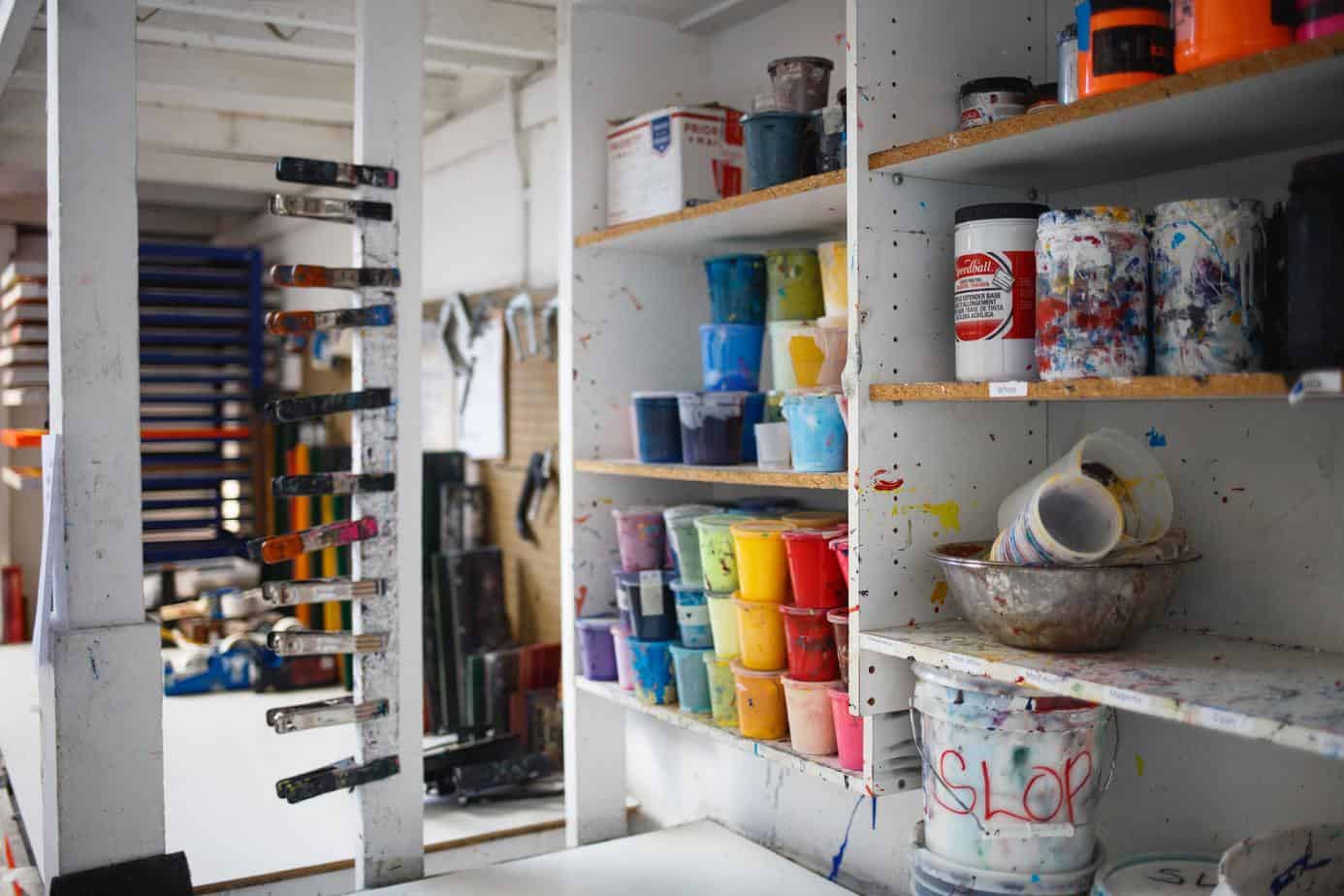 How to Find the Best Marine Epoxy Paint: What To Look for When Purchasing a Marine Epoxy Paint
Marine epoxies are the standard paints meant for boats and other marine use. When deliberating on finding the best marine epoxy paint, here are a few factors to consider that will set you a long way to finding quality epoxy paint.
Curing
Every epoxy paint comes with its curing time; this duration is essential, especially if you're going to paint several layers. Therefore, it's vital to check how long the resin layer takes to dry and the curing duration for the complete coating. Because, with a faster curing paint, you'll go back to occupy your boat or living space faster. However, you should note that some epoxy boat paints cure underwater.
Work Time
The work time is the duration you'll have to work with the paint once you pop up the lead. The moment you open the epoxy paint, moisture and temperature accelerate the drying process. So, the more the marine resin stays exposed, the more it will thicken, making applying the paint difficult.
If this occurs to paints that need hardeners, it's not a problem. But for those that come ready to apply, you might not have a solution to liquefying the resin again.
Ultra-Violet Resistant
Ultraviolet sun rays cause damage to the boat surfaces over time. The deck will start disintegrating, and the windshield might crack from no impact at all. Some marine epoxy paints are ultra-violet resistant; hence, applying these paints on your board allows the UV rays to be reflected instead of absorbed.  It protects the boat and facilitates its durability. Thus, when purchasing an above-board marine paint, ensure it will protect your boat from UV rays.
Scent
Most marine epoxy manufacturers use Novolac, Bisphenol A, and F that undergo a phenolic and epichlorohydrin reaction to achieve the thick resin. Some will require a hardener or solvent, which is mostly turpentine. All these reactions emit toxic fumes considered harmful to the human body.
The curing process also emits noxious and nauseating scents that will linger around for days for other marine paints. Thus, check the toxicity level on the resin and the hardener but note that some marine epoxy paints are non-toxic. Furthermore, manufacturers will leave a guide to inform you whether to wear personal protective gear when handling the resin and the duration you should wait for the paint to cure for it to be safe ultimately.
Durability and Versatility
Conditions surrounding the painted surface will determine its durability. Nonetheless, some marine paints are more durable than others depending on the paint's quality, how you apply it, and curing.
For some marine paints, it's possible to use them on different water features and surfaces. You'll find their application isn't limited to boats only. Experts will recommend buying paint meant for marine use because the maker tailor's for that use. However, you might find other resins which are versatile or better.
Safety Towards the Ecosystem
Environmental safety is a prime factor to consider since the world and consumers want a greener planet. In the case of marine paints, the safety of marine fauna and flora comes first. With that said, manufacturers are trying to develop epoxy paints that cause zero harm to the environment. So, when you acquire non-toxic paint, fulfill your responsibility towards keeping the earth green.
Best Marine Epoxy Paint: Our Top 10 Picks
The quest towards the realization of the appropriate epoxy paint for your vessel depends on information credibility. That's why we'll review the best epoxy products to furnish you with reliable information regarding the traits and attributes of the various epoxy paint products available today. But, it's vital to realize that epoxy paint comes in three forms: liquid, solvent, or solid.
All the same, it's crucial to realize that strength, flexibility, durability, compatibility, curing rate, and longevity are just some of the few factors to consider. So, if you're wondering how to find the best marine epoxy paint, here is a detailed list to serve your interest.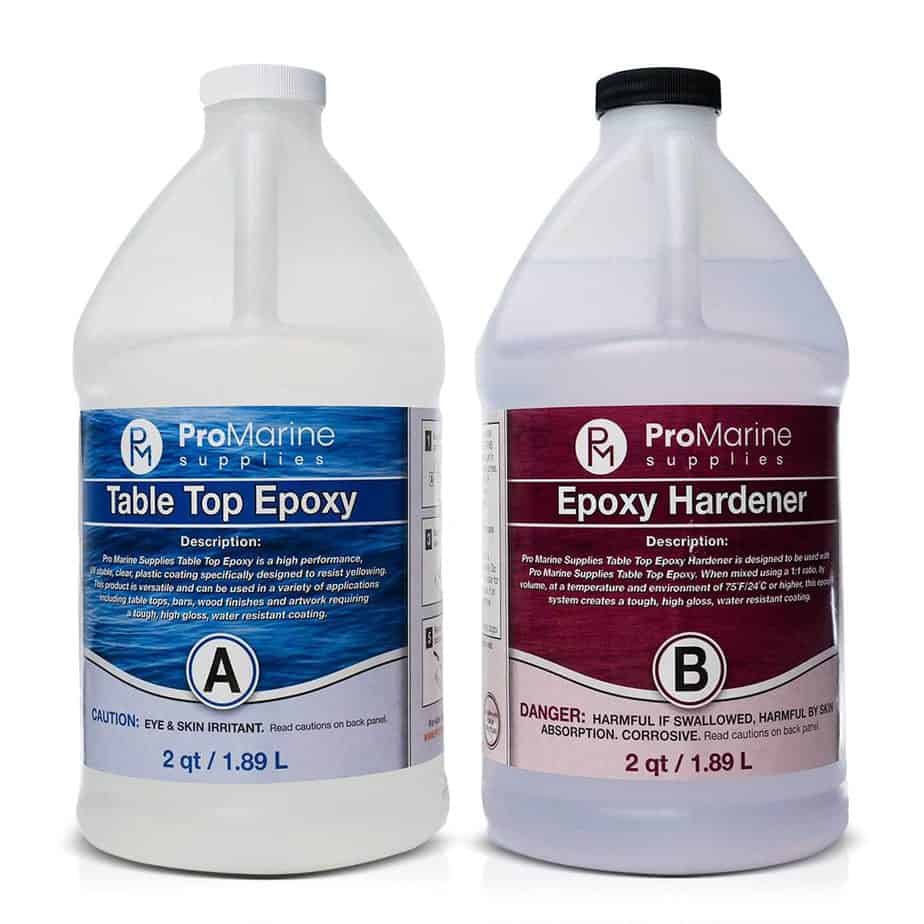 Sturdiness defines the Pro-Marine Clear Epoxy Resin, which is sandable and machinable. Hence, whether it's drilling or buffering after curing, the Loctite epoxy will maintain its adhesiveness and won't crack. It's possible to apply this paint on either wet or dry surfaces. For that reason, you don't need to wipe or dry your boat to apply it, which is quite amazing. As long as it's possible to reach the areas you need to paint, you're good to go.
The resin maintains a clear color when it dries, making it ideal for diverse surfaces, and it requires at least two applications for it to work. Also, regardless of the conditions, it's put under, this epoxy paint doesn't shrink, and it's part of the reason it rarely cracks. The epoxy paint is highly durable and resistant to water, impact, moisture, and other solvents. The maker ensures that its application is stress-free and convenient to match your diverse needs.
This Clear epoxy resin enhances its bonding capability after application hence its capability to highly maintain its adhesiveness. Due to its versatility, it's possible to apply the resin on plastic, glass, wood, metal, ceramic, tile, copper, or brass surfaces. This resin requires just 12 hours to dry after application.
Pros
It's durable.

Dry's fast.

It has a gloss finish.

The paint resists ultra-violet lights.

The resin doesn't crack.

Its use is unlimited.

Resistant to direct impact.

It's applied to dry and wet surfaces.
Cons
If you own a fiberglass marine vessel that happens to need painting, the PC-11 epoxy will do the work. Nonetheless, you should note that this resin's use isn't limited to just fiberglass. 
Thus, it's feasible to use it on rubber, different metals, glass, or ceramic. Epoxy paints come in various forms, and you'll find some come in a paste form, while others are available as solutes that require mixing.  Also, it is vital to understand that after applying epoxy paint, there is always the setting and curing duration.
The PC-11 epoxy comes in a ready-to-use paste form that eases its application, and it takes a maximum of 15 hours to cure completely. Unlike most epoxies, it's possible to apply this resin vertically or overhead, which goes on to show its versatility. 
The maker has developed a resin that's suitable for both indoor and outdoor applications. Its service temperature ranges between -20 to 200 degrees Fahrenheit.
Since epoxy paint aims to offer protection, this paint will withstand saltwater, detergents, unconcentrated acids, caustics, gasoline, and oil. Thus, all this facilitates your boat's longevity.
 Pros
Increased protection.

Versatile.

It bonds strongly.

This paint offers remarkable consistency.
Cons
It takes too long to dry or cure.
When epoxies come to mind, you must consider whether it's an ideal choice for boat painting. Still, we know materials used in boats are either fiberglass or aluminum. Therefore, it's vital to check whether the epoxy you're acquiring favors your boat's restorations depending on the material used to build it. The Travaco Marine Epoxy involves a cold welding system meaning no heating or chemical fusion is required for the bonding process to occur.
It requires mixing both the solvent and paste in a one-to-one ratio to realize an ideal painting mixture. It will take you a minimum of four hours from mixing and setting, while its curing time takes 24 hours. After curing, the Travaco epoxy is ready for sanding, molding, drilling, or tapping without cracking. This epoxy paint is perfect for sealing leaks on cabins and hulls.
Interestingly, its ability to flex according to the hull's movement allows the paint to penetrate hairline cracks and pinholes. The epoxy paint also acts as a barrier coat, consequently minimizing corrosion and water absorption.
Pros
Suitable for boat hulls and decks.

Durable.

The paint protects wooden hulls from damage.

It penetrates minor cracks or holes.

Chemical and petroleum resistance.
Cons
Not suitable Flexible rubber surface.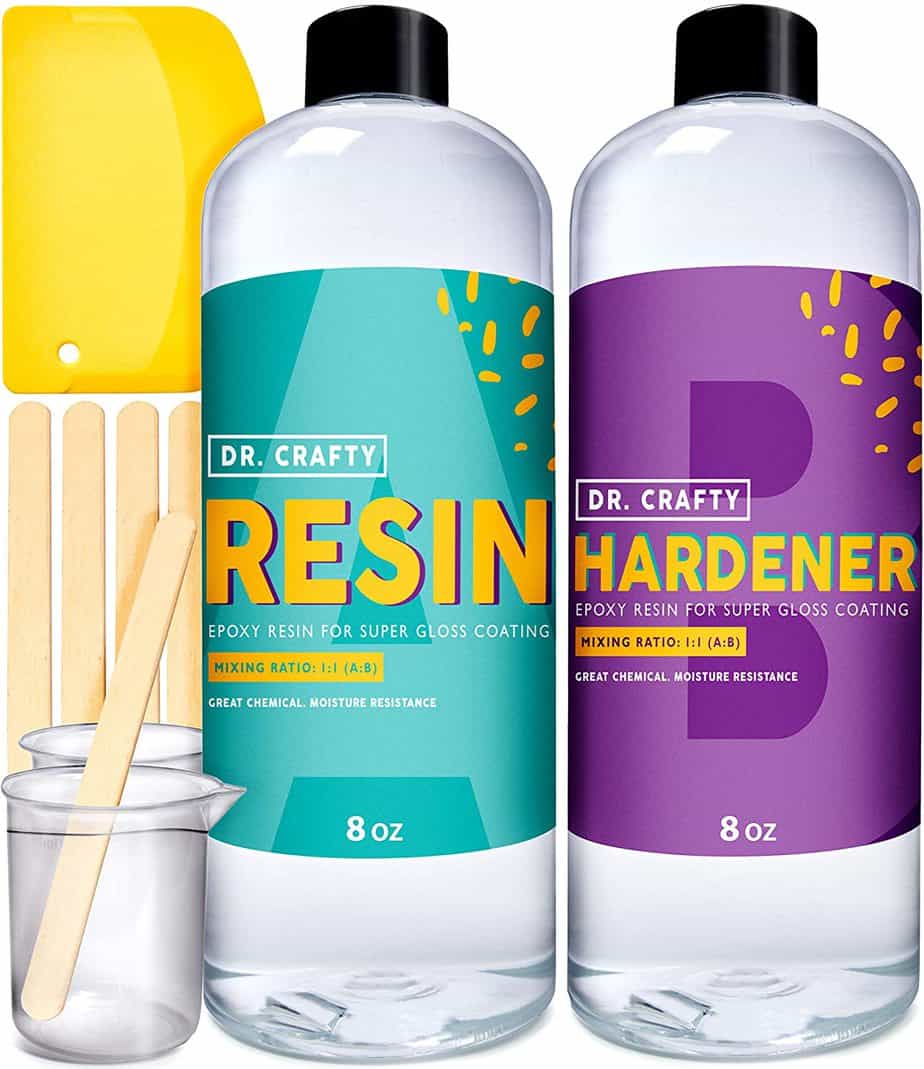 Depending on the quality, some resins will leave a lingering toxic scent that's unpleasant. This scent usually emanates from solvents that act as hardeners since resins are odorless. 
The Dr. Crafty Epoxy Resin comes in two parts, a resin, and a hardener; no scent emanates from the mixture when the two mix. That's why it's ideal for indoor application, and the resin is entirely non-toxic.
After mixing the two parts, you'll have 45 minutes of working time before it starts solidifying, but this is at room temperature. Thus, at a high temperature, you'll have less work time. The manufacturer understands the need for a quick start. That's why there's a complete resin kit that includes a mixing stick, measuring cup, and a plastic spreader. 
Dr. Crafty is best for coating wood, painting artwork, casting, jewelry, and much more.
It brings out a consistent and crystal-clear finishing that doesn't take that much time to dry. After drying, the resin never turns color, and it stays crystal clear regardless of the conditions.
Pros
The resin doesn't leave bubbles.

Odorless.

It dries fast.

Easy to mix

It Stays crystal clear.

Affordable.

UV resistant.
Cons
You can't add colors to the resin.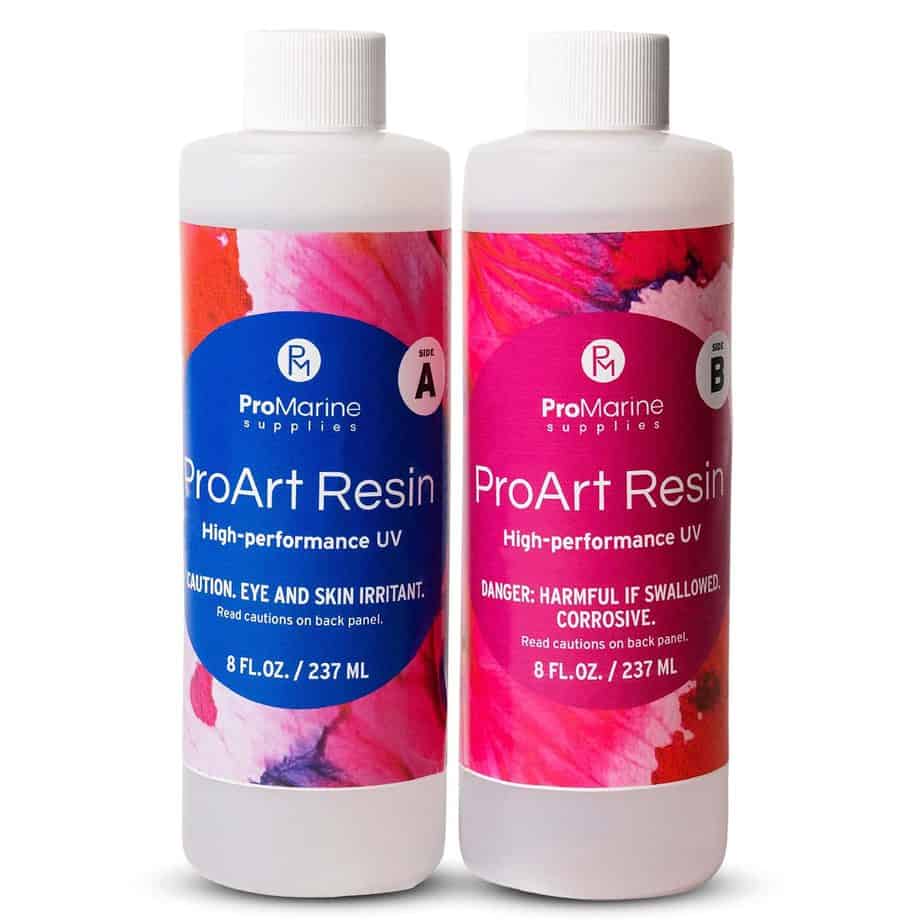 Among the diverse resin types, each has its uses, and in this case, there is the ProMarine Art Resin. It works perfectly in preserving artwork, but that doesn't mean it's limited to that use only. 
Whether it's wood, jewelry, metal, or photography, the resin works excellent. The ProMarine is safe to work with and does not produce any toxic fumes.
This premium quality resin is food safe and leaves an intense shiny finishing, and it protects surfaces against ultraviolet light. It comes in two parts that require a one-to-one combination ratio for both the resin and the hardener to realize a perfect mixture. 
If it's mixed in any other proportion, you're bound to have a weak resin applicant.
The ProMarine art resin resists turning yellow, but you should ensure it cures well first.
Pros
Multipurpose.

Safe and non-toxic.

High-quality.

Easy to use.

Durable

High gloss.
Cons
Tiny crates form during curing.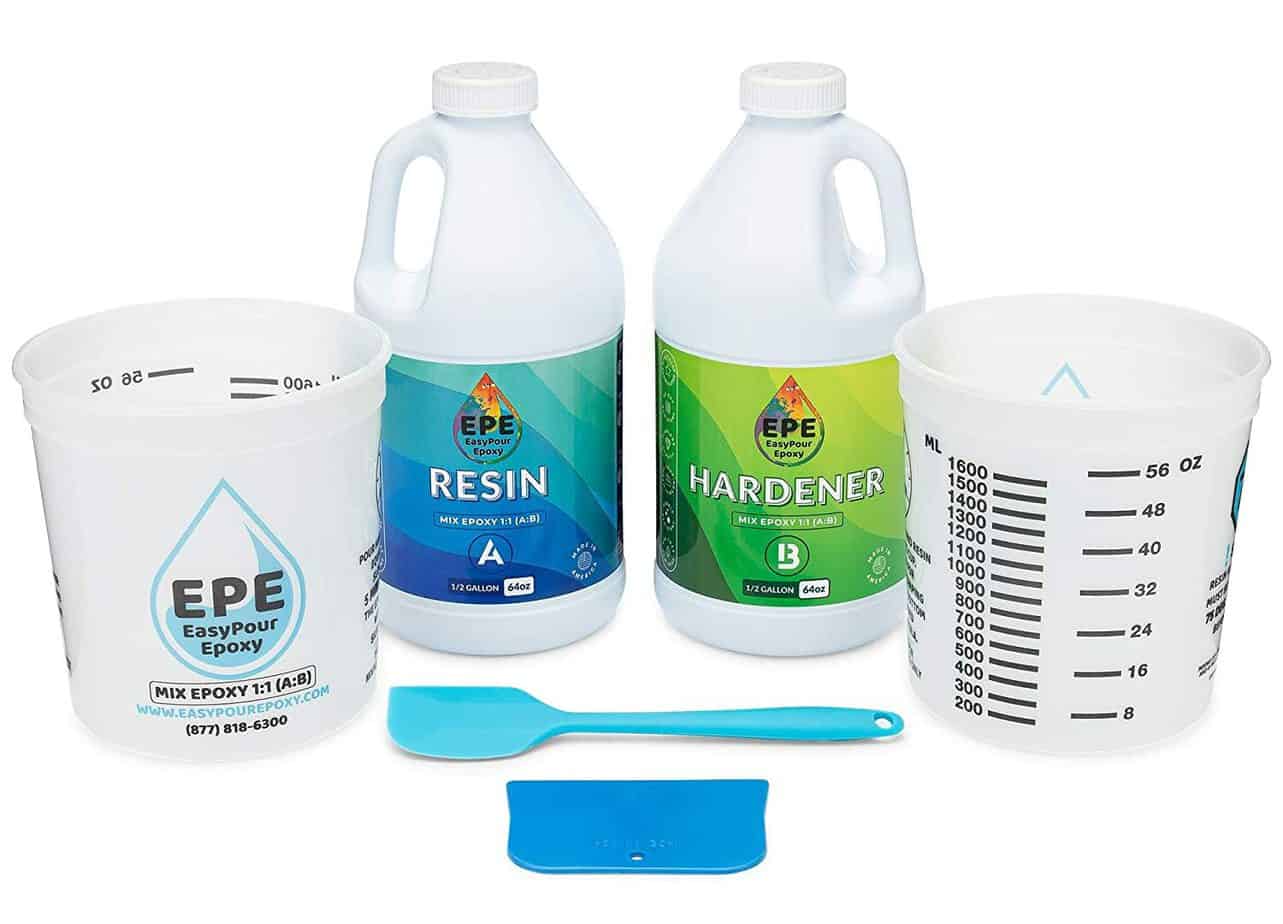 The EPE Epoxy Resin, manufactured for jewelry coating, is another clear epoxy paint that confers a glossy finish. The resin comes in handy during the coating, waxing, and casting of jewelry. When a coat is applied, it helps minimize scratching the jewelry, acting as a protective coat.
This resin is easy to use, and like many paints, it comes in two parts that are simple to mix. When applied, it hardens fast with no chance for scratches on the gloss whatsoever the conditions.
It's ideal to use this resin on boats because it will withstand all waters and weather conditions. Also, if your bass boat has a windshield, it's advisable to have it coated or buffered with this resin because the fiberglass tends to turn milky with time, making visibility a problem. But if you apply the EPE epoxy resin, your windshield stays clear.
Regardless, its application is not limited to polishing jewelry only. It's possible to apply the resin on plywood floors, coffee tables, tiles, and coasters are other surfaces. 
Pros
Versatile.

It doesn't change color.

Easy to use

Heat resistant.

Long-lasting.

Fair price.

Precise and thick finishing.
Cons
Bubbles are visible when mixing the resin.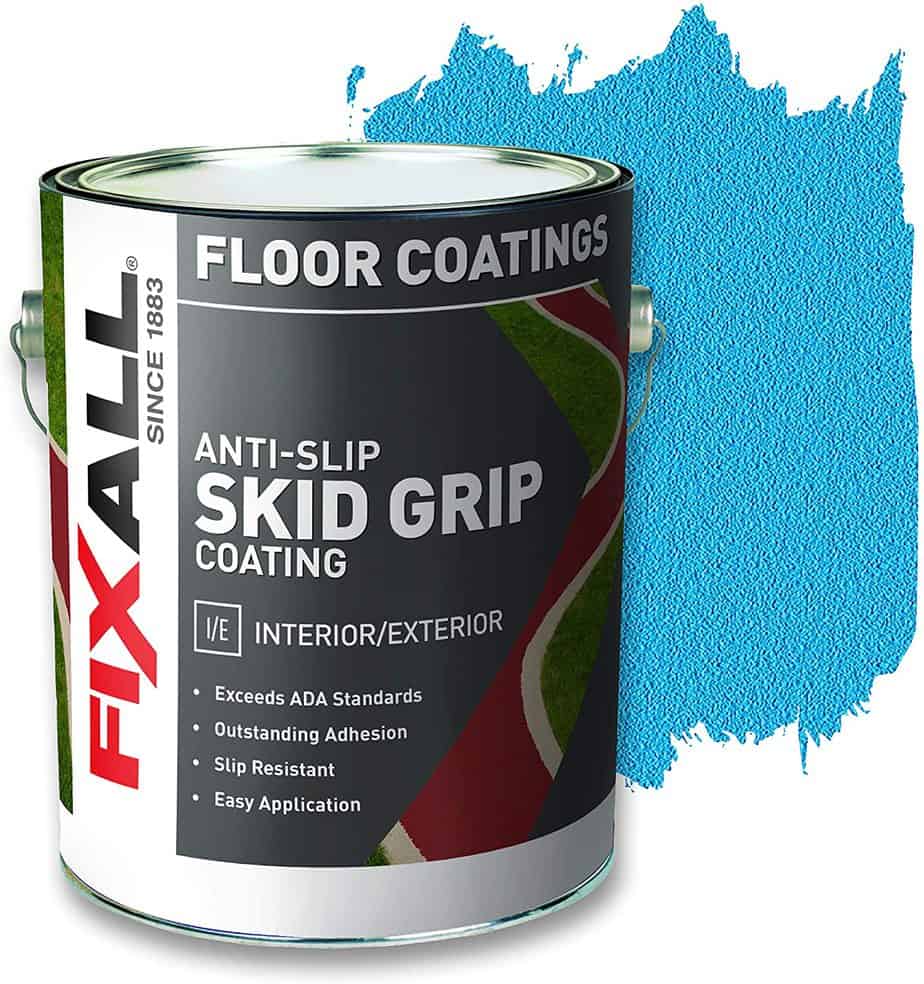 Today's automotive makers and property developers aim to give consumers glossy, even, and smooth surfaces. Nonetheless, in some circumstances, this might not be ideal where safety is compromised. That's why you'll find paints that are applied to turn these surfaces into anti-skid. Among the many resins available, you'll find the FIXALL Epoxy Paint, which is a hundred percent skid resistant.
With its superior adhesion when it dries, it's durable and doesn't peel off easily. The FIXALL paint enhances safety, making it a favorite for hulls, playing areas, pool decks, ramps, patios, steps, and high traffic areas.
This non-skid paint is ideal for above deck and below waterline applications. It's perfect for both fresh and saltwater bodies since it aids in preventing marine growth from fouling the boat's hull. Also, being non-toxic, you're sure it won't interfere with marine life.
Nonetheless, it's possible to apply this anti-skid on almost all surfaces from cement, wood, asphalt, and the list is endless. Using this paint is easy since it comes ready to apply, and hence no mixing is required. But remember to thoroughly clean the surface first and give it ample curing time.
Being 100% acrylic, it protects metallic surfaces by reducing oxidation, consequently eliminating rusting. Unlike other transparent non-skid paints that turn yellow after being exposed to sunlight for a while, the FIXALL paint doesn't discolor over time.
Pros
Suitable for both interior and exterior.

Easy to apply, no mixing involved.

High-performance.

It doesn't discolor.

Improves safety.
Cons
If it doesn't cure well, it will peel.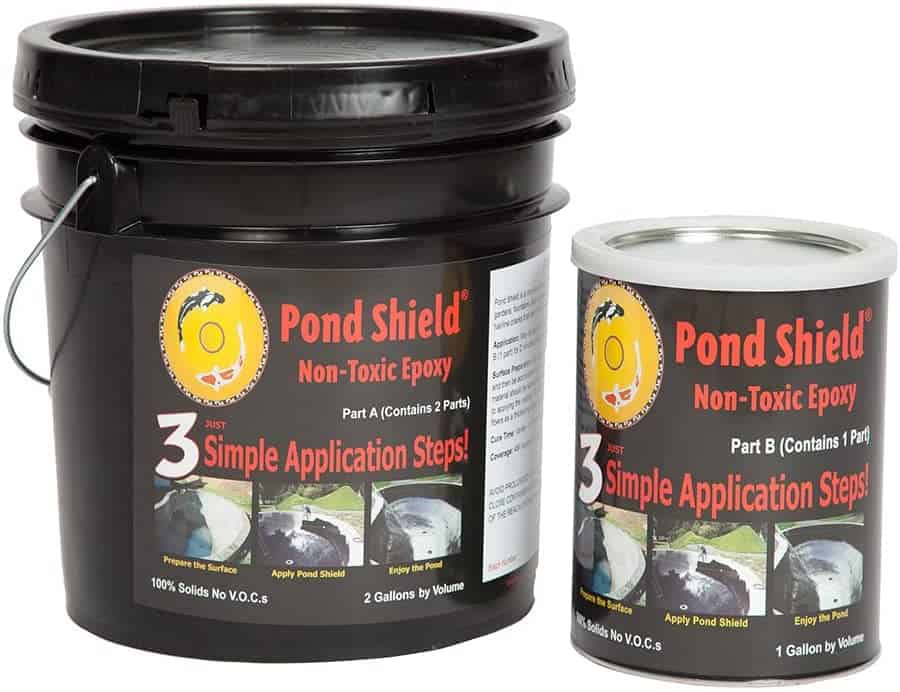 The Pond Armor Epoxy Paint is one of the few resins designed for waterproof ponds and small marine reservoirs. Whether these water features are indoors or outdoors, the paint is suitable for use. It's able to maintain flexibility and strength in different climatic conditions. Even in snow or extreme freezing, the resin performs exceptionally well.
It's a non-toxic paint meant for underwater use and releases no chemicals during its hardening. No chemical reaction is involved making it suitable for fish tanks and all green projects. Hence, if the Pond Armor Paint is self-priming and has a reliable adhesion level to ensure water never penetrates when fully cured.
To completely dry, it takes just 24hours, and the painted water feature will be ready for use. The epoxy paint application is unlimited, and it's applied on different surfaces, including wood, glass, plastic, and other coatings. Thus, the maker has developed a paint that's versatile, environmentally friendly, and easy to use.
Pros
Strong and flexible.

Long-lasting.

It cures fast.

The price is a bargain.

Great for different water features.

It comes in eight colors.
Cons
A bit expensive to maintain.

 
Frequently Asked Questions (FAQS)
Question: Is Epoxy Paint Good for Boats?
Answer: Yes, epoxy paints are the best paints for marine vessels. Manufactures make these paints with sealing, curing, and bonding capabilities, unlike ordinary paints. Most epoxy paints are water-resistant, while others dry on the water. It's the most preferred paint by boat owners for maintenance and repairs.
Question: Can You Change the Color of a Clear Marine Paint?
Answer: If you want to add some color to your marine paint, do it with a colored solute. There are paint solutes available at most home stores or use some food color if you're at home. The outcome will nearly be the same as long as the proportion is right.
Question: How Long Does Marine Paint Take to Dry?
Answer: Temperature and humidity will determine how fast or slow a marine paint will dry. If it's cool, the resin will take more time drying, at least 2 hours maximum before the next coat is applied. But for the paint to dry completely, give it 24 hours after painting. However, put in mind that there are marine paints that cure underwater.
Conclusion
We realized that boat owners require us to dispense holistic and enlightening information on how to find the best marine epoxy paint. With this in mind, we've dug deep to help you understand everything that entails marine epoxy paints, from their formulations to the best way to use the resins.
We've also gone a step ahead to formulate a detailed list to make you aware of some of the most preferred paints by water vessel owners. However, we know that making a straightforward decision might be a problem. That's why we'll point out which epoxy paint stands out from the rest.
For boat enthusiasts, we will recommend the Pro-Marine Clear Epoxy Paint mainly because of its versatility. The paint cures fast and remains sturdy when completely dry. It doesn't crack or peel off during drilling and buffering or under severe conditions. This paint maintains its crystal clear color over time and requires only 12 hours to completely dry.
It's water, moisture, and impact-resistant, thus offering maximum protection to your boat. Therefore, if you need high-performance epoxy paint, the Pro-Marine is the best choice, and you should make it your everyday paint.
For more interesting reading check out: