Trolling motors are a must-have if you are looking to improve your fishing experience. When installed, you enjoy better control of your boat and can reach inaccessible fishing grounds. Since they are silent, you are guaranteed to catch more fish. But does one really need a trolling motor when fishing? How many types of these motors are available? This article provides you with detailed answers to the above questions and will help you pick one of the best trolling motors out there.
Why You Need a Trolling Motor on Your Boat
Trolling motors enable the boat to remain at a single spot without using a physical anchor in the event of wind or strong currents. They also offer enhanced fishing ability and maneuverability. Their quiet state while offering you an optimum sitting position makes them the right fit for fishing.
Types of Trolling Motors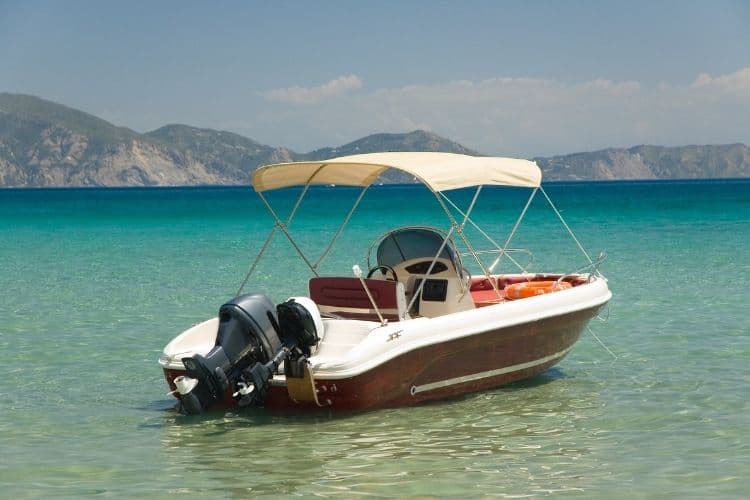 The market features three types of trolling motors based on their location of mounting; the bow mount, engine mount, and transom mount trolling motor. 
Bow Mount
Bow-mounted trolling motors are mainly used by fishermen who own medium and large-sized boats. The motor is installed on the front deck as the power cables cross through the deck brackets and into the battery compartment. 
This motor pulls the vessel through water and is better to control, unlike transom motors. Besides, they offer better control, superior maneuverability, precision, and general positioning. Furthermore, this trolling motor gives you a variety of steering options like the wireless remote, hand, and foot options.
But, between the hand and foot controlling option, which is the best? Well, they both have their advantages and disadvantages. The foot control is easy to use and allows your hands to be free when fishing. Nevertheless, this option clutters the deck and has a slow response time.
On the other hand, the hand control offers real-time response time and has no clutter. However, since your hands are not free, it is not the best option for fishing. As great as they are, bow mount trolling motors are much expensive and difficult to install. They also require you to have plenty of deck space at the front and a mounting bracket, unlike transom mount motors.
Transom Mount Motors
Transom motors, on the other hand, work best with small boats. They are affordable and easy to install, unlike the bow mount motors. You only need to attach it to the stern of the boat using a clamp. Furthermore, no drilling is required.
Some transom mount motors have tilt and trim alternatives. What this means is the motor gets raised when in shallow water and tilts above the transom when going ashore. Transom mounted motors require minimum space and do not clutter the back of the boat with cords and foot pedals. In terms of performance, they are the easiest economical motors to control.
The only downside to transom mount trolling motors is they have less precise control compared to bow mounts.
Engine Mount Motors
These trolling motors are neither mounted on the bow or transom but at the cavitation plate of the outboard motor. Engine mount motors provide more thrust and can be steered by hand or wheel. These trolling motors are a perfect fit for multi-purpose boats. 
How do they work? A wired remote controls the motor's direction and thrust settings. Also, when the engine is turned off, the motor becomes submerged and only emerges when the boat is on speed.  Unfortunately, as great as engine mount motors are at saving space, they are much difficult to control. They are also expensive considering they have fewer options and features available compared to the other models.
Regardless of the trolling motor you choose, the above types will improve and enhance your fishing experience, as they aid in general positioning and trolling. 
What to Consider When Choosing A Trolling Motor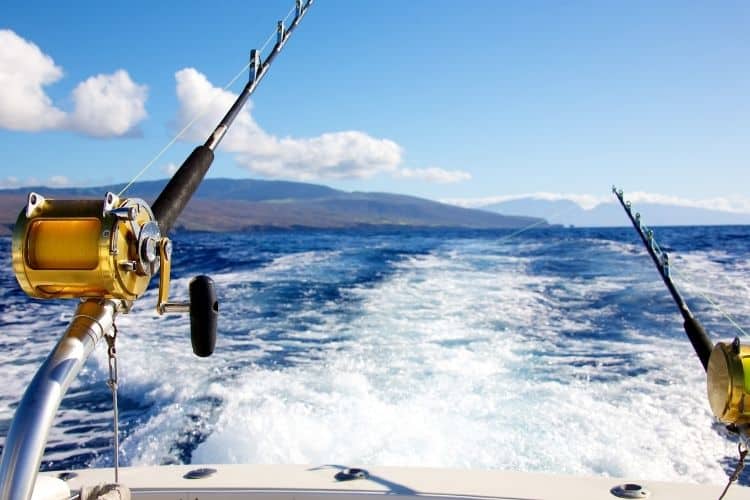 Since you are looking forward to a great fishing experience, here are four factors to consider before making a purchase.
Voltage
When browsing through different options, you will discover that electric motors are available in 12-, 24-, and 36-volts power systems. Volts show the battery power the trolling motor needs.
The 12-volts power system is both the cheapest and easiest electric motor to run. This voltage works best for boats measuring 16-foot long and with 55 lbs. or less of thrust. The only shortcoming of the 12-volt battery is that it lacks thrust and staying power when compared to the other trolling motor systems.
The 24-volt, on the other hand, is powered by two separate12-volt batteries while the 36-volt is powered by three. These systems enable you to fish for long periods since they have more thrust and draw fewer amps. Boats over 16-foot long can use either a 24-, or 36-volt trolling motor. Alternatively, boats with 68-80 lbs. of thrust need 2 batteries while those with 101-112 lbs. need three batteries.
Thrust
Thrust is a crucial element to look into when choosing a trolling motor. But what is thrust? It is the power or amount of strength required to propel your boat. You calculate thrust using pounds of water pushed by the boat. Since you will be navigating through windy days, weedy conditions, or high waves, you will require a trolling motor with sufficient power. 
What if you own a large boat? You need a trolling motor with more thrust. The rule of the thumb is, the heavier the vessel, the more thrust it needs and vice versa. 
For every 100 pounds, you require not less than 2 pounds of thrust. For this reason, use the boat's heaviest weight when calculating the needed amount of thrust. The heaviest weight is the vessel's weight when fully loaded with gear, fuel, and passengers.
Also, if the trolling motor is equipped with GPS, it requires sufficient thrust. GPS trolling motors are built to keep the boat in a fixed and steady position. 
But, does high thrust translate to having a high-speed boat? No, thrust is the pulling force, not velocity. A high thrust motor will help you cruise without being blown away from the course and anchor your vessel in a fixed position, but not achieve high speeds.
Shaft Length
In terms of optimum control, the length of the boat's shaft length plays a crucial role. A short shaft interferes with the submersion of the prop during rough conditions. On the other hand, when a shaft is long, it poses a problem when cruising in shallow water. For these reasons, you must inevitably find the correct shaft length of the trolling motor. 
How can you measure the shaft length? By using the height of the stern or bow. Deep V boats need long shafts while canoes require short shafts.  
Also, ensure that the shaft you choose is stainless steel or composite. These materials last longer despite exposure to shock and abuse.
Techy Features Included
The trolling motor world has seen technological advancements over the years. Therefore, it is worth checking whether the trolling motor has some of the following features:
Built-in Battery Gauge
Some trolling motors are designed with built-in battery gauges in the housing. With this gauge, you can easily check how much power your battery has and how long it can last on water. With built-in battery gauges, you never have to get stranded on the water.
Digital Displays
Today, some trolling motor models have digital displays with readouts about your current speed and depth. Even though they are expensive, digital displays help you find better fishing grounds.
Self-Directional Motors
If you are a fisherman looking for hands and feet-free options, a self-directional motor is a perfect fit for you. This feature uses GPS coordinates to steer along shorelines or depth contours. Not only will you have plenty of fishing time, but the motor will cruise in a straight line despite harsh weather conditions.
iPilot and Smart Remote Control
Did you know you can operate your trolling motor from your cell phone or RC unit? The iPilot features can record, retrace steps, lock fishing spots, control speed and steering using the GPS. You only need the smart remote control and the LCD screen to control this feature.
Best Trolling Motors
With so many motors out there, here is a list of the seven best trolling motors. 
Minn Kota Endura C2 30 Transom Mount Trolling Motor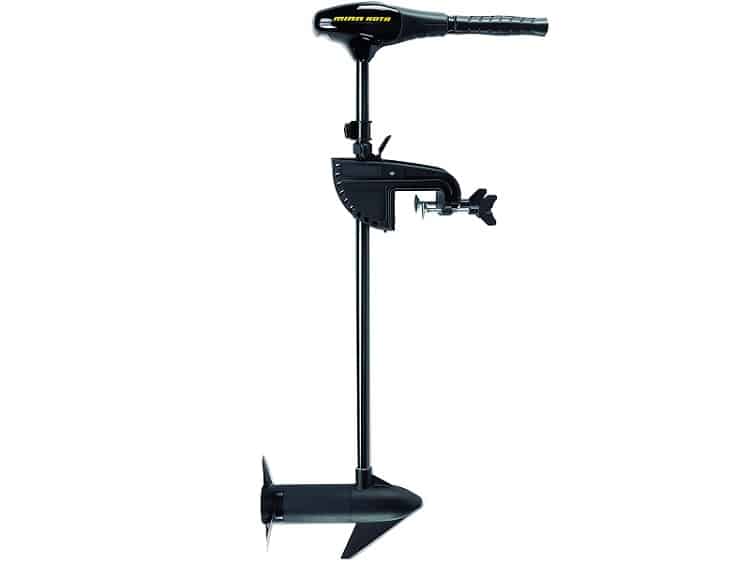 The Minn Kota Endura is a perfect trolling motor for lightweight boats. With a 12-volt engine power and a thrust of 30, this transom-mount motor explores rivers, creeks, and lakes quietly. The bearing system reduces friction thereby cutting off the noise that could spook fish away. The motor also boasts of huge windings and commutators that expel heat, helping the engine stay cool and last longer.
The motor has five forward speeds and three reverse giving you more maneuvering options around docks and weedy conditions with just one battery charge. This means that you get to spend long hours on the water. 
The trolling motor also has a vantage feature for fishermen who do dislike waiting. Vantage allows you to get back-to-back trolling mode instantly, steer and stow after pushing a button. What's more, resetting the Vantage's mounting system is easy and it protects the motor and transom from hazards. 
This transom-mounted troller comes with a tilt twist and a 6-inch telescoping tiller. The tiller allows easy and comfortable steering of the motor. The trolling motor also has a power prop that delivers extra thrust to push vegetation and weeds away. 
The C2 30 also has a level lock bracket with 10 position brackets. The lever lock bracket has a quick-release lever lock.  Once you lift and rotate the lever lock bracket to 180 degrees, the moor is ready to start back trolling. The bracket also features a reinforced composite material that protects against UV damage, flexing, and warping.
Did you know that the Minn Kota Endura C2 30 has an indestructible composite shaft? Well, this trolling motor is designed to last for life. Doesn't that make it a great investment for your money?
Pros
The tilt twist tiller has a natural ergonomic grip for better control and steering.

The five speeds give you a better command of the vessel.

The indestructible composite shaft is designed to last for life.

The motor operates quietly and does not spook the fish.

It is easy to install and is lightweight.
Cons
The model is ideal for freshwater usage.

The foot is too short when you put a transducer.
Motorguide X3 Trolling Motor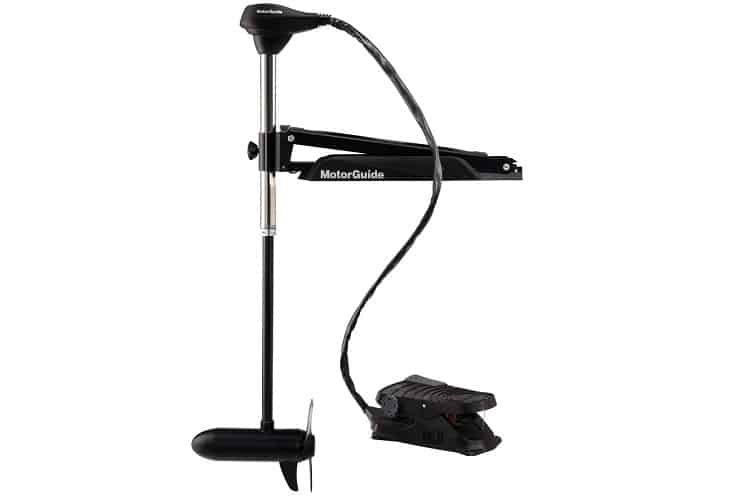 Designed with a 40-70 pound thrust range, the Motorguide X3 is both a performer and a durable motor. It is made of stainless steel outer shaft and bushings, rigid aluminum mount, and composite shaft.
The aircraft-grade aluminum mount minimizes flex to provide precision steering, improves durability and rigidity, and provides a wider base for increased stability. It is also easy to make height adjustments on the mounting brackets as well as remove them.
In terms of performance, the X3 outshines. It is equipped with a dual-cable pull-pull steering system that improves steering experience and eliminates slack. The system also incorporates Variable Ratio Technology which improves responsiveness and at the same time reduces torque steer feedback.
The model also has tight-fitting components, composite locking pins, fewer metal-to-metal interfaces, a 2-blade weedless prop, and a locking bearing collar to keep the motor running quietly in the water.
The Motorguide model is corrosion resistant thanks to the rugged composite shafts and durable stainless steel outer shafts. Besides, the special composite construction protects the motor against impact and comes with a lifetime factory warranty.
Pros
The company services damaged parts for free.

It is easy to install.

It operates quietly, offers precise control, and is reliable.

The model comes with a 5-speed operation.

The aircraft-grade aluminum mounting bracket offers enhanced precision when fishing.
Cons
The foot pedal is too fast.

The motor lacks instruction on how to adjust the foot pedal's position with the direction of the motor.  
Minn Kota Riptide PowerDrive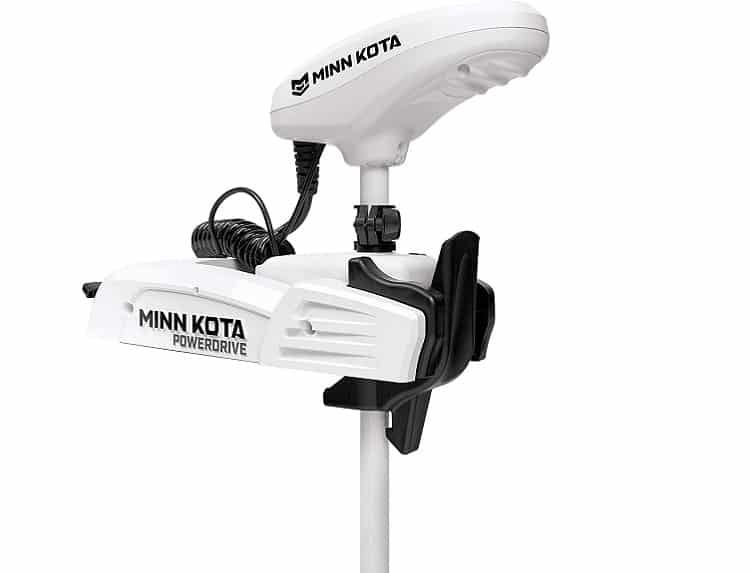 If you are looking for a performing saltwater trolling motor equipped with smart control options, the Minn Kota RipTide PowerDrive is the ultimate choice for you. The motor features a digital maximizer. With it, you achieve up to five times running time on a single charge.
Furthermore, since the digital maximizer has variable speed trolling motors, you get to dial your speed and it will deliver the power you need. This not only conserves your battery but you also get to spend longer periods on the water.
The Riptide PowerDrive also has an iPilot GPS trolling system that uses GPS to record paths, set spot-locks, control speed, and steering, and position the boat. The iPilot control is relatively easy to read and use from the large LCD screen.
Minn Kota Riptide also features the spot-lock feature. With it, you gain unparalleled GPS accuracy. It also has an automatic feature that helps you stay on a fishing spot without controlling the motor.
Did you know that this trolling motor has Autopilot too? The autopilot will automatically navigate your vessel in the direction of your choosing. Once you point the motor head in the direction you want, activate autopilot and it will do the rest for you. What's more, this feature will correct the waves, currents, and wind.
To ensure you get value for your money, the RipTide PowerDrive has mobile app compatibility. This means that you can control the motor from your Android or Apple device. Here, you can easily control the motor's speed, steering, advanced autopilot, and spot lock.
The motor has a weedless wedge 2 props too. These swept-back flared blades are capable of powering through weeds and vegetation without draining the battery. 
This trolling motor is also durable. The lower unit housing is coated in aluminum and painted with a layer of powder paint to prevent oxidation and rusting. The grit-blasting on the housing also gives it advanced corrosion protection.
Pros
It features an indestructible composite shaft.

The motor operates in a cool and quiet way.

The tech features included are autopilot, spot lock, iPilot GPS systems, and battery meter.

This model is great for salty waters. The housing has advanced corrosion and oxidation protection.
Cons
Garmin Force Trolling Motor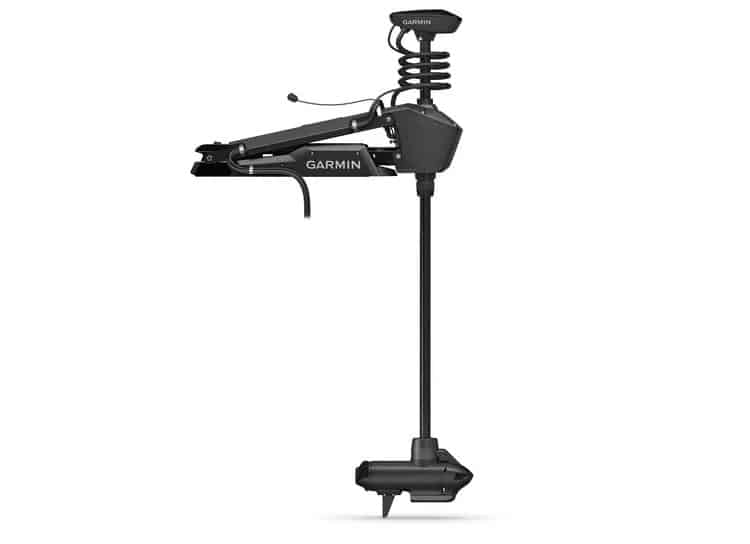 The Garmin Force is not only powerful but efficient too. This trolling motor is a must-have fishing gear. The trolling motor is high-powered. Not only does it help you move from one fishing ground to the next, but it operates quietly too. Moreover, it can stand up to currents and winds.
The motor is also efficient in the sense that, when operating at 24V, it delivers the same thrust when compared to other motors running at 36V. How do you steer this powerful motor? This model has a wireless yet convenient foot pedal that feels like a cable-steering pedal. You can choose to install the hardware or operate wirelessly using batteries.
The model has a hand-held remote, too, that is water-resistant and comes with a full-color display that is readable in sunlight. The remote also has advanced point-and-go gesture steering.  To ease your fishing experience, the Garmin Force has wireless Chartplotter integration. This feature allows you to connect the trolling motor to the Garmin Chartplotter to create fishing routes and tracks as you fish.
The model is also equipped with integrated sonar. This all-in-one built-in transducer offers three scanning sonar frequencies that include SideVu scanning, Ultra High-Definition ClearVu, and CHIRP traditional scanning sonar. Since the motor is ultra-quiet, you will not notice static on the sonar screen.
That's not all. Garmin Force comes with a built-in autopilot mode. It is integrated with GPS and heading sensors to give you a heading hold, anchor lock, and cruise control. Once you set the track, the autopilot mode will guide you.
Pros
The trolling motor is both rugged and durable.

It is easy to retract, deploy and stow.

The shaft has a limited lifetime warranty while the motor has a 3-year warranty.

The anchor lock holds your boat at one spot while you fish.
Cons
This model is most suitable for freshwater fishing.
Lowrance Ghost Trolling Motor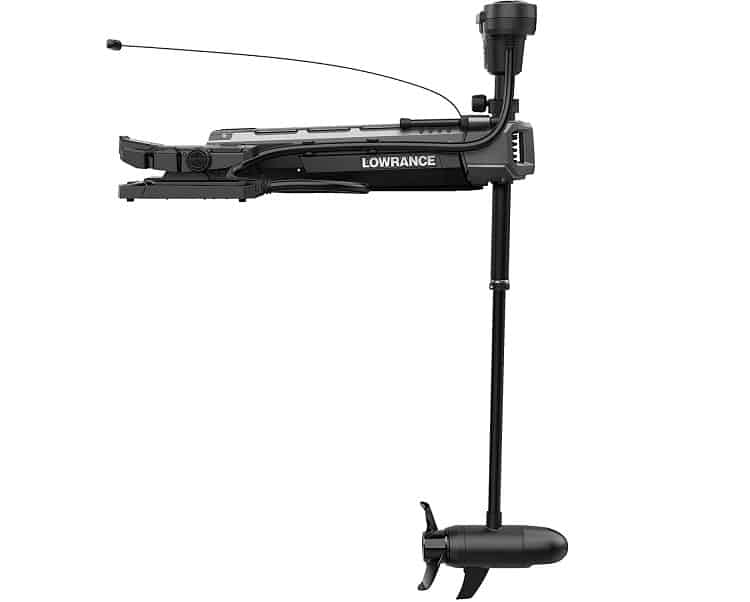 The Lowrance Ghost trolling motor is powerful by design and quiet in operations. This motor helps anglers enjoy the lengthy fishing time.
This incredible performer allows you to move from spot to spot with more than 25% thrust when compared to competitor models. Also, the brushless motor delivers efficiency through 60% better runtime. This means that you get to enjoy top speeds and acceleration without limiting your battery life.
With this trolling motor, you can anchor at any location regardless of the wind conditions thanks to the powerful anchoring. Besides, you can raise or lower the power-pole shallow-anchor with the Ghost foot pedal or use the quick access keys to anchor your location. 
The motor also offers total integration with the help of the full touchscreen controls. Here, you can set your navigation routes, steer the vessel, accelerate speed, or anchor the boat. The model also has quick access keys to the heading mode, an accessible anchor, and programmable shortcut keys. 
If you love high-resolution views when fishing, this Ghost model has an HDI nose cone transducer. This built-in transducer uses DownScan imaging and Lowrance CHIRP sonar to produce high-resolution imaging.
Then there is the brushless motor on the Lowrance Ghost that operates silently without interfering with sonar performance. Since it releases zero electromagnetic interference, the CHIRP and DownScan Imaging deliver clear views on the fish-finder display.
If you are worried about installation, this trolling motor is easy to install. Besides, it is compatible with both 24V and 36V systems. 
In terms of steering, the model uses both fly-by-wire steering and a configurable foot pedal. The fly-by-wire steering brings the feel of a cable-steer motor with the exclusion of physical cables. Configurable foot-pedal, on the other hand, has a flip switch and programmable shortcut buttons.
With these, you can drive the trolling motor from any side of the pedal. Besides, you can control the motor's speed and anchor using the TMR-1 remote control which is easy to use. 
To absorb impact, the Ghost trolling motor has a 360-degree breakaway mount. The shaft deflects from obstacles upon impact and repositions itself afterward. Besides, the presence of an integrated stabilizer bar decreases bouncing when cruising through rough waters.
Pros
The motor is easy to stow and deploy thanks to the dual-action gas spring.

It can achieve a maximum thrust of 97 lbs. at 24V and 120 lbs. at 36V.

It supports medium and high CHIRP sonar frequencies.

The model is reliable and offers top-end speed.

The anchor lock holds you in position despite windy and rough conditions.
Cons
It is not compatible with all models of boats. Confirm compatibility before purchase.
AQUOS Haswing Cayman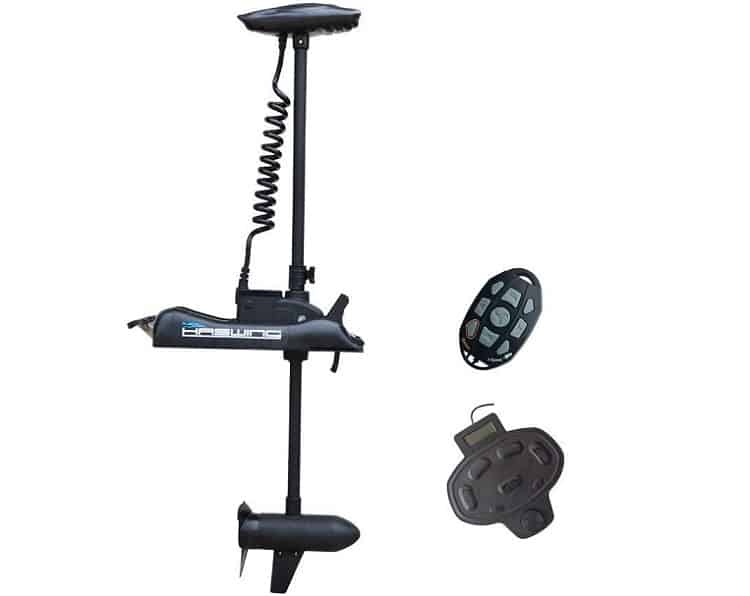 If you are looking for a trolling motor for both saltwater and freshwater, the AQUOS Haswing is the ideal fit. This powerful motor is designed to operate quietly, deliver precise control, and last for years.
The 12V 55lbs. the motor has an energy-efficient battery that can last a day out fishing. The Cayman model has variable speeds that let you key in your preferred speed for better precision, improved control, and low consumption of the battery's power. 
How do you control the AQUOS Haswing? This model comes with a convenient wireless remote control. With it, you can guide the motor while standing at 164 feet distance.  Also, should the battery run out on the remote control, you can use a USB cable to recharge it from a power bank. There is also a stow or deploy paddle available which can be operated by hand or foot.
Besides, this trolling motor has cruise control, a feature that maintains the boat at the preferred speed. Using the remote control, you can accelerate or decelerate the motor's speed then focus on fishing.  Nevertheless, you may have to correct the direction manually in case of strong winds and currents. Also, if you need the boat to cruise in reverse, rotate the motor to 180 degrees.
What makes Haswing Cayman a fresh and saltwater trolling motor? The answer lies in the design of its shaft bow mount. Designed with a sacrificial anode, this design makes it corrosion resistant. The trolling motor also features a power display for better planning. On it, you can tell when the battery is 20%, 50%, or 100% charged. 
Since you will need to take the motor of the boat or car, it comes with an ergonomic lifting handle that is comfortable to carry. The motor features a quick-release bracket for quick, easy installation and removal.
Pros
Works in both saltwater and freshwater.

It operates quietly and delivers precise control.

Boats weighing 2750 lbs. can use this motor.

The aluminum alloy shaft is compatible with different types of boats.
Cons
The 12V battery is not included in the package.
Minn Kota Ultrex 112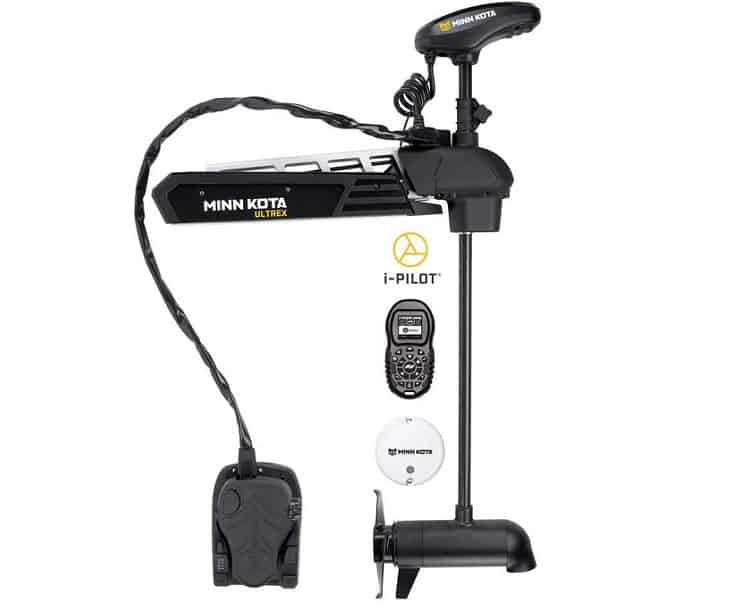 And for the third time, the Minn Kota has made it to the top 7 list of best trolling motors. This Ultrex model combines both innovation and functionality. The motor is fitted with the latest GPS features and power steering for added precision control. It also has the iPilot function which allows you to cruise 5-feet off a spot-lock location without interfering with the accuracy.
iPilot GPS trolling system also records paths, steers, controls speed, and automates boot positioning and control.
The Ultrex 112 has a steering lock, too, that enables you to release the foot pedal without steering away from the course. Other innovative features included in this model are; Bluetooth connectivity that works with the Minn Kota app to enable software updates and remote commands, and autopilot buttons.  
If you enjoy using cable-steer motors, the Ultrex 112 offers the same, exact touch without the cables. In addition, you will have better foot control, remote functionality of the iPilot, and minimal fatigue thanks to power steering.
Pros
The spot-lock with jog offers unparalleled GPS accuracy.

Autopilot navigates the boat to the desired direction once it is activated.

The digital maximizer has five variable speeds that conserve battery use.

The foot pedal offers instant responsiveness and precision control.
Cons
The model is not compatible with saltwater fishing.
FAQs
Question: Can I use a freshwater motor in saltwater?
Answer: Yes, you can without the motor facing immediate danger. However, the metal components will face the risk of corrosion with time. To reduce the risk of corrosion, apply a coat of grease or oil on the metal before cruising and rinse it with fresh water after use.
Question: What is the difference between saltwater motors and freshwater trolling motors?
Answer: The main difference lies in the material used. The motor components for saltwater have corrosion-repellent materials from salty water in the ocean, unlike freshwater. 
Question: How big of a trolling motor does my boat need?
Answer: For every 100 lbs. you need at least 2 lbs. of thrust. Therefore, calculate how much your boat weighs when fully loaded to find the needed amount of thrust. If you fish in windy environs, choosing a little extra thrust won't hurt.
Question: How deep should I submerge my trolling motor?
Answer: The best depth to submerge your trolling motor is 12 inches. At this depth, not only will it function properly, but you will also reduce the chances of it getting damaged. 
Question: Can I run my trolling motor out of water?
Answer: Yes, but only for short periods. If you run the motor out of water for long, you risk overheating and damaging it. Remember, the trolling motors cool down when operating on the water. 
Question: How do I test my trolling motor?
Answer: A voltage tester is the easiest way. With it, confirm that the voltage produced is equal to what the manual states. If there are no problems with the voltage but the motor won't start, check the breakers.
Alternatively, have the battery or motor checked at a marine repair shop.
Conclusion
From the above guide, it is clear that there is a perfect trolling motor for your boat regardless of your boat size, saltwater or freshwater, and the conditions of fishing.  The overall best trolling motor is the Garmin Force. This performer is powerful, offers precision control, works quietly, has spot-lock features, and can be controlled from your mobile phone.
On the other hand, in terms of operating both in saltwater and freshwater, the AQUOS Haswing Cayman is the perfect fit.  Take charge and get only the best trolling motor for your boat!