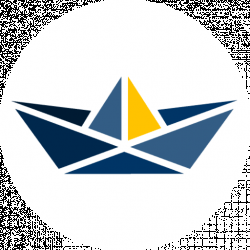 Latest posts by Boat Bub Team
(see all)
If you are a boat enthusiast, you have probably wondered what is the best 40 HP outboard motor out there in the market. The best motor is vital as it translates to efficient fuel economy, low maintenance cost, effective and efficient performance, and what have you. At first glance, many people can't tell the difference if they have no other details beyond the motor's look.
It becomes a challenge in such a situation for the new buyer in the market. There is a likelihood that you might end up buying counterfeit motors following a flooded market with underperforming motors.
To be safe, see to it that you are armed with sufficient information regarding outboard motors. Due to such reasons, we have decided to come up with essential factors you need to consider should you be out there looking for the best 40HP outboard motor.
How To Choose An Outboard Motor For Your Boat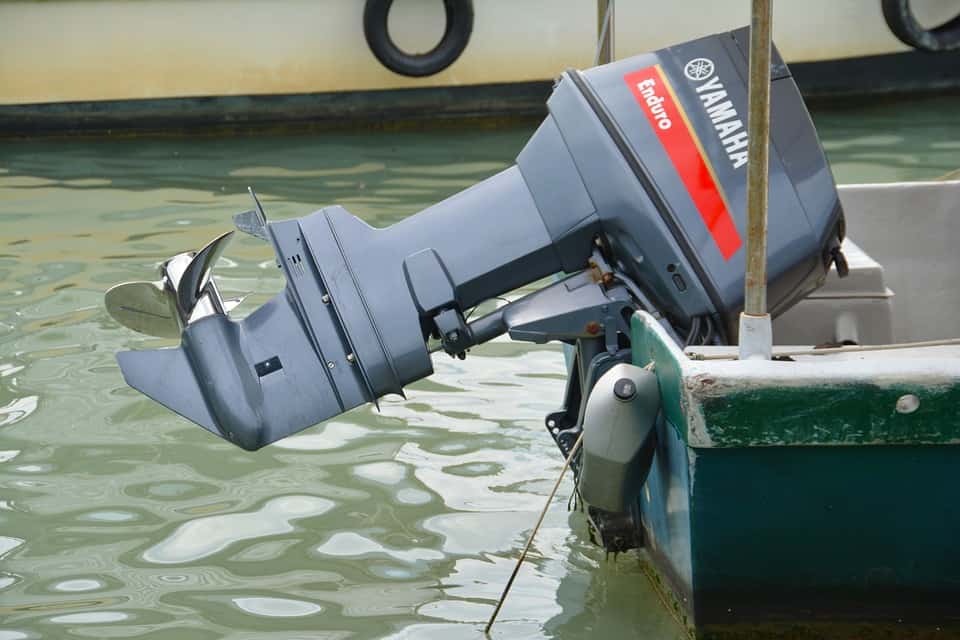 Whether you want to have an outboard to replace the older one on your boat or you want to buy a new motorboat, you have to evaluate several reasons for you to purchase a suitable outboard motor.
From the two strokes to four-stroke to direct fuel to electronic injections, the following are the factors you need to consider should you be buying an outboard motor for your boat.
Do You Need A Two-Stroke Or Four-Stroke Outboard Motor?
Unfortunately, many people think that a two-stroke outboard motor is stronger than a four-stroke motor. This is not the case after doing research and realizing that the answer is not straightforward. The four-stroke outboard motor was believed to offer less power, unlike now fitted with a modern fuel injection system. It means they are now fuel economical and energy-efficient.
Everybody is striving to conserve the environment, and so do boaters. They are looking to have a clean and efficient engine. Modern outboards have evolved, and they nowadays do less environmental pollution. There before, a carburetor would feed the mixture into the engine via an intake valve.
In the process, much fuel could escape with the exhauster remaining open throughout the process. However, with the improved two-stroke outboard motor, they prevent fuel loss, making them smoother and quieter as four-stroke.
Confirm The Integration Of The Fuel Injection On The Outboard Motor
Nowadays, we have a modern fuel injection system, which is fuel-efficient and produces fewer emissions. There are two kinds of fuel injection, namely direct fuel injection and electronic fuel injections.
Direct Fuel Injection
Direct fuel injection can be found in both the two and four-stroke engines. They use much less fuel and offer increased power with low emissions. These fuel injections also don't require fuel priming and are quick to start.
Two-stroke direct fuel injection performs by feeding the fuel into the cylinder with the piston covering the exhaust port. This is what prevents loss of fuel experienced in older models.
Electronic Fuel Injection
The electronic fuel injection engine has the mixture injected into every cylinder's incoming air before entering the intake valve. The fuel spray facilitates the cooling of the intake valves and increases the vaporization before it reaches the combustion chamber. A spark plug ignites the fuel and the air mixture.
As you buy, it is worth noting that low emission electronic injection engines require no fuel priming, and they are quick to start and consume less fuel without change in performance.
Know The Amount Of Horsepower You Need For The Boat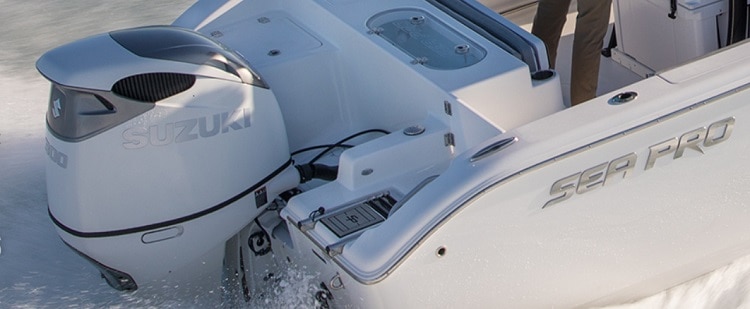 It is common when people are buying motors for their boat to hear them asking, "How much horsepower do I need?" according to formulaboat.com, there are several factors one needs to consider to answer this question.
Manufacturer limits

Boat horsepower to weight ratio

Fuel efficiency choice which would be impacted by horsepower

What you use your boat for

The weight you are planning to carry

Amount of insurance premium

One vital thing in your boat is its weight. The bigger and heavier the boat, the more horsepower it would need.

Electric outboard motors
What is the size of your boat? Smaller boat works perfectly with the electric outboard. They are light in weight, quiet, and require low maintenance and they are relatively pricey.
With electrical outboard motors, you can significantly save on fuels in the long run, but you need to change them every few years. Otherwise, you need only an overnight charge to get moving.
Do outboard motors interfere with existing boat insurance?
Do you know the boat insurance cost boils down to risk, and the faster the boat, the greater the risk? A boat equipped with a faster outboard motor may affect the rate or eligibility.
However, the speed of the boat is not the only thing that can go into the premium. Other factors include the type of boat, size, value, and boating place (lake vs. oceans).
Best 40 HP Outboard Motors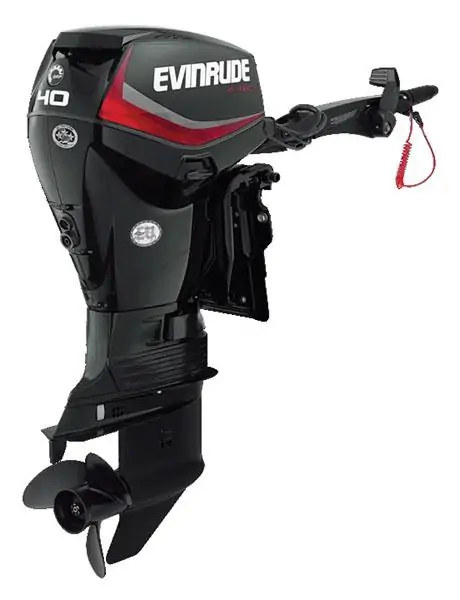 It is a small motor but offers a lot of power. People refer to it as a small engine with a lot of punch, more challenging than any other motor in its class with more electrical output. With this motor, it means you are in total control of your boat's engine and your time in the water.
 Every evolution means a power stroke, which translates into two times the power of a four-stroke. Additionally, Evinrude e-tec 40 hp has a microprocessor that works as fast as lightning and acts as the motor's brain in delivering the ideal fuel mix directly to the combustion chamber.
It offers immediate response enabling you to arrive at your destination before everyone else. This motor also features an alternator that provides almost twice the available Amperage of a competitive engine.
It is a low-maintenance motor, and there is nothing like getting worried about break-in period, oil charges, or dealer-scheduled maintenance. This motor comes with high-efficiency water pickups and a weed-slicing shape up front to cool the running engine and outstanding durability without forgetting reliability in the long run.
Get this Evinrude E-tec 40 hp motor with the ability to automatically fog itself in minutes without visiting a dealer. It is easy, and you can do it any time. During the warm winter spell, you can go fishing, and in warmer coastal regions, there is no worry in terms of salt air or corrosion.
This motor, in particular, is made for extra power and speed. People who like pushing the limit in horsepower, speed, and torque have all reason to consider this motor with incredible features.
Features And Specifications
High output series

Auto storage

More miles per hour

Worry-free maintenance

More Amperage available

Instant throttle response

Direct injection fuel induction

Multi-point targeted oiling

5500-6000 full-throttle RPM range

Electric starting

Five-year warranty non-declining

Emission compliance

Tow-gallon oil tank capacity

Polished stainless steel

Two cylinders

Weighs between 105-113 kilograms depending on models
Pros
Lightning-fast microprocessor

Low maintenance cost

Durable and long-lasting

Highly reliable

Easy to use and operate

Resistant to corrosion

Five-year non-declining warranty

Lightweight design

Clean and quiet

Excellent fuel economy
Cons
Its spark plug is extremely expensive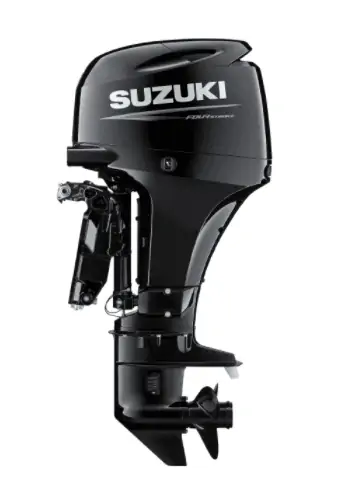 Within the class of 40HP, this is the only engine that can offer DOHC performance. It is also the only engine within this class to integrate a maintenance-free, oil-bathed timing chain, which offers the outboard with prolonged durability and maintenance-free operation. This outboard motor also comes with some other beautiful features that make it stand out.
They include the large displacement that increases its power and performance and lean control system for improved fuel economy. It has a more compact design and light in weight compared to the predecessor. The new DF40A also incorporates the Suzuki troll mode system.
Features And Specifications
Low oil pressure caution

Freshwater flushing system

Suzuki easy to start system

Direct ignition

5000 t0 6000 rpm operating range

12 volts 90 amperes ignition system

Three cylinders

Timing chain

Suzuki lean burn control system

Power trim and tilt

Anti-corrosion system

Over rev limiter
Pros
Its system is easy to start

Self-adjusting oil-bathed timing chain

Large displacement

Zero maintenance

Direct ignition

Standard coil for reduced electric interference

Lower gear ratio for swinging a giant prop for improved acceleration
Cons
No propeller and engine oil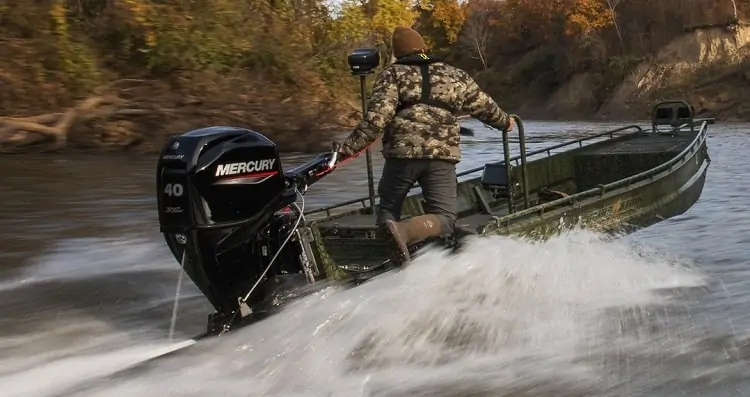 A mercury outboard motor doesn't rule water for anything; there are many reasons why they do. One of the reasons is that there is no worry over reliability. They have low-end torque for excellent acceleration.
This outboard also increases fuel economy and poses an outstanding overall performance. With the EFL models, it can also enhance fuel injection to boost efficiency. Its robust electrical system produces a high output alternator that keeps batteries charged.
Mercury EFI outboard can deliver reliable turnkey starts and offer instant throttle response. The engine of the 40 hp Mercury outboard motor accelerates and saves on fuel compared to the competitors. 
Features And Specifications
Inline three engine type

5500 to 600o full-throttle RPM

Two valves per cylinder, single overhead cam

18 amperes alternator/226 watt

87 octane recommended fuel

Compatible with intelligent craft digital technology

Twenty inches shaft length

Electronic fuel injection

Water-cooled with thermostat
Pros
Excellent acceleration

Outstanding performance

High output alternator for constant battery charging

Enhanced fuel injection

Low-end torque

Highly reliable

Maintenance-free

Tough components

Digital monitoring

It runs smooth and quieter

Save on fuel

Lower emissions
Cons
It is heavy and therefore less portable
Tohatsu MFS 40 HP Outboard Motor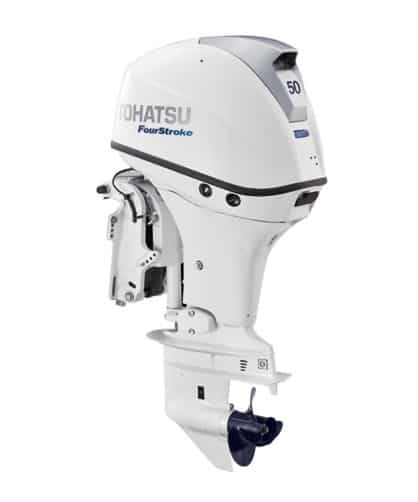 There are several features about the Tohatsu MFS 40 HP outboard motor. Some of them are considered significant for the different conditions we have tested to comply with the market's needs.
Some of these factors are the aerodynamic design of the cowling, reliability, portable, low fuel consumption, torque that is comparable to a two-stroke motor, and easy maintenance. All these factors qualify it as the ideal motor for your boat.
This motor has been proved reliable following a Russian test, running for 5000 km on a liner river without any complications. In Italy, some motors have been in use for 260 to 1000 hours in a season and still stand pretty strong for more seasons.
 It saves you fuel more than you ever thought.  It can run idle for more than 20 minutes, more than a direct competitor with the same amount of fuel, which is helpful to fishers. If you top it up with 25 liters of fuel, it can take you up to 8 extra kilometers compared to other brands.
It is easy to maintain and is facilitated by the unification of components, including the intake and fuel parts, ISC valve high-pressure supply, engine anode, and many other elements.
This translates to quick disassembly and fast service. Among other features of this motor worth mentioning are the variable idling speed control, built-in freshwater flushing system, high output alternator, low-pressure warning, integrated diagnosis system, and anti-spray plate.
Features And Specifications
Electronic fuel injection

12 volts 21 amperes alternator

Weights 95 kilograms

866 displacements

Three cylinders, four-stroke

5000 -6000 maximum RPM

25 liters fuel tank

2.08 gear ration

70 by 75 mm bore and stroke
Pros
Design of the cowling, 

Reliability,  

Portable 

Low fuel consumption, 

The torque that comparable to a two-stroke motor, 

Easy maintenance
Cons
May have problems with the center consoles
Honda BF49 Outboard Motor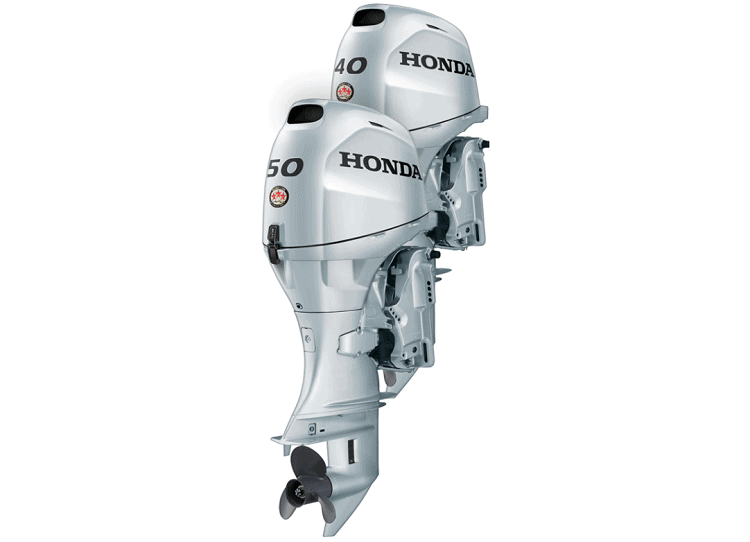 This is another motor many people find perfect for their boats. Honda BF40 outboard motor provides excellent power as it pushes a full fuel tank, and fishing gear as a crew.  This motor is a legendary combination of four-stroke engineering and the latest outboard innovations.
When you compare this with others in their class, it is the lightest and the most compact one. Since they come from Honda, one of the well-known motor makers, they come loaded with distinctive features and the most needed technology.
Like a blast, the boosted low-speed torque is activated by a throttle's quick and swift movement for the immensely improved hole-shots. It has programmed electronic fuel injection to guarantee you a more leisurely start, instant throttle feedback, reduced trolling speed, and overall fuel efficiency.
To get you going faster, this motor is equipped with a high-performance Gearcase that reduces drag, reduces hull porpoise, and minimizes spray, and, as a result, increases the acceleration and the top speed.
Another breathtaking feature found in this motor is the lean-burn control that stretches your gas further by allowing a leaner air to fuel mixture.
Features And Specifications
Reliable and efficient four-stroke design

Meet NME2000 standard onboard connectivity

Lean burn control super fuel efficiency

Blast system that improves acceleration at low speeds

Programmed fuel injection

High-performance Gearcase

Three-position tiller handle

Engine alert system

Four front corrosion protection system
Pros
Get you going fast

More usable power

Keeps you informed with the engine alert

Powerful performance

Fights the elements
Cons
Unresponsive and unsupportive customer care
Yamaha Marine F40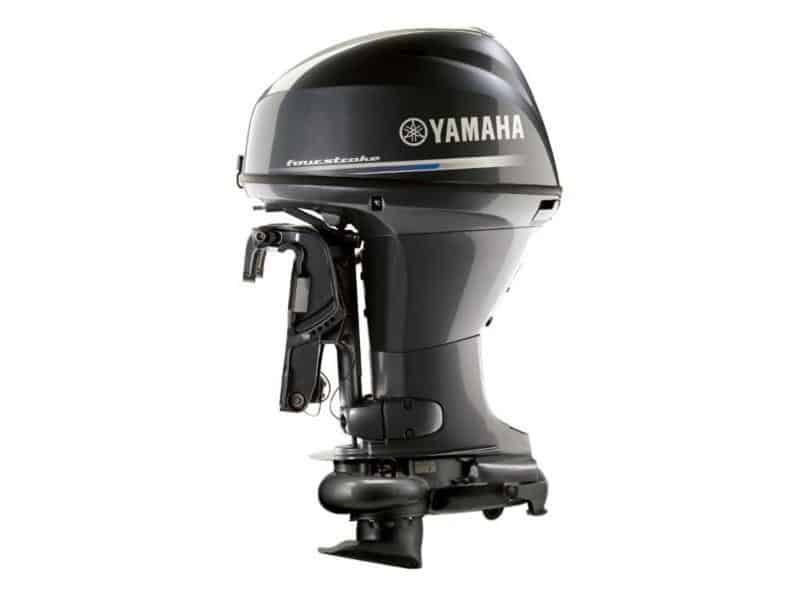 Yamaha 40 hp is known for its small size but outstanding performance. It has three cylinders that are elegant, light, and powerful which are perfect for a light-duty. This motor is ideal for boats, jons, inflatable, and small pontoons or aluminum fishing boats.
Yamaha Marine 40 hp can deliver quick start, responsive power, quiet operations, and value efficiency. This is made possible by the single overhead camshaft and the electronic fuel injection.
It is also compatible with the brand's award-winning multi-function tiller handle, which facilitates valuable trolling and fishing flexibility. You can be sure that this motor is a reliable motor for any small-scale boat application.
This motor also offers powerful performance in a compact package available in both propeller and jet pump-driven models. You can be assured of easy start, fast acceleration, and excellent top speed enhanced by the single track intake manifold and electronic control module.
Features And Specifications
Stock number: F40LEHA

Overhead camshafts

Electronic fuel injection

Light and powerful

Three-cylinder wonders

Single throttle valve

Long track intake manifold

Electronic control module
Pros
Fast acceleration

Outstanding stop end speed

Easy to start

Reliable power

Reduced noise

Portable and ideal for light-duty

Flexible and value efficiency
Cons
Might have problems if fuel used contains more than 10% ethanol
Recommendation
After a thorough evaluation, we concluded that Evinrude E-tec 40 hp outboard motors stood out from the rest of the motors reviewed. This motor comes with everything that any boat lover out there would like to have.
It had some unique features, and two features will leave you questioning your sanity. One of the two is auto storage. This is an auto winterization feature that makes the engine fog itself within minutes, and you forget about several trips to the dealer.
Then the other feature is the ability to cover more miles per hour. This motor can get you covering more miles per hour with the straight leading edge Gearcase. The Gearcase offers high-efficiency water picks and a weed clearing upfront shape for cooler running, durability, and reliability in the long run.
Frequently Asked Questions
Question: Which Is Better Between A Two-Stroke And Four-Stroke Outboard Motor?
Answer: Fuel economy and speed can be compared between two strokes and four strokes outboard motors. For the two strokes, they weigh less but accelerate faster. The four-stroke outboard motor is quieter and offers more torque than the two-stroke outboard.
Question: How Often Should You Flush Your Outboard Motor?
Answer: It is recommendable to flush your outboard motor regularly with fresh water. It is crucial for maintaining your motor in case you use it in saltwater. The best manufacturer recommends flushing using fresh water after every time you use your outboard motor in saltwater.
This process clears the cooling salt residue and scales, to stop it from impedeing cooling water flow through the engine.
Question: Can You Run A Four-Stroke Boat Motor Out Of Water?
Answer: Yes, flushing a boat motor by running it out of water is a maintenance task that should be embraced. However, running the engine without a water source for a length of time might cause damage. You are required to attach a hose to the motor water intake. If your motor does not, you need a flushing device. If your motor is not equipped with a flushing attachment, you need a flushing device. 
Question: Should I Leave My Outboard Motor Up Or Down?
Answer: If you intend to leave your boat in water, leave it up to avoid growth. If you want to leave it out of the water, you can trim it down.  It will drain water from the power tilt and trim seals from the sun.
Question: What Happens When You Don't Winterize Your Outboard Motor?
Answer: You should never fail to winterize your boat unless you are planning to make necessary repairs come springtime. Failing to winterize your boat causes any water droplet left in the motor to freeze, expand, and finally crack the components they were in. This can result in an unpleasant event like blowing off a hose or even completely ruining your engine.
Conclusions
Efficiency when working with your boat is vital, and for this reason, you have all the reasons to dedicate your precious limited time in looking for accessories that would facilitate that. One of the vital accessories in a boat is the outboard motor.  Your boat deserves one of the best motors for it to perform considerably well.
For you to buy the best motor there are several factors you need to consider as we have them in this article. It does not end there; you also need to perform the required maintenance to ensure your motor's life expectancy while avoiding unnecessary repairs. Follow the manufacturer's guidance to avoid corrosion on your motor.