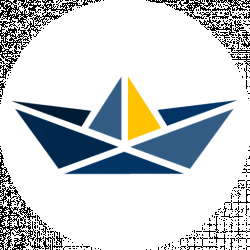 Latest posts by Jeanne Murugami
(see all)
It's almost impossible to talk about saltwater fishing without center console boats popping up in the conversation. And as there's an assortment of them, it's reasonable to sort center console boats into two classes: inshore boats and offshore boats. 
In most cases, the boat's ability significantly depends on its size. However, one particular type of center console boat showcases a much more clear-cut design and purpose; the bay boat.    
What Are Bay Boats?
Bay boats make an excellent platform to aid you to reach the furthest fishing zones with shallow waters as they are too small for riding in the deep, open seas.
They fulfill the same purpose as flatboats, but it isn't easy to propel bay boats by poles or oars, unlike them. Moreover, they are pretty more extensive, and their hulls feature a deeper V, which is more practical for navigating the open ocean in the right conditions. 
Essentially, bay boats are hybrids. They perfectly strike a balance between a deep-draft vessel and a shallow-draft counterpart. Besides cruising on relatively shallow waters, they are also impressively stable to sail through deeper zones with choppier waters. And some even feature a water sports design for tubing and skiing.
Buyer's Guide for the Best Bay Boat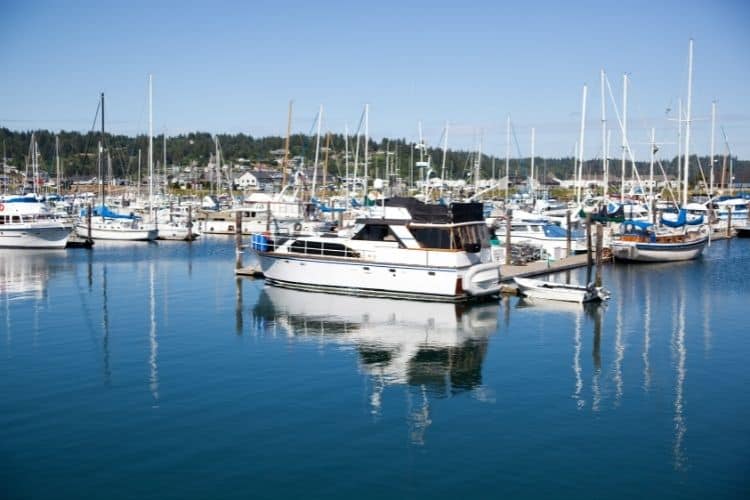 Without a doubt, bay boats are one of the most versatile water vessels out there. Whether you want one for family use or fishing, a bay boat has good potential in meeting your requirements. 
Buying the appropriate one for you is, hence, a very vital decision you ought to make. And with a vast array of boat models out there, it could be strenuous to make a final decision. But don't fret. Below is an outline of the most crucial factors you must consider if you want one of the best bay boat models in the market.   
Purpose of the Boat
Firstly, you need to have a clear purpose for using the vessel and identify the attributes to help achieve that mission. For instance, if you want a bay boat for your fishing escapades, consider one with features that aid in making your fishing outings as easy and efficient as possible.
On the contrary, you may want a bay boat that's practical for a bit of everything, such as family outings and fishing. And in such a case, pick a boat that can help cater for all the users' needs with less compromise. After identifying the primary purpose of your boat, you will have taken a significant step in narrowing down the options on the type of vessel you should get.
Hull and Deck
The foremost thing to look at should be the hull sides. Does it have a glass-smooth surface free from print-through or ripples that tend to arise from fiberglass mating? The internal structural components should be hidden rather than giving themselves away from the outside.
Moreover, a typical bay boat will integrate its structural components into the mold instead of fastening them later. You should also check for a faultless stretch of Gelcoat to gauge the overall care taken during manufacturing.
Inspect the rub rail as well. Ensure it uses stainless steel, either set over a nonrigid bumper rail or fastened with screws flush. Then see that it's installed on a strengthened line between the cap and the hull.
Stepping onboard, you need to visualize yourself fishing in the craft. Ask yourself if the interior configuration and layout showcase somewhere you'd wish to spend your time when fishing. Ensure there's adequate storage space to hold the necessary equipment and gear that suit your fishing style. 
Also, consider recessed or retractable cleats for extra snag-free space alongside a cockpit sole that's uniform and doesn't skid. The rails should be canted inwards or sit in lower channels for effortless movement around the boat. 
See that the grab bars have intuitive placement but are unobtrusive at the same time. Remember, things change fast on the water. Hence, the grab bars should be in the most rightful place for instant decisions. 
Helm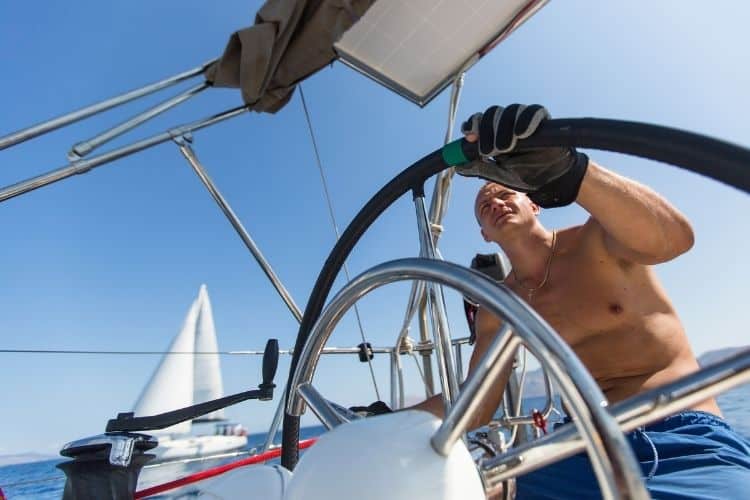 The helm is the boat's command center, and it's where you'll usually be for the most time. Efficiency, safety, and convenience are critical. Throttles and steering wheels should be quick to reach whether you're standing or seated. If armrests are present, they should be rigid enough to endure the stress of high-speed maneuvering and rough conditions.
Other components around the helm may assume the grab bar's duty. For that reason, the seating modules and the framing around the windshield should be sturdy. The windscreen should also be rock-solid with bay boats often featuring the increasingly popular tempered or acrylic glass.
Your all-around sightlines, especially the forward view, should be clear and unobstructed when operating the boat, allowing you to see the forepeak. In helm ergonomics, access to electronics is paramount. Luckily enough, most bay boat brands install controls on the dash allowing you to glance down rather than forcing you to interrupt your line of view.
If you require special electronics such as night-vision cameras, spotlight, or radar, consider a boat that features a top hamper, either a rigid sunshade or a T-top. Also, inspect the mounting and construction and ensure every component is solid on the console side or through the deck. And check for nylon washers which help reduce chipping.
Further, ensure the underside of the overhead uses dark colors to lessen glare over the controls. To finalize a well-rounded helm, use a traditional compass that sits atop the console, over the wheel.
Hatches and Storage
Over two-thirds of people prefer to load often and offload necessities for each trip instead of permanent aboard storage. For this reason, ease of access, storage, and convenience become key. But if you belong to a third minority who don't mind keeping tackle on board, lockable storage, especially rod storage, is a detail you ought to look for.
Ensure good guttering around the perimeter of water hatches to promote drainage to the scuppers or overboard, instead of into the bilge. Pressure latches and robust gaskets are instrumental in ensuring whatever is inside remains dry.
See that the top lid and hinges are through-bolted and lie even to prevent snagging your toes. And although lid support is essential, the hatch lids should promote quick accessibility of the whole hatch opening. They shouldn't lean against anything when open to avoid wear on the boat and cover. But nowadays, most models use friction hinges which are effective in holding the lid intact when opened.
Live Wells
If your game involves live baiting, then your successful fishing days largely depend on the live well. Consider a bay boat whose live well can accommodate both crustaceans and scale baits. Sea chests are responsible for water supply to the live well and keep the pumps from losing prime. 
But instead of that, you could consider bay boats with dual pumps for more reliability in supplying water to the well. Inspect the live wells and ensure their construction doesn't have hard angles from the inside.
A more impressive feature is the well's visibility. For you to effectively keep tabs on the bait, consider an aquarium-style or a clear lid and ensure everything is at par. 
Live well lids should open wide on hinges or fold back flat for adequate clearance to fill by hand or from a cast net without mishandling the bait.
Electronic Considerations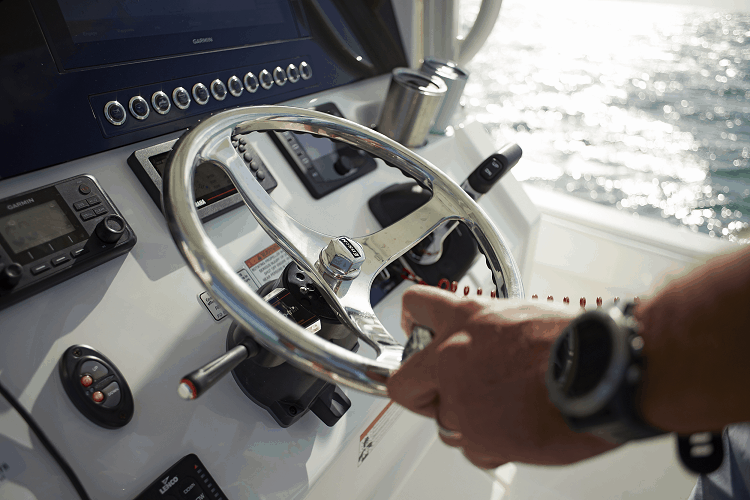 Onboard electronic systems in bay boats are highly customizable. But a few popular installations that make excellent additions to your deck include multifunctional touchscreen displays, mood lighting, stereo systems, VHF radio, and other appealing features you can have factory installed.
You will often find these add-on features on most manufacturer's sites when you go to the Build-a-Boat option. Nonetheless, we refer to them as optional extras, and it's essential to consider that they tend to elevate the boat's overall cost.
Mechanical Considerations
When picking a bay boat, you ought to keep a few mechanical considerations in mind. And among these is ensuring that the vessel you choose has a provision for trolling motors and anchoring systems ideal for shallow waters.
You also want a vessel that showcases ideal wiring, backing plates, and attached waterproof connectors. This will make the installation process of these components easy if you ever require them later on. So, as you pick a bay vessel, remember plug-and-play compatibility is vital.
Best Bay Boat Models: Our Top 5 Picks 
We've reviewed the best bay boat models based on their features, price, economic efficiency (fuel consumption) and performance.
Wellcraft 221 Bay Boat
The first vessel to resurface on our radar is the Wellcraft 221 Bay Boat. Like most southern-style boats, it boasts raised casting platforms, a low profile, low draft, and high performance, making it a perfect vessel for light tackle casting. 
The boat's design suits live fishers and not amateurs who, in most cases, incline more to crossover models. And the live well in the aft deck proves that. Its inside is baby-blue, can hold up to 34 gallons, and includes a timer and a light. This is quite different from other half-measure bay boats that would probably have a white interior, a 20-gallon capacity with no timer or light.
Rod holders in this bay boat also showcase the vessel's fishy attitude. The T-top has four holders, four more behind the boat's leaning pole, another four in the gunwales, with the console having six more vertical holders. Under the gunwales are rod racks that feature padding inserts to prevent your reels from banging against fiberglass in-wales.
Another selling point of the Wellcraft 221 Bay is the console and helm layout. Lining the top are lighted toggle switches with breakers, and there's enough room to flush mount electronics such as large MFDs. 
Overall, the console is slender, which translates to a tight head compartment. However, that also translates to more fishing space. Its transom then incorporates an Evinrude E-TEC G2 outboard engine able to reach over 50 mph at full throttle and still get 2.5 mpg, which is quite impressive.
Sportsman Masters 207 Bay Boat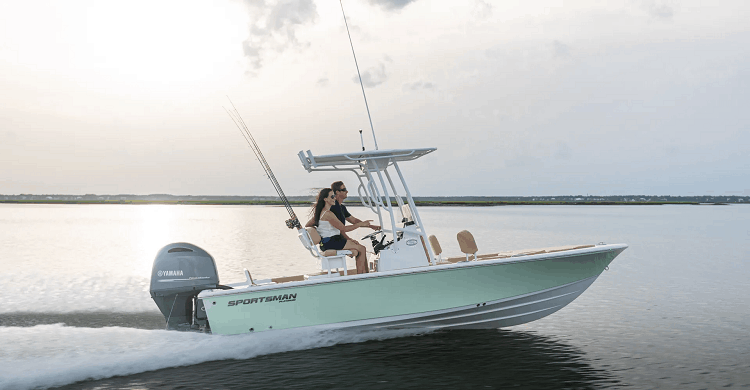 As much as size matters with many things, it doesn't with fishing boats. And even though more LOA does prove to be advantageous, sometimes ideal fishing vessels come small. And the Sportsman Masters 207 Bay Boat is our case in point.
It boasts a redesign from the bulky 2018 model and now comes very compact. As such, it's now relatively effortless to load on a trailer, relatively affordable, and easy to handle at the docks. And if you're an angler who prioritizes quality over quantity, the Masters 207 is the real deal.
The boat features an Nss9 Evo3 Multifunctional display with a through-hull transducer. Besides, it also comes with three live wells (a 10-gallon well forward and a pair of 20-gallon wells aft), 12V/USB charging at the helm, a leaning pole with flip-up bolsters, and a hydraulic tilt steering for maneuvering.
Further, the pieces-parts present also prove that a diminutive nature doesn't render a drop in quality. The vessel still integrates lighted toggle switches, stainless-steel rod holders, pull-up cleats, and gasketed, fully-furnished hatches on both sides. 
However, the windshield isn't the most impressive. It's pretty miniature to crouch behind, but it's still aesthetically pleasing and allows the boat to fit into a garage. After all, the Masters 207 is an open 20-footer, hence not an all-weather model.
Unlike the older model, its bow deck now brags an inset step equipped with underneath stowage. Another intelligent feature by Sportsman is the central seat in the stern deck, which differs from typical side jump seats.
As for the engine, the Masters 207 uses a Yamaha F115 with a remarkable top speed of 40 mph, but there's an option to upgrade to more pep if you wish.
Cobia 21 Bay Boat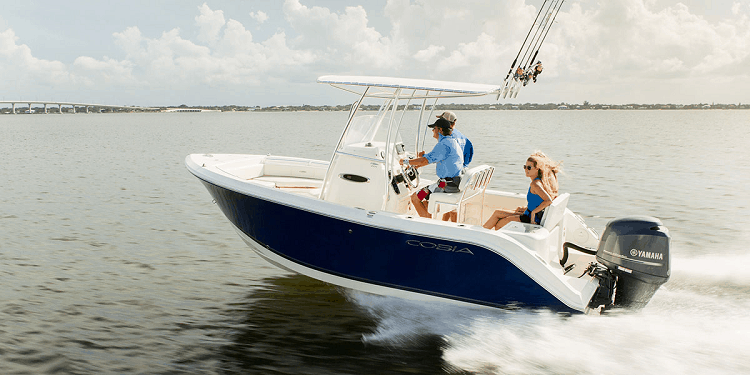 There's hardly any emphasis on design when it comes to small boats, bay boats included. Their structure is usually basic, with most people liking them for their ability to glide seamlessly and versatility along shallow waters and small inlets. One vessel that gathers much respect from boating buffs is the Cobia 21 Bay Boat.
It is an ideal bay craft for any budget-conscious boater. And since it's not one to go contending with the rough waters, you'll also spend much less fueling the boat. It comes with an impressive 55-gallon capacity ideal for powering its single powerful four-stroke engine. 
Even more impressive, Cobia hardly stifles performance as the company even offers three distinct options for the boat's inboard motors. The stock engine is the FII5 XB which is more than enough for your fishing expeditions.
It integrates a large dry storage box in the bow area alongside extra port and starboard rooms of storage to boot. These storages have fitted compression latches that help hold the lid to keep it from slamming back down. There are dual rod holders within the same area, with extra space extending to the boat's bow to hold even longer rods. 
Behind the center console is more storage that also doubles as a cooler. There's more convenient storage space by opening up the backrest, ideal for keeping tackle and other smaller gear. Even in the boat's stern, underneath the cushions, you'll still find more storage options, all making the Cobia 21 stand out.
It also includes a live well whose design aids in maximizing fishability. You can also adjust the water level inside the bait well to house smaller or larger bait depending on your day's needs. Its seats fold down uniquely by folding away into the rear deck itself. As such, they don't apply too much pressure on the cushions allowing them to last longer.
Regulator 26XO Bay Boat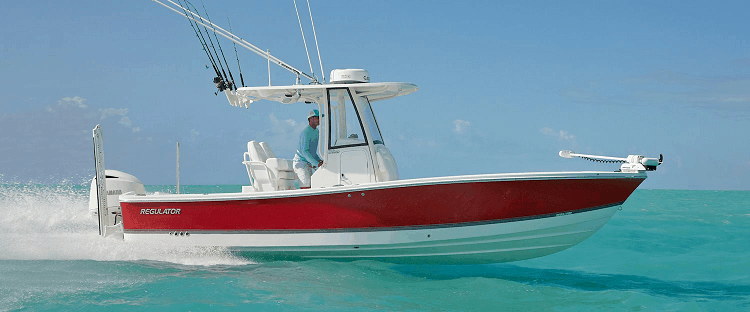 Regulator is renowned for making deep-V boats mostly ideal for offshore fishing expeditions. The company's Regulator 26XO Bay Boat, however, doesn't fall under the norm. It's not a deep-V model but instead designed for the bay.
Unlike most Regulator models, the 26XO now features a hull draft of merely 14 inches and a 17-degree deadrise, giving the vessel an immense boost with stability over the traditional V hulls. And adding more stability is the boat's 9′ 3″ beam, which is quite different in that its bow is slightly higher with more flare than the average bay boat model.
Another impressive feature is the massive 107-gallon fuel capacity. It then employs a Yamaha F300 on its transom, giving the boat extra long legs than a standard counterpart. The boat's engine is powerful enough to hit a top speed of 45.5 mph at wide-open throttle, maintaining a 1.7 mpg. 
You may even eyeball the Regulator 26XO as a crossover model. After all, it includes features usually present in both bay boats and offshore fishing vessels instead of inclining on one category.
The vessel's leaning post incorporates a tackle station. And being a fishing machine, it integrates a 32-gallon live well, 73-gallon boxes in the foredeck's seating partitions with the deck, including an enormous 70-gallon fish box. 
Besides, it also has four flush gunwale rod holders and a 14-gallon cooler seat at the console. The helm then has an installed Garmin GPSMAP 8616 for navigation. However, you may have to add the bow-mount electric trolling motor, Power Pole and T-top if necessary. 
Ranger 2350 Bay Boat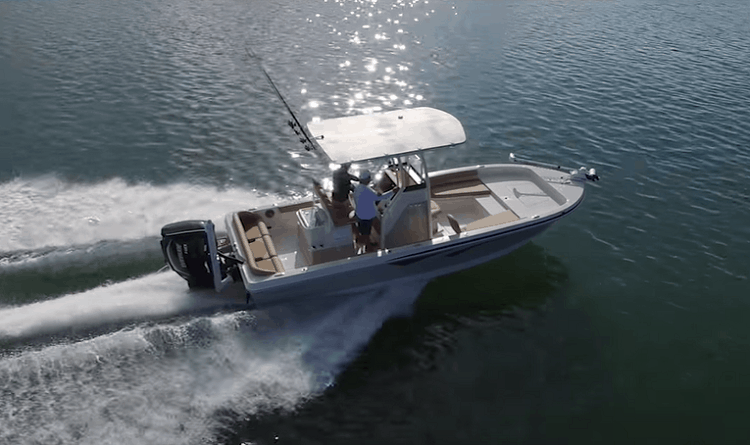 Present-day boat manufacturers strive hard to incorporate as much multipurpose utility as possible in one vessel. And an ideal example of this is the Ranger 2350 Bay Boat. It is a perfect option for hardcore anglers with wide-open deck space and storage and marine-grade hand-built seating.
Even more impressive, it includes both family-friendly features and angler-savvy specs. So anytime you wish to spend some quality time with family, this bay boat still got you. 
It features forward lounge seats and also brags removable bow cushions, which deliver extra seating options. Moreover, there is an integrated wraparound three-across seat at the rear for additional seating space. 
And when you want to get back to angling, the boat hides a 9-foot rod box from the port side for rod storage. The starboard lounge as well conceals more storage space for more rods and tackle. 
Besides the gunnel rod holders, the Ranger 2350 also includes:
LED navigation lights.

Cup holders.

Fish boxes with overboard drains.

A stereo sound system.

A built-in cooler.

An optional porta-potty.
As a bonus, this bay boat also comes with an aluminum-framed, saltwater-ready Ranger Trail trailer to cradle your gig.
Frequently Asked Questions
Question: Can You Ride Offshore in a Bay Boat?
Answer: As mentioned earlier, bay boats strike a notable middle ground between a deep-draft vessel and a shallow-draft ship. They are large enough to handle offshore escapades but only in ideal conditions, that is, in calm, open waters. 
There is no prohibition for taking your bay boat in the ocean. However, it's paramount that you take all the necessary precautions and be wary of the weather because you don't want to be in the sea in a bay boat when the waters get rough.
Question: What Makes Bay Boats Popular?
Answer: Bay boats are renowned for their generally broad beam and more significant draft. Such characteristics are very useful in fishing, making these vessels best suited for use on both saltwater and freshwater. They are excellent vessels, stable enough to fish in the deeper zones of shallow waters.
Question: How Far Offshore Can a Bay Boat Go?
Answer: A typical 24-feet bay boat that powers on an excellent 4-stroke engine has the potential to go roughly 20 to 30 miles out offshore. But how far offshore you can go largely depends on other variables. Also, before sailing offshore, inspect your boat to ensure all the machinery is in the best condition and choose your days carefully.
Wrapping Up
All anglers can agree that bay boats are stunning fishing vessels. They cut it among the most versatile fishing boats for freshwater and saltwater, with low drafts and elevated decks.
And their design makes them very efficient, especially during fishing expeditions. Without a doubt, having one of the best bay boats is a thoughtful investment for any angler, and our guide proves just that. 
As you purchase an ideal bay boat, consider options from manufacturers who have stellar reputations for performance excellence and high quality. By doing so, be sure to acquire a perfect vessel that will deliver exceptional reliability and last you several years in the future. 
Any of our four boat options above would be an excellent choice. But if you're still worried about which bay boat to pick, we recommend the Wellcraft 221 for an expert angler. And if you don't consider yourself a veteran, the Regulator 26XO is a steal for you. 
Looking for more interesting readings? Check out: