Latest posts by Jeanne Murugami
(see all)
Pontoon boats are, without a doubt, the essence of lake enjoyment. From having enough room to spend time with your friends or family on the water to enjoying water sports and fishing, they deliver nothing but versatility.
Nonetheless, pontoon boats have this one issue that somehow limits you from getting the most out of your on-water expeditions – and that's the cabin or any form of sleeping quarters.
And I'm positive the fantasy of a pontoon boat that allows overnighting is on many boaters' wish lists. It's also probably why many pontoon boat owners later opt for aftermarket kits, with others employing DIY tricks to set up a sleeping cabin. 
Fortunately, those aren't the only methods, and you don't have to put up with such hassle as some manufacturers deliver hybrid pontoon boats with cabins straight from the factory.
You'd expect them to be costly, which they are, pretty much. But with such an ultra-sophisticated design, pontoon boats with cabins strike the ideal balance between relaxation and comfort, giving you a delightful resort-like experience.
Read on as we review the Best five pontoon boats with cabins and other helpful information in focus. Our review features the best pontoon boats with cabins considering the size of the cabin, the weight, price, and maintenance requirements.
The Best 5 Pontoon Boats with Cabins  
Southland Hybrid Recreational Vessel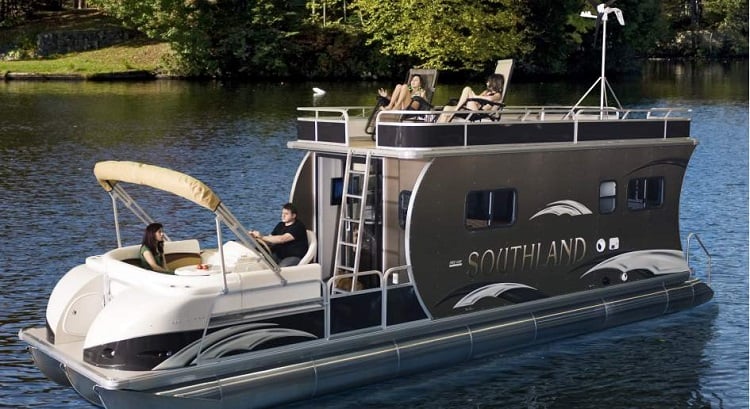 If you're after the epitome of on-water luxury and comfort, the Southland Hybrid Recreational Vessel is the one for you. This pontoon boat weighs 6800 lbs. and is 34-feet long, big enough to accommodate four people sleeping overnight comfortably. 
Its cabin's interior is sophisticated enough to feature an array of essentials you may need – a private bath and toilet, snug sleeping quarters, and a fully equipped kitchen. What's even more impressive is an integrated, adaptable dining area that you can effortlessly convert into additional plush sleeping space. 
The HVR then employs three distinct sources of energy to power all the electrical amenities present. Besides being electric, you can enjoy green power from the solar panels on the cabin's roof and propane. Thanks to such features, it's entirely independent to function consistently and at total capacity regardless of where you are.
It's spacious and comfortable and can be a reasonable alternative to people who would love waterfront property but lack enough investment for such kind of real estate. Nonetheless, it's relatively costlier than a standard pontoon counterpart and far less expensive than waterfront real estate. 
Sun Tracker Party Cruiser 31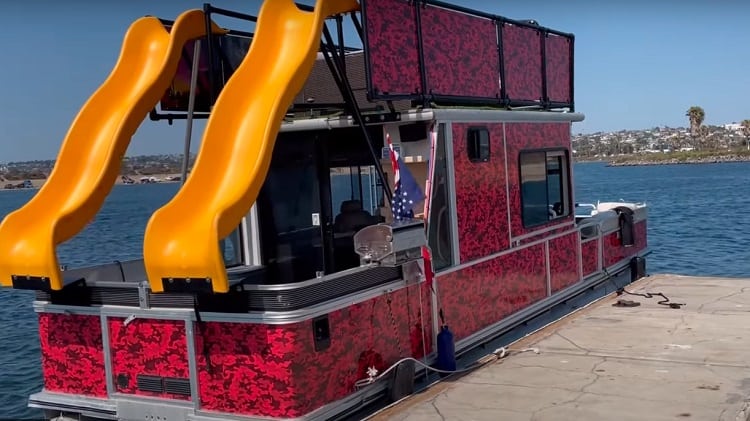 The Sun Tracker Party Cruiser 31 is an ideal pontoon boat for people who like traditional pontoon boats. It may appear slightly older than advanced models, but it's well-equipped nevertheless. 
It boasts an impressive seating capacity of 15 people, with the sleeping quarters being spacious enough to sleep four at best. Moreover, it also incorporates a private bathroom, a kitchen, and even a dining space. 
That's not all, as the Party Cruiser 31 also comes complete with a refrigerator, an air conditioner, a heater, and a stand-up shower. It then showcases an enclosed head that provides protection and shade from the sun's glare to passengers sitting in that area. 
And if you wish to sunbathe and watch the sea, the vessel still has an outside lounge area that's supplemented with two spacious, plush couches. With an all-aluminum hull and ample storage, the Party Cruiser 31 allows you to enjoy the comfortable and relaxed indoors while experiencing the outdoors simultaneously.
As much as the vessel offers much, the Sun Tracker Party Cruiser 31 is hard to come by, with most being secondhand.
Daigno L'Equinoxe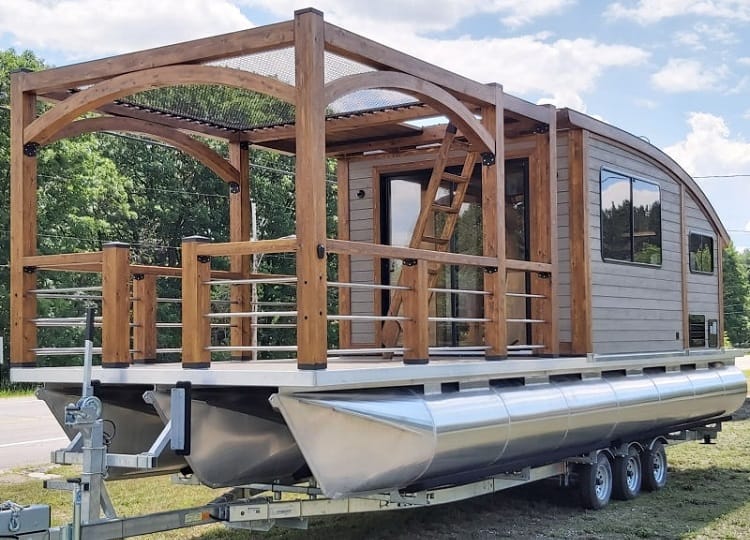 The Daigno L'Equinoxe is an ideal example of recreational on-water luxury. It's 32-feet long with a classic, lustrous design sitting on 30″-wide pontoons that deliver the utmost stability and minimal draft for the best boating experiences.
The vessel's exterior is pretty striking, featuring a wooden-planks construction that gives it a cozy, realistic, cabin-on-water appearance. It then has a stunning interior that's fitted with a bed spacious enough for two. Besides, it supports the installation of two extra portable beds that may come in handy anytime you'll need additional sleeping capacity.
On the Deck, the Daigno L'Equinoxe integrates a lounging area with vast couches that allow comfortable seating. Inside the cabin is a private bath and toilet, a dining space alongside a fully-operational kitchen. Besides delivering adequate room, the kitchen includes the essentials you might require to make yourself a full-course meal.
What's more impressive, Daigno understands that boat owners have varying tastes and preferences. And in the company's effort to sell you the vessel you want, you'll have access to a broad range of optional add-ons such as a barbeque, a bistro table, a hammock, a minibar, among others that you may like installed on your pontoon. 
Premier Marine Encounter
After the Liberty HRV launch by Southland, some brands, including Premier Marine, decided to penetrate the hybrid pontoon boat market with their models featuring living and sleeping quarters. And catching our eye is the Premier Marine Encounter Hybrid.
It's not as plush and extensive as the Liberty HRV, and hence its reasonable price point. However, it cuts it as a cheaper alternative if all you need is a pontoon you can overnight and sleep on, but it's still quite costly though.
The boat includes a middle-cabin that supports walking down to access the sleeping quarters. It's not overly equipped like Liberty HRV as it doesn't have the shower, cooking, and toilet facilities.
It only features minimalist seating with a dining table alongside a bed comfortable to accommodate two persons. The dining table is convertible, with the vessel having a total seating capacity of six people. 
The cabin's design is unique on the Premier Marine Encounter in the sense that it seems hidden. Its design makes it appear like a typical pontoon boat with the cabin located beneath the elevated helm. A small dual-fold door in the compartment reveals a sleeping and living space under and a forward-facing couch when open.
Daigno Le Koroc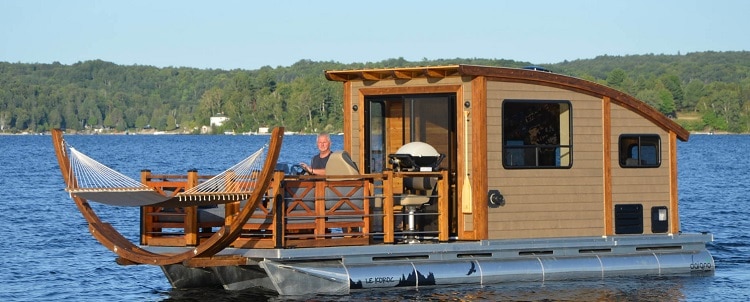 Daigno is a reputable boating company well renowned for its versatile and unique products. And luckily enough, the Daigno Le Koroc pontoon boat is no different. It employs both engineered and laminated wood for its sturdy single-structure construction.
The vessel's versatility is unmatched with its design suiting overnight stays, comfortable angling, and on-water luxury vacations. It's available in two distinct models: the Le Koroc V, the holiday series, and the Le Koroc P, the fishing series. Both models incorporate varying and distinctive features to help suit their purpose best.
Being the holiday model, the Le Koroc V is slightly more spacious with a more extensive deck and cabin than its fishing model counterpart. As such, it suits vacation buffs who wish to spend most of their leisure time aboard on the water. 
It's also quite costly compared to pontoon boats of the same length. However, its artistry, design, and elegance would incline you to understand the justification of its high price. If you have a relatively small family, the Daigno Le Koroc is the ideal pontoon boat with a cabin for you.
Buying Guide – Vital Factors to Consider
Space
Most pontoon vessels with cabins showcase designs that allow them to accommodate large groups of people having some daytime fun, with some models even able to host as many as 20 passengers on board at the same time. However, that's mainly in the seating area. In other words, the capacity drastically changes when talking about overnighting on the vessel.
Even with adequate space, most pontoon boats with cabins can only accommodate four sleepers at best. The reason is, the cabins only feature a single sleeping area with some employing a convertible dining table that you can effortlessly turn into more bed space for two people.
If you still feel like you need more cabin space, you could consider acquiring an overhead cover for the bow. You can use such concealment to create a more accommodating room for sleeping overnight, but don't expect similar air-conditioned comfort to the specialized cabin.
Energy Source
Get into a pontoon boat with a cabin and take your time to assess all the varying electric appliances and features present. Then ask yourself: what exactly powers all the devices while going about your boating business mid-lake?
Most pontoons with cabins use the vessel's primary battery to power all the electric functions aboard, but all it will do is get you far. If you're after a model that delivers more, maybe one that features heated showers, television, and HVAC, it would be best to consider a pontoon that integrates an additional power source, e.g., solar power.
And if you like cooking, you might want to pick a vessel that will allow for a propane gas tank. However, such a case implies that you'll have to be extra cautious when using the tank since most manufacturers will likely incorporate it inside the cabin.
Weight and Size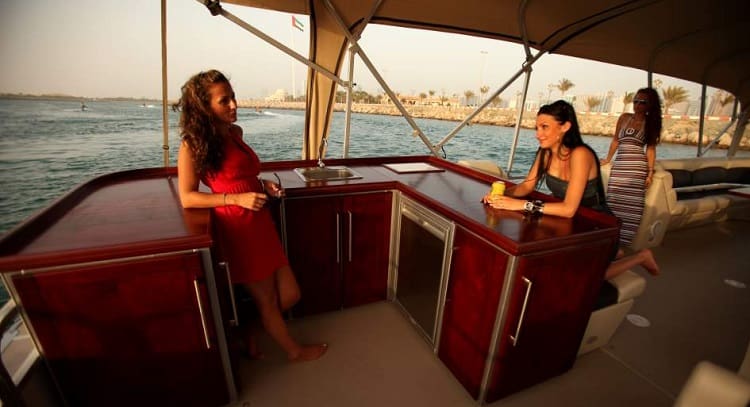 The sizable silhouette and living quarters of pontoon vessels with cabins can significantly add to their overall weight and size. So, if you like hauling your watercraft around, you need to identify if your trailer can handle it.
It's not surprising to find most pontoon boats with cabins weighing over 7000 lbs which could be too much for most trailers. You may have to consider switching your trailer for another capable of handling such weight over extended distances. Trailers that are barely up to the task could cause severe accidents and incur damage on the road.
Maintenance
Maintenance is a vital consideration that adds to the boating experience and one factor many boaters fail to consider. A pontoon vessel that demands much maintenance could dishearten you with time as the way to relish on-water recreation soon becomes a hectic burden.
Pontoon vessels with cabins integrate extra spaces and features that demand specific maintenance and cleaning practices.
For example, dining and kitchen areas alongside shower and toilet rooms are prone to mildew, mold, and moisture damage, especially when not thoroughly cleaned. For that reason, it's vital to understand the extent of the care your pontoon vessel requires to be in tip-top shape.
Frequently Asked Questions
Question: What Are the Other Hybrid Pontoon Boats? 
Answer: Pontoon boats with cabins are just a part of the hybrid class. The market now features new advanced vessels combining the best of deck boats and pontoons, all of which achieve some outstanding balance between luxury and speed. One typical example of what we're talking about is the Southwind Hybrid Series 229LC.
Question: How Beneficial Are Pontoon Boats with Cabins? 
Answer: Firstly, pontoon boats with cabins are an investment as they will hold on to their value much longer than standard pontoons. The reason is, they are pretty much rare and are very sought after even in the secondhand market.
Secondly, they are versatile and will do much more compared to an average everyday watercraft. You can enjoy the sounds and view of a calm lake, sleep if you want to, and still use the pontoon a few hours later for fishing or cruising with friends and family.
Lastly, these pontoons are relatively cheaper than purchasing an actual waterfront property. And they are a reasonable alternative for most people who'd love a waterfront property but don't have that amount of money.
Question: What Are the Downsides of Pontoon Boats with Cabins?
Answer: Pontoon boats with cabins are fantastic, but like every commodity, they too have a few drawbacks, with one being they are pretty costly. And even though a DIY cabin may save you many bucks, it isn't easy for it to match the professional design and sophisticated boat cabins made by renowned boat manufacturers.
Also, unlike average watercraft, pontoon vessels with cabins demand lots of maintenance besides being vast and bulky. 
Wrapping Up
If you wish to experience a mid-lake party someday, an ideal pontoon boat with a cabin could be all you need to make it happen. These watercraft are a vital investment even as they demand lots of maintenance and are difficult to come by. 
Whichever pontoon boat with a cabin you go for among our top 5 picks, don't expect anything short of a remarkable experience. Even so, we'd recommend the Southland Hybrid Recreational Vessel. It's large enough with a spacious cabin sufficient to sleep four persons and incorporates lots of essentials you may need.
Looking for more interesting readings? Check out: