Latest posts by Jeanne Murugami
(see all)
A while back, pontoon boats were nothing more of dinky little egg whisks of power plants and floating boxes with cozy seats. And the fastest models were the ones that could surpass 20 mph. 
Nowadays, pontoon boats get your adrenaline pumping by going too fast and offer everything from wakeboarding towers to built-in wet bars, underwater lights, etc. They are excellent for entertainment, thanks to their comfort features that often make people disregard their performance.
However, modern pontoon boats pack advanced features such as triple-tube packages to execute graceful, carving turns and achieve high speeds like a V-hull. There are even models with top speeds as high as boats with aerodynamic designs and high horsepower motors. 
An assortment of the fastest pontoon boats is flooding the market, making it strenuous to pick the best for you. But by using our guide, that's nothing to fret about. After thorough research, we present a list of what we consider the five fastest pontoon boat models, all of which are potentially an excellent starting point for you. 
We'll also discuss a few primary factors to consider before buying a pontoon boat model and answer a few burning questions. Let's get right into it, shall we?
The Five Fastest Pontoon Boats
In this review, we've featured the best and fastest pontoon boats by performance, price, and of course speed.
PlayCraft PowerToon XTreme 3000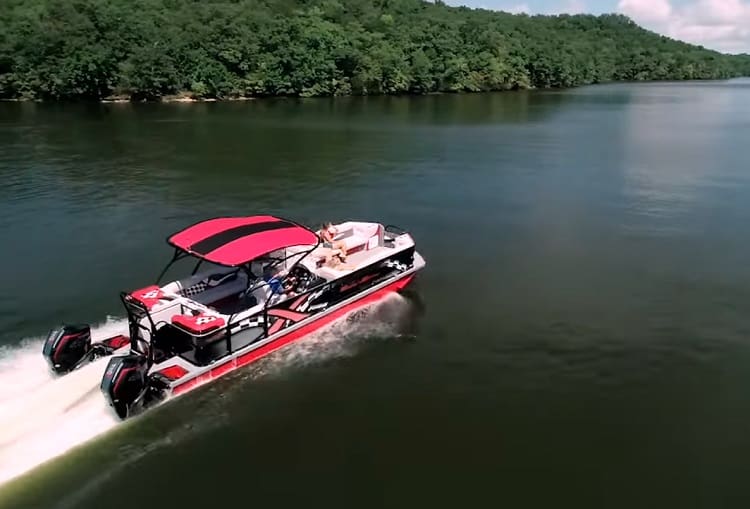 You can't talk about top-speed pontoon boats without the name PlayCraft cropping up in the conversation. This is one boat manufacturer with an unhidden desire to build the fastest pontoon boat. And their PlayCraft Powertoon XTreme 3000 proves nothing different in terms of raw, pure speed.
This boat uses twin Mercury Racing 450 outboards to attain top speeds of up to 78 mph, which is incredible. Also, the dual Mercs will pop you up on ultimate cruising at a comfortable speed of 30 mph in only 5 seconds. When banking into tight turns, the PowerToon effortlessly and comfortably holds its line even at speeds exceeding 40 mph. All thanks to its power steering and electronic throttles.
During the designing of speed boats, hydrodynamics and aerodynamics are paramount. And the PowerToon showcases its aerodynamics through its sleek Bimini top and the wedge-shaped bow. For the ship to get above water, it employs three tubes underneath, speeding up and reducing drag without compromising the soft, smooth ride.
About its comfort aspect, the X-Treme 3000 has all its onboard furnishing from the shoulder cushions and the deck employing UV-protected vinyl. There's virtually no limit to the boat's color combinations, and exterior colors are also available in a vast array. 
The boat's helm station is fiberglass-molded and slightly raised to provide a clear view above the people on board. The captain's chair reclines, swivels, and automatically adjustable armrests to help attain the right, comfortable angle. 
It boasts three boarding options: the stern platform, a wheelchair-width gate on the port side, and the expansive bow deck. As a bonus, the pontoon incorporates a patented, extra-long boarding ladder which is exclusive to PlayCraft. 
Harris Crowne 270 SL TE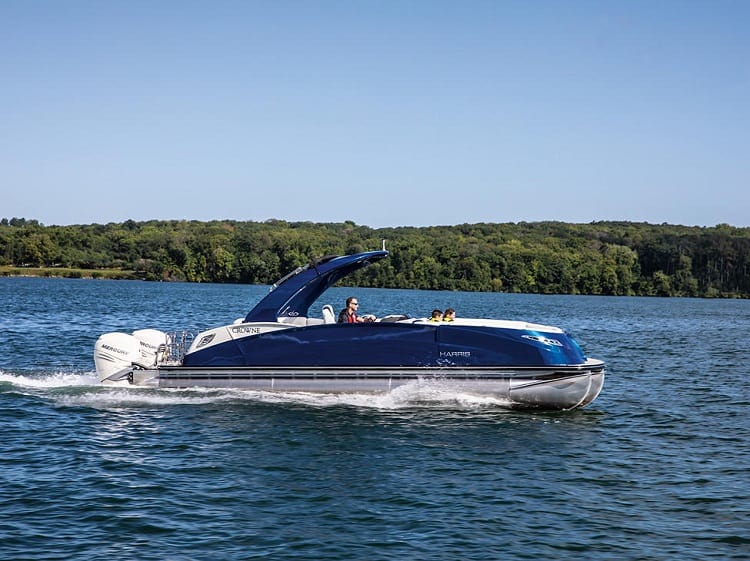 Next is the Harris Crowne 270 SL TE pontoon boat. Its appearance differs from that of the sedate pontoon using curvy, sleek fiberglass instead of the old-style pontoon fence enclosures.
All four corners of the deck layout use fiberglass modules, with the front pair curving radically towards the outside. Together with those modules, the seat bases feature Crowne's outer walls, and the result is a pontoon boat versatile enough to fit in at a yacht club cocktail hour or a sandbar party.
The Crowne 270 SL TE then comes with dual Mercury 400 outboards. Through these, it hops onto a plane in roughly 3.6 seconds and can reach 30 mph in a mere seven more seconds before attaining a top speed of approximately 61.2 mph. The boat uses its 27-inch triple-tube pontoon with strakes, whose design is excellent for boats using twin engines.
Further, this vessel has parallel benches flanking the pathway from its stainless-steel bow gate. It then has an angled profile to all the seats to deliver a more spacious, open feel with finished stowage and drains underneath. Each seat's lumbar region displays diamond-pattern stitching and uses comfy pillow tops on the backrests for the utmost comfort.
At the helm, you'll love the stainless-steel spoke wheel, billet dash accents, alongside a striking vinyl wrap with accent edging. It then integrates a standard-issue Medallion Glass Dash touchscreen, a second touchscreen replacing traditional switches to control starboarding, and could also include an extra Simrad display to compliment the two. 
The Crowne 270 SL TE boat includes an L-shaped seating bench that features an optional rear-facing lounger that comes fitted with a flip-flop backrest. It also integrates a nearly silent linear actuated motor that delivers unlimited recline levels for the aft-facing and forward seats.
It also comes with an optional Mercury Joystick Piloting system which employs an intuitive joystick control. Through this, handling the Crown is nothing less an effortless pleasure allowing you to maneuver the boat around tight marinas excellently.
Manitou 25 X-Plode XT SHP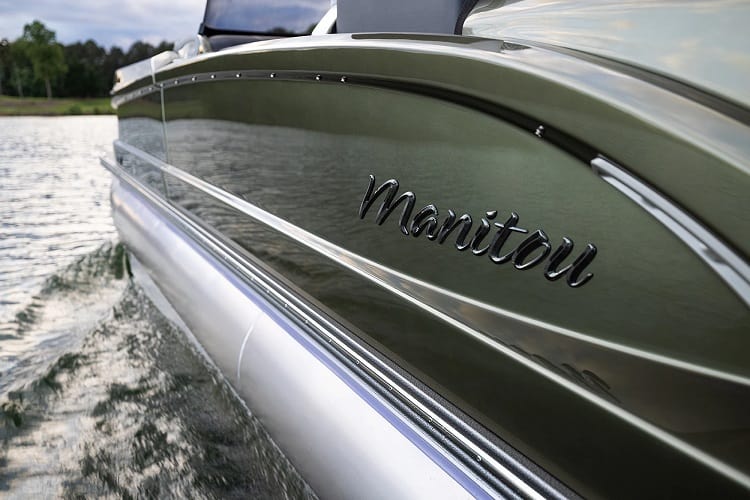 The Manitou X-Plode is a renowned range for its pontoons' capability to hit speeds surpassing 50 mph. But this specific model, the Manitou 25 X-Plode XT SHP, goes even further. It boasts an outstanding design, with its smaller side tubes mounted 1.25 inches higher than the larger center tube. 
The boat creates a differential of not less than 5 inches through this layout, which works alongside the lifting strakes to aid handle tight turns like a single hull. In other words, you won't experience that sliding-off-the-plate feeling that's common in most pontoon boats.
Unlike most pontoons, it comes with contoured bottoms for its chaise lounge seatbacks, offering exceptional comfort. The furnishings include padding on their inwales, allowing them to function as couches, but only for upright seating. The boat's heavy gauge marine vinyl isn't different from other XT models and hence has piped edges with the usual storage underneath.
The bow gate employs heavy machined aluminum that delivers security and adds to the boat's style. The entire framing uses rot-proof composite and will therefore last very long. On the front deck is enough space to handle an anchor or access the cleats that facilitate tying up the boat at the dock.
The boat's dash features a 7" SmartScreen that controls all electrical functions, including the optional retractable wakeboard tower as well as the Bluetooth Sound System, and is thus very clean. It then links its SeasStar power steering system to the stylish tilt wheel delivering effortless and smooth steering with zero feedback regardless of speed. 
Moreover, the X-Plode XT SHP uses dual 200HP Evinrude E-Tec G2 horses. With such power, it uses only 4 seconds to get out of the hole and only needs 5 seconds to reach 30 mph. This pontoon runs top speeds of up to 62 mph at full throttle, which is very remarkable.
South Bay 925 Super Sport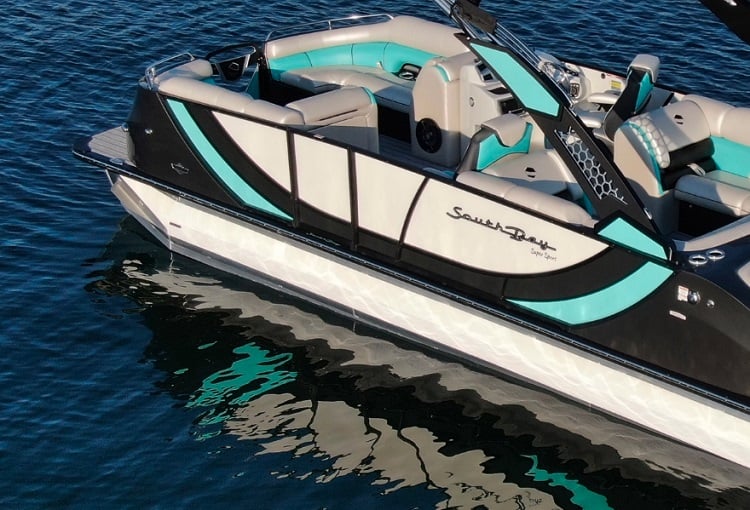 The South Bay 925 Super Sport is a pretty unique pontoon boat in terms of style and features. Everything on this vessel screams attitude, from the wake-sports tower to its powerful outboards, etc.
The boat's stern and bow incorporate trendy fiberglass seating modules interrupting the traditional aluminum fence and panel construction. And to seamlessly link the stern and bow, the ship uses the familiar anodized wall and rail panels. 
The front seating consoles use twin 4'4"-long couches with unique slide-out armrests, forward-facing backrests, and generously cushioned thigh pads. Amidst this, there are two reclining chairs for the captain and mate, each of which includes flip-up bolsters.
Aft, there's a U-shaped lounge resembling one from a luxury cruiser. Also on the swim platform is a 6'-wide couch overseeing the full-beam swim area, which contains EVA deck padding. Beneath all the seats, even under the electrically raised couch, are stowage locations, and a stainless-steel, sculpted bow gate sums up the chic imagery.
The distinctly premium vibe goes on to the fiberglass helm console. It uses a 7-digital-color Mercury VesselView touchscreen display to control almost all the boat's onboard functions and integrates a sonar, chart plotter, and GPS. To the wheel's left are controls for the Clarion stereo, which includes iPod, MP3, and Bluetooth.
The 925 SuperSport comes fortified with South Bay's Trifecta performance package. As such, it brags triple pontoons of 25" diameter, which work alongside interior lifting strakes to improve movability and plane more swiftly. Its stern then boasts white-hooded, color-matched dual Mercury Verado 300s, which only use 5.8 seconds to hit 30 mph. And at total momentum, they reach the boat at high speeds of up to 59 mph.
Lowe SS 250 WS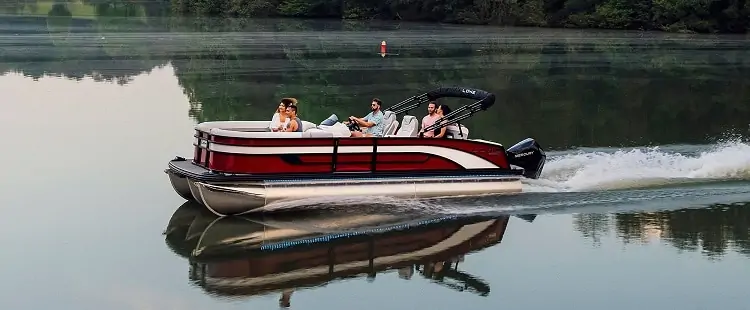 If a versatile pontoon boat is what you are after, the Lowe SS 250 WS is a steal for you. Besides suiting a vast assortment of water activities, it's also available at a reasonable price. It's 25'7" in length and hence quite enormous to accommodate a crowd of up to 14 passengers.
It boasts dual fiberglass and acrylic consoles which aid in enhancing comfort onboard the vessel. Adding to its sleek looks is the low-profile design alongside the beam-to-beam windshield that delivers protection against strong winds.
As you'd expect, the SS 250 WS uses triple pontoons. It optimizes horsepower by reducing drag that comes from the strakes lifting the tubes to the water surface. The tubes feature 0.08-gauge aluminum and are 25" in diameter. They are highly buoyant, allowing them to ride smoothly past rough wakes and incorporate a shielding keel to protect the front edge against impact.
More importantly, this pontoon boat comes fitted with a Four-Stroke Mercury 300 HP V8 engine. It brags Mercury's dynamic throttle, which is quite remarkable in maintaining torque during turns by feeding in the throttle. 
The boat achieves smooth control when turning instead of wallowing and dumping speed by ideally pairing up with the power steering. The Mercury engine is also pretty powerful to reach a top speed of 52 mph, making it an ideal option for water sports buffs. After all, this pontoon boat is well suited for wakeboarding, skiing, and tubing altogether. 
The helm also includes style points from the optional reclining chairs for both the captain and mate, with automatically adjustable armrests for comfort. At the boat's front is a lounge seating area, and with the windshield displaying a low profile, it's easy for you to keep in touch with the crew. Both consoles are elevated to help enhance your forward view.
Buying Guide for the Fastest Pontoon Boat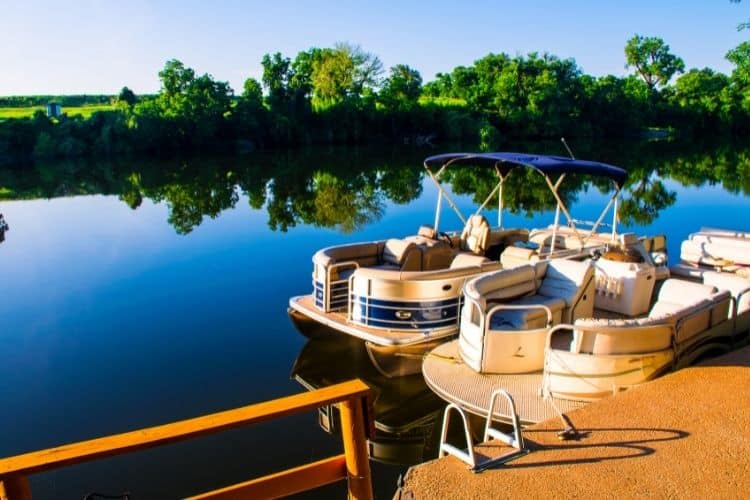 We've already gone through some of the best pontoon boat models money can buy. Even so, it doesn't hurt diving more profound into the topic as we look at some vital factors that you must consider when purchasing the best pontoon boat for you. After all, we're confident that you want the utmost value for your money.
Primary Purpose
So, how will you be using your pontoon craft most of the time? Answering this question will provide you with better insight into which layout and size you should consider. Nonetheless, take into account that there are countless possibilities for customization.
If your main priority is fishing, it's essential to consider getting a pontoon boat with a specific design for fishing. Such models will incorporate fishing chairs, live wells, rod holders, etc. And if you're on a strained budget, have in mind that inflatable pontoon boats make an excellent alternative.
In the same way, if you're after a craft for entertainment reasons, think about all the amenities you might need, such as tables, etc. Check the seating configuration as well and see if the most suitable for the crowds you are likely to often host on your pontoon boat in the future. 
Horsepower
Today, pontoon boats come in a wide assortment of outboard motors with horsepower variations like never before. Most outboard manufacturers have enhanced their game, and you'll now come across engines ranging between 9.9 HP and 600 HP.
Bear in mind that the length of your pontoon boat could directly influence how much horsepower you can have. Also, be aware that having three pontoons translates to a larger engine. 
Other factors like the water body and how you intend to use the craft also have a part to play in this choice. If slow cruising around the river or lake is what you're looking forward to, then 600 HP may be too much. On the contrary, if barefoot skiing is part of your plans, you might need to shop for the higher horses.
Where you intend to boat also matters; for instance, you may need to sail for long distances from time to time; in such a case, higher horsepower and speed are your friends. Also, assuming you plan to boat on a lake with speed restrictions, a large outboard will be a wasteful use of money in this case.
Two or Three Pontoon Tubes?
After identifying how you intend to use your vessel, determine which is best suited to your requirements. Is it a boat with twin pontoons or triple pontoons? 
Boats with twin pontoons are ideal for swimming, entertaining, and cruising. However, they tend to have less power and hence not excellent for people who like zipping through the water and water sports.
The latter, on the other hand, is more expensive. But that's because triple pontoons are more stable, have high speeds, and deliver more storage room. And since we're focusing on the fastest pontoon boat models, a boat with three pontoon tubes is your best shot.
Environment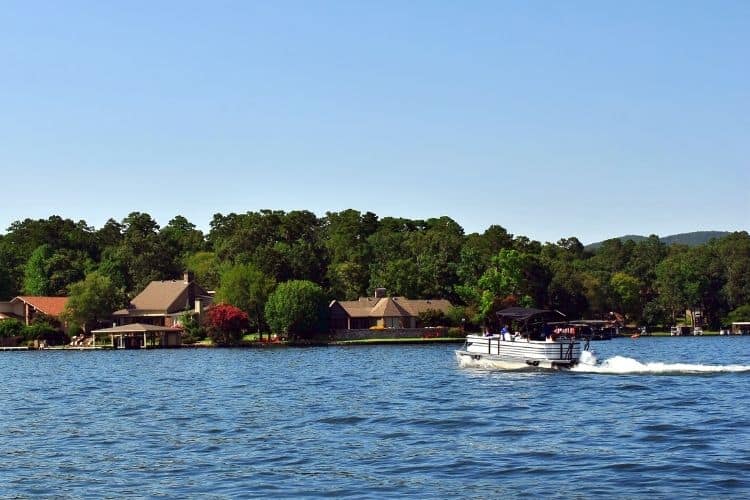 Where do you intend to use your pontoon boat? It's important to know that pontoon boats are not vessels for use in saltwater and big waves. Instead, their design only makes them excellent for taking on calm water bodies, especially those present inland, such as rivers and lakes. Nevertheless, there are still a few pontoon boat models out there that would allow you to sail them at sea.
But if your craft isn't seaworthy or you're not a veteran sailor, it's probably best for you to keep off the sea as this could cost you enormously. That being said, and you still want to sail your pontoon boat at sea, below are a few things you ought to know in advance.
When your boat comes to ocean water, the aluminum making up your pontoon tubes will corrode pretty quickly. So, before setting sail for your offshore expeditions, consider covering the lower unit and the pontoon tubes in anti-corrosive and anti-fouling paint for protection. 
And after you're back from the adventure, consider thoroughly rinsing your boat using freshwater. Doing so will aid in eliminating any salt deposits that may have stuck on the ship.
For you to excellently handle ocean waters, your pontoon boat needs to have a motor with not less than 150 hp. This isn't much of a problem with the choices we picked above, as they all feature some of the best boat engines available. 
In addition, the boat needs to include a triple-hull with the pontoons being at least 25" in diameter. Having anything less of these requirements will be lacking in proper ocean navigation.
Price
Most importantly, what is the pontoon boat's price? Of course, the costs will vary depending on the quality of boatbuilding materials employed, brand, size, engine, and any additional amenities you may wish to install.
That said, you'll find pontoon boats ranging from as low as $20,000 up to $300,000. Consider a model that caters to all the conveniences upfront rather than offering the amenities you need as options. In other words, search for boat brands that provide the most primary features right off the bat. This approach will undoubtedly aid in keeping the cost in check.
Moreover, pontoon boats are an investment. And like with every other investment, they also incur several expenses such as taxes, docking, insurance, maintenance, and insurance costs that you indeed need to include as you draw your budget. 
Frequently Asked Questions
Question: How Long Do Pontoon Boats Last?
Answer: The best pontoon boats have an average lifespan of roughly 10 to 20 years. Generally, their maintenance doesn't require much effort, and they are also somewhat less costly to insure. 
Nonetheless, a pontoon boat's lifespan largely depends on different aspects, including its materials, maintenance, brand, how often and where it's used (either on freshwater or saltwater), etc.
Question: Can Pontoon Boats Sink?
Answer: Well, yes. However, that's very rare and can only happen under some very extraordinary circumstances. I haven't witnessed it happen in my lifetime, but I've read a couple of pieces about pontoon boats sinking.
Again, it's improbable in the sense that pontoon boats are characteristically unsinkable based on their design. They feature several air-tight chambers which are sealed to make them practically buoyant. 
So, unless something ruptures all chambers, which is much less likely to happen, it might sink. The more likely incident is the vessel flipping, and this could occur in very choppy seawater. 
Question: Are Pontoon Boats Easy To Board?
Answer: Pontoon boats focus mainly on comfort, and one very appealing trait they have is how effortless they are to board. Most models incorporate at least three gates: on the port/starboard side, the stern side, and the side of the bow. 
Also, if you wish to accommodate a wheelchair on board, ensure the side boarding gates are at least 32" wide.
Question: How Often Should You Take Your Pontoon Boat for Service?
Answer: Most new outboards require routine maintenance after a specified number of hours, with some experts recommending servicing after 100-hour intervals of running. But after breaking in the engine and carrying out the initial maintenance round, you may continue with the 100-hour interval or do it annually.
Wrapping Up
Lastly, buying one of the fastest pontoon boats is not rocket science, with all our five picks acting as excellent examples. Nonetheless, you better brace yourself as these models are pretty costly. But they are fantastic recreational watercraft that you, your friends, and your family can make memorable moments on.
We believe you have all it takes to acquire the best pontoon boat for you. Pick the one boat model among the five that you feel meets most of your requirements. But if you're still wondering which pontoon boat to go with, we recommend the PlayCraft PowerToon XTreme 3000. It is a renowned brand model specializing in fast pontoon boats; hence, quality, reliability, and durability are assured.
Looking for more interesting readings? Check out: