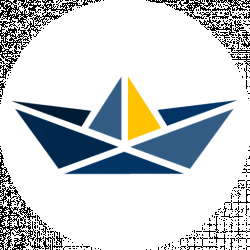 Latest posts by Jeanne Murugami
(see all)
When picking the best fishing boat, deciding between aluminum or fiberglass is just but one aspect you, as a buyer, ought to consider. Ships these days are available in a vast array of options in terms of interior layouts. Some feature center consoles, others side consoles, and dual consoles, with all rivaling against the traditional tiller steering. 
However, in this article, we'll shift our focus to dual console boats and review some of the best models. I chose these recommendations according to features, price, and performance. Let's rock! 
What Are Dual Console Boats?
At its core, dual consoles are simply boats that feature two consoles. They use one to starboard, where the helm is, while the second console offers sitting room for passengers. 
They tend to share a similar basic layout with fish-and-ski boats or bowriders. Nonetheless, their unique structure makes them arguably the most versatile fishing vessels on the water today.
With only a quick switch of gears, dual console boats turn from hardcore fishing boats to sandbar lounging and family-friendly cruising. Throw in towable water tubes, skis, or a wakeboard and have yourselves a water party.
Moreover, dual console boats are mostly medium-sized and hence trailable. They come in sizes, mainly varying from 17 feet to roughly 40 feet, with average models being 25 feet long.
Their designs support double bubble windshields where both consoles have individual windscreens. Some dual consoles also feature full walk-through windshields for additional protection from elements, while others spread even further using a fold-up bow gate. Through this, they enhance comfort by closing off the area underneath the glass.
Larger dual console boat models deliver a surprisingly large and secure storage space from the passenger's side. And sometimes a hidden head compartment that the ladies onboard tend to find appealing. Small models, however, have issues with deck space because the consoles gobble up lots of it. Because of this reason, you'll find dual console boat models often over 17 feet.
The Best Dual-Console Boat Models: Our Top 5 Picks
Boston Whaler 320 Vantage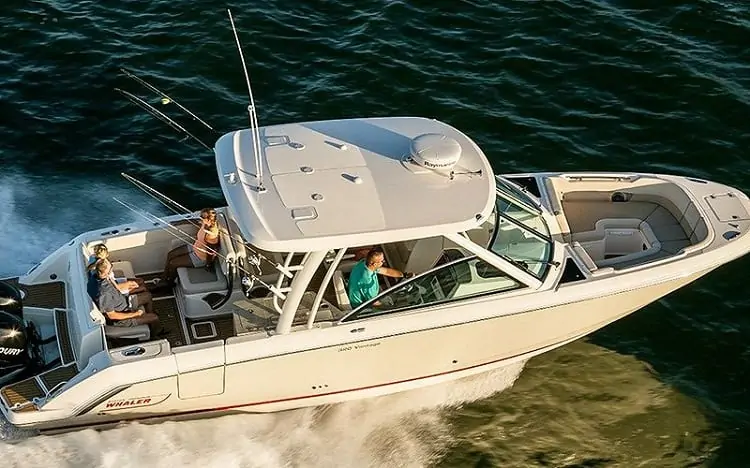 If you often go boating in the rough and treacherous open waters, the Boston Whaler 320 Vantage is a worthy consideration. And for the record, it is an award-winning boat for the 2015 National Marine Manufacturers Association's Innovation Award.
Its design supports both fishing and leisure purposes. And being a double console, it showcases ample space to accommodate up to 14 adults seating on the transom and the portside as well. Its seating configuration is more of a booth-style with tables alongside a bow seating and dining area.
It also includes plush cushioning and doesn't come with rod holders around the hull, and for that reason, it cuts it as an ideal sporting or family boat rather than a fishing vessel.
The stern is slightly low for easy access, accommodation of water sports attachments, and avoiding hull hindrances during fun activities. With two Mercury engines, it's not the most powerful boat, but you can still enjoy a suitable amount of control and power for high speeds and inshore entertainment.
The company also offers other engine models, with all being 4-stroke.
When overnighting, the boat's topside seems much more convenient than the cabin with limited space. The seats on the deck easily fold down, delivering quite a cushioned sleeping surface if you don't mind sleeping in the open air.
The 320 Vantage allows various customizations through upgrades in aesthetics, electronics, and the engine as well. Some of the color options available include glacier green, desert tan, light grey, or light blue for the Gelcoat hull.
Painted hull colors include horizon blue, jadestone, Abaco blue, oyster grey, ice blue, sand-metallic, platinum, wasabi, etc.  
Grady-White Freedom 375
The Grady-White Freedom 375 is a remarkable dual console boat and hence qualifies among our top picks. Everything about this boat is functional and well-thought-out to make it one of the most versatile options out there.
Outstandingly, this DC boat brags a triple engine that allows it to attain speed across the waters quickly and effortlessly. The vessel is available in two Yamaha engine options: the triple 300 4-strokes, and if you don't mind pushing the margins, you can opt for the triple 350s that can reach a top speed of 53 mph.
If overnighting is your thing, the Freedom 375 is a steal for you. Thanks to its clever design that delivers a surprisingly spacious interior to accommodate four people sleeping.
Its starboard side includes a cabin complete with a fold-away TV, an aft sleeping cabin ideal for kids, and a convertible dinette. It then integrates a 30-gallon bait live well alongside a foldable bend seat able to tuck away when you need extra space for fishing.
More about seats, this DC boat includes versatile seating options aboard. You can quickly convert its aft-facing seat that's electronically controlled to an extensive seating area through a simple button.
Aft the vessel is an enveloping lounge area ideal for guests that can also fold away for extra fishing space. The bow seating configuration is convenient for dining and can also fold down to offer additional lounge space for guests.
Everglades 340 DC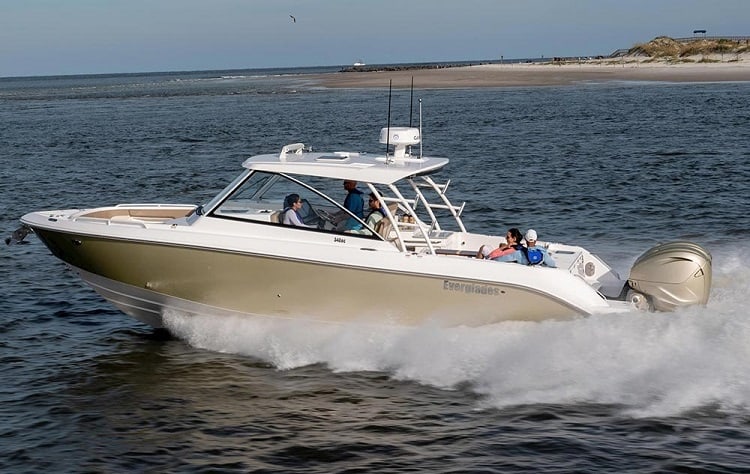 If an ultimate multi-purpose DC boat is what you're looking for, the Everglades 340 DC is the real deal. It boasts a design that promotes sport fishing without compromising maximum comfort for your family.
It features a noticeable 96-sq ft cockpit space that is highly versatile. It comes with twin fold-away back seats that can deliver plenty of relaxing room or substantial extra space for comfortable fishing. There's an impressive 24-gallon live well that may come in handy if you're an angler. 
One unique feature of the Everglades 340DC is the diesel 6wk generator able to power all systems on the boat. Besides that, it also includes Seakeeper 3 Gyro Stabilizer, a new technology that aids in reducing 90%+ of the roll on the vessel. 
It then supports the option to upgrade its engines to twin Yamaha 425 hp engines allowing the boat to achieve top speeds of up to 53 mph and cruise at 35 mph comfortably over a 320-mile range.
The boat portside incorporates a fold-down seating portion that can quickly convert to a chaise lounge. By opening the portside door, it brags an overnighting cabin with air conditioning.
The best part of the 340DC has to be the helm area. You can quickly turn the entire glass enclosure into an airy, open feel by pushing a button. There are two complete-length lounges in the bow with a center table that is removable if you require additional space.
Cobia 220

The Cobia brand is part of Maverick Boat Company, which has substantial experience in the fishing industry. Their Cobia 220 DC boat, a hefty version of the Cobia 180, features the open water hull 217CC. 
It showcases a helmet forward and offset together with a typical simple layout which makes it quite spacious. Further, it boasts varying choices for available motors, with the standard F200XB engine still delivering sufficient power for any adventure. 
You'll enjoy top speeds of up to 45 mph with roughly 2.25 mpg at maximum power. And when cruising at a reasonable pace of 23 mph, this boat becomes more considerable, offering an average of 4 mpg.
The boat's storage space is more than plenty to allow you to spend extended time at sea. And there's lockable storage as well to provide secure space for any valuable items. On the boat's convertible lounger is a cooling system, and to help keep your bait fresh, it incorporates two live bait wells to achieve that.
There's substantial seating space on the bow, passenger seat, and from the two enveloping lounge seats, all ideal for lounging. The vessel also includes an optional insert that allows you to turn the whole boat space into a complete lounge area. On its rear is a pull-out bench that also offers extra seating space.  
Pursuit DC 265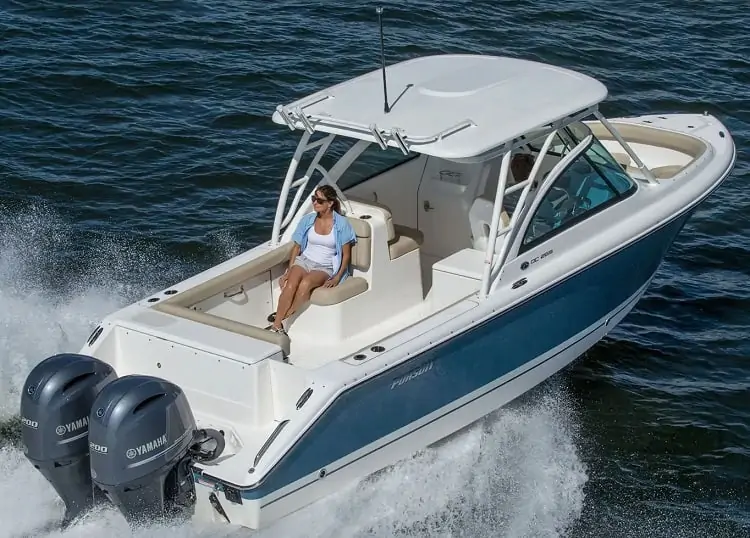 The Pursuit DC 265 is now available in a 23-feet DC version, with the first DC flagship model being 26 feet long. The company describes the 265's design as specific for the intended purpose. In other words, it's an ideal boat for casual fishing, marine sports, family fun, and sailing.
The boat does offer impressive features that may come in handy to facilitate your fishing escapades. For instance, its cockpit lounges are quickly and tightly foldable to provide space for fishing and storage for rods, a tackle drawer, a living room of 19 gallons, transom doors, and a 30-gallon transom fish box.
The boat's design is very efficient in space utilization and doesn't compromise its notable performance. According to data from Yamaha, it uses a Yamaha F350 engine that's capable of attaining a top speed of roughly 50 mph. And by using a single engine, it saves more space, especially around the swimming stage. 
Its construction uses hand-laid vinyl ester resin alongside a heavy layup over its overturn. Besides, it also integrates a unified grid of cross beams and stringers into the hull for rigidity and strength. To bolster the build quality further, it uses tinned copper for all its wiring.
Wrapping around the hem is a tall, TaylorMade windscreen. It uses reinforced glass and combines with clears attached to the hardtop enveloping the helm to the sides and front for protection against harsh elements. At 2m high, it assures sufficient headroom, and overall vision is nothing less than excellent, with the clear panels quickly removable for fresh, open air.
Are Dual Consoles Boats Worth It?
Primary Features of Dual Console Boats
Two Consoles
These boats feature two consoles, the primary one with the steering wheel alongside the other on the passenger dock for passengers to sit behind. As mentioned earlier, their layout is quite identical to fishing-ski boats.
But instead of serving dual or individual purposes, double console boats are versatile by design to accommodate various uses.
Forward Seating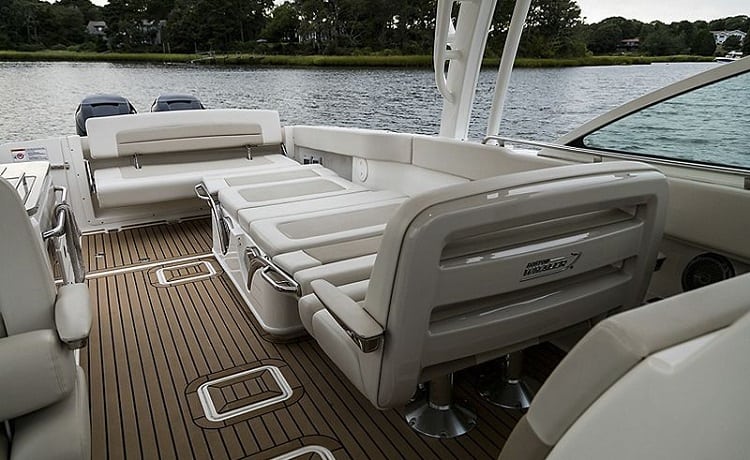 Typically, dual console boats have their seats conveniently placed at the front and more lounging. This led to a few center console models reacting to this achievement where manufacturers enhanced comfort through better forward seats alongside other features, such as a removable table.
Generally, dual console boats deliver a more spacious and comfortable bow sitting. The trade-off, nonetheless, is the limited fishing capacity they provide.
Hull and Ride
Like the center console, dual-console boats also come with a V-shaped hull which comes in handy when coping with adverse weather and offshore sailing. This feature has pleased many customers who would have opted for the center console counterparts instead.
It is understandable since most versions lack the same hull used in center console boats. But most dual console boats use the same hull to help cope with rough seas like center consoles. 
Fishability
In terms of fishing, center consoles are much superior since their design is quite specific for that. But the same way they strive to enhance their central console system, so do dual console boats try to increase their fishing capacity.
Most dual console models come with readily installed rod holders and live fish boxes. They are best suited to casual fishing with friends or family before hitting the sandbar. Central consoles, however, are better suited for tournament fishing.
Edgewater Crossovers
Edgewater boats have a reputation that considers them rough ships, commonly referred to as "unsinkable boats." Thanks to their single-piece infusion methods. This approach employs an infusion process to chemically bond the inner grid framework and the individual sections of the hull to the entire structure.
The crossovers will not flex or rattle even in rougher seas, ensuring that you and your friends have a pleasant ride. Luckily enough, the single-piece infusion method is applicable in both Edgewater dual and center consoles to boot.
Advantages of Dual Console Boats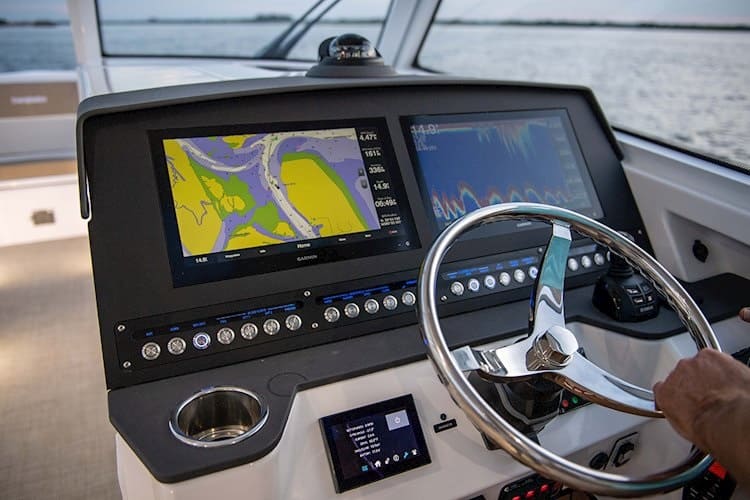 Owning a dual-console boat has its perks, the most prominent being you can use it for pretty much any purpose you can envision. A few more distinct advantages include: 
An expansive seating, thanks to the availability of both stern and bow cockpits. You'll find larger models with seating configurations able to accommodate over a dozen people. On the contrary, smaller models are also quite impressive, with most of them having a seating capacity of not less than six adults.

On most models, center windshields and swing-out doors come in handy to protect you against wind and adverse weather by closing off the helm.

Dual console boats come in varying trim levels and sizes. As such, there's undoubtedly a few boat models, even for somebody on a strained budget.

Most dual console boats are specifically designed for anglers who also happen to be family boaters. So, most models tend to include additional fishing features such as integrated gunwale rod holders, fish boxes, live wells, coaming bolsters, etc. than most multi-use designs.
Disadvantages of Dual-Console Boats
Boats that boast a multi-purpose design are likely to have some drawbacks, especially regarding specific usage, and dual console boats are no exception. Some of these downsides include:
Unlike a center console model, you can't enjoy 360˚ fishability.

As much as watersports buffs get a decent boat for common sports such as tubing and knee-boarding, they are likely to miss out on enhanced features like ballast tanks or wake-shaping trim tabs present in wake ski boats.

The cabins and head compartments in a dual-console boat are significantly smaller compared to those on a walkaround or power cruiser of the same size.
The Best Dual-Console Boat: Buying Guide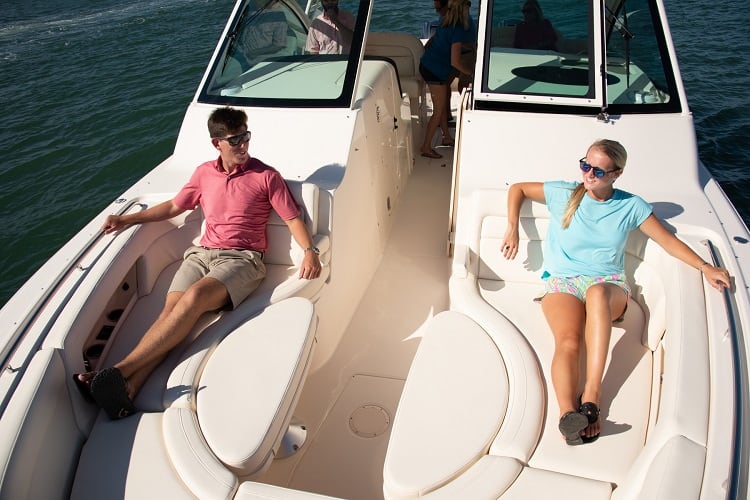 There are so many dual-console boat models flooding the market right now. And hence the task of picking one model that best meets your expectation is undoubtedly herculean.
Where would you begin? Are you even sure about what aspects you should look for before making your dual console boat purchase? If not, then follow through with our compiled tips that will aid in narrowing down the options.
Identify What You Wish To Use The Boat For
Generally, dual-console boats are relatively spacious. Even so, ensuring the vessel has adequate and secure space to store all your fishing gear and accessories is always an excellent idea, especially if angling is what you primarily intend to do.
On the contrary, if you're looking for a dual-console vessel purely for day cruising and entertaining, be sure to check for adequate seating. Ensure the capacity can accommodate all the passengers you intend to have aboard and see that the seating configuration is appealing enough to you.
Draw-up Your Essentials 
We can all agree; we love comfort. And different dual-console boats aren't created the same. Therefore, you need to identify those features you can't afford to compromise on. Take, for example; you intend to use your dual-console boat primarily for fishing. In this case, you must ensure it features the right rod holders, gunwales, and live wells to promote your interest.
In the same way, assuming you need your DC boat primarily for entertainment, LED mood lighting and a stereo system are examples of features you might appreciate having. If you plan to overnight on the ship occasionally, consider getting a DC boat with convenient features like a head or a shower.
What's Your Budget?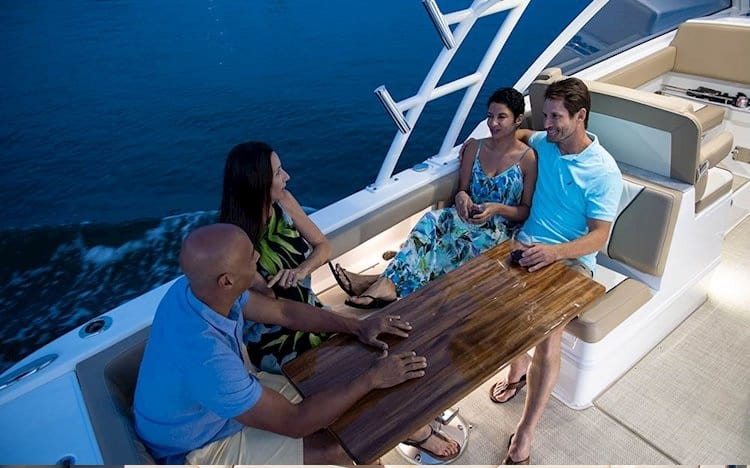 Looking up and "window-shopping" luxury boat models that are far from what you can afford is fun. However, it's not reasonable to bite off a chunk you can't chew. Figure out and introspect how much you can afford to spend on a dual-console boat from a realistic point of view. 
Besides the price, consider fueling costs and other recurring costs associated with the boat's maintenance. These include marina fees (if you intend to dock the vessel at a slip), storage, boat insurance, repairs, maintenance, etc.
Then judging by your projections, identify whether getting a new shiny boat straight out of the factory makes sense, or you may consider a second-hand dual console that's still in sound condition.
Where You Plan To Use Your Vessel
Lastly, you should consider the marine environment where you intend to carry out your boating activities. A vessel with a relatively shallow hull will do if you plan to use your dual-console boat for shallow fishing on lakes. 
If, on the other hand, you plan to go boating on offshore excursions, consider a model that features a deep-V hull for extra stability as you navigate the choppy, harsh waters of the sea.
Frequently Asked Questions Relating To Dual Console Boats
Question: Can You Use a Dual Console Boat For Fishing?
Answer: Yes, you can. Most new dual console models arrive fitted with excellent fishing facilities, including live wells, rod holders and storage, and more. 
And even though you might not walk around the boat as you would in a central console version, a dual console boat provides an expansive cockpit which is also an excellent place for fishing.
Question: Which Is Better, Between A Double Console And A Middle Console Boat?
Answer: It depends on your primary purpose. If fishing is not your primary purpose, I would recommend a dual console boat. The reason being, it is a versatile option and ideally fits varying water activities such water sports, sailing, safaris, sitting on sandbars with friends and family, and fishing as well.
A center console, on the other hand, is ideal for hardcore anglers. If you wish to spend lots of time fishing, then a center console is what you need.
Question: What Are The Popular Dual Boat Brands?
Answer: Several boat manufacturers are producing dual console boats these days as they continue to grow in popularity. A few notable brands in the boating industry include Edgewater, Wellcraft, Everglades, Grady-White, Pursuit Boats, Boston Whaler, Cobia, etc.
Conclusion
Dual console boats have been around for a while now. But their popularity has managed to rise over time for varying reasons. This is due to most buyers favoring the outboard engines, reasonable cabin sizes, and adequate seating and storage capacity.
Moreover, more buyers have realized the advantages of dual-console boats, especially in different use situations, which are limited to the standard center console. 
Using our guide, we guarantee that you'll end up with one of the best dual console boats on the market. Or even simpler, pick one out of the five vessels we've reviewed above and be sure of no regrets.
Looking for a recommendation? Your best bet is on the Boston Whaler 320 Vantage. It offers plenty of space for your friends and family, great speed, and the design is nothing short of incredible.
Looking for more interesting readings? Check out: