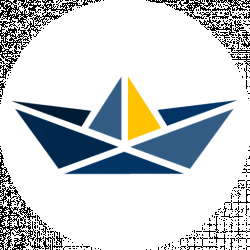 Latest posts by Jeanne Murugami
(see all)
If you've been to the beautiful backwaters of the Everglades, the magical swamps of Louisiana, or the dazzling Ozarks, you may be already acquainted with Jon boats. With good reason, they are undoubtedly the most popular water vessels in the Southern wetlands.
Most waterways call for high-tech, luxury, fancy boats. However, some are only welcoming to light vessels that are best suited to skim the surface of shallow waters effortlessly. And qualifying for this lot are Jon boats. Essentially, they are efficacy vessels showcasing a flat-bottomed hull design that is only exclusive to them.
With this design, they won't cruise through the water like other watercraft but instead sit on top. So, if you intend to go collecting lumber, hunting, fishing, or cruise through skinny waters with lots of obstacles, muck, or mud such as swamps and mudflats, a Jon boat is precisely the right companion for the job.
Unlike most watercrafts, they are readily available, have a simple layout, and are very inexpensive.
What are the Benefits of a Jon Boat to the Angler?
Below are a few benefits and features a Jon boat delivers for your angling needs.
The level flat-bottom hull delivers impressive stability on tranquil waters, allowing you to move around the vessel and cast off effortlessly.

A shallow draft promotes cruising on skinny lakes, ponds, creeks, and rivers by gliding through obstacles without hull damage.

There's plenty of customizations, including a practical shooting deck excellent for bow fishing.

An assortment of inexpensive vessel models, meaning you can acquire a Jon boat at a price range matching your budget.

An ideal Jon boat lends itself well to accommodate customization projects and upgrades, enhancing pedestal seating, angling, and decking. 

With such a basic layout, a Jon boat's structures in case of penetration or damage are effortlessly and quickly repairable through simple weld work.
Even so, getting yourself one of the Best Jon Boats is not that straightforward given the broad assortment of vessels out there. But don't fret, as our guide will see you through the strenuous process. 
After thorough research, we have a list rounded up below with reviews of what we consider as the Best Jon Boats in the market. We'll also feature relevant information on Jon boats, including an informative buying guide. Our review features the best Jon Boats by durability, performance, and features. Let's get into it!
The Best Jon Boats Reviews
Crestliner 1860 Retriever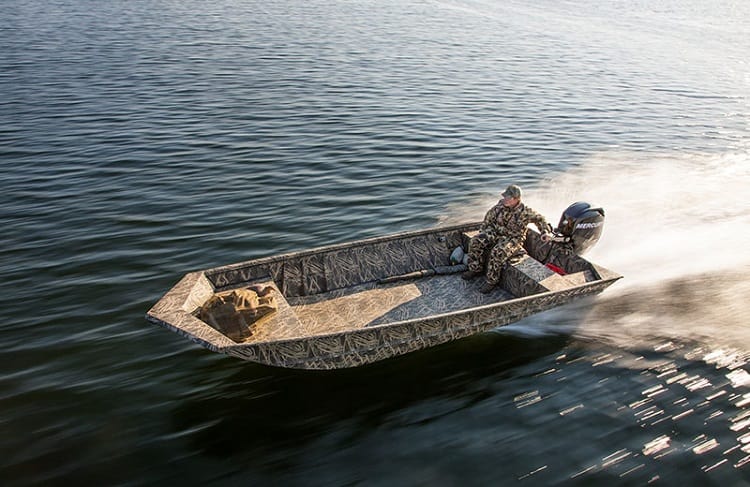 If a Jon boat with excellent value for money is what you are after, the Crestliner 1860 Retriever is precisely that. It is a high-performance model doubling up as both a fishing and hunting watercraft. Outstandingly, you can get it in camo if you like getting close to your prey as much as possible.
You'll also like the tons of features the Retriever comes with. It boasts an all-welded, robust aluminum construction. On the hull sides are vertical ribs that aid in reinforcing the hull, while the console offers plenty of room for extra electronics or anything else.
Storage space on the Crestliner 1860 Retriever is abundant for all your hunting or fishing gear. The seats boast a fold-down design, and there's more than enough casting room aboard. Unlike previous versions that had a 16-gallon live well on the deck, the new design now hosts a 23-gallon well on the casting platform.
It is 18-feet long and is fully customizable. As such, it will allow any comfort features you wish to incorporate. Moreover, the Retriever now employs a built-in gas tank rather than the old portable tank from the old boat's design. And with a four-stroke Mercury 90, you can enjoy rush speeds of up to 41+ mph.  
Sun Dolphin Pro 120 Jon Boat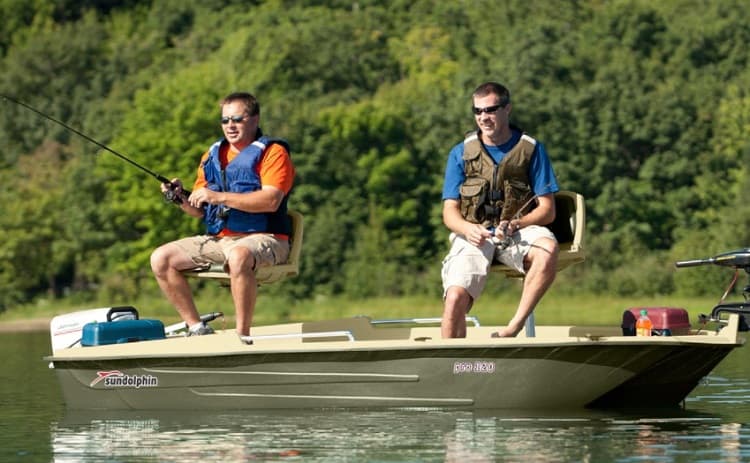 In terms of features, the Sun Dolphin Pro 120 does punch above its weight. It displays a simple design evident from its molded triple hull design while delivering creature comforts of high-end and larger Jon models.
It's not the most extensive Jon boat, but even at 11.3 feet, it incorporates a slip-free carpeted casting deck alongside rear and front dry storage compartments for tucking away gear. Moreover, it integrates a ventilated live well with a drain to ensure your catch stays fresh and built-in rod holders.
The boat also includes a slew of impressive extra features such as tackle and recessed drink holders, navigation lights, and under-deck gas tank storage. For a Jon boat with such a size, price point, and versatility, the Sun Dolphin Pro 120 is an excellent overall steal.
Nonetheless, its weight capacity isn't very welcoming like that of larger Jon models. And for that reason, it's not the best hunting option for larger families.
Lowe L1852MT Aura Jon Boat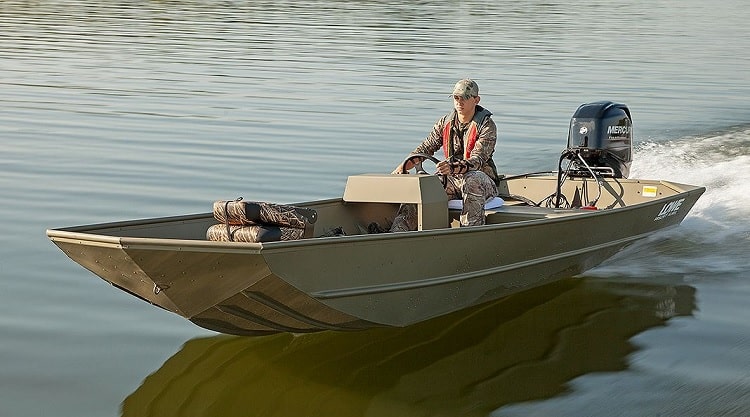 Lowe is not a strange brand in the overall boating industry, with their Jon boat lineup being as impressive as usual. That said, the Lowe L1852MT Aura Jon Boat is no different but another versatile and rugged option worth your bucks.
It makes an excellent model for anyone who wants excellent storage capacity and a little more breathing room. Thanks to its unique wide-open design that delivers plenty of room for casting and moving around. And with an aluminum body, it's only ideal for use in freshwater.
It's a quite extensive Jon vessel measuring 17 feet and 9 inches. As a result, its carrying capacity can accommodate up to six people, which is quite impressive.
Besides the aft bench seating for the passengers and skipper, it also comes with standard Jon boat features such as abundant storage at the bow's center, a bow fishing seat, and grab handles. 
You can also get a dealer-installed trolling motor, a factory-installed gravity-fed live well, and a pedestal base at an additional cost. 
Tracker Grizzly 2072 CC Sportsman Jon Boat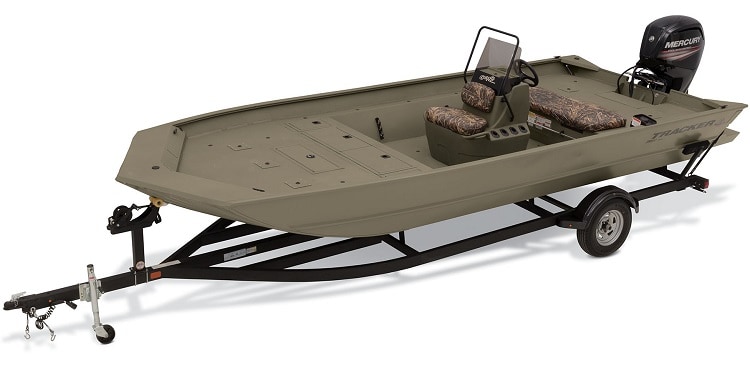 Being a full-loaded Jon vessel, the Tracker Grizzly 2072 CC is quite costly than most counterparts on our list. Even so, expect nothing less of full-featured boating expeditions with this vessel.
One unique feature of the 2072 CC is the elevated deck positions. Through this, it allows for less arrow deflection and more precise bow targeting. It also swanks eight bright LED lights, which you can use to light up your surroundings when hunting or fishing in dark conditions.
In the bow area is a 15-gallon ventilated and rotomolded live well that includes a bait bucket holder. Further, it incorporates a non-skid interior, lockable storage compartments, alongside a rail-mounted utility tray with drink, tool, and arrow holders. 
Even more impressive, this Grizzly 2072 Jon boat employs Tracker Boats' all-welded design. And for that reason, it now comes with the same Tracker Promise warranty for quality assurance.
The vessel also boasts NMMA certification, is EPA-compliant, and exceeds U.S. Coast Guard requirements. It includes several outboard motor options but with a 60HP Mercury, expect speeds ranging between 30 and 40 mph. 
Excel F-4 Pro Hull 1754 Jon Boat

If you are a duck hunting buff, the Excel F-4 Pro Hull 1754 is an ideal Jon boat for you. It is quick, sturdy, and light at the same time, qualities you would expect in a duck hunting boat. Also, it slightly differs from other Jon vessels here and, when fitted with its mud motor, expect it to go shallower than most counterparts.
It also brags a host of features that are pretty surprising to find in a 17-foot-long Jon craft. Its construction employs aluminum, which bolsters its durability. And with a reinforced floor, navigating through shallow waters will be as effortless as possible.
With the F-4 Pro Hull, you can also set off for night expeditions, thanks to its dual LED navigation lights. It then incorporates long sponson pods and a 17˚ high transom. Through these, it achieves optimal mud motor trim control and quickly planes above water.
As you'd expect, it also integrates standard features such as a step-deck, a high/low front deck, front grab rail, bilge, running lights, triple-taper chine, interior lights, and a flat-bottomed hull. Its stand-up bar comes with a fold-down design and includes a three-level height adjustment. 
Buyer's Guide for Choosing the Best Jon Boat
Is this your first Jon boat rodeo? Well, if yes, picking out a brand and model to go with could prove to be very confusing. And while there are some paramount factors you must consider, the end decision will ultimately narrow down to the environment in which you intend to use the vessel and how you'll use it.
What Do You Need to Ask Yourself First?
But before we get to what exactly you need to look for in an ideal Jon boat, there are two crucial questions you need to ask yourself before reaching the all-important buying decision. 
Where Will You Use the Jon Boat?
First, you'll have to consider the boating environment you'll operate in. You'll come across many flat-bottomed vessels but picking any is just not enough.
Depending on the waters you wish to navigate, choose a craft with the most optimal design for that environment. Generally, this will narrow down to selecting between a deep draft and a shallow draft vessel.
A Jon boat with a shallow draft and flat-bottomed hull is excellent if you plan to navigate peaceful inland waterways like those in lakes, creeks, canals, and rivers. You'll need exceptional stability when navigating such tranquil waters, something these Jon boats offer in abundance.
And that stability is even more evident when the craft is under manual propulsion, probably through a paddle or pole. Expect to effortlessly cruise through extreme shallow waterways that are only some inches deep.
Nonetheless, consider that not all domestic waters are peaceful as you can still come across rough waters. And in such conditions, a Jon boat with a flat-bottom may be somewhat against you. It's also not advisable to use crafts with V-hulls and deep drafts as shallow inland waterways aren't suitable.
So now, what should you, the boater, do in such situations. Well, of course, you'll need a craft that balances between the two, which comes in the name of a modified semi-V Jon boat. They can rest more profound in the water while delivering the stability of a flat-bottomed counterpart.
But, like with most products, they have a tradeoff, which is their inability to navigate shallow waters. Therefore, the verdict to pick one the other vastly relies on the location you plan to use the vessel instead of its definite purpose.
How Much Tackle and Passengers Will You Have Aboard?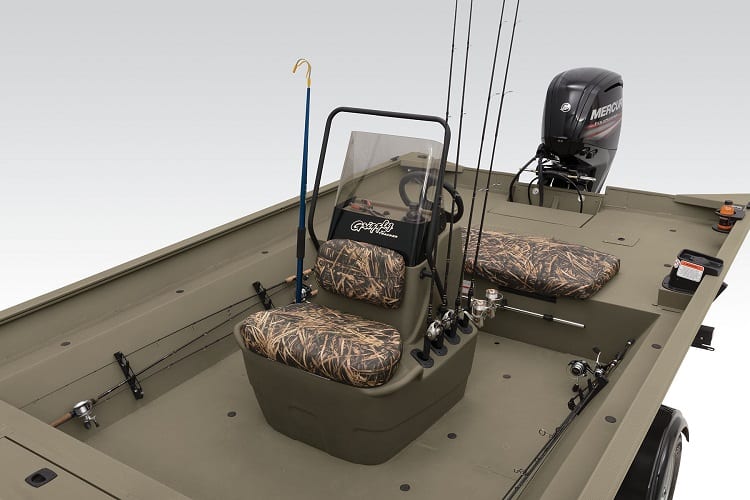 Secondly, think about the gear you'll need to stow and how many passengers you plan to ferry. A craft's overall weight limit largely depends on its maximum weight capacity or rather how much stuff it can comfortably transport.
As the boat's size goes up, the limit increases as well. In other words, this translates to a larger vessel having a higher capacity than a relatively more minor counterpart.
That's generally the case, but as you'd expect, there are a few exceptions. A bigger boat will not always be interpreted as being better. The reason being, they have their unique set of drawbacks that enable their smaller cousins to have some edge over them.
For example, it's troublesome to maneuver tight bends or access skinny sloughs in a larger Jon vessel. But when navigating choppy waters, they are by far better than smaller vessels in terms of stability, thanks to their more extensive surface area.
So, besides the nature of the environment you plan to navigate, how much gear and passengers you'll have aboard will to some extent, determine the most appropriate Jon boat for you.
Essential Factors to Consider Before Buying a Jon Boat
After having clear answers to the questions above, we believe you're ready to identify a suitable Jon boat. Fortunately, most Jon boats come with a similar basic layout, and there are minimal variations between the craft brands and models, with the customizations as well, being usually the same.
So, reaching the ultimate buying decision isn't as mind-boggling as rocket science. However, there are still essential factors worth considering when choosing the perfect Jon boat for you. Let's check them out. 
Construction
Most reputable brands making the best Jon boats in the market only employ aluminum. But if you search harder, you may come across models featuring fiberglass or wood. Wooden crafts are typically handcrafted, and so, if you come across some, it's highly likely that they are from a home DIY project.
On the contrary, fiberglass Jon boats tend to be expensive, beating the initial purpose of acquiring the vessel in the first place. We'd expect them to offer cheaper alternatives to typical aluminum counterparts, but unfortunately, they are not. If their price points don't bother you much, proceed ahead by all means.
With that said, most Jon boat manufacturers use aluminum as the construction material, given how durable and lightweight it is. Also, the fact that aluminum models are pretty affordable adds more points to their lot. 
Take into account that aluminum boats are not best for boating on ocean shorelines and saltwater. The reason being, salty water quickly corrodes the aluminum, and you're better off opting for a fiberglass alternative or taking corrosion prevention measures.
Another aspect is the method the manufacturer uses in the craft's construction. You'll want a model that boasts welded joints rather than rivets as the latter is prone to corrosion over time, resulting in leaks.
Size
The reason size comes first is because it is, to a greater extent, the most vital consideration. As stated earlier, how many passengers and tackle you intend to carry on the vessel determines the appropriate size. 
If you only need a Jon boat for solo fishing and hunting expeditions on calm inland waterways, a model that's between 8 and 10-feet-long will be more than enough. Such could be propellable using a pole or paddle. And if you mind manual propulsion, you can opt for a Jon boat model incorporating a small trolling motor.
On the other hand, if you need a Jon boat to go fishing and hunting with your family, you'll need more accommodation and storage room for your gear and hence a larger boat. In such a case, consider models 14- to 18-feet-long and a reasonably sizable motor. And if you intend to go hunting, you might even need a relatively bigger vessel. 
Seating
As for the seating configuration, most Jon boats appear to use basic bench seats. But most brands will allow you to customize and "Build-a-boat" as per your preferences and needs.
So, if you wish to equip your Jon vessel with comfort seating features such as a low-back, pedestal, or padded seat, the manufacturer can do that for you.
Budget

The budget aspect is somewhat self-explanatory. But keep in mind that sticking to a reasonably tight budget could mean you have to compromise some customizations you wish to add or the vessel's size.
Also, if you plan to fit an outboard motor on your Jon boat, don't forget to factor out its cost alongside that of additional storage units you might wish to have.
Outboard Motor
Usually, Jon boats don't feature an outboard motor when new. And hence, if you plan to equip your craft with one, brace yourself for extra costs that come with buying and installing the unit.
The horsepower you need to propel the vessel at relatively reasonable speeds, even when the craft is at maximum weight capacity, should determine the type of outboard motor to acquire.
Frequently Asked Questions About Jon Boats
Question: What Reason Makes Jon Boats to Be Considered Better?
Answer: In terms of shallow water fishing and hunting, Jon boats are unbeatable. Their structure and design are instrumental on such grounds allowing you to voyage over reeds, mud, or skinny waterways to access the best fishing spots.
This will prove helpful when searching for fish that tend to cover up and stay away from wild waters, e.g., bass.
Question: Can a Jon Boat Sink?
Answer: Yes, but this can only occur when sailing in unsuitable conditions that could make the craft unstable. While Jon Boats are unmatched in shallow water navigation, they suffer from stability issues that tend to come out in harsh weather environments.
But in the worst-case scenario of a Jon boat sinking, components lighter than water, like the foam, in this case, will dislodge water and rise to the surface. That will ensure your Jon boat doesn't descend to the deepest waters, proving somewhat impossible to recover.
Question: Is It Possible to Waterski Behind a Jon Boat?
Answer: A few top-performance Jon boat models can pull tubes, wakeboarders, or water skiers, given they feature powerful outboards. Most can do for watersports, especially when fitted with powerful outboards. Motors with at least 90 HP are powerful enough for such activities.
Question: What Size is Best for a Jon Boat?
Answer: If you need something to pull baits and canines in vast lakes, an 18-foot Jon boat should be adequately large. And reasonably speaking, you want a vessel steady enough to handle even the challenging water situations that may arise in such environments.
In the same way, if you only intend to navigate little rivers and lakes, a 10- to 12-foot Jon vessel is all you could need for your task.
Wrapping Up
While we have possibly the best Jon boats on this list, the best vessel for you narrows down to the primary purpose and the number of people you are likely to often have on board.
Remember, Jon boats come in a vast assortment from advanced hunting models packed with high-end features, right up to small fishing crafts with only a solo seat and a heartbeat.
But overall, the best Jon boats should showcase a pretty basic layout, offer excellent value for money and be practical for their primary purpose.
Unless you wish to have custom modifications such as an additional bow fishing platform or integrate a semi-V for better navigation of choppier waters, a classic Jon boat with a trolling motor and paddle is adequate to satisfy your basic boating needs.
Any of our reviewed models make an excellent starting point. But if you're still doubtful on which Jon boat to go with, try the Crestliner 1860 Retriever. It vaunts a robust construction, is customizable, and delivers top-notch performance.
Looking for more interesting readings? Check out: