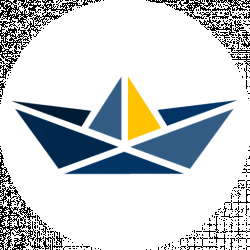 Latest posts by Jeanne Murugami
(see all)
Pontoon boats have recently come out as top sellers across the continent, and they'll likely continue to cause an influx even further. With their spirited performance, luxurious amenities, and comfortable seating, they continue to prove their unmatched versatility, from family cruising to towing wakeboarders and catching trophy fish.
Furthermore, pontoon boat manufacturers are continually upping their game through technology advancements and better materials to make these vessels more breathtaking than ever. This article will review what we think are Five Best Pontoon Boat Models in the market. We'll also include a detailed buyer's guide before answering a few questions regarding pontoon boats. 
Our review features the best pontoon models based on their performance, convenience, features, and affordability.
The Five Best Pontoon Boat Models
SunCatcher Fusion 324 RC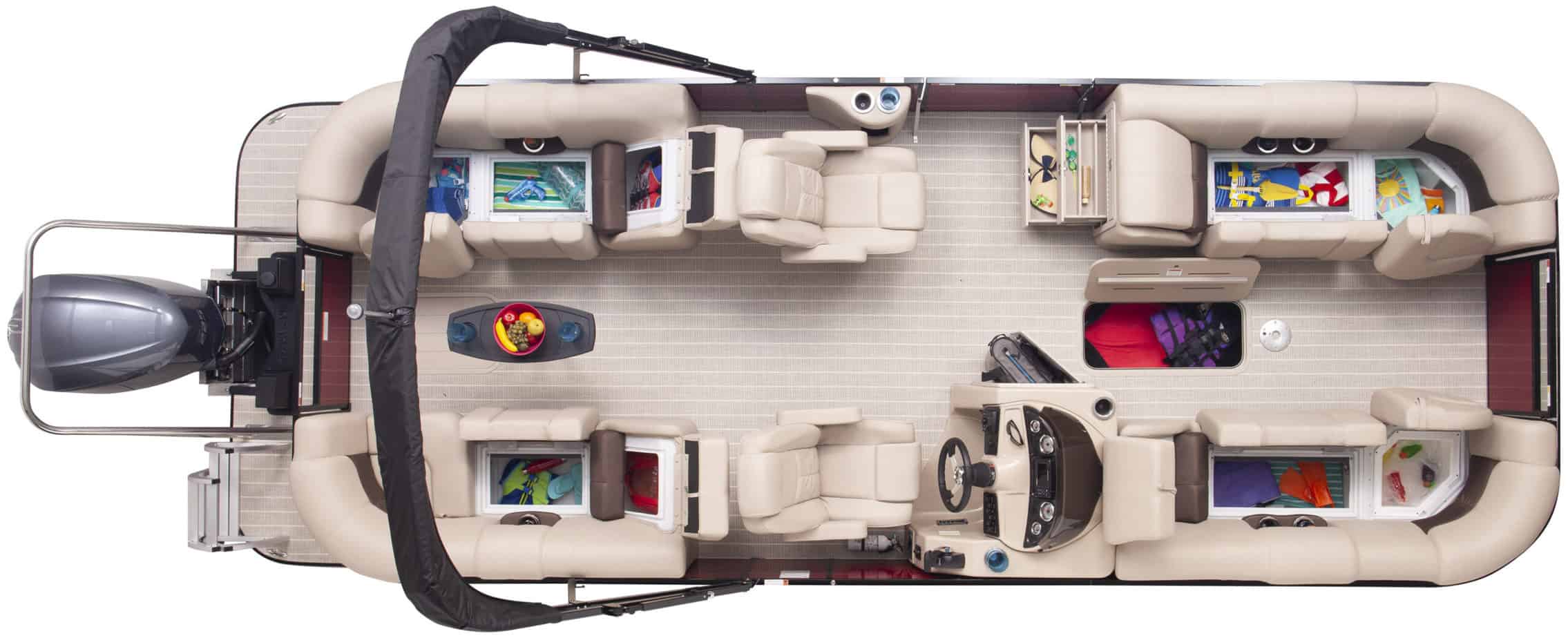 G3 Boats is renowned for its reputable flagship of top-notch premium aluminum pontoon boats. And luckily enough, their SunCatcher Fusion 324 RC is no different. Its overall construction uses thick, sturdy, and rigid materials. For that reason, expect the vessel to last years even under heavy and frequent use. 
From first impressions, you can't fail to note the vessel's sheer size. In other words, the Fusion 324 is not an average pontoon but instead a bodacious model featuring a triton design with three distinct pontoon tubes. It can hence endure rougher seas and handle more power on its transom than most counterparts. Between the tubes and running down beneath the deck is an aluminum skin, a feature that's rare in most pontoon vessels.
The boat's bow area, typically the entertainment zone, incorporates wrap-around furniture, including a standard table. Moreover, flooring options on the SunCatcher 324 are available in a vast array to accommodate varying personal preferences. 
The seats integrate armrests equipped with cup holders. Underneath the seats are vented compartments which, other than delivering storage space, also promote air circulation. This will result in no odor, dampness, mold, or mildew forming onboard.
What other great features should you expect?
Walking around at night is safe and hassle-free, thanks to the courtesy lights at the seats' base. You'll also like the high-fidelity speakers pumping sound from the back of the bow to the stern. With such features, the SunCatcher 324 cuts it among pontoon boats with party-barge capabilities. 
Twin captain's chairs alongside dual couches on both the stern and bow make for a versatile layout and large capacity. Also, note that the skipper's high back armchairs swivel and recline as well, bolstering their versatility. On the boat's helm is a custom console with Simrad electronics and top-notch gauges. The steering wheel has tilt and displays a sport design adding to the command center's premium look.   
The transom hosts a 200 HP Yamaha outboard powerful enough to attain top speeds of up to 40 mph. At the boat's center are an in-deck ski locker and a pop-up changing station. The seating arrangement at the craft's rear incorporates a vast port alongside starboard lounges that feature substantial storage areas underneath.
Manitou 23 Encore SR VP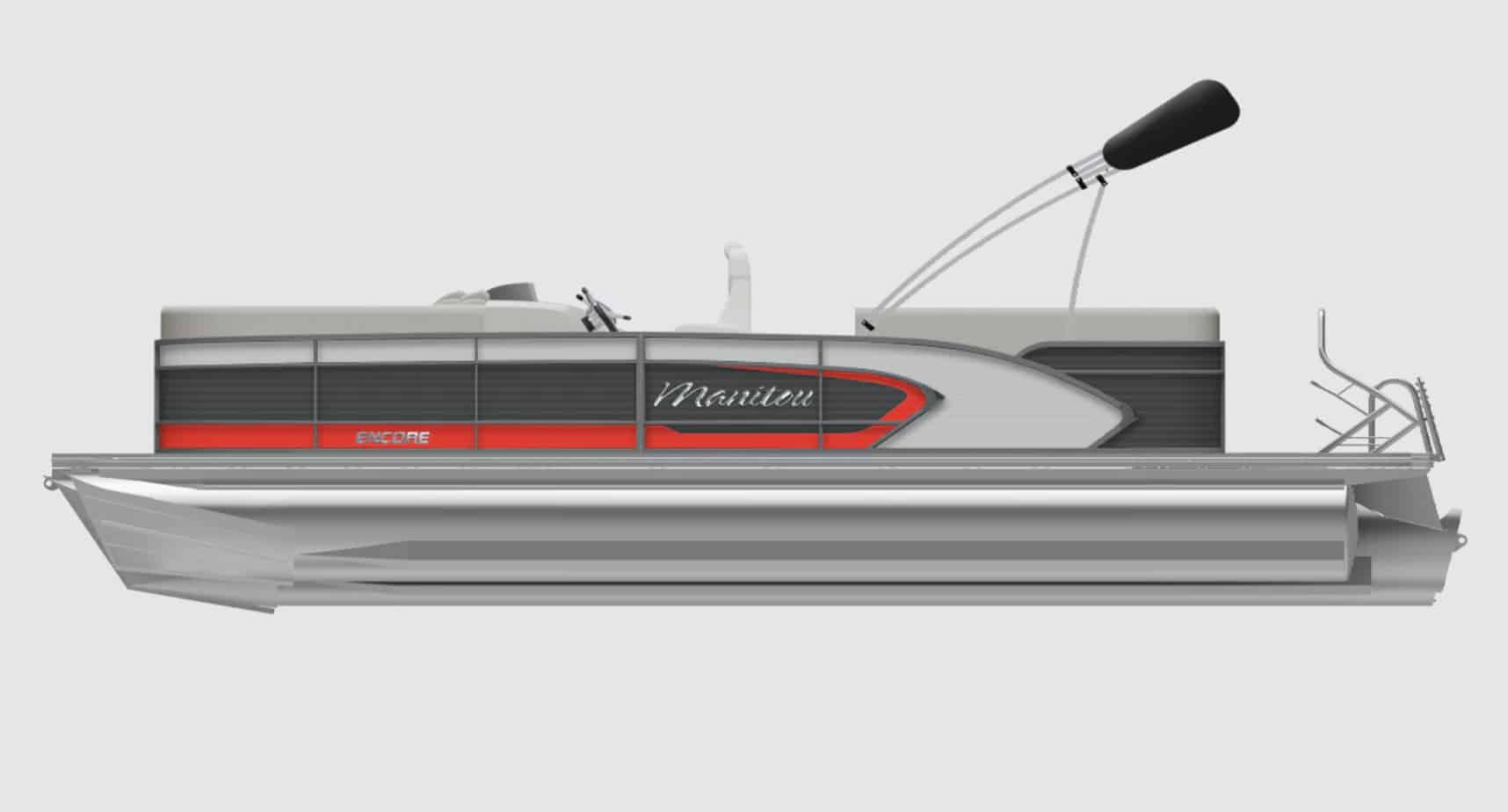 The Manitou 23 Encore SR VP is an ideal definition of impeccable, top-notch build quality. It employs modern technology, has top-notch welding and swanks deck support structures which are nothing less rigid. Manitou pontoon boats include a five-year warranty on the mooring covers, carpet, Bimini fabrics, and furniture vinyl. Its structural and decking components, on the other hand, come with a limited lifetime warranty.
The feel and quality of the upholstery and furniture aboard the 23 Encore are notable. It isn't easy to discern the vinyl's texture from genuine leather, and the high pillowtop seats are astonishingly plush. On the lower back areas is a cool-touch fabric with a blue accent, while the seat's bottom cushions are soft, cozy, and surprisingly supportive at the same time.
So what does the Manitou have to offer?
If you look at the deck layout nitty-gritty, this pontoon reveals a lot of innovation. There's an L-shaped lounge up forward to the starboard, which besides offering enough seating space for three people, can also work as a forward-facing chair. And across it is a small bench to accommodate one more person.
Further aft is another cozy lounge for two people. By porting it with a U-shaped seatback, you'll have an intimate space comfy enough for two people. The lounge sits across the helm to allow interactive conversations with the captain even while boating. 
The helm appears relatively basic but still nicely appointed. It includes a digital fuel meter display alongside analog gauges, all of which are straightforward to read. Even so, there's an option to get your Manitou 23 Encore boat with different digital performance displays.
The boat then employs a single four-stroke Yamaha VMAX 115 outboard. It's vibration-free and notably quiet with a low-end grunt. This Yamaha engine takes less than seven seconds to get the 23 Encore to 20 mph before topping the speed to about 30 mph.  
SunCatcher Select 322 SS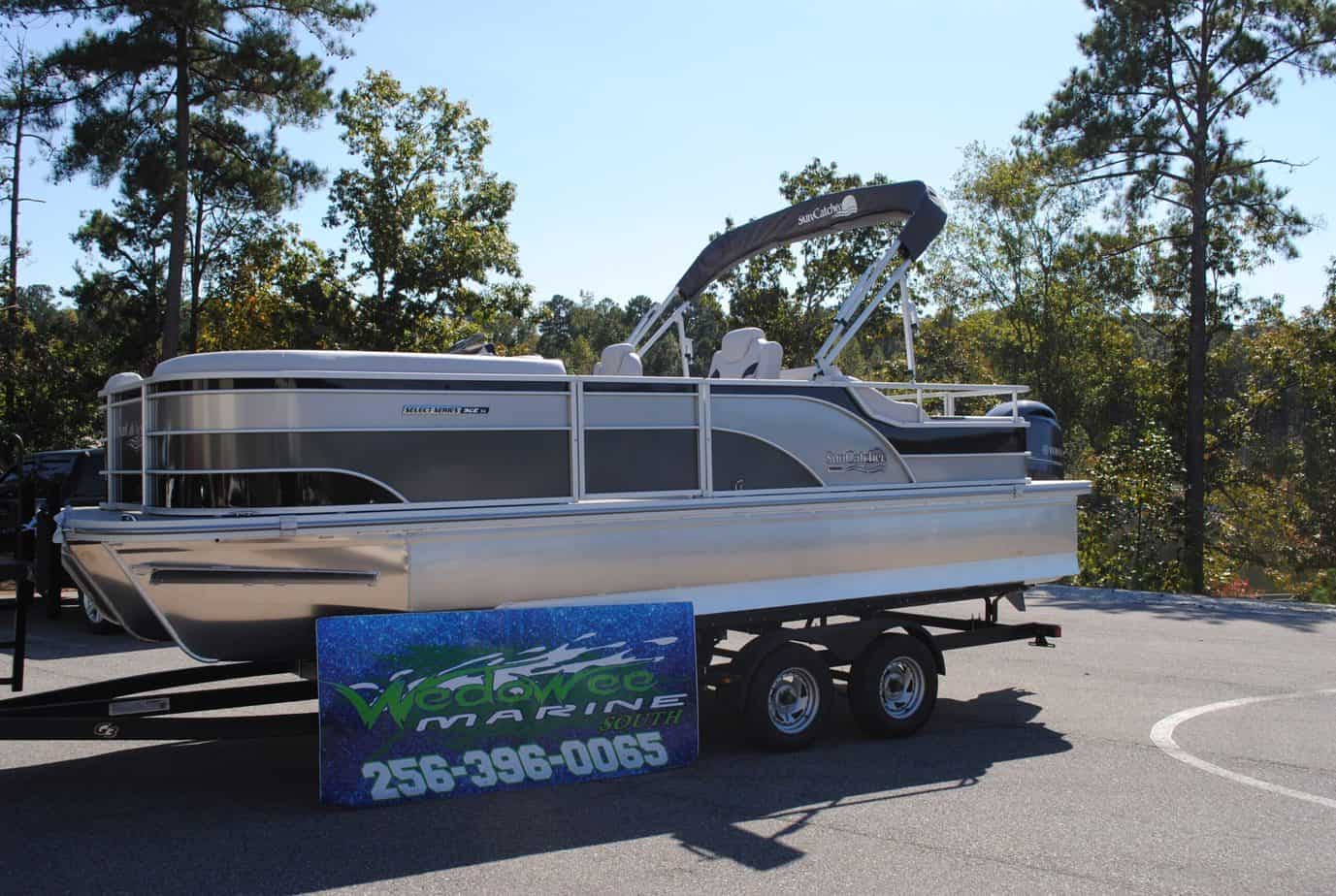 Coming third is yet another pontoon vessel from G3 Boats. And if maximum relaxation is what you are after, the SunCatcher Select 322 SS delivers just that. It comes equipped with substantial deck space, plenty of plush seating, multiple loungers, and pleasure-offering add-ons.
When aboard the Select 322 SS, it feels like a typical dual aft lounger that ideally clinches the deal. It's more than enough to accommodate your family, enjoying the scenery and stretching out with drink holders and armrests close by. Further, it integrates a standard four-speaker Jensen MP3/iPod/Bluetooth stereo system for a splendid aboard music jamming experience.
For the lounger?
On the lounger's sides are pockets for stowing knick-knacks and mini glove boxes, which vaunt USB ports for plugging in phones. Don't fret as the sun goes down as the Select 322 SS comes with courtesy lights which you flip on the base level. By the look of it, the loungers seem comfy, and doing a rest test proves nothing different.
Even more impressive, the boat's forward seats have a double-duty setup. Unlike most models that only offer standard-issue bow couches, the aft backrests on this pontoon are angled back. Hence, it's possible to relax and sit upright facing the boat's center and also recline the seat to relax and kick back facing forward. 
Swinging up the lounger bases will grant you access to stowage compartments with adequate room to take in everything from life jackets to towels. And drainage grooves are cast into the fittings' bases, so even if water drains inside, it will channel back out without drenching your stuff. 
There's also an in-floor storage compartment in the center tube ideal for holding water sports gear that may come on board while wet. If you wish to put on your swimsuit, there's a changing room pop-up lounger insert. The Select 322 SS has numerous outboard options. However, with a Yamaha F150 outboard, you will enjoy a cruising speed of roughly 25 mph and top speeds of up to 35 mph.
Crestliner 240 Rally DX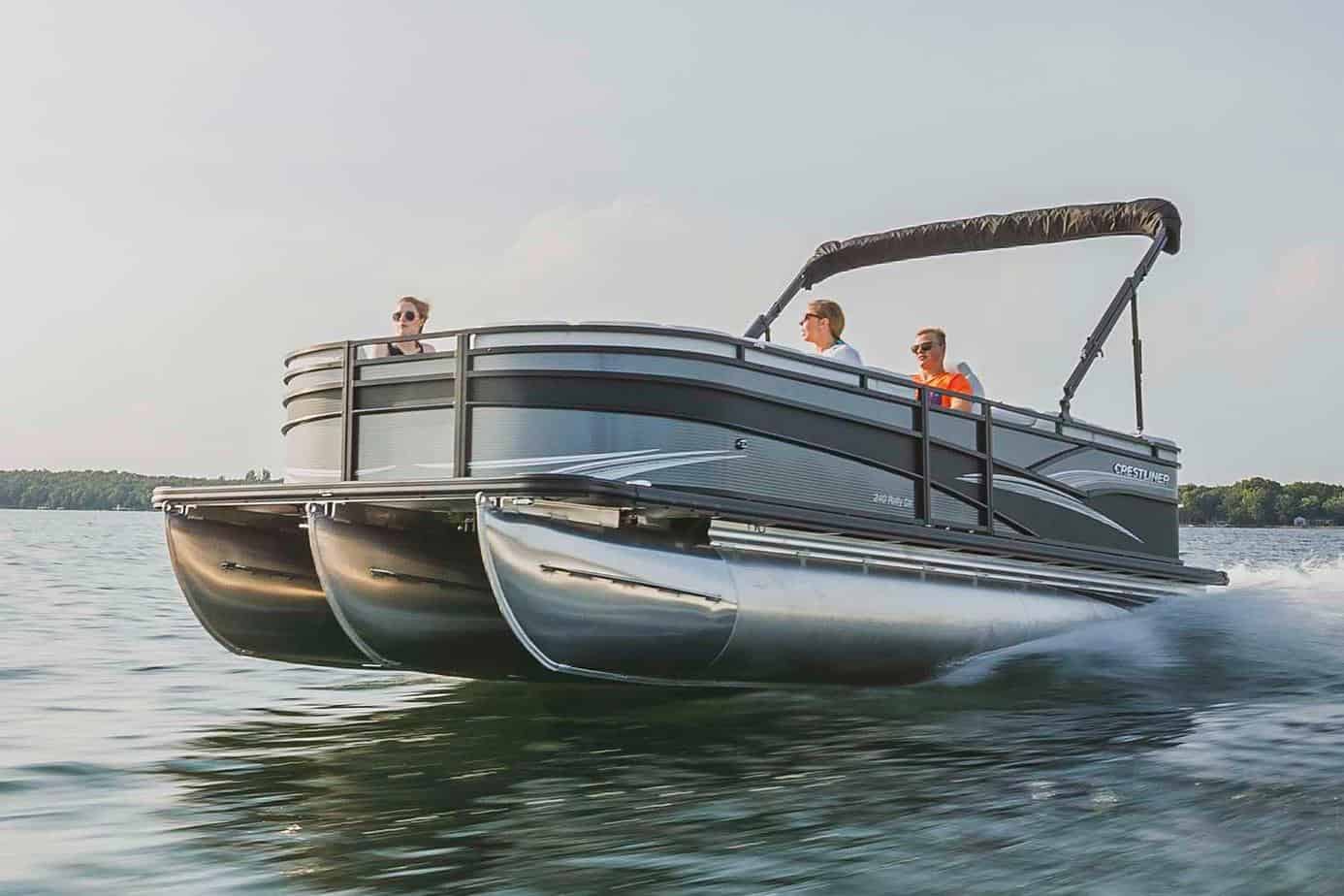 Different people like different kinds of boats. Some prefer the luxury of a lengthy yacht, some the adrenaline rush of speed boats, among other bucket list wishes. Well, the Crestliner 240 Rally DX somehow brings everything to the table. It is one of the most versatile pontoon boats to cross our radar, and without a doubt, it's worth every penny.
The first thing you'll notice on the 240 Rally DX is its almost excessive, copious seating space. Deck, bow, starboard, port, it doesn't matter. The seating capacity in this vessel is enough to accommodate 16 passengers, a feature that's hard to come across in most pontoon models out there. All around the boat are plush and soft seats, and to cater to your individual boating preferences, Crestliner offers five distinct floor plan outlines.
Let's talk performance…
Remarkably, it does match up to its Rally signature by a high-end speed of about 42 mph, which is impressive for a triple tube 3400-pound model. All thanks to its 115 HP outboard engine. It's not the most proficient pontoon in terms of performance, but it's pretty fast to offer you and your family unforgettable watersport moments.
There's a chance you won't notice much about the boat's underneath construction. However, you better believe that it's nothing less than solid and notable. The manufacturer is very committed to ensuring the 240 Rally DX lasts for a long time. And to prove this, this craft uses a lot of heavy-duty stainless steel in its structure, with the tubes employing 0.080-gauge aluminum. It also includes reinforced nose cones, a beneath-deck aluminum skin, extruded aluminum cross-members, and full-length rider brackets for torsion control.
If entertainment doesn't top your priority list, you may opt for a fishing variation of the Crestliner 240 Rally DX. This version replaces the stern lounge chairs with fishing seats and has two more upfront fishing seats to replace more loungers. There's a 15-gallon live well upfront with another outback as well. And it also incorporates a rod holder rack for four outback and another eight at the stern.
Sun Tracker Party Barge 22 XP3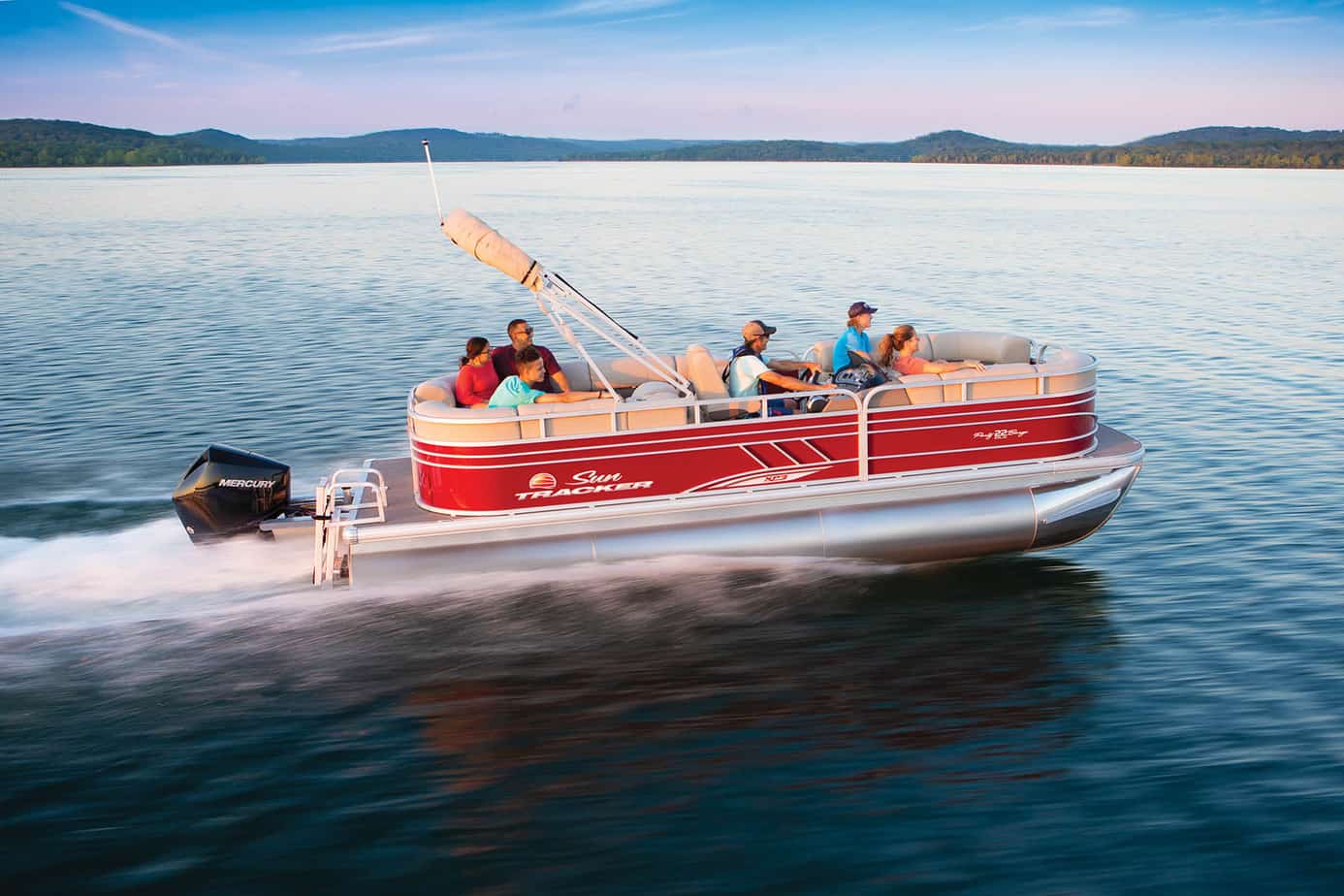 Big names mean big fun. With that said, let's check out the Sun Tracker Party Barge 22 XP3 pontoon boat. And with such a mouthful name, you already know what to expect. Like with every other Party Barge counterpart, this vessel displays a sizable length reaching an overall of 24'2″. This will also translate to a large mass, with the 22 XP3 tipping the scale at around 4900 pounds.
It features a 52-gallon gas tank and can accommodate an outboard motor with horsepower ranging between 115HP and 200HP. Even so, the most popular outboard choice for this pontoon boat is a four-stroke 150 HP Mercury which uses only 5.2 seconds to hit 20 mph and tops the boat's speed to 35 mph at full throttle. 
This pontoon boat then employs three 26″ pontoon tubes that include wave deflectors to support the craft on the water. They showcase a canoe-like cut design that proves to be effective in open water. It creates a very subdued 5˚ bow lift during acceleration, which translates to a smooth boating experience and enhanced sight. In other words, it remains under effortless control and level at all times, even over choppy water.
Talk of convenience…
The ladder and swim platform outback are robust for frequent use. Up at the stern, the XP3 delivers plentiful amounts of couch seating with lavish cushioning all through, with the bow area offering nothing less. There is tons of storage behind the seat backs and underneath the seat cushions at the bow, including a lockable storage bin ideal for holding precious items during those plus-one parties. 
It also includes a removable table to help out during board games or with food. The overhead Bimini top is always ready for action and integrates a convenient quick-release that anyone can use. The helm seat brags the ability to swivel and slide, double flip-up armrests alongside impressive cushioned padding, and an individual storage pouch. 
Like other antique pontoons, the 22 XP3 only delivers the captain's most relevant feedback, thus ensuring minimum control modulation. It includes a center glove compartment-like storage space, two multifunctional gauges, and a USB input for media. The steering wheel has a tilt; hence you can conveniently adjust it to your comfort preference. And with a built-in footrest, you won't experience any knee fatigue or discomfort. 
Buyers Guide for the Best Pontoon Boat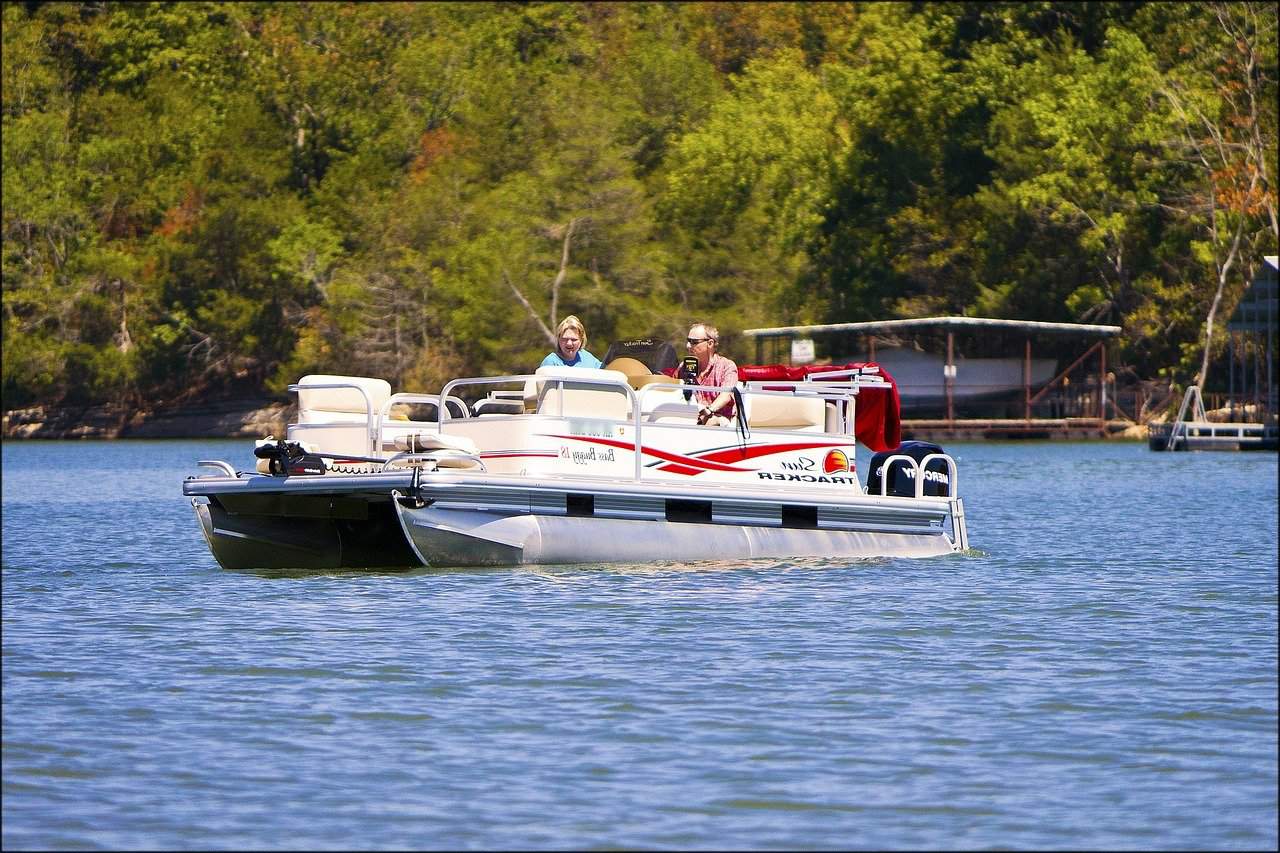 Buying a pontoon craft for the very first time can be somewhat daunting, given the vast array of options in the market. And although the process seems overwhelming, it's doubtful to go wrong with whichever choice you make. However, below are a few vitals you ought to have on your fingertips before going forward with buying your pontoon craft.
Size
After examining the pros, cons, and features of distinct pontoon models and picking one that you consider the best for you, the next thing to evaluate is the size. Ask yourself how many people you'll host on the vessel most of the time. Then ensure your vessel has enough seating capacity to accommodate them without compromising comfort and convenience. Here is a size guide to assist you with that:
Over 24 feet should host ten or more passengers aboard.

22-24 feet should host between 6 and 10 passengers aboard

18-22 feet should accommodate between 2 and 6 passengers on board
Also, where you intend to use the pontoon vessel is crucial when determining the correct size for your boating needs. If you wish to boat in tranquil and small water bodies, a pontoon measuring 17 to 19 feet is enough.
On the contrary, if you plan to have your boating expeditions on a lake or river with small waves, a 20- to 22-foot-long pontoon craft will suffice. And if you want a vessel to handle rough waters of the sea, you need an extensive pontoon boat, preferably a 23- to 28-foot-long vessel.
Type   
Without a doubt, all pontoons can't be considered equal. The market features different crafts with a broad assortment of designs for varying uses and activities. For instance, a fishing pontoon vessel isn't the same as that for water sport activities in terms of design, performance, outboard, etc. Below are some of the common varying types of pontoon boats out there.
Cruising/recreational pontoon boats: These pontoon vessels have several convenience and comfort features whose primary purpose is to enhance your on-water experience. If a recreational model is what you are after, consider models with features such as kitchen grills, sinks, seats that convert to beds, stereo systems, among other convenient amenities.
Fishing pontoons:  If you want a pontoon boat primarily for your fishing expeditions, look for an option that's custom-built for that. These pontoons include live-well tanks, ample storage, and their consoles feature drink and rod holders to aid in freeing up your hands, allowing you to concentrate on your fishing task.
Watersports pontoon: If you intend to use watersport gear such as wakeboards, tubes, and skiers, consider buying a vessel whose outboard boasts nothing less than 90 HP to attain enough speed for pulling such equipment effectively on the water.

  

Sunbathing or swimming pontoons: If swimming and sunbathing top your priority list, opt for models that incorporate sun loungers, slides, ladders, and swim decks for a fun moment on the water.
Inflatable pontoons: These crafts are ideal for avid outdoor enthusiasts, waterway explorers, and anglers. They tend to be less expensive, more portable, and durable than most models. However, they are only ideal for casual boating and only accommodate one or two people.
Brands
We cannot emphasize enough the significance of picking pontoon boats from reputable brands. Always opt for a manufacturer that concentrates on the quality and performance of the boat. Below are a few renowned pontoon boat brands to consider:
Crestliner

Sun Tracker

Manitou

Bennington

Avalon 

G3 Boats (SunCatcher) 

Princecraft
Craftsmanship
Besides checking out reputable brands, inspecting the general quality of the pontoon is paramount. Check the brackets and welding for any signs of damage or patching. Also, please inspect the condition of the outboard motor and make sure it's in proper shape for the best performance.
Lastly, examine whether the rails and decks were screwed in or bolted through. And take into account that bolting is a far better option because it requires minimal maintenance.
Accessories
When purchasing a new pontoon boat, you hardly fret about the vessel's condition, especially if you are buying from a well-established, trustworthy manufacturer. Nonetheless, you should consider the size alongside the little add-ons that come with the boat.
Shop around to land the best deal and haggle with the vendor as much as you can. You'll get one dealer, for instance, giving rod holders as standard issue with another dealer offering a similar deal plus a Yeti cooler to raid the sale.   
Frequently Asked Questions on the Best Pontoon Boats
Question: What is the Actual Average Price of Pontoon Boats?
Answer: Most pontoon boat models have prices ranging from as low as $15,000 to highs of $175,000. The significant variance in the price points is dependent on distinct factors such as accessories, the outboard motor, size, brand, etc.
Question: Can a Pontoon Boat Nose Dive?
Answer: Yes, it's possible for a pontoon boat to nose dive, which could be due to multiple reasons. These include:
• Exceeding the boat's weight limits
• Excessive weight on the vessel's front
• The uneven weight distribution of onboard passengers
• Too much or not enough power
• Trying to boat through waves
• Water in the pontoon tubes
• Wake of large crafts
Question: What's the Effect of Saltwater on a Pontoon Boat?
Answer: Since rust isn't a problem with pontoon boats in saltwater, they may be more prone to galvanic corrosion. This corrosion results from the chemical reaction between the salty water and the metal and may damage the pontoons. So, it's paramount to keep up with the vessel's maintenance by regularly rinsing the boat using freshwater.
Some manufacturers, however, incorporate zinc anodes at the pontoon's bottom, which draws in the galvanic corrosion. After that, the anodes assume a decoy role and shield the boat's components and engine from destructive, corrosive accumulation.
Question: How Long Do Pontoon Boats Last?
Answer: New pontoon boats will last roughly 10 and 20 years before they demand replacing components or significant repairs. The precise boat's lifespan largely depends on adherence to maintenance practices, the environment, building materials, brand, and how frequently you use the vessel.
Wrapping Up
Similar to purchasing a car, acquiring the best pontoon boat for you demands a considerable degree of research. The reason being, there's a vast assortment of pontoon vessels flooding the market, and hence picking out the best is quite strenuous. 
You need to draw a budget and identify the size, type, and other factors to narrow down the options before diving into the sea of merchants. Try and shortlist at least five remarkable pontoon boat models and then analyze them even further.
Luckily enough, our guide already handles that daunting task for you. And hopefully, our five best pontoon boat options eliminate most of the guesswork. You need to pick one craft that satisfies most of your requirements and go with it. But from our side, we would recommend the SunCatcher Fusion 324 RC. Its construction is top-tier and vaunts a bodacious structure alongside a powerful outboard able to handle choppy waters. 
Looking for more interesting readings? Check out: