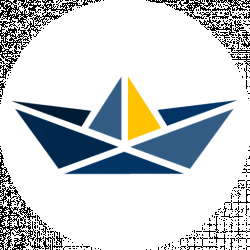 Latest posts by Jeanne Murugami
(see all)
If you want a boat for adventure, leisure, watersports, and sometimes bass fishing, the pontoon is the most ideal. It's a unique type of boat, from the design to its floatation mechanisms. For pontoons to stay afloat, they are equipped with two or three aluminum tubes under the flat hull. 
However, the flat hull and aluminum tubes make it impossible to keep the boat stationary at one spot in the water unless you have some help. Hence the need for an anchor. Since you're bound to find different anchor models on the market, we'll review the best pontoon anchor options that fit this boat.
To determine the anchor best fit for your pontoon, you have to evaluate a few factors. These are the boat's size, the sea or ocean floor conditions, the weight of the anchor, and holding power. It's vital to factor in the anchor's design. Our review, therefore, focuses on the best pontoon anchors by weight, holding power, and durability.
10 Best Pontoon Anchor Options: Our Top 10 Pontoon Anchor Picks
Extreme Max 3006.6645 Anchor: Best Anchor for All Bottom Sea Conditions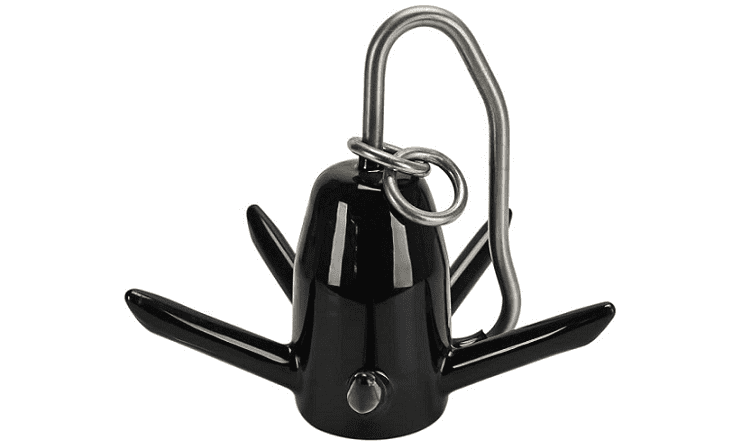 Many pontoon boat enthusiasts are looking for an anchor that's ideal for their boat's specifications. We should let you know that the size of your boat determines the perfect anchor. The Extrema max 3006.6645 anchor is available in 3 different category weights, 14lbs, 18lbs, and 25lbs. They are best for boats that measure 18 inches, 24 inches, and 32 inches long, respectively. 
The Extreme Max is made from steel and cast in concrete. The steel is then coated with vinyl to protect the anchor and increase its longevity. Therefore, it's submergible in either fresh or salty water, and it won't rust or corrode. It offers uppermost performance, meaning it's immersible in diverse waterbeds.
These include river, lake, sea, and ocean beds. The five spikes make the anchor usable in all seabed conditions. Whether it's rocks, mud, or weed at the bottom of the waters, the flukes will aid to dock your pontoon. You also get a unique release bar, which makes it easy to recover the anchor.
Pros
It keeps the boat steady in rough waters.

It's durable.

The price is fair.

Works under all seabed conditions.

Easy to release and reclaim.
Cons
It doesn't come with a release chain or rope.
Greenfield 520-R: Best All-Purpose Pontoon Anchor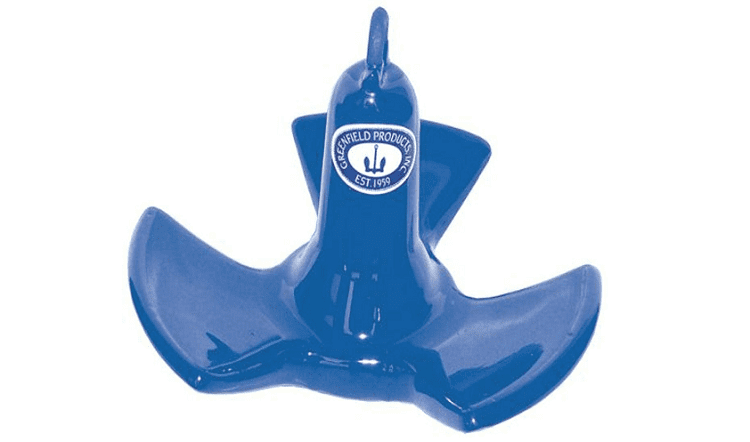 If you're on a budget but you need a multi-purpose anchor for your pontoon, the Greenfield 520-R should be perfect for you. This anchor weighs 20 pounds, and it is designed for boats with at least 21 feet in length. This anchor is not limited to pontoons only. It's possible to use the Greenfield with other boats in the 21 feet category.
It has three flukes that form a triangular design, and they easily penetrate the seabed surface. This helps to create more resistance, thus keeping your pontoon from drifting due to high winds and currents.
Similarly, this anchor is not limited to soft seabed only. It's designed to tackle rocks and other structures it finds underwater. It's coated with several layers of vinyl to protect the anchor from corrosion.
Pros
It anchors most lightweight boats.

The anchor works in all seabed conditions.

Its price is reasonable.

The anchor will firmly hold your boat.

The vinyl protects the boat finishing.
Cons
It's limited to light boats only.
Fortress Marine Anchor: Most Versatile Pontoon Anchor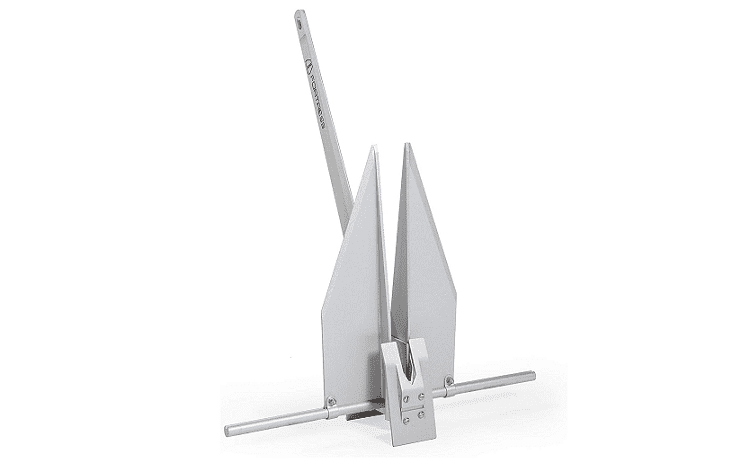 Among the best pontoon anchor options, you'll find the Fortress Marine Anchor that defines reliability and quality. It's one of the most sought-after anchors for recreation and fishing purposes.
Maybe, it's because the anchor is marine-grade since it's tested and used by the US Coast Guard and Navy. The Fortress anchor is manufactured using aluminum-magnesium, an alloy hardened using the latest technology.
It might look feeble, but it rarely breaks, and what is there to expect when a manufacturer gives you a lifetime warranty? However, if a part is damaged, you will only incur shipping and handling costs, nothing more.
The Fortress FX-7 anchor has superior holding power with a 700lb base working load ideal for 17-27 feet boats. The working load changes depending on the seabed conditions.
If the seabed is mud or sand, the anchor's holding weight is 480lb and 2800lb, respectively. The Fortress anchor goes for $113.49.
Pros
It's easy to assemble and disassemble.

Lifetime warranty.

It has a high holding weight.

This anchor penetrates sea bottoms quickly.

It's rust-resistant.

The anchor is light, weighs just 8 pounds.
Cons
Richter Anchor: Best Pontoon Anchor for Maximum Stability'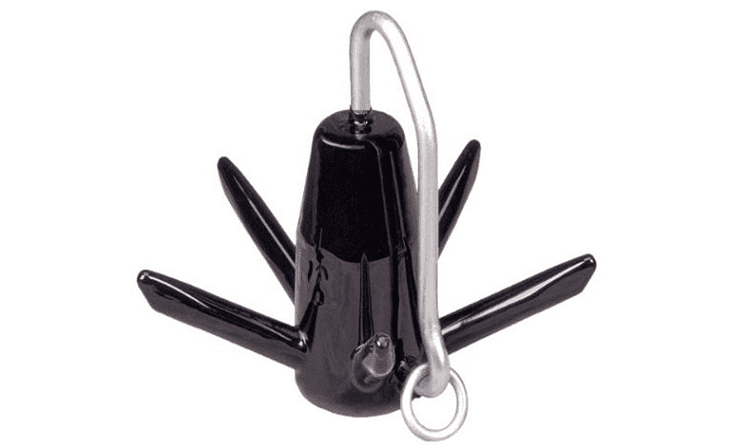 The Richter Anchor is a brand loved and trusted by many boat owners because it works as recommended. It weighs 25 pounds and will effortlessly hold boats measuring 45 feet long. Boats measuring that length are pretty massive, and this goes on to show Richter's anchor versatility.
It's suitable for all weather conditions, and regardless of how windy the waters might be, the anchor will keep your pontoon stationary. This anchor will similarly perform in all bottom conditions without much hassle, it's about the setting, and the five flukes will work their magic. It's superior compared to other conventional anchors, and it requires a short anchor line.
The smooth surface ensures the anchor is easy to recover, especially if the reservoir's bottom is muddy. Also, the smoothness of the anchor ensures that it's self-cleaning. This anchor retails at $117.60.
Pros
Easy to recover.

It requires a short anchoring rope.

The anchor holds the pontoon at the exact set spot.

It performs in all conditions.

Accommodates bigger boats.
Cons
The anchoring chain or rode is purchased separately.
Seachoice Claw Anchor: Best Claw Anchor for Pontoon Boats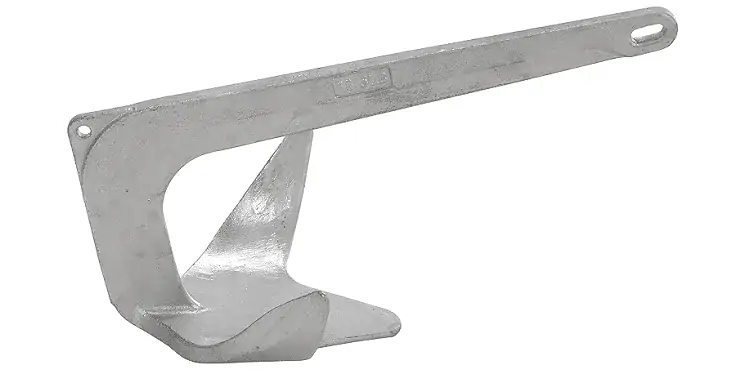 Being able to identify the best anchor for your pontoon shouldn't be rocket science. But, if you value diverse information for decision-making, you're at the right place, and it's the reason we're here. We've drawn together information regarding the Seachoice Claw Anchor to aid you in identifying whether it's a suitable anchor for your needs.
This anchor is equipped with an elastic rode system that stretches in rough water conditions to keep the anchoring system intact. Unlike other heavy anchors that you set vertically to the pontoon, the Seachoice anchor requires a designated distance to bit and dig the sea bottom.
With the Seachoice Claw, you get a stainless or galvanized steel lead chain which adds weight to the anchor. This added weight makes it easy for the anchor to stabilize the boat.
Its adaptability is unparalleled and weighing 16.5 pounds, and it's ideal for 30-feet boats. The anchor only cost $69.56, and with its performance, it's a huge bargain.
Pros
The anchor is durable and dependable.

It performs reliably.

Works in different sea conditions.

Corrosion-resistant material.

Easy to store.
Cons
Long rode chain required.
Five Oceans Fluke Anchor: Best Anchor for Sand and Mud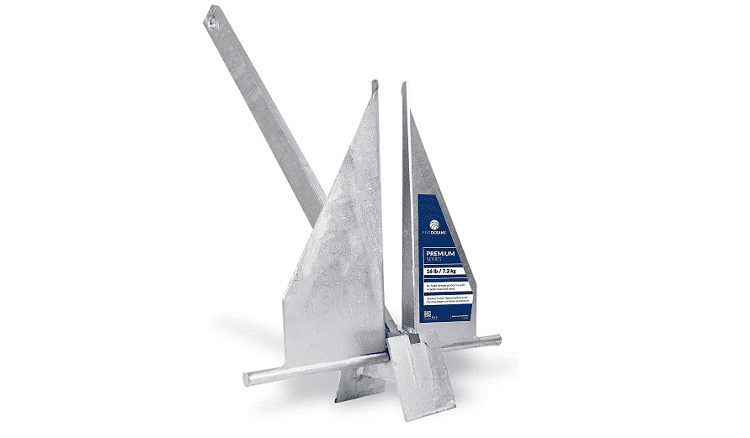 The Five Oceans Fluke anchor stands out from the rest in terms of its standard anchoring capabilities. You'll not find an anchor like this that still seeds the Danforth technology and features. It's a traditional modeled anchor designed with modern features to elevate its anchoring capability. To acquire this anchor, you'll need at least $85.99.
It weighs 16 pounds, and it's best for pontoons with a 34 feet maximum length. The Five Oceans has mechanisms to release the anchor at specific angles to enable straight sets on the waters.
The Five Oceans Fluke Anchor is built using quality galvanized steel, making the anchor sturdy and corrosion-resistant. This allows it to handle continuous shocks when the pontoon is experiencing rough tides or winds.
Pros
Best for seabeds with mud and sand.

Its holding weight is admirable.

The anchor is rust-resistant.

Its rode absorbs shocks aiding the pontoon's stability.
Cons
The anchor doesn't perform in seabeds filled with weeds or rocks.
The WindRider Boat Anchor: Best Pontoon Anchor with Rounded Functions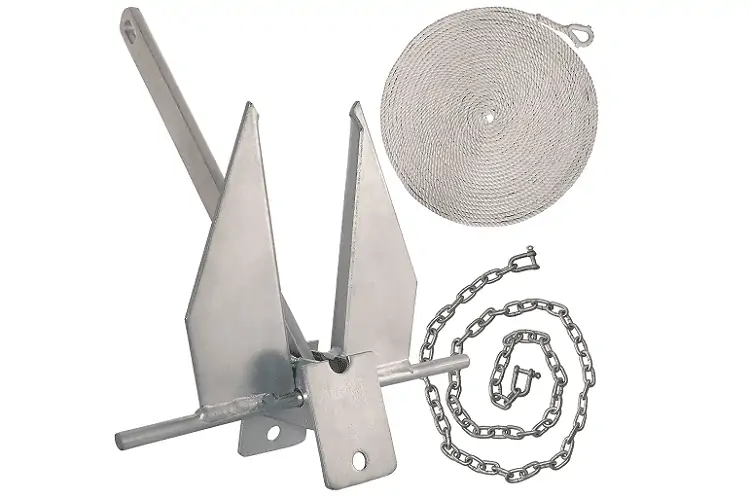 Among the many anchor models available today, there is the WindRider boat anchor. It's a favorite with most pontoon boat owners because of its features and capabilities. This anchor comes with a ready-to-launch complete kit, something you don't see with other models. The kit includes the anchor, a rope, shackles, and a chain.
The WindRider has an incredible holding power, and the flukes on the anchor dig the sea bottom with ease as long as it's sand or mud. It weighs 8.5lbs, making it ideal for small boats measuring between 15 ft to 32 ft. The WindRider is fully galvanized, and the manufacturer retails it to you at $86.95. It's corrosion-resistant and comes with a packing bag for easy storage. 
Another unique feature is the recovery hole which eases the retrieval process. Since it's designed for muddy bottom surfaces, getting stuck is obvious. The recovery hole works by allowing the rode to move down to the seabed. This allows the boat to use its buoyancy and force to free the anchor without breaking a sweat.
Pros
Self-recovery system.

Corrosion-resistant.

Easy to store, the anchor doesn't occupy much space.

It works great in sand and muddy seabed.

Its holding power is impressive.
Cons
The anchor is a bit limited on performance.
Slide Box Anchor: Best Pontoon Anchor for Offshore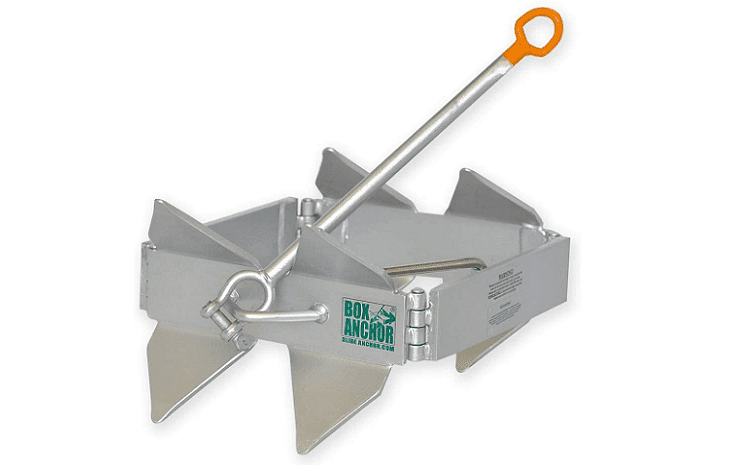 Anchors come in different types and models, but their operation is the same. However, their ability to offer resistance when they hit the sea bottom will differ, primarily because of their design and the fluke's ability to hold rocks or dig the muddy sea bottom. Among the diverse models, you'll find the Slide Box Anchor.
This anchor offers unrelentless performance and works under any weather condition. It sets fast when released, and you need to give it just 2 feet after landing on the bottom of the reservoirs. Its hollow design makes retrieval easy and fast. Since there is not much upward resistance, you have to pull the line vertically upward, and the anchor will release.
The anchor is made using high-grade stainless steel and galvanized by the same material to protect against corrosion. It's perfect for boats 18-30 feet long. For easy storage, the Slide box anchor folds flat, and it comes with a well-ventilated bag.
Pros
The anchor requires no chain.

It docks pontoons fast.

Less rode required.

It needs less storage space.
Cons
Best for muddy or sandy lakes and rivers only.
Grapnel Boat Anchor: Best Pontoon Boat Anchor for Ocean Anchorage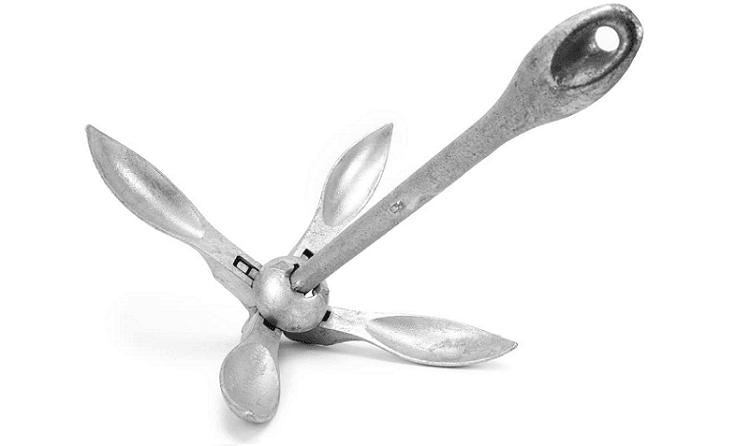 If there's an anchor that offers sophistication in its anchoring prowess, it's the Grapnel boat anchor. It's strictly designed for pontoons and other small water vessels.
The anchor weighs 17.5 pounds, perfect for boats with 28-34 feet in length. It's made using galvanized steel, and the most amazing feature is the ability of the spike hooks to collapse. This is ideal for storage since it will occupy minimal space on the boat.
The Grapnel anchor encompasses versatility in its anchoring capabilities. It doesn't choose the water's bottom conditions. The anchor will perform without any disappointments, whether it's filled with stones, gravels, coral, or weeds.
The Grapnel locking mechanism is tamper-proof; hence you don't have to worry about unlocking when underwater. It costs $105.59 when it's sold as a complete kit. 
Pros
The anchor holds perfectly.

It comes with a rope and chain.

Perfect for all seabed lakebed conditions.

It's easy to retrieve.
Cons
It only suits pontoons and small boats.
Lewmar Stainless Steel DTX Anchor: Best Pontoon Anchor for Reliable Performance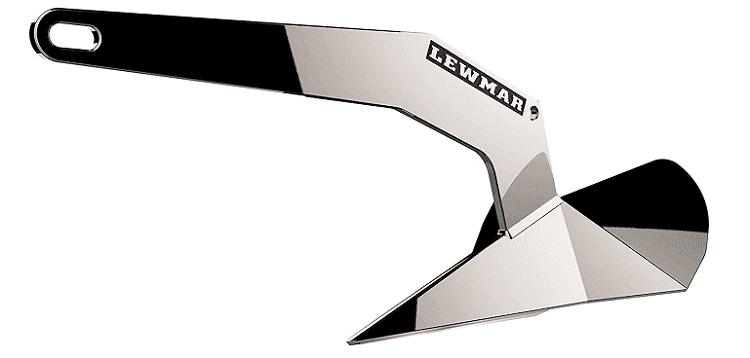 The Lewmar brand is recognized in the boating scope because of its quality products. Through the years, the brand has made strides in refining the Lewmar stainless steel DTX anchor. 
Its performance is top-notch, and it has the highest holding power depending on its weight category. For pontoons, the 22lb Lawmar anchor is ideal since it holds the boat effortlessly.
The narrow shank design allows the anchor to penetrate sand and mud but also holds rocks well. With its self-launching capabilities, it doesn't take much effort to release it in water. It's made using 316-grade stainless steel, which minimizes wear and tear. The Lewmar will require you to dig deep in your pockets with the $337.49 price tag.
Pros
Strong and durable

Holds pontoons well under strong winds and current.

Comes in different series.

It's perfect for all seabed conditions.
Cons
What to Consider Before Buying a Pontoon Anchor: Buyers Guide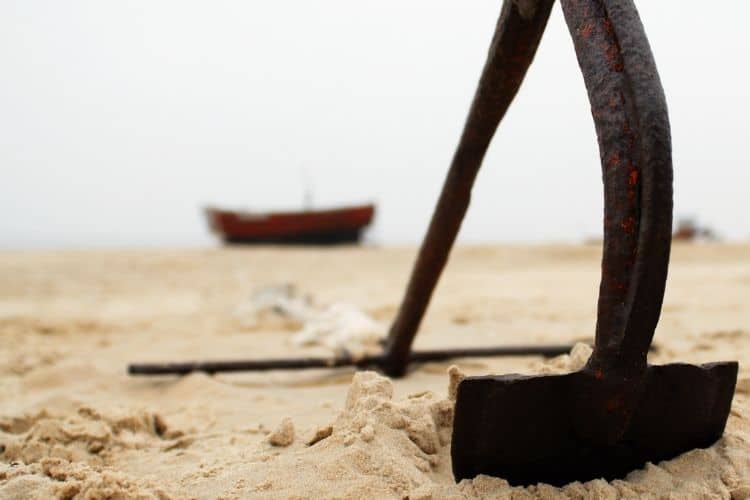 The Anchor's Weight
Anchors are categorized according to their weight which is relative to the boat's size. To find an anchor that fits your pontoon, you need to consider its size. It's the only way to find one that will hold or dock your boat firmly regardless of the water conditions. If the anchor weighs 10 pounds, then it should hold boats with a 19 feet maximum length.
However, you'll find some models which are lightweight, but their holding power is unbelievable. With this kind of anchor, you have to give it time and distance to establish itself on the seabed. In addition, light anchors will require a longer rode and chain. Heavy models settle vertically on the seafloor, so they need less anchoring rode and distance to hold the pontoon.
Holding Power
If you're going to acquire an anchor, you have to emphasize its holding power. This is the pull force an anchor will withstand in different sea conditions. A heavy pontoon weighing 1000 pounds might use an anchor weighing 100lbs in calm waters. However, in rough waters, it will need a heavier anchor.
If the wind speed is, let's say, 30 or 45 miles per hour, a pontoon measuring 35 feet will require 900 and 1800lbs holding power, respectively. Knowing the anchor's holding power will ensure you buy one that's a perfect fit for your pontoon.
Material
When reviewing the best pontoon anchor options, we've realized that anchors are made using different materials. Most manufacturers use stainless steel, while others use concrete with aluminum casing. For delta anchors, some have a concrete ballast covered with aluminum or galvanized steel. They tend to use the weight factor for firmly holding a pontoon boat.
On the other hand, the fluke anchors are mostly made from steel, and they weigh less. However, their design enables them to dig lakes or sea floors, creating resistance to hold your pontoon in place. The material used will similarly determine the durability of the anchor. You also have to ask yourself whether the anchor is corrosion resistant or not. Therefore, it's a vital factor to consider all this before making that purchase.
The Price
When acquiring a product or service, the price aspect never changes. If you're going to buy an anchor for your pontoon, it's vital to consider your budget first and then the anchor's price. You're bound to find some high-performing anchors with a fair price tag. As a matter of fact, the best pontoon anchor options don't cost above $200.
Durability
This is down to the material used to manufacture the anchor. Is the material corrosion-proof or not? It's important to deliberate on this, especially if you're using the anchor in salty ocean waters. These waters tend to accelerate corrosion on metallic. Thus, contemplate on the anchor's durability, or you'll keep buying a new one now and then.
Miscellaneous Factors
Some anchors come with added mechanisms to aid in release and retrieval. You'll find delta anchors coated with a smooth galvanized material which makes recovering stress-free. Likewise, some models come fully packed, with ropes, chains, and packaging bags. For others, you have to buy some of these anchoring accessories separately.
Frequently Asked Questions (FAQs)
Question: How Long Should the Anchor Rode Be?
Answer: The anchor rode is required to be seven to ten times longer than the depth of the waters. If the pontoon is caught in rough waters, a long anchor rode will come in handy. It gives the boat ability to absorb the shocks hence protecting the boat from unwanted damage.
Question: Do You Need an Anchor for a Pontoon?
Answer: Pontoons come in diverse sizes. However, the size doesn't matter when sea conditions are involved. Any pontoon, regardless of size, requires an anchor if you don't want it to drift away because of winds. Nonetheless, the anchoring must be done correctly if you're going to secure your pontoon safely at one position.
Question: How Heavy of an Anchor Do You Need for a Pontoon Boat?
Answer: Between the delta, flute, and box anchors, the box is the heaviest and the most ideal for pontoon boats. It's not to imply that they are the most efficient, but the heavier the anchor, the better. For the standard pontoon boats, the anchor should weigh 20 pounds utmost.
Question: What's the Best Way to Retrieve an Anchor?
Answer: The best way to retrieve an anchor is by pulling the anchor vertically. If the anchor is the delta model, all you need to do is get the boat to the anchor's position and just pull it. However, if it's a flute, you need the boat to be behind the anchor's position to pull it. Since flute anchors tend to dig the seabed, being behind it eases retrieval.
Question: What Should Be Avoided When Anchoring?
Answer: Anchoring requires expertise, and it's not just about throwing the anchor in the waters. First, it's forbidden to tie the anchor's rode on the stern because there's the risk of your boat sinking or capsizing.
Secondly, when setting the anchor, release it slowly if you don't want to destabilize the pontoon. Lastly, avoid having a short rode; always ensure the rope size meets the required standards.
Conclusion
If you own a pontoon boat, then you realize the need to have an anchor. You might want to set base at a specific spot in a lake, river, sea, or ocean, but without an anchor, it's impossible.
Considering pontoons use aluminum tubes to float, they'll drift in average winds and currents. That's why we've reviewed the best pontoon anchor options to aid in making an informed purchasing decision.
Nonetheless, if you're hesitant about making a buying decision, don't worry because we can recommend the best in the above list.
The Extreme Max 3006.6645 Anchor makes one of the most respected anchors on the market today. Its models and series are reputable because of the quality products the brand manufactures. The anchor is made using concrete ballast and an aluminum cast. Being a delta-type pontoon anchor, it needs a shorter rode because it drops vertically from the boat.
Its smooth steel coating protects the anchor from corrosion and allows easy retrieval. This anchor will hold your pontoon boat stably regardless of the weather and seafloor conditions. Thereupon, you're assured of secure anchoring with the Extreme Max anchor. 
Looking for more interesting readings? Check out: