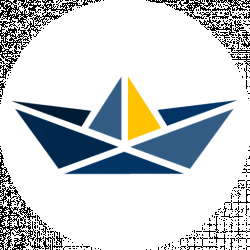 Latest posts by Jeanne Murugami
(see all)
Protecting your boat from the elements is important if you want to maintain its integrity and keep it in tip-top shape. A boat cover is a great way to shield your boat from the elements. Continue through this article and we will show you how to find the best boat cover.
What To Consider When Acquiring a Boat Cover
Before purchasing a boat cover, you need to ask yourself three vital questions: is it a proper fit, does it have reinforcements, and how do you intend to use it. Here is how to find the best boat cover.
Fabric (Material)
The fabric makes 99.9% of a boat's cover, and you want to make sure that you find a cover with the correct fabric. Fabric materials used may be heavy-duty or light-duty. Most manufacturers use sunbrella or aqualon edge fabric, which are the best available. Neither one of them shrink or stretches and is very durable.
If you can find a cover made from either of those materials, you should be assured of quality and endurance.
Price
In the list we've created on the best boat covers, you'll find that the most expensive boat cover costs $150. But most models' prices range between $70-$80, and these are considered premium. They are the highest-rated, depending on quality, popularity, and user opinion.
The size
When we talk about size, reinforcements will be involved in the discussion. You want a boat cover that superbly fits your boat and it's reinforced correctly in the right areas to avoid unwanted rubbing that creates wear and tear.
So, if you have hardware on your boat, like a console, outboard, or cleats sticking up, you can't afford to have a saggy cover. Furthermore, during trailering, if the cover is flipping everywhere, it might end up destroying your boat's finishing.
The best option is the custom fit sold mainly by the boat's manufacturer or an affiliate, particularly if you're trailering your boat.
Warranty
We always encourage potential product buyers to consider a good warranty. Most boat cover manufacturers offer a warranty when you make a purchase. This warranty can run from one to five years. However, for some models, you have to part with a few dollars to get a warranty. Also, the quality of cover you buy, standard, premium standard, premium, or prime, all come with different warranties.
Thus, don't be tricked, and make sure you ask about the cover's warranty.
It's Resistance Level
Today, boat covers have special coatings that will protect your boat from ultraviolet rays, which are harmful to your boat's finishing. Also, the covers are now designed to be waterproof in the sense that they don't allow water through, nor do they allow moisture to form. Check on this before making a purchase.
Extra Things to Factor in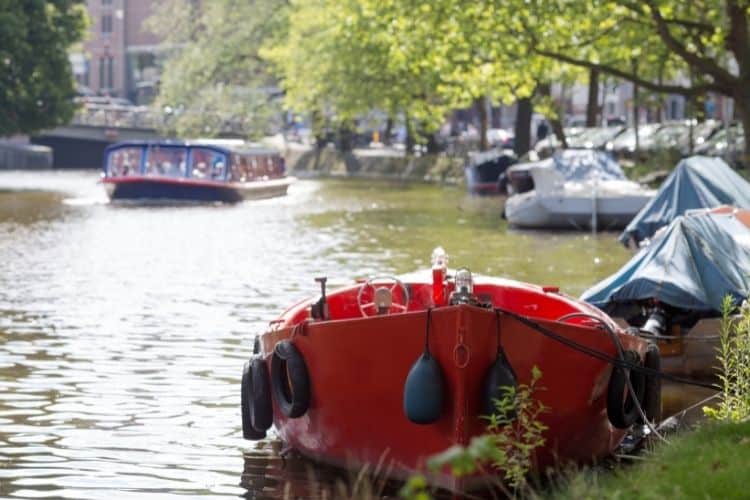 Cleaning
A boat cover will get dirty from time to time. Some makers will give instructions on how to clean the cover when the need arises. However, note that not all covers are cleaned using detergents, and you can't machine wash the cover. Make sure you read the cleaning guide if you want your boat cover to serve you for long.
Color
Boat covers come in different colors. Still, even though the colors are good and appealing, they have a downside for your boat. If you happen to buy a boat cover that discolors under extreme conditions or moisture, your boat's finishing will get damaged, which will cost money to restore its color.
It's important to understand that water-resistant paint is quite expensive. Check on reviews from other users to ascertain that the cover doesn't discolor.
Best Boat Covers: Our Exclusive Top Rated Boat Cover Picks
As mentioned above, boat covers are categorized according to several features. Therefore, our review focuses on the best boat covers by price, durability and use.
StormPro Boat Cover: Best for Boats with Consoles (Center)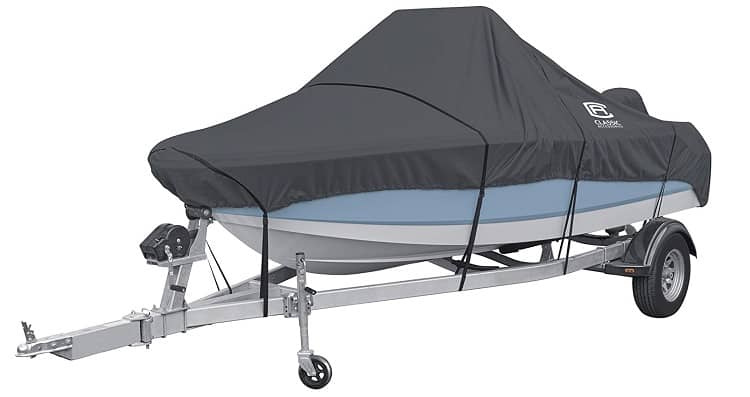 If you want to protect your valuable investment, you have to put an extra effort into finding a dependable boat cover. That's why we bring you the StormPro boat cover, which is considered the best cover for boats with center consoles. It has woven polyester and comes in one color, charcoal black. The boat cover stretches finely to cover the essential boat accessories, including the outboard and lights.
It's coated with a water-repellant which makes it an excellent choice for wet weather protection. Another serious element with this boat cover is its ability to stay rigid, meaning it doesn't stretch or shrink. To stop rainwater from pooling on this cover boat, the maker provides support poles that reduce degrading. With the two air vents at the back, moisture can escape the cover, ensuring it stays dry.
The cover has buckles and elastic straps, which help keep the cover in place and secured to the trailer. The size ranges from 14 to 16 feet long by 90 inches wide to the biggest cover, which measures 22 to 24 feet long by 116 inches wide. Depending on the size, this cover boat will cost you between $144.99 – $369.99.
Pros
It comes with a center pole to protect against over-pooling.

It keeps the boat dry regardless of the weather.

The cover is water-resistant.

It's trailerable.

High-quality material and works well with many boats.

If you buy the right size, it will fit and work perfectly.

It's lightweight and durable.

Easy to fit.
Cons
Doesn't protect against UV lights.

Not suitable brand-new boats according to the manufacturer.
The Budge B-621-X4 Boat Cover: Best Prime Boat Cover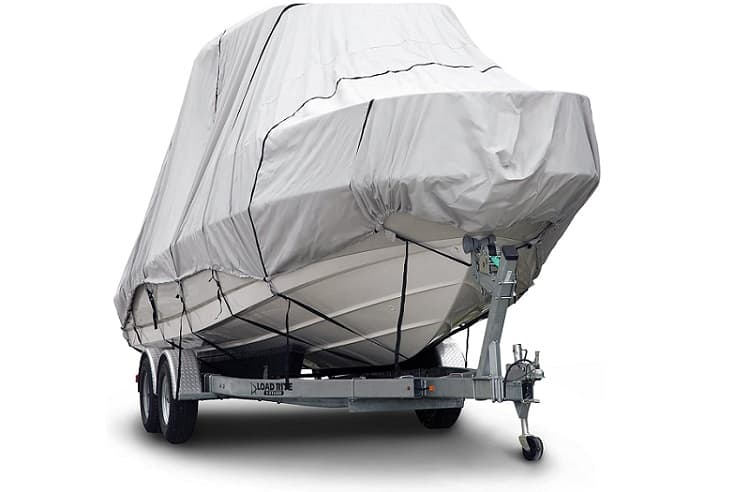 Many boat cover manufacturers seem to lean towards ensuring your boat stays dry. It's not any different with the Budge B-621-X4 boat cover, which is water-resistant and comes in only a grey color. Its marine-grade waterproof repellant protects against rain, snow, sun, and heat.
Hence, your boat's body and paint are fully and maximumly safeguarded against the worst weather conditions. It's breathable; therefore, it protects against any form of condensation or moisture that accumulates when you cover a boat outdoors.
This boat cover is built to stay securely strapped on your boat regardless of whether you're storing the boat indoors or outdoors. It's the primary advantage of this boat cover.
The strapping cords are specifically designed to accrue heavy shocks, especially when trailering the boat. Therefore, you're sure about the cover's durability. With its elasticity, the Budge cover will fit boats measuring 16 to 24 feet long. However, for its width(beam), it's standard and measures 106 inches.
It is made from a heavy-duty 600 denier polyester material that enhances its durability.
Pros
It protects your boat against ultraviolet Light.

Usable for all weather conditions.

The cover is durable.

It's heavy-duty.

Covers all boat accessories, including the outboard.
Cons
It can't fit a boat with a beam measuring more than 106 feet.

It's expensive.
MCS Boat Cover: Best Boat Cover for V-Hull Boats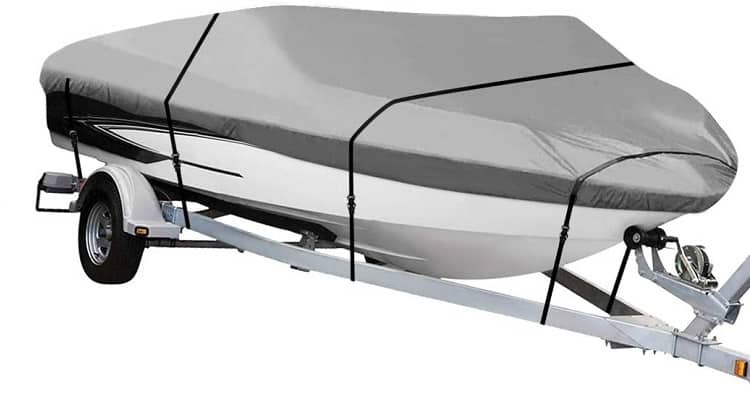 If you're searching for a high-quality V-boat cover, be assured that you won't find another model like the Nexcover boat cover. Most times, V-boat owners want a boat cover suitable for their boat without limitations in their size.
That's why manufacturers will go the extra mile to provide you with quality elastic covers. We can't emphasize the importance of a sizable boat cover chiefly because boat model sizes will never be the same.
This is because it's unfeasible to expect manufacturers to make covers that strictly fit a particular boat model. So, unless the boat maker provides you with a tailor-made cover, you should consider buying a boat cover that strictly fits your V-boat. The Nexcover is a perfect fit, highly rated, and all-weather V-boat cover. It's very thick thus resists wear and tear regardless of the weather condition.
The straps and buckles ensure the cover is well secured on your boat and make the installation process easier. You're provided with a mesh bag for storage, and this encourages its durability. Note that not many cover boat manufacturers provide you with a storage medium. The cover might not have support stands but withstands 2k water pressure with ease.
Pros
It's fully waterproof.

The cover protects the boat under any weather condition.

Shields UV-lights.

It's durable.

Double stitching ensures it stays rigid.

It doesn't stretch.

Very trailerable.

Waterproof.
Cons
Exclusive for only V-shape hull boats.
RV Masking Boat Cover: Best Boat Cover for Bass Boats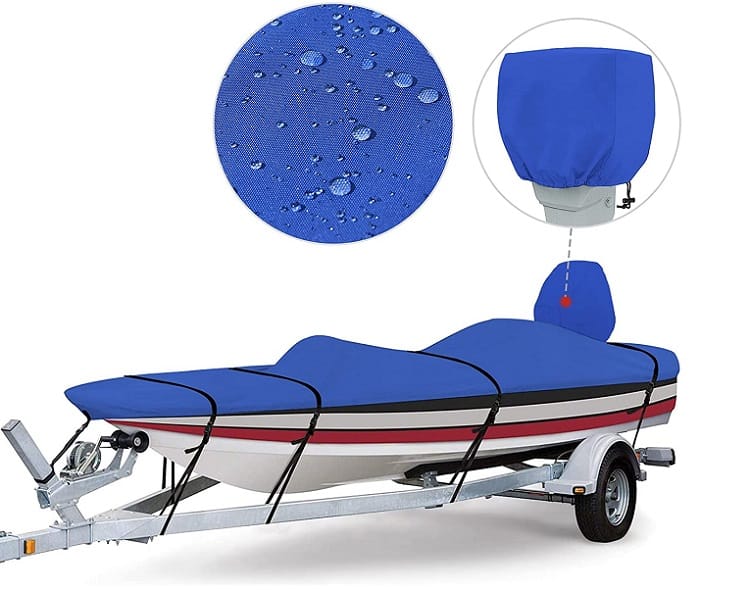 The RV Masking boat cover measures 16-18 feet long and 98 inches wide. It comes in blue color, and it's perfect for most bass or V-hull boats. The most unique and notable feature of the RVMasking boat cover is its three-layered polyester fabric for supplemental protection.
In addition, to ensure the cover stays waterproof, a thin layer of PU coating is applied together with a UV coating for protection against ultraviolet rays.
The new edition premium ribbons and high-quality plastic buckles help keep the cover firmly strapped on the boat, especially when the boat is in transit. It has a ventilation system that ensures water vapor doesn't settle under the cover, thus keeping the boat dry.
In some instances, this water vapor can cause unseen damage through corrosion, tempering the boat's design integrity. You're also provided with a storage bag that acts as a motor cover and a three-year warranty.
Pros
Perfect design.

It's breathable.

Windproof.

It's lightweight and portable.

Easy installation.
Cons
It can't fit boats with consoles.
600D Heavy Duty Boat Cover: Best Universal Boat Cover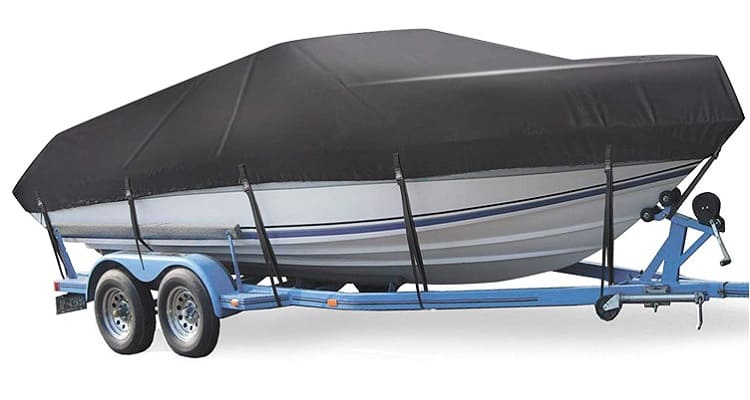 Sometimes, finding a boat cover that fits your boat's design might be impossible. That's why Mancro brings you the 600D Heavy Duty boat cover.
The maker uses oxford fabric, and any sewable joints are double stitched after attaching waterproof strips. This makes the cover rip-resistant and durable. It's perfect for most mid-size boats and will fit flawlessly if you correctly attach the elastic cords to the trailer poles.
The buckles are easy to release, so, they firmly secure the cover on your boat regardless of the wind speed during transportation. Since the cover is water and ultraviolet resistant, this allows you to store your boat indoors or outdoors and under any weather condition. The cover comes with a moisture-proof storage bag to save you space, and you can also fit other accessories.
Note that the cover will only fit boats that have a beam measuring 102 inches.
Pros
Protects against UV rays.

It's heavy-duty and durable.

The cover is compatible with most small boat models.

It's UV resistant and waterproof.

Best boat cover for outdoor storage.
Cons
A bit pricey.

It doesn't cover the outboard.
Seamander Boat Cover: Best Boat Cover for All Weather Conditions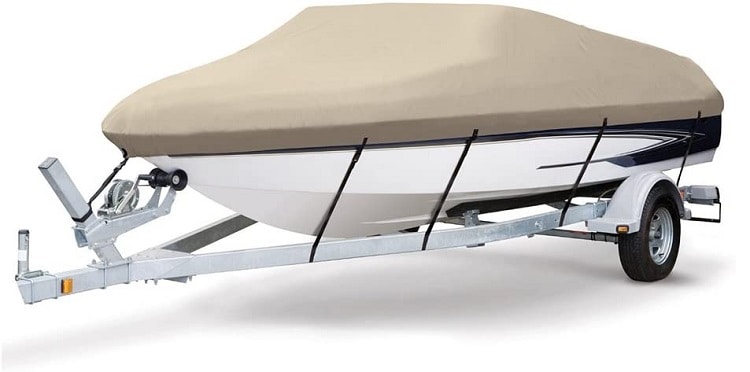 Before buying any boat cover, you need to consider your boat's size to find a suitable fit. The Seamander boat cover is meant for vessels measuring 102 inches wide and 23 to 24 feet long. The manufacturer uses marine-grade material that can withstand any weather condition. Whether it's snow, wind, or heavy rain, the cover can protect your boat.
The cover comes in different colors, and it's fitted with anti-ultraviolet properties to protect it from dangerous sun rays. With the Seanabder, the maker uses a unique dyeing process that helps ensure no discoloration occurs, mainly if you store your boat outside.
You are guaranteed that no color marks will be left on your boat. With its 11 straps and an elastic hem, the cover remains well secured on your boat in high wind.
It comes with a two-year warranty, and you can return the product in case you're dissatisfied in any way. It is suitable for bass boats, v-hulls, the tri-hulls fishing skis, just to mention a few.
Pros
Protects the boat under most conditions.

Fits different boat models.

Comes in different colors.

It's tearproof and durable.

The cover doesn't discolor.

Its price tag is fair enough.
Cons
The Vingli Boat Cover: Most Rugged Boat Cover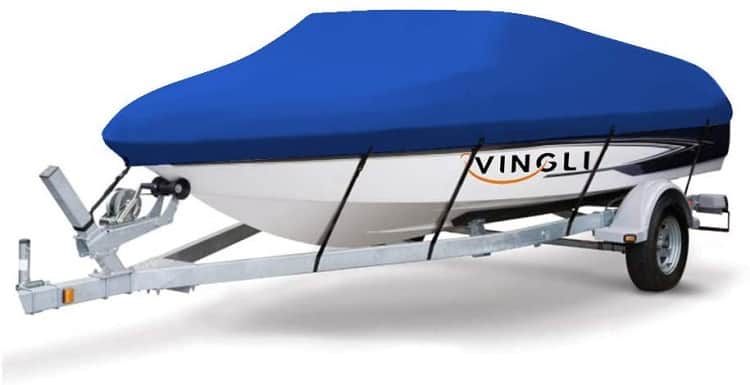 If you want a boat cover that's sturdy and strong, the Vingli boat cover should top your list. Vingli is known and trusted for its quality boat products that will serve you for a long time. It's not any different with this cover which is perfect for boats measuring 102 inches wide and 19 feet long. It's made from 600 denier polyester that ensures the cover doesn't tear from any strains, thus making it all-weather.
The cover is designed to fit boats with windshields and outboards at the stern. All sewed edges are covered with a waterproof adhesive to ensure rainwater doesn't penetrate the cover.
Also, you're provided with buckles and adjustable straps to give you an easy time during securing and release. You'll find two vents at the rare that help to eliminate moisture.
Pros
It doesn't discolor or stain the boat.

The cover is UV resistant.

It's solid and durable.

It's double stitched.

Waterproof.
Cons
Vinpatio Boat Cover: Best Boat Cover for Fishing Boats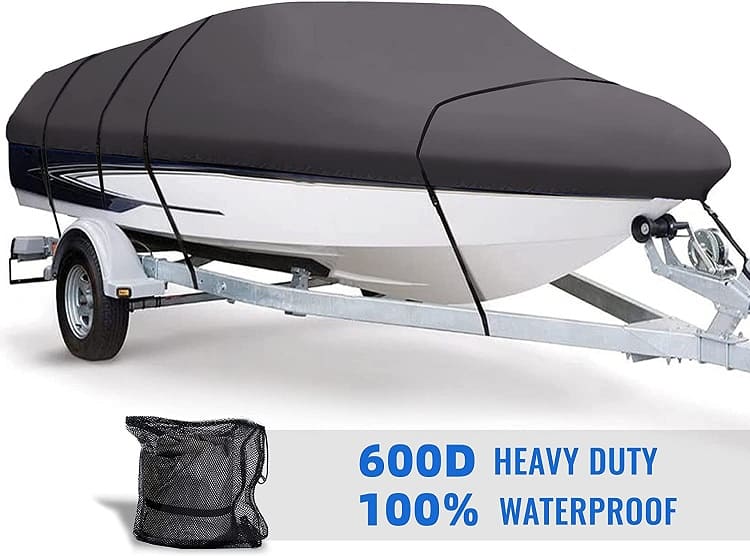 This trailerable boat cover is perfect for boat owners who own bass or fishing boats. The cover's maker has designed the Vinpatio boat cover to withstand at least 2000 pascals of pressure. Therefore, regardless of the rains, the cover will maintain its integrity and protect your fishing boat.
The firm and adjustable straps enable you to move a size down in case your boat is smaller. The manufacturer ensures that all joints are double sewed to avoid leakage and tearing, a standard mark of quality.
Its thickness and material quality are perfect for extreme cold weather so, it doesn't crack. A mesh storage bag is provided to keep the cover dry during storage. With this boat cover, you can buy it with confidence since the manufacturer assures you of a refund if it has a defect or doesn't fit the boat.
Pros
You can use it when trailing your boat.

It's water-resistant.

It's a marine-grade boat cover.

The cover is quite thick.

Guaranteed refund.

It fits boats with windshields.

It covers the motor.
Cons
There are not enough straps.
Vortex Ultra Bolt Cover: Best Boat Cover for Pontoons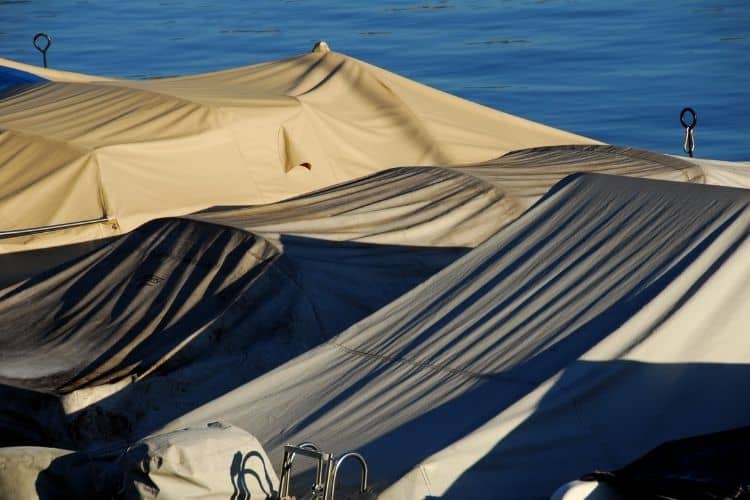 With a Vortex product, you'll never go wrong. This heavy-duty cover is manufactured using marine category canvas that makes certain it's long-lasting. However, you get a five-year warranty; note that the gross price and how long the cover lasts correlate. Therefore, if you buy a cover worth $80 with a contract worth six months, that's how long the warranty will be valid.
The Vortex ultra bolt cover is strictly designed for pontoons with consoles, long decks, and windshields. It has elastic bands and straps that are well stitched at the attachment points to keep it firmly secured. This boat cover comes in beige, tan, and khaki colors that provide buyers with options.
Pros
It's big enough to envelop a pontoon.

The cover is long-lasting.

You can buy the warranty.

It doesn't tear easily.

Covers the motor.
Cons
The price is on the higher side.
PrimeShield Boat Cover: Best Boat Cover for V-Hull Bass Boats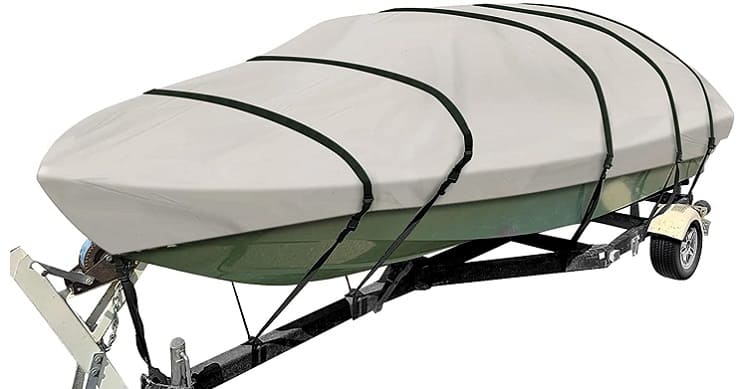 This boat cover is meant for those who live close to the water and leave their boats in the docking area. This is because it's intended for long-term storage, which can be perfect if you don't intend to use your boat for a long time. The PrimeShield boat cover is best for boats with V-Hulls, according to the design. It's completely waterproof and will protect your boat from snow to dust.
Something unique with this cover is its loop locking system which secures the cover and the boat. The cords can absorb big shocks, particularly during transportation. Its high-density stitching eliminates the likelihood of the cover ripping or stretching. The elastic hem allows fast dressing and removal.
Pros
It's UV Protected.

Offers a360 degree shielding of your boat.

The cover easily folds for storage.

Snow resistant.

The cover and buckles are all double-stitched.

It's very durable.
Cons
It's not a universal fit for other boat models.
Frequently Asked Questions (FAQs)
Question: Do I Need a Boat Cover?
Answer: If you value your boat, then you should get a boat cover. Boat conditions deteriorate with time, so to minimize the rate, ensure it's covered. This is regardless of whether you're storing it inside or outside. This will help protect the boat from rain, dust, rodents, and the sun.
Question: How Do You Clean a Boat Cover?
Answer: The best way to clean your boat is by using clean water and a sponge or the softest brush available. You can use a bit of gentle detergent but never the strong ones.
Question: What is a Mooring Boat Cover?
Answer: A mooring cover secures the whole boat from the consoles, windscreen, outboard, deck, and hull. They are made from either PVC or fabric.
Question: Does Rain Damage a Boat?
Answer: Some might argue that since it's a water vessel, a boat can't get damaged by water. But it's quite the opposite since rainwater has the potential to damage your boat's interior and motor. Also, the boat might experience long-term damage because of corrosion.
Question: How Long Should a Boat Cover Last?
Answer: Most canvas boat covers have a six to seven years life span, but the conditions under which it's put will determine its durability. Even then, boat covers are prone to normal wear and tear.
Question: Do I Need to Warm My Boat Cover First During Winter Before Strapping on My Boat?
Answer: It's advised to let the boat cover bask in the sun for a few minutes before fitting it on your boat. This helps it unfold naturally since rigidity is reduced.
Conclusion
If you're wondering how to find the best boat cover, don't worry. With hours of research, we've put together a long list of premium boat covers and a complete guide to help you come up with a level-headed decision.
However, we understand you could need to be pointed in the right direction, or you need some help to resolve this decision puzzle.
We confidently recommend the Budge B-621-x4 prime boat cover. It's marine-grade and protects the boat in all weather conditions. The cover is a mooring type so it covers the whole boat.
The manufacturer uses a heavy-duty material that doesn't crack when frozen during winter. It's breathable and to keep the boat cover well secured when trailering, the strap and buckle system is designed to absorb shock. The boat cover is durable and fits a variety of boat types and models. With this Budge prime boat cover, you can't go wrong.
Looking for more interesting readings? Check out: