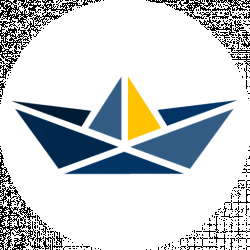 Latest posts by Jeanne Murugami
(see all)
There are must-have components that all boating buffs should have. And among these components are boat cleats. Whether you are hoisting a sail, towing a dingy, or docking your boat, getting reliable, sturdy cleats is a well-thought-out investment as you'll need to tie your vessel up from time to time.
Getting one of the best boat cleats will guarantee peace of mind knowing your craft isn't swaying aimlessly around or away from the dock but is instead secure. In other words, they allow you to quickly and effortlessly secure your boat every time it's not in use.
Nonetheless, a vast array of boat cleats flood the market, with each package offering something different for your anchoring experience. You'll discover them in varying shapes, finishes, colors, and a whole lot of varied features. And for this reason, you must invest in one or more of the best boat cleats that will satisfy your needs accordingly. 
Speaking of, and given the broad assortment of boat cleats out there, finding the best is not as straightforward as it may seem. But don't fret as that's why we're here. In our guide, we'll get you through the daunting task of identifying the best boat cleats and hopefully see to it that you make the correct ultimate purchasing verdict.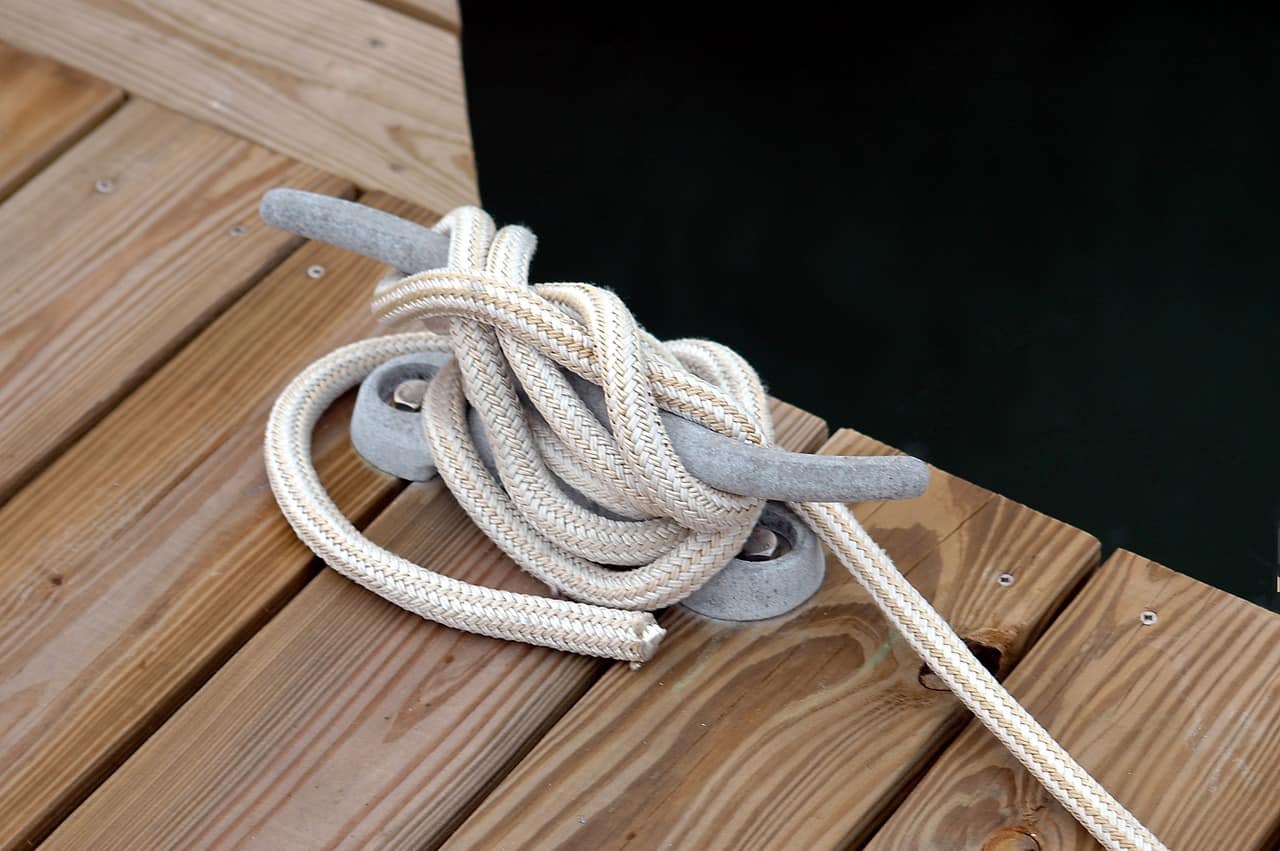 Finding the Best Boat Cleats – Buyer's Guide
Again, buying the best boat cleat can prove to be a real struggle, given you'll have hundreds of choices to pick from, with each offering a differently customized mooring experience. But to help narrow down the options, we've compiled crucial tips to help simplify the task. Below are the vital factors you should look for if you want to acquire the boat cleats.
Materials 
The materials making up a boat cleat will determine how long it serves you. And different models in the market feature varying materials from nylon to aluminum, stainless steel, galvanized steel, and even wood. 
When deciding on the material, first identify what you want the boat cleat for in the first place. For example, a sturdy stainless-steel boat cleat is best suitable for anchoring heavy loads, docking large vessels. On the other hand, a wooden cleat would be better for hanging a fender. They tend to be fancier and more stylish, and you can thus use them as décor for your boat.
Even so, make sure that you pick a boat cleat that's enough for the task. And thanks to the many cleat options out there, you won't have to compromise strength for looks like other products. A stainless-steel boat cleat, for instance, is not only strong but looks stylish as well.
Versatility
Buying a boat cleat that is only limited to boating alone is somewhat of a waste of your money. We would recommend that you consider options that you can use to serve various purposes. You'll come across cleats, which besides docking your boat, can also act as hangers around your home, coat racks, cabinet pulls, etc. 
Nonetheless, there are some cleat models whose design only suits boating purposes. You can consider such if versatility isn't that of a big deal in your books.   
Budget
When shopping for new accessories, you undoubtedly want a product delivering the utmost quality or rather the best value for your money. And this applies to boat cleats too. If your budget isn't strained, always opt for models in the relatively higher price range as most of the time, that translates to better quality.
On the other hand, if you're on a budget, we'd recommend going for the boat cleats you can afford. It's also not surprising to come across relatively cheap boat cleats whose quality matches that of high-end options. Therefore, it's best first to figure out what your budget is in advance and buy accordingly.
But at the same time, boat cleats are relatively cheap in general. You'll find options from as low as $20 and high-end cleats at roughly $100. So even acquiring the best models isn't as daunting as you'd expect.
Size and Placement
In terms of size, it is pretty apparent that how big your vessel is, determines the size of the boat cleat you'll need. It would be best to have a boat cleat, reliable and sturdy enough to withstand the repeated handling of weight comfortably. Luckily enough, the vast array of boat cleats accommodates varying sizes to suit different boating needs.
As for placement, consider placing the boat cleats at regular intervals along the starboard and port of your vessel. Use three cleats on each side at the minimum: at the bow, amidships (for the spring lines), and the boat's stern. Lastly, the more boat cleats you can reasonably employ, the better.  
The 6 Best Boat Cleats
Our review features the best boat cleats by durability, versatility, reliability, and economical value.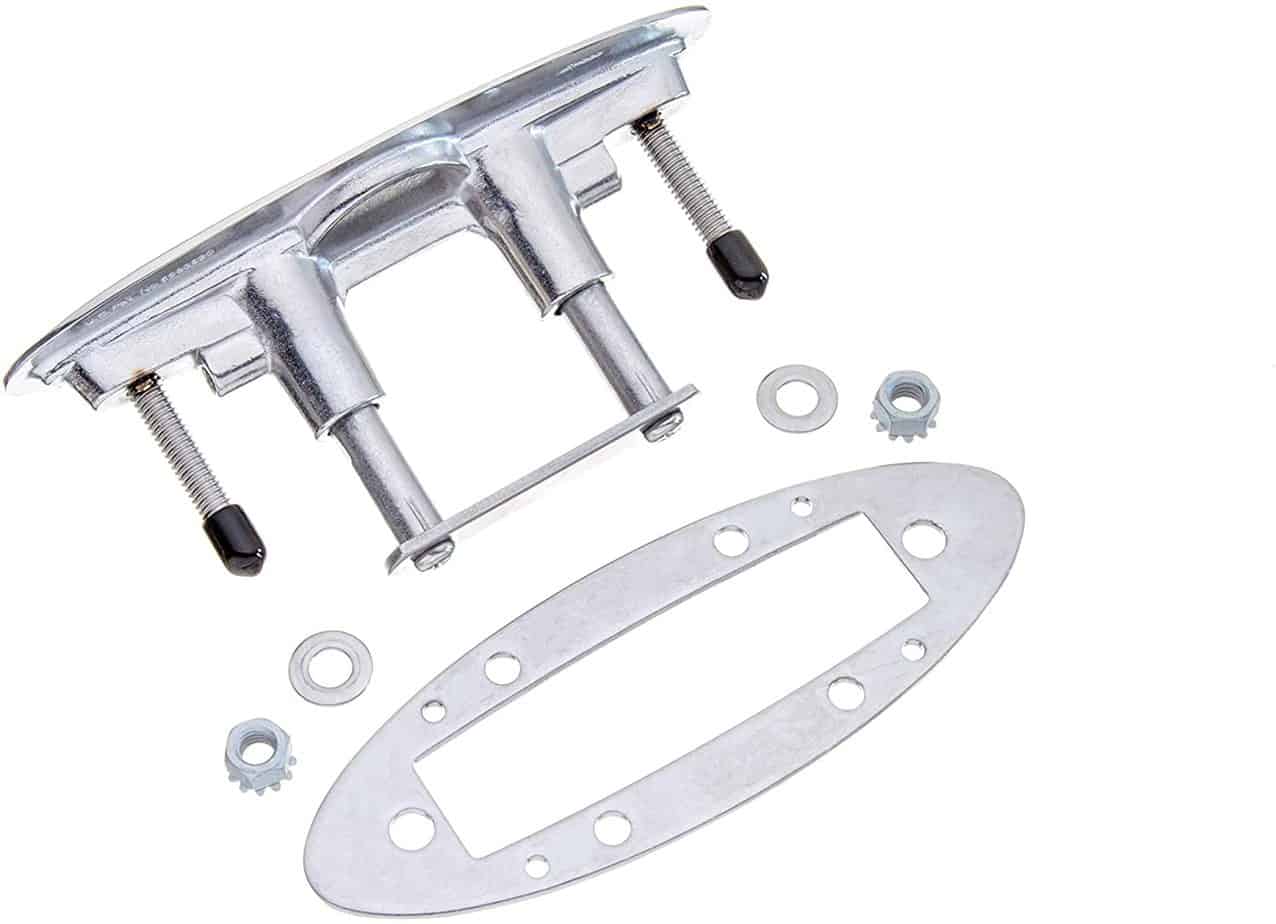 If a top-notch boat cleat is what you are after, the Attwood Retractable Stainless-steel Boat Cleat is a steal for you. As the name shows, it seamlessly retracts out of view anytime it's not in use, and installing it is a breeze.
Regarding construction, this boat cleat features stainless steel. So, other than guaranteeing durability, it's also resistant to corrosion and incorporates drainage receptacles that help it remain dry in marine weather environments. Even after extended periods and regular exposure to adverse marine conditions, it resists rust and retains its stainless luster.
Moreover, this Attwood boat cleat showcases a seamless, smooth contour and comes with a pull-up push-down feature laying slightly above the deck that proves helpful in preventing slip hazards and hitches.  
Pros
Very durable and strong

Solid stainless steel construction

Quick and effortless installation

Low cleat

Lifetime warranty against corrosion

Includes a drainage receptacle
Cons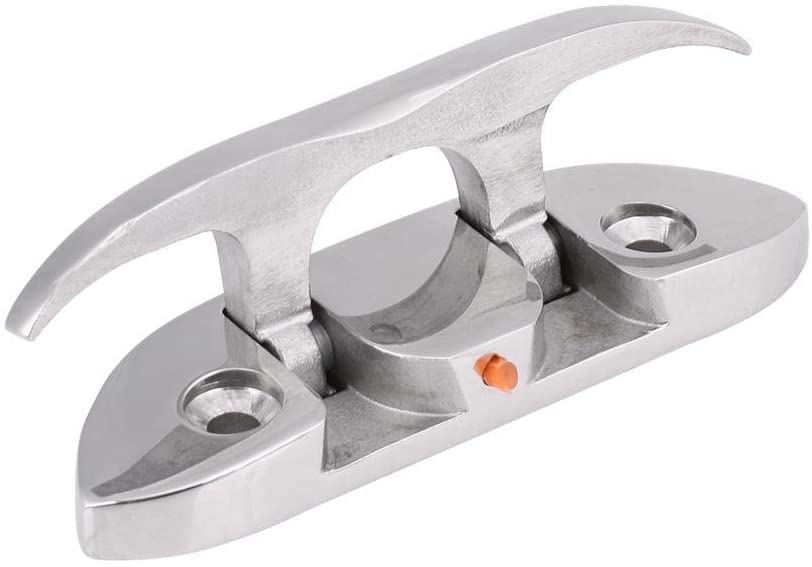 Coming from a reputable brand, the Acouto Folding Boat Cleat is yet another fantastic option we came across. It incorporates sturdy stainless steel and will therefore serve you and your boat for years to come while being reliably suitable for a variety of outdoor uses.
Even more impressive, this boat cleat espouses a no welding or drilling design which translates to hassle-free installation. Swapping it to replace old cleats is as straightforward as possible.
The Acouto boat cleat then swanks an exceptional surface polish for comfortable holding and grabbing. And like all Acouto products, it also passes through the factory's quality control programs that allow the manufacturer to offer a 1-month refund alongside a 12-month warranty.
Pros
A well-polished finish for comfortable grabbing

Features a foldable design

Sturdy and exceptionally durable

Incorporates top-quality, heavy-duty stainless steel

Includes a 1-month refund alongside a manufacturer's 12-month warranty

Straightforward and safe to use 
Cons
May sometimes arrive without fasteners

The Anndason Black Anchor Cleat kit comes as a package of four boat cleats alongside eight stainless-steel bolts. They boast a molded nylon construction, which besides delivering exceptional corrosion protection, also provides outstanding strength. 
Moreover, these boat cleats are effortless to mount and don't need any expertise to install on any of your crafts. They use lightweight components but remain highly sturdy, making them considerable even for heavy-duty usage. 
However, they aren't as sturdy as their stainless-steel counterparts, and hence, they best suit canoes, kayaks, and other small vessels. Their durability is also notable, given their sturdy construction. 
Pros
Exceptional corrosion protection and durability

Lightweight yet sturdy components

Safe to use and effortless to install

Well-polished black finish 

Four boat cleats and eight stainless-steel screws
Cons
Only ideal for small vessels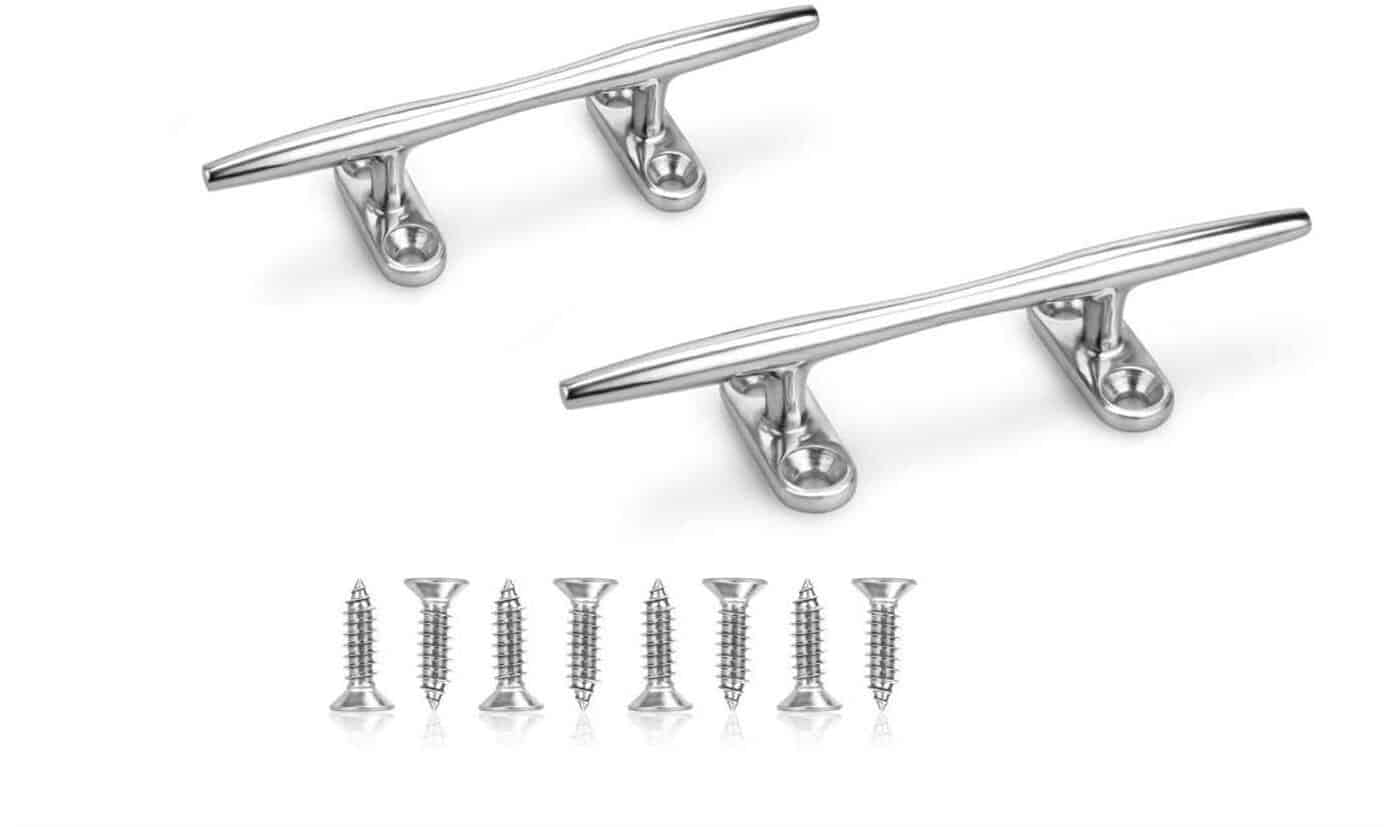 For nearly two decades now, GANGUOLA has risen through the ranks in the boat accessory industry with its top-quality products. And thanks to them, the GANGUOLA Boat Cleat is one of the most reliable cleats out there.
It uses 316 stainless steel for its construction, making it highly durable and practical for the task. It's also anti-corrosion allowing it to withstand whichever marine environment your boat operates on. Besides durability, this boat cleat also displays top-notch craftsmanship that gives it a smooth, sliver-like finish. For this reason, it provides your vessel with a striking appearance while delivering excellent grabbing and touch comfort.
Its versatility is exceptional, allowing it to suit other functions such as working as a curtain hook. The manufacturer also promises a 180-day unconditional money refund in case of any quality complaints or failure of the cleat to meet your expectations. Lastly, the package includes two boat cleats and eight pieces of stainless-steel screws that match perfectly for straightforward and effortless mounting. 
Pros
Top-grade stainless-steel construction

Striking appearance

Delivers exceptional comfort for grabbing or holding

Rust and corrosion-resistant

Excellent customer service alongside an 18-day refund  
Cons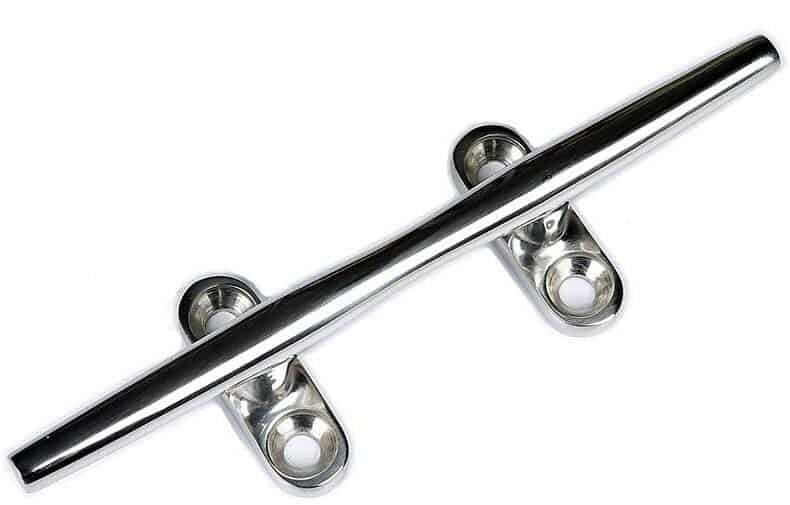 If you need a nice boat cleat versatile enough to execute several functions, look no further than the Thorn Open Base Boat Cleat delivers just that. Besides being an excellent boat cleat, it can also assume the role of a coat rack, towel hooks, accessories hanger, cabinet pulls, etc.
It's pretty chic, allowing it to add to your boat's aesthetic appeal. Thanks to its mirror-like finish, which renders it rust-resistant as well. Additionally, it employs premium 316 stainless steel, making it durable and resistant to harsh weather and heavy-duty usage.
They are available in four size options; 8", 6", 5", and 4", each package including four cleats. Finally, they are effortless to install and espouse an open base design for more convenience.
Pros
Sturdy 316 stainless-steel construction

Reasonable price-point

Executes multiple functions

Convenient open-base design

Impressively durable
Cons
It doesn't include mounting hardware

Not best for outdoor use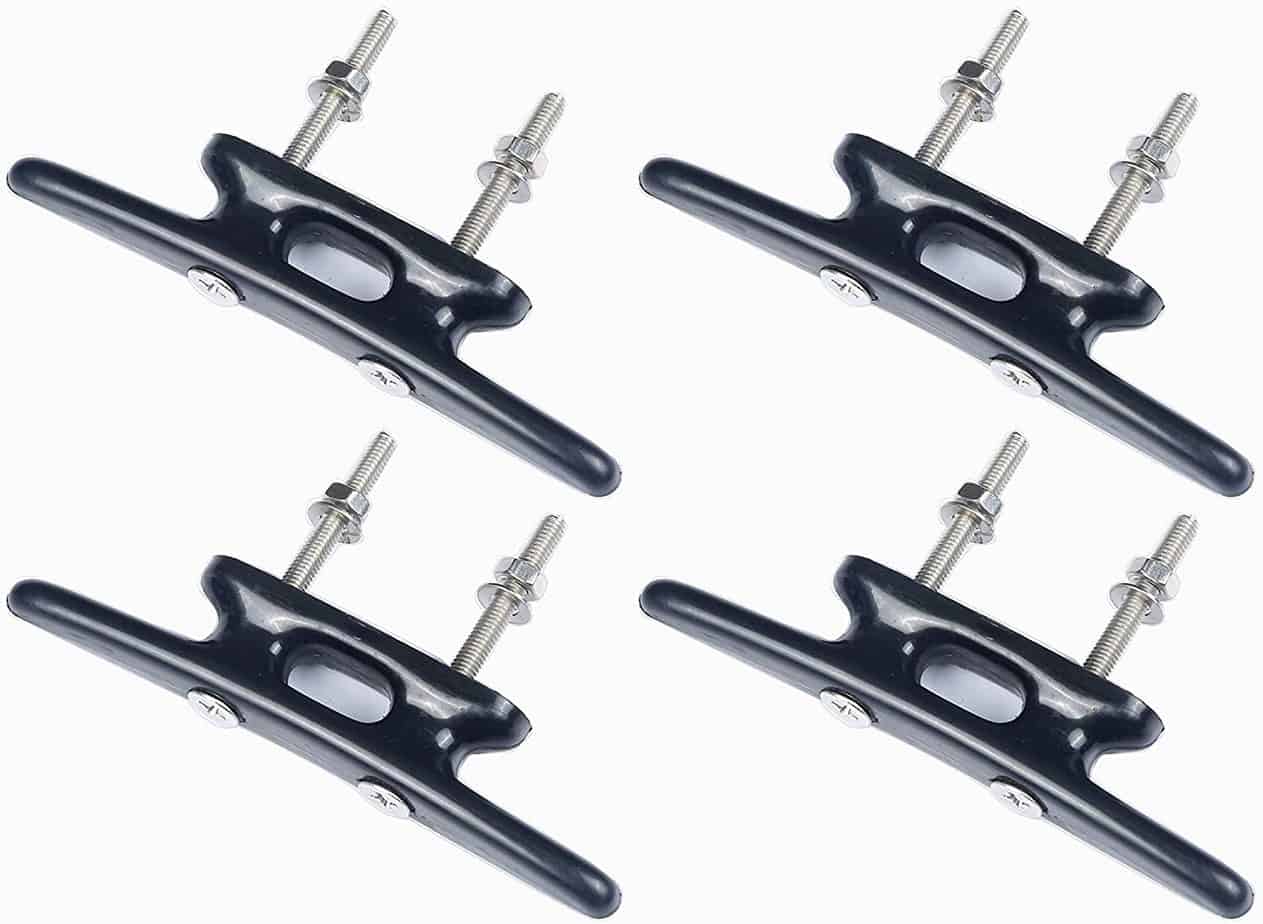 Among the most common boat cleats in the market is the MX 6" Nylon Dock Boat Cleat that comes as a package of four 6-inch cleats, each with fasteners. It's pretty versatile, and besides being a boat cleat, you can use it for several other outdoor recreational purposes and activities. Further, this boating accessory can also assist you in keeping your ropes secure and well-organized 
It boasts a sturdy, top-grade nylon construction through which it delivers ultimate protection and superior quality for anchoring or docking. As a bonus, this boat cleat comes with a smooth surface and black finish that protects the whole structure against rust from adverse weather or seawater. 
Pros
Features a black finish that is weather-resistant and rustproof

Sturdy top-grade nylon construction

It comes at a reasonable price-point

Safe to use and incredibly durable

It offers an assortment of functions

Delivers ultimate protection and superior quality
Cons
Frequently Asked Questions for Boat Cleats
Question: What is a Boat Cleat?
Answer: A boat cleat is a horn-shaped boat accessory that facilitates stable and secure tying of your vessel to the docks. Ideally, a boat cleat should be corrosion-resistant, sturdy, and firmly positioned on the craft's areas that deliver optimal functionality.
Question: Which is the Best Material for Boat Cleats?
Answer: Boat cleats feature diverse materials from galvanized steel to nylon, aluminum, stainless steel, and even wood. We'd advise you to pick the material depending on the cleat's intended use.
Nonetheless, stainless steel remains the best material for veteran boaters who want the best guarantee on their vessel's security. It boasts superior tensile strength, is corrosion resistant and effortless to clean, and showcases an aesthetic appeal that adds a modern, lustrous touch to any vessel. 
Question: Where Can I Buy a Boat Cleat?
Answer: Boat cleats aren't hard to come by as they are widely available from any dealer selling boats and boating accessories. Further, you can acquire any boat cleat from online retailers like Amazon, etc.
Question: How Far Apart Should You Install Boat Cleats?
Answer: The number of cleats you need depends on your boat's size. When installing your boat cleats, see that you match their location with the dock cleats for a more adapted fit. Generally, try to set them between seven and ten feet apart.
Wrapping Up
Investing in top-quality, reliable boat cleats on your vessel is essential. And considering the nature of the marine environment, we expect some glitches to come up eventually. As such, you need peace of mind concerning your boat's docking security, and nothing guarantees such security better than a well-built boat cleat. 
To sum up, all our six cleat choices above are nothing but impressive. Our top pick, however, is the Attwood Retractable Stainless-steel Boat Cleat. It's sturdy, of high-end quality, and delivers everything you'd expect from a top-tier cleat. 
For more interesting readings check out: