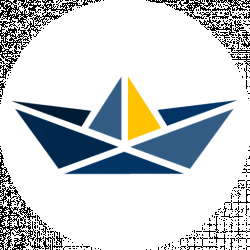 Latest posts by Jeanne Murugami
(see all)
Boaters are adding equipment on their bass boats that will add an advantage or increase efficiency on the water. Here we'll look into this topic further and give you more information that can help you as you're choosing a trolling motor.
Before we move on, what is a trolling motor?
In a simplified explanation, a trolling motor is a small outboard motor that uses batteries as the source of power instead of gasoline. It reciprocates the outboard, and it's fitted at the bow or transom. To use it, you have to first lift the outboard from the water.
A trolling motor primarily helps keep a boat stationary when angling, and it's not used that much for moving a boat. This is mainly because of its size, which isn't proportional to most flat or bass boats.
Don't get it wrong; it will help troll your boat, but with so much strain, it won't do it for long because it will drain the battery. The most important thing you need to know is that you can't have a trolling motor in place of an outboard.
MotorGuide: Top 10 Trolling Motors Guide
First, let's take you through a few features you should look out for in a trolling motor before making a purchase. These are shaft length, thrust, weight, battery, power consumption, and mounts. You also have to check whether it's for fresh or salty water and if it's fitted at the transom or bow. 
Therefore, our review features the best trolling motors by performance, price, and build.
MotorGuide R3 940100140: Most Versatile Trolling Motor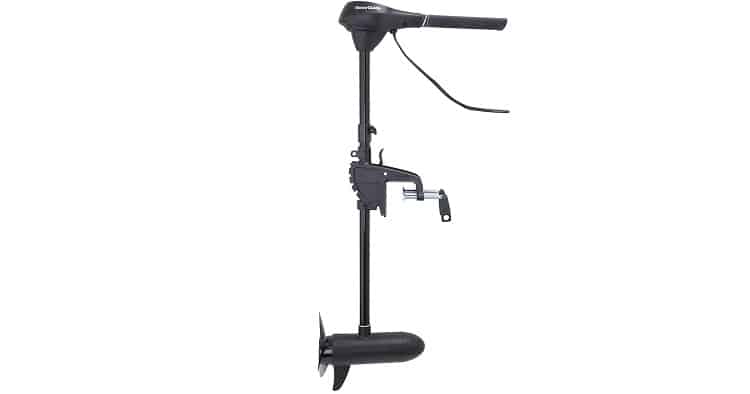 Among the top trolling motors, you'll find the MotorGuide R3 940100140. All its hardware is made from premium solid stainless steel and aluminum, making it suitable for salty water. It's very efficient and delivers a 40lb thrust which can troll a 2250lb pontoon boat.
To figure out how much thrust you need in your trolling motor, you need to know that every 2lbs of thrust is directly proportional to 100lb boat weight. The R3 series uses a 12v battery connected to an LED meter to help you learn the battery's charge level.
The battery is connected to a circuit breaker (50 Amps) to protect your motor from sudden power surges in the system. Its high-quality design allows the motor to operate for twelve straight hours without overheating.
It comes with a 30-inch control shaft which is adequate for most bass boats. The trolling motor design means you only fit it at the transom.
If you're wondering about its speed, the trolling motor has a four mph top speed, which comes from its five forward and three reverse speeds. Therefore, the MotorGuide R3 Newport trolling motor is an excellent fit if you're looking for a trolling motor with low-end torque.
Pros
High performance.

Very reliable.

The motor's safety is optimum.

It's easy to set up, use, and adjust.

The motor is versatile and robust.
Cons
It doesn't incorporate a remote control.

The motor casing can rust.
Hawsing Black Trolling Motor: Best Trolling Motor for Fresh Water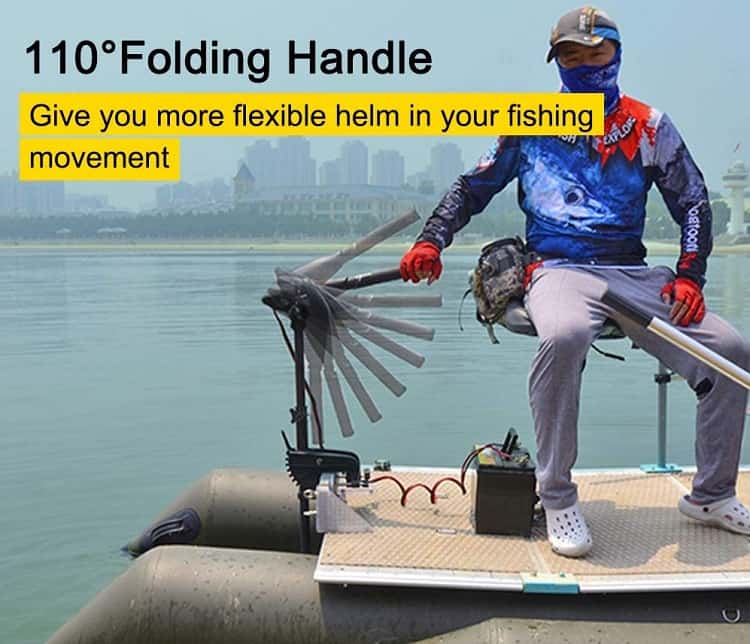 The Hawsing Black trolling motor alludes to superiority and sturdiness. It's designed to offer ideal performance for bass boats and other small water vessels. The motor has a 35.5-inch shaft which is easily adjustable and makes its steering stress-free. You can tilt the motor in and out of the water depending on the water depth you're fishing in.
This is particularly vital for onshore anglers since it's where you're bound to find some interesting fish species. Also, it's possible to adjust the shaft's height using a lock, and for this trolling motor, it's mounted at the transom or stern.
It has eight speeds and produces 55 lbs thrust, which is enough to keep your boat moving. Through the years, the manufacturer has engineered a motor that runs quietly.
This ensures it doesn't scare away the prey or fish when approaching where they live. Even though the motor is designed to be used in freshwater, the maker states it can be used in saltwater, although you need to clean the blade after use. The battery is fitted with an LED power reader, and a single deep cycle battery powers the three-blade propeller.
Pros
It's solid and durable.

Lightweight and portable.

The troller is very quiet.

Easy to steer.

You can see the battery's power consumption.

It's affordable.
Cons
No foot control.

The battery doesn't run for long.
Minn Kota Riptide: Best Prime Trolling Motor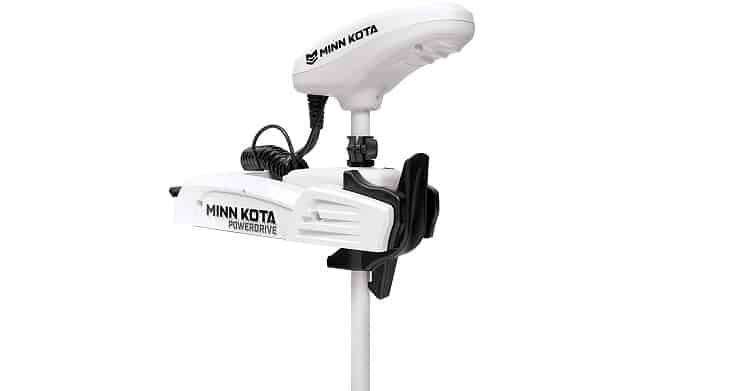 In this trolling motors guide, another great pick is the Minn Kota Riptide trolling motor. It is very modern, and we bet the millennials would enjoy using it. The motor is fitted with three technologies, a digital maximizer, iPilot, and autopilot. The most notable is the digital maximizer, which helps set the speed you want the motor to use.
This consequently lets you control the rate at which the motor is consuming power hence letting you stay on the water five times longer. Using a deploy assist system, the Minn Kota Riptide trolling motor is capable of getting you in and out of the water with ease.
To reach a fishing area, all you need to do is enter your location using the iPilot GPS, and the autopilot will navigate the boat to that exact location. It's perfect for saltwater fishing and measures only 44 pounds.
Minn Kota Riptide manufacturer uses superior quality aluminum to make the whole motor structure. The shaft measures a whopping 54 inches, and the motor delivers 70 lbs, which is enough to handle a 3500 lb boat. Its shaft especially makes it suitable for vessels with extended transoms.
Pros
Incorporates modern technology.

Suitable for big boats.

It's autonomous.

Durable.

It performs great.

The motor is rust-resistant. 
Cons
Garmin Force: Most Expensive Trolling Motor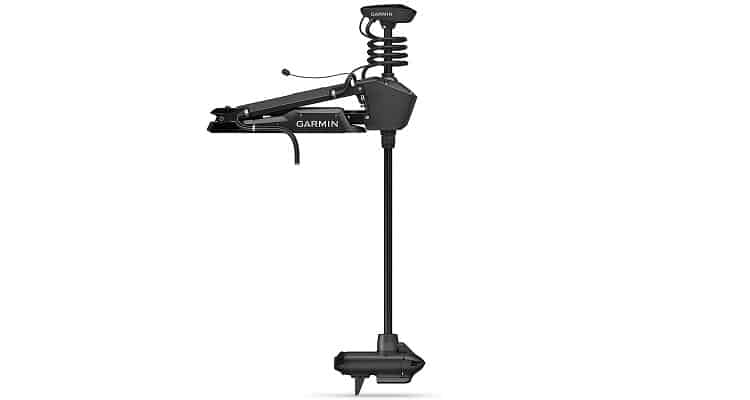 The Garmin Force is pricey but valuable and highly detailed equipment. Thus, you are assured of getting your money's worth if you choose to buy this trolling boat model. Starting with its shaft and thrust, the whole Garmin force system for this trolling motor is designed to be at a 50-50 bar. The shaft measures 50 inches in height, and the motor delivers 50 lbs of power.
There are not many trolling motors that have such a long shaft. This shaft will fit most medium or small bass boat models and allows you to float in both shallow and deep water.
The motor is completely wireless and is designed to provide power and efficiency while remaining extremely quiet. With the Chartplotter technology, you're able to insert GPS navigation coordinates to experience the autopilot function.
If you want to stay stationary, you have to use the remote anchor lock. This motor is fitted with modern and traditional sonars that provide high-definition images and sounds for anglers.
Its incorporation of efficient recent technology helps the trolling motor consume less power and facilitates the battery's durability. Its wireless foot pedal and steering are very responsive, enabling you to control the boat in complete confidence.
Pros
The Garmin is fully autonomous.

So much technology on deck.

Incorporates two sonar systems.

It has a powerful thrust.

The motor has a wireless anchor.

Long shaft.
Cons
The price is astronomical.

It's a bit complicated, so installation problems are common.
MotorGuide Xi3 Trolling Motor: Best Wireless Trolling Motor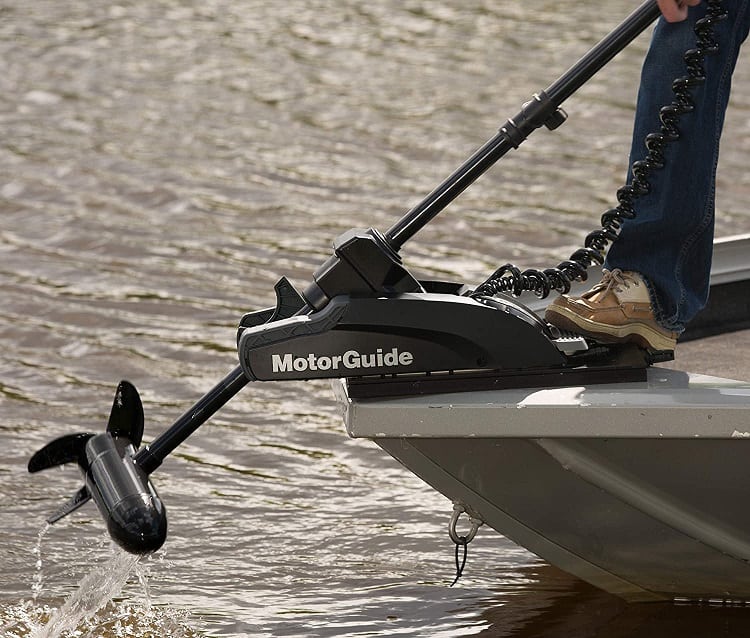 The MotorGuide Xi3 wireless trolling motor is designed to offer users uncomplicated handling. It's pretty powerful and produces 55 lbs peak thrust, which is a powerful force for large-capacity boats. With that amount of thrust, you'd expect it to make a lot of noise, but the motor is quiet – even when at full throttle.
Anglers can use this motor for fishing in both freshwater and saltwater, which shows its versatility. The maker uses fiberglass for the rods and die-cast aluminum for the heads. This makes it hard for it to bend or get damaged when you are out fishing. If its propeller gets caught in weed or algae, a circuit breaker trips and turns off the motor immediately for safety.
The shaft measures 48 inches, and to deploy it, there's a stepping lever to
Pros
It's easy to operate.

The motor can be used in any water.

It has a powerful thrust.

Perfect for medium size boats.

Comes with an LED power reader.
Cons
In high tides, the clamp might break.
Aquos Haswing Trolling Motor: Best Bow Trolling Motor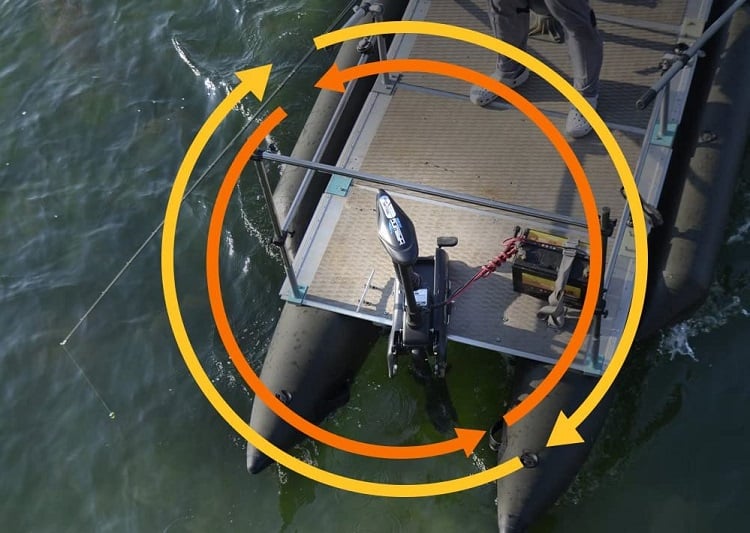 This three-blade trolling motor is among the few models attached at the bow instead of the stern. It encompasses the latest technology, and it's been designed to be quieter than its predecessors.
The motor delivers 55 lbs pure thrust, and the aluminum alloy shaft measures 44.3 inches which is perfect for many small to medium bass boats weighing 2750 lbs. Its wireless remote enables you to control the motor from a 164 ft distance.
This Aquos Haswing trolling motor comes with a cruise-control mechanism which is ideal for keeping your boat at the desired speed. All this is done using the wireless remote control but note that you can't control the direction wirelessly, so you have to do it manually when needed.
The Aquos is the ideal choice if you're looking for a multi-purpose trolling motor since it lets you set up in freshwater and saltwater. The manufacturer uses a sacrificial anode that helps keep the motor corrosion-free.
For easy portability, this trolling motor is fitted with a lifting handle. A peddle is made available to sow and deploy, and you just have to press with either your hand or foot.
Within seconds you'll have your motor in the water and on the boat. You also get a depth collar for adjusting the height of the shaft, and it locks tightly to keep the motor where you want it. 
Pros
Produces high thrust.

It's tranquil.

Has a cruise control option.

Easy to sow and deploy.

The motor is durable.

Its wireless capabilities.
Cons
It doesn't come with an anchor lock.
Minn Kota Edge: Best Cable Steer Trolling Motor
Many boat owners are always looking for a quality, reliable and durable motor that won't have mechanical problems when fishing. An example of such a motor is the Minn Kota Edge trolling motor designed and engineered with an angler in mind. This motor's shaft is indestructible, and the maker assures it will last for a lifetime.
When the shaft experiences impact, it flexes, and to make it better, it's corrosion-free. It's fitted with five forward speeds, and it's controlled with a cable steer connected to a foot pedal. This makes it easy to control the motor's speed while seated while fishing or engaging in other activities. The propeller is quite powerful and delivers a 45lbs thrust.
It uses a latch and door mounting mechanism for easy installation and removal. This trolling motor is designed to be set on freshwater only.
Pros
It's powerful.

The motor runs quietly.

It's long-lasting.

The price is reasonable.

The mount can take enough strain.
Cons
Only suitable for freshwater sailing.
Newport Vessels Series Motor: Best Trolling Motor for Kayaks and Canoes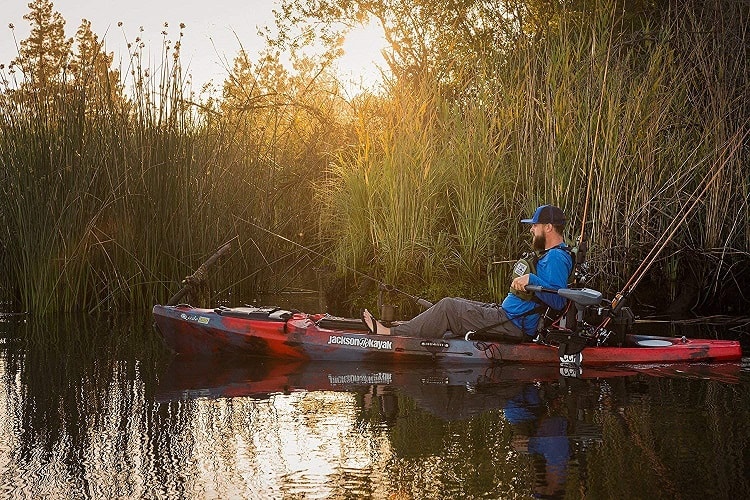 It's virtually impossible to find a sprung-out trolling motor model with a series that accommodates small water vessels. But the Newport replica brings you one of the most valued trolling motors for kayaks and canoes enthusiasts.
Just like most modern motors, the maker is focused on transom mounting. Nevertheless, we wish to let you know that there is an advantage in having a stern motor instead of a bow-fit motor.
If you want the control and precision, transom-mounted trolling motors have the upper hand. The motor works better by pushing the water vessel into those fish-infested areas than pulling them away.
However, this Newport kayak series trolling motor provides you with a 55 lbs thrust which is equivalent to 0.83 horsepower. The shaft measures 24-inches in height, and it's all made from fiberglass and aluminum.
But for the motor casing, it's all stainless steel and zinc, which lengthens its life and is also corrosion-resistant. Its exclusive feature is the long battery cables that enable you to place the battery anywhere on the boat for weight distribution. It comes with a two-year warranty, and with an LED battery power indicator, you'll always know the juice in your motor's battery.
Pros
It's easy to control.

The motor is durable and corrosion-resistant.

It has an LED battery indicator.

The motor is mounted at the transom.

Perfect for kayaks and canoes.

Provides control and accuracy.
Cons
It's only meant for small boats.

No advanced technology was incorporated.
Cloud Mountain Motor: Best Trolling Motor for Saltwater Fishing Boats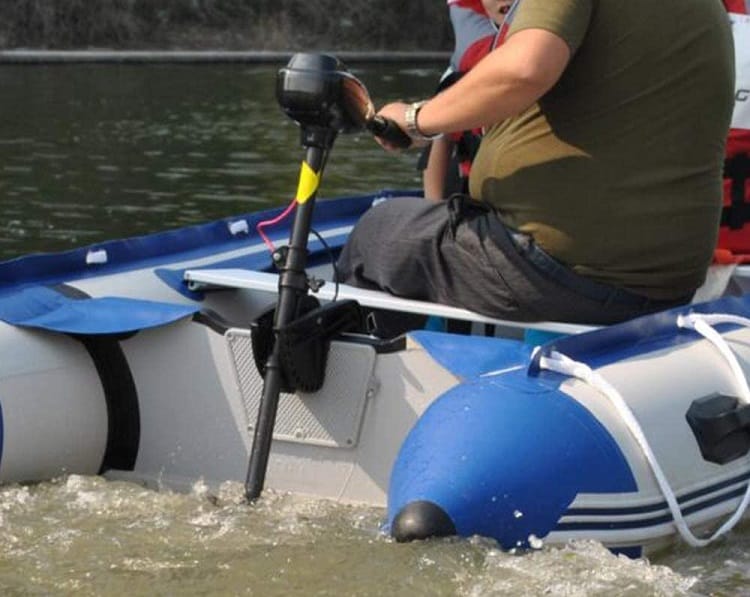 We bring you the Cloud Mountain trolling motor with an 86 lbs thrust which is powerful and efficient. This is because of its propeller's dimensions that remove any form of resistance when it starts trolling. It has an ergonomic handle that comes in 8 speeds and offers smooth and easy control.
You get a 28-inch fiberglass tensile shaft that's rust-resistant and allows you to place the motor at the proper or desired depth while seated. Something to note with the Cloud Mountain's LED indicator is, it only shows the power left and not the battery consumption statistics. The adjustable brackets are ablation-resistant and offer great reinforcement.
Pros
Easy to mount and use.

It's durable and tensile.

Perfect for most fishing boats, kayaks, and inflatable boats.

It delivers excessive power.

They are designed to reduce drag.
Cons
Assembly required.

The tilt mechanism breaks.

Propeller not readily available in case of damage.
PEXMOR Trolling Motor: Best Budget Trolling Motors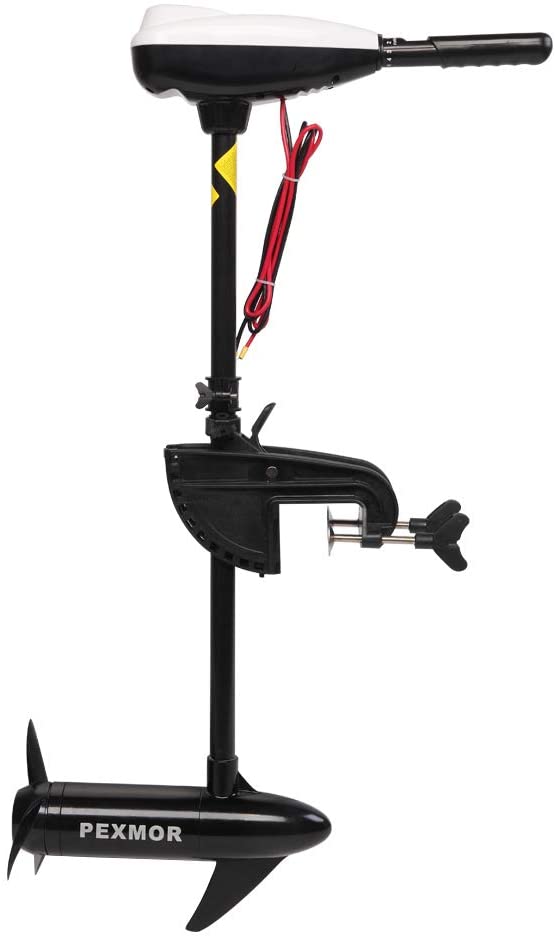 The Pexmor is fabricated using high-quality engineering and material to facilitate easy and secure fishing on saltwater. Its motor is corrosion resistant, and the maker goes a long way into ensuring the motor maintains its durability.
The PEXMOR trolling budget motor has an adjustable telescopic handle that lengthens or shortens depending on your requirements and comfort.
However, just because it's a budget trolling motor doesn't mean it's a substandard accessory. The Pexmor produces 86 lbs pure thrust, which is enough to move a sizable boat. It has eight speeds that enable you to sail with tranquility. The motor is best fitted at the transom and has a shaft that allows you to make an angel or depth motor adjustment.
With the LED battery indicator, you're able to keep track of your battery's capacity and realize when to charge it next. The propeller has three main sharp blades and an extra that easily cuts seaweeds or algae. It's vital to watch the propeller and ensure that the unwanted matter doesn't cover the whole motor.  This causes motor and blade damage.
Pros
Double propellers.

You get more thrust for less money.

Its price tag is fair.

The motor has a sensitive throttle.

It has plenty of power.
Cons
You have to change the battery cable to achieve maximum thrust.

The motor might be too fast for anglers.
A Complete Trolling Motor Guide: Factors to Consider When Buying a Trolling Motor
Doing your due diligence when buying a trolling motor is a must. It's the only way to acquire a motor type and model that will serve you according to your needs. Hence, let's check out some essential factors to deliberate on before breaking your bank for a purchase.
Thrust
Physicists refer to thrust as a push towards a specified direction and at a particular force. For trolling motors, the idea is to keep the water vessel in a certain angling area without the excessive thrust that comes with an outboard.
Thus, if you're going to buy a trolling motor, it will depend on your vessel's size. You should note that more thrust is always better, but every 2 lb thrust should move 100 lbs vessels for an average angling boat.
Mounting
Trolling motors are mounted in three places on a boat, the stern, bow, or transom. Motors fitted at the front have different functions and effects than motors fitted at the bow or front. That's how trolling motors are categorized. Therefore, you have to realize the function and why you need the motor. From that point, choose the best trolling motor that fits you.
Shaft
The shaft comprises the whole control system and motor, and without a sturdy system, your motor is as good as dead. The shaft's length is the determinant towards a smooth and easy control of your boat. These shafts come in different sizes and that is why the shaft's size should be proportional to the size of your boat.
Power Consumption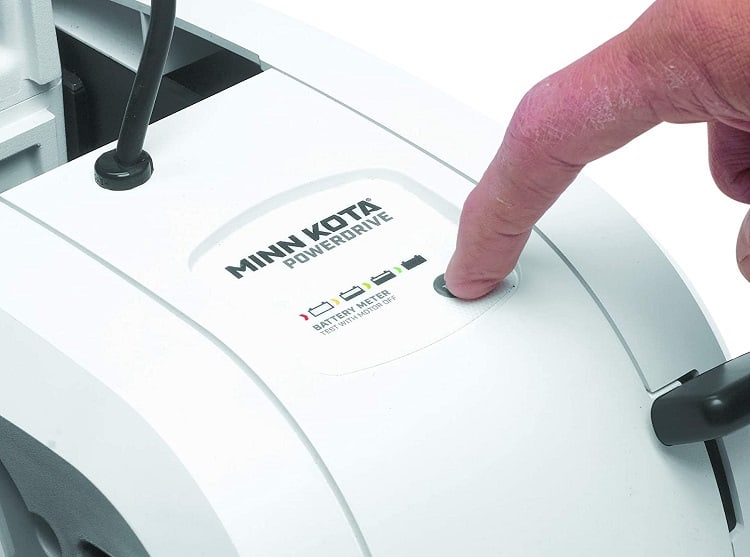 The technology incorporated in a trolling motor determines the amount of power it will drain its battery. Today, most advanced trolling motors consume less power and will keep you on the water for long compared to the more traditional motors. Thus, you need to deliberate on the motor's power consumption before buying one.
The Waters You Intend to Sail
A trolling motor can either be used in freshwater or saltwater. However, for some saltwater motors, you can set up on both. Therefore, realize the water you want to fish or sail on because the motors aren't the same. 
Extra Features
GPS, sonar, and fish finders are just some of the many extra features you will find in a modern trolling motor. These extra features are meant to give the user an easy or tranquil time when using the motor. Hence, ensure you check whether it's incorporated with the latest features since it improves its functionality.
Frequently Asked Questions (FAQs)
Question: Why Do You Need a Trolling Motor?
Answer: If you own a kayak, canoe, or any bass boat, then you need a trolling motor. This motor is used by anglers to aid in keeping their boat at one spot while fighting wind and currents to enable you to fish in peace. Many will say it's a mechanical anchor.
Question: How to Choose a Trolling Motor
Answer: If you're an angler, it's vital to understand how to choose a motor. To balance the motor's thrust and the boat's weight, you should consider the following proportionality. Under typical sea and weather conditions, a two thrust motor should troll a boat weighing 100lbs. Therefore, if a boat delivers 55lbs, it should handle a boat weighing 2750lbs.
Question: Can a Regular Battery Run a Trolling Motor?
Answer: That's impossible because trolling motors run best using a deep cycle battery. If you try using a standard car battery, then the motor will get damaged.
Question: Does a Motor Lose Power?
Answer: Sometimes, trolling motors tend to lose power when connections are not made properly. Being an accessory that needs cable installation, you must ensure the terminals and any terminated part are firmly fitted. But before making any connection, it's vital to undertake a cable continuity test to make sure the cables are okay.
Conclusion
Meticulous research is required when purchasing any product, and it's not any different with trolling motors. Knowing that you're bound to find diverse models on the market today makes this information critical. 
The Minn Kota Riptide trolling motor brings you a technologically advanced motor with unbelievable features. Whether it's determining a location, deploying the motor, everything is meant to ease your angling experience.
What makes it a better choice is that it's multi-purpose, so you can use it in freshwater and saltwater. With 70 lbs thrust, you are assured that it won't disappoint you, especially if you own a medium-size boat. 
Looking for more interesting readings? Check out: