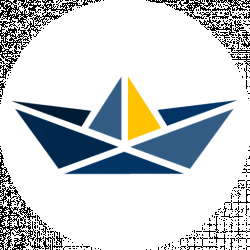 Latest posts by Jeanne Murugami
(see all)
Every boating enthusiast is aware of how persistent water tends to be sometimes. Somehow, it finds a way to breach even the best and most sealed hulls, maybe through a leak or a few rogue waves. And although a small water puddle or a bit of rain won't sink your vessel, it might accumulate to critical levels altering your boat's stability. Of course, no boater wants that.
Well, this is where an ideal bilge pump comes in to keep your vessel running true and water-free. In this guide, we'll help you get yourself one or some of the best bilge pumps in the market.
But before that, let's first understand what makes up the best bilge pump. We'll look at the paramount factors to consider and then recommend a few models worth your bucks. Let's get right into it!  
Choosing the Best Bilge Pump – What to Consider
There's a high chance you'll need to use your bilge pump probably daily. Therefore, you need one that's reliable, made to last, and boasts top-tier quality. 
We've compiled a detailed buying guide covering all vital features you should look for when picking a new bilge pump for your boat. Keep in mind that there's a broad array of these pumps with different brands producing something distinct. In other words, you'll come across bilge pumps with varying strengths and weaknesses.
But after reading our buyer's guide, you'll be well equipped with relevant information, and finding the best pump for your boat will be a breeze. Without further ado, let's proceed!
Boat Type
Assuming you're in a small vessel using an outboard engine, it's less likely that you'll require an electric bilge pump. The reason being, a simple hand pump will do just fine in taking out any accumulated water.
For relatively larger boats like ski boats, for example, you might want to get an electric bilge pump that is submersible in water since such vessels tend to take in more water than their counterparts.
According to the ISAF requirements, people with offshore racing sailboats may have to invest in two bilge pumps. One will operate underneath the deck, with the other running on the cockpit. 
Offshore or coastal boats will undoubtedly require more water clearing capability. And what you can do best in such situations is get an ideal bilge pump for every department that is likely to hold or fill with water.
Boat Size and Flow Rate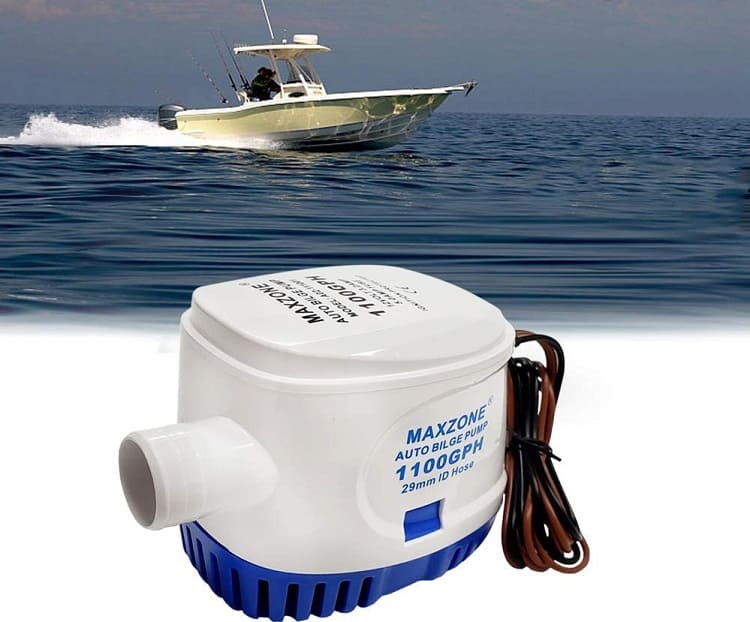 It seems evident that the bigger the vessel, the larger the bilge pump you'll need. That is true, but only to a greater extent as there are other principal considerations as well.
When buying an electric bilge pump, please take note of its gallons per hour figure, typically denoted as GPH. In simpler terms, the GPH is the rate at which the pump clears water in one hour under optimal conditions. You'll find pumps with varying GPH numbers, and hence, you ought to identify one that ideally suits your boat's size.
Boats up to 18 feet will need a bilge pump with at least 500 GPH. For those up to 22 feet, a 700 GPH should do. Vessels up to 26 feet will require large pumps delivering nothing less than 1000 GPH. The more gallons a bilge pump can clear, the better, but investing in two pumps will assure the best results and reliability rather than one. 
You could either have an extensive craft resting low in the water or a small boat sitting very high. The point is, how much freeboard you have matters somehow.
For instance, if your vessel has a low hull volume, the problem of bilge water could prove to be a bigger issue than it would have been on a boat with substantial freeboard. For this reason, getting a powerful bilge pump for a relatively small boat could turn out to be the best idea since you'll want to get rid of that dangerous bilge water as quickly as possible.
Water Compatibility
The type of water you will be sailing on is yet another paramount factor to consider? If you have a coastal cruiser, opt for a bilge pump compatible with saltwater, as disregarding this could have disastrous consequences.
Take into account that saltwater could badly attack different components through corrosion and rust. And a corroded and rusty bilge pump is as good as not having one.
Even if your boat is on freshwater, we'd still advise you to opt for bilge pumps boasting top-tier components that will handle even the dirty, salty water.
It's not surprising to find pumps sucking in oil at times, which usually sees ordinary models gum up and fail. Strong rubber seals, robust plastic, and stainless-steel fittings are vital components to always look out for in a bilge pump.
Portability
Do you need a bilge pump that's going to be hard-wired and bolted down into your vessel's hull? Or instead, one that's practical enough to use on an array of boats?
Assuming you own a couple of kayaks or boats, then a model that's compact to carry around, effortless to install and remove would make an excellent investment. Even so, keep in mind that a more portable bilge pump could translate to how less potent it is.
Installation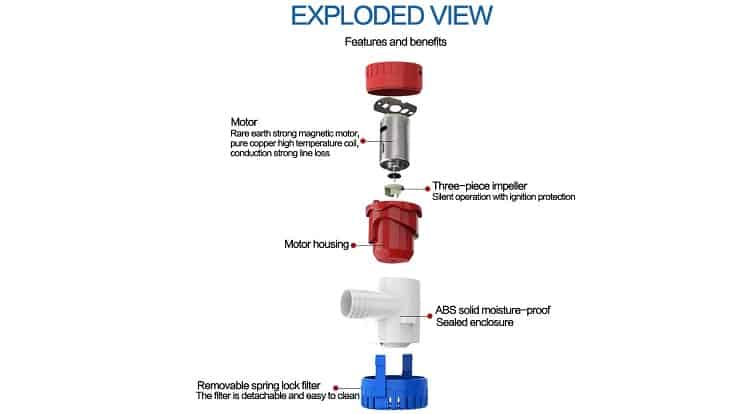 It's also crucial to pick a bilge pump you'll feel comfortable with when installing. Remember, electrics are sensitive and can prove to be dangerous at times.
So, if you don't have the fundamentals of circuitry or feel self-reliant with wiring, consider shopping for straightforward plug-n-play models that don't demand any wild modifications or complex installation to fit your craft's hull. Luckily enough, easy installation and pre-packaged bilge pumps are available in abundance out there.   
Sound and Vibration
It's also essential to check how much vibration and sound a bilge pump makes. It may not be the most vital feature, but regardless, a pump with too much vibration and noise can make you go nuts in the long run. Such models could even make you hate sailing on your boat, and therefore, consider a quiet bilge pump that won't make you go mad. 
Read a few customer reviews and check out for such complaints as no manufacturer will openly state how noisy their machine is. Doing so will deliver better insight into the actual noise levels of a bilge pump. 
Electric Vs Manual Power
Electric vs. manual power? We all know there can't be any contest on which stands out or is better. If you want a pump to clear more gallons of water in a flash, an electric bilge pump is perfect.
Some are automatic and feature float switch sensors that perceive the bilge water level and power up to deal with it instantly. They are an ideal option for people who wish to avoid the hassle of having to power things up manually.
Nonetheless, the float switch sensors aren't 100% reliable, and thus, getting one with a built-in manual switch to power it up when needed is a well-thought-out idea.
But remember, you'll need a power supply to run an electronic model. So, vessels with no power supply, such as canoes, kayaks, and other small boats, can't practically employ an electric model and will therefore require a manual option.
They are usually compact, effortless to install, durable, often inexpensive, and unlike automatic models, don't depend on any sensors or dedicated float switches.
Material and Construction
Generally, most bilge pumps come with constructions featuring ABS plastic. This material is pretty notable in terms of keeping out water from vital components and durability as well.
Additionally, ensure you invest in a bilge pump that delivers reliable protection to the wires drawing from it and the ignition. If you want the best shaft, nothing beats stainless steel in that department. Also, inspect the sealing for safe usage of your bilge pump, especially if you opt for an electric model.
The 6 Best Bilge Pumps
As you're probably aware, bilge pumps are essential pieces of equipment on any boat. When water accumulates in the bottom of a boat, it can lead to serious issues with stability and buoyancy. That's why it's essential to make sure your boat is equipped with an efficient pump for this type of situation. 
With that said, here are 6 of the best bilge pumps available today. Our review features the most efficient, durable and economical bilge pumps.
Attwood 4505-7 Sahara Automatic Bilge Pump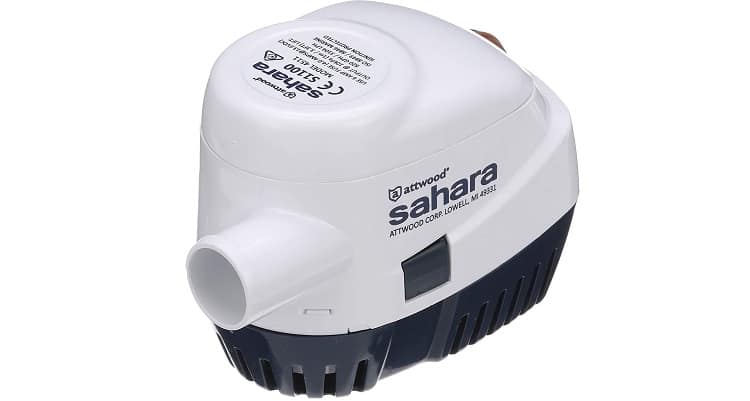 Attwood is a reputable manufacturer swanking cutting-edge technology in the marine industry for decades. Other than top-quality, their products are reliable to boot, with the Attwood 4505-7 Bilge Pump being no different but an ideal pick for boaters after an automatic activation pump model.
This unit switches on immediately after interacting with bilge water and clears out the excess water when necessary, without involving you in the task. Besides being a low-effort solution, this bilge pump demands low maintenance and is reasonably priced.
It's also quite efficient shifting lots of water pretty fast than most counterparts with parallel price points. And with a flow rate of 1100 GPH, it cuts it among the best bilge pumps for larger boats in the market.
The device then includes wire seals, all-around mercury-free switchgear alongside a filter that's practical for sifting out large particles. It also incorporates a 29-inch-long 16-gauge tinned, caulked copper wire that aids installation. As for installation, the process is effortless and quick, with the switch and pump both fitting the minutest spaces.
Pros
High capacity for over 20-foot large vessels

Automated, hassle-free operations

Effortless to install

Reasonable price range

Requires less maintenance
Cons
It doesn't support ¾-inch hoses 
Shoreline Marine Bilge Pump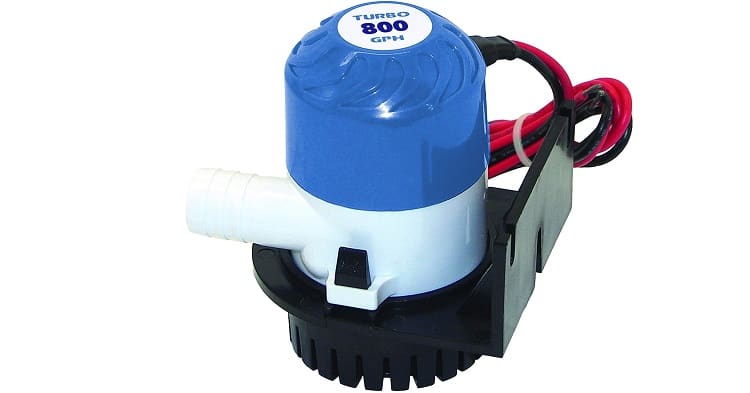 Coming from a renowned manufacturer in the yachting industry, the Shoreline Marine Bilge Pump is a steal for any sailing enthusiast. It comes fitted with top-notch components such as a secure clip that makes it quite user-friendly. Positioning it in the hull is straightforward and with a detachable buckle, removing it from the boat for inspection and cleaning is effortless.
The pump's base showcases a universal design. As such, you'll enjoy several flexible mounting options which make it compatible with many boats. It allows for both side and bottom positioning and can screw on a mounting pad, stringer, or a transom.
Its rugged construction is nothing less commendable. Besides the robust plastic housing, it also employs heavy-duty stainless steel for its impeller shaft alongside other materials able to endure the harshest environments of the marine world.
More than its durability, the Shoreline Marine Bilge Pump's construction also assures the utmost safety. It incorporates ignition protection to protect you from any electrical issues.
As a plus, it uses a low-amp operating current alongside tinned marine-grade lead wires to enhance its safety. Although it's an impressive unit, it has its share of drawbacks, such as slightly weak pressure.   
Pros
Universal mounting system

Effortless to install

Durable, rugged construction

Inexpensive and user-friendly
Cons
Its water pressure isn't that impressive
Johnson Pro-Line Marine Bilge Pump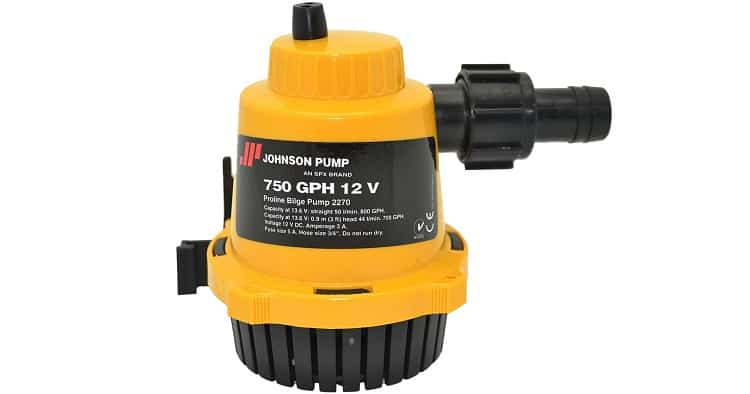 If an all-around bilge pump is what you're after, the Johnson Pro-Line cuts it. It boasts a great price tag, notable statistics with an excellent build quality you'd expect from its renowned manufacturer. It's a manually activated model that arrives in a very compact package, effortless to install, and brags a decent flow rate.
Moreover, the Pro-Line has an adequate output of 750 GPH and is fully submersible. It includes both anti-airlock and ignition protection, which are pretty impressive.
And with a ¾-inch wide outlet, it's compatible with after-market hoses, should you wish to channel the outflowing water to a different location. Besides that, it integrates a base filter that aids in keeping the unit clean.
Since it's a manual model, you'll have to power it on yourself to operate. However, it can still accommodate a float switch sensor if you wish to turn it into an automatic appliance. It arrives backed with a 3-year warranty from Johnson Pumps of America and is pretty affordable to boot.
Before being shipped, the pump is 100% factory tested to pass a thorough quality assurance procedure. Hence, this bilge pump's reliability is unmatched and even makes an excellent replacement for OEM pumps. 
Pros
Anti-airlock and ignition protection

3-year manufacturer's warranty

Impressive 750 GPH pump capacity

High performance with low maintenance

Inexpensive
Cons
MAXZONE Automatic Bilge Pump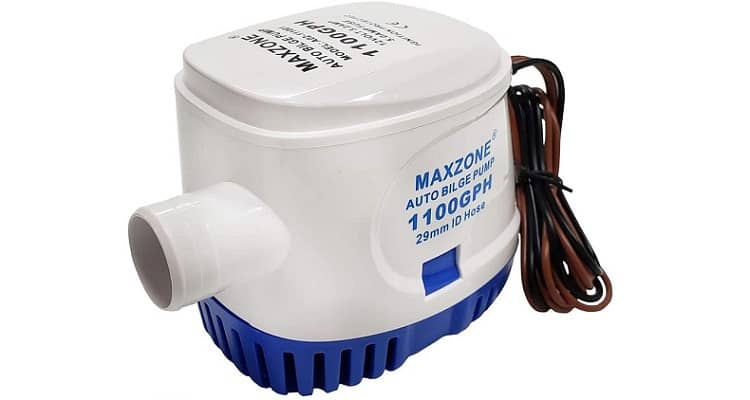 Are you on a tight budget but still want a high-volume bilge water pump? Lucky for you, the MAXZONE Automatic Bilge Pump is precisely that. At less than $30, you get a unit with a flow-rate output of up to 1100 GPH.
It displays a compact design, which makes it ideal even for relatively small vessels. And since it only uses minimal hull space, this MAXZONE pump qualifies as a perfect backup bilge pump as well. 
We can't also fail to commend the pump's robust construction that employs a sturdy plastic housing, which besides enduring high impact, also delivers protection from corrosion and rust. It keeps water out from the motor with tight seals, while the stainless-steel shaft adds to the pump's durability. 
As its name shows, it is an automatic bilge device fitted with a reed sensor for intelligent electronic operation. That means it will require zero effort from you, the user. You'll like its energy efficiency with the pump using no energy when idle. In other words, its float switch only activates when the bilge water gets to a grave level.
But like with most sensors, the float switch may sometimes fail to activate, needing you to start the pump manually.
Pros
Energy-efficient operation

Tough construction 

High flow-rate output

Reed sensor for intelligent functionality

Reasonable price point
Cons
The float switch may at times fail to start
MAXZONE Non-Automatic Bilge Pump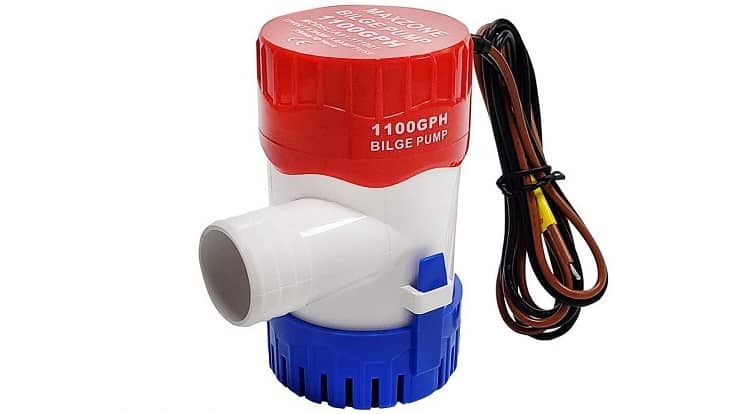 Next is another steal for boaters on a budget, the MAXZONE Non-Automatic Bilge Pump. It is a highly affordable bilge pump selling for roughly $17. And even at such a price point, it doesn't compromise its performance and functionality.
The unit's flow rate is remarkable and can shift up to 5000 liters per hour, roughly equaling 1100 GPH. With a 13-foot head, this pump will clear out water from the bilge well and throw it quite far from the boat, lessening the chances of water returning to the hull.
Even with such power, this bilge pump boasts a low-amp draw. In simpler terms, it consumes minimal power than most electric counterparts that tend to drain your vessel's battery quickly. It's also pretty tough to endure even the harshest marine conditions. And with the engine running on a water-cooled motor, expect this bilge pump to serve you for years.
Also, the device is a submersible bilge pump model, meaning you don't need to fret even when it gets in contact with water. It vaunts sealed components with a robust stainless-steel body, all of which guarantee protection from water damage. However, it's not the quietest bilge pump and can be slightly annoying to boaters sensitive to noise.
Pros
Robust to ensure harsh environments

Water-cooled engine for durability

Impressive 1100 GPH flow capacity

Ideal budget choice
Cons
Seaflo Bilge Pump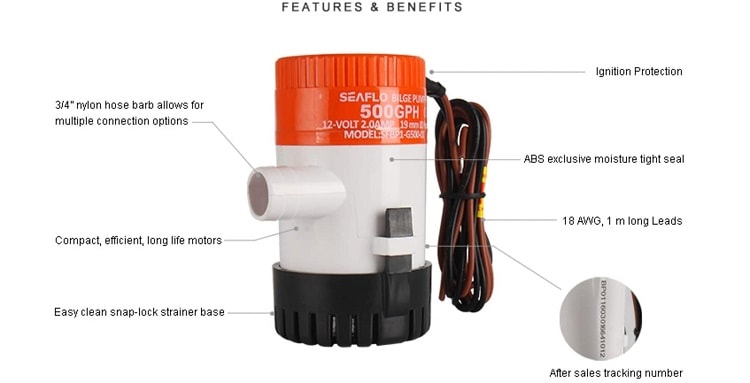 The Seaflo Bilge Pump is a traditional model featuring a standalone switch. In other words, it comes with a controller separate from the pump. So, in case the switch damages or malfunctions, you won't have to replace the entire unit, an excellent way of saving yourself some bucks.
Like with most bilge pumps, debris might accumulate with time. But that's a non-issue with the Seaflo bilge pump since its strainer is detachable. When it's time for cleaning, effortlessly snap out the filter and get rid of the debris. Doing so will prevent dirt accumulation, retaining the pump's efficiency even for years to come.
Besides debris, moisture can sometimes be problematic, but luckily enough, this bilge pump swanks tight seals that keep out moisture. The pump's wire showcases marine-grade construction that's robust enough to endure the harshest marine conditions. It also guarantees safe usage in water and promotes optimal conductivity.
You'll also like how quiet this bilge pump is, and you may fail to notice when it's in operation. As such, boaters looking for a silent solution should consider this unit. Nonetheless, the connection between the housing and outer shell slightly seems weak.
Pros
The pump and switch are separate

Detachable strainer for effortless debris cleaning

Tight seal to avert moisture

Marine-grade wiring construction

Pretty quiet operation
Cons
Weak attachment between the housing and outer shell 
Frequently Asked Questions
Question: How Do Bilge Pumps Operate?
Answer: Different bilge pumps operate in varying ways. Electronic bilge pumps, for instance, use a motor that spins to draw water in around it before channeling it out through a hose for discharging. 
Manual bilge pumps, on the contrary, don't feature a motor but use air pressure that sucks in water from the bilge and then drains it out.
Question: Do I Need More Than One Bilge Pump?
Answer: In choppy waters or torrential rain, a large capacity bilge pump should do. But what happens if it fails? If possible, having several bilge pumps is a more reliable alternative with all operating together to clear out the water.
For a larger boat, it's also more reasonable to employ more than one bilge pump. Use one with a relatively lesser capacity at the bottom and a large-capacity counterpart for emergencies sitting slightly higher.
Also, if your vessel has several bilge compartments, you need a solution for all. And the best approach would be investing in a bilge pump for each bilge compartment, preferably centrifugal models.
Question: How Can a Bilge Pump Fail?   
Answer: Like any pump, there are several ways bilge pumps can fail. For example, some units act up due to flow restrictions that cause the pump to either stop or overwork. Siphoning is another issue with bilge pumps that sees water coming back to the unit rather than out, and this can arise from the hose being below the waterline.
There's also malfunctioning resulting from debris and dirt accumulating over time and clogging the pump. Regular inspection and cleaning of the filter should solve this issue. In electronic models, wiring is always prone to letdown, sometimes because of fuel, salt, or other irritants.
Wrapping Up
Finding the best bilge pump can be one strenuous task. But with all this knowledge about these pumps, picking the best models will be a little simpler. Generally, bilge pumps come at affordable price points, and hence, there's nothing to limit you from going for the best. 
All the models we've reviewed above qualify as excellent starting points. But if you need recommendations, why not go with the Attwood 4505-7 Bilge Pump.
It's automated and reliable at the same time with an impressive flow rate of 1100 GPH, not forgetting its robust general construction. The Seaflo Bilge Pump and MAXZONE Non-Automatic Bilge Pump make ideal alternatives for boaters on a tight budget.
Looking for more interesting readings? Check out: