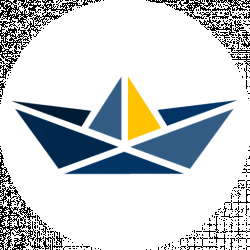 Latest posts by Jeanne Murugami
(see all)
A dead trolling motor battery is one of the things that is enough to ruin a day of fun fishing. After all, performance is paramount for most equipment with fishing gear. In this case, the trolling motor battery is no exception. 
You need a battery that pairs perfectly with your trolling motor and satisfies your requirements. And while identifying a top-tier option isn't rocket science, there are some aspects to factor in even as you try to pick out one of the best trolling motor batteries for your craft. 
In different terms, it is all about your fishing setup. For example, if you go fishing as a group, the motor's runtime is undoubtedly important, and you'll need a battery potent enough to deliver the runtime you need.
Compatibility is also crucial, and employing other batteries such as car batteries is something you don't want to try. Besides offering short run times, they could in some way damage your trolling motor as well.
Moreover, trolling motor batteries come in many different types and sizes, and identifying the best can be pretty strenuous. But using our guide will make things and life easier for you as we'll have a look at what we think are the best trolling motor batteries out there. Our review features the most economical, durable, and effective trolling motor batteries.
The Best Trolling Motor Batteries
Here is our list of the 5 best trolling motor batteries in the market today. Our review features the most economical, durable, and effective trolling motor batteries.
Universal Power Group Deep Cycle 12V Battery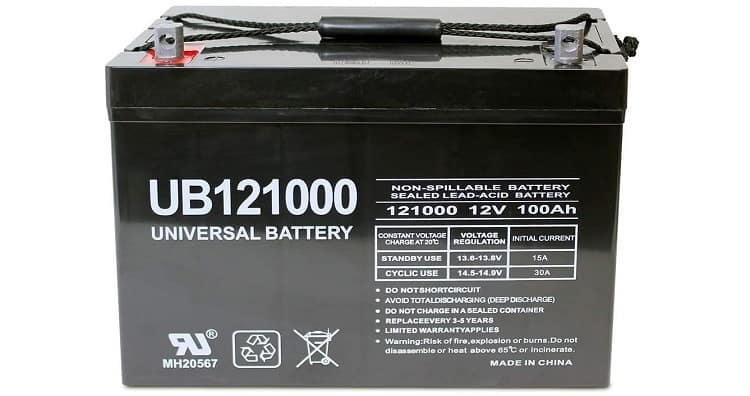 If you are after a trolling motor battery that gives you exceptional versatility, look no further than the Universal Power Group Deep Cycle 12V Battery, as it delivers just that. Besides being an ideal trolling motor battery, it also suits RVs alongside many outdoor excursions such as camping.
With 100Ah, it delivers adequate charge power for both small and large trolling boats. It's an AGM model, and therefore, its maintenance is nothing to fret you. Its sealing is super tight to make it endure vibrations or shocks without affecting its performance.
Also, it prevents leakages and will not require any fluid refills. So, whether you go cruising or accelerating on choppy waters, its performance will remain unmatched.
Moreover, this trolling motor battery displays a compact size, measuring 12.17 by 6.61 by 9.16 inches. Alongside its reasonable 64-pound weight, it allows you to mount it in varying positions, making it a steal for anglers who wish to optimize their onboard space. 
Finally, there's a hack advising you to discharge the Universal Power Group 12V battery to 50% if you wish to prolong its lifespan by five or so years.
Pros
Requires zero maintenance

Highly versatile

A notable capacity of 100Ah

Allows mounting in varying positions

Tight sealing

It's possible to prolong its lifespan by approximately five years
Cons
Relatively heavier than other battery counterparts
Optima OPT 8016-103 Deep Cycle Marine Battery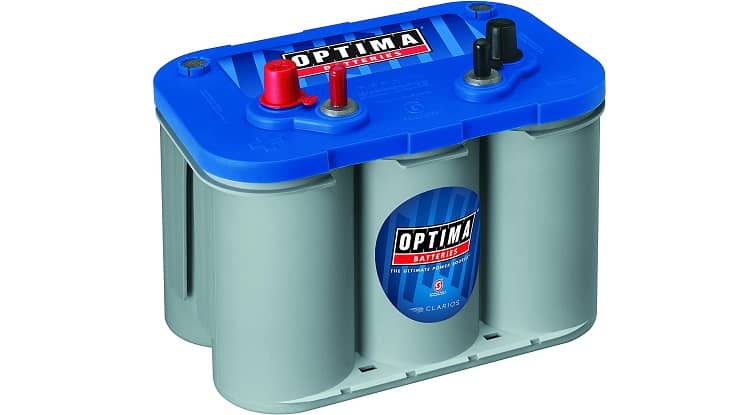 It's not the largest trolling motor battery, but the Optima OPT 8016-103 Deep Cycle Marine Battery comes packed with outstanding features. As a deep cycle battery with 12V and 55Ah, it outperforms most of its counterparts that have similar specs.
For one, this trolling motor battery employs Spiral Cell Technology. In other words, it doesn't use standard flat plates like in other batteries but instead features spiral lead plates, which besides ensuring unmatched durability, also offer superior efficiency. Also, unlike flat plate batteries, its spiral design delivers 15 times better vibration resistance.
Again, the battery's durability is nothing to question, thus giving you the utmost value for your shed bucks. Even more impressive, it offers 750 Cold Cranking Amps allowing you to run the motor even in the most adverse winters.
It then boasts low internal resistance, which translates to a fast-charging rate with the battery using less than one hour to achieve a recharge of 90%.
Being an AGM battery, it showcases top-notch sealing with zero likelihood of leakages. Measuring 10 by 6.75 by 7.8 inches and weighing 43.5 pounds, this trolling motor battery is more lightweight and compact than most similarly-sized rivals. As such, it's ideal for small and medium-sized vessels.
Pros
Mountable in any position

Supports fast-charging

Completely maintenance-free

Suitable to use in low temperatures

Unmatched durability

Lightweight and compact design
Cons
Mighty Max 55Ah 12V Deep Cycle Battery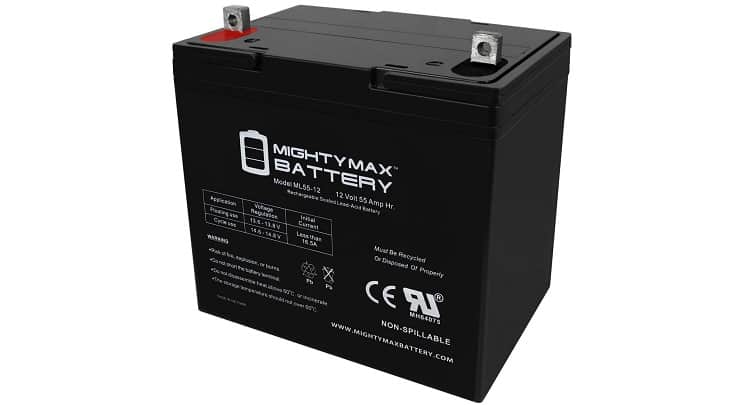 If you're shopping for a trolling motor battery whose design showcases affordability, the Mighty Max 55Ah 12V Deep Cycle Battery is your holy grail. It's ideal for medium to small-sized watercraft and pairs perfectly with thrust motors ranging between 30 and 50 lbs.
For example, employing this unit on a 30-pound trolling motor at high-speed settings will deliver a 4-hour running time. But if you were to go down a few notches, expect a prolonged running time with the battery offering up to 8 or so hours of power, depending on the motor's draw and water conditions.
The Mighty Max battery's versatility is supreme, and other than being a typical trolling motor battery; it also caters for other outdoor expeditions. While it generates more power than relatively more minor 35Ah rivals, it's also pleasingly compact and lightweight, weighing only 38.5 lbs.
Like most trolling motor batteries on our list, it's also an AGM deep cycle battery. As such, its design guarantees tight sealing with zero leaking concerns, and you can effortlessly install it in any position. It doesn't demand any maintenance, and even frequent vibrations won't diminish its performance.
Pros
Delivers up to 8 hours of running time (on low-speed settings)

Durable and reliable in most conditions

Spill-resistant design

Ideal for medium and small watercraft

Lightweight and compact

Affordable price point

Notable tolerance to varying temperatures
Cons
It lacks screw-down battery posts  
VMAX MR96-60 12V AGM Battery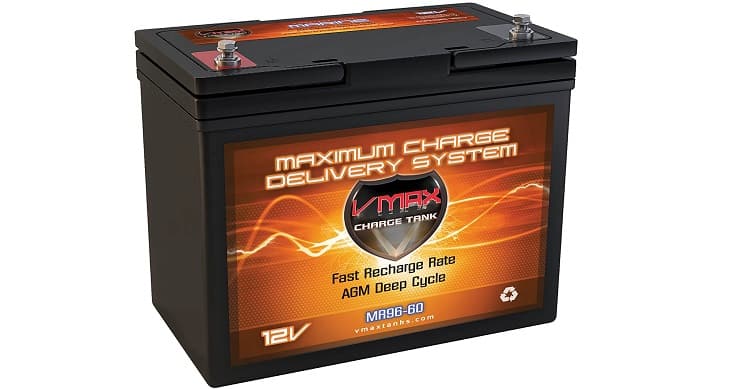 While there's a vast assortment of 60Ah trolling motor batteries, none matches the durability and lifespan longevity of the VMAX MR96-60 AGM trolling motor battery. Thanks to its military-grade plates, its efficiency is remarkable, allowing the unit to handle vigorous vibrations without compromising its performance.
With a rating of 60Ah, this trolling motor battery best suits motors ranging from 30 to 50 pounds. It delivers a running time of 3 hours on high-speed settings and can also deliver up to 6 hours of power if you switch to lower settings. Also, consider that your motor's draw to some degree affects the battery's run time.
As for the weight, this VMAX MR96-60 AGM trolling motor battery is only 45 pounds, making it relatively lighter than most rivals. And for that reason, it's a go-to pick for boat owners who prioritize keeping their watercraft as lightweight as possible.
Besides being light, this battery is also compatible with varying trolling motor sizes, thanks to its immense power delivery.
As you'd expect from an AGM battery, it brags a top-tier sealing of the contents, eliminating any leak concerns you may have. It's also pretty compact, hence ideal for smaller watercraft, and also allows mounting in varying positions.
Pros
Ideal for medium and small-sized watercraft

Military-grade plates for enhanced efficiency and longevity

Mountable in varying positions

Requires zero maintenance

Reasonable runtime

lightweight and compact design
Cons
Not ideal for high-speed use
Interstate Batteries DCM0035 Trolling Motor Battery
If you're on a quest to find an efficient yet affordable trolling motor battery, the Interstate Batteries DCM0035 is an excellent option to wrap your search. With a 35Ah rating, it's capable of powering even a 40-pound motor.
However, it works excellently and delivers optimum performance with trolling motors falling between 18 and 30 pounds. Pairing the battery with such engines will offer runtimes of up to 5 hours, depending on the motor's draw and selected speed settings.
The battery shines through on smaller vessels with less powerful motors, especially in low-speed settings. And for that reason, it best suits solo expeditions on small-sized boats such as kayaks, etc.
Measuring 7.7 by 5.2 by 6.3 inches and weighing only 23.8 pounds, the Interstate Batteries DCM0035 cuts it among the most lightweight and compact trolling motor batteries money can buy. 
Since it's an AGM battery, maintenance is nothing you'll fret about with the device also swanking impressive handling of vibrations and a design that guarantees zero spillage of contents. Lastly, it's durable enough to deliver an uncompromised and efficient service life of up to 4 years. 
Pros
Very lightweight and compact

It doesn't need any maintenance

Showcases superior sealing

Affordable price point

Ideal for small watercraft

Impressively long service life
Cons
It doesn't include threaded posts for quick installation

It doesn't suit larger vessels
Buyer's Guide for Choosing the Best Trolling Motor Batteries – What to Consider 
It's no secret that we all have varying needs and preferences for all sorts of appliances. And well, things are no different with trolling motor batteries either.
Ranging from your budget to your fishing frequency and boat's size, a vast array of factors will define the best trolling motor battery for you. We'll look at some of these factors in detail and offer buying tips in between to help make the entire buying process a breeze.
Size
Before purchase, the battery's size is one aspect you must factor in to ensure the unit ideally matches your boat. Ask yourself, does your vessel offer adequate room for bigger batteries? If not, you'll want to consider compact trolling motor battery options that can fit aboard comfortably. 
In the same way, if your vessel is relatively large, then a more extensive battery could be ideal for you. In other terms, the larger your boat, the more power it's likely to drain per hour, making larger batteries more suited to the task.
They assure a good chance of consistently delivering power to the motor over extended periods allowing you to revel in your boating expeditions without fretting about the battery running out too soon.
Maintenance

From time to time, wet cell batteries will require some degree of maintenance measures. You'll need to clean, inspect any signs of corrosion and refill them using filtered water. In case you notice some corrosion, the perfect 'cocktail' of water and baking soda may come in handy to get rid of it. 
Nonetheless, this procedure seems more of a hassle than the unit's worth, with wet-cell batteries being pleasantly inexpensive. But the minor maintenance could be worth it if you wish to save some bucks. 
On the contrary, AGM and lithium-ion counterparts don't demand any maintenance. And hence, inspecting the battery's interior for any damage signs and water levels is the least of your concerns. While they are 100% maintenance-free, these batteries come with higher price points than their wet-cell counterparts.
Durability and Lifespan    
Durable batteries last longer, with the same applying to trolling motor batteries as well. So, it's vital to look for distinct features showcasing a battery's longevity. Take AGM batteries as an example; they display tight sealing in their casing to help reduce their susceptibility to damage, leakages alongside other problems that may arise from vibrations or shock.
Such features justify the AGM batteries' high price points. After all, like with other products, bolstered durability always comes at an additional cost. And even after shelling out a few more bucks, such batteries will end up paying for themselves in the long term.
The lifespan, however, varies significantly among different trolling motor batteries. For instance, wet cell batteries have the shortest lifespans lasting roughly two years with optimal care and maintenance. 
On the other hand, AGM counterparts have their lifespan stretching between 5 and 6 years depending on quality, while their advanced lithium-ion rivals win the prize with lifespans averaging a decade. Take into account that the longer the lifespan, the more expensive the battery. 
Weight
Along with the trolling battery's size, how much it weighs also influences its performance. See that the battery you pick is not overly hefty for your boat and should match its weight capacity. Anything contrary to that will have the battery draining power notably quicker.
Therefore, if you are approaching the vessel's utmost capacity, it's wise to opt for a lighter option. Fortunately, most anglers don't carry too much weight aboard, which translates to a heftier battery not being an issue, given typical trolling motor batteries weigh roughly 25 lbs. to 30 lbs.
Anglers looking for something to suit their kayaks should consider batteries weighing less than 30 lbs. With such small watercraft, you'd want to ensure the battery you pick isn't too bulky, which could negatively affect the unit's efficiency. But if your vessel vaunts a high weight capacity, go for a heavier trolling motor battery.
At the same time, assuming you have to transport the battery to and from your craft each time you go for your boating adventures, you should opt for a more lightweight and compact option. But if you need a trolling motor battery to install on your boat permanently, the weight is thus a nonfactor.
Voltage and Recharging
Generally, most trolling motor batteries you'll come across feature a voltage of 12V and will therefore power onboard motors and electronics that demand the same voltage.
However, some vessels employ high-end engines of 24V. In such a case, you'll have to invest in a couple of 12V trolling motor batteries to attain adequate power but since most motors are 12V, expect most batteries to pair perfectly with your boat.
Also, consider how regularly you'll need to recharge your motor battery. If you intend to have your trolling motor running often, it would be wise for you to pick a trolling motor battery that incorporates a fast-charging feature for reduced waiting periods and more adventures.
AGM batteries are a steal for you if that's what you're looking for. Typically, they use less than one hour to recharge up to 90%, significantly enhancing convenience.
Construction and Design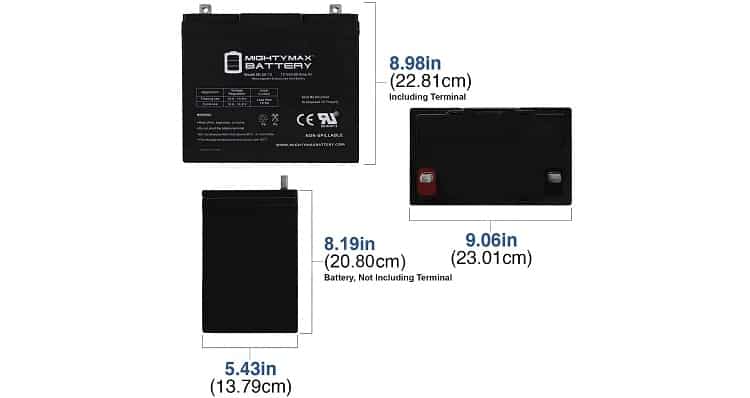 Fortunately, most modern lithium-ion and AGM trolling motor batteries feature sturdy constructions and designs that prevent leakage. They employ hard-shell plastic to house the inside contents and keep them vibration-free while bolstering their durability.
Unlike the traditional wet-cell counterparts, modern trolling motor batteries are maintenance-free, meaning they can operate for years without demanding any servicing. As a result, they are relatively costlier than wet-cell units. However, in the long-term, you'll understand the justification behind their somewhat higher price points.
Frequently Asked Questions
Question: Can I Employ a Car Battery to Power My Boat Trolling Motor?
Answer: No, you cannot use car batteries for a trolling motor. And this is because of the following three reasons. Firstly, a car battery may feed your trolling motor with excessive current, which could in turn damage the engine itself alongside other electronic components on board. 
Secondly, a car battery's design produces high current energy bursts and stores relatively low amounts of power. And with trolling motors demanding lots of power, car batteries lose the case to deep cycle options.
Finally, it's not advisable to drain a car battery to low levels, something a trolling motor is likely to do. If it completely dies, its cells incur damages when recharging, which reduces the battery's lifespan and performance.
Question: How Frequent Should I Charge the Trolling Motor Battery?
Answer: It would be best if you charged your trolling motor battery after every use. And it is advisable to not let the battery drain entirely to no charge as this can badly affect its performance. We'd also advise you to charge your trolling motor battery before storage fully.
Moreover, as long as your trolling motor battery remains connected to the main motor, expect it to charge provided the engine is running. Also, if you use the trolling motor more often than the main engine, your battery will remain charged after every use.
Question: How Can I Charge My Trolling Motor Battery While on Water?
Answer: It is possible to charge your trolling motor battery as you go around your on-water adventures, and there are three distinct ways to do that. These include:
• Portable Charger: A light portable charger is an excellent starting point. It's effortless to carry on your boat and generates decent charging speed for your trolling motor battery. 
Even more impressive, some of these chargers incorporate innovative technology that prevents your trolling motor battery from overcharging through automatic disconnection.
• Solar Charger: You can also generate clean and pure energy from the sun using a Solar Charger. You could even make your own as long as you have an admirable quality solar panel, which you'll fit on your boat's roof. 
Additionally, you need a boost converter that will help turn the low-voltage solar energy to the 12V power your trolling motor battery requires for charging. However, a DIY solar charger is a pretty costly affair, and therefore, we'd advise you to purchase one.
• Onboard Charger: Onboard trolling motor battery chargers come in distinct variations, including Digital, DC alternator, and Precision. They are all efficient and will recharge your battery within no time. For that reason, they tend to be costlier than their portable counterparts.
Question: Why Are Deep Cycle Batteries Preferred for Running Trolling Motors?
Answer: Unlike other batteries, deep cycle batteries are specifically designed to emit power over an extended period gradually.
For that reason, they are ideal for trolling motors since they allow boaters and anglers to go about their on-water excursions for long hours. In other words, they don't exhaust their stored power too fast like in regular batteries and will therefore not leave you stranded on the water.  
Wrapping Up
By now, it's a no-brainer that the battery cuts it among the essential components of a trolling motor. And I'm confident that nobody would like to forcefully wrap up an onboard outing because of a dead trolling motor battery. To avoid such inconveniences, you must get your vessel one of the best trolling motor batteries in the market.
Fortunately, and thanks to technological advancements, trolling motor batteries are now better than ever before. They assure enhanced performance and efficiency, minimal to zero maintenance, reliability, and much more.
All our options above qualify as excellent starting points. But if you're still unsure which trolling motor battery to pick, consider the Universal Power Group Deep Cycle 12V Battery. It's highly versatile, maintenance-free, and delivers exceptional performance.
For a small vessel, however, the Mighty Max 55Ah 12V Deep Cycle Battery should suffice. It's affordable, reliable, and suits most marine conditions.
Looking for more interesting readings? Check out: