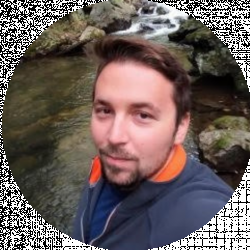 Latest posts by Coty Perry
(see all)
Jon boats are some of the most popular and commonly used small boats on American lakes and rivers. They are used for multiple tasks. From hunting to fishing to collecting lumber, the flat shape of the Jon boat will help you achieve these tasks.
Unfortunately, one area where this boat style falls short is with additional features. Purchasing Jon boat accessories is almost a necessity with this type of boat because it leaves a lot to be desired. In this article, we're outlining the most essential jon boat accessories and how you can make use of them.
What Is a Jon Boat?
A jon boat is a small aluminum fishing boat. Jon boats have a flat or almost flat bottom and their bows are squared off, rather than pointy at the front. Most jon boats are made of aluminum, but there are a few fiberglass models and roto molded polyethylene models available on the market.
These are very simple, inexpensive types of boats.
Many anglers buy these types of boats because they offer a smooth ride (because of the flat bottoms) and it is fairly easy to get in and out of this type of boat and easy to move around in the water. For these reasons, it is pretty common to see these types of boats around a marina.
One of the best things of using a jon boat is that they are excellent to use in shallow water, even as low as two inches. This makes fishing, hunting, and utility work an easy task. The large, flat surface of the jon boat offers stability on calm water.
Being that the bottom of the boat is flat, they can easily slide over obstacles like mud or reed in the water going at a steady, slow speed. This is really helpful when fishing for bass or other fish that tend to hide away from open water.
Jon boats do not do well with rough water. This is a safety factor to consider when using this type of boat. If you know you are going to be in rough or deep water, this may not be the best option for you.
Jon boats are also rather uncomfortable and will feel very rigid when on the water. There usually is not any padding in the seats unless you add it on. Another thing to consider is noise. Jon boats are rather loud because their engine isn't shielded by a compartment or covering.
How to Choose Jon Boat Accessories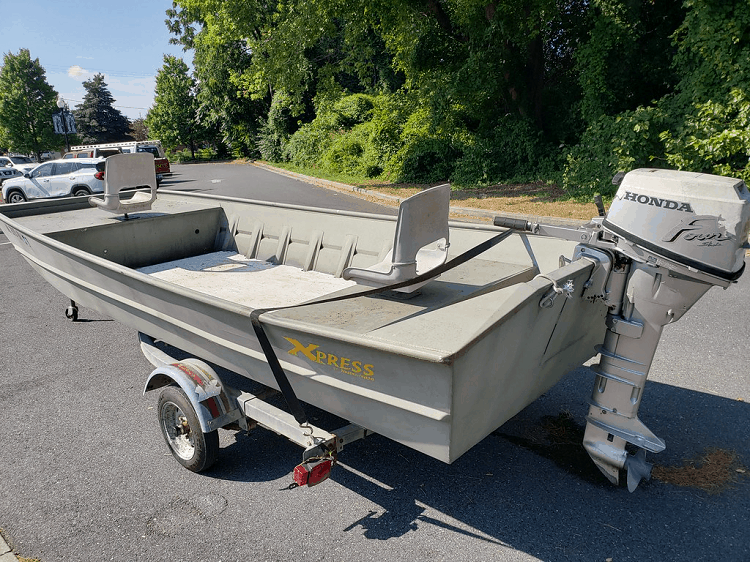 Choosing jon boat accessories is a lot to think about. There are many factors to consider when figuring out which accessories you want to use. Here are some things to consider when choosing your jon boat accessories.
To Improve Your Fishing Game
When fishing, there are many accessories you can use to help you catch more fish. For example, a portable fish finder is a great way to map out the best locations to catch some fish.
Consider changing the boat's motor to a quieter one so you have better luck with catching the fish. As we mentioned before, jon boats tend to be pretty loud. Maybe even think about how you want to store the fish that you catch. You will definitely need a large enough cooler to put them in.
To Increase The Comfort of Your Boat
Since jon boats are somewhat uncomfortable, looking into seat cushions is a great idea to make your fishing experience a more comfortable one. A lot of the time, anglers prefer plastic or fiber seating to make their boating experience a better one.
Think about how difficult it would be to sit on a hard, uncomfortable seat for hours. Not only would it be uncomfortable to sit on, but it would make fishing not as much fun.
Besides what you are feeling on your boat, consider what you are looking at as well. Painting your boat is actually rather easy to do. Maybe you want to add more character to the boat, or camouflage it.
To Make Storing Gear Easier
If you ever feel like you are running out of space for your gear, or how you are storing it is inconvenient, consider having a cooler in your jon boat. You can transform your regular boating seat into a flip flop seat that can be flipped up to use as a cooler. Not only will this save lots of space, but it will look a lot nicer too.
If you don't want a cooler in the seating of your boat,you can also have a separate one to carry with you. Whether you want to keep your drinks cool or your fish cool, you definitely will need some type of cooler.
If you are using your Jon boat for hunting, it is extremely necessary to have a proper place to store your guns.You will need something that is long enough to fit the side of your boat and is heavy duty.
It is also wide to have dry bags for storage, especially the water proof ones. This is great to store personal items in that you don't want to get wet, such as your phone, watch, money, or pretty much any other small important item you can think of.
To Make Boating More Enjoyable
In addition to making your Jon boat safer in the dark, LED lights are a great way to make the boat more fun. You can customize your boat, while using your favorite colors.
Adding a top cover for your boat is one of the most enjoyable things you can do. An open front canvas top cover is a great way to enjoy your boating experience a bit more. This will provide you with enough shade to stay out on the boat all day. It is a life saver when trying to stay out of the sun. Nobody has a good time fishing when dealing with a painful sunburn.
Having a Bluetooth speaker is another necessity. If you love listening to music, definitely purchase a bluetooth speaker. You will be able to stream music from your smartphone, making it super easy to listen to your favorite tunes.
To Make Fishing and Boating Safer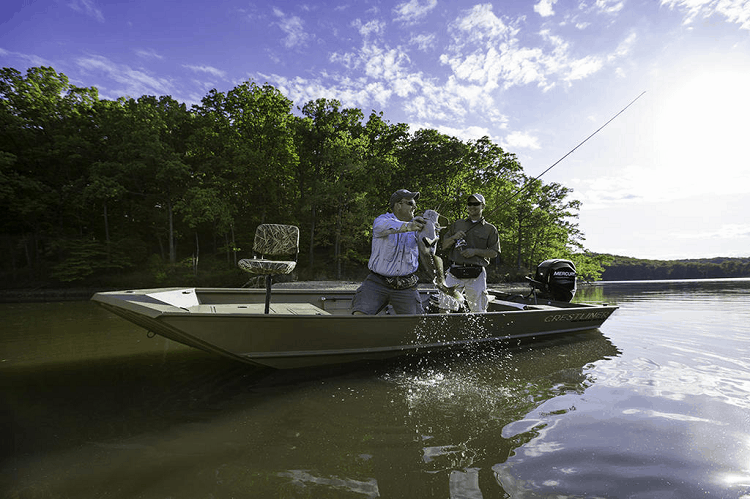 Having a flashlight is such an important item to bring with you on a boat. It is so hard to see while on the water at night. A rechargeable, waterproof flashlight is exactly what you will need to help you feel safe at night. Maybe even bring some small navigational lights with you, just in case.
One concern a lot of boaters have is being involved in a boating accident where you can slip, fall, and hit your head. Having carpeting in your boat is a good way to avoid this. It could be expensive, depending on the carpeting you choose, but it could also be life-saving.
Definitely bring some life jackets on board with you as well. You should wear them the whole time you are on the boat, in case you accidentally fall out.
To Increase The Lifespan of The Boat
The first thing that comes to mind when increasing the lifespan of a boat is having a boat cover, especially if you are going to have your Jon boat out in the water a lot. Having a boat cover will help protect your boat from so many things, like scrapes, weather damage, sun damage, and birds.
Having a bilge pump is not completely necessary, but it will certainly make your life a lot easier if you get water in your boat. You can either hand scoop the water out yourself, or you can have a bilge pump do it for you. This is a much quicker option and will make it less complicated for you.
What Are the Best Jon Boat Accessories?
Jon boats can appear to be plain and lacking some common accessories. When choosing a Jon boat accessory, it is a good idea to think about what you want on your boat, and what will provide you with easier, safer alternatives
The Danielson Mushroom Coated Anchor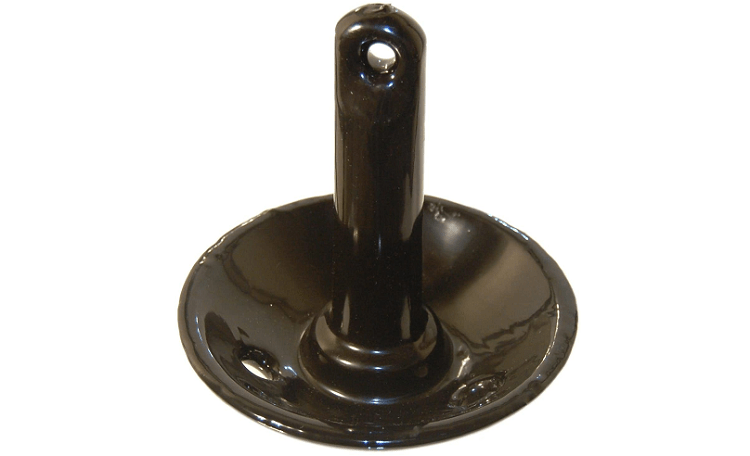 Depending on the conditions you boat in, you can choose from a variety of weights for your anchor. These weights can range anywhere from 8 to 20 pounds. The Danielson Mushroom Coated Anchor is a great type of anchor to use. It is lightweight (8 pounds) and is sufficient to tread through weeds and mud. This anchor is resistant to rust and abrasion because it has vinyl coating.
Pros
Great anchor for soft bottomed conditions

Easy to clean

Resistant to rust and abrasion
Cons
Not good in sand

Issues with quality control
Anndason Cleat Kit
Anchor cleats are important because they will help you securely tie your anchor rope to your boat. Basic anchor cleats, like the Anndason cleat kit, will help do the trick. These are very simple to install and should be all you need to make sure your anchor is secure.
Pros
Easy to install

Strong enough for large, heavy boats

Great quality
Cons
Short bolts

Made out of plastic

Resemble dock ties
Plano Storage Trunk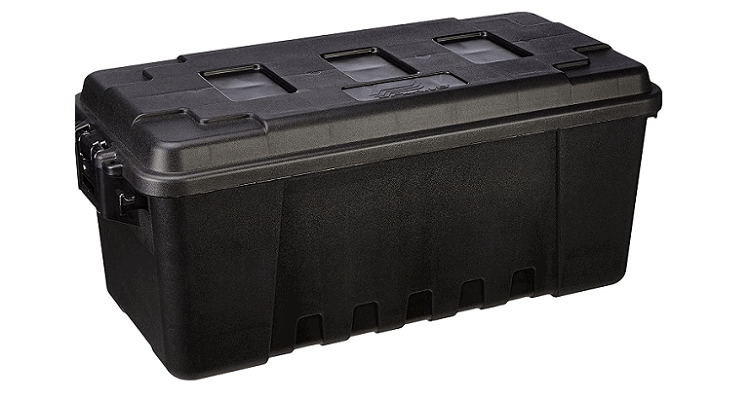 Usually, storage is pretty scarce on a Jon boat. We highly recommend having a storage trunk so you have someplace to keep all your storage supplies like food and maybe your fishing accessories. A medium storage trunk, about 68 quarts in size, is a great size trunk for you to store your necessities.
Pros
Spacious in size

Lockable

Waterproof
Cons
Not airtight

Has a chemical smell

Advertisement appears larger than actual size
Newport Vessel NV Series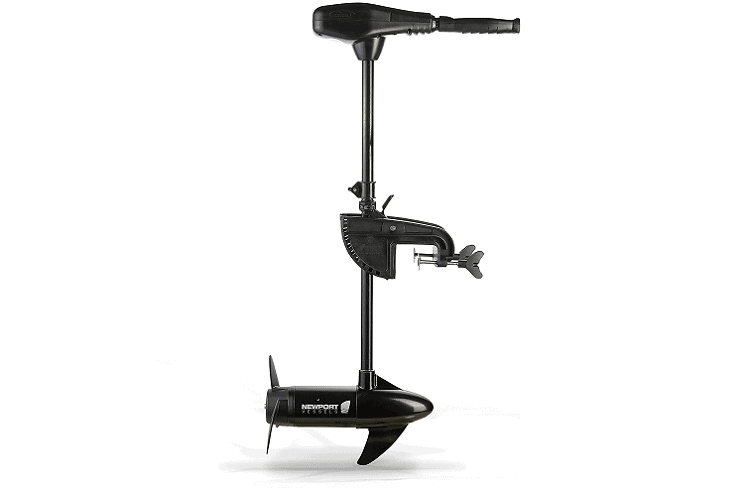 A LED trolling motor light is very helpful for fishing. This specific LED trolling motor light, the Newport Vessel NV Series, has extra efficient battery power. It can run all day long without overheating and will not spook the fish away by making too much noise. It also has 8 speeds – 5 forward speeds and 3 reverse speeds.
Since it is designed for trolling, the top speed of the motor is 4mph. Also, this particular motor light is made using stainless steel, magnesium, and zinc hardware making it able to withstand fresh and saltwater environments.
Pros
Efficient battery power

Multiple speeds

Durable to withstand freshwater and saltwater
Cons
Not wind resistant

Small propeller for its size

Issues with packaging of the product
Jon Boat iCover

Having a cover for your Jon boat is a great way to ensure that you are protecting your boat from weather or scrapes. The Jon Boat iCover is one of the best covers you can purchase for your Jon boat. It is waterproof, UV ray resistant and mildew resistant.
It has a heavy-duty elastic cord, which allows you to tightly pull the cover over your Jon boat so you can protect it all year round.This cover is recommended for 12 to 18 foot long boats with the beam width being no more than 75 inches.
Pros
Waterproof

UV ray resistant

Mildew resistant

Easy to use
Cons
Can tear at the seams

Has a really tight fit

Wears out after a few months of use
FAQs
When it comes to Jon boats, we understand that you may have a few questions. Here are some commonly asked questions regarding Jon boats we get asked a lot.
Question: What do You Need in a Jon Boat? 
Answer: There are quite a few generally required safety equipment and gear you will need in your Jon boat every time you leave the dock. Personal flotation devices, or life jackets, are something you should always have as a basic safety item.
According to regulations from the U.S. Coast Guard boating regulations, you should have at least one life jacket for each person on your boat and it should be properly able to fit the person wearing it. In addition to life jackets, it is smart to have a throwable device, like a rig buoy, to throw in the water in case of an emergency.
It is also a necessity from the U.S. Coast Guard to have a fire extinguisher onboard if you have a Jon boat with a gasoline motor. A fire on a boat in the middle of the water sounds terrifying. In case of an engine fire, which is the most common cause of boat fires, it is definitely wise to keep a fire extinguisher on board.
Like many other types of boats, you will need a sound producing device on your Jon boat. Being that sound signals are how boaters communicate, you will need a sound-making device like a horn or whistle, to get your message to the other boater. 
Some other necessities to have in your Jon boat are navigation lights, visual distress signals (like a flare), a flashlight, paddles, anchors, hooks, and a bailing device in case you get too much water in your boat. 
We also recommend keeping a first aid kit in your Jon boat just in case someone needs it.
Question: What Does "Jon" Boat Stand For? 
Answer: There actually is not much reason behind its name. It seems that the exact reasons behind its name have been miscommunicated over time. There are a few theories though that maybe can provide some insight on how it got its name.
In the late 1800s, it was fairly common to use Jon boats, especially in the lakes of The Ozarks. They were popular there because they were able to be used in the shallow waters of the Missouri Valley. Jon boats were originally constructed of green wood and pine  and were rarely used twice due to how cheaply it was made. 
The first theory is that there was a lack of jack pine wood to construct the vessel of the boat. Possibly, the name Jack eventually turned to John and it became the Ozark John Boat. Even further in time, the "h" was dropped in John and the name Ozark was dropped as well, resulting in Jon boat.
The second theory is a little different. Apparently, anglers in Scandinavia loved using flat bottomed boats to carry themselves and their fishing gear to the larger boats. These boats became a favorite way of transportation for these anglers.
According to this theory, one of the men who used these boats names the boat after himself, John. John or Jon is a very common name in Scandinavia, so it wouldn't be surprising if this theory is true.
The third and final theory is that a boat builder and river guide named Charles Barnes, who was born in 1878, invented the Jon boat. He is reported to have built over 500 jon boats during his life and he was a very well-known river guide on the James River and the White River. Most of his clientele were rich people, like industrialists or even some movie stars.
Charles Barnes' work can be found in publishing records of that time, like in National Geographic, Life Magazine, and the Kansas City Star. There are even photos included in some of these publications. It is said that Charles grew up fishing pretty close to the James River, which is why he decided to build this type of boat. The boats started being called Jon boats years after he started making them.
According to this theory, Charles Barnes' was on the phone with a famous sportswriter named Robert Page Lincoln. During this conversation, Charles and Robert Page Lincoln were talking about a newspaper clipping of Charles standing by a boat and Charles was asked what kind of boat it was. He misunderstood and thought he was being asked whose boat it was, and Charles replied that it was John's boat.
Question: How Much Horsepower Can a Jon Boat Handle? 
Answer: Maximum horsepower for your Jon boat depends on the size of your boat. For small 10 to 12 foot boats, the max horsepower is 3 to 5 hp. For longer 18 to 20 foot Jon boats, the max is 60 to 75 hp. We recommend looking into your boat  manufacturer's suggested horsepower based on the specific size of your boat.
Question: Are Jon Boats More Stable Than Other Boats? 
Answer: Not necessarily. All Jon boats are very stable, but that does not mean that they are more stable than other boats. As for which Jon boats are the most stable, it depends on which kind you have and what kind of water you are using it in. For calm inland waters, a flat bottom Jon boat with a square bow is the most stable. For choppy waters, a mod-v Jon boat is the most stable. 
Conclusion
Jon boats are extremely popular boats for fishing. The way this boat can make its way in shallow water is one of the best features about the Jon boat. In addition to its ability to tread in shallow waters, there are so many Jon boat accessories you can purchase for your boat to either make it safer or more comfortable for you and your guests.
Looking for more interesting readings? Check out: