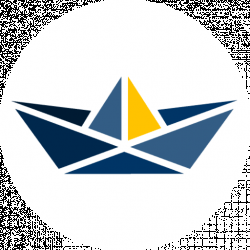 Latest posts by Boat Bub Team
(see all)
Boats are one of the most stunning and beautiful water vessels globally, making them a popular tool for tourism, travel, and fishing. The water vessel looks gleaming when adequately taken care of with proper boat care skills. When a boat is neglected, it loses its shine and may start rusting. One of the essential skills in maintaining your boat's viability is to regularly polish your craft with the best boat polish you can find.
The kind of boat polish you employ for your bought polishing will determine your boat's longevity and if it will shine and withstand the salt or marsh water.
There are several types of boat exterior that your boat is made out of fiberglass, aluminum, fiberglass, and a paint coating. Fiberglass surfaces have a special resin called gel coat that gives the boat its color and shine. When the surface is exposed to the sun and marine environments, it starts eroding its soft exterior, reducing its brightness and looking chalky.
As the gel ages, it also loses its essential oils, making it weather-beaten, dry, and worn out. Polishing the fiberglass exterior restores the oils to bring back the boat's luster, removes swirl marks and scratches to keep the shine brighter.
Just as fiberglass paint applied on a boat's exterior contains oils and emollients that make the vessel glow. The paint dries when exposed to the sun and water losing its initial shine. Polishing a boat's surface with suitable polish helps to restore emollients and extend their life.
Benefits of Boat polish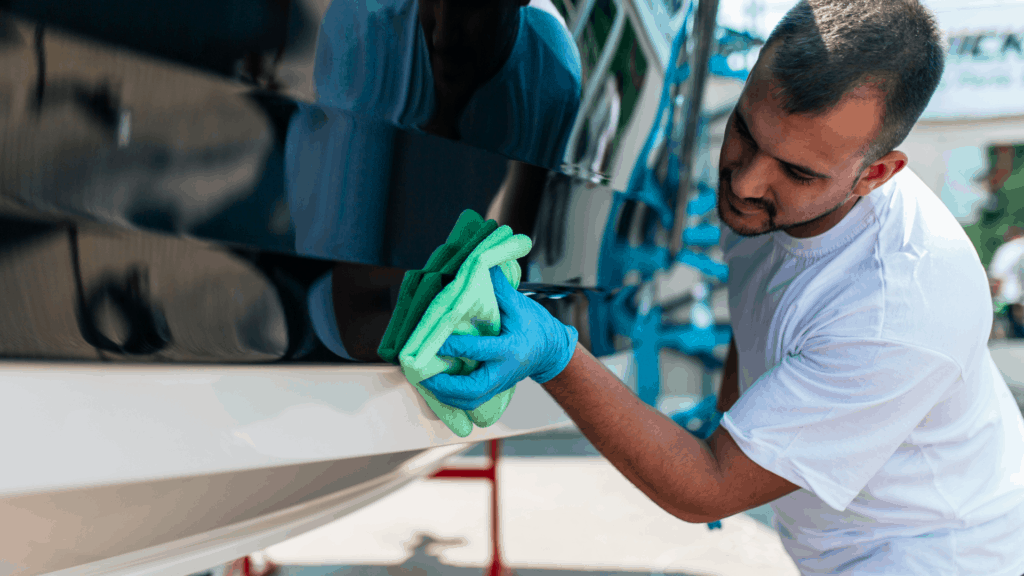 We have explored boat polish and boat polishing basics and have some food reasons you should buy boat polish for your yacht, boat, or water vessel you have. From many boaters and scientific research, it has been noted that boat polishing:
Improves the Cosmetic look of the boat
Whether You plan to sell your boat or use it for long, you want to have a beautiful surface with no blemishes. The best way to get the high price for your bought is to ensure it looks sparkly when you want to put it out on the market. You can ensure that its cosmetic outlook is on another level by providing that the boat is polished to remove the pitted surface. 
The buffing and polishing compounds are abrasives capable of restoring the boat's fiberglass, metal, or plastic shine. You can use boat polish to remove discoloration, imperfection, and scrapes on the watercraft's surface to enhance the body shine. That means using the boat polishes can restore your watercraft to look brand new.
When you need a superficial or cosmetic way to make your craft look new, look no further than a good polish with a quality product and finally wax the vessel's surface.
Polishing and waxing help to retain the high gloss of the exterior boat paint. You may use rubber compounds if the boat is exceptionally dull to enhance the look.
Reduce the Ultraviolet effect on the boat
The sun is one of the biggest culprits that reduce the craft shine by weakening the plexiglass, paint, or fiberglass. A rein on the harmful UV radiation can ease your worries and keep your boat glossing as new. Most of the boat polishes have UV protection; however, to make the most of the UV protection, it is advisable to use both polish and boat wax.
Not all boat polishes have UV light protection; however, landing on the suitable boat polish can ensure you no longer have to worry about UV light. Boat polishes without UV light protection can exacerbate the UV light by removing debris and pitted surface from the boat surface to expose it to further UV damage. Always pick a boat polish and boat wax that are compatible for the best results.
Protect the Boat surface From Contaminants
The boat's exterior surface protects the boat from contamination caused by environmental factors. When the vessel's external surface wears out, it exposes the wood or metal to contaminants that can quickly reduce a craft's shelf-life.
Boat polish can help protect the vessel whether it is in a freshwater or saltwater boating environment. Like the UV protection feature, you have to ensure you choose compatible boat polish and boat wax at the same time to ensure that the feature works properly.
How to choose Boat Polish
Boat polish is necessary for your watercraft, and you should make some effort to have a boat polish to clean your yacht or canoe. You must, however, be cautious that not all boat polish is suited for your boat. Here is a guide to ensure you choose the suitable boat polish for the right set of circumstances.
Stay Within Your Budget
While a boat polish is not likely to bankrupt you, it is wise to choose a bought polish with the most effective results for the right price. You can benchmark several boat polishes and compare the prices that give you the most value for your cash. Also, avoid cheap polishes that have no real effect on your boat. They are a waste of money you are trying to save.
Consider the material of your boat exterior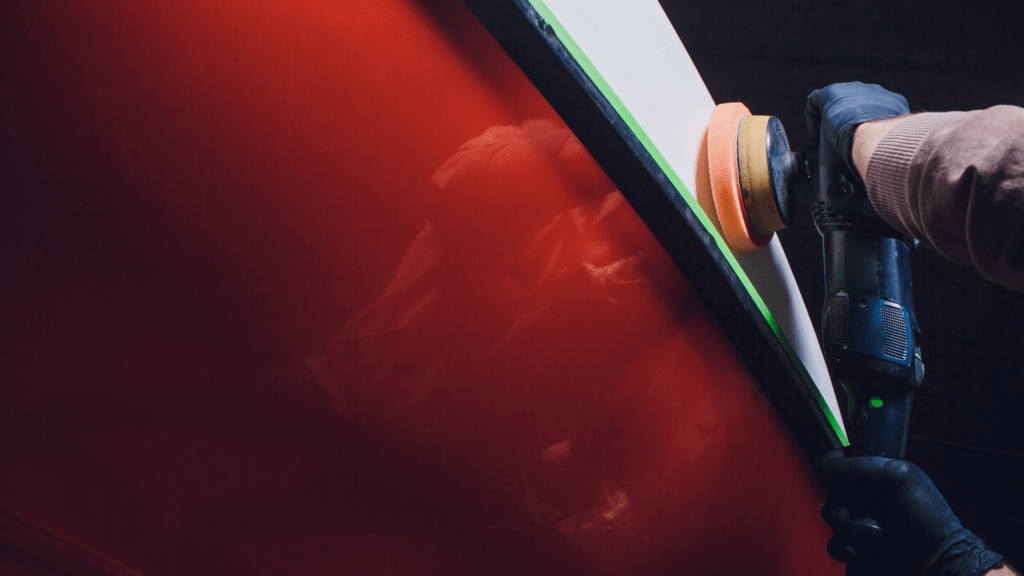 Every boat exterior is different. One of the most distinctive features of a watercraft exterior is the material finish. Some of the most common material finishes are metals like aluminum, plexiglass, fiberglass, plastic, and paint coat.
The different surfaces react differently to the materials in the boat polish designed for another material. If your craft has a metal finish, then only pick boat polish intended for metal surfaces.
Long-Lasting finish
Boat polish acts as a preservative in most instances, protecting your vessel against corrosion, peeling off of the outer coat, or looking dull. There are good boat polishes that give your boat a shine in a short period, and then the effects wear off as quickly as they got applied. You have to settle for a polish that has consistent results despite the time.
Protection From UV Rays
You deserve a polish that will protect your watercraft from elements that cause its exterior to fade or dull out after some time. The UV protection feature is about solving the problem from the root cause rather than cosmetically handling it. You should pick a polish that has UV protection to keep the boat hull protected. 
Eliminate Scratches
The hull is susceptible to scratching as it loses its paint or the fiberglass wanes. An appropriate polish should eliminate any visible and invisible scratches on the shell. Many irresistible boat polish options can help deal with scratching for good and cover up the blemishes to leave the boat looking as good as new.
Easy to Apply
It should be easy to apply your boat polish easily using either a machine or cloth. If you have to use highly sophisticated devices to apply the boat polish, then the boat polish is not worth the hassle. Pick polishes that you can apply at home or the marine without any professional help.
Protect surface from Weathering
The framework can easily be affected by adverse weather conditions, particularly the sun and the marine water, which are notorious for wearing the boat surface.
The polish that protects the boat surface from weathering has essential nourishing oils that restore the boat's shine and rejuvenate dried craft paint; they lack filler and, at times, can repel the environmental pollutants. 
Best Boat Polish
Many boat polishes in the market are widely marketed as effective, but some end up wasting money. We have selected the top-rated and scientifically proven formulas that have shown the highest efficacy and result in the following list. We have highlighted the pros and cons to help you sort out what your boat deserves.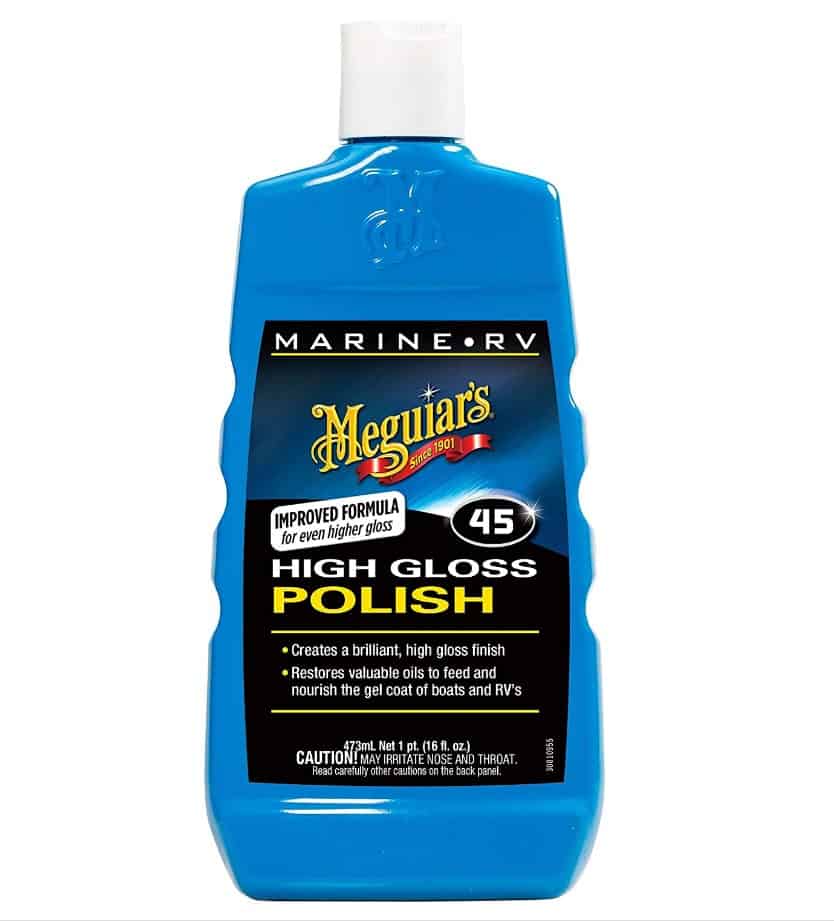 Despite being uniquely designed to work with gel coats and fiberglass hulls, the product has managed to win lots of acclaim and rating among its users. Unfortunately, aluminum watercraft cannot use the polish. The product comes with an oxidation remover that helps nix stains and scratches from your boat.
The product is a high gloss polish that restores the shine on your boat both in and outside the water. You can use the provided wax together with the polish to enhance long-lasting protection.
The polish bottle is 16 ounces and can polish an entire standard-sized boat. Its proponents claim that it can restore shine to a 20-year-old boat; I guess you should try it and see the results from using the boat polish.
The polish treatment effectively restores dark finishes, which are much more exposed to the sun and UV radiation. It can show brilliant results when applied by hand or machine as it acts as a conditioner on fiberglass and painted surfaces.
In case 16 ounces is too much for your boat, you can use it to polish your RV as it has the same effect on the vehicle. It would be best to consider this boat polish when you need a polish that can handle several jobs such as removing stains, water spots, oxidation, saltwater damage, or scratches to restore your boat to its former glory.
The polish is made by an experienced company in marine products that makes the compound non-toxic and safe to use in the environment. The polish formula is biodegradable and is safe for your boat and marine life in general. Use a buffer machine to apply, but you can do as well using the microfiber cloth.
Pros
It helps eliminate oxidation, spots, and oxidation.

Ideal for watercraft dulled by oxidation 

It is a combination of both a boat cleaner and gel finish

The polish and wax in the package offer excellent value together

The polish boat work excellent on motorhomes and RVs

The 16-ounce bottle is sufficient for one polishing session.

Works well on dark surfaces

It contains nourishing oils to replenish the hull
Cons
Not perfect for protecting the surface from UV radiation

You have to apply the remover included with the polish to get optimum results
Everyone loves to choose the size of polish that meets their boating needs without any limits, so Star Brite comes in several sizes and packages that can favor those with large and small boats or numerous boats. The boat polish provides a barrier to UV rays that may fade the paint coat or damage the gel coat and repel stains and keep the hull clean.
The PTEF polymers bond to the boat's surface to provide more protection and get your boat looking showroom new, giving your boat unlimited durability and shine. The boat polish can be used on fiberglass, plexiglass, metal, or painted surfaces to produce extraordinary results for your boat. The UV inhibitor helps stop the vessel from oxidizing and fading.
You can use it together with the provided wax to remove light oxidation and seal the restored parts with Star Brite Premium Marine Polish with PTEF. The polish is slick and non-stick, making it easy to apply and provide high-quality results even when novices use it. Due to its non-stickiness, it has an increased speed and is popular among boat lovers.
Pros
It does not require thorough cleaning on surfaces to ensure good results

Protects against harmful UV rays

Works on all types of boat hulls, whether plexiglass, metal, fiberglass or paint coat.

It has a PTEF polymer finish to repel stains and increase the boat's speed.

It has a long-lasting gloss finish and can protect the boat for a whole season.

Come in multiple sizes to fit your varying needs.

It may be used on vehicles too.
Cons
The formula dries up too fast compared to other polishes.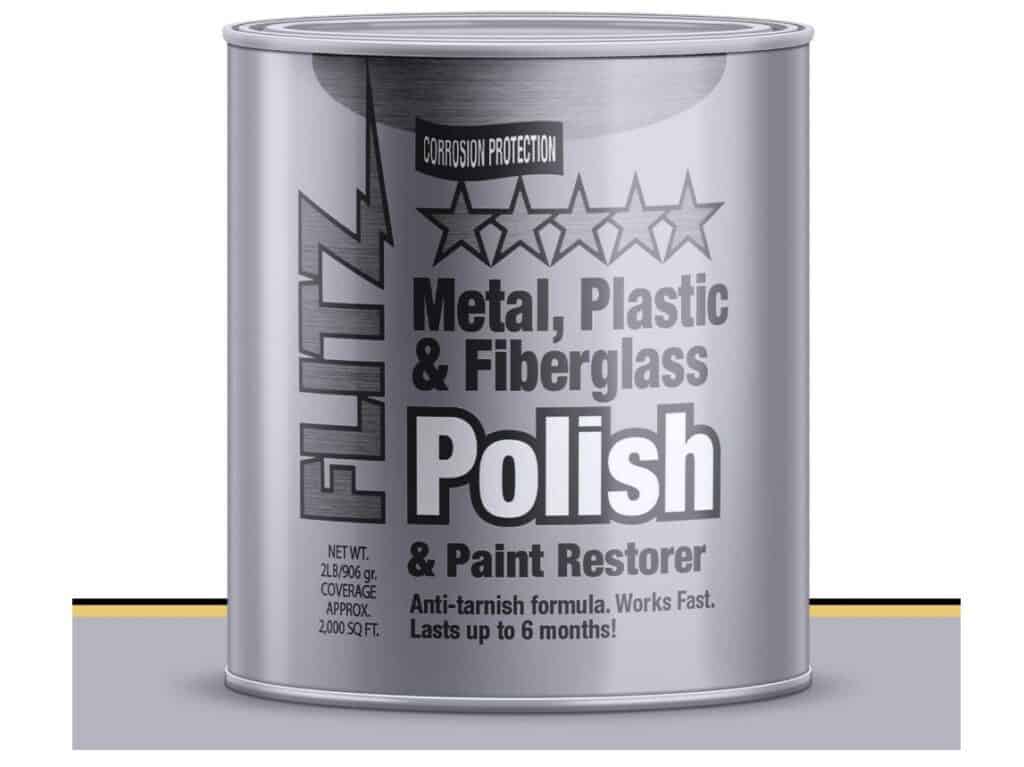 The Flitz Metal, Plastic, and Fiberglass Polish has industrial cleaning power and is designed to use almost anything from boats, vehicles, and even polishing jewelry.
The polish is suitable for plexiglass, chrome, aluminum, plastic, and fiberglass boat surfaces. It can remove tarnish, rust, water stains, oxidation residue, tar, oil, tree residue, and what have you. It is a MacGyver cleaner.
Despite its heavy-duty impact, the formula is non-toxic and completely safe to use for boat polishing. Flitz is non-abrasive and non-flammable and can be used on food surfaces, just if your hull can be used as a food surface. The polish works quickly and can have a long-lasting gloss finish for over half a year.
Pros
You can apply it using a buffer machine or rags.

IT works on a wide range of hull issues such as discoloration stains and black streaks

It has been highly reviewed as a highly effective boat polish

It is non-abrasive and safe to use in the environment

Suitable for all type of boat exteriors
Cons
costs a fortune

May leave a residue if not correctly applied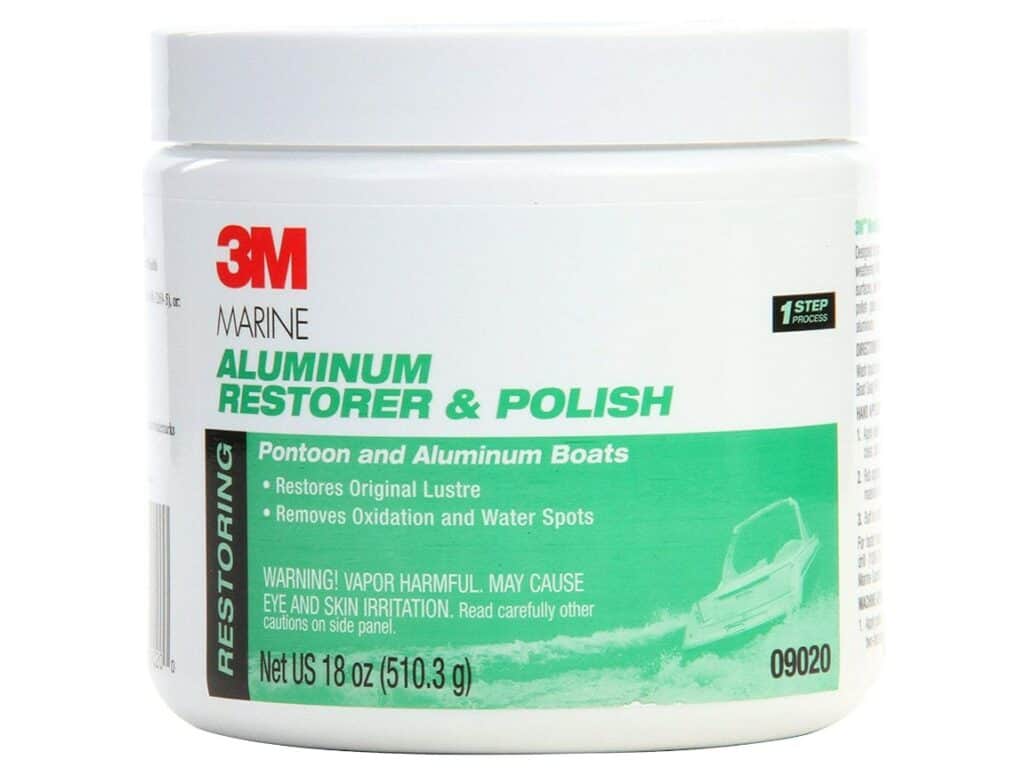 Using a product specifically designed for sole purposes, such as cleaning an aluminum boat exterior, will give you better results than using a general-purpose boat polish that may not be very effective on the aluminum. 3M Marine Aluminum polish is specifically designed to keep your aluminum hull shining throughout its shelf life.
3M can be applied to aluminum rails, ladder, deck, or rails. The formula ensures there is no chalking, corrosion and removes scratch marks from aluminum surfaces. You will be glad you used the Aluminum boat polish as it covers all parts of the boat to deal with heavy oxidation on pure and painted aluminum.
It is suited for polishing by cloth or using a buffer. Most consumers report that the latter offers the best result when polishing. One tip when using the polish is to try it on a small surface before doing an entire boat.
The product takes longer drying, making it possible to apply to all the necessary boat surfaces; it is also easier to clean it. Due to the slow drying, it is an economical choice for power polish and restorer as it enhances a higher gloss finish to the boat's aluminum surfaces.
Pros
Specialized for all aluminum surfaces

Take longer to dry; hence can be applied on more surface

Helps get rid of scratches, swirl mark and corrosion

Easy to achieve shine in a single polish

Removes chalking oxidation

Suitable for pontoon boat and fishing boats
Cons
Not suitable for matte or anodized aluminum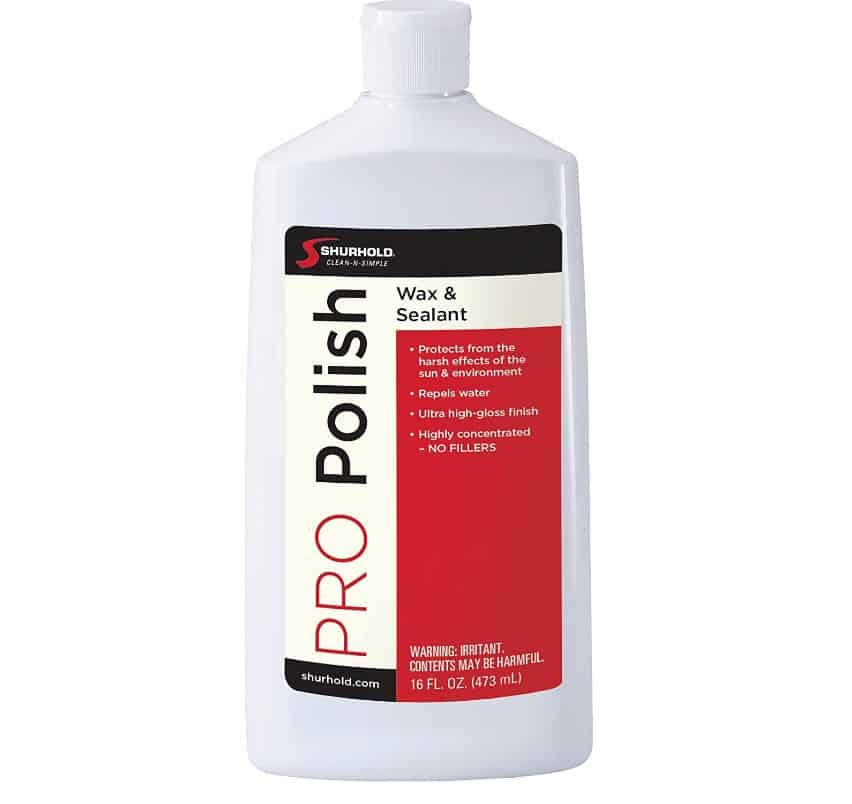 Shurhold stands above the rest of the marine polish due to being polymer-based. The polymer fuses the power of cosmetic-grade ingredients to repel impurities.
It is easy to apply as it lacks filler like talc making it easy to use without wastage. Some of the things the polish protects the boat from are salt and acid rain that other polishes do not and repelling water for maximum protection of your boat.
The boat polish is well formulated with UV inhibitors to keep the hull protected from harmful sun rays. Protection from the sun ray keeps the boat from oxidizing or the paint from fading out. You can count on the formula's versatility to ensure that it cleans all boat surface types such as gel coat, clear coat, aluminum, and fiberglass.
You can employ the Shurhold boat polish on yachts, boats, automobiles, and RVs. You have to ensure you wash and dry the boat surface before using the formula for optimum result, hence being time-consuming. With that said, the boat polish delivers a professional finish when applied correctly.
Pros
It protects the watercraft extra high gloss finish

It is a does to roles of polishing and protecting the boat from environmental damage

It contains no filler making it protect from environmental damage.

It has a UV inhibitor that protects the boat from harmful rays.

It can work on yachts, automobiles, boats, and RVs
Cons
The boat has to be washed and dried before application hence time-consuming.
FAQs
Question: How do you remove oxidation from painted aluminum boats?
Answer: Oxidation is a severe problem to your boat as it leaves it looking unclear due to spots and chalky surfaces that result from oxidation. If left unchecked, it can accelerate the deterioration since the oxidized layer holds much more water.
Oxidation, chafe, and other stubborn stains can be removed from non-surface treated aluminum surfaces using a fine-grade abrasive polish. When the polishing is done, the aluminum surfaces are protected by protective oil or wax products.
Question: Should I wax or polish my boat?
Answer: Most boaters assume that you should always wax your boat and polish it at the same time. This belief is somehow misleading as a new boat waxed at least twice a year may never need polishing.
When the boat is not regularly maintained, it starts to fade, loses its shine, and becomes chalky. When such events happen, you need to polish your watercraft. The polishing should be immediately followed by waxing.
Question: How can I make my old boat shine again?
Answer: You can restore your boat's shine with simple polishing. Use a soft piece of cloth or buffer machine until the hull has a glassy appearance. It is advisable to wax the boat immediately after polishing to guarantee long-term results. Luckily most boat polishes include wax in the package.
Question: How do you restore faded Gelcoat on a boat?
Answer: It is easy to restore faded Gelcoat on a boat with three simple steps.

Clean the boat surface, washing the boat hull and topsides with marine soap in diluted water.

 You should let the boat dry and start polishing to remove stain and oxidation to restore the shine.
It would be best if you protected the boat from losing its shine with wax.
Question: How often should I polish my boat?
Answer: A good boat maintenance regimen involves washing and polishing the boat to remove stains and keep it clean. One challenge is that it is often difficult to determine what is regular. A recommended period is 3 to six months though there are polishes that can last a whole year.
Conclusion
Your boat needs only the best boat polish to keep it shining, along with a few practical maintenance tips. The best polish is one that is compatible with the watercraft's exterior as well as other substances like wax. It is also good to only use environmentally friendly polishes to keep the sea or marsh vibrant.
It would be best to compare different boat polishes to find the one that delivers the most optimum results for your vessel. According to our research Meguiar's M4516 Marine/RV Polish is the best polish for your boat. This formulation protects your vessel for a long duration while still giving it a stylish appearance.
Apart from its longevity and aesthetics, the polish protects your boat from UV radiation that may lead to oxidation degradation of your boat. Additionally, it also protects your machine from saltwater that can lead to the destruction of your vessel.