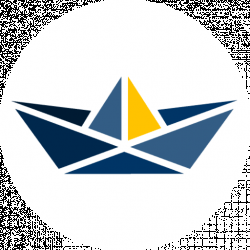 Latest posts by Boat Bub Team
(see all)
Mooring whips, also known as dock whips or boat whips, were initially designed to counter changing tides, wind-driven waves, and boat wakes. They are among the most common dock accessories used by boating enthusiasts around the world.
The mooring whips have been a significant fixture in the boat docking industry for years now. They have a wide range of applications, but they are generally used for smaller boats. If you don't like how your favorite boat keeps bumping into your dock, then this fantastic accessory is what you need.
Most folks do not know whether they need the mooring whip for their boat or not. In this guide, you will get to know about the benefits of mooring whips, how they work, what to consider before getting one, and everything you wish to know about finding the best mooring whips. Take a sip of your juice and continue reading this guide for more information.
How to Find the Best Mooring Whips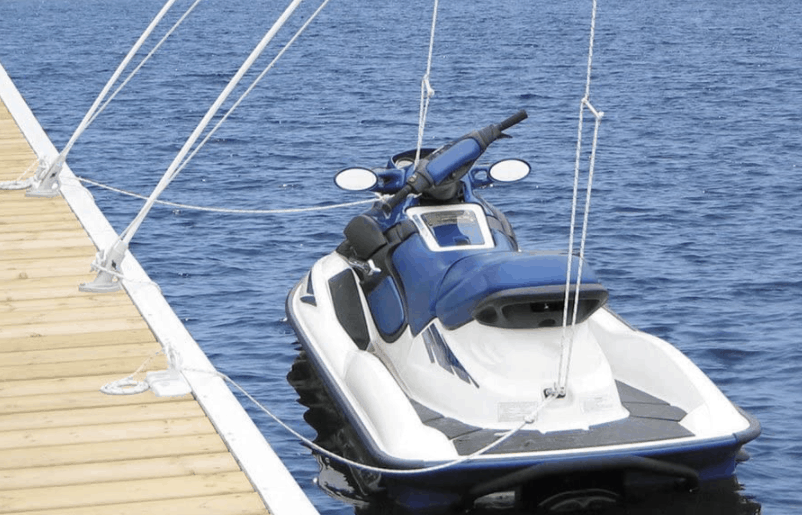 As you have seen above, mooring whip is a safe and economical way to protect your boat against any costly dockside and seawall damage. It is made from quality solid fiberglass poles, tips, aluminum-magnesium base units, and mooring whip lines. Every set arrives with all the necessary hardware for mounting. 
The standard mooring whip and premium mooring whips are sold in pairs. However, if you are stuck when differentiating between the two, worry less since this guide has got you sorted. 
The standard mooring whips are equipped with fixed-angle bass with 60 ̊ angles and a fiberglass pole with dimension size of 13 – 16 inches. On the other hand, premium mooring whips are equipped with unique rocker arm bases that return the whip poles to the vertical position when not in use and have 1-inch diameter fiberglass poles.
 Standard mooring whips are commonly used for runabouts, bass boats, ski boats, and center consoles. In contrast, premium mooring whips are suitable for sailboats and more extensive,  high profile, or heavier boats.
For the standard mooring whips, their design best fits salt or freshwater, and you can apply them on moderate wake areas. Premium mooring whips are designed for saltwater applications and on large tidal regions.
You can easily store the whips since they are removable. The premium mooring whip is a one-pole system with a flush mount base, and you can easily find it being used on the swim platforms.
Why Is Mooring Whip Necessary?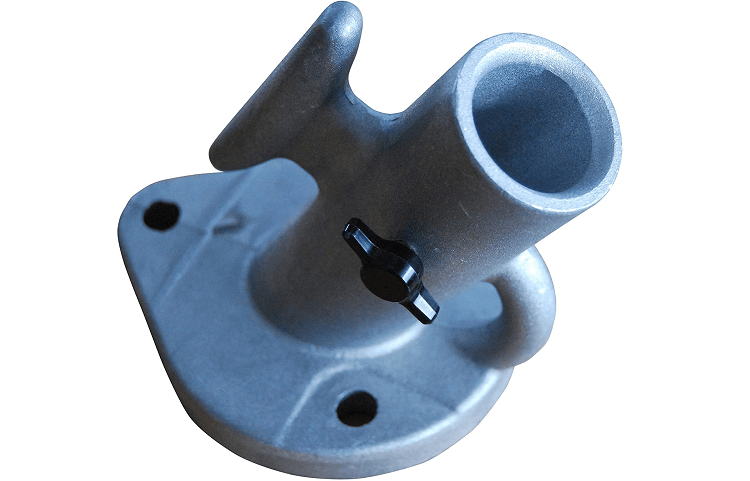 If you are among those folks who keep their prized possession docked at home, you certainly need mooring whips to keep your favorite vessels safe and sound.
When there are no pairs of mooring whips involved, even the multiple fenders and the most robust dock lines cannot guarantee your boat any prevention from bouncing against the dock and destroying its lustrous finish.
The fact remains, without the protection, you do not even wish to imagine how the seawalls and breezy conditions can be so unforgiving when it comes to scuffing and, worse of it, damaging your favorite boat. Some of the main reasons why you need a mooring whip include:
Inexpensive Method
When it comes to price, mooring whips do not go wrong. They are an excellent and inexpensive way to keep your boat safe. That does not mean that you will get a low-quality accessory when you buy a cheap whip. 
The mooring whips are long-lasting and come with a fair cost even when installing compared to other methods of securing your boat. You don't have to stress so much about the price since there is always something for everyone. Protect your boat from banging against the dock as well as from other boat wakes, storm waves, and wind.
Strong and Unobstructive
Mooring whips contain poles, and at the end of every pole, there is a roller-tip, a gear-like mechanism in the line threads to attach to your boat. That helps to keep the line moving to ensure the boat rocks away from the dock and maintains a stronghold on it.
The whips are very sturdy and cannot be obstructed by waves, seawall, wind, or tides. Your boat needs a solid accessory to prevent any damages while docking. 
Easy to Disassemble
One of the best things about mooring whips is that you can easily remove them or disassemble them for easy storage. If you are not using your mooring whips, you should break them down into two pieces and store them for future use.
Although not all mooring whips are removable, ensure you get a removable whip to help you store it with ease when not in use. That will also enhance a more extended usage period of the whip as you continue securing your boat.
Provides Protection
If you are emotionally attached to your boat, the minimal investment and short amount of work involved with the installation of mooring whips will help you sleep better at night. That is because the whips will offer any kind of protection from other boat wakes and wind to your boat.
Mooring whips keep the boat from bumping against the dock and avoid damages to your expensive boat. In a nutshell, any safe boater should not overlook that mooring whips are just one element of complete docking protection.
If you make proper use of the right length and tensile strength dock lines, not forgetting to secure your vessel with a bow, the stern and spring lines work together for safer mooring.
Easy Installation
Installing mooring whips is like a walk in the park. It involves simple steps and does not consume a lot of time and energy. First, you need to determine the dock's place where the mooring whip base units should be fixed to provide maximum protection.
You can mount the stern base unit directly in line with the stern cleat while the bow base unit is fixed in line with your boat's forward cleat. If you have heavy-duty poles, it is good to utilize some backing plate rather than bolting the base unit directly through the plank on the dock.
Once all the mounts are bolted into position, go ahead and reinsert the poles and prepare the mooring whips for final installation. Finally, you can now try your boat out by determining the right length of line on the mooring whips for securing your vessel about three feet away from the dock.
Typically, a boat whip is the best choice for canals, lakes, low wake zones, and protected marinas. However, if your anchorage space is very rough waters, mooring whips might not be a better option for you. On the same note, the whip system may not be suitable in hurricane-strength winds.
Which Types of Mooring Whips Are Available?
When you go to the store to buy your next or new mooring whip, you need to keep in mind that there is a wide range of whips for your boat. Generally, all mooring types offer the same services, but there is a difference in the materials used in construction and their application. Below are the main types of mooring whips in the industry. 
Standard Boat Whip
This is one of the most popular types of mooring whips. They are made from a sturdy sea-worthy fiberglass pole and cut to certain lengths with specific taper or spring lines. The standard mooring whips are designed for various boats, equipment setup, and vessels. The whips base attaches to a dock while the spring lines connect to the boat.
Ensure you look for a marine-grade while purchasing your standard mooring whip for use in various scenarios.
Once you bought your standard mooring whip, the kit includes the wood dock mounting bolt kit, two standard bases, four spliced dock lines, two solid fiberglass poles, installation and care instructions, and two ¼ inch nylon lines with tension adjusters.
Boat-mounted Whip
Boat-mounted mooring whips are also referred to as towing whips and attached to a boat's stern instead of a dock like other whips. These mooring whips are mostly found on larger yachts for towing or carrying dinghy and on smaller vessels for transporting along a jet ski.
If you wish for a low-cost and cheap installation whip, then this boat-mounted whip is what you need. It frees up deck space and eliminates the cost and maintenance of fixing a boat davit system on the back of your boat.
Steel Boat Whip
A steel boat whip is more similar to a standard mooring whip, but it has steel arms with lines and a steel base. The whip attaches to the dock and boat at the same time for protecting your boat from wind or tides.
Premium Whips
A premium whip starts with a solid fiberglass rod. It is later made in multi-stages with exclusive cross-wound fiberglass for more rigidity unobtainable with a single solid rod. With multi-stage manufacturing, the premium whips get the necessary strength and flex to maintain the boat's position.
The whip comes with an exclusive plug and socket design for quick and easy partition and casts aluminum base with built-in cleat, thumb screw, and a ring. 
Every premium mooring whip kit arrives with a unique functional roller tip and stainless steel mounting hardware. It also includes a tie-off cleat for easier access to your lovely boat.
What Factors Should You Consider When Buying Mooring Whips?

After knowing about the various types and why mooring whips are essential for your boat, it's time to face your fears and invest in one. Ideally, purchasing a new and perfect mooring whip is not a piece of cake for most folks.
Once you know what to look for when buying mooring whips is the idea to save you a lot of hassle. You will get the proper whip and say goodbye to your expensive boat insecurity while docking.
If you wish to know about the factors to consider before buying a mooring whip for your boat, relax and continue reading this guide. You will be surprised what you have been missing!
Research About Various Brands
One of the most vital factors to consider when buying a mooring whip to do thorough research about the available brands. You will note that every brand has a unique feature about the whip you wish to purchase. 
The research plays a crucial role in determining which brand perfectly fits your boating needs. Ensure you also look at various comparison charts to get the best mooring whip brand of your choice.
Price of The Whip
As a customer, knowing the cost of a whip helps you work within your budget. The cost of purchasing a mooring whip varies from one dealer to the other. Some vendors or manufacturers have a wide range of boat whips that perfectly match all boat sizes, while others do not. 
Even as you focus on price, quality matters a lot when it comes to the cost of a boat whip. Ensure you go to various vendors and compare their prices and the dock whip's quality before choosing one. 
Although most people believe that if a whip is expensive, it means that it is of the highest quality and vise versa, ensure you buy according to your budget. If you research extensively, you will get premium quality whips at an affordable price. 
Materials Used
Various types of whips are made from a different material, as you have seen above. For instance, dock whips are made from superior quality and solid fiberglass that is tapered flexibly. They also give extra strength necessary for maintaining a convenient and safe distance from the dock.
Before buying any type of dock whips, ensure you are made from premium quality materials. If the whips are of superior quality, you will be sure they will protect your boat and last longer. That will, in return, save you money and time for doing repairs.
The place of Purchase
You can decide to buy mooring whips from physical shops or visit online shops. Some vendors sell in retail or wholesale stores. Ensure you check the various shops and pick the one that fits you in shipping and the mooring whips' cost.
If you decide to buy online, check the shipping fees since most shops charge the costs of mooring whips according to the whips' size. Choose a reliable vendor for your boat whips, and you will avoid future regrets. Also, be aware of the fake goods and manufacturers in the industry to avoid being a victim.
Weather conditions
The weather conditions can affect the type of dock whips that you can buy. That is so because you need to protect your boat no matter the tidal changes. When it comes to weather, you need to know about the winds, weather patterns of your area, the nature of the sea, and the force of currents. 
There are instances where some water bodies may experience heavy tidal waves that can cause extreme damage to your boat. If that happens to you, you need dock whips to hold your boat in a position effectively.
Read reviews
The best way to know about the best boat whips is by enquiring from other boat owners in the area you live if you are not about the whips. There are also online reviews that can help you identify the best brand and vendor in the market.
The best thing about customer reviews is that they also point out what you should avoid according to their experience despite telling you about the best whop brands.
7 Best Mooring Whips
Choosing the best mooring whips for your boat is a very confusing and tiresome process, primarily due to several types and brands in the market. This guide has summarised the benefits and disadvantages of every model we will list below to help you make the right decision.
In our list of seven best mooring whips, we do not intend to promote any particular brand but are based on experienced customers' reviews. The products are well explained with descriptions, extra features, pros, and cons to help you get the best mooring whip. Without much ado, let's get started!
General Marine Mooring Whips Swivels and Locks Vertically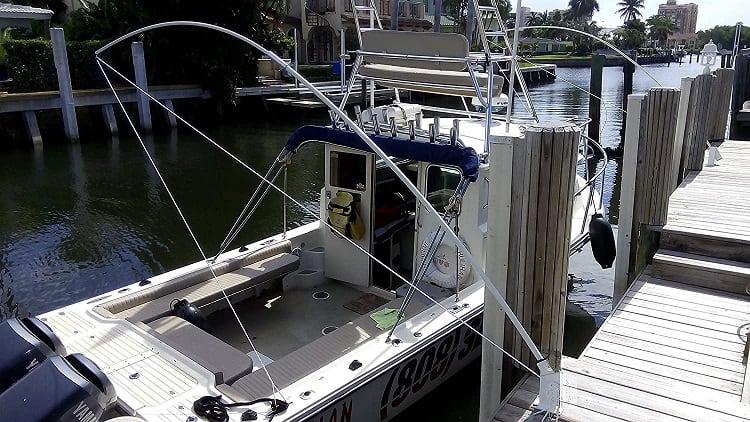 This General marine mooring whip is made from a marine-grade extrusion with stainless steel parts. It turns to a vertical position when used as a securing whip and protects your boat from moor harm caused by waves, wind, and wakes from different boats.
General marine mooring whips were intended to dispose of any shaft obstruction with the boat while getting back to the harbor. The vertical position keeps it from interfering with rigging, flybridges, and antennas.
This General Marine Mooring Whips swivel is perfect for vessels with wakeboard towers or high fly scaffolds. This specific model is deck mounted, solid and durable, designed to be used on all boats up to 40 feet.
Pros
Powder covered aluminum will withstand any climate condition

Solid and durable for boats both tiny and huge up to 40 feet

Shields boats from moor harm due to tide changes, wake from passing boats or wind

Produced using Marine Grade expulsions, all hardened steel parts
Cons
Dock Edge + Mooring Whip 8-Feet with Lines and Hardware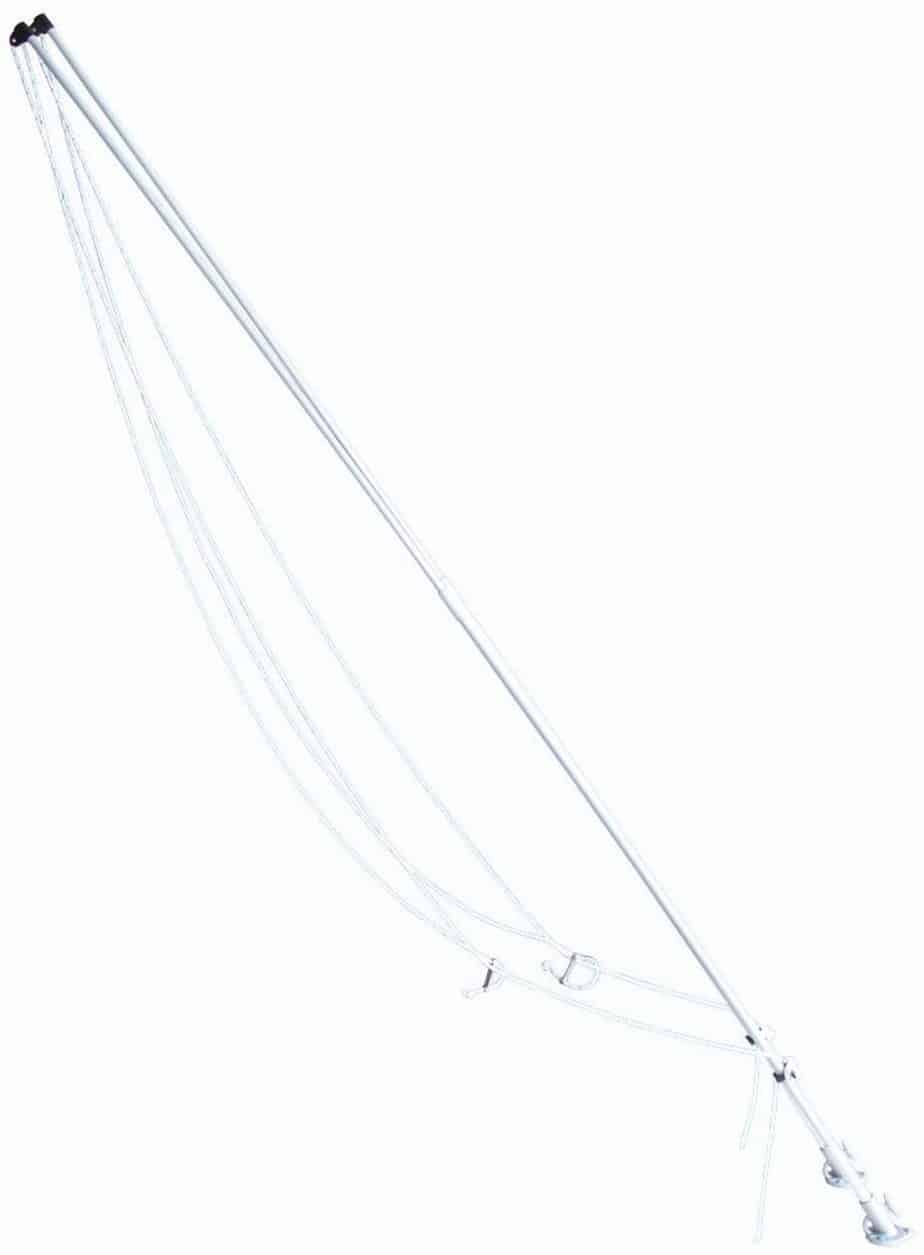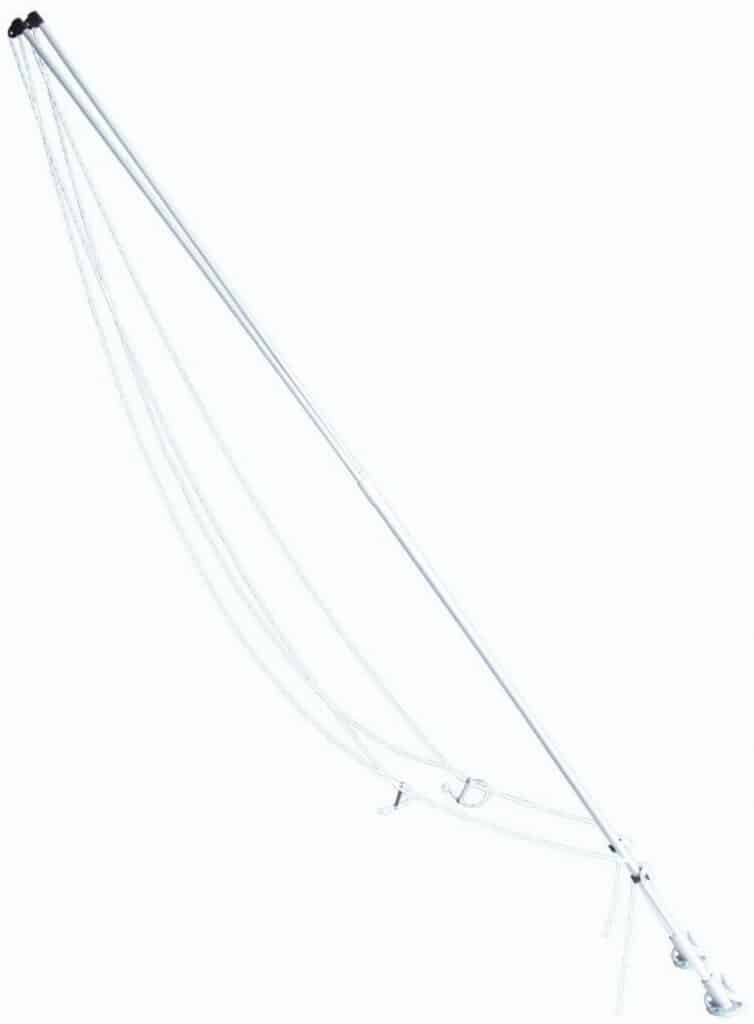 This whip model is the most effortless to use and to store in the offseason. It works to ensure that boats will avoid the harbor while not wearing on spikes. Dock Edge + Mooring Whip 8-Feet with Lines and Hardware, 2500-Pound is ideal for regions with flows, waves, traffic, and boat. 
You can model on all boats' styles and are fixed to all types of moors, both skimming and mounted. It comes with a unique rocker base design that permits the whip to conform to an upstanding position. This dock edge mooring whip is perfect for vessels with wakeboard towers and high fly scaffolds.
Pros
The model has a roller tip, tie off the projection, and a strong cast aluminum base for strength and convenience.

It is easy to use and store

Produced with solid, strengthened cross injury fiberglass

Novel fitting and attachment framework takes into consideration no sticking and simple to set up and disassemble when not being used
Cons
Not long-lasting

Little costly
Mooring Whips by General Marine for Small or Large Boats
If you are looking for deck-mounted securing whips, this Mooring Whips by General Marine for Small or Large Boats is for you. It has marine-grade hardcore aluminum powder-covered shaft underpins. The shaft features four mounting openings, a set screw to hold posts set up, and a plastic fitting.
The pultrusion shaped strong fiberglass in two segments with sturdy coupling shafts come with dimension size of 14 x 1 inch. This product also includes a treated steel nylon turn pulley put towards the end of the posts and a twofold braided nylon test line.
The whip set contains a line, two bases, mounting equipment, two posts with 14 inches each, and a manual. 
Pros
Changing from the dock with a nylon base-mounted projection

Simple shaft expulsion for capacity

Premium quality materials used for durability

Treated Steel nylon pulley at the shaft closes
Cons
Dock Edge + Replacement Whip (10000Lb) for + 3600, 3650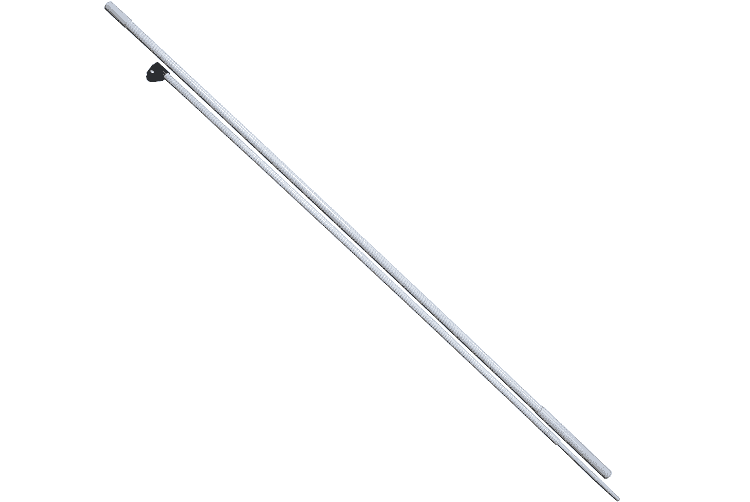 Dock Edge + Replacement Whip (10000Lb) for + 3600, 3650 is outstandingly strong, alluring, and impedes your waterfront see. Every whip mount with a strong cast aluminum base worked in the fitting. 
These fiberglass securing whips are complete with twofold meshed nylon whip lines, treated steel mounting equipment, and spring lines. If you focus more on weight than your boat's length, then this whip is fit for you.
These premium quality securing whips act as a spring to keep up your boat at a safer distance away from your harbor. That is necessary to forestall the effects brought about by the wake of other passing watercraft or waves.
Pros
Easy to use

Each whip is constructed to the most rigid specifications and is of the highest quality, patented materials.

Affordable

Each whip is composed of a solid and durable fiberglass rod and acts as a spring.
Cons
It is not suitable if your essential factor is the length of the boat

Some securing regions might be excessively unpleasant for a tie-up framework.
Dock Edge + Mooring Whip (Set of 2), 14′ (4, 3M)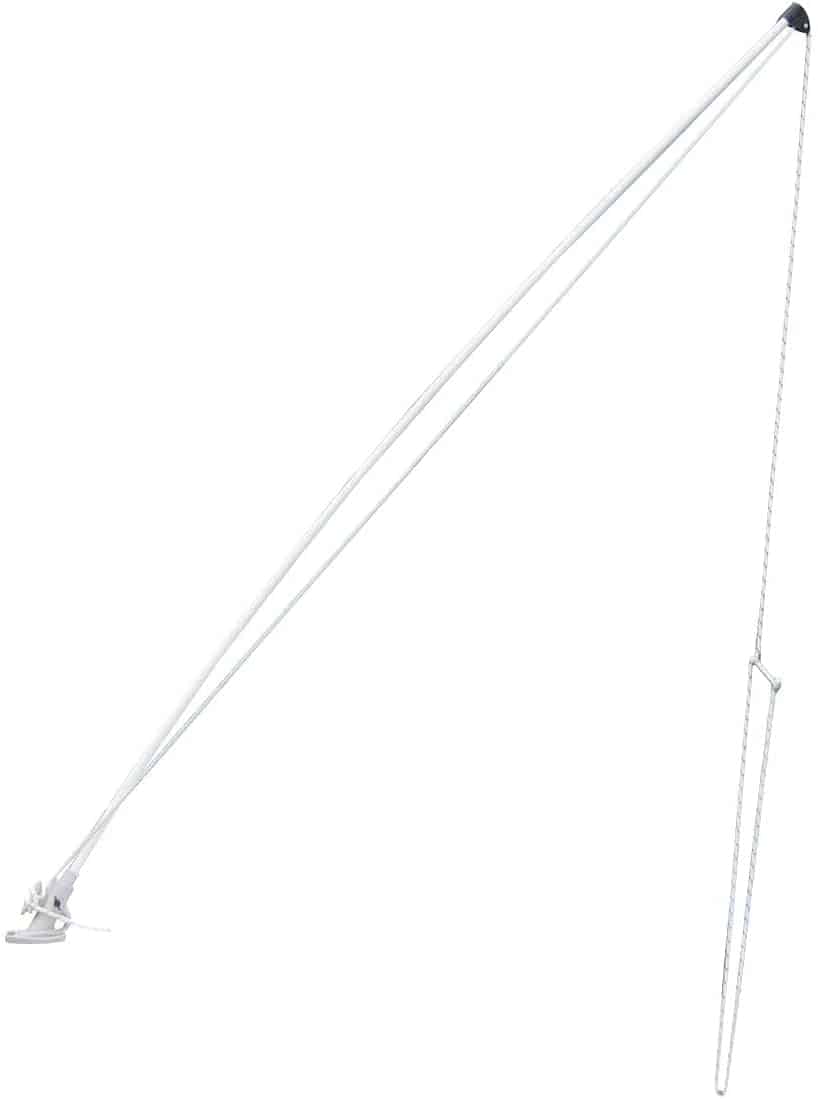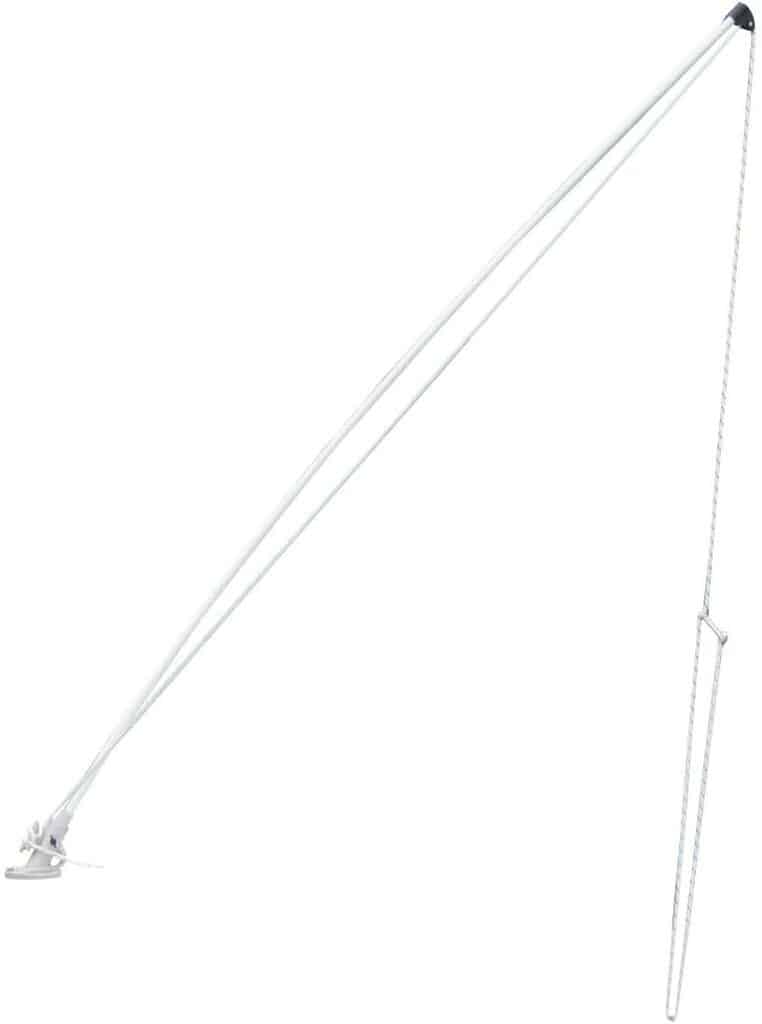 These quality DockEdge+ mooring whips feature a solid, cast aluminum base with an in-built ring, thumb screw, and a cleat. It also has a unique plug and socket design for quick and easy split, new fiber high tech, and tie-off cleat.
This whip acts as a spring to keep your boat at a more safe, convenient position from your dock and prevents the damages caused by the wakes, wind, or waves. It starts with a sturdy rod and is made in multi-stages with triple cross-wound fiberglass making the whip more solid and flexible to retain the boat's position and prevent the over-flexing of the whip.
The product set comes with a tie-off cleat and a unique tip with a functional roller for easier access to your boat. There are also mooring whip lines that simply roll through the pulley, making the boat gently approach the dock for boarding.
Pros
Manufactured with reinforced solid cross-wound fiberglass

It contains a tie off the projection, roller tip, and strong cast aluminum base for strength 

It is easy to install

The whip lines help your boat to approach the dock for boarding gently

Unique plug and socket system allows for no gluing and easy assembly and disassembly when not in use
Cons
Some users say it is not up to the task for keeping your boat safe from lake traffic

The whip is not stiff enough since the top-notch has a smaller size than the base
Dock Edge Mooring Whips & Arms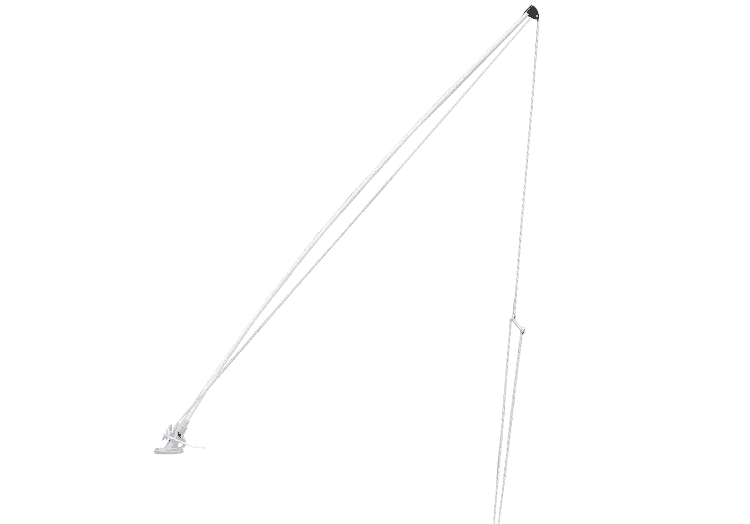 This Dock Edge Mooring Whips and Arms is an upgrade to dock guard profile and guards. It is ideal for protecting your boat and splitting the dock and the boat to limit the chances of damages caused by wind, waves, and wakes.
These easy to install securing arms use a vector-based power to the watercraft's bow and harshness, allowing it to openly and effortlessly follow the water waves and activities such as flowing vacillations. They safely avoid the art at all costs from the dock surface and contain a cast aluminum base with an integral ring and cleat.
Pros
Comes with cast aluminum base with Integral cleat and ring

It is effortless to install

The whip limits the chances of damages caused by wind, waves, and wakes.

White fiberglass with conventional tip and aluminum tensioner

They safely avoid the art from the dock surface
Cons
There are reports of sudden failures in the regions where tides move in and out daily
Mooring Whips deck mounted for boats from 15′ to 40′ solid 1″ X 14′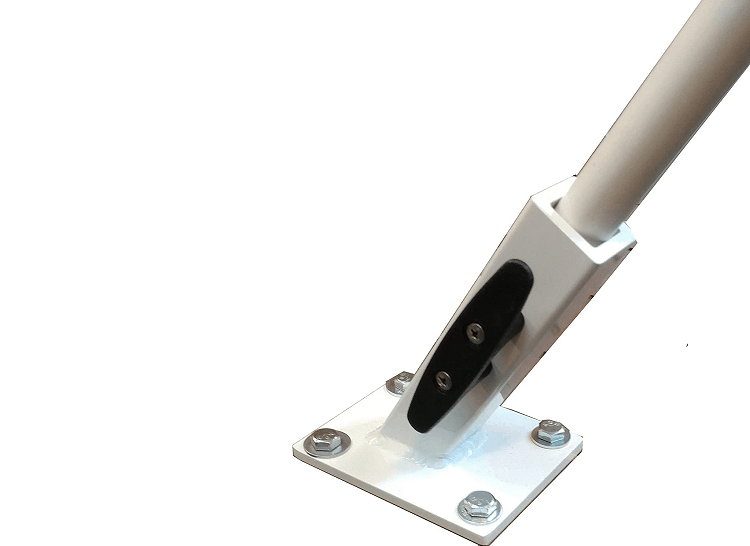 The Mooring Whips deck mounted for boats is all aluminum powder-covered. They are powerful and are securely installed to the most secure part of your dock. For better leeway and simplicity of the activity, the whip is mounted on a higher position. 
These durable whips are made using marine evaluation aluminum at the point covered by powder. The best thing about this whip is that it is suitable for all types of boats. It also comes with a lifetime guarantee on bases and will secure the boats up to 40 inches. 
Pros
One size fits all designed for boats up to 40′, 20,000 lbs.

Has the strongest 14-inch solid fiberglass whip poles

Lifetime guarantee on bases

Superior quality product

Powder-coated for long-lasting service under any weather conditions

The bases are made from marine grade professionally welded aluminum
Cons
Some claim that the tiny screws that tie the whip parts freely and do not hold the part of the whip.

Fairly expensive
Frequently Asked Questions
Are you still worrying about how to purchase the best dock whips for your boat or vessel? Well, maybe that's because you still have trouble answering some critical questions about whips to no avail. 
Here, you will get to know about the commonly asked questions about the mooring whips. Relax, and go through the questions and answers before deciding which boat whip to buy and be ahead of everyone else.
Question: What Are Mooring Whips?
Answer: Mooring whips or better known as dock whips or boat whips are flexible poles designed to function similarly to fishing poles. You can use the whips to hold your boat off a dock at a safe distance to prevent any possible damage to your boat.
The original idea behind the mooring whips invention was to counter the effects of extreme tides and waves. With the help of tension, the boat whips can keep your boat in a fixed position away from the dock. Most boat owners apply the mooring whips. 
Question: How Do Dock whips Work?
Answer: Dock whips are mechanically fastened to one end on the dock while the other is connected to the boat through one of its cleats. The tying of the whips on the cleats causes the fiberglass pole to bend and help keep your boat and dock separated.
Most boat whips are used in conjunction with fenders,  bumpers, marine-grade lines, among other means for the boat's safety.
Question: Do I Need Mooring Whips?
Answer: This question confuses most boat owners. In case you are one of them, don't worry since the answer lies right here. Before you answer this question, you need to identify your location. 
In most cases, boats are susceptible to any damages caused by tidal waves or collisions from your dock. If you live in a place where the waves are expected, then the mooring whips are essential for your boat. You will stop dock and boat collisions as well as make your vessels live longer.
Question: Is There a Better Mooring System Than Using Boat Whips?
Answer: The answer to this Yes! In the docking systems, there is a new stage of evolution called SlideMoor. This system works best in solving most of your docking and mooring issues.
It works by securing your boat tight with the help of two lines on the same side and eliminates banging and bumping. SideMoor ensures that your vessels can move securely up and down through the tides and waves.
Conclusion
It is the wish of every boat owner who faces the effects of waves and sea tides to have the best mooring whip for their boats. However, the journey to getting the excellent mooring whips is full of ups and downs. As you have seen in the list above, there are seven best mooring whips to help you choose the one that suits you best.
According to our list, the best mooring whip is Dock Edge Mooring Whips & Arms. This whip has stood out because of its great features. It is made from durable and superior quality materials and can fit all boats up to 40 inches. The product also comes with a lifetime guarantee on bases.