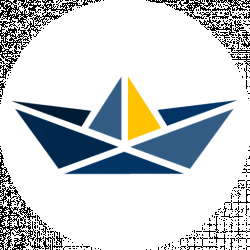 Latest posts by Jeanne Murugami
(see all)
Anglers refer to them as skiffs or flats, hence the name flats boat. This is one of a kind marine vessel meant to help you, an avid fisherman, reach your trophy in shallow protected waters. These shallow reservoirs have some of the rarest fish species as fishing enthusiasts rarely explore them, and ostensibly, it's where they breed. Hence, the need for a boat that enables you to navigate with ease through shallow waters. In this review, we'll help you with credible holistic information regarding the 10 best flats boat types and models.
We're aware of your need to acquire a sturdy flats boat, but reliable information plays a huge role with the vast models and constricts. In this appraisal, we'll consider a floats boat reliability according to outboard, size, poling platform, draft, safety, stability, price, and storage.
Here are flats boat types and modes that represent quality and excellence.
Top 10 Highly Rated Flats
2022 Maverick 18 HPX-V: Best Flats Boat for Net Casting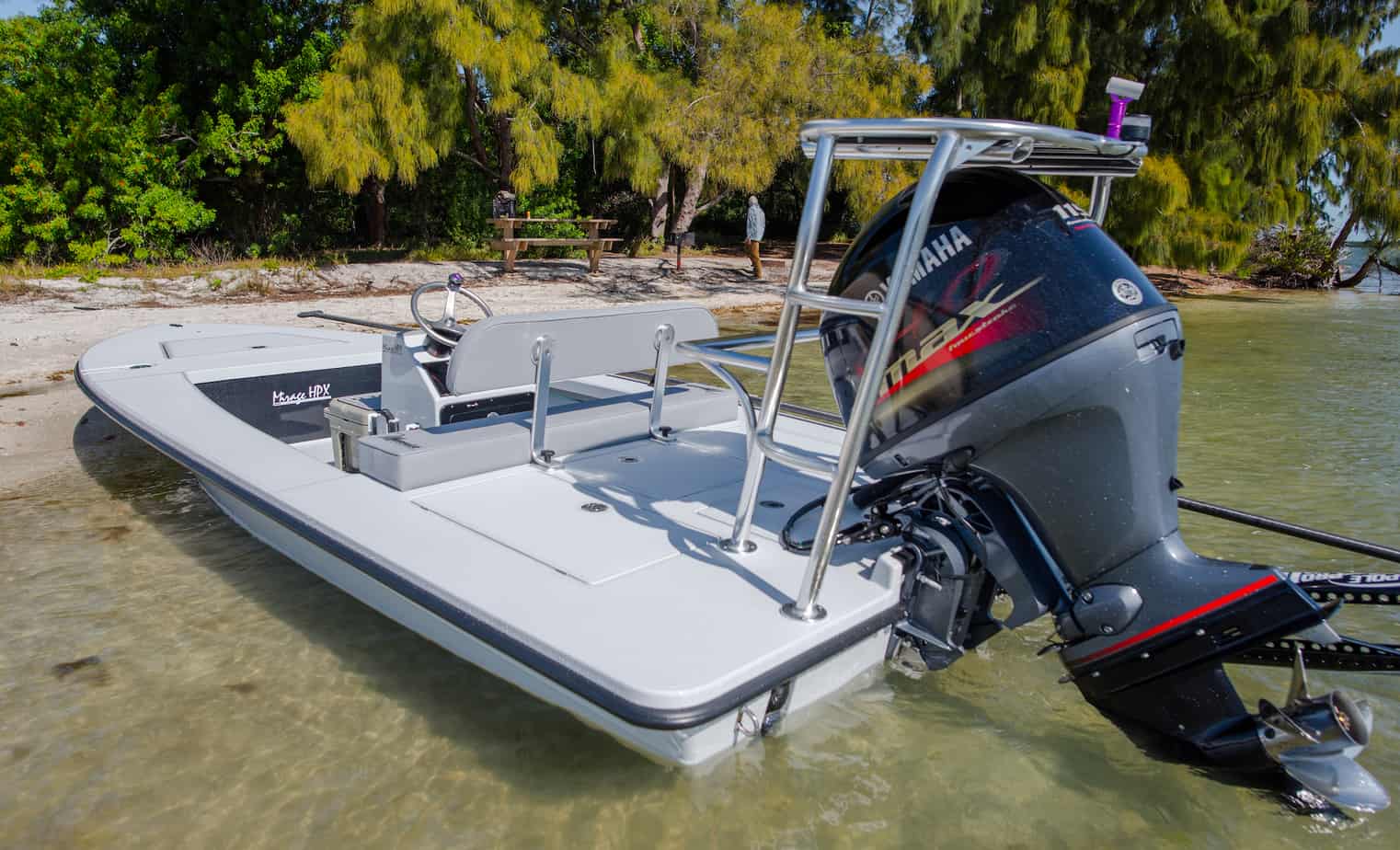 Riding the 18 HPX-v will leave you with a utopia feeling, and anglers will attest to this. The 2022 Maverick 18 HPX-V flats boat is unbounded, and its mere nimbleness is a feature to adorn. Already in the market, the Maverick is valued at $44,161. It's the latest model of this series; thus, its functionality is refined to detail.
Popular with anglers, the Maverick 18 is available in six different colors. It's fitted with a 29gal outboard that produces 250 Hp. This is the equivalent of the power you get from the Lexus ES or Volvo V60 engines. For easy handling, the standard Maverick model comes with a hydraulic tilt steering.
This is common with a caliber of flats that generate more than 150 Hp. The flats hull has a 13 degrees deadrise that helps the boat maneuver through waves effortlessly and makes turns with ease. It comes with a 30gal Livewell fitted with an automatic bilge pump to keep the water circulating. The HPX-V comfortably carries four individuals, and this goes on to show its versatility.
The boat comes illuminated from the Livewell, storage compartments, console, under gunnel, all fitted with courtesy lights.
Pros
It has a spacious deck which translates to more fishing space.

Very stable; this flats boat handles both calm and rough water conditions.

Cruises smoothly.

It is made from quality aluminum.
Cons
The outboard doesn't have a jack plate which is vital in some fishing water conditions.
Beavertail Air flats: Best Flats Boat for Big Waters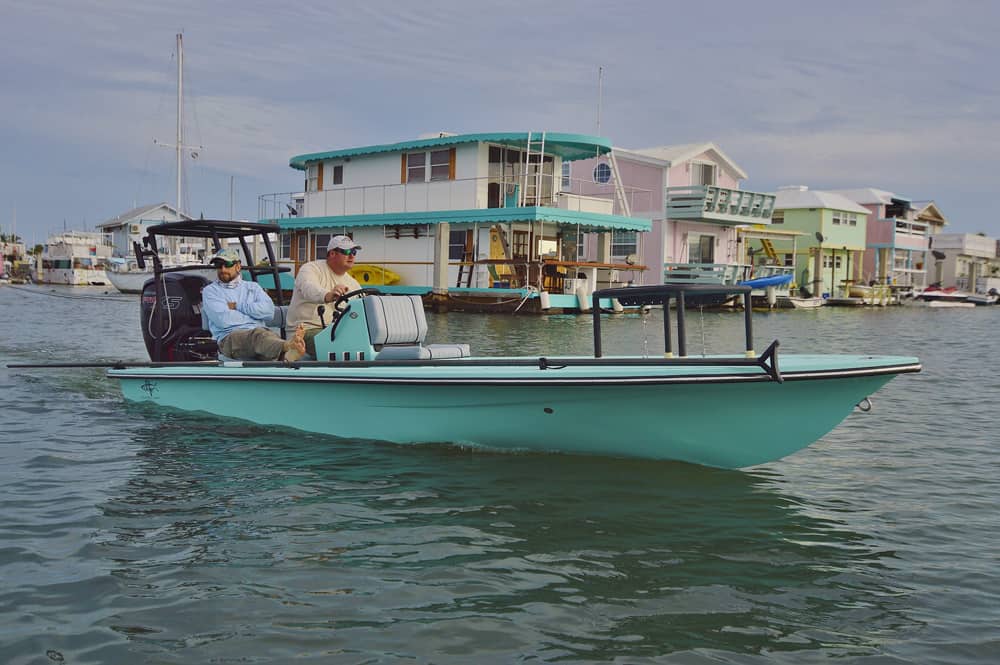 The Beavertail Air also goes by the name Jon Boats. It's constructed using high-quality aluminum and has a $44,500 price tag. It's designed primarily for fishing tournaments, hence why the flats boat cruises through shallow backcountry waterways with no trouble. The standard model comes with a 20gal fuel tank. The outboard has a 70-pound thrust trolling motor and delivers 90 to 100Hp.
The Livewell is fully automated and holds 30 gallons of water. It can handle at least 1000 pounds easily and has ample storage spaces at the front deck. One notable and unique feature of the Beavertail Air is the pod technology, which increases its ability to float, allowing 360 fishability. The technology also increases the flats plane.
Its hull is infused to ensure that the boat maintains its structural integrity in the most brutal water condition.
Pros
High-quality hull and durable.

It's exceptionally lightweight and watertight.

The high gunnels help you stay dry when bass fishing.

It doesn't sink even when swamped with 1 foot of water.
Cons
The exception for a quick turn test makes it hard to verify if this flats boat can reach maximum horsepower.
The East Cape Vantage: Best Flats Boat for Poling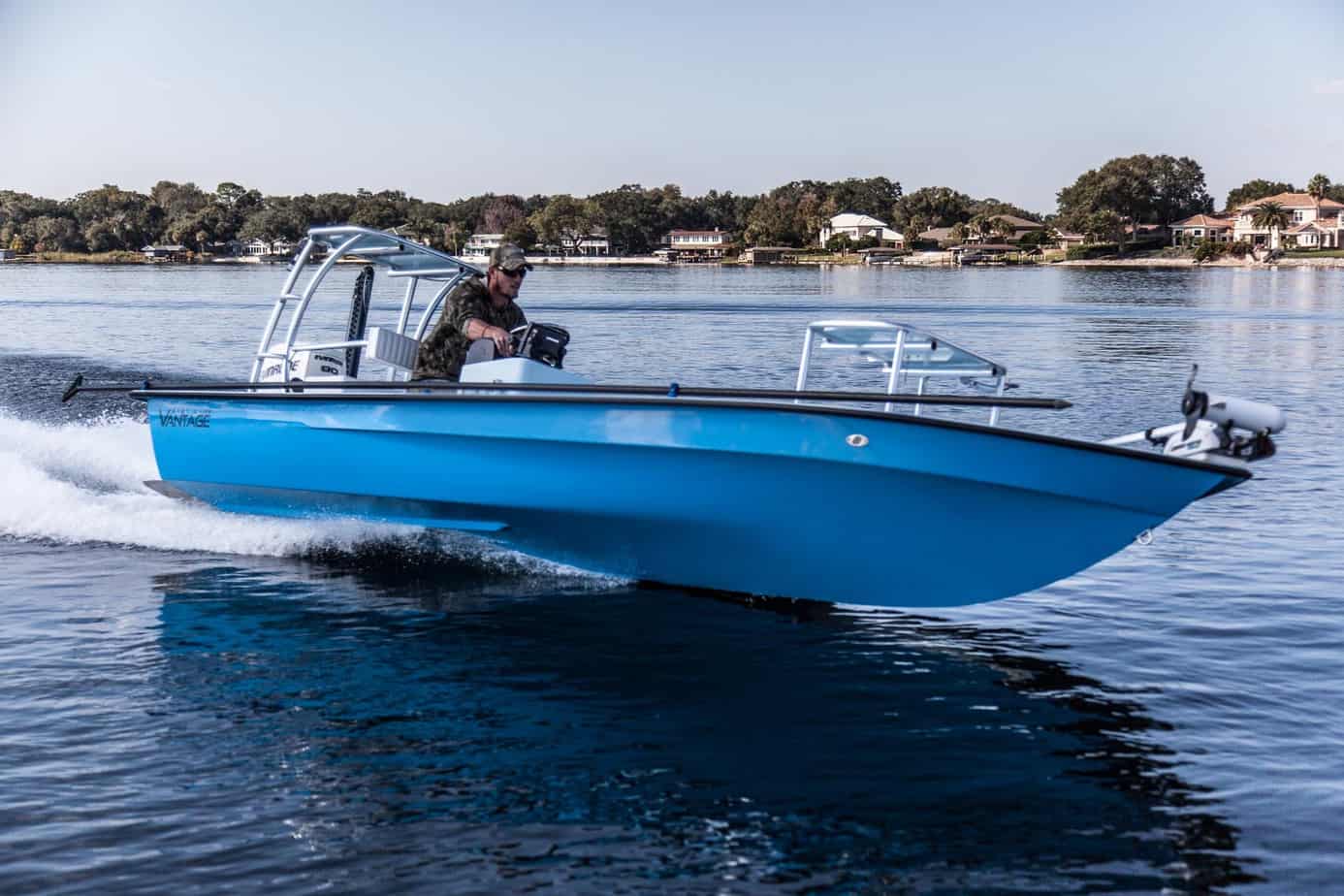 The East Cape Vantage is a flats boat engineered with the demands of anglers in mind. It can be used for all types of fishing and offers plenty of storage space and comfortable seating. The East Cape Vantage features an open bow, which provides ample room to fish from or cast if you're not interested in getting wet. It has a comfortable, roomy interior with excellent storage space for all your gear. 
The exterior features a large casting deck and a high bow that provides excellent visibility of the water below you and a dry ride in any weather. East Cape Vantage is the newest boat in the East Cape lineup. It has all the same features as its predecessors, but it also comes with a few new features that stand out from other flats boats. The first thing you notice about this boat is its size, at 54 feet long and 16wide.
It's big enough for your entire crew to fish comfortably without feeling crowded. This shallow draft vessel can hold up to six people and their gear.
Anglers refer to it as the king of big waters. It's fitted with an outboard that delivers 90-175 Hp. The console is configurable, and you can have it at the center, sides, or offset center. You also get a standard tower for polling.
Pros
It has excellent balance and stability.

Very comfortable when riding.

You get lots of fishing and storage space.

The Evid ride outboard is agile and very responsive.

The boat comes with an anchoring system.
Cons
You must order first since they're only custom-made.

It is highly priced.
The TR7 American Marine: Best Flats Boat for Rough Waters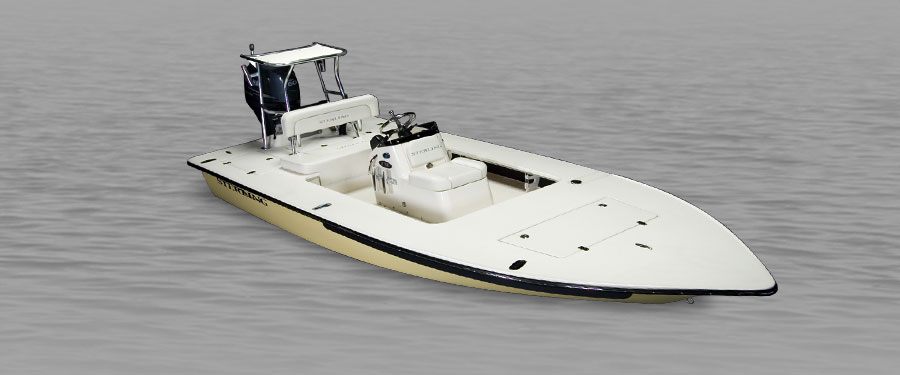 The TR7 American Marine is a flats boat that will take you up close and personal with the natural waters. With its low profile, it has an easy time getting over shallow water like mudflats or marshes. This makes it perfect for rugged bass fishing because you can get closer to the shoreline than other boats might be able to reach. It's one of the most popular boats on the market, and it's easy to see why.
This boat is designed specifically for fly fishing and offers a comfortable ride with plenty of storage space. Its outboard delivers a maximum of 90Hp, and the fuel tank carries 25 gallons of fuel. A 10gal Livewell is available, and it's designed to store any type of bass fish and crabs. The TR7 flats boat weighs just 550lbs, and even though it's lightweight, it can withstand the rough waters.
Rod racks are another pre-installed standard feature, and they fit 10 inches fishing rods. 
Pros 
It's a versatile and rugged fishing flats boat.

Made from stainless steel, hence durable.

Performs well in rough waters.

Optimal storage space.

It stays dry when cruising.
Cons
The Livewell is not that big.

It's not designed for rough waters.
Action craft 1720 Fly Fisher: Best Flats Boat for Flexibility and Performance

The Action Craft 1720 FlyFisher Flats Boat is a fishing boat meant for the avid fisherman. It features a spacious cockpit and fully rigged 9'6″ rod holders to easily access your favorite gear. This Action craft has been designed with safety in mind, as it comes equipped with an anchor system—this aids in keeping you from drifting off into deep waters when you're not paying attention.
The Action Craft 1720 FlyFisher also includes two live wells and plenty of storage space to make sure everything is at hand when you need it. It sails in both freshwater and saltwater bass fishing. More features include a shallow draft, an aluminum hull, a fiberglass-reinforced bow to protect against dings from rocks, and a high-performance rudder system for increased steering control.
The storage compartments are in abundance, and so are drink holders. Batteries and electrical cutouts are easily accessible just below the front deck. It carries six people maximum, and the outboard generates 140HP.
Pros
High-performance.

It's incorporated with safety technology.

With an 87 inches beam, the flats boat is quite spacious.

It has a powerful outboard.
Cons
It's deadrise if high, which increases drag.
The Hell's Bay Waterman 18: Best Boat for Any Adventure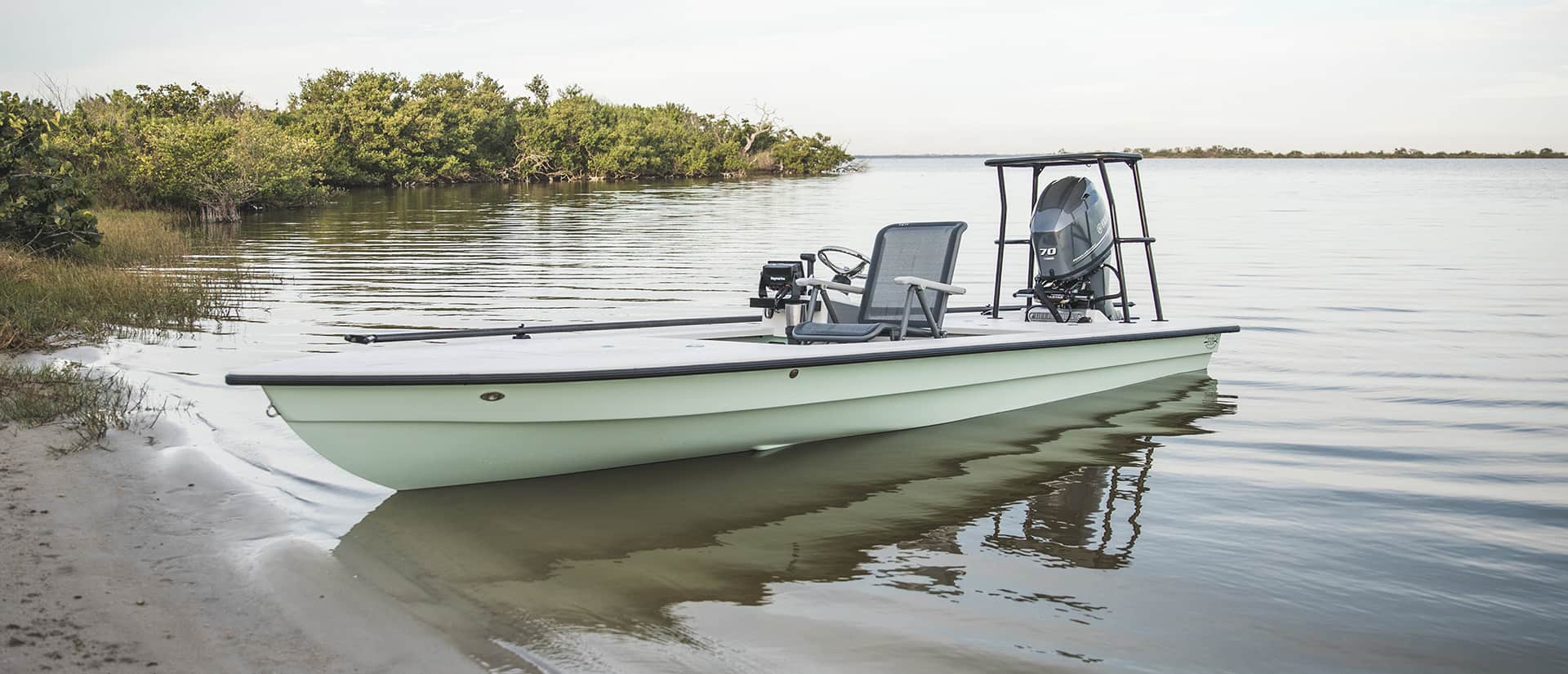 If you're in the market for new flats, the Hell's Bay Waterman 18 should be perfect for you. It's the ideal boat for a family adventure. It has two built-in bench seats, a high back seat and offers plenty of space to store all your gear. With Hell's Bay "All Marine" fabric upholstery, you know it won't be ruined by water or sun UV rays. The Waterman 18 has an aluminum hull with polyester resin construction to withstand years of wear and tear in any water and climate.
It has a deep V hull that provides speeds of up to 40 mph, with an air draft of 6 feet. This means you can on any type of water surface. With its high-quality design and construction, this boat will last you many years of fun times on the water. It has a 6 feet beam, making it easy to travel in shallow waters, yet it can still hold more than ten passengers.
This flats boat is strictly designed for powerboating and offshore fishing with an open deck layout that makes it easy to use on all terrains. It features a 12-foot beam and comes with a bimini top to protect you from harsh sun rays while you enjoy your time out on the water.
Pros
It's all terrain-from inshore to offshore and usable for all types of fishing.

Large sitting capacity.

The boat is durable.

Heavy-duty rails to hold on when cruising.

It's fitted with hydraulic steering.
Cons
The 30Hp is slightly low.
Chittum Islamorada 18 Legacy: Best Flats Boats with Unparalleled Pedigree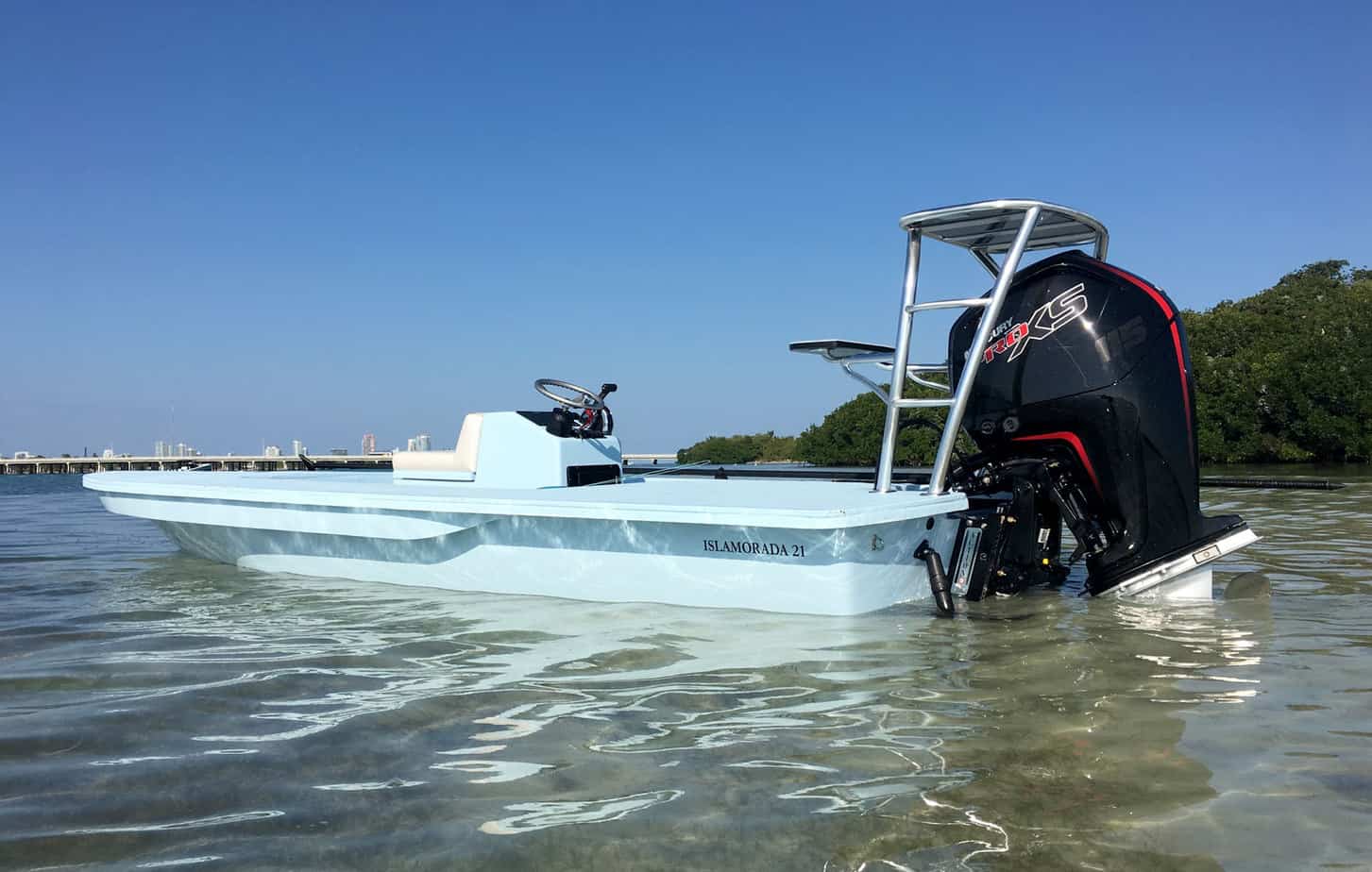 The Chittum Islamorada 18 Legacy is the company's flagship model designed to handle offshore fishing or cruising without sacrificing speed or stability. It's a great option for anglers who want to have the opportunity to fish in some of the best shallow bass fishing environments on earth. This boat will take you to places where you can catch some beautiful fish while enjoying its comfort and convenience. It features a powerful 150 horsepower 4-stroke engine equipped with a stainless-steel propeller and shifter.
Its cabin will comfortably accommodate six adults at once. The boat's hatches are lockable to keep your equipment safe. Extra amenities include five live wells and bait wells, with a 45gal and 5-gal capacity, respectively. You also get bow compartments, racks, and an additional fuel tank.
The flats boat also offers excellent stability because it has two hulls that form a V-shape at the vessel's stern.
Pros
It offers power, speed, and convenience.

Stable in rough waters.

It's solidly built hence durable.

Quality aluminum materials used.

Ample storage compartments.
Cons
It lacks advanced technology.
2020 Mako 18LTS: Best Flats Power Boat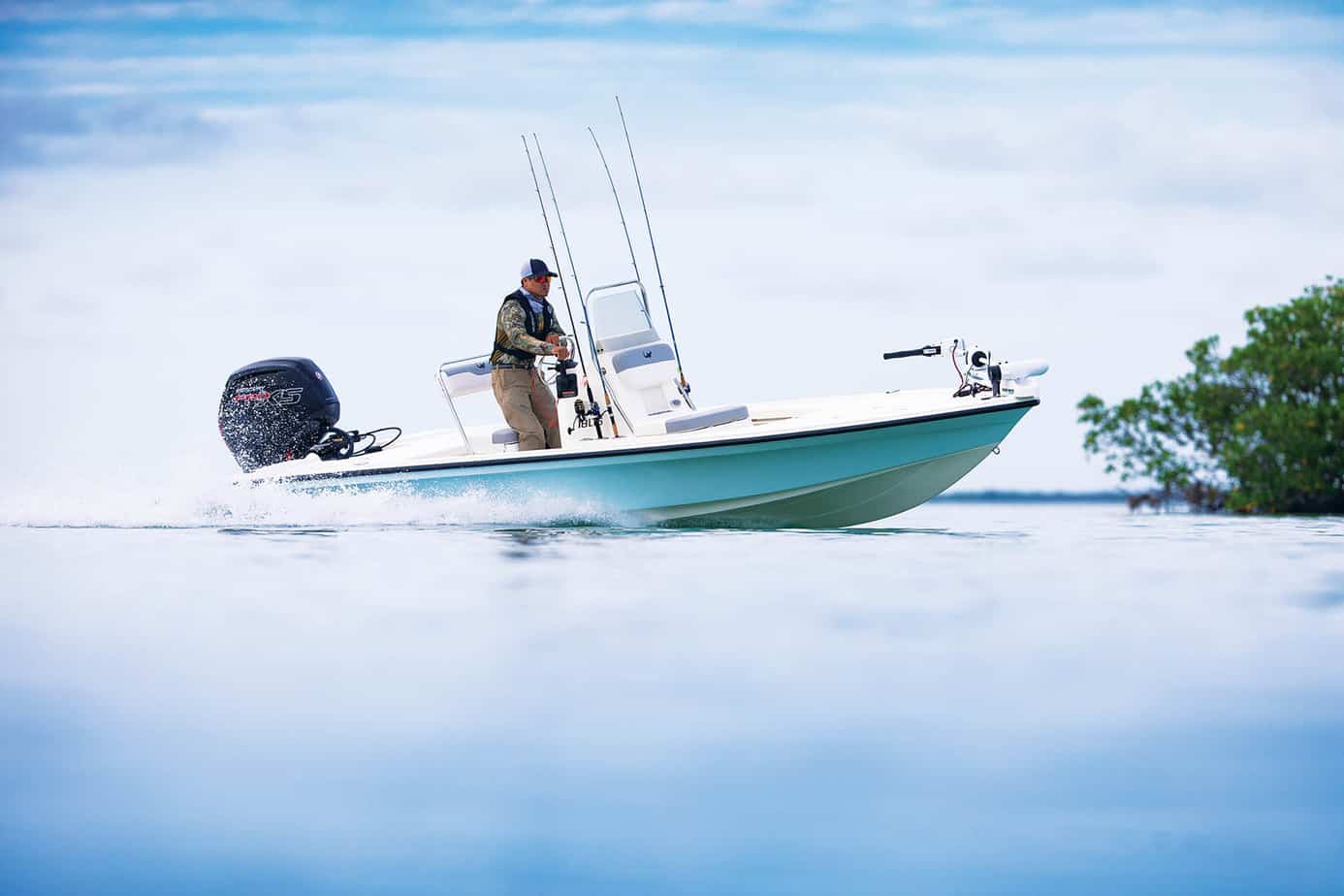 The 2020 Mako 18 LTS is the latest model from Mako Boats, the manufacturer. The design of this boat is sleek and modern, with high-tech features that will make your time on the water more enjoyable. With the 2020 Mako 18LTS Flats Boat, you get to enjoy all the best features from its predecessors, with more space and greater fuel efficiency. It also features an industry-first Torsion Control system and a rapid planning system.
The former allows you to independently adjust the level of stiffness in the deck, while the latter enables the boat to accelerate fast. The boat has a powerful twin 115Hp four-stroke Mercury Verado outboard engine system. It helps to power up your flat-water adventure while also providing an impressive 41mph top speed.
This family cruiser costs $30,995 and carries five persons. Its aluminum hull is constructed with integrity, with leak tests undertaken at the factory level. Therefore, you're assured of a dry cruise. There is plenty of storage space in this flats boat enough to fit all your needs. The 2020 Mako has an 18gal Livewell and a bait well fitted below the console cushioned seat.
The mechanical bilge pump displaces 1000gal of water per hour.
Pros
Lots of space to accommodate all anglers' needs.

This Floats boat enables 360-degree fishability.

The bilge and battery hatches are easily accessible.

The seats have a stain-resistant coating.

It is equipped with the latest technology.
Cons
Best for onshore bass fishing.
Hewes Redfisher 21: Best Flats Boat for a Sleek Cruise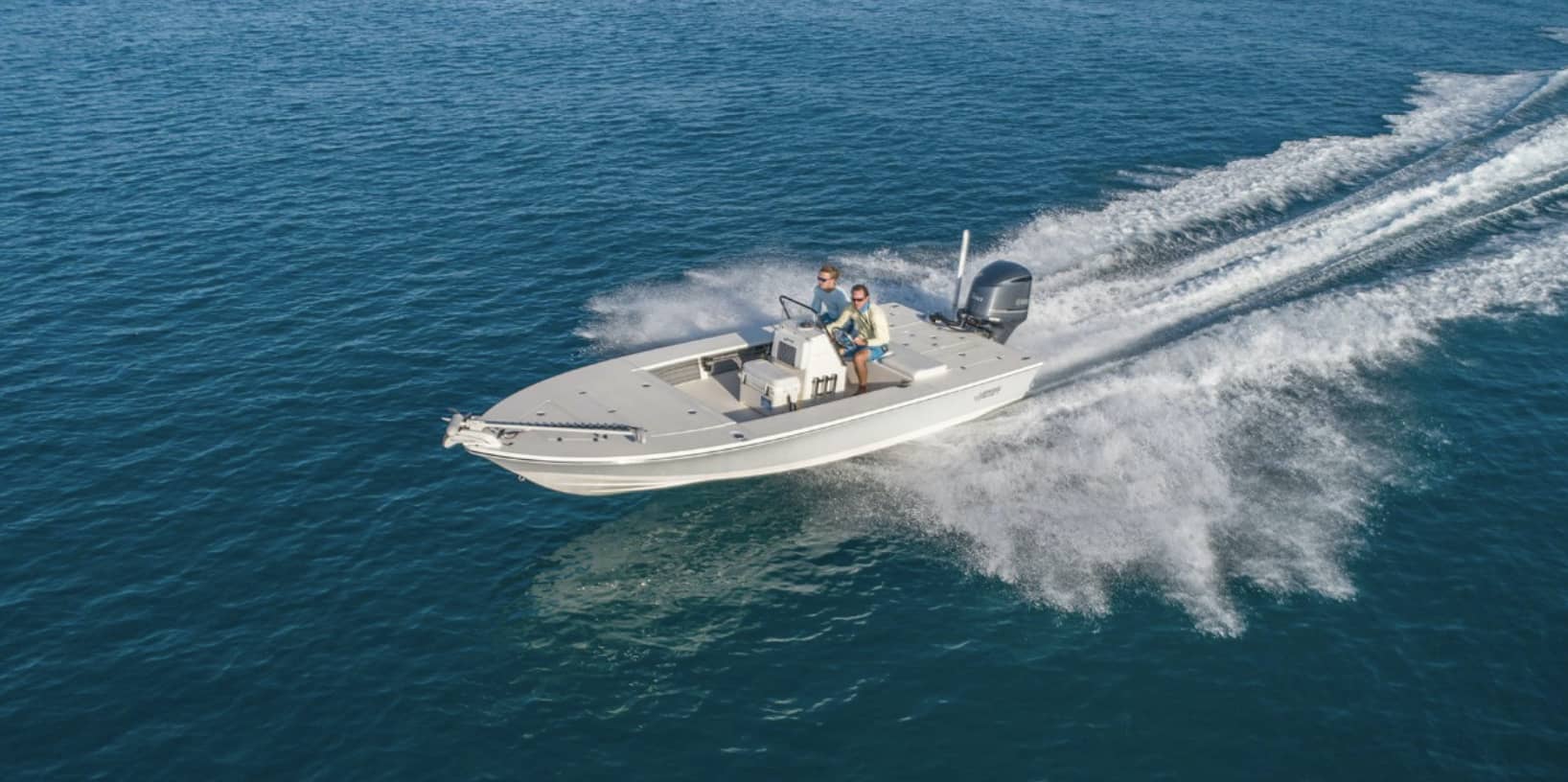 Among the ten best flats boat types and models, you'll find the 2022 Hewes Redfisher 21. The base price is around $37,463 for the standard model. This regular model comes with a 350hp outboard that delivers a massive kick during acceleration.
Its hull has a 15 degrees deadrise which is perfect for reducing aerodynamic drag.
It carries six persons with 1,200lbs total recommended weight. The Redfisher 21 flats boat is integrated with an accurate depth finder system. This improves your accuracy in finding fish when you are out at sea. The interior is covered with high-quality marine-grade plywood, while the hull is made from aluminum, making it very durable.
The Redfisher 21 is designed for coastal waters, rivers, and lakes with depths of up to 60 feet.
Pros
Its engine is potent.

Comfortable and stable when cruising at high speed.

Durability and longevity are incomparable.

The fish finder technology is a plus for beginner anglers.
Cons
You must pay for some standard features.
The Floyd 10 Weight: Best Flats Boats with Extra Comfort
Floyd 10 weight flats boat brand is known for designing and constructing high quality, durable, lightweight, and easy to maneuver boats. It's the go-to brand for many anglers and the reason why they have been around since 1957. Floyd flats or Skiffs are made of plywood, aluminum, and fiberglass, which minimizes leakages. It's equipped with a 90Hp Suzuki engine which is known for its agility.
Its console is fitted at the center, and the seats have a unique cooling mechanism. The Floyd 10 Weight skiff's live well capacity is 30gal which comes with a bilge pump that pumps out 1100 gallons per hour. All fittings, including latches and hinges, are made of stainless steel for protection against rust. The boat comes equipped with LED navigation lights, and all hatches are hydraulic. You don't find such a feature on other flats boats.
The Floyd 10 is excellent for fishing in rivers and lakes with low water levels because they only require 2-3 inches of depth to float on the surface. There is sufficient storage room at the back seat and front deck. Being the latest model, you'll find a cooler below the console seat.
Pros
The quality of the skiff gives anglers their money's worth.

Easy to open hatches.

No leakages unless you hit a boulder when fishing.

It reaches plane mode with ease.
Consf
It's expensive, but the price tag is worth its quality.
Tips to Consider When Acquiring a Flats Boat-Buyers Guide

The Draft
A draft is a distance from the water's surface to the bottom of a boat. It can also be called "draught." A flats boat draft can affect how much handling it has to its wake. So, understanding what flats drafts are and how they will help you decide which type of flats boat you want to buy., depending on the shallowness of the water.
Poling Capability
Poling is common with flats boats and canoes. This is the ability of a vessel to be steadily propelled by a pole. Not all flats boat types and models have a platform for this. It's vital to understand that polling has its benefits. It helps to have a better view of bass fish while ensuring the waters you are fishing stay as calm as possible. With shallow waters, an outboard may disturb the peaceful waters rendering your fishing adventure impossible. Therefore, it's something to ponder on before buying a flats boat.
The Flats Boat Quality
Some flats boat models brands have been around for a while, and they're the most common on the market. Meaning it's a matter of refining the boat's performance and functionality when introducing a new model. Some of these brands are now providing anglers with the best quality flats boat. However, it's not to imply that the newcomers don't have something good to offer.
Price
When acquiring a product, value for money plays a huge role. It's the reason why we ensure you get credible information to help in decision-making. It's possible to find a flats boat that fits or exceeds your needs at a fair price. Nevertheless, some expensive flats boat models have prime and elite features. It all depends on your budget. Be aware that some model's price tags don't include tax, title, freight, dealers, and other associated fees.
Stability
This usually depends on the boat's design, deadrise, and beam. Flats boat hulls with a flat bottom tend to be more stable than V-shaped. Also, a flats boat with a deadrise of less than 15 degrees and a wide beam will offer more stability when cruising. Some flats boats come equipped with the latest technology to increase their stability. Check on all these.
Frequently Asked Questions on Flats Boats. (FAQs)
Question: What are Flats Boats Used For?
Answer: A flats boat is a unique marine vessel primarily designed to aid enthusiastic anglers to fish in shallow reservoirs. Hence, they're mainly used in onshore bass fishing, but you're bound to find skiffs for offshore fishing.
Question: Can You Go Offshore with a Flats Boat?
Answer: Yes, although it depends on the water's conditions, the flats model, and the captain. If you have an experienced captain, then fishing offshore is a conceivable idea.
Question: Is There Any Difference Between a Flats and a Skiff boat?
Answer: The difference between the two is size. Skiffs tend to be smaller and are equipped with low-power outboards. On the other hand, flats boats tend to have large engine capacity with more enormous beams.
Question: What's the Differedifferencence Between a Flat bottom and V-Bottom Flats Boat?
Answer: Like we've stated before, flat-bottom boats are more stable in calm shallow waters. On the other hand, V-bottom flats boat models are more efficient and can cruise effortlessly through deep rough waters while keeping the interior dry.
Question: Are Flats Boat Self-bailing?
Answer: Self-bailing is the ability of a boat to spontaneously drain water that gets in from the boat's sides. Holes are strategically drilled on the boat's floor, where the unwanted water is drained as the boat cruises. Most of the latest flats models are self-bailing.
Conclusion
Anglers understand you can't be perfunctory when searching for a flats boat that suits your needs. Thus, being proactive in this situation is imperative. To save you a great deal of time, we've researched and reviewed the ten best flats boat types and models depending on their features.
It should be possible to get over your predicament on which flats boat to purchase with this information. However, how about we help you pick the flats boat that's a cut above the rest in this list?
The Maverick 18 HPX-V commandeers the first seat. It has a 250Hp outboard, refined handling, stability in rough waters, and poling is possible. The flats boat is spacious, has ample storage space, and it's well illuminated. Lastly, it easily sails on waters that are at least 8-inches deep. 
Looking for more interesting readings? Check out: