How much time did you spend looking for the best boat before making that purchase? You must have browsed through long lists for several hours, days, or even months before making the final decision. The same effort should also apply when choosing the best boat trailer.
A boat trailer is an essential tool designed to help you launch, carry, retrieve, and at times store a boat. Trailers provide support while traveling on-road. They also make it easy to load and unload a boat. Since boat trailers face harsh weather conditions all year round, immersion in salty water and mud, it is important that you choose the best trailers in the market.
This article will provide you with types of boat trailers and tips to keep in mind when choosing a boat trailer. But first, let us look at why you need to purchase a boat trailer.
Reasons Why You Need a Boat Trailer
Offers Freedom, Convenience, and Flexibility
With a personal boat trailer, you have the freedom to travel wherever you want at whatever time you prefer unlike renting one. You only need to load the boat on the trailer anytime you desire to take your boat out on a beach or a lakeside. 
Offers Safe Storage
Boat trailers offer safe storage compared to the local marina and dry storage. Your boat will suffer less damage at home, unlike in an unattended marina. 
Safe Financial Plan
A boat trailer will prove valuable when you decide to sell your boat. Many buyers today prefer buying a used boat along with the trailer instead of purchasing a new one. Having a trailer with the boat will add value to the buyer's eye helping you close a fast sale.
Types of Boat Trailers Available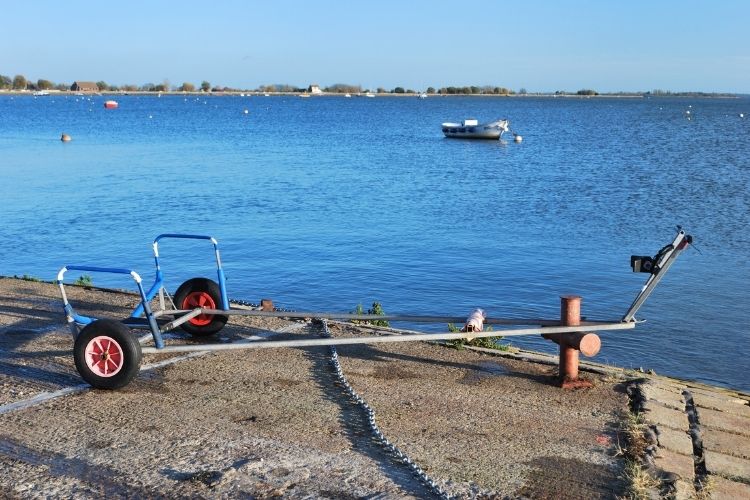 Boats come in different lengths and sizes. Here are the four types of boat trailers available.
Bunk Trailers
Bunk trailers are best for small-sized boats measuring 20ft and under. They feature not less than two longboards that support the keel on each side.
The boards are covered in soft fabric. This ensures the boat slides in and out easily without scratching the underside of the haul.
Most people prefer bunk trailers because they are affordable, have a simple design, and distribute the boat's weight uniformly. Besides, this trailer requires minimal maintenance and repair.
For you to load or unload the boat, the bunk trailer needs to be submerged in water. This means the running gear which includes the springs, cables, brakes, and hub has to be submerged. This exposes the running gear to damage, particularly in salty-water conditions.
Roller Trailers
Roller trailers are great when loading or unloading a boat on beaches, waterways, shallow water, or low tides. Unlike bunk trailers, roller trailers do not require to be deeply submerged when launching.
They use plastic or rubber rollers to support the weight of the boat when offloading it. For an easy launch, ensure it's the back of the boat that floats first so that the rear rollers are submerged slightly. The rollers will serve as a guide for the correct backing angle of the boat. 
Float-on Trailers
Float-on trailers are the perfect option for large boat owners. It is impossible to pull or lift a big boat. Nevertheless, float-on trailers work by submerging them in water before securing the large boat. 
Keel Rollers
Keel rollers help protect the keel of the boat. The rollers are placed in a 'V' shape along the trailer's center part. Keel rollers allow easy launching and loading of boats.
Factors to Consider When Choosing A Boat Trailer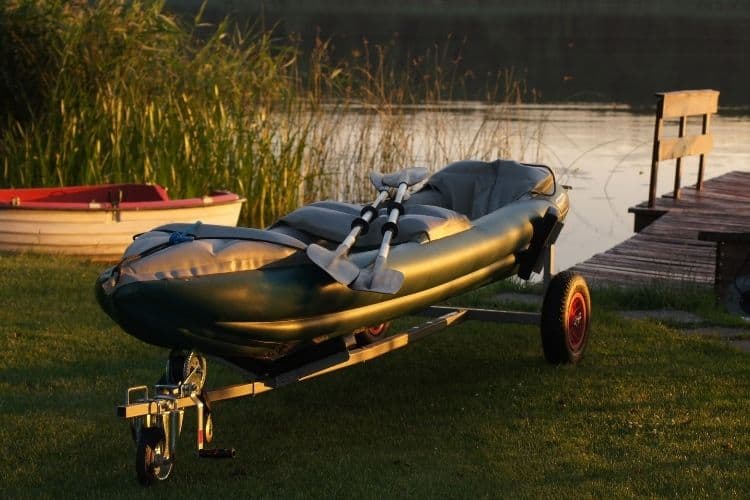 From the above types, you must be thinking about what type of boat trailer you will choose. However, there are more factors to look into before clicking the purchase button. They include:
Boat Weight and Boat Length
Before choosing a boat trailer, you must carefully consider the boat length and weight it can hold. 
In terms of boat length, take into consideration the drain plug measurements as well as length from the Bow Eye to Transom. Incorrect measurement of the length of the boat will translate to an improper fit.
On the other hand, ensure you differentiate between the boat's 'dry' and 'wet' weight before choosing a trailer. 'Dry weight' refers to the weight of the boat exclusive of the equipment, engine, and fuel.
Therefore, when choosing a boat trailer, calculate the weight it can hold using 'wet weight'. How? Add the dry weight of the boat, its fuel and water capacity, the weight of the holding tanks and bait wells. Also, take into consideration whether your boat has a single or double-powered engine set-up, horsepower, and the number of batteries required.
It is also vital that you know the Gross Trailer Weight (GRW). This refers to the combined weight of the trailer and your boat. It is determined by combining the axle ratings, tire capacities, and frame construction. This information is usually provided in the trailer guide. 
Tongue weight is another factor that you need to look into. This is the weight that the couple exerts on the tow hitch. The ideal tongue weight should be 10% of the GTW. too little or too much tongue weight can be hazardous as the trailer can sway dangerously or overstress the tow hitch and rear suspension. 
Therefore, make a better, informed decision for a boat trailer that accommodates your boat's features.
Trailer Frame
Choosing the right trailer frame is of importance too as they are often submerged in salty and brackish water. Aluminum and galvanized steel frame trailers are better suited for marine environments. Aluminum models are more expensive but they last longer than galvanized trailers. They also retain their aesthetic appeal over years.
Whether you opt to buy an aluminum or galvanized steel trailer frame, always rinse the trailer after dunking. This will ensure you get the maximum life of the product.
Support System
You require sufficient support systems on your trailer too. Proper fitting ensures the haul is free of damage, and you have an easy time launching or offloading a vessel. Boat trailers have bunks and rollers as their support. 
And as previously stated, these two types of trailers have their advantages and disadvantages. For example, the bunk trailer is more affordable but since it needs to be submerged in water, the running parts are prone to damage.
On the other hand, roller trailers are expensive to purchase, repair, and maintain. However, their running gear lasts longer since it is not submerged deeply in water.
Therefore, carefully choose what kind of trailer suits your needs best.
Storage
If you have limited storage space, why not look for a boat trailer that can store your boat too? Boats deform when they are left to sit for long. The slight deformities may be visible in the haul. To avoid this, browse for a trailer that has boat storage.
Bunk trailers, for example, are a great fit. The bunk boards that support the boat distribute weight evenly over the large area.
Durable Construction
Since you are not looking to buy a boat trailer after a year or two, it is best to look for those that are solid and durable. Trailers made of tubular steel frames are more secure since the bolts are welded, thereby reducing the risk of the parts coming loose. The construction also gives protection to the electrical wires available.
It is also important that you look into the materials used. Aluminum and galvanized steel are the most popular materials. But they both have their advantages and disadvantages.
Aluminum trailers are preferred thanks to their aesthetic appeal, lightweight nature, and corrosion resistance. And even when aluminum corrodes, it does not rust. Besides, they save on fuel since their lightweight material makes them easy to maneuver and they are not as heavy as steel.
Nevertheless, aluminum boat trailers are more expensive compared to steel trailers. Galvanized steel trailers, on the other hand, protect brake lines available in the tubing and light wiring. They are also more corrosion resistant compared to raw steel. 
However, galvanized steel trailers are prone to rust and are heavy. Therefore, ensure your tow vehicle is built to tow your boat's wet weight as well as trailer package.
Suspensions Available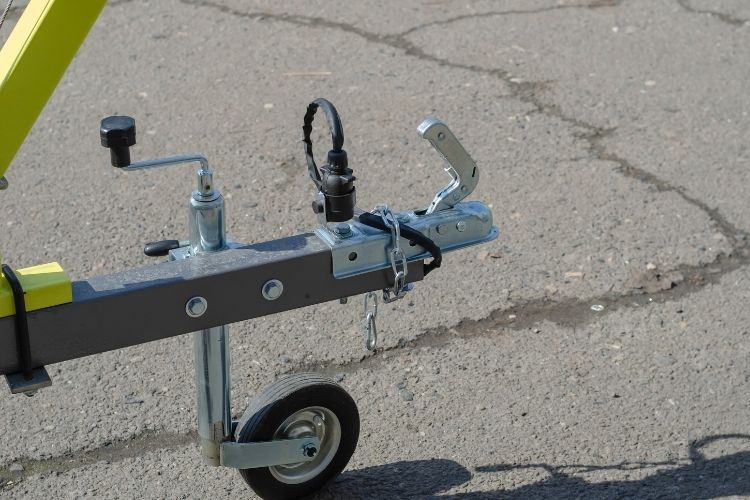 The two main types of suspensions available in boat trailers are torsion and spring suspension.
Torsion Suspension
The axles in torsion suspension consist of thick rubber cords hidden in the tubing. The rubber cords compress as the wheels move up and down. This ensures the wheel is suspended evenly and the result is a smooth ride. Boat trailers with torsion suspension are less prone to corrosion.
The axle tube is galvanized to limit corrosion. However, these trailers are expensive to purchase, repair, and replace. What's more, they do not offer impact distribution.
Leaf-Spring Suspension
Leaf-spring suspensions are affordable and more dependable compared to torsion. They offer impact distribution when transporting the boat on uneven grounds or potholes.
But as great as they are, they are more prone to wear and frequent repairs due to their metal-on-metal design. In addition, when the trailer is empty or passing by a rough road, users complain of having a bouncy ride.
Tongue Jack
A tongue jack is another important factor to consider before making a purchase. This tool enables you to raise and lower the boat as you hook or unhook it to the trailer. Depending on your boat size, decide whether you need a single, dual tongue jack, or foot jack. Moreover, some tongue jacks telescope in and out. Other jacks feature swing-away models.  
When choosing a tongue jack, refrain from those with painted steel as they corrode easily when submerged in salty environments. Instead, select cadmium-plated jacks as they are more corrosion-resistant.
Side Guides
Nothing lines up the trailer's hull better than side guides and posts. However, they may not be readily available on most trailers. Regardless, they help keep the boat steady in the event of crosswinds and currents.
Side guides are carpeted boards aligned horizontally while side posts are vertically aligned plastic pipes.
Lights
Lights play an essential role while towing a boat. Therefore, you need to choose between conventional lights and LED lights. Conventional lights are easy and cheap to replace and are readily available. LED lights, on the other hand, last longer, light us fast when brakes are applied, and they stay cooler. Sadly, they are expensive and are mainly available as sealed units. This means that should a light go out; the entire unit will have to be changed.
Brake Calipers and Rotors
You do not want to cause an accident when transporting your boat. For this reason, look intently at brake calipers and rotors.  Brake calipers press against brake pads and rotors to slow down the vessel. These calipers depend highly on the boat's size as small boats have a brake override system that applies pressure on the calipers anytime you brake.
The braking system for boat trailers for large boats is powered by electric hydraulic systems which have small breaks on the wheels. The braking system heightens the brake sensitivity which is essential when moving large vessels.
Trailer Tires
Boat trailers need to have Special Tires (ST) markings on the sidewalls. These tires are designed to carry heavy loads. They have tough sidewalls to match the rigors involved during towing.
To maximize the performance of the trailer tires and reduce blowouts, always ensure that they have the maximum air pressure recommended on the sidewall. They should also match a percentage of the gross axle weight of the trailer. 
What To Keep In Mind Before Buying A Boat Trailer
Trailer Laws
Before making that purchase, check first whether your city allows its citizens to haul boats on the highway. Some states have specific laws when it comes to towing boats. For example, you may need to acquire a special driver's license or register the boat trailer.
Also, confirm that the boat trailer has met the DOT requirements to use the highway.
Trailer Boat Pricing
As much as you want to save money, do not choose the cheapest trailer on the list. Why? It might turn out to be effective in the long run. You may be forced to buy a new trailer after a few years, or it may damage your towing vehicle or boat.
Does this mean you should overpay? No. Instead, research thoroughly about the quality and durability of the trailer. With that out of the way, here are the seven best boat trailers available in the market today.
7 Best Boat Trailers
Ironton Personal Watercraft and Boat Trailer

The Ironton boat trailer is the best boat trailer for 10" vessels. It rolls on 12-inch tires with a Gross Vehicle Weight Rating (GVWR) of 610 lbs. The trailer kit also has rugged steel frames that can hold 800 lbs. This personal boat trailer is both stylish and durable. Its coat features a white powder finish that adds an aesthetic appeal and durability.
Besides, the boat trailer is a great fit as it is easy to assemble. Provided in the package are two protective fenders, two tires, a frame, a coupler, a light set, a hub, a safety chain, and a hardware kit. The instructions attached are well-written for simple assembling.
Pros
Assembling the trailer takes minimal time.

The trailer is stylish and durable.

The design is road-worthy.

It is easy to transport, load, and offload vessels from this trailer.
Cons
The white powder coating may affect electrical continuity to the frame. For this reason, many users have complained that the lights may not switch on after assembly.

The trailer recommends transporting 12-foot boats but this may not work. Some boats like the 12-foot Jon boat leave 2ft hanging outwards when fitted on this trailer.
Malone EcoLight 2 Boat J-Rack Kayak Trailer Package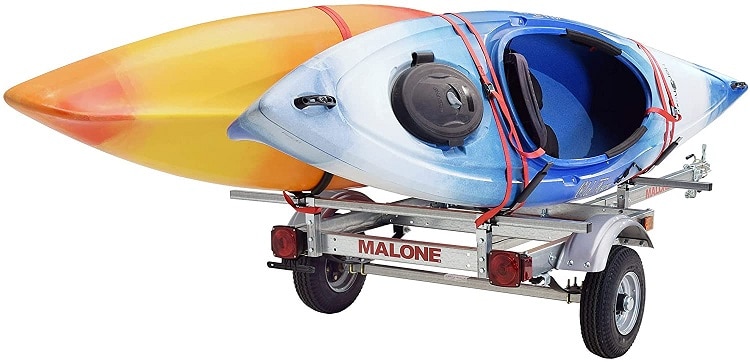 If you are a kayak lover, the Malone EcoLight is the best boat trailer for you. But here is the catch, this boat trailer can hold two kayaks at once making it an ideal package for family vacations. 
This 2-boat kayak trailer is sturdy and well-built. The frames are marine-grade galvanized to guarantee durability and dependability. The heavy-duty axles are galvanized too. The trailer also features leaf spring suspension that ensures you achieve a smooth transport ride even when the trailer has a full load. 
The Malone EcoLight has 5-lug fast-moving wheels that are powder coated. It also features injection-molded fenders. The load bars on this trailer are coated with steel and are compatible with most kayak brands in the market. 
Moreover, the trailer comes with an extra-long tongue and a lift handle. It is also fitted with fenders for easy maneuvers and lights for safety. 
Assembling the trailer will only take you a few hours. Nevertheless, if you have trouble installing the parts or find some missing, the Malone EcoLight customer support is the best. They are readily available to answer your question as well as provide assistance where necessary.
Pros
The trailer offers a smooth ride even on full load thanks to the leaf spring suspension and heavy-duty axles. 

The trailer can securely transport two kayaks.

It is sturdy, stylish, and well-built.

The company has the best customer support.
Cons
The assembling instructions provided in the package are not much helpful. Since they are not clear, you may spend more time assembling the trailer.
Ultra-Tow 40'' x 48'' Aluminum Utility Trailer Kit

If you are on a budget and not looking to compromise boat trailer quality, the Ultra-Tow Aluminum Utility Trailer is best for you. This trailer kit is ready to hit the road after assembling it.
The aluminum trailer kit is also convenient as it can hold a payload capacity of 1060 lbs. In addition, its maximum GVWR weight is 1200 lbs. making it a great choice for hauling machinery. The axle system is tough to hold heavy loads.  
The trailer is also durable since the frames are made of aluminum making it rust-proof. The wheel fenders are aluminum, too, thus preventing the load from damage. The two aluminum tires are durable as well and they measure 4.80-12 inches.
This budget-friendly trailer is lightweight but sturdy when loading a load. Most users explain that they fail to feel its presence when towing it. It is only when they look through their side mirrors that they see it. This proves that the aluminum body trailer is fuel-friendly, unlike steel-framed trailers.
The Ultra-Tow meets the necessary DOT requirements for certified performance. And since the trailer is budget-friendly, it comes with fully wired LED lights set, a safety chain, and a 1 7/8-inch coupler. 
Pros
The rust-proof aluminum frames are designed to last.

The trailer is lightweight but sturdy.

It meets all the DOT requirements.

It has a maximum of 1200 lbs. gross vehicle weight rating.
Cons
The tongue bar included is too short. This influences the center of gravity shifting it to the wheels. This, in turn, may cause the trailer to move back and forth when driving.
Malone Auto Racks 2 Boat Ultimate Angler Trailer Package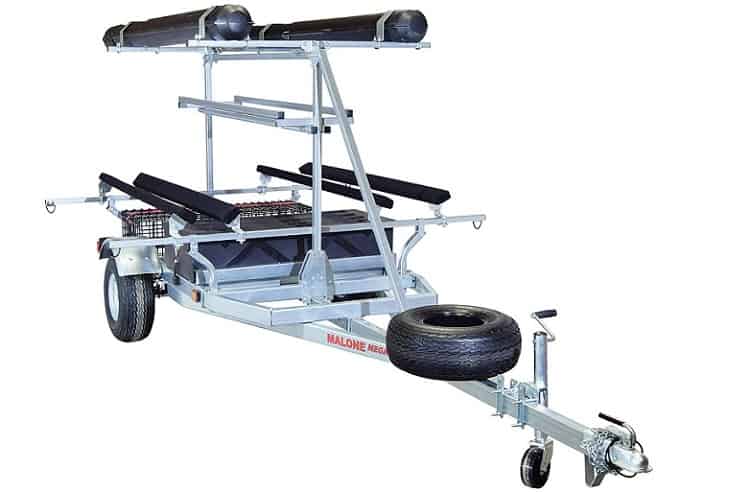 Are you a serious fisherman who uses a kayak for fishing? Well, the Malone Auto Racks is the perfect boat trailer for you. It can transport two kayaks at once as well as fishing gear. 
This angler trailer package has ample storage. It holds two sets of Megasport bunk carriers, spare tire, wire basket, storage drawer, 2nd tier, fishing rods storage, and a milk crate cage. With this storage, you can make friends and family for a fishing expedition.
But how much can this kayak trailer hold? Well, it can carry up to 1000 lbs. and to hold this weight, the trailer is made of both aluminum and galvanized steel. This makes it well-built, sturdy, and durable. If you are uncertain about its durability, Malone Company offers a 5-year warranty. This guarantees you that the product is of high quality.
Pros
The boat trailer has plenty of storage space for fishing and kayaking gear.

It can hold two kayaks at once.

The five-year warranty guarantees customer satisfaction over time
Cons
The trailer is most suitable for freshwater. The frames are galvanized thereby promoting galvanization. The process deposits zinc layers on the bare steel thus protecting it. However, when the trailer is constantly exposed to saltwater, the chlorides react with zin, and as a result, speed up corrosion. 
CE Smith 48810 Multi-Sport Trailer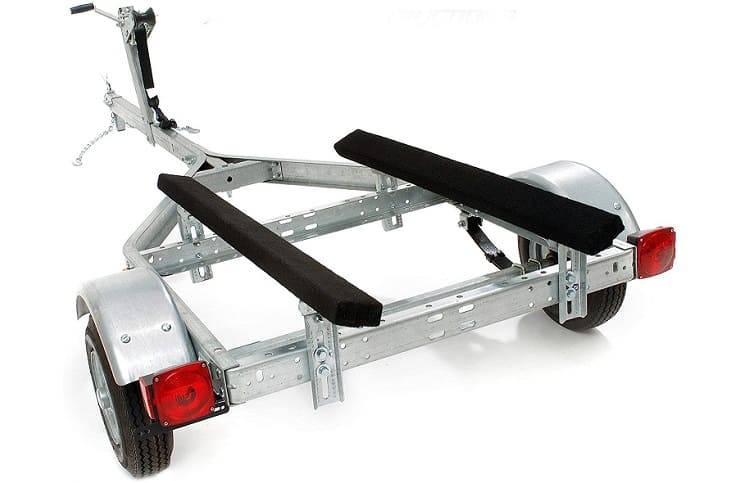 The CE Smith 48810 Multi-Sport trailer is perfect to tow small vessels. It is built to hold 800 lbs. This means that it is suitable to transport your 12'' boat. 
This multi-sport trailer is made of hot-dipped galvanized frames and tongue. The galvanized frames offer superior corrosion resistance. What's more, the trailer has 5-lug galvanized wheels and 5-lug wheel studs. The galvanized wheels offer extra strength. 
The 48810 trailer features a longbow stop bracket that improves application flexibility. The package also includes a roller-style bow stop and a black rubber Y-shape bow stop. This boat trailer is durable as a result of the leaf spring suspension. Besides, with this suspension, the trailer does not need constant servicing and maintenance. 
In terms of bunk boards, the trailer comes with adjustable carpeted ones that measure 5'' long. These boards can be mounted with the 8'' x 12'' bolster brackets included. The trailer package also has bright lights that meet DOT requirements. The lighting is well-placed for added security during night travels.
Pros
The instructions are well-written thus saving time on assembling.

The trailer has strong construction and is corrosion-resistant.

It requires minimal maintenance thereby saving time and money.
Cons
The wiring information available on the guide is misleading and needs to be updated.
Load Rite Galvanized Small Single Angle Axle Bunk

The Load Rite Galvanized Single Axle Bunk trailer is great for transporting and storing 18'' vessels and under. This classic bunk trailer guarantees exceptional strength during transport. The trailer also features galvanized steel frames and patented tubular construction which protects the brake lines and wiring from damage. It also shrouds the trailer from corrosion, ensuring that it maintains a great look for years.
This Load Rite trailer is designed with greasable hubs. For users keen to inspect their machinery, you can easily check the lubricant level and top it up before transportation. The boat trailer also features high-quality bias ply-tires that are standard in various models.
If you are concerned about safety, the trailer is equipped with both LED lights which are more reliable than incandescent lights. The lights are not only waterproof but long-lasting too. Moreover, this model has heat shrink-wrap electrical wiring for added safety. This durable connection prevents the lighting system from corrosion for increased reliability.
In terms of installation, the trailer is easy and simple to set up. Besides, the package includes a spare tire, tongue jack, carrier, and aluminum wheels.  Did you know that the Load Rite Galvanized trailer has adjustable carpeted bunks? These carpeted bunks offer adjustability and high strength. The trailer comes with plastic fenders too that are impact-resistant. 
This single-angle axle bunk trailer is NMMA and NATM certified. What this means is that the company's trailers are inspected each year to earn certification. And if you are in doubt, Load Rite offers a warranty on their products.
Pros
It is stylish, sturdy, and corrosion-resistant.

It is easy to assemble and use.

The LED lighting guarantees safety while on the road.

The plastic fenders offer impact resistance 
Cons
It is not ideal for vessels over 18''
Load Rite Galvanized Australian Roller

As much as the name screams Australia, this Lode Rite model does not compromise quality when transporting large vessels.  It can hold boats weighing 9900lbs. measuring 2.5m in width. To accommodate that weight evenly, the trailer has radial tires that ensure the tow journey is quiet, smooth, and over long distances.
In addition, the roller features Thermal Rubber Roller System (TPRS) which has the best articulation and increased contact between the hull and roller. The roller trailer also has a patented Delrin roller that eases the launching and loading of a vessel. The Thermal Plasticized Rollers (TPR) are exceptionally smooth-rolling, have no markings, and take longer to wear out.
The Australian roller has torsion axles too. They not only provide exceptional rigidity but also independent suspension. Moreover, they are more superior to leaf spring extensions in terms of offering superior rides.
The disc brakes on the Load Rite Australian Roller trailer are self-cleaning and self-adjusting. For these reasons, the trailer will demand minimal maintenance schedules from you. The galvanized roller also has aluminum diamond plate fenders that are both durable and stylish. The manufacturer has also packed a tongue jack for more convenience.
To guarantee safety, the trailer has Australian-certified lighting, bunks, couplers, brake systems, and safety chains. What's more, the trailer is NMMA certified.
Pros
The TPRS offers smooth launching.

The radial tires provided offer smooth and quiet rides.

The disc brakes deliver top performance thanks to their self-adjusting and self-cleaning features.

The trailer is stylish and durable.
Cons
It is only suitable for large vessels.
FAQ
Question: How much do boat trailers cost?
Answer: The price depends on the brand, gross weight carrying capacity, design, material, and brand. Nevertheless, the average price of a new boat trailer ranges from $600-$1800.
Question: How do I choose the correct trailer size for my boat?
Answer: You need to calculate the trailer's capacity weight to assess whether it is compatible with your boat. Include the boat's weight, engine, full tanks, personal gear, and full water tanks. Also, calculate the Bow Eye to Transom Minimum, Rear to Angle support, and Bow Eye to Transom Maximum.
You should also keep in mind the transducers, motor bracket, motor pulpit, and inboard engine when choosing a fitting boat trailer.
Question: Are Aluminum boat trailers better compared to steel boat trailers?
Answer: Both designs have their strengths and flaws. Aluminum boat trailers are rust and corrosion-resistant and lightweight in nature. They, however, are too expensive compared to steel models. 
Conclusion
After reading the above information, finding the best boat trailers is no longer a pain-stacking job. For example, if you are looking to find a great trailer that is budget-friendly, the Ultra-Tow Trailer kit is the best choice. In terms of the overall best boat trailer, the Ironton Boat trailer takes the crown.  It is durable, stylish, easy to use, and perfect for small boats.