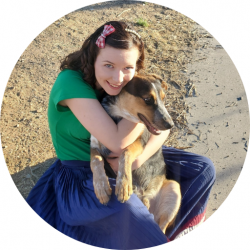 Latest posts by Brieanna Savard
(see all)
The Chinese reportedly first invented the marine anchor in approximately 3000 B.C., though the Egyptians made them soon after in about 2600 B.C.
At the first, anchors were a simple, uncultivated contraption of a large stone with a rope tied through a hole bored in or around it like a sling, or, as in Greece, rope baskets filled with rocks, sacks filled with sand, or anything that gave enough weight to impede the craft's movement, depending on its size.
Throughout history, anchors which lacked dependable ground tackle have resulted in the loss of many lives at sea, but with development, the Romans changed the form to what we know as the traditional anchor in the early times of the 1st century.
In the 19th century, England introduced curved arms pivoting at the crown by a bolt passing through the shank. This "Old-Fashioned" or "Yachtsman's" anchor has served all types of crafts well, and little has been changed in its shape since its creation, differing only in that the form has been improved in practicality, and modern materials have been used.
Especially during World War II, anchors with strong parts and good ground tackle were extremely needful for Navy ships, and in that time they were greatly improved for all types of vessels.
Today, manufacturers have taken great care to craft metal or composite anchors which will not easily rust, formed in a variety of materials such as mild or high-tensile steel, iron, aluminum, carbon-fiber, and stainless steel, or fiber-reinforced composites. Galvanizing, electro-plating and weatherproof painting methods help to protect the metal anchors for long-term use. Many are pre-galvanized to ensure against corrosion.
What Are the Best Types of Anchors for Your Boat?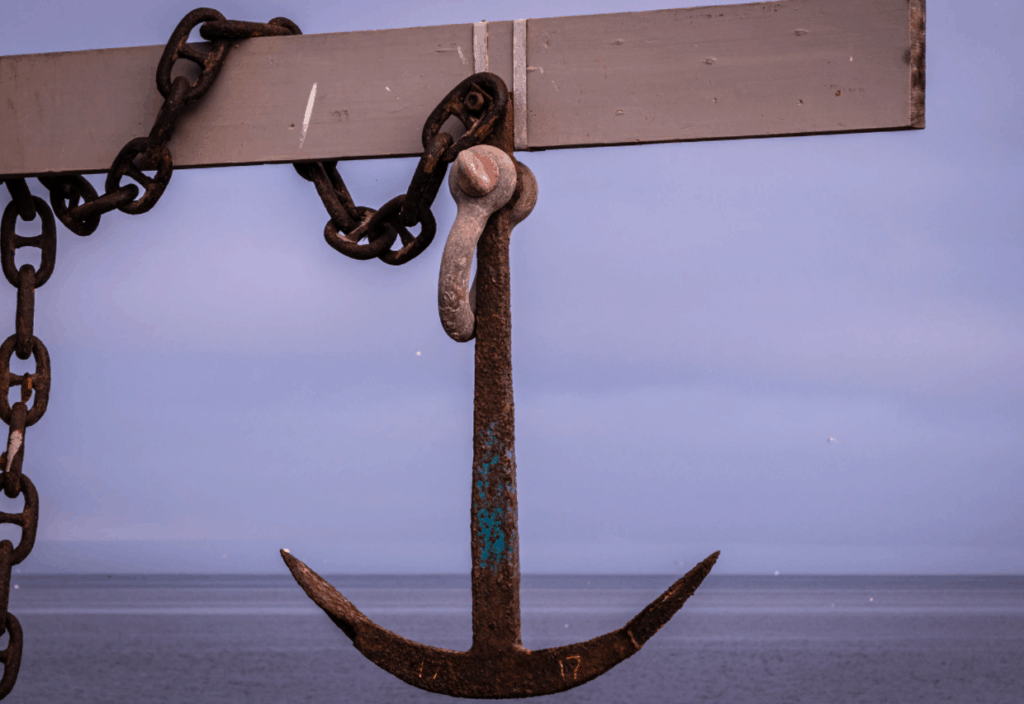 Depending on the size and type of your boat, your choice of an anchor will be either large or small, differing in weight, each with a different kind of ground tackle and construction, and will be called a temporary anchor.
Temporary anchors are used for all crafts, but permanent anchors are very hard to remove and are only used in the making of a mooring and for very large vessels which will not be moved in a short time. Depending on your preferences or the features of the boat you have, one craft may have one or more temporary anchors of different sizes and weights.
Differences Between a "Lunch" Anchor and a "Working" or "Storm" Anchor
There are two main situations you will use an anchor for: 1) for brief rests in calm waters, when the weather is steady and predictable, and 2) for long stops for sleeping or in rough and stormy weather.
The differences between the two types of anchors used for those situations are these:
Lunch anchors are smaller and lighter/ Working/Storm anchors are larger and heavier.
Lunch anchors need to be monitored at all times/ Working/Storm anchors are dependable and need not be monitored.
Lunch anchors are generally carried on the boat with a working anchor/ Working/Storm anchors can be stored without any additional anchors.
Most Common Types of Anchors
These are the most common kinds of anchors used for both small and large vessels, varying in size depending on what type of boat they are used for. Your choice of an anchor will also differ based on what type of ground it will be secured in.
FLUKED ANCHORS
Fisherman's or Old- Fashioned Anchor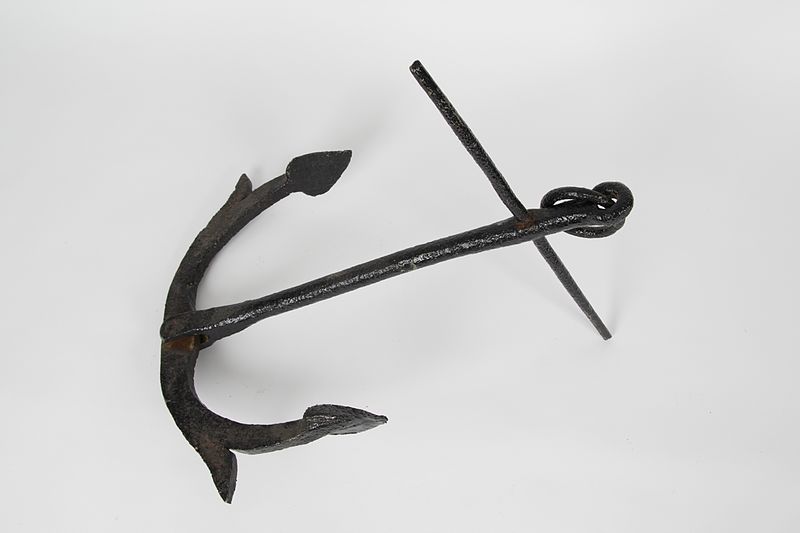 The most beautiful design of them all, the Admiralty anchor (also called the Admiralty, Kedge, Herreshoff, Yachtman's or Navy anchor), is the form most of us picture when we think of a traditional anchor. Pictured in multitudes of books, magazines, logos, designs on clothes, and figurines, the Old-Fashioned anchor is a timeless piece of art.
Because of the age of this style, there are many anchors based upon the traditional form, with various upgrades. Some Fisherman's anchors can be stockless, some are stocked. Modern models are also recreated to fit the needs of different types of crafts and surfaces used for anchoring in, such as the Stockless Navy anchor, which allows the anchor to be stored easily in the side of a ship.
Its holding power is very poor and is virtually obsolete in today's world. Instead, more modern versions and other types of recent anchor types are used in favor of the Fisherman's anchor.
Fisherman's Specifications:
Stocked or Stockless
2 Flukes
Non-Burying
Lunch or Working Anchor depending on size
Head Ring
Best Ground Type: grass, kelp, weeds, and rock slabs
Strengths:
Narrow fluked Fisherman's anchors hold in grass, kelp and rock slabs
Wider fluked Fisherman's anchors hold in clay and hard sand
Weaknesses:
Easily drags with changing tides
Its holding power is very poor on most surfaces
Hard to bring on board without scarring sides if it is large
Cannot be used in mud, soft sand or gravelly bottoms
Tips For Use of the Fisherman's Anchor:
As we can see by the information above, the Fisherman's anchor is not a very good choice for most surfaces. If you do use a Fisherman's, however, only secure it where the sea, lake or river beds have large slabs of rock or are crowded with clumps of kelp or weeds. the wider the flukes, the better chance you will have if you anchor in hard sand or clay. If you fish often in various types of waters with many different beds, be sure to get a more versatile anchor.
My Top Recommendation of Modern Fisherman's Anchors
The Kedge Anchor made by Seattle Marine and Fishing Supply Company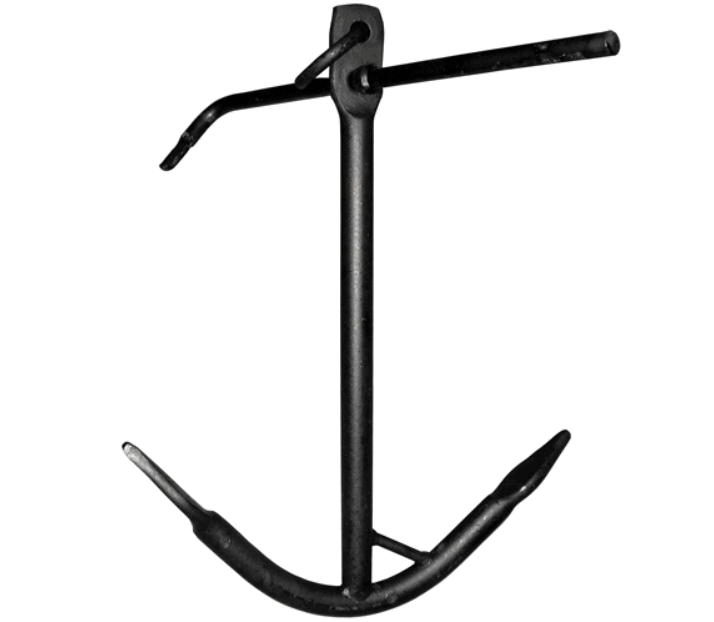 This Fisherman's anchor is slightly upgraded from the traditional Fisherman's anchor and is called a Kedge. It is made of forged steel and is covered with a black weatherproofing asphalt paint solution. Truly, I wouldn't recommend any Fisherman's anchor for most types of boats and bottom surfaces, but if you find the form works in a certain area where you are bound to anchor in often, then it should be long-lasting and useful for specific conditions.
Grapnel Anchor
The grapnel anchor is a traditional design, built upon the form of the Admiralty anchor. It usually has from three to six curved flukes or tines- unlike the Admiralty which only has two flukes. The flukes of tines can be bendable, foldable, or rigid. The grapnel is made from various types of material- galvanized steel, stainless steel, aluminum, most commonly.
Specifications:
Stockless
3-6 Flukes or Tines
Rigid, Foldable or Bendable
Non-Burying
Lunch Anchor
Best Ground Type: Coral or Rocks
Crown and/or Head ring(s)
Best Ground Type: rock slabs or coral
Good for small crafts
Strengths:
Light
Effortless to store several upon your boat
Can secure itself easily and strongly on coral or rocks
Will do well in thick kelp for small craft
Perfect for very small boats such as kayaks, canoes, and dinghies
Weaknesses:
Hard to retrieve from a surface once wedged
Cannot hold in clay, sand or mud
Not suitable for long-time anchoring
Not suitable for mid-size or large boats
Tip For Using the Grapnel Anchor
Make sure to tie your anchor rope to the crown and eye using a zip tie. The grapnel will probably be easier to retrieve that way.
My Top Recommendation of Modern Grapnel Anchors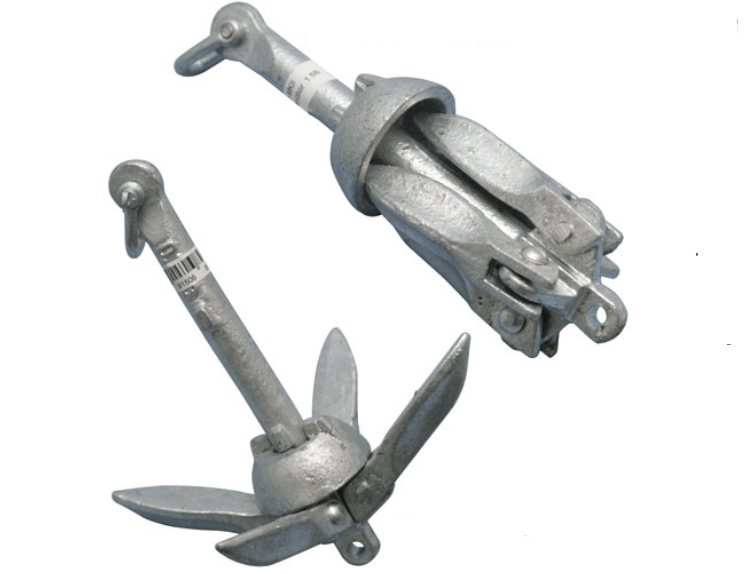 This sturdy grapnel anchor can be found in four different weights from West Marine ranging from one and a half pounds to six and a half pounds. It is made of galvanized steel and is the perfect choice for a very small boat's lunch-type anchor.
Danforth/Fluke Anchor
The Danforth anchor was invented in the 1940s during World War II by Richard Danforth. His intent in creating the design was for using them for landing craft, safely securing the craft so soldiers who landed to fight could be sure they would not float away. Today, Danforth is still one of the most dependable brands of anchors, and generic fluke anchors based upon Richard Danforth's model are highly inferior.
It is a burying type and easily sets in soft to medium muddy and sandy bottoms.  It is compact and flat and is easy to retrieve and store. However, this model is not widely versatile, due to the fact it is not designed for securing in bottoms that are predominantly composed of weeds, grass, gravel, or kelp.
Specifications:
Stockless
2 Flat-type Flukes
Burying
Working or Lunch Anchor depending on size
Best Ground Type: soft to medium sand and mud
Good for all types of craft
Ring at Head; Tripping Ring at Crown
Strengths:
Ideal for mud and sand
Stores easily
Retrieves easily
Inexpensive
Lightweight
Weaknesses:
Cannot hold in rocks, weeds, grass, kelp, or coral
Tips For Use of the Danforth Anchor
Always flatten after retrieving, for the flukes are very sharp and may injure someone. Any type of ground tackle is suitable for this type of anchor, but make sure you know which kinds are best and how to set the anchor accordingly. Usually, most anchors are attached to a chain which is then fastened to a strong rope so the chain does not scrape against the side of your boat.
My Top Recommendation of Modern Danforth Anchors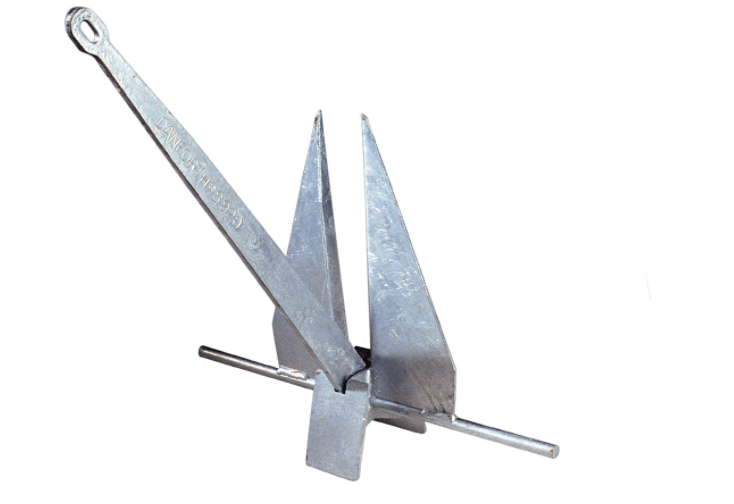 This genuine Danforth anchor is constructed of high-strength galvanized stainless steel and is available at the time of writing in 3 1/2, 5, 9, 14, 16, 25, 43, and 100-pound sizes, respectively. It is simple, easy to use, and crafted very well, as all true Danforths are.
SCOOP-TYPE ANCHORS
CQR/Hinged-Plough and Delta/Wing Anchors
Dating back to the 1930s, the CQR really does look like a plough, and its flat blades, which readily slide through the surface, are hinged to the shank, so it can adjust its angle according to the positions of the boat and the water bed. The Delta is very similar, and its only difference lies in the fact that the CQR is hinged and the Delta is not.  Rings are found at the head and crown, making it easy to attach a zipline too.
Both reset readily, defying wind and tide changes. The plough design is much harder and dependable than any of the fluked types except the Danforth. Plow-style anchors are challenging to store due to their bulkiness and size but can be fitted upon anchor rollers, which are very handy. Plow anchors paired with a Danforth on your boat may be a good idea, as together they will secure hold on almost any surface.
Specifications:
Stockless
Twin blades, or plates
Burying Type
Fit for Working/Storm or Lunch anchor according to size
Best Ground Type: Rigid rock or coral outcroppings or slabs
Good for all types of craft
Strengths:
Hinged plough anchors swivel in any direction, reacting well to wind and tide
Perfect for securing on rock and coral or other rigid outcroppings at the bottom, and may do well in some hard mud and sand surfaces
The Delta has a very strong holding power
Weaknesses:
A bit difficult to store
Does not work well in soft sand, mud, or gravelly bottoms
Is not available for sale for under 15 pounds
Is very pricey
Tips For Use of the Plough Anchor
Delta anchors are lighter on a whole than CQRs, and both are exceptional for anchoring overnight in a crowded dock. Used in all types of water, the plough anchor is even suitable in heavy storms.
My Top Recommendation of Modern Hinged and Non-Hinged Plough Anchors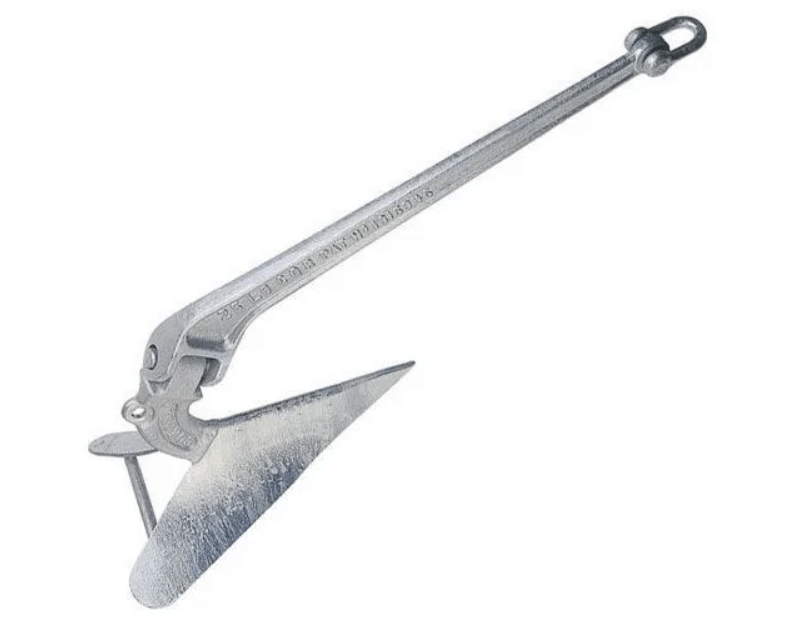 The hinged CQR anchors are available in sizes from 15 to 400 pounds, the lowest price being $487.67 at the time of writing. These are very dependable and strong, and will not rust easily, because each one is made of galvanized steel.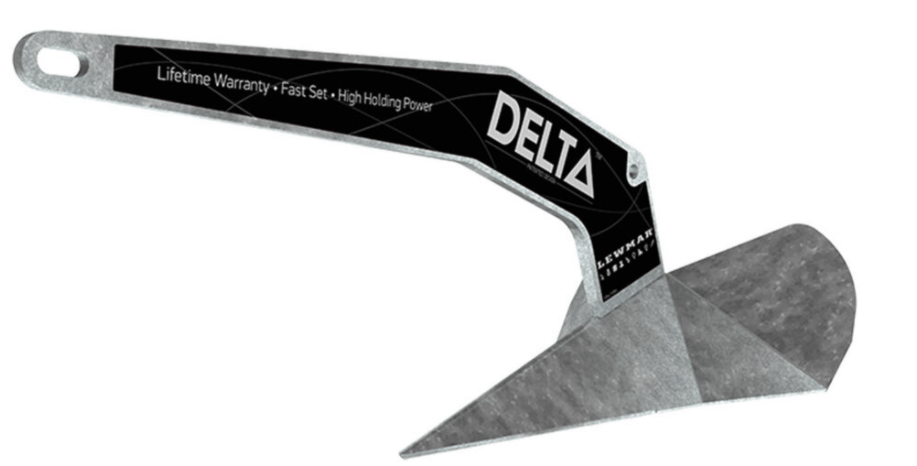 These non-hinged plough-styled anchors (also called wing-styled) can be purchased in a choice of eight sizes, ranging from 9 to 88 pounds. The narrow point allows for deep penetration of hard sand or mud at the sea bottom.
Bruce/Claw Anchor
This popular anchor was designed and invented by Peter Bruce, a resident of the Isle of Man, in the 1970s. It was originally built for heavy craft but was later redesigned for smaller boats.
The Bruce is shaped like a claw, hence the nickname for generic copies. Still today, the Bruce is best used as a working or storm anchor for large vessels and is generally used for that purpose. These anchors can be used for small craft, but are not as effective because of the limited holding power due to the lesser weight.
Specifications:
Stockless
3 claws
Burying Type
Perfect for Working/Storm anchor in a large size (16 pounds or more)
Best Ground Type: medium sand, mud, and rock outcroppings
Best for 24′ foot long boats and longer
Strengths:
Easy to store using a bow roller
Very strong in the sand, medium mud, and rock slab bottoms
Sets very easily
Adjusts with wind and tide changes
Can perform well with a low rode scope
Weaknesses:
Does not penetrate in grassy, weedy, silty sand, hard mud, or clay beds
Needs to be very large to hold well
Is not a good choice for small craft
Tips For Use of the Claw Anchor
In using the Bruce/claw anchor, make sure to buy an oversized one in ratio to your boat, store it on a bowsprit roller, and have a medium rode scope. This anchor is best for rigid rocky outcroppings and medium-soft mud and sand.
My Top Recommendation of the Modern Claw Anchor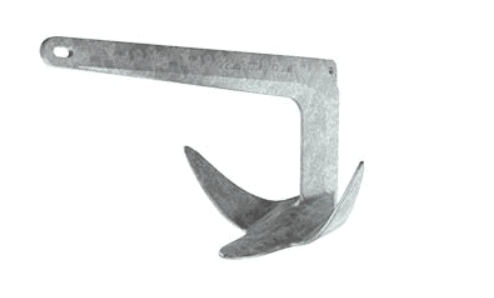 Though the Bruce brand is no longer in production, Lewmar from the United Kingdom, with manufacturing plants in Europe and the USA, is a very dependable company and produces high-quality claw anchors. This anchor in particular comes in 2.2, 4.4, 11, 16.5, 22, 33, 44, 66, 110, and 176 pound sizes. 16.5 pounds and above are the most dependable.
Modern Scoop-Type Anchors
Bügelanker or Wasi
The German circumnavigator Rolf Kaczirek designed a modern scoop anchor, calling it Bügel Anker ( bügel translated from German means "handle"), in the 1980s. He renovated the plow-shaft design into a flat blade and added a roll bar, which made the anchor self-righting. Unfortunately for him, he did not patent it, and that is why so many copies have been patterned after the Bügelanker (as it is commonly called). Today, Wasi manufactures the closest design to the original one. The Bügelanker has sharper plates than the plow anchor and cuts through hard surfaces like a knife.
Specifications:
Stockless
Twin spade-like plates
Burying Type
Good used as a Lunch and/or Working/Storm anchor
Best Ground Type: weedy, muddy, grassy, and rocky bottoms
Equipped with rollbar for self-righting
Good for all sizes of boats
Strengths:
Set and reset easily
Has strong holding power
Copy models without rollbars are easy to store on bow rollers
Tip readily penetrates hard surfaces such as mud, sand, and grass
Weaknesses:
The Bügelanker sets so firmly it is difficult to retrieve.
Difficult to store on bow rollers because of the rollbar
Expensive due to most spade types being patented
Is fairly hazardous due to its sharp plate sides and tip
Copies of the Bügelanker
Spade
The patented Spade anchor is a French design, and its only differences to the Bügelanker are its (sometimes) hollow shank which is detachable. It is also lighter than the Bügelanker, being made of lighter materials such as aluminum.
Rocna
The Rocna is a New Zealand copy and is most similar to the original Bügelanker- equipped with a rollbar and penetrating sharp tip. It is very strong, holds well, and is easy to set.
Vulcan
The Vulcan anchor is owned by Rocna anchors was adapted from the original Rocna to make it easier for sailors to stow it upon their boats by doing away with the rollbar. It also hosts special patented features such as the Roll Palm and V-Bulb. The Roll Palm which is at the rear of the anchor self rights itself without having a rollbar attached. The V-Bulb helps the Roll Palm to dig deep into the sea bed and promotes more leverage.
Knox
The Knox is a Scottish-made design, patented by Professor John Knox, and has been perfected over 20 years. It is almost a cross between a fluke anchor and a Bügelanker- equipped with a rollbar, separated in the middle into two wide-plated flukes, and is considered one of the anchors with the highest holding power. Each one is crafted in the UK, made of high-tensile steel.
Ultra
The Ultra is innovative and unusual. Its arm is hollow, and its tip filled with lead. The rest of this anchor is crafted with stainless steel.
Mantus
The Mantus is like the Rocna but consists of a wider rollbar which helps the anchor to angle more deeply, penetrating and holding more easily. It sets very readily and was designed to be able to secure in very hard mud and sand, and grassy bottoms. Its holding power is very high.
Tips For Use of the Modern Scoop-Type Anchor
In choosing a modern scoop-type anchor, take into account the types of ground and boat you are working with. For most surfaces except coral and rock slab bottoms, the Knox is a very good choice. The Mantus is also very reliable.
My Top Recommendation of the Modern Scoop-Type Anchor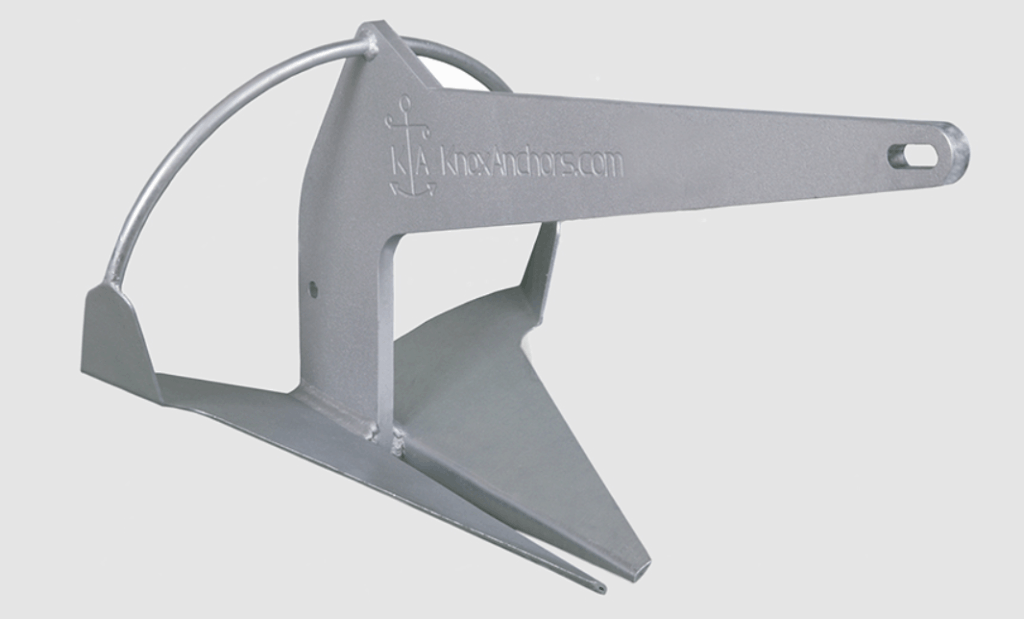 This anchor is hardy and very dependable. It is crafted from high-tensile steel and is then galvanized after production.
FAQs
Question: How long should your anchor line be?
Answer: Your rode (chain and/or rope) should be at least seven times the depth from your boat to the bed of the water you are stopping in. For example, if the sea bed is 20 feet deep from your boat, you should have 140 feet of rode.
Question: What is the best company to order an anchor from?
Answer: When ordering online, you have many options to choose from. To the best of my knowledge, Wholesale Marine, West Marine, Defender, and Fisheries Supply are very good companies to purchase many brands of anchors from, or you can order directly from the brand's website, such as Knox or Spade.
Conclusion
In choosing an anchor, you will find that the larger the size, the better, for heavier anchors are more likely to hold more strongly than lighter ones. That being said, each sea bed and each boat will make an impact on how each anchor reacts. Some people say to buy your anchor according to a 1-1 ratio of boat length and anchor weight- one foot per pound.
In each case, this would differ, but generally, you don't need to purchase as large an anchor as this ratio suggests. I would recommend trying out a few, and figuring out what works best for you. If you do not want to choose that way, however, I would suggest getting a Danforth for soft to medium muddy or sandy bottoms, a Delta/Wing for rocky slabs or coral bottoms, and/or a Knox for hard mud and sand bottoms.
For kelp sea beds, the grapnel will do very well, particularly with small boats. If your boat is very large, the Bruce/claw anchor would be the best choice for securing your boat in rocky sea beds
In choosing the type of metal, I would pick galvanized steel, because it is less expensive than shiny stainless steel but is virtually the same, and also over iron or aluminum because galvanized steel will not rust like iron and is more durable than aluminum. The steel used for galvanizing is usually mild or high-tensile steel. With a small dinghy or kayak, though, aluminum would probably be better, as it will be lighter upon your craft.
Always make sure to have enough chain and rope when you anchor. You don't want the anchor to break loose simply because you don't have enough rode. The deeper the waters you anchor in, the longer your chain/rope rode needs to be. Make sure to measure the draft of your boat and the depth of the sea bed. For a medium to the large boat, you may want to keep aboard a variety of lengths of chain/rope rode.