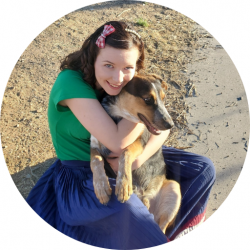 Latest posts by Brieanna Savard
(see all)
Waxing your boat should become a regular habit, as it will retain its lovely, lustrous sheen when waxed and buffed, and protect its surface. If one does not keep one's boat properly cleaned and cared for, it will lose its beauty and value very quickly. As you take care of your prized possession, you will feel accomplished and proud of your craft.
Finding the right wax to buff your beautiful boat with can be found in many different brands and kinds. I will list the things you need to look for in a good wax, a few different types of waxes, their uses, and where each can be found.
What You Must Do Before Waxing
Clean: First, you must clean your hull of any dirt, grease, fingerprints, or stains with a high-quality cleaner and cloth. Good cleaners can be found here, including Star Brite, Meguiar's M4364, Simple Green Marine, and Meguiar's M5401 on Amazon, and also a simple alternative to boat washes not made for boats in particular, but which will do the job in a healthy-to-breathe, organic way- namely Dr. Bronner's Castille Soap sold in Unscented, Peppermint, Lavender, Tea Tree, Citrus, Almond, and Eucalyptus.
Polish: Next, you must polish (also called compound), which will erase any small scratch marks, swirl marks, holograms, or dullness that may still be visible after cleaning. This will leave a glossy finish and prepare the surface for waxing. Good polishes include (for painted aluminum boats):

Star brite Premium Marine Polish

or

Nu-Finish NF-76 Liquid Car Polish

and (for unpainted aluminum boats): 3M Marine Aluminum Restorer and Polish, and STAR BRITE 087616 Ultimate Aluminum Polish with PTEF.  For gel-coated and fiberglass boats some good polishes are

Meguiar's M4516 Marine/RV Polish & Gloss

Enhancer

, and Chemical Guys Marine and Boat Heavy Compound. For stainless steel boats, I recommend Noxon Multi-Purpose Metal Polish and Star Brite Chrome, and Stainless Polish.

Now you can wax your boat! Waxing will protect the clean, glossy finish you achieved in the first two steps, and will add its own layer of shine. Here is a short video describing the differences between polishing and waxing, and how each works to beautify your beloved craft.
What You Need to Look For in a Wax
Brand
The brand must be reliable and have good reviews on its products, else you really do not know what the wax will do to your boat, especially if it is ordered online. A disreputable wax may even damage the finish of your hull, destroying the topcoat it came with or even causing stains or discoloring.
Quality
Make sure the ingredients of the wax you purchase are compliant with the type of finish your exterior is already covered with. It must be of very high quality and made from trustworthy components.
Finish
Whether you fancy a low, medium, or high gloss sheen on your boat's hull depends upon what type of wax you buy. Each will probably lend a slightly different look to the overall appearance of your paintwork, and each will beautify it differently- if it is of good quality.
How Long It Will Last
Depending upon the price and quality, every boat wax will last longer or shorter than others. Also, it depends upon how you apply it, with how many layers, and with what cloth or glove you use to apply it.
Price
As with everything that is purchased, don't most people want to save money on it? With boat waxes, the cheapest is certainly not the best, but neither do you need to buy the most expensive.
The surface of Your Boat
Does your boat have an old-fashioned painted or unpainted wooden hull, or is it made of fiberglass, painted, or unpainted aluminum? Each of these materials is very different from one another and must be cared for accordingly.
Wood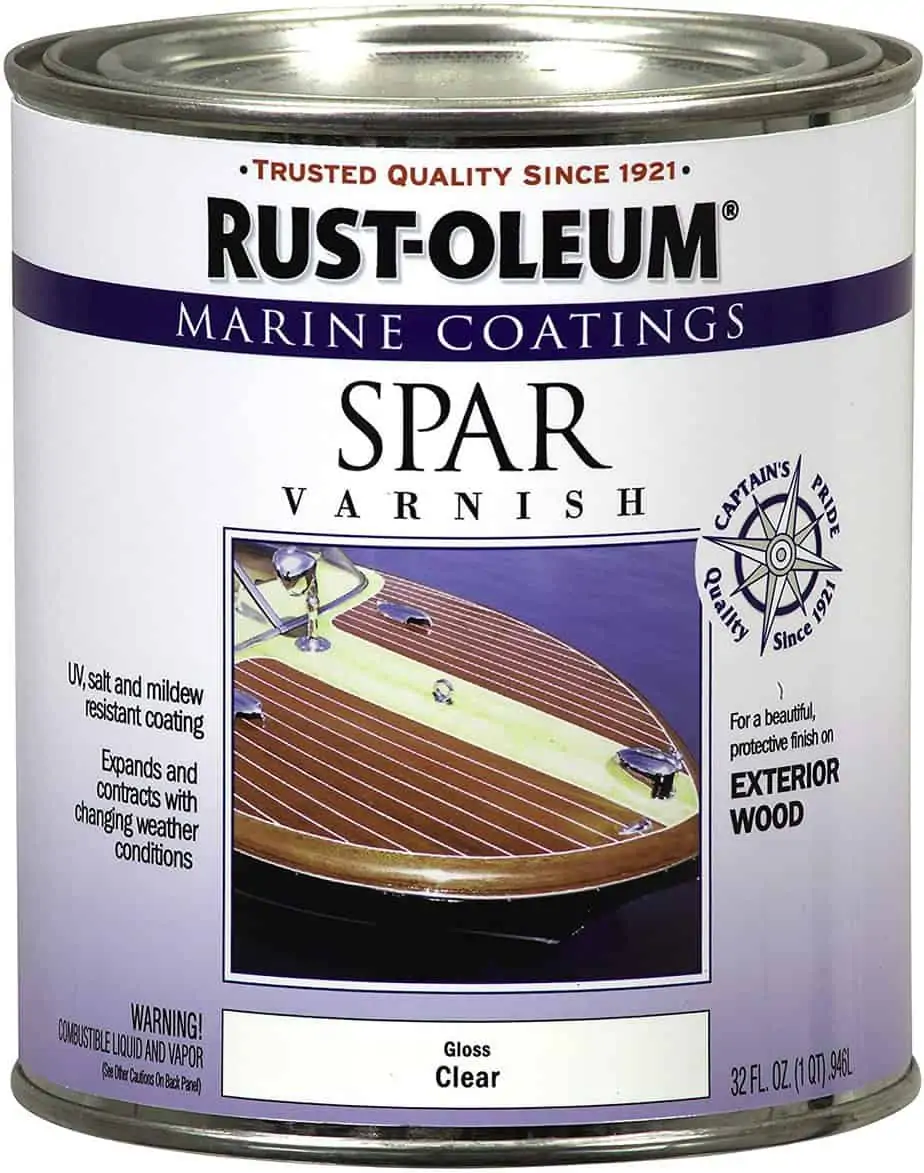 Wood-hulled boats must have a protective varnish and sealant covering the timber. That being said, wax is NOT good for a varnished wooden boat, as it would have to be taken off when the surface needs to be re-varnished. To preserve and shine wooden boats, I suggest you use one of these finishing varnishes and recoat when necessary, and do not even use wax.
A lovely oil to use on your wooden boat would be the Marine Teak Oil by Cura Lignum. It protects the surface from water and other damaging elements, and brings a beautiful shine and enhanced color to the already marvelous-looking timber! It can even remove stains.
Fiberglass
Upon a fiberglass boat, it is quite simple to apply wax. Just clean your hull first with a good boat wash, which will wipe off all dirt, grime, and old wax; then buff with the abrasive polish of your choice, and, lastly, apply wax with a non-abrasive soft cloth. After the wax dries, buff the excess off with a buffing cloth.
Aluminum
Waxing an unpainted aluminum boat can be different from waxing a painted one. With unpainted aluminum, simply wash off debris and either rub the boat down with a boat cleaner soap or sand off the old wax. Secondly, polish with a rough cloth or polishing machine, and lastly wax with a machine buffer or soft cloth.
With a painted aluminum boat, it is not much different than waxing a car. According to some on the internet, the paint is quite similar. (However, some waxes can damage any vinyl lettering you may have on your boat, so you may want to get a wax that says it is safe on vinyl, or avoid getting wax on the lettering altogether. I will list a few good waxes that will not damage vinyl lettering.) Follow the steps listed above for unpainted aluminum boats, but make sure to buy a polish that specifically says it is good for painted aluminum surfaces. Treat a painted aluminum boat as if it is a car, and if you wish you can even use a wax made for cars. They are usually less expensive than if the label says "boat" upon them. (P. S. What applies to aluminum also applies to stainless steel boats- whether painted or unpainted follow the steps for aluminum surfaces.)
Types of Waxes
Now I will delve into the various types of waxes, and on which surfaces to use them.
Liquid Waxes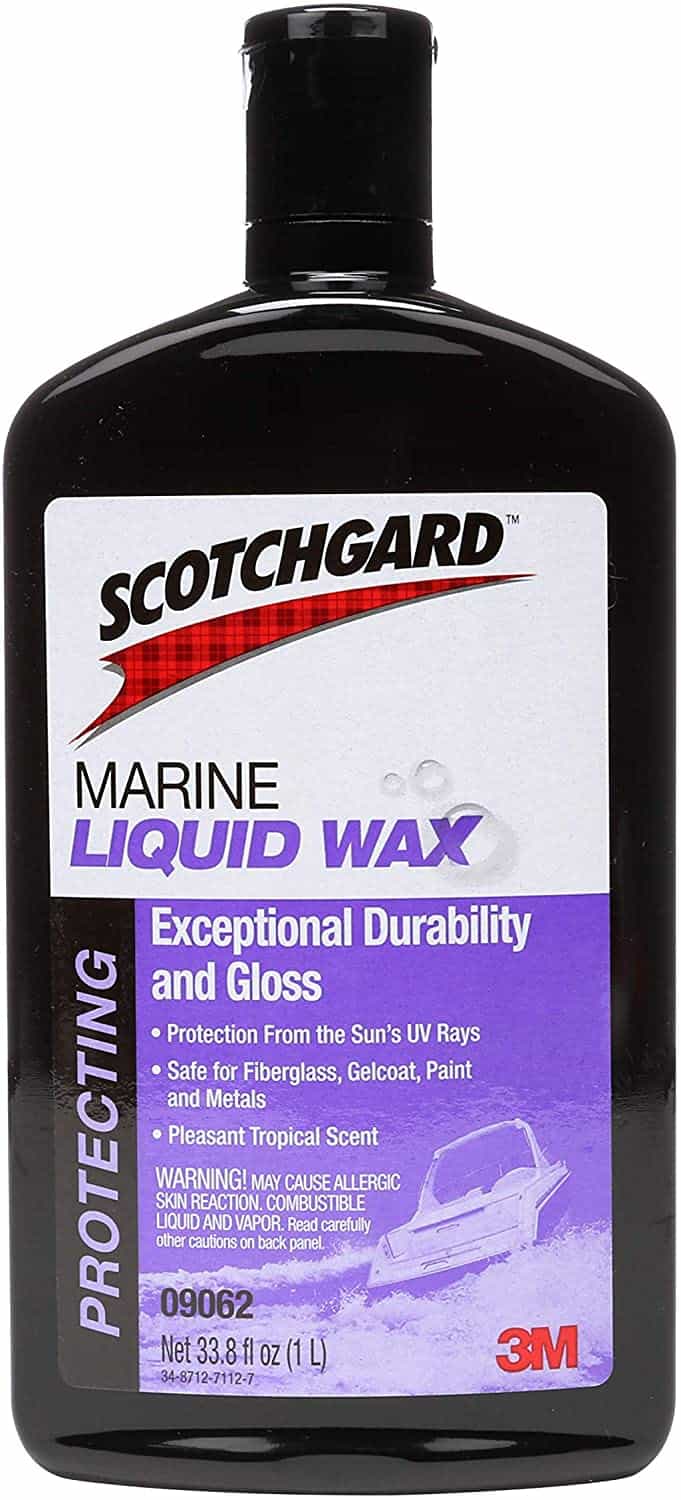 Safe for Use On Fiberglass, Gelcoat, Painted Surfaces and Metals
Provides UV, Wind, and Weather Protection
Safe For Use on Graphics and Vinyl Lettering
High Gloss
Ingredients Include Solvents, Petroleum Distillates, Silicones, and Isopropyl Alcohol
Must Use Gloves to Apply; Vapour is Harmful
Pleasant Tropical Scent
$20.78 For 16.9 Fl. Oz.
May Be Used in Conjunction With 3M Cleaner and Polish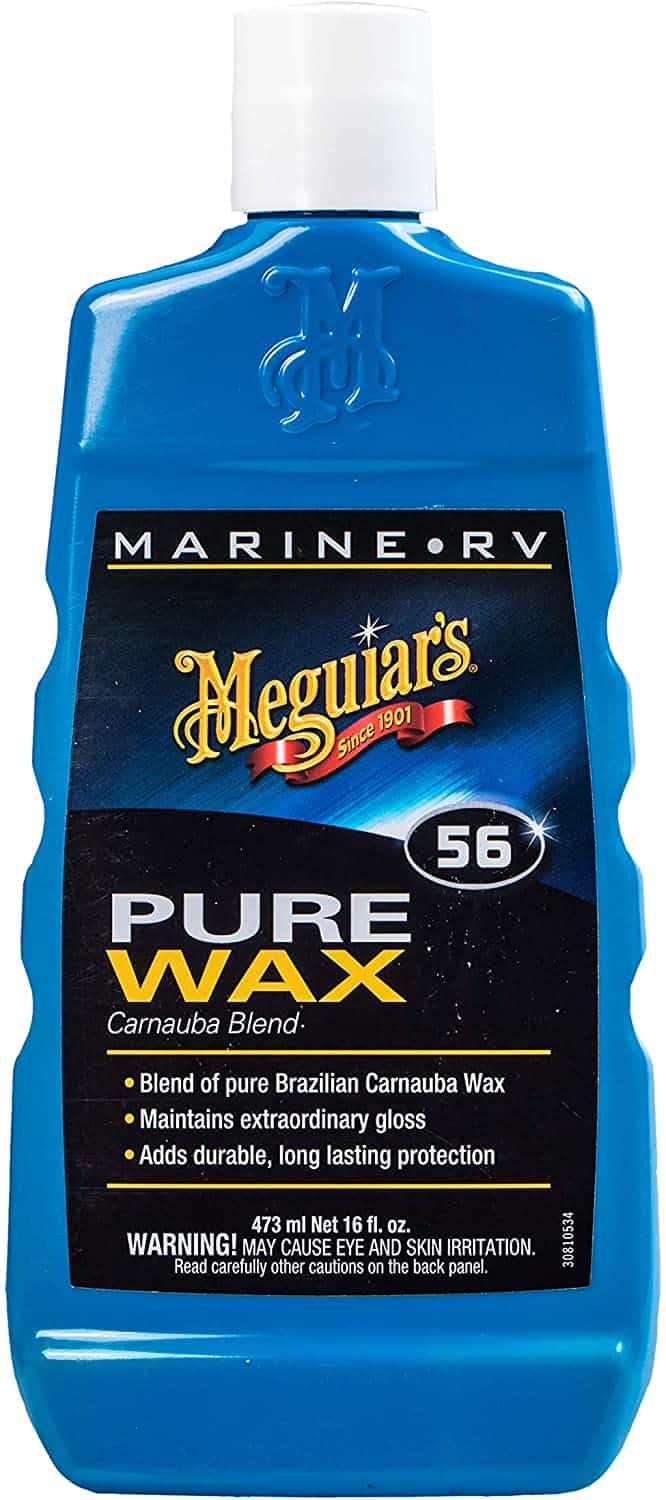 Safe For Use On Fiberglass, Gelcoat, Painted Metals and Other Painted Surfaces
Provides UV Protection
Safe For Use on Graphics and Vinyl Lettering
Finish Especially Beautiful On Dark Colors and Metallic (Metal Flake) Finishes
Ingredients Include Brazilian Carnauba Wax, Polymers, Resins, and Petroleum Distillates
Use in Well-Ventilated Area; Vapour May Cause Dizziness, Nausea, and Irritation if Inhaled for a Prolonged Time.
Trusted Brand Since 1901
$20.74 for 16 Fl. Oz.
May Be Used in Conjunction With Meguiar's Cleaner and Polish

Safe for Use On Fiberglass
Provides Cleaning and Durable Weather and Saltwater Protection
High-Shine Wet Look Finish
Ingredients Include Pure Carnauba Wax, Fragrance, and Polymers
Do Not Ingest; Harmful if Swallowed
Fresh Tropical Scent
$20.99 For 16 Fl. Oz.
May Be Used in Conjunction With Collinite Fiberglass Boat Cleaner. Brand Does Not Carry Polishes

Safe For Use On Unpainted Aluminum or Metal
Provides Lasting Protection From Corrosion, Water Spots, Oxidation, and Damaging Elements
Lends Deep Shine to Metals
Ingredients are Not Shown on Amazon
Keep Out of Eyes
$21.35 For 8 Oz.
May be Used in Conjunction With Collinite Metal Wax Cleaner and Polisher
Spray Waxes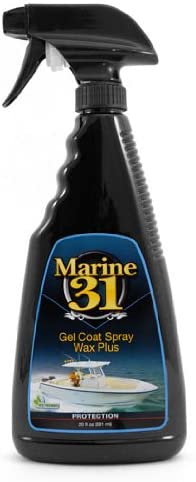 Safe For Use On Painted and Unpainted Gelcoat Surfaced Boats
Provides UV and Saltwater Protection
Safe on Graphics and Vinyl Lettering
High-Gloss, Slick Finish
Ingredients Include Carnauba Wax and Protective Polymers
Harbor Safe and Eco-Friendly
$24.99 Per Spray Bottle
May Be Used in Conjunction With Marine 31 Oxidation Removal Kit
Safe For Use On Wet or Dry, Painted or Unpainted Fiberglass, Gelcoat, Aluminum and Other Metal
Provides Cleaning and 90 Days of Protection From Elements
Safe On Graphics and Vinyl Lettering
Glossy, Slick Finish
Ingredients Include Natural and Synthetic Protectants
Eye Irritant; Potential Skin Irritant
$18.60 For 32 Fl. Oz.
May Be Used in Conjunction With

303 Marine Boat Wash with UV Protectant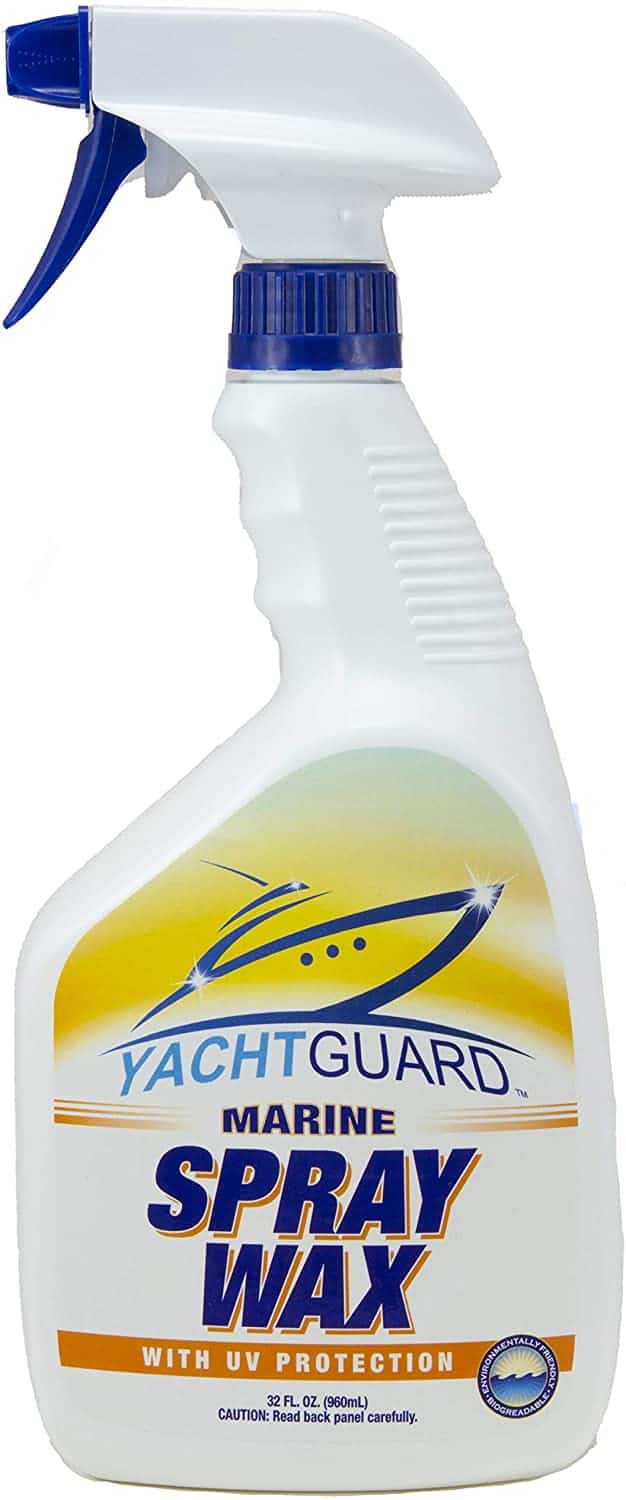 Safe for Use On Painted or Unpainted Fiberglass, Gelcoat, and Metals
Provides UV Protection
Safe on Graphics and Vinyl Lettering
Slick, Wet-Look Finish
Ingredients Not Listed on Bottle
Non-Toxic and Biodegradable
$16.95 for 32 Fl. Oz.
May Be Used in Conjunction With YachtGuard All Purpose Cleaner and 3-in-1 Polish

Safe for Use on Anodized, Polished, and Powder Coated Aluminum
Provides Saltwater, Pitting, and Corrosion Protection
Unsafe for Graphics and Vinyl Lettering
Shiny, Mirror-Like Finish
Ingredients Include Emulsifiers and Marine-Grade Polymers
Eye Irritant; Keep Out of Eyes
$25.00 for 22 Fl. Oz.
May Be Used in Conjunction With Star brite Aluminum Cleaner and Restorer, and Aluminum Polish
Paste Waxes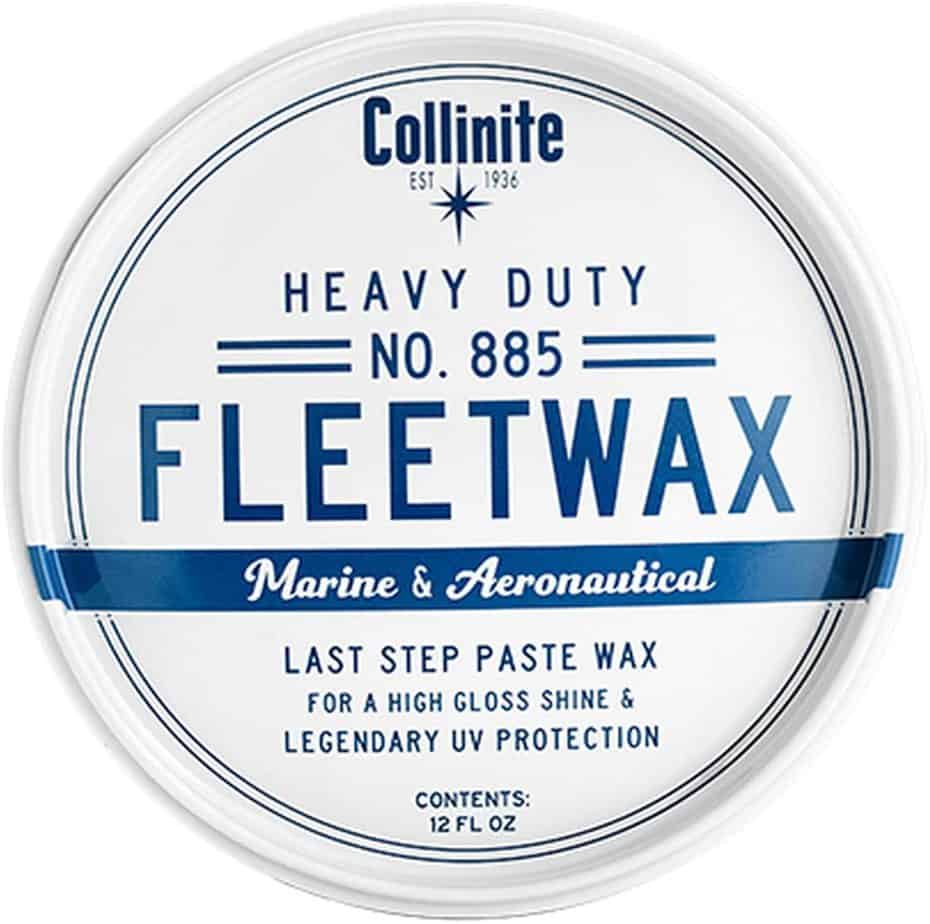 Safe for Use on Painted and Unpainted Fiberglass and Gelcoat
Provides Oxidation, Saltwater, UV, and Weather Protection
Probably Safe for Graphics and Vinyl Lettering
Shiny, High-Gloss Finish
Ingredients Include Pure Wax and No Cleaners
Cautions Not Listed, But Do Not Ingest or Get in Eyes
$22.00 for 12 Oz.
May Be Used in Conjunction With Collinite Sapphire Prewax Cleaner #840 for Gel-Coated Surfaces, or Pinnacle Paintwork Cleansing Lotion for Clear-Coated Surfaces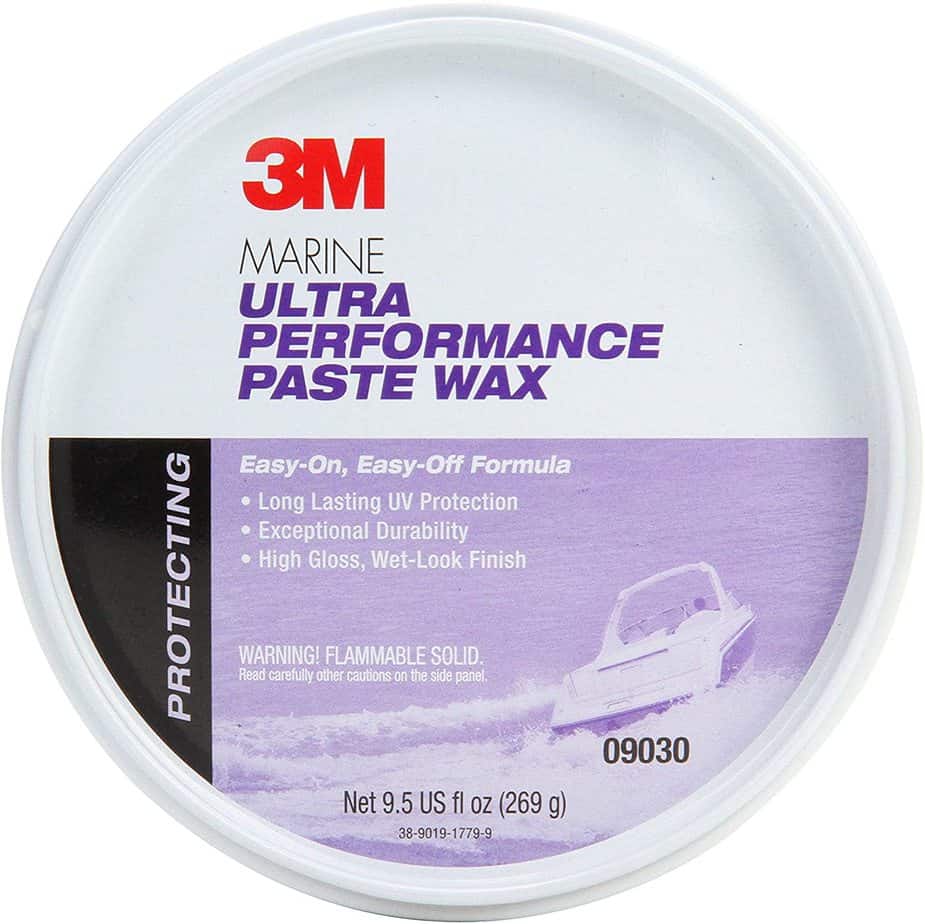 Safe for Use On Fiberglass, Gelcoat, and Painted Aluminum
Provides UV, Saltwater, Rain, and Dirt Protection
Safe For Use On Graphics and Vinyl Lettering
Deep, Wet-Look Shine
Ingredients Are Based On Pure Carnauba Wax
Flammable As a Solid
Between $25 and $40 Each
May Be Used in Conjunction With

3M Perfect-It Boat Wash

and

3M Perfect-It Machine Polish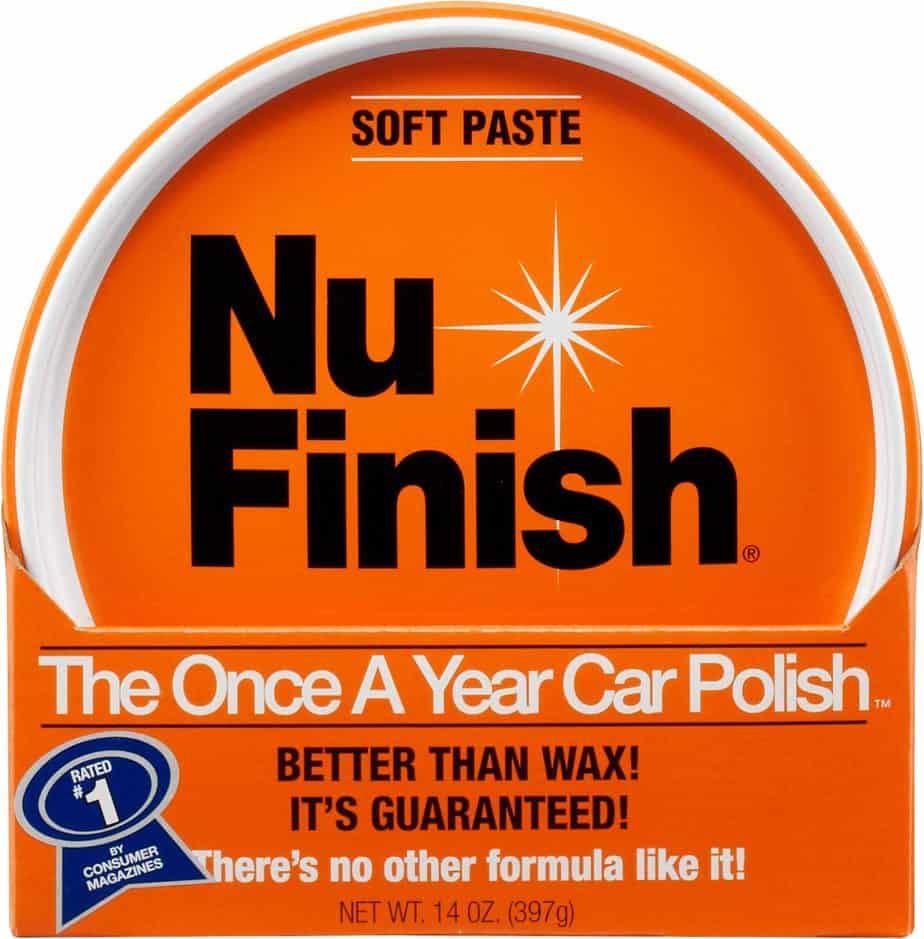 Safe For Use On Fiberglass Boats (As Well As Cars and Airplanes)
Provides Rain, Dirt, and Grime Protection
Probably Safe For Use On Graphics and Vinyl Lettering
Lasting Gloss and Shine
Ingredients Are All Synthetic
Cautions Not Listed
$14.28 for 14 Oz.
May Be Used in Conjunction With Any Boat Wash and Polish

Safe for Use On Fiberglass and Gelcoat
Provides Light Cleaning, Polishing, and UV and Dirt Protection
Not Safe For Use On Graphics and Vinyl Lettering
Deep, Lustrous Shine
Ingredients Include Nano-Sized Polishing Agents, Waxes, and Silicone Resins
May Be Harmful if Swallowed; Wear Gloves While Applying; Causes Eye and Skin Irritation
$19.97 for 32 Oz.
May Be Used in Conjunction With Any Boat Wash and Polish
Wax Applicators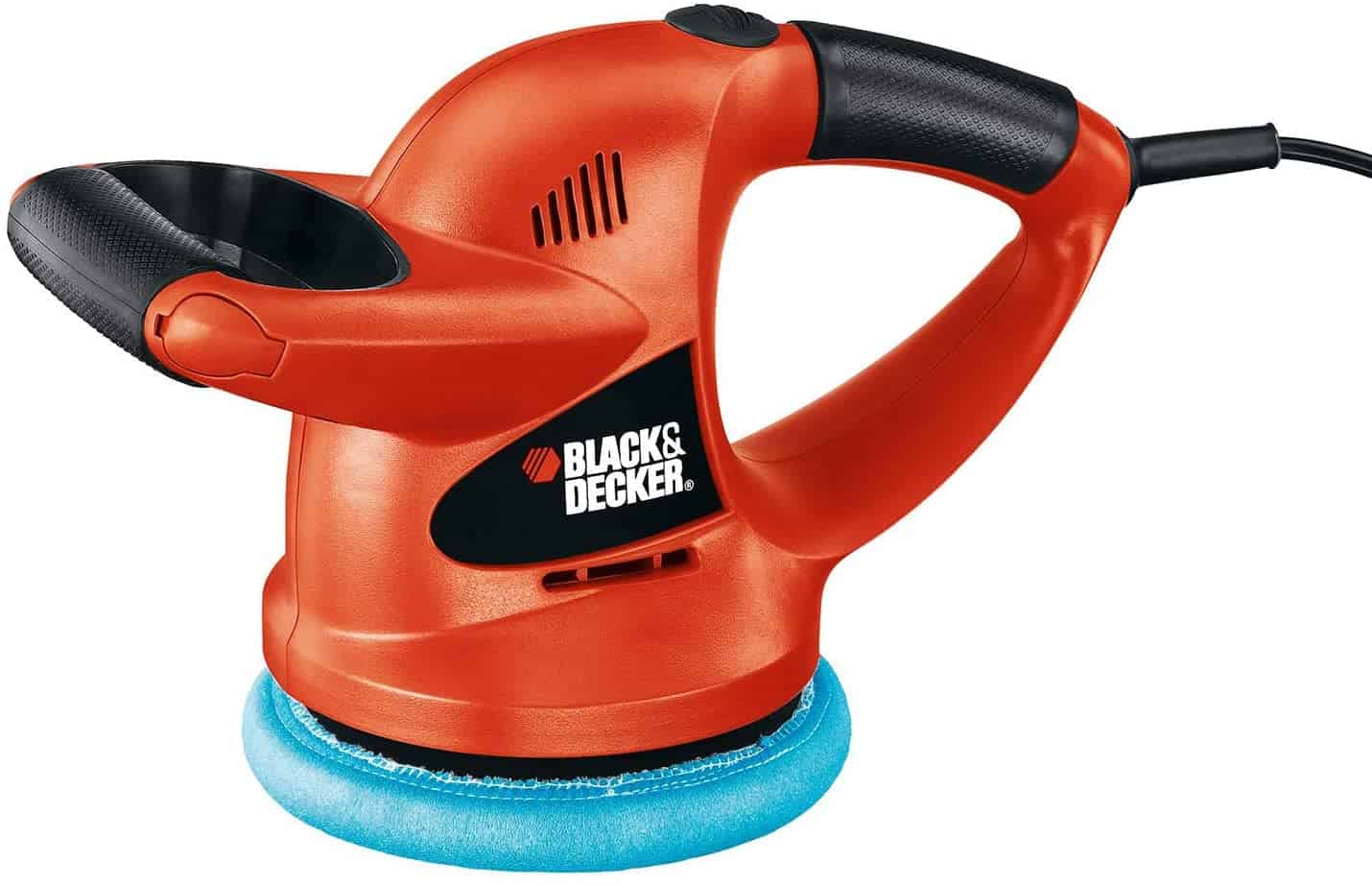 A good-quality wax applicator is important, as poor ones may scratch the surface of your boat or cause unsightly streaks or lint. A very good applicator kit for you may be the Better Boat Boat Wax Applicator Set, in which is included microfiber pads, foam pads, and microfiber buffing cloths.
Another choice is BLACK+DECKER's 6-inch Random Orbit Waxer/Polisher (WP900), which is a corded electric buffer. It is only $31.91 at the moment, and seems to me to be a very good deal.
Meguiar's G3500 Dual Action Power System Tool is another good choice- from the high-quality and reputable brand of Meguiar's; as is Avid Power's 6-inch Dual Action Polisher and Waxer with Variable Speed
All of the electric waxers listed here can be used for polishing as well, so that can have a double use, and save you money in the long run.
Boat Care Bundles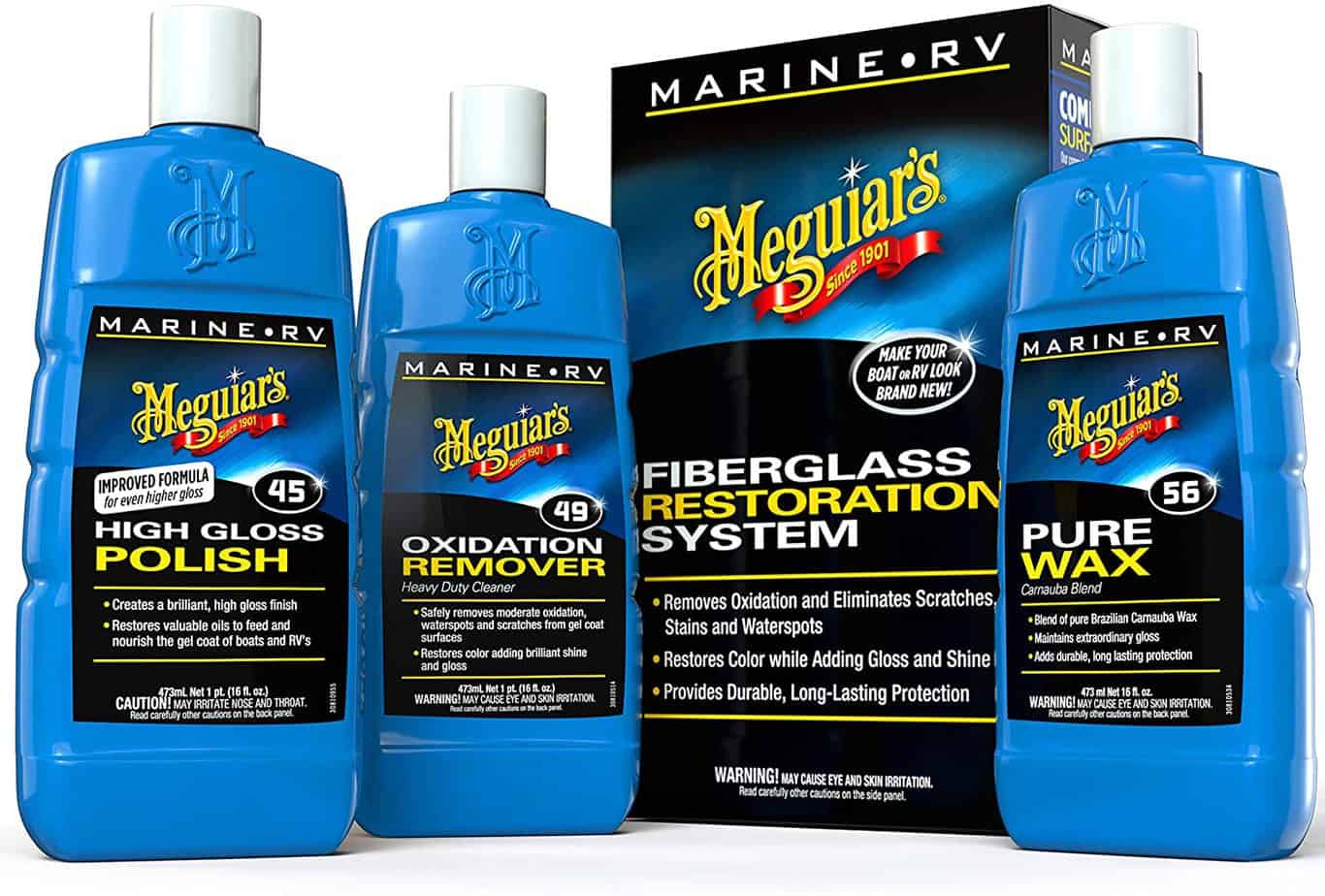 If you wish your boat protectants to be all from the same company, here are a few choices you can pick from that include wax, plus cleaners, polishers, and/or interior care accessories!
Meguiar's M4965 Marine/RV Fiberglass Restoration System
Meguiar's M6385 Marine/RV Care New Boat Owner's Essentials Box Kit
Renegade Products Aluminum Pontoon Boat Polishing Complete Kit
StarBrite 083701N Boat Care In A Bucket Starter Kit Wash Cleaner Polish Included
(This kit DOES NOT include boat wax)
STAR BRITE Teak Care 3 Step Kit – Teak Cleaner + Teak Brightener + Teak Oil – 32 OZ (081202)
(This kit is ONLY for wooden boats)
FAQs
Question: What is the best wax to use on a boat?
Answer: In my personal opinion, I believe the best is a pure carnauba wax-based wax. It is natural, and gives a great shine to your boat's exterior, protecting it at the same time with long-lasting coverage. Check out the various ones listed with carnauba as one of the ingredients, and you might just find what you are looking for.
Question: Is it okay to use car wax on a boat?
Answer: Only if it says specifically on the bottle that boat waxing is another use for it. I just wouldn't trust any car wax, as the surfaces of most boats are quite different from cars.
Question: Should you wax the bottom of your boat?
Answer: Some people prefer waxing the bottom, and some do not. I would say that, with a high-quality, longer-lasting wax, waxing the bottom of your boat is a very good thing to do. It tends to help the craft skim smoother across the water, and protect the hull below the waterline as well. By all means, try waxing the bottom of your boat and see what results you get!
Question: How long does boat wax last?
Answer: It is best to look at the container of the wax you use, as some last longer than others. On average, most last at least three months. Nu Finish claims to last a whole year, but that depends upon what surface you are using it on, and what type of elements your craft is subjected to. If you are unsure, give the wax three months, or a season on the water, and see if it needs another waxing.
Conclusion
With the conclusion of this article, I would like to add my final thoughts to the subject of buying a good boat wax. Do not trust your eyes, for many wonderful-looking packages are deceiving, and the product can be an utter waste of your money. Make sure you fully research the reviews and uses of each wax before purchasing and also be confident that the wash and polish you buy will comply very well with each other and the wax you want before deciding. With that, I will say "adieu", and I hope you find the wax that will give your boat the loveliest gloss its ever had!
Looking for more interesting readings: Check out: