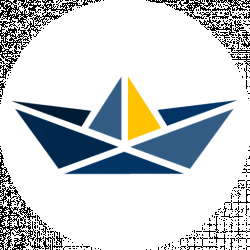 Latest posts by Jeanne Murugami
(see all)
Are you on the hunt for the best deck boats? You're at the right spot. This comprehensive guide covers everything you need to know about deck boats, including the models and how to choose such boats. We've, as well, highlighted some of the best deck boats you can consider. Our top picks include boats for people with diverse needs – from the premium boat, best budget boat, and best boat for luxury, among others. 
Keep reading to learn more about these boats so you can settle for the best one depending on your needs.
What Are Deck Boats?
When you have bigger boating aspirations or your family or circle of cruising friends is large, you want a deck boat. Deck boats differ from most other boat types because they have extra deck space and borrow their space and name from the construction and design of the hull. 
Usually, these boats feature a hull design with a flared tip to provide more deck space. And, when you have more deck space, you can rest assured that your friends and family will have ample storage, amenities, and seating area.
Best Deck Boats Brands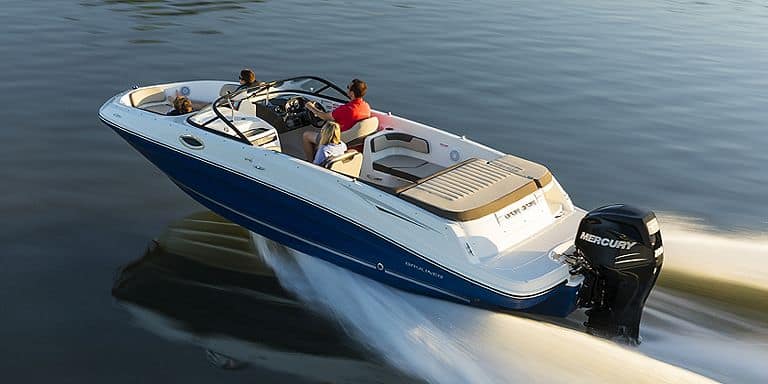 Deck boats differ significantly in terms of the types and models, and often such difference is dictated by the diversity of the brands.
Let's look at some of the best deck boats brands in the market:
Bayliner Deck Boats
Are you looking for something more than just a boat? Bayliner brands of deck boats are just that – a platform for incomparable fun, family, and freedom. This brand offers you the freedom to choose a boat depending on your needs. Whether you are on the hunt for a sturdy fishing platform, or a roomy deck boat for your entire family, or something ideal for a weekend cruise with friends and family, consider the Bayliner deck boats. 
SeaRay Deck Boats
How do your weekends end? If you want a rewarding weekend afternoon, at least one with water stretched out before you; then you should consider getting a great deck boat. And, the Sea Ray brand stands out. Enjoy meticulous craftsmanship, outstanding design, and effortless performance with a SeaRay deck boat. 
Hurricane 
Establish your boating passion with the Hurricane deck boats. This brand of deck boats affords endless possibilities when it comes to your water cruising experiences. These boats are designed with versatility in mind – they offer you the level of convenience you want for entertainment, watersports, fishing, or cruising.
Lowe Boats
At times, the boat you want depends on its efficiency to push past the boundaries of the waters. Lowe deck boats are designed to offer outstanding comfort and performance regardless of the activity you have in mind. This brand offers you boats of superior construction, legendary durability, and handling.
Concept Boats
Need a versatile boat that allows you the thrill of simple pleasures and great pursuits? A Concept deck boat would be an ideal option. These boats are highly versatile, have a lasting construction, and are designed to offer unbeatable performance. In addition, Concept Deck Boats have great features that convert these vessels into a platform for heightened family fun. 
StarCraft Boats
Did you know that you can gain a lot from the water, but only if you have the best boat? StarCraft deck boats are built to this effect – to help you make your weekends memorable and have a relaxing retreat on the waters. These types of deck boats are designed for family space and style, and performance.
Four Winns Boats 
Are you looking for luxurious and pristine boat models? Four Winns boat brands are a perfect embodiment of this. These deck boats are designed with relatively wide floor plans, plush seating, and feature outboard power. 
The Best Deck Boats: Our Top 7 Picks
You already know what deck boats are, the types, and the models available in the market. The next step is to narrow down to the best of these boats. In this review, we look at some of the best deck boats you can find. We base our review on the features of each boat, what makes them outstanding, and aspects of the boat that past customers didn't like. 
1. 2020 SVX 231 OB – Best Overall Choice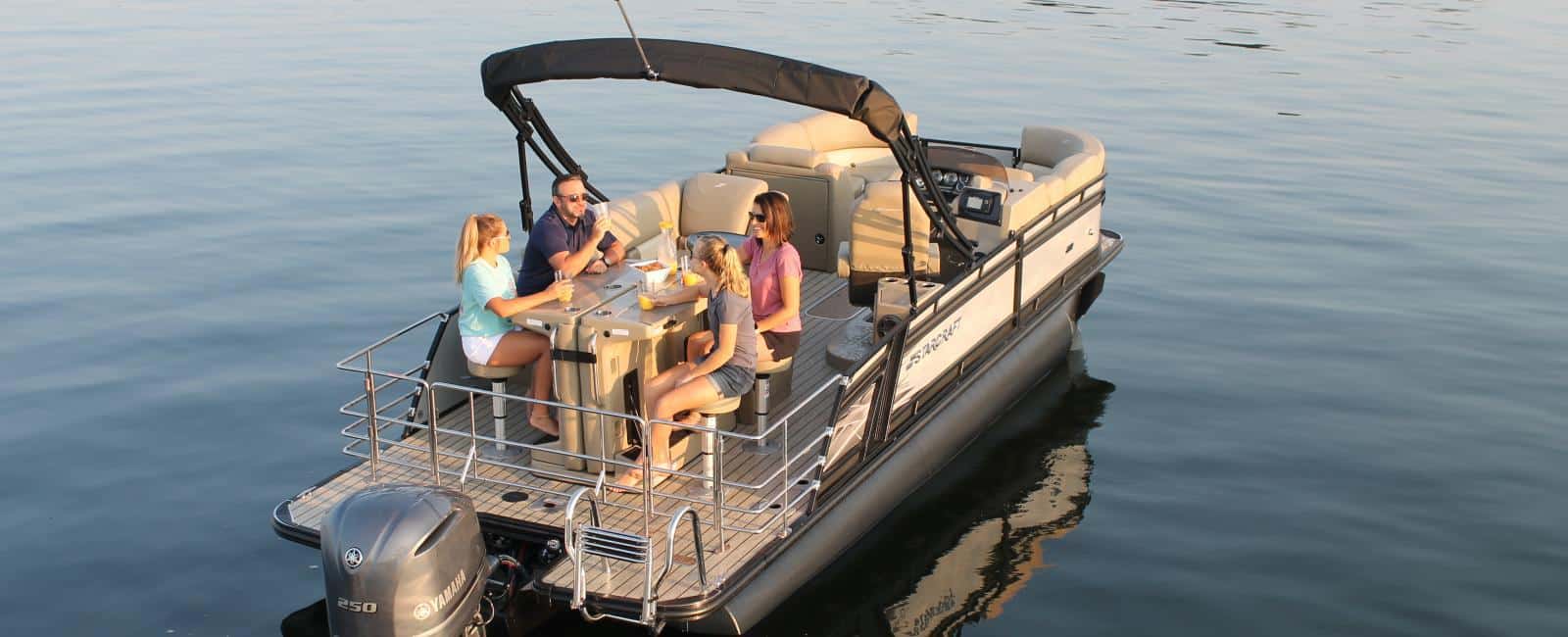 If family fun on the water is your forte, then you have found the perfect boat in 2020 SVX 231 OB. StarCraft, the manufacturer of this boat, has emphasized a lot on building a piece that will let you have maximum fun on the water. You will find this family-friendly boat outstanding. Besides scoring high in terms of functionality, this masterpiece is a high performer, and all this is attributed to its excellent 250hp horsepower Yamaha engine.
So, you have kids and are worried about their safety? Not with the 2020 SVX 231; The boat comes with a deep and spacious cockpit, creating an ideal environment for the safety of your kids. Additionally, the components making up this deck boat are high-quality and durable; thus, you won't have to worry that the sea waters will beat your boat. 
Another thing you will love about the SVX 231 OB is its versatility. Are you thinking of a beautiful Sunday afternoon leisure cruise? Or is it a thrilling watersport adrenaline-inducing action? Or perhaps, you are the type that loves hanging out in the sand. Whatever activities you are thinking of, this deck boat will play along.
Pros 
Stylish and sleek design

You can customize it to your liking

Outstanding convenience and comfort features

Highly versatile

Large cockpit area

Family-friendly
Cons
It has a high fuel consumption
2. Hurricane SunDeck OB – Best Premium Choice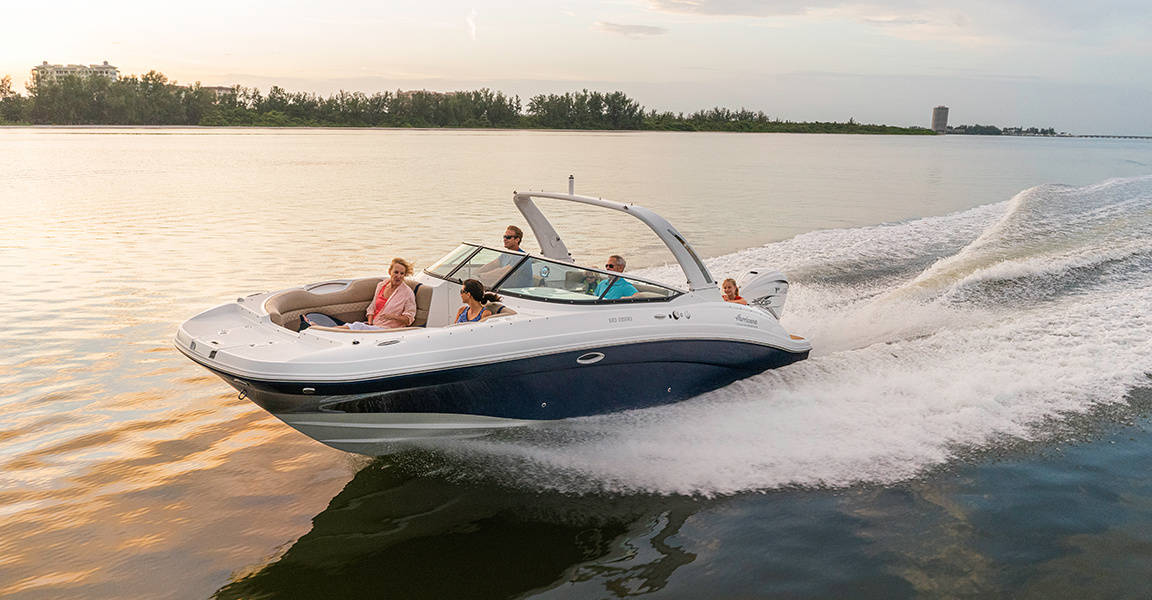 Enjoy a range of fun and watersport activities with the Hurricane SunDeck OB deck boat. When it comes to high-end deck boats, you cannot go past the Hurricane SunDeck OB. It is a 26-ft and 4-in long yacht-certified boat that will give you a high level of versatility and convenience that you can never get with any other deck boat of its category. 
It comes with a center-deck bi-fold door, which is ideal for offering you extra protection against harmful elements while on the waters or keep everything onboard – pets and kids – safe. This feature-filled deck boat will be ideal for all your boat needs.
For instance, it includes convenience features such as cellphone and keeper netting, cup holders, and charging spots. The boat also includes a walkthrough windshield, which you can close, open, and adjust to shield you from strong winds. 
If you are looking for a home in a boat, then this is your best bargain. It is highly customizable and includes diverse features designed to create a homey atmosphere. Its construction and design are ideal for water sports and other fun activities. 
Pros 
Highly customizable

Ideal for diverse water sports and fun activities

Includes highly-intuitive features

Secure and durable
Cons
It is not the best in terms of speed
3. Lowe Sport SD224 – Best Budget Choice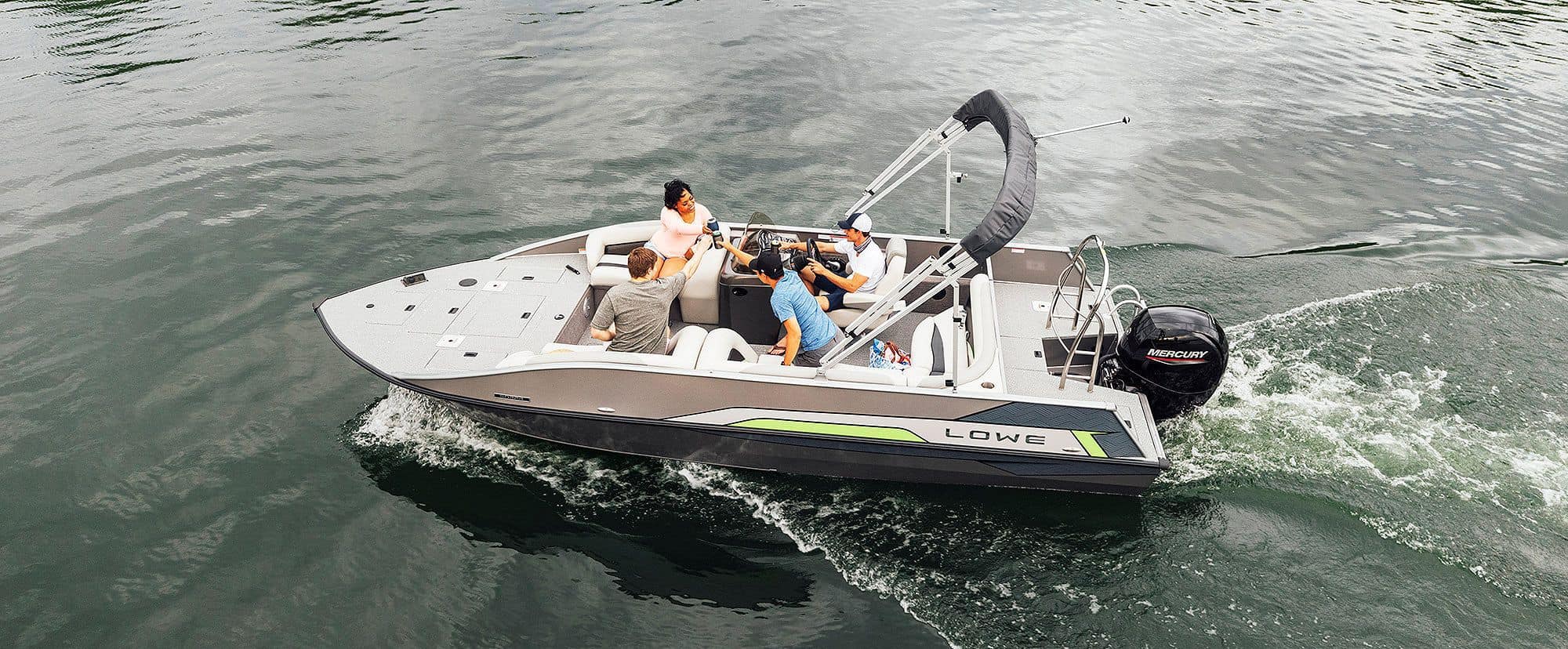 Let's face it – boats are not cheap, so when looking for a budget deck boat, your goal should be to find one that offers you unprecedented value relative to its price and that of similar boats in the market. And, if this is what you are looking for, then you have it with the Lowe Sport SD224. 
The boat features a unique design ideal for high performance, regardless of whether you are cruising with friends, engaging in an adrenaline-filled water sport event, or you are on a fishing tournament. It brings around the spacious comfort only available in a pontoon boat and adding that to its agility and speed, you will have a powerful sports deck boat, ideal for all the worlds.
The Lowe Sport SD224 is a feature-filled boat. You will find its amazing features convenient for whatever needs you to have for a deck boat. For example, if you are looking for a high-capacity boat, Lowe Sport SD224 can accommodate 12 passengers comfortably.
The boat has anti-feedback steering, two bow chaise lounges, and two pedestal fishing seats for an optimal experience. In addition, you will fall in love with the boat's full vinyl flooring, aerated live well that has a timer, and the drop-down enclosure that comes in handy for your privacy. 
Pros 
It offers you value for your money

Highly customizable 

Fully versatile 
Cons
4. Concept 392 Family Edition – Best for Utility and Comfort

Do you want a beast of a boat in the waters yet comfy? Go for the Concept 392 Family Edition. It is a perfect embodiment of all that. For starters, this deck boat is massive – it comes with a center console layout and a comfortable sitting area at the bow and deck. You will like its design and construction most because this beast was made with utility and comfort in mind. 
Being a fully customizable boat, the 392 Family Edition offers you a range of features to suit your boat needs. Its fishing features make it a great boat for spending out reeling in amazing catches all day. For instance, the boat has built-in fishing features like dockside freshwater inlet, dual live wells, six fishing rod holders, and insulated fish boxes.
Its standard features include elements such as a strong marine audio system, four powerful mercury throttles, deck, forward-console seating, bow, and an aft bench. In addition, this masterpiece comes with a fiberglass helm seat, aluminum powder-coated grab rails, and coaming pads, among other excellent features. 
Pros 
Highly versatile 

Built for exceptional performance

Includes numerous fishing features

Comfortable
Cons
5. Four Winns HD 270 – Best for Space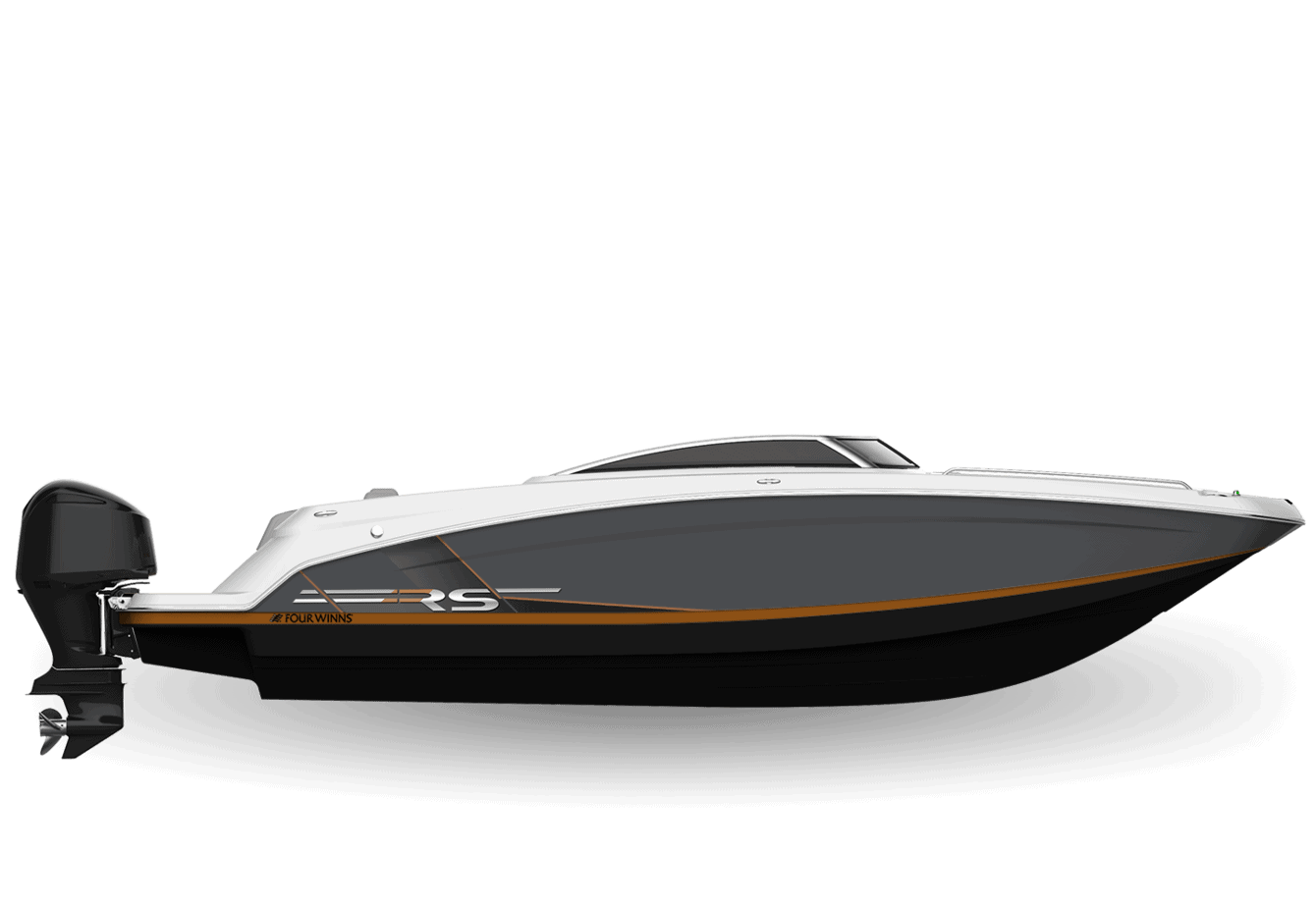 Enjoy a fast evening getaway as you enjoy the company of your friends or family members with this powerful deck boat. The Four Winns HD 270 beats most of the boats in its class as far as space and plush are concerned.
Suppose its u-shaped seating at the cockpit, the hinged now cushions, flip-up bucket bolsters, wireless speakers, under-the-seats built-in coolers, and the stunning bow cushions are anything to go by. In that case, you have a beautiful deck boat designed for comfort and fun.
This boat is ideal for those quick and fun afternoon cruises on the water you have always wanted to have. It comes with standard features that make it an outstanding choice for any boat lover. For instance, the Four Winns HD 270 comes with assist handles, stainless steel cup holders, a self-bailing cockpit, coaming pads, a walkthrough transom door, and an aft sun lounge. 
With this masterpiece, you will have a great cruising experience on lake waters. It is quite spacious to allow you to tag along up to 12 friends or family members. Besides, you have the freedom to customize this boat to your liking. 
Pros 
Fully customizable

Spacious – designed to fit up to 12 passengers

Designed for lake excursions 
Cons
It won't be suitable for choppier waters
6. Searay SDX 290 – Best for Luxury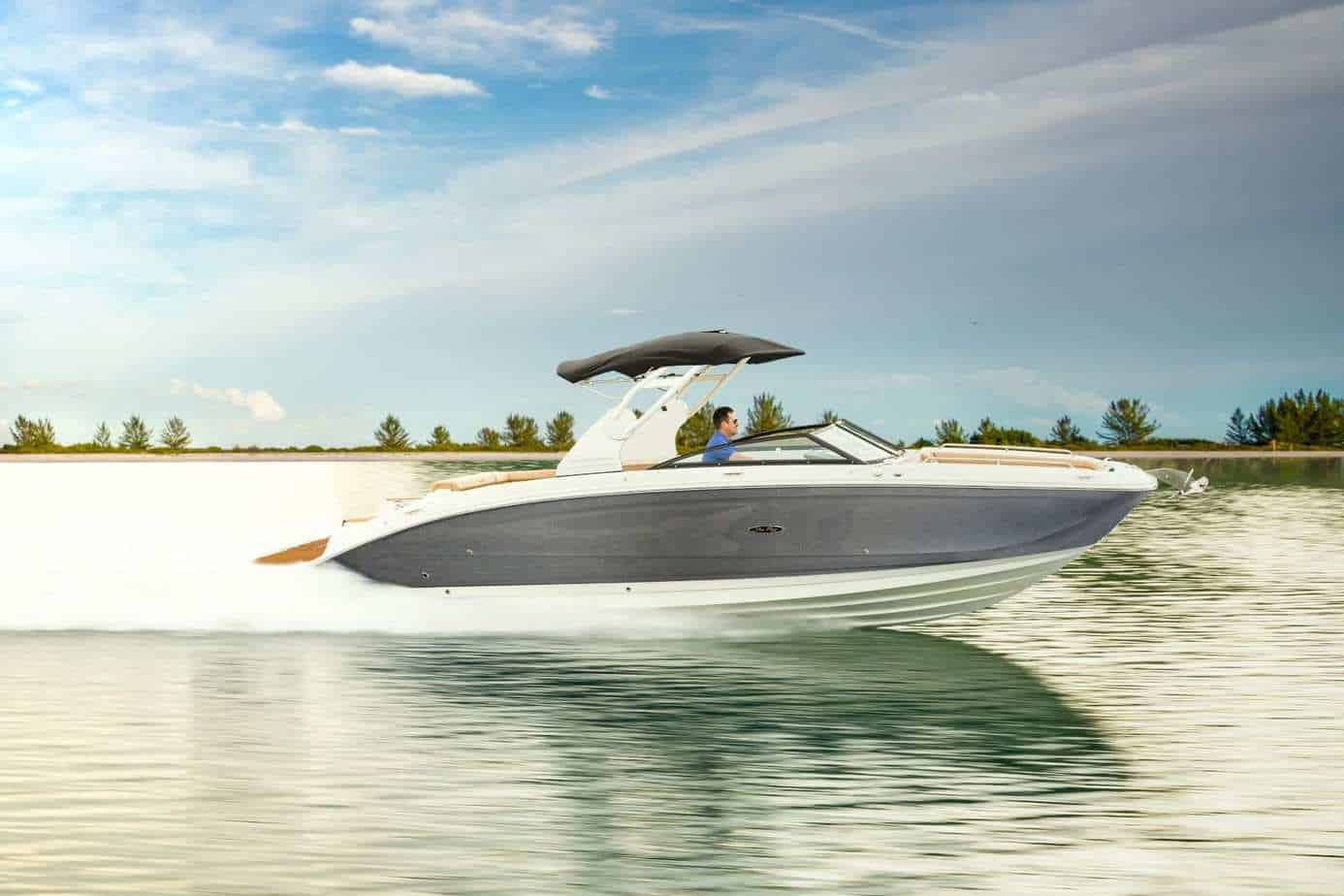 On the hunt for a chic and comfortable deck boat for leisure? Look no further than the Searay SDX 290 –it has everything that defines luxury and comfort. One look at this masterpiece is enough to tell you that this is a luxurious vessel. 
You will enjoy a leisure cruise with this amazing boat. If you are a lover of watersports or the type that loves spending time with friends, then the Searay SDX 290 will be a perfect addition. The boat has the perfect design for exceptional cruises; its sheer attention to detail matches no others in this category. 
It includes a wide "carried-forward" beam, which offers enough sitting area for you and the passengers on board. Additionally, its deep V-hull is ideal for maximum stability of the boat, allowing you to maintain a smooth ride.
You do not have to worry about storing anything on the boat, as this piece comes with enough storage under the bow seats. Other standard features of the Searay SDX 290 that make it a luxurious option include a wet bar, a table, helm, and cockpit, reclining aft-facing loungers, hinged cushions, and starboard lounges at the bow. 
Pros 
Features a plush design

Highly customizable

Expansive seating area
Cons
7. Bayliner Element E18 – Best for Different Boating Activities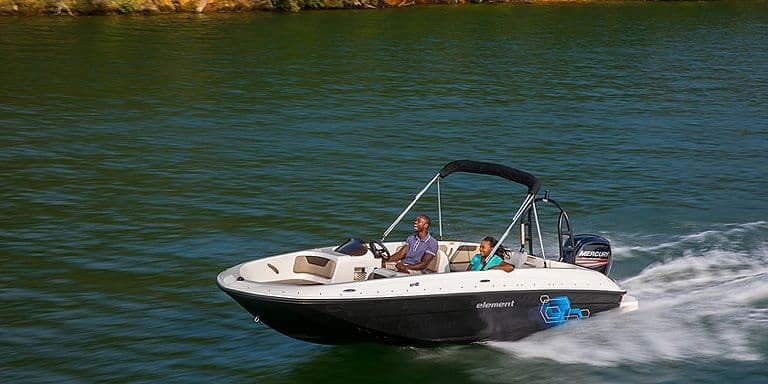 Do you love jumping from one boating activity to the other? Then it would be best if you had a boat that could accommodate such versatility. The Bayliner Element E18 Deck Boat features an outstanding design ideal for supporting multiple boating activities. Besides the normal fishing and standard cruising abilities common with most boats in this class, the Element E18 has built-in features that make it a beast in water sport activities. 
Some of the outstanding features of this powerful boat include a folding sport arch, which you will find useful as a wakeboard rack and a ski tow bar.
You will find it useful for holding up to two wakeboards at a go. In addition, the boat comes with convenience features such as built-in cup holders on the portside lounge seats, cockpit table, and carry-on cooler. The Bayliner Element E18 includes a wide seating area, bow, and stern casting platforms, an aerated live well as a fishing boat.
Pros 
Watersports-ready

High versatile 

Can accommodate up to 9 passengers

Built-in fishing features
Cons
Not best for choppier waters
How to Choose the Best Deck Boats
Buying a boat is one of those things you do once and for all, and there is a better reason for that – they are expensive. When planning to buy a boat, you should remember that you are doing a lifetime investment. So, it is advisable to take enough time to understand different boat types to choose the best. 
Here's how to choose the best deck boats:
Understand Boat Dealers
One of the first things to consider when planning to buy a boat is the manufacturer's reputation. Find the time and go through the websites of several boat manufacturers to sample diverse models, find offers, and compare the features of all the boats. 
Also, don't forget to evaluate the possibility of customizing the boat if you need to improve your convenience and comfort levels. With all the details ready, the next thing to find out is whether dealers are near you. 
Ask Questions 
Finding a dealer isn't enough. It would help if you were sure of what you are getting. So, prepare a list of questions to ask your selected dealers before committing any money for a certain boat. 
Some questions you might consider are:
Do you offer boat servicing?

Can I get winterization services during the cold season?

Do you deliver the boat after I have paid?

What are your warranty terms?

Do you allow for a test drive of the boat?

How do you go about boat repairs or service?
Consider the Features
The ideal boat for you should have the right features. Deck boats are available in different features, and with each model attaching numerous bells and whistles to their product, it can be challenging to narrow down to the best option. 
If you focus your purchase decision on certain features you want in your boat, it will be quite easy to settle for a boat that can serve you satisfactorily. If you need a boat for family, entertainment, or fishing, you must consider the right features. 
Buying a Fishing Boat
When considering a fishing deck boat, you need to focus on fishing-friendly features such as ample storage and live well and rod-holders for the best deck boats for fishing. 
Buying a Family Boat
The best deck boat for the family should allow you to pull skis or include an inner tube. Other standard features for a family deck boat include a sun deck with ample space for stretching and sunbathing and a swimming platform with a step ladder for everyone's safety.
Additionally, a Bimini top would be necessary for your family boat as it will offer you shelter when the sun appears too hot. 
Buying an Entertainment Boat
The best entertainment deck boat should allow you to have maximum fun. If hanging out with friends and family defines your type of entertainment, you need a vessel with a sizable deck. The seating capacity should be enough to accommodate everyone freely. Other standard features for such a boat include a foldable table mount, cup holders, and a marine audio system. 
Budget
When it comes to the boat's features, you may not need to worry about the price of the boat. But the reality is that the cost can be a pain when planning to buy a deck boat unless you have so much money to purchase the boat you want. 
The features of the boat you have in mind will dictate the amount you will pay. For premium features, you will spend a considerable amount. So, if you are looking for a boat with customization options and more features, be ready for a higher price tag. Thus, evaluate your boat needs, the features you want, and set a budget. 
FAQs
Question: Are Deck Boats Good in Rough Water?
Answer: Deck boats have a rough design and construction ideal for handling rough sea and ocean waters. However, if you get into rough waters more often, it is advisable to consider a deck boat with a deep V-hull, as this will help the boat cut through any waves easily, giving you a steady ride. 
Question: How Much Does a Brand New Deck Boat Cost?
Answer: Deck boats differ significantly in terms of cost. These boats can range from as low as $20,000 to as high as $65,000 and above. Usually, the cost is dictated by the features of each boat. 
Question: What Is a Deck Boat Good For?
Answer: A deck boat is best for diverse activities such as fishing. You can also use deck boats for water sports like tubing, wakeboarding, and waterskiing, especially if you include a powerful motor. 
Question: What Does a Deck Boat Mean?
Answer: Deck boats are created through a combination of a pontoon layout and a runabout's hull design. These boats come with large open deck spaces and feature fast speed, ideal for recreational activities like fishing, entertainment, and water sports. 
Conclusion
Some of the critical elements to consider when purchasing a deck boat include the boat's convenience and comfort. However, other factors such as the design and your budget will also dictate the boat you can get. Evaluating these aspects beforehand will help you find a boat that will serve you well and satisfactorily.  
Now that you have an overview of the different deck boats and their features, all you need to do is find one whose features and functionality align with your ideal boat. The activity you are planning to engage in will also inform your choice of the boat. 
Our best deck boat is the SVX 231 OB. It is versatile, has a sleek and stylish design, is fully customizable, and has numerous comfort and convenience features. Besides, its large cockpit area and extensive seating space make it a great family deck boat. This deck boat will be a perfect choice for the entire family's fun!