Boats come in different sizes and models, but all rely on an outboard to deliver speed and seamless travel. The outboard engines keep evolving to meet different boat needs over time, with some falling out of favor and newer models pushing the boundaries of what seemed to be impossible. 
The outboard motor engines' changes are so far-reaching that we no longer discuss whether you need a two-stroke engine or a four-stroke engine. The changes in the outboard motor engines have created fundamental differences that make it necessary to analyze each engine on its specs to come out with a clear favorite given their features.
Among the changes, we've noticed the emergence of low fuel consumption and alternative fuel outboards, joystick steering, and the increase in horsepower, with some models pushing the envelope beyond the 400 limits.
The difference in Water Engines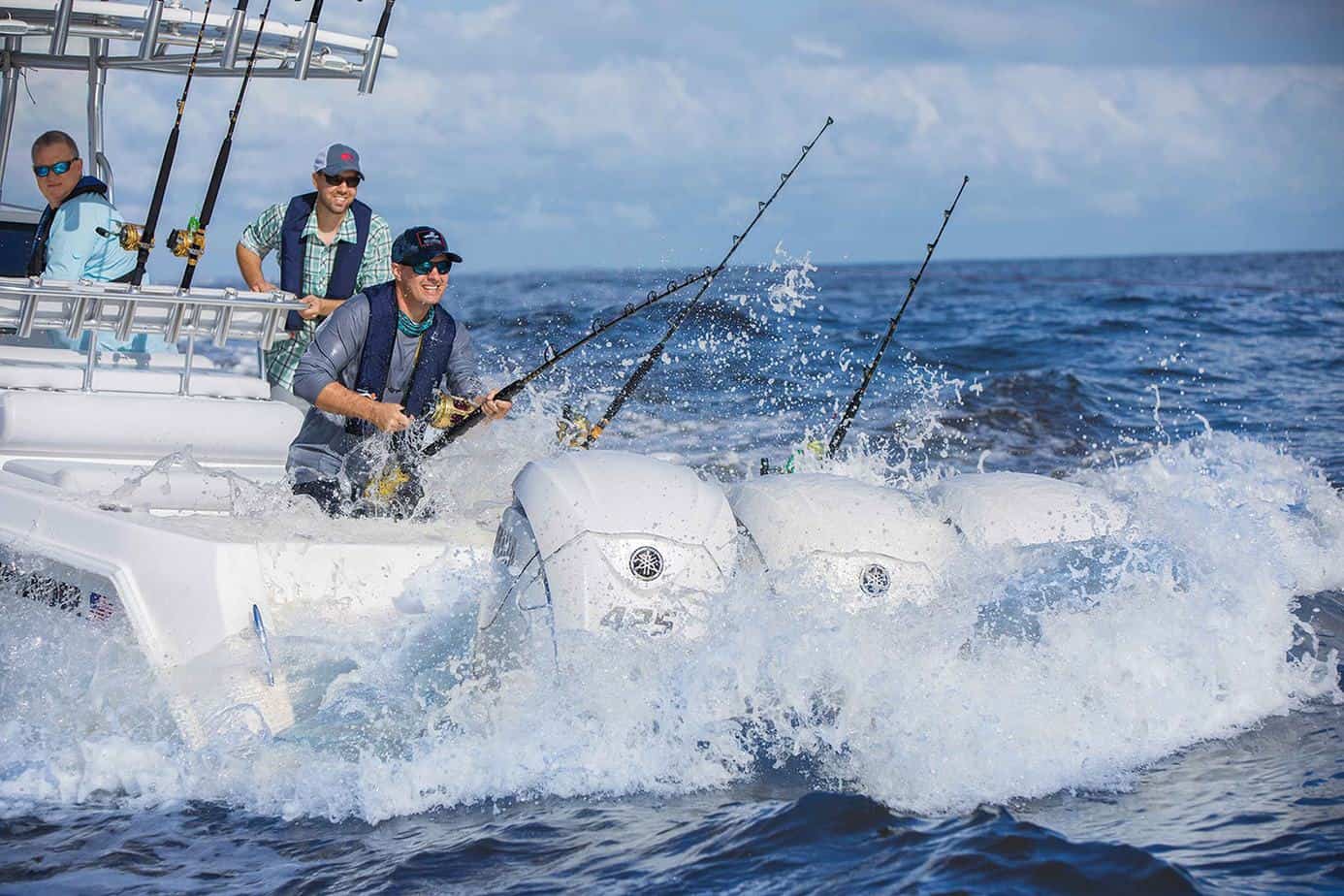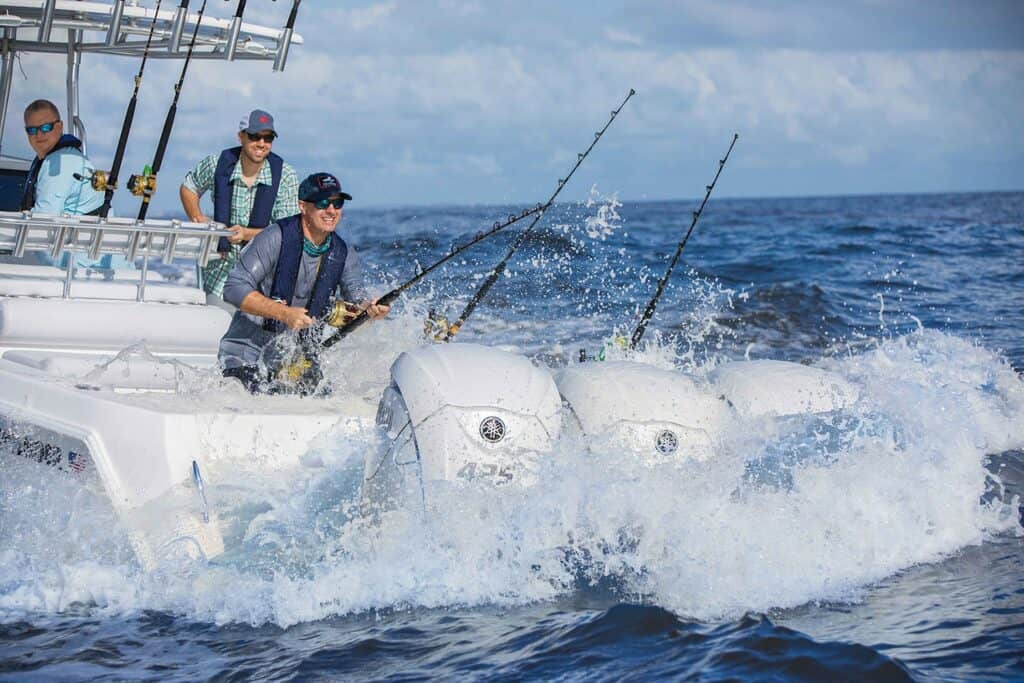 There are mainly three types of engines used to powerboats over water, inboards, outboards, and the sterndrive. The engines are classified depending on their location of the boat or whether they are involved in both propulsion and steering.
An outboard motor is a self-contained unit used to both power and steers the boat installed on the outside of the boat on the transom. You often have to move the entire engine to steer the boat; it is achieved using the tiller on small boats or a steering wheel on large boats.
Inboard engines are placed under the deck and are out of sight. They are modified for use underwater by powering a drive shaft connected to a prop. D-Drive inboards are located under the center of the boat, while V-Drive D-drive is situated under the transom.
The sterndrive is a combination of both the inboard and outboard hence referred to as inboard/outboards (I/O). The engine is usually at the back of the boat while the drive unit is fixed below the swim deck.
Why Do You Need an Outboard Motor?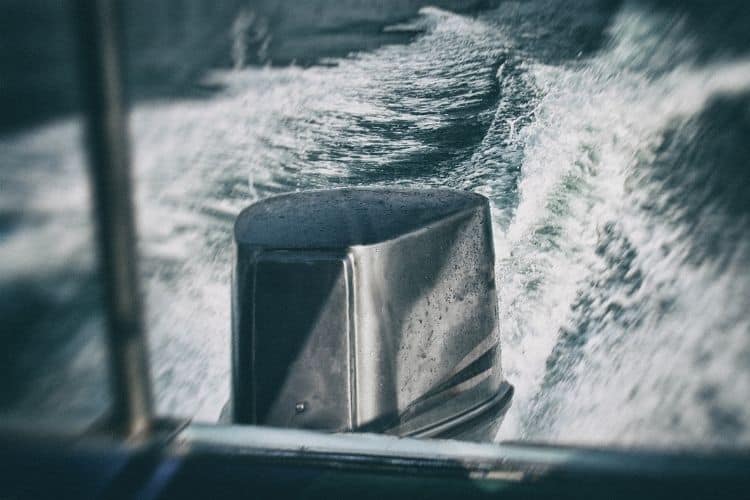 Sterndrives and inboards seem to be clear winners when you need some water play as they outboard google up the transom space you could use for swimming.
But as far as it goes, outboard has a few advantages over stern drives and inboards, and You will be surprised how much you miss one when you decide based on single merit. Here are the benefits of an Inboard:
Performance to weight ratio
Outboards used to have low performance compared to stern drives, but the emergence of high power outboard motors has evened the odds while putting outboards at par with sterndrives.
Both sterndrives and outboards have different horsepower options, so in determining performance, you do not rely on the engine's raw power rather the performance to weight ratio.
When comparing a 400HP outboard and a 400HP sterndrive, you realize that the sterndrive weighs hundreds of pounds more than an outboard motor. When it comes to performance and handling, the lighter outboard is better as it goes out faster.
Fuel efficiency
The extra pound that a stern drive adds to more weight the water engine has to carry on a cruise. As the weight increases, it leads to more fuel consumption in gallons per hour. When minimizing fuel consumption on a motor outboard, it is better to choose a modern four-stroke outboard that is often more fuel-efficient compared to a two-stroke engine outboard.
The outboard tends to have higher RPMs at cruising speeds, yet they still truce the stern drives at fuel efficiency. The oil efficiency is more evident when you use your boat for frequent rides.
Winterizing
Sterndrive engines use a marinized automotive block that makes them extremely sensitive to cold. Due to this risk, the engines require an extensive winterization process to eliminate the risks of freezing. Combining these two factors implies shorter boating seasons.
Winterization must only be done by a qualified marine mechanic since it is highly technical and complicated. The process means that you need more preparations and have your boat ready for spring. In addition to winterization, you have to always remain cautious when using sterndrive engines by protecting them from freezing temperatures. That often means cold nights force you to take your boat earlier than usual.
In contrast, outboard engines have a straightforward winterization process which means most owners can perform the winterization process efficiently. Simple winterization means that you can start cruising immediately in spring.
The ability to tilt the outboard means you can drain the water to make the water engine less prone to freezing, allowing you to extend the boating season.
Tilting
Only outboards can be tilted due to their location on the boat. Sterndrive engines are located under the boat, making it impossible to tilt them. Due to the outboard motor tilting, you can shift the propeller or the entire engine and drive it out of the water.
Tilting enables you to navigate shallow waters as you can lift the engine to reduce damage. You can also protect your outboard from saltwater corrosion and marine growth by tilting the outboard when it is not in use. As we noted earlier, tilting enables you to drain water from the water engine to keep the engine from freezing overnight, options that are not possible with inboards and stern board.
Price
Outboards, inboards, and sterndrives have completely different designs, which means their buying price is different.
It is worth noting that all the water engines used to have competitive prices but the Environmental Protection Agency (EPA) made rules that force the sterndrive to have catalytic converters like car engines which caused their prices to shoot while the outboard motor remained the same.
What Factors Should You Consider When Buying An Outboard Motor?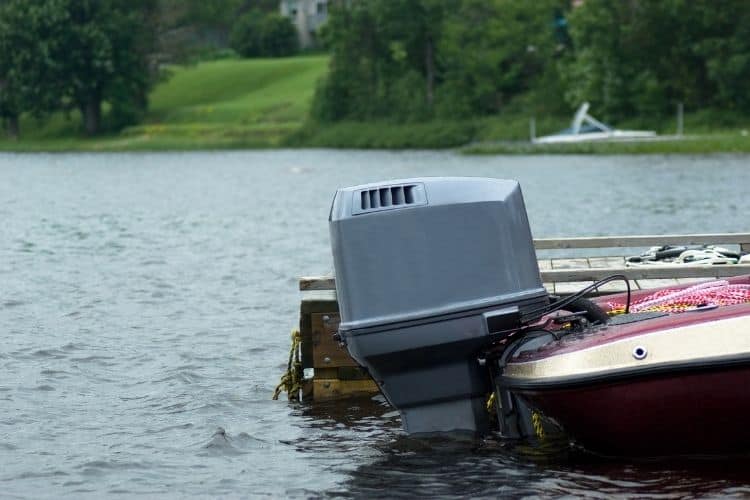 There are different types of outboard motors, and the choice of what to buy has to be made in such a way that is systematic and gives the most value to the user. Here are the most important characteristics to consider when purchasing an outboard motor:
Fuel Efficiency
Outboards depend on fuel to give you good cruises, an outboard that consumes more than its fair share of fuel is bound to get you into trouble. When all other factors are equal, a four-cylinder engine consumes less fuel than a six-cylinder engine.
The heavier the outboard motor, the more they contribute to the fuel consumption. The fuel consumption also has to be relative to the size and the weight of the boat. Any fuel saving will quickly go out the window when you overburden a four-cylinder engine with a huge boat.
The outboard has to work extremely hard and requires more fuel making a six-cylinder outboard more effective.
The Boat's Hull
Big outboard engines have more power than their much smaller counterparts; however, they need more space at the hull and are more suited for large boats. Older boat models are designed for the smaller two-stroke engine; hence overburden with a four-stroke engine might be counterproductive.
A rule of thumb is always to stay twenty to forty pounds of the intended motor weight when choosing a four-stroke engine. You have to keep in mind that lighter outboards create less draft; hence work best when planning to fish in shallow water.
Horsepower
There is a lot of craze about the horsepower as higher horsepower outboard motor engine models get released each year. You have to keep in mind, however, that a high horsepower engine is not necessarily good; hence you need to know your cruising speed, boat capacity, and fuel consumption of the outboard and appropriate boat size.
Small boats such as sailboats, dinghies, or canoes should never exceed 10 horsepower. In contrast, long and light boats, say 10 to 15 feet made from aluminum or fiberglass, need moderate horsepower to go up to 20 horsepower.
Boats ranging from 15 to 25 feet need a bit more power, such as 75 to 90 horsepower, for recreational activities around the shore. However, you can aim for significant horsepower up to 300 HP when you need to travel further at high speed.
The same goes for boats over 25 feet long that have an optimum horsepower of 200 to 300, but extra speed and power imply exceeding these limits.
Fuel Injection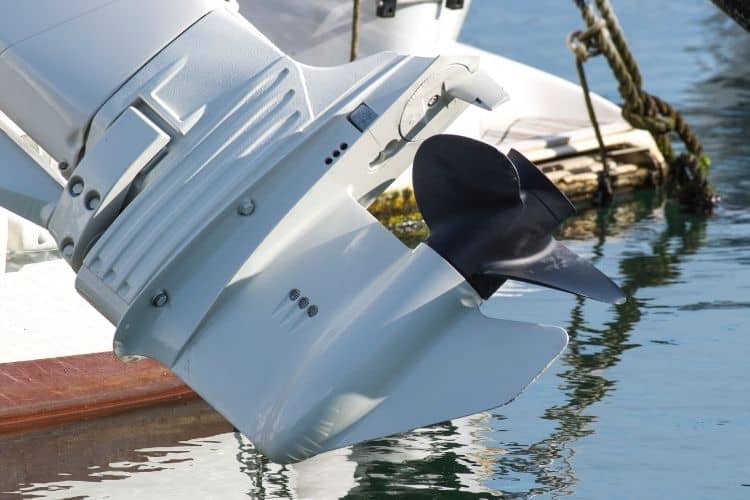 The fuel injection is how fuel is introduced into the combustible units of the outboard engine. There are three main fuel injections with different efficiencies. A direct fuel injection deposits the fuel directly into the engine cylinders for efficient and reliable performance.
Electronic fuel injection relies on an electric system to control fuel and airflow into the system. The carbureted fuel injection system is the least expensive to buy but costly in the long run.
Instead of a system controlling air and fuel into the engine cylinders, a gadget controls fuel and airflow into the cylinder. The carbureted injections last when it comes to fuel efficiency.
The Price
After considering all the other properties, it is safe to ensure that your budget fits the desired outboard. Luckily there are numerous outboards with different prices that have relatively the same specs.  It would be best if you were not too economical to give your boat an outboard with either low power or a short lifespan. However, you must ensure that the cash you pay is reasonable.
Alternative fuels
Outboards do not use the same kind of fuel, and you can consider the relative advantages of the fuel types when purchasing the board. Most two-stroke outboard engines use a mixture of the oil-fuel mixture. Those that use an ethanol mixture have the effect of the ethanol dissolving horse and causing leakage.
The LPG fuel outboards cause less environmental impact though they are still considered exotic and less viable. The electric outboard motor is coming of age, having high horsepower but going for shorter periods.
Torque
A side-by-side comparison of a six-cylinder motor and a four-cylinder motor with the same horsepower reveals that a six-cylinder model has more significant displacement. The greater displacement means a six-cylinder will consistently outperform a four-cylinder.
The six-cylinder has higher and a broad range RPMs; hence it is a top priority; you should choose a six-cylinder motor all the time.
7 Best Outboard Motors
There is a myriad of factors to be considered when picking an outboard. Getting an outboard that checks all the right boxes takes lots of research and testing to ensure you get a high-quality product fit for your specific kind of boat.
Here is a complete list of the best outboard motor engines that would perform optimally in most conditions. The factors included in determining the best outboards include the level of ingenuity, the ability to withstand varying conditions, and raw power.
Torqeedo Deep Blue 50 RXL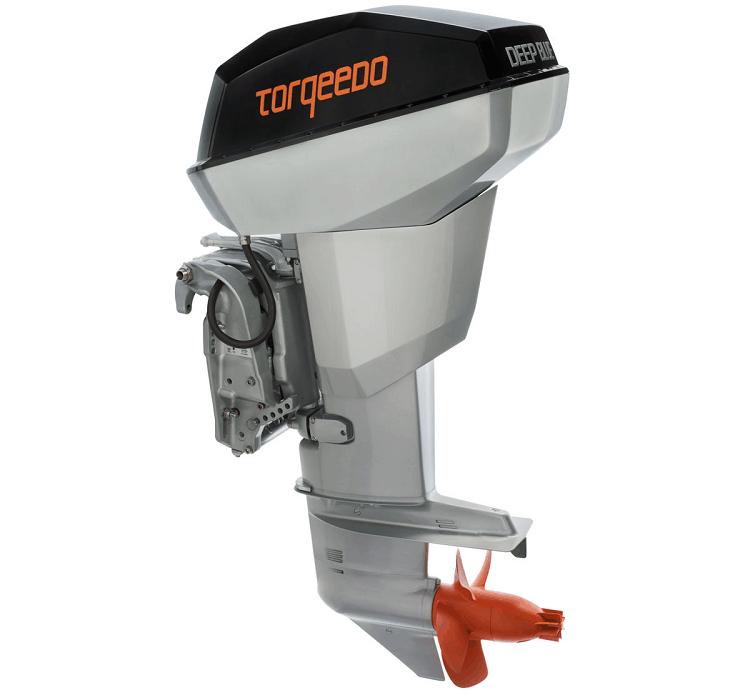 The deep blue is a series of high-power electric outboards for motorboats with exceptional performance, easy operation, and high safety standards. The deep blue RXL is a midsized outboard with a 60-watt power output that can produce a thrust of 80 HP.
As an electric outboard, you can be sure to have no exhausts, reduced noise at only 33dB, full torque at all speeds, and reduced fuel and service cost.
The engine is perfect for reducing the environmental costs to the environment though it has a heavy battery pack that can weigh down the boat at 213 lb to 612 lb. The outboards can travel 25mile at low speeds to 80 miles at high speeds running at full tilt. You can extend the boat range by using solar energy.
While you may feel that an outboard is a viable option, its price tag of $24,000 and the battery pack ranging from $9,999 to $32,000 are the only impediments to acquiring the outboard.
Pros
The outboard uses electric energy to power the boat.

It can be used on several small and medium-sized boats

You can extend its battery length by using solar panels. 

It has a silent operation compared to gasoline-powered outboards at only 33dB.

It is easy to operate with high safety standards.

It has a 9- year warranty on the battery packs
Cons
It is very heavy due to the incorporation of a battery pack.

It costs a fortune to acquire the outboard and its battery pack

The distance traveled on a full battery pack is small compared to fueled motors
Evinrude Etec G2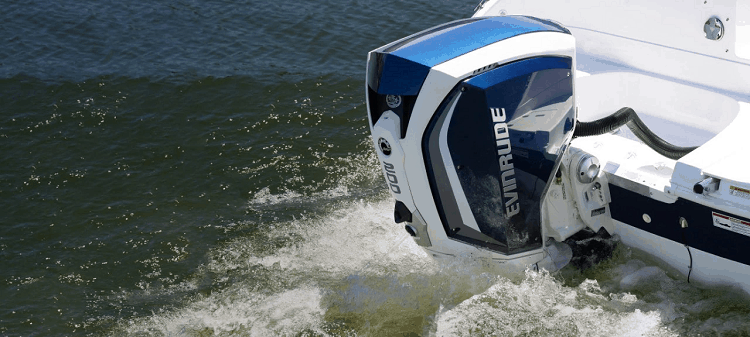 The Evinrude E-TEC G2 is made by a household name in 2-stroke engines, Evinrude the company that manufactured the first outboard in 1909. The outboard engines have a helix steering system built-in, meaning maintenance and complete and slick rigging.
All the systems onboard are digital, and the gearcase can be visually inspected from the reservoir. 
Despite the expectation that the two-stroke engine is less efficient than the four-stroke, Evinrude has a 10% to 15% fuel efficiency to most four-stroke. The maintenance is low, with 500 hours between visits to the dealer. The water engine can reach 300 horsepower with its 1.9-liter three-cylinder, direct injection, two-stroke engine.
Once the fuel tank is filled, the engine can last 50 to 60 hours and may require zero maintenance as it needs care every five years.
Pros
It is a two-stroke engine which is designed for speed.

It is a robust outboard motor that can last up to sixty-hour on a full fuel tank.

It saves fuel costs as it has a 15% fuel efficiency compared to most modern 4-stroke engines.

Requires little maintenance  with a five-year warranty

The tech is top-notch with a digital system with touchscreen gauges and configuration systems. 
Cons
It has an extremely loud engine due to it being a two-stroke engine.

You have to buy and carry its oil.
TOHATSU BFT250A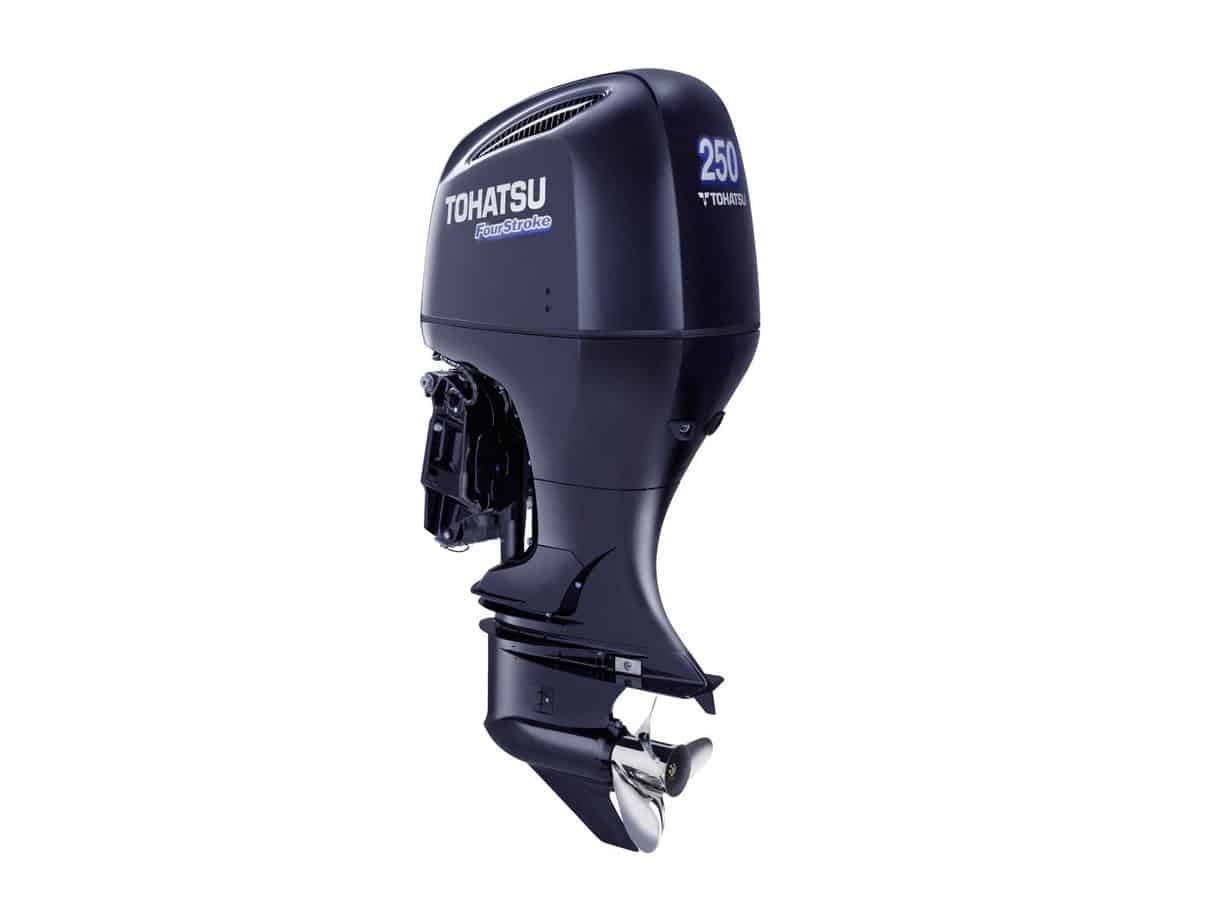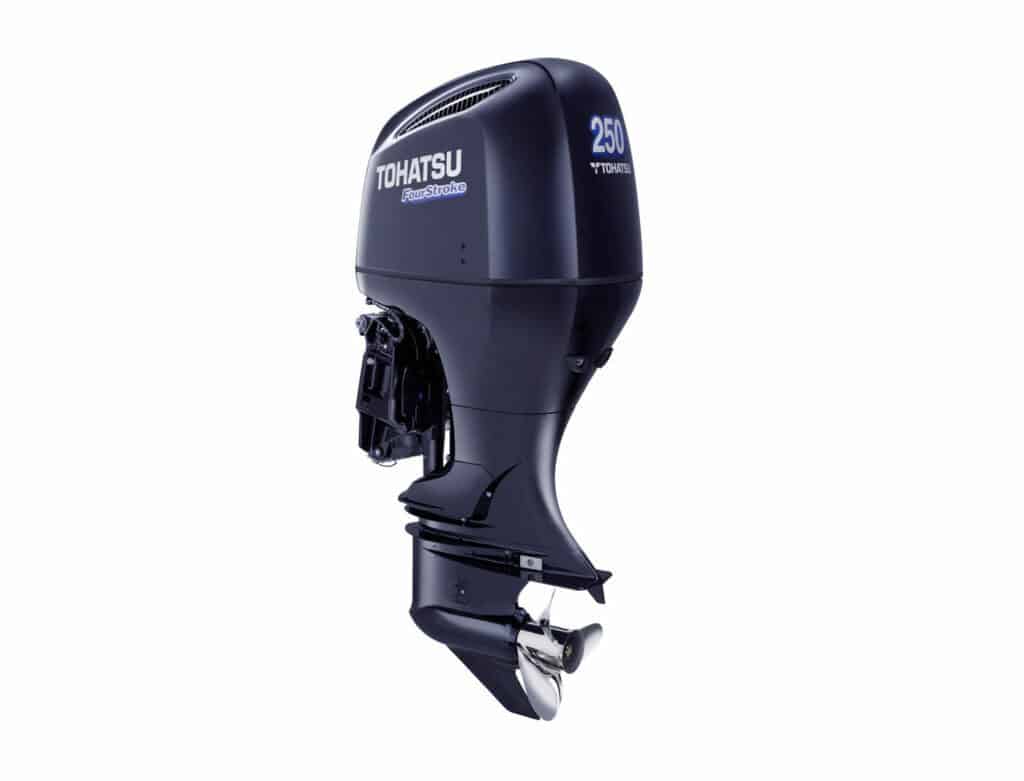 The outboard has a low-speed torque that increases fuel efficiency on a ratio of 12:1 to improve the holeshot. The engine is based on an  SUV design with 24 valves that can be replaced after 10,000 hours. Steel cylinder liners increase longevity. It has a 60 amp voltage regulated alternator that is easier to service.
The water engine is protected from corrosion on the outside with a double sealed multi-layered paint; it also has a painted interior cooling passage for extra protection against corrosion. It has a sizable 7.8-liter engine oil sump to absorb oil, a common problem with 4-stroke engines.
Pros
It has less noise when starting up and is less noisy compared to many competitors.

It has a very high raw power of up to 250 horsepower

Boasts of very high fuel efficiency

It has extra protection from corrosion and slumping

It has a quick start due to a microcomputer-controlled ignition system

Its lights and has a power and trim tilt

It has a sound warning system to warn on critical issues, including low oil pressure warning and the overheat warning
Cons
Suzuki DF350A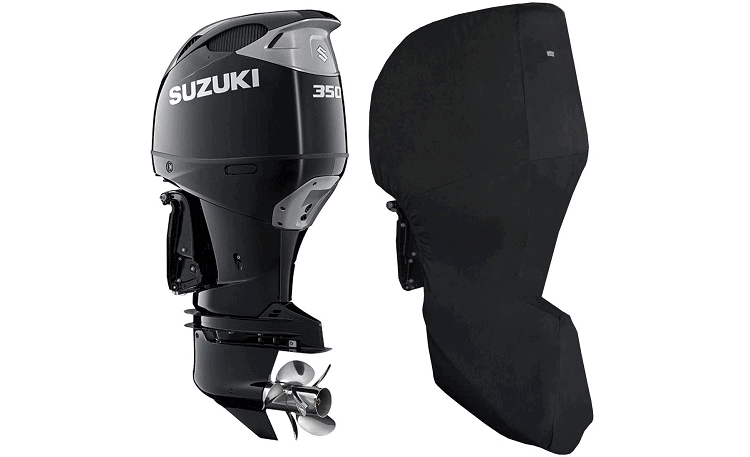 The Suzuki is economical both fiscally and in terms of efficiency. It uses a pair of counter-rotating propellers to increase the hook and negate torque effects. A 4.4-liter fuel tank feeds the engine. The outboard has the second-highest compression ratio of 12.0:1 that makes it work without knocking.
There is a dual fuel intake system to ensure a 100% fuel supply at each point. The system is designed to deflect water particles at high speeds and keep the engine running without hiccups. With 350 horsepower and a propeller blade design, the outboard can achieve a top speed in a short time.
Pros
You can enjoy the high speed due to high displacement and high horsepower

The water engine is designed for maneuverability with a counter-rotating blade to counter the torque effects

It burns the fuel cleaner to meet even the most stringent emissions guidelines

It has a double fuel intake

It has a smaller lower unit making it smaller compared to its competition
Cons
The large displacement engine burns more fuel
Mercury Racing 450R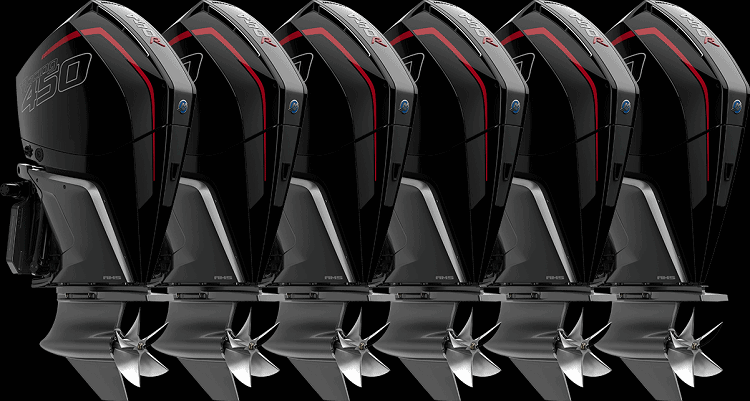 Mercury has an incredible power to weight ratio to achieve maximum horsepower, and the wide-open throttle makes it flexible between 5800-6400 RPM. The mercury transient spark technology controls torque output to increase the outboard's performance. 
In raw power, the outboard delivers 550 horsepower from a 4.6-Liter V8 architecture. It is very lightweight for its category, making it very easy to navigate. The outboard is very durable and has a three-year warranty and an extended warranty of five years.
Pros
It is very durable with minimal maintenance costs

The water mercury outboard incorporates the transient spark technology to boost performance

It is only 689 pound making it lightweight for a 450 horsepower engine

It has very high horsepower.

The oil check access  is conveniently placed on top of the cowl
Cons
It costs a fortune to buy
Yamaha V8 XTO Offshore 425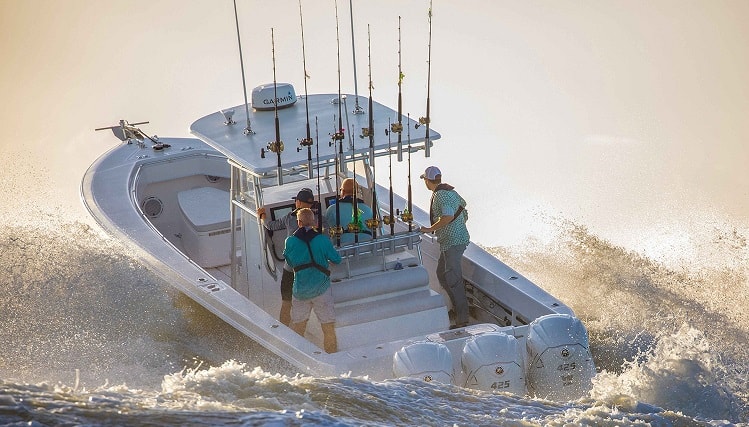 The Yamaha XTO is one of the most sophisticated outboards with the strength to power large ships. A glance at the features reveals the most advanced marine engine ever made. It is the biggest outboard ever, weighing in at a colossal 999 pounds.
The engine is designed for many firsts featuring high-pressure direct fuel injection. The turn allows Yamaha to run a 12.2:1 compression, the highest for any outboard at the moment.
Everything about the engine is upsized, such as the hard case with gears. It features a two-stage water pump, water mounts, a dual-chamber pump, special iridium spark plugs for longer shelf life, and plasma-fused sleeveless cylinders for quick heat transfer and high fuel efficiency.
The engine is powerful and can hit up to 53 miles an hour for a large boat.
Pros
Support multiple installations so you can mount several engines in a single boat.

It features two flushing methods

The engine is potent at 450 horsepower and reaching 53 miles at cruising speed

It has an iridium plug that lasts very long
Cons
It is very heavy and cannot be installed on small boats

At $80 thousand, it costs a fortune
Honda  BF250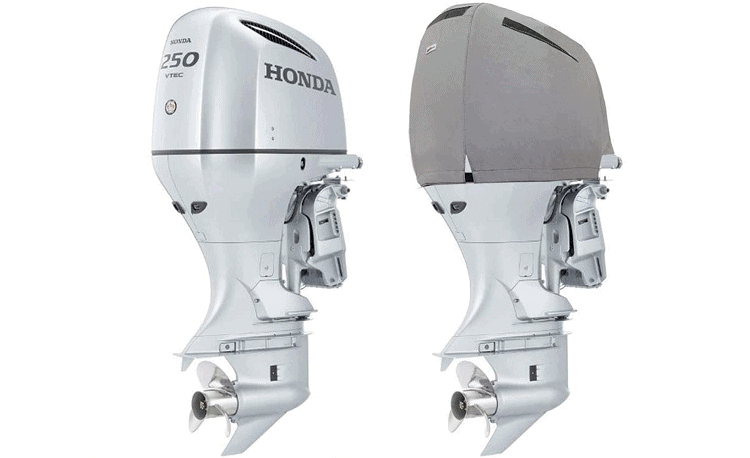 The outboard is designed for the actual cruising speeds of 67mph at 3,500 rpm while using 5.2 gallons of fuel per hour. It uses revolutionary technologies like variable time and lift control to operate the intake valve at low rpm then engage the higher rpm profile.
The Programmed Fuel Injection(PG-MFI) uses precise fuel and air in each cylinder for quick starts. PG-MFI uses a microprocessor to take hold of the control of the ignition timing. The Boosted Low-Speed torque dramatically improves acceleration and performance by advancing ignition timing at hammer time. That results in a boosted torque at low rpm.
Lean burn control automatically adjusts air/ fuel mixture to maximize fuel efficiency and acceleration range. The outboard features lots of enhancements to improve reliability, maintenance, and performance.
Pros
Speed tone down for average cruising speeds.

Offer high fuel efficiency

Has excellent power and efficiency

Can tilt to up to 68°

Has a five-year Warranty
Cons
They need a lot of maintenance
How to maintain an Outboard Engine
Outboards play a crucial role in making sure you can enjoy your day in the water rather than struggling to row your boat over a large stretch of the sea. You can improve their life of service by ensuring you follow a strict outboard motor maintenance regimen.
The crucial detail is to keep the motor clean after every outing. You can use these tips to ensure your outboard engine lasts by using the following cleaning tips.
Flush the engine after every outing
The task of ensuring that your outboard motor is clean should be done after every trip. You have to develop the habit of flushing the engine, whether on a freshwater adventure or a saltwater outing.
You can have an old motor design; you should buy a set of flushing "earmuffs" since the new models already have mounts. Connect a garden hose and turn on the water pump to flush the engine.
Check the water pump to ensure it has a good flow
While flushing the motor, carefully put your finger into the water stream, leaving the motor since it should be warm, not hot. If the stream output is weak, then there is debris in the outflow tube.
If the flow is obstructed, switch off the engine and insert a small piece of wire into the tube and work it back and forth. Restart the engine again to confirm output. If the output is still the same, you need a new water impeller.
Disconnect the fuel line if the boat needs to be stored
When preparing your boat for long-term storage, disconnect the fuel line. Do this only after burning all oil in the carburetor to stop gumming up.
If the flow is obstructed, switch off the engine and insert a small piece of wire into the tube and work it back and forth. Restart the engine again to confirm output. If the output is still the same, you need a new water impeller.
Turn off key and clean mechanical components
To ensure all moving parts remain fixed during cleaning, turn off the key or battery for electric outboard engines. You should then spray all moving parts with anti-corrosive
Regular maintenance Tips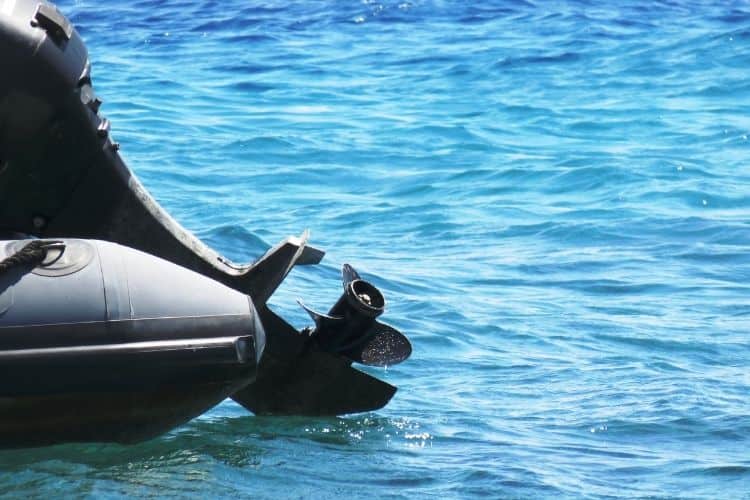 Replace the outboard engines and spark plugs whenever necessary. Since the spark plugs do not have a predetermined shelf life, you have to watch out for the plugs if the engine has high fuel quantities and doesn't rev up regularly.
You can use a spark tester to confirm the defects. It is safe to replace the spark plugs together with the wire associated with them.
Make sure the fuel has no water. Water in an engine can lead to malfunction and damage components like spark plugs. Avoid using ethanol as a fuel additive to dissolve gaskets, seal, and hose leading to water intake.
Use fresh oil at all times as outboard motors are extremely sensitive to impurities or grime. You have to ensure you only use the recommended fuel type of your engine manufacturer. It is common for a two-stroke engine to use oil and gas mixtures, while a four-stroke uses regular gas.
Make sure all other parts are properly by checking the tank vent aspirate properly and the fuel tanks for signs of corrosion or damage. Ensure the fuel line properly fits and does not have any leaks or damage.
Frequently Asked Questions
After going through the different outboards in the market, you could still have some lingering questions. We have compiled a list of the most asked questions on the internet about outboards.
Question: How often should you flush your outboard motor?
Answer: Regularly flushing the outboards with fresh water is key to maintaining any outboard, whether in freshwater or saltwater. Most experts and manufacturers recommend a freshwater flush after every use to clear the passage of debris, saltwater residue, and scales that accumulate and restrict vital cooling water flow to the engine.
Question: Why are outboard motors so unreliable?
Answer: Most boat engines become unreliable after use due to poor maintenance. Some engines are indeed less reliable than others, but the most underlying issue among the outboards is low-quality materials, ill-maintenance, and overuse.
Question: Does my fuel filter need to be replaced often?
Answer: It is recommended that you replace the fuel filter for your tiller after 100 hours of operation or every three months.
Question: How long should an Outboard last?
Answer: The lifetime of an outboard is typically 1500 hours of operation when following the general guidelines. However, the longevity of a model can be anything from five years to 10 years. The outboard's warranty is a crucial predictor of how long it should last.
Question: Which is better: 2-stroke or 4-stroke outboard motor?
Answer: An outboard's efficiency is beyond the type of engine, but on a side-to-side comparison, each engine has the relative merits that make it a suitable choice for an outboard. Four-stroke engines have higher fuel economy, are quiet, have more torque and speed, while two-stroke engines tend to be light and accelerate faster.
Conclusion
An overboard can give you a great experience at sea by helping you cruise, fish, and haul goods over a water body with relative ease. Only the most versatile engine can work on multiple boat sizes and depths. If you have a large boat, it is an excellent choice to get a four-stroke overboard.
The best outboard that can be handy for anyone considering the costs and compatibility with a boat is the Honda  BF250. The engine offers high flexibility and control to the user and many technologies that make it practical for everyday use and sturdy in the most challenging conditions.