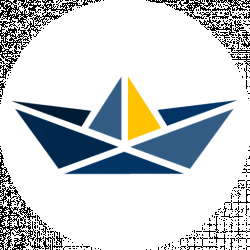 Latest posts by Jeanne Murugami
(see all)
Boating can be a great way to enjoy the outdoors with family and friends, but it's often hard to find a boat that meets everyone's needs. The best convertible boats are versatile enough to handle all types of water conditions, so you'll never have to worry about being stuck on dry land. 
We have sampled several convertible boat types and models to give you an idea of what would be the ideal boat for you. 
Additionally, you'll find an in-depth buying guide to help you settle for a convertible boat that matches your tastes and preferences and addresses your needs satisfactorily. Keep reading!
What Are Convertible Boats?
Convertibles are a standard model of sportfishing boats, ideal for both heavy deep-sea and offshore fishing for the longest time now. These boats are best known for their tall stature that comes with a longbow and multi-level ladders. 
You will even find convertibles that have multi-level cockpits. If you are the type that wants to keep the fishing crew separate from the observers, then a convertible with a multi-level cockpit would be a perfect option for you. 
Similar to any other fishing boat, convertible models have evolved highly through the years. You can even go on a family cruise with the modern convertibles. The reason for this is the new models come with stylish and sufficient accommodation and space. If you hunt for a boat with sea-keeping abilities and are comfortable, your ideal boat is a convertible. 
Best Convertible Boats Brands
When thinking about offshore, severe sport fishing, a convertible is a great bargain. We love the workarounds, express boats, outboard boats, and center console fishing boats, but you should aim for a convertible boat if you are in for pure offshore fishing. 
Convertibles have what it takes to enhance your comfort and safety in any size of the sea. For instance, you'll love their rumbling inboard diesel significantly when raising fish. Besides, these boats come with very stable and large cockpits, suitable for dealing with bluewater pelagic.
However, all convertibles aren't equal. And whereas each boat comes with different strengths and weaknesses, having an in-depth understanding of convertible boats will help you buy the best one for your specific use. 
Here are some of the best types of convertible boats:
Viking Convertible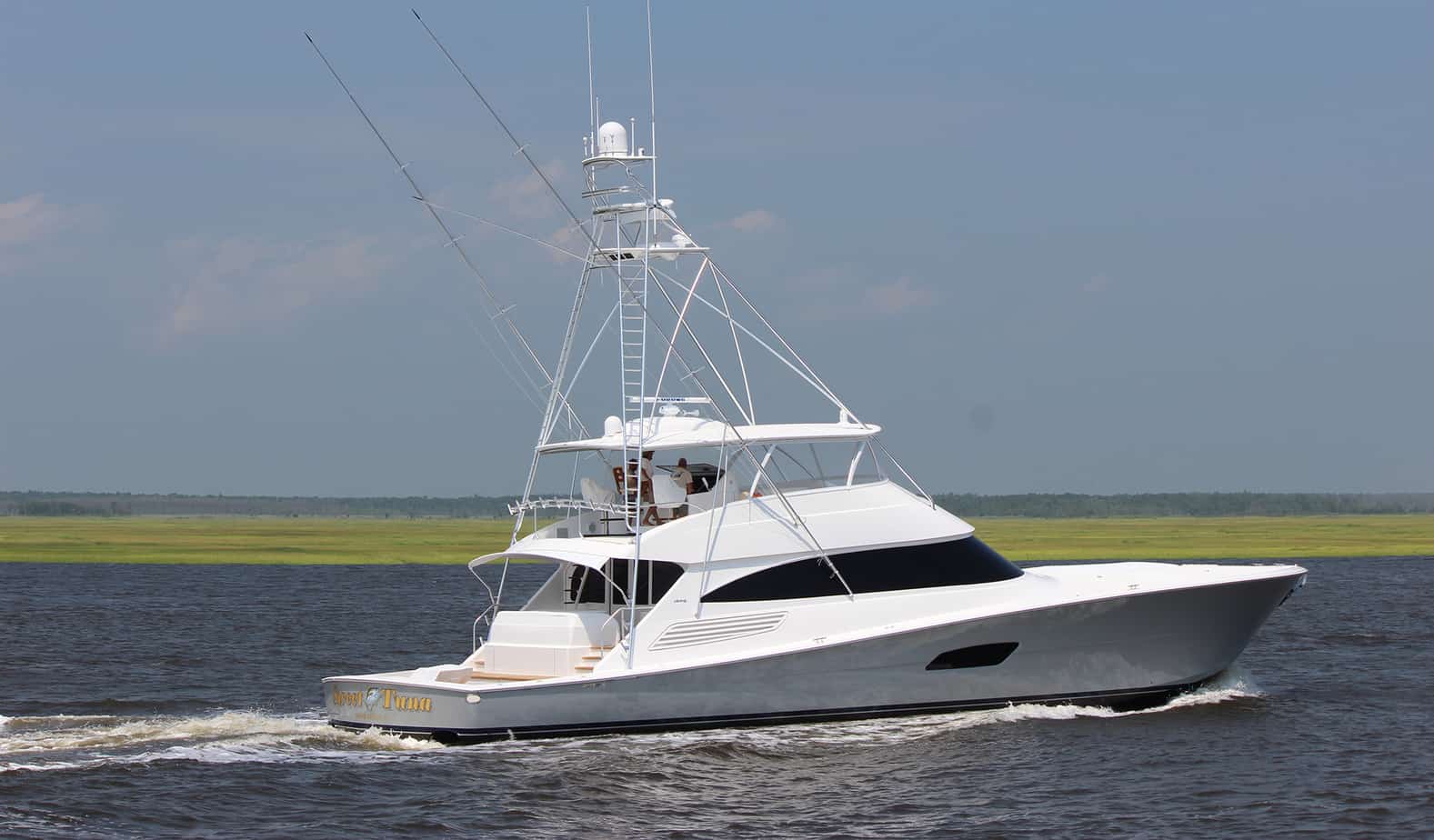 If you are looking for a midsize yacht great for cruising or fishing, the state-of-the-art Viking model would be an ideal option. The Viking convertibles feature an outstanding design both for the small and large models. 
Luhrs Convertibles
Luhrs is known for creating some of the best-selling midsize convertibles. With a lot of focus on innovation, Luhrs convertibles have embraced molded flybridge steps within the cockpit starboard. 
These models feature roomy accommodations. Besides, if you are looking for a convenient fishing boat, the Luhrs include extensive fishing features – a molded bait prep center, transom fish box, and door. 
Riviera Convertibles
If you are looking for a boat for saltwater fishing or overnight cruising, a Riviera convertible would be a great option. These models have stood the test of time for their seakeeping ability, innovation, style, and quality. 
You could choose luxury models lines from Belize Motoryachts, long-range Sport Motor Yachts, SUV series, Sport Yacht, Open and Enclosed Flybridge.
Albemarle Convertibles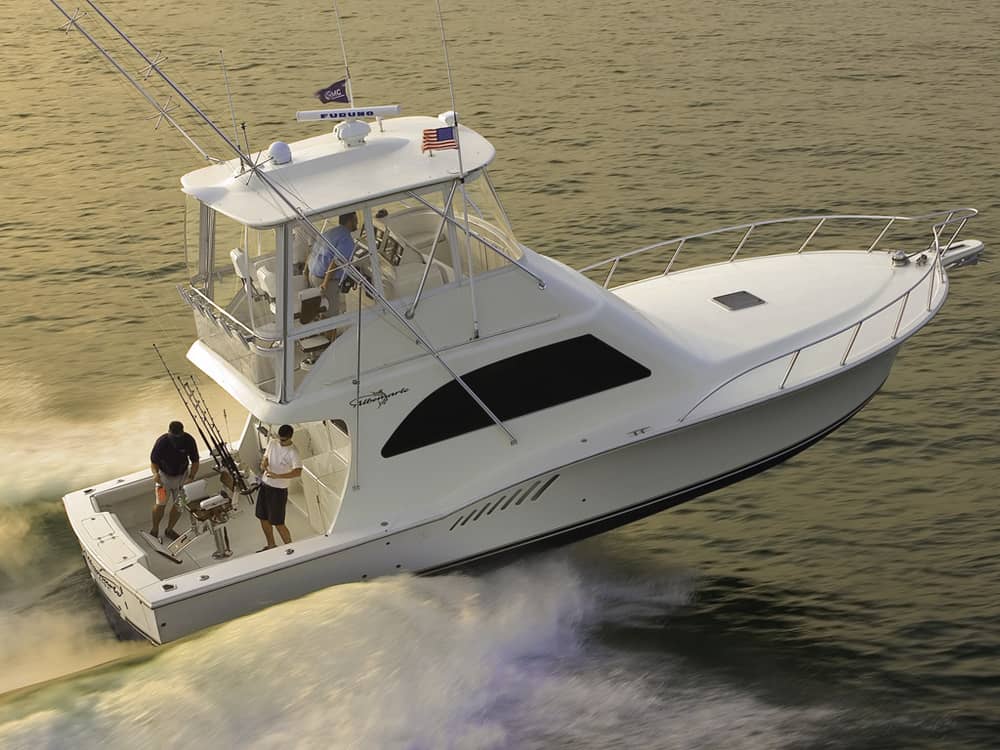 At times getting a boat that has close-quarter maneuvering with unmatched precision can be exciting. The Albemarle convertibles are designed to offer clean cuts into waves unfazed. You don't have to worry that the boat will lurch with a slight clutch adjustment with this model. If you love a head sea, the Albemarle will allow you to engage in family cruises or tournaments in flawless deep-V fashion. 
Hatteras Convertibles
The Hatteras is an iconic convertible boat brand that has set high standards for sport fishing boats since the 1970s. This brand of convertibles incorporates a diverse stateroom interior, including a U-shaped deckhouse galley. The 1995 galley-down floor plan remains spectacular for its wide-open and spacious salon.
The Best Convertible Boats: Our Top Picks
Now that you have an overview of the models of convertible boats in the market let's look at the top picks. In this review, we sample convertibles based on different features but specifically on the models. Our review features the best 5 boat models based on their performance, construction, design, and price.
Best Viking Convertible: Viking 68C
In recent years, Viking has become a famous brand in the world of sport fishing, especially for convertibles in the 50 to 70-foot range. And, just when you thought you couldn't own a Viking, perhaps because of the design, Viking introduced a convertible 68C. 
If you fancy both large and small model designs of convertibles, the all-new 68C will captivate you. It features a combination of Viking larger models' attributes and still maintains the efficiency of a small sportfishing convertible.
Do you love going on fishing tournaments or family cruises? The 68C is your boat. It has been equipped well to work as a cruising yacht, too – it has a plush interior, a hardcore angler design, and comfortable staterooms and salon. With a fuel capacity of slightly over 2,000 gallons and a 40+ knot top speed, you should be ready to fish harder and in absolute comfort with the all-new Viking 68C.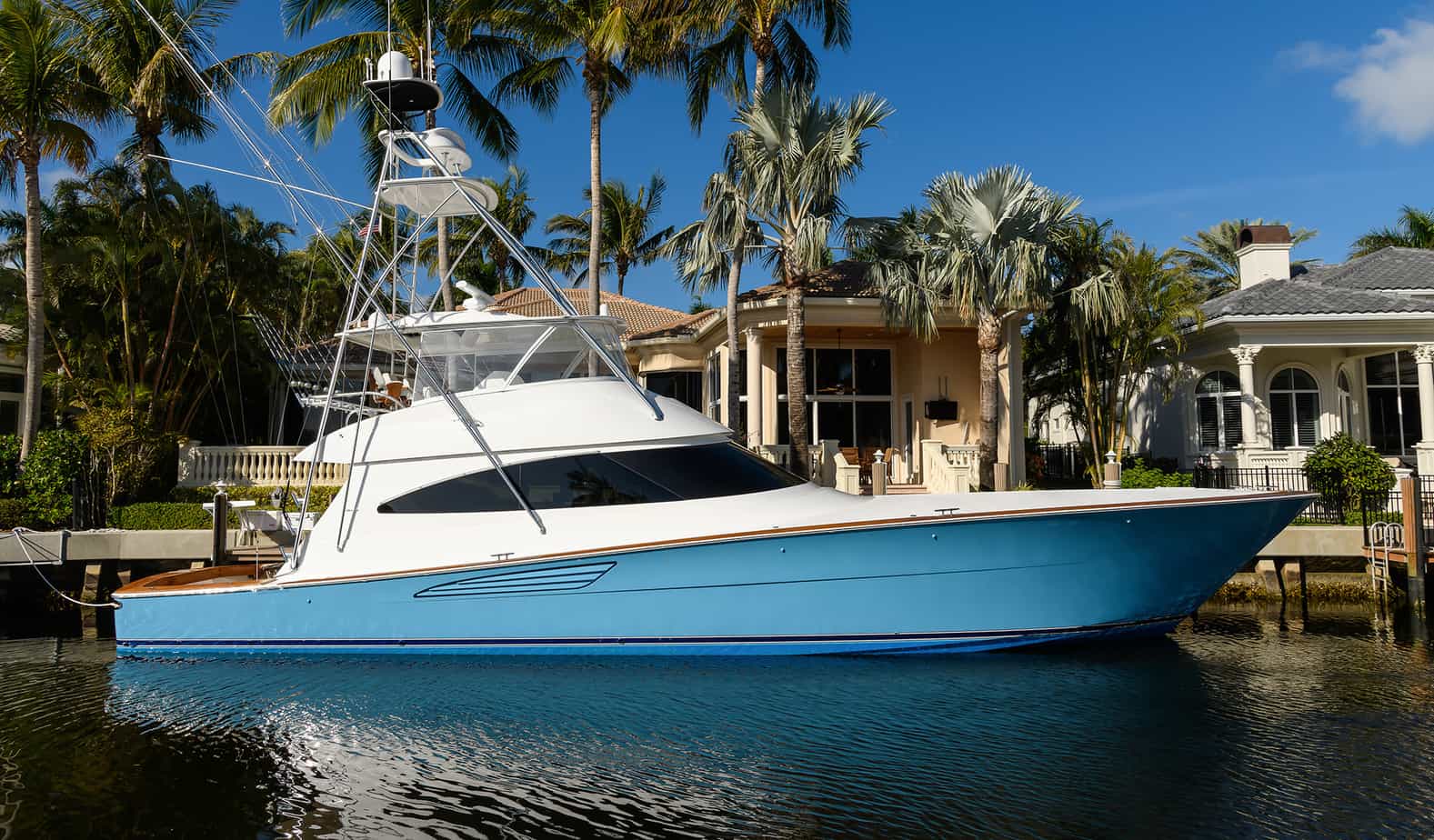 Pros 
It is highly comfortable. 

The 68C is ideal for family cruising and tournament 

Very powerful – 40+ knot speed 

Plush interior 
Cons
It might be limited for large boat usage
Best Hatteras Convertible: GT70
If you are looking for a combination of class and performance, GT70 Hatteras would be a perfect option. This convertible boat features excellent construction designed for harsh conditions and still accommodates several premium amenities and features. 
It is engineered on a variable deadrise bottom, featuring a sharp entry for optimal performance. Besides, this convertible runs on standard twin CAT C-32A diesel. You can, as well, use MTUs on your Hatteras GT70. Its cruise range falls between the mid-30s and 40 knots, making the GT70 a necessary workhorse!
The interior of this boat features a lavish style, including four-head accommodations, a five-stateroom, a spacious saloon, sea-keeping, and a gourmet galley. With its comfortable interior alongside a host of premium features, the GT70 is a great choice to match any tournament sportfishing platform.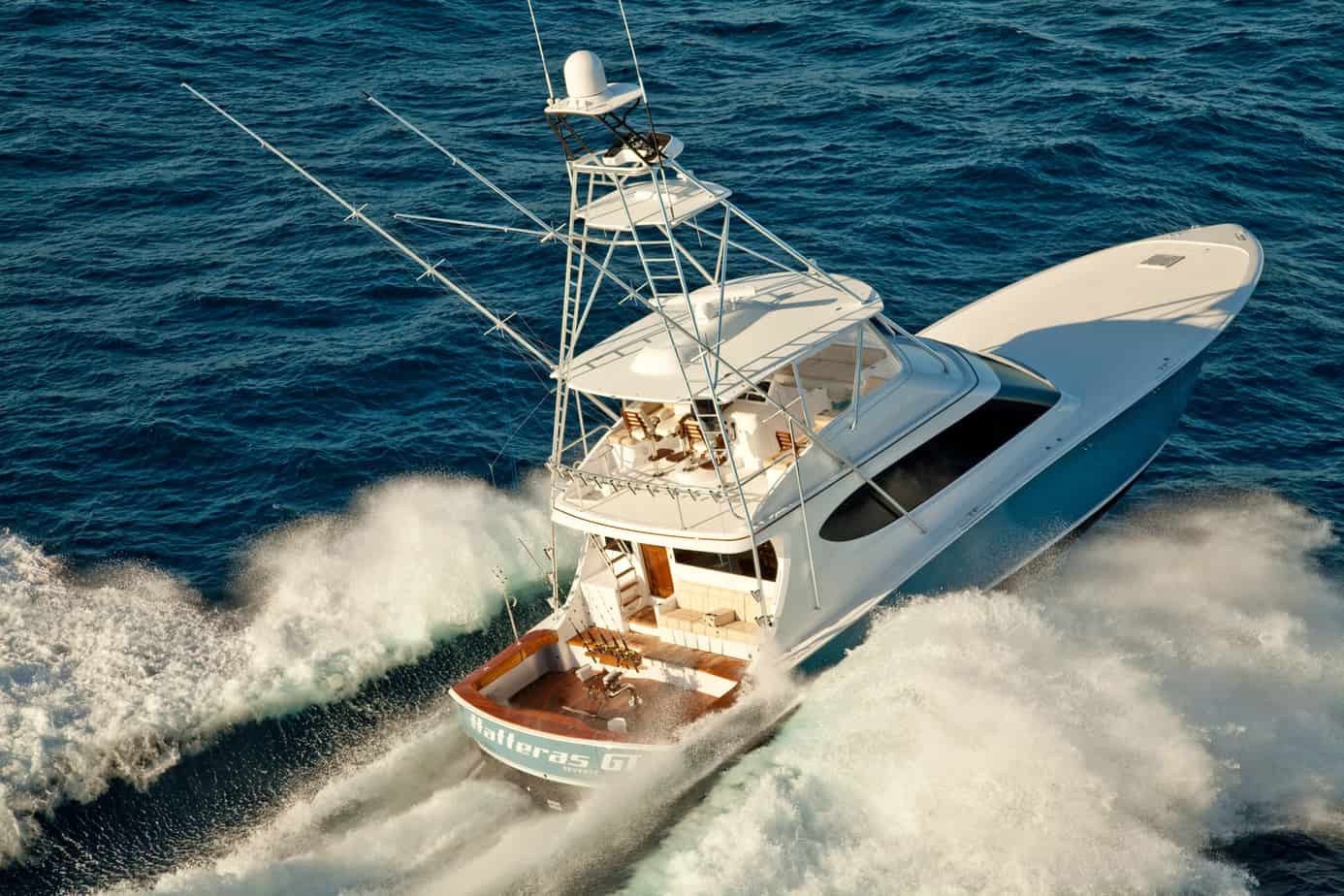 Pros 
It has a spacious salon

Its staterooms make it ideal for family cruising

Achieves a top-end speed of 40-knots
Cons
Its cruise ranges in the mid-30s
Best Egg Harbor Sport Yachts: Egg Harbor 37 Sport Yacht
Imagine watching baits from a large cockpit or cruising with your family in a stylish convertible. You can get such an experience with the Versatile Egg Harbor 37 Sport Yacht. This convertible features a traditional style and includes a plush interior. If you are the type that fancies having a large cockpit, you will fall in love with Egg Harbor 37, as besides having a large cockpit area, it includes a tackle center, a transom door and gives you direct access to the engine room. 
The Versatile Egg Harbor 37 comes with standard two-stateroom interiors with the galley up. In addition, the stateroom has a stylish master stateroom forward that includes an island berth. Egg Harbor 37 is a convertible model out of this world because such features are rare in boats of this size. Are you planning to have guests onboard? You don't have to worry; the Egg Harbor 37 Sport Yacht has a guest stateroom fitted with over and under berths. 
Does entertainment form an integral part of your cruises? The Egg Harbor Sport Yacht has a built-in entertainment center right in the windshield area. The interior is outstandingly beautiful – featuring amazing maple or teak woodwork. If you are looking for a convertible ideal for tournaments, this boat includes a large tournament-style flybridge, giving you sufficient room to walk around.

Pros 
Versatile

High-end interior

Standard two-stateroom interior

Direct engine access

Large cockpit
Cons
Cruise limited to 28 knots
Best Albemarle Convertible: Albemarle 325 Convertible
Albemarle 325 is one of the best-performing convertibles in the market. If you need a boat that doesn't offer you any challenges working the cockpit, then 325 is an ideal option. All you need will be to set the throttles forward, and your convertible gains stability. The Albemarle 325 convertible gives you the freedom of running it without making constant wheel adjustments. 
The Albemarle comes with a vast cockpit considering its size (32 feet). With this convertible, you will have an easy time with deep-sea fishing. The boat comes with a substantial in-transform fish box and a sizable in-deck box, giving you sufficient space to keep your catch iced. 
The boat's forward bulkhead features a complete rigging station, tackle drawers, and a live baitwell. You will specifically appreciate the boat's storage capacity – without considering the underneath storage, this convertible can accommodate up to 10 rods within the cockpit area.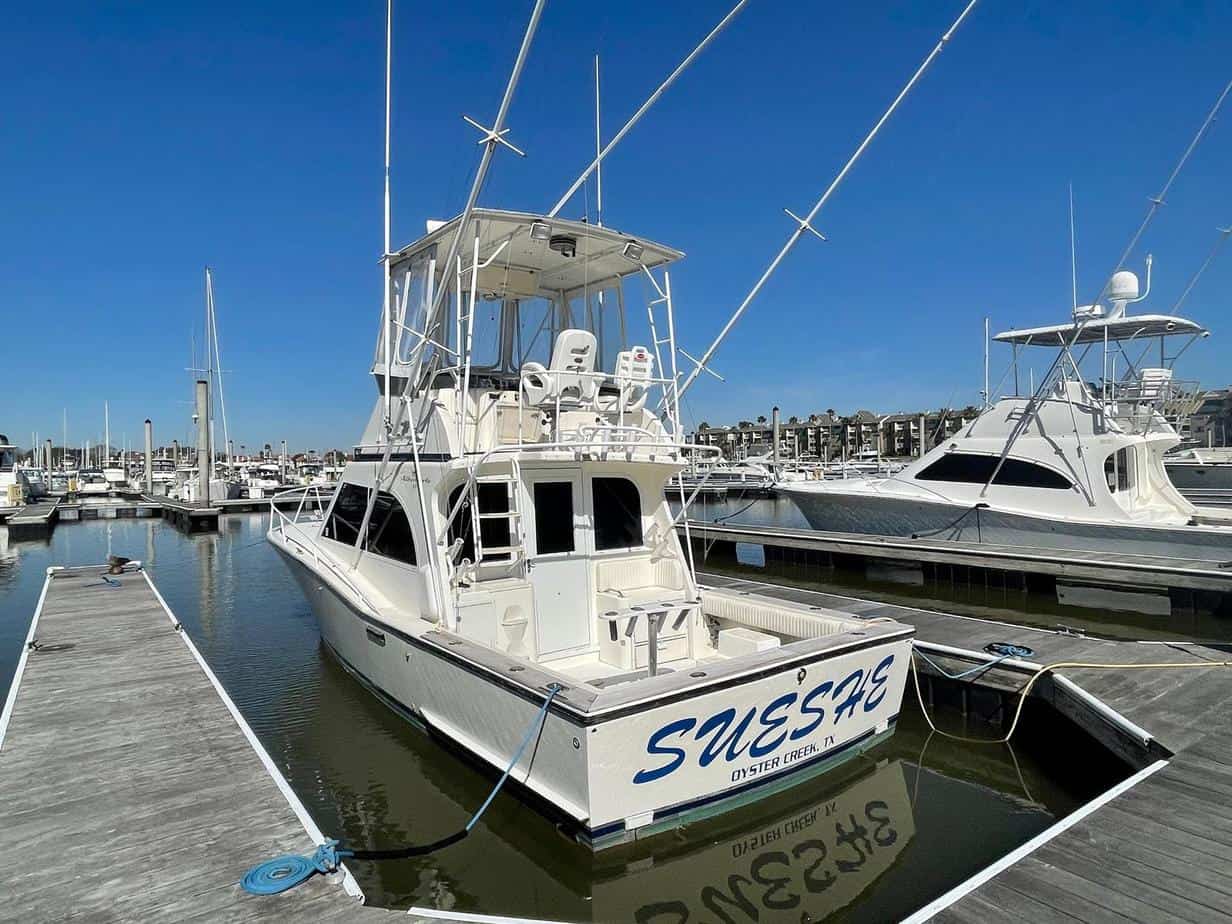 Pros 
Sufficient storage 

Ideal for deep-sea fishing

Makes smooth rides

Large cockpit

Excellent structural stiffness 
Cons
Concerns that the boat leans dramatically into turns 
Best Luhrs Convertibles: Luhrs 36 Convertible
You have Viking, Albemarle, Riviera, and all types of convertibles, but there is Luhrs 36 convertible. It is one of the best-seller convertibles in this class. The design of this model is based on the hugely innovative molded flybridge steps within the cockpit corner of 1998. 
You fall in love with the construction of this convertible boat. The boat is engineered to include a wide beam, measuring about 13″, and 40-footers interior space. The boat comes with two stateroom layouts that match most convertible boats in this range; it has a stall shower fitted on the included large head and includes berths ideal for six.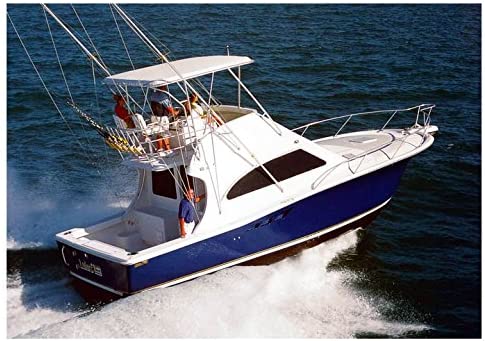 Pros 
Molded flybridge steps

Innovative design

Roomy accommodation

Includes two staterooms

Several fishing features – bait prep center, transom fish box, and transom door. 
Cons
Best Riviera Convertibles: Riviera 40 Convertible
If you have been in the market for convertible boats for a while, you must have known Riviera is a fashionable brand. Riviera 40 convertible falls within the 36 and 43-ft range. Like her predecessors, this convertible's style blends various designs; it is considered one of the most appealing-looking convertibles. 
The model comes with a proportionate smooth s-sheer and rakish house, which are not overstuffed. Above all, the boat is designed with your fishing needs in mind, making it one of the best convertible boats in the market. 
You will fall head over heels with the cockpit design; featuring a molded-in tackle center; the cockpit of Riviera 40 comes with a chill freezer/ box and a sink so you can be assured that you can preserve your catch with ease. Additionally, the design allows you to include an optional live well into the transom. The lazaretto gives you extra space for fender and line stowage.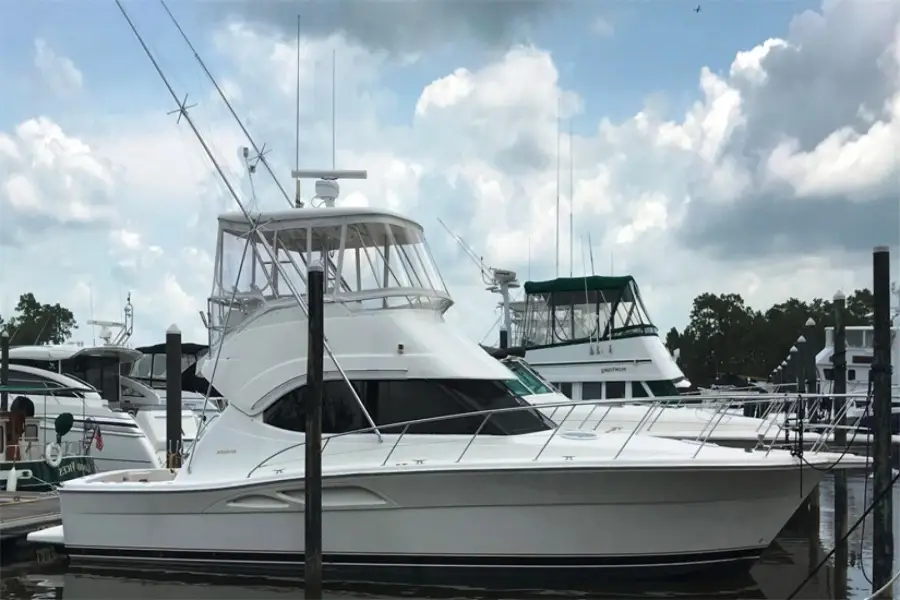 Pros 
Sufficient storage space

Optional live well included

Ideal for fishing

Blends diverse convertible designs

Attractive 
Cons
Concerns that the access to the machinery area is through the cockpit 
How to Choose the Best Convertible Boats
Convertible boats come in different types. And whereas this might be a good thing, it presents diverse challenges. How do you know which boat will serve you well?
Here is a brief guide on the essential factors to consider to help you purchase the best convertible boat:
Performance 
The times of 20-knot cruises in waters are overdue – at least. If you are looking for a boat that can sit at the top of the heap, then you should go for a convertible that will offer you at least a 30-knot cruise. 
While there are convertible boat models within this performance range, be careful not to fall for one that will burn much fuel; you don't need to be calling for tanker delivery any moment you are out of the slip. 
However, speed isn't the only factor in this equation. When choosing a top-notch convertible boat, go for one that dances and responds fast to opposing engines, as well as the wheel turns.
Design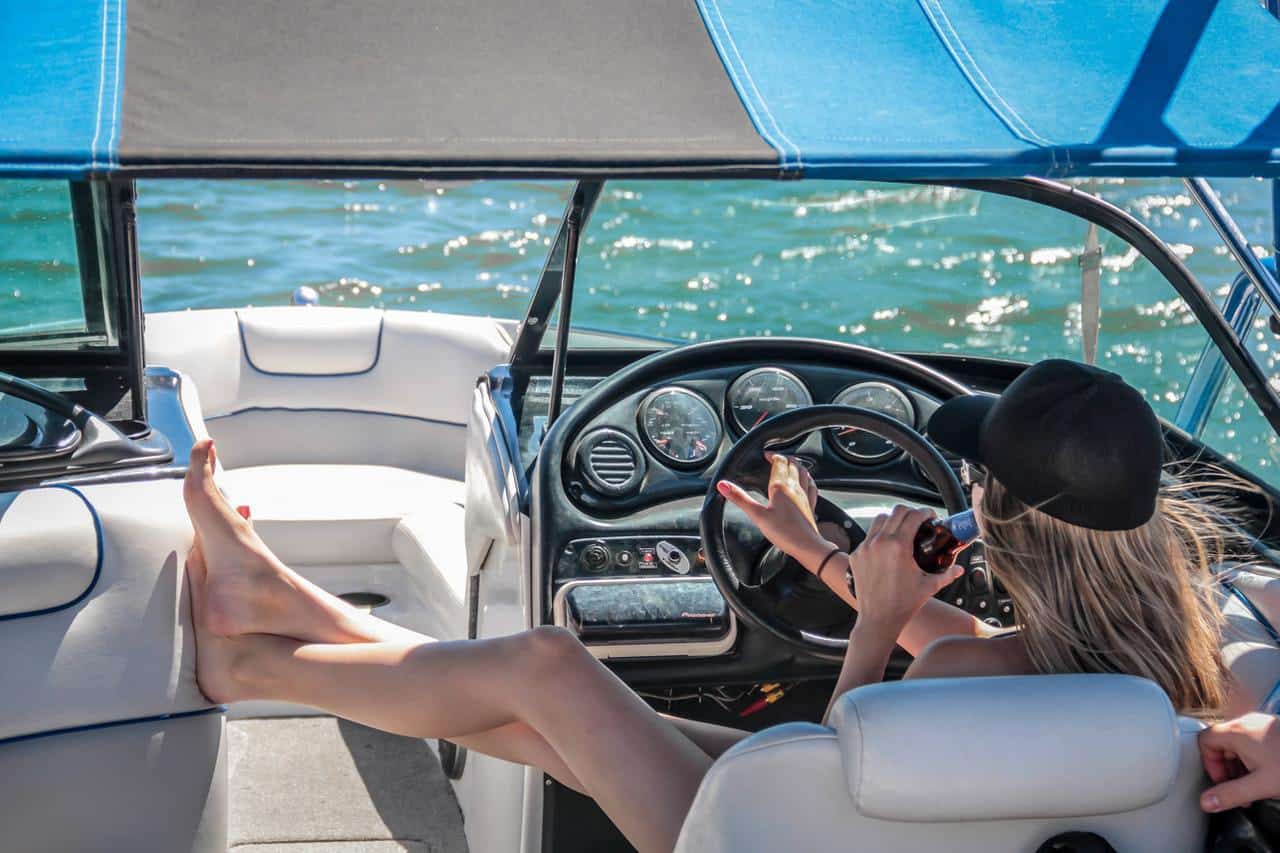 When you are thinking about your boat purchase, consider how it will fit in different sea conditions. Perhaps you are thinking about a beautiful boat, but is that all there is to a tremendous convertible boat? 
Beyond these two elements, a top-notch convertible has a hull design that smoothens out rough seas easily. All boats are different in this aspect, and while we aren't generalizing anything, you need a boat with the best running angle, flare, entry angle, and transom deadrise. All these factors come into play to optimize the boat's performance while in the blue waters.
Construction
When buying a convertible boat, you need to consider its frame. The best convertible boat should be strong and of minimal weight. The good thing about convertibles is that they are large, and this element gives them the heft needed to crush sea waves. Don't despise that convertible with a trim disposition just yet – if its strength-to-weight ratio is up to par, you will be surprised what such a boat can do! 
Most of the outstanding convertibles are wooden – and we know you may have an issue with this. There's no denying that there are challenges regarding the use of wood in boat construction. However, the advancement in boat construction technology has led to highly customized and robust boats. Before settling for any boat, make sure you have complete information about the construction techniques used.
Flybridge
Every captain has their preference for the style bridges, but if you are the social kind, a large bridge with more seating space would be fine. Other flybridges are quiet and peaceful. Either way, you want to focus more on space availability. 
For instance, you should ensure enough space around the helm, so the captain doesn't have to move any time a person gets in or out. Any electronics here should be placed strategically for your convenience. 
In addition, you want a boat with a bridge that gives the captain clear sight of the boat's transom and bow. If you have any crew or family member who is physically challenged or older, you should consider how easy it is to access the flybridge. 
Cabin Layout
The choice of the cabin layout is entirely a matter of preference and taste, more than anything else. However, when your dream is running the boat to diverse ports or if you will be staying on the boat most of the time, then you consider one with several private staterooms. 
Alternatively, you can opt for a convertible that dedicates the cabin to salon space. For some anglers, less is enough, but for others, the best cabin layout should feature an entire gallery. Whatever your preference is, the one critical aspect here is to ensure it has sufficient rod and tackle storage.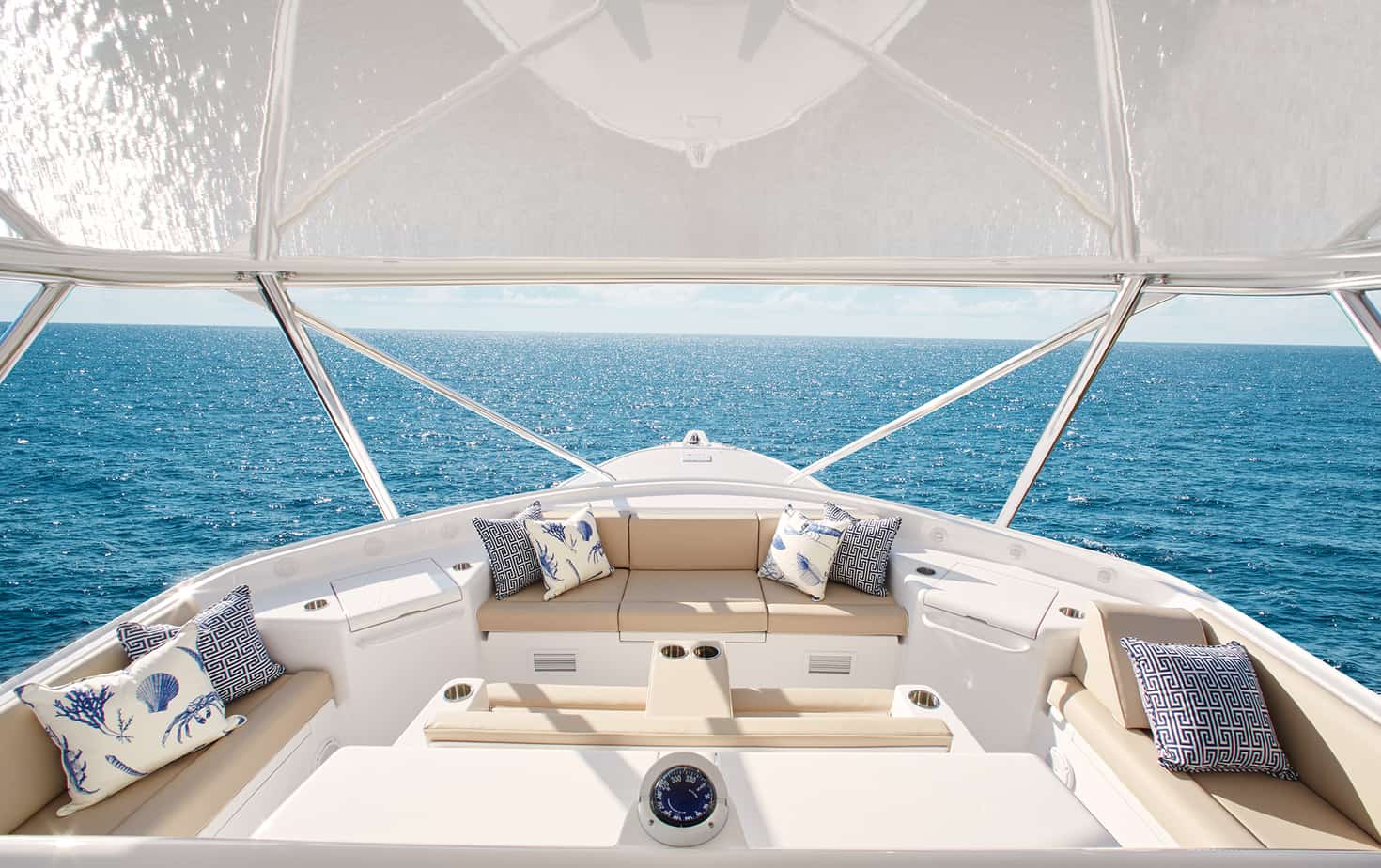 Rigging
Do you know that a convertible may have what it takes to be a great fishing boat but still be horrible when it comes to the rigging? Some boats have improper rigging, and others don't have any altogether. 
You have probably come across such boats – they have no outriggers and no tower. Whereas this is something you can fix, why have all the trouble. Besides, including these elements in a convertible will be hugely expensive.  
Cockpit Layout
Let's get down to the nitty-gritty here. When thinking about your convertible boat purchase, you want to evaluate the amount of space set for the cockpit compared to the cabin space. Sure, you may fancy a comfy salon, but some boat designs, especially those designed with a marketing intent, come with cockpits that cannot accommodate more than two anglers and a mate! 
Now that you have an overview of the space availability, the next step is to evaluate its usage. Mezzanines for cockpit layout are outstanding; they will create a bearable condition, especially during those long hours of bait-watching. However, when traveling or going on a fishing tournament, your mezzanine should have a bait freezer to keep you going. 
Other essential elements to consider include a stand-up rigging station, an easy-to-access drink box, and sufficient tackle stowage. 
Budget
Your budget will come in handy when buying a convertible boat. Diverse aspects of any boat attract varying price tags. If you are considering a top-notch convertible, you should be prepared to go higher in your budget. The features you want for your convertible boat will dictate how much you will spend.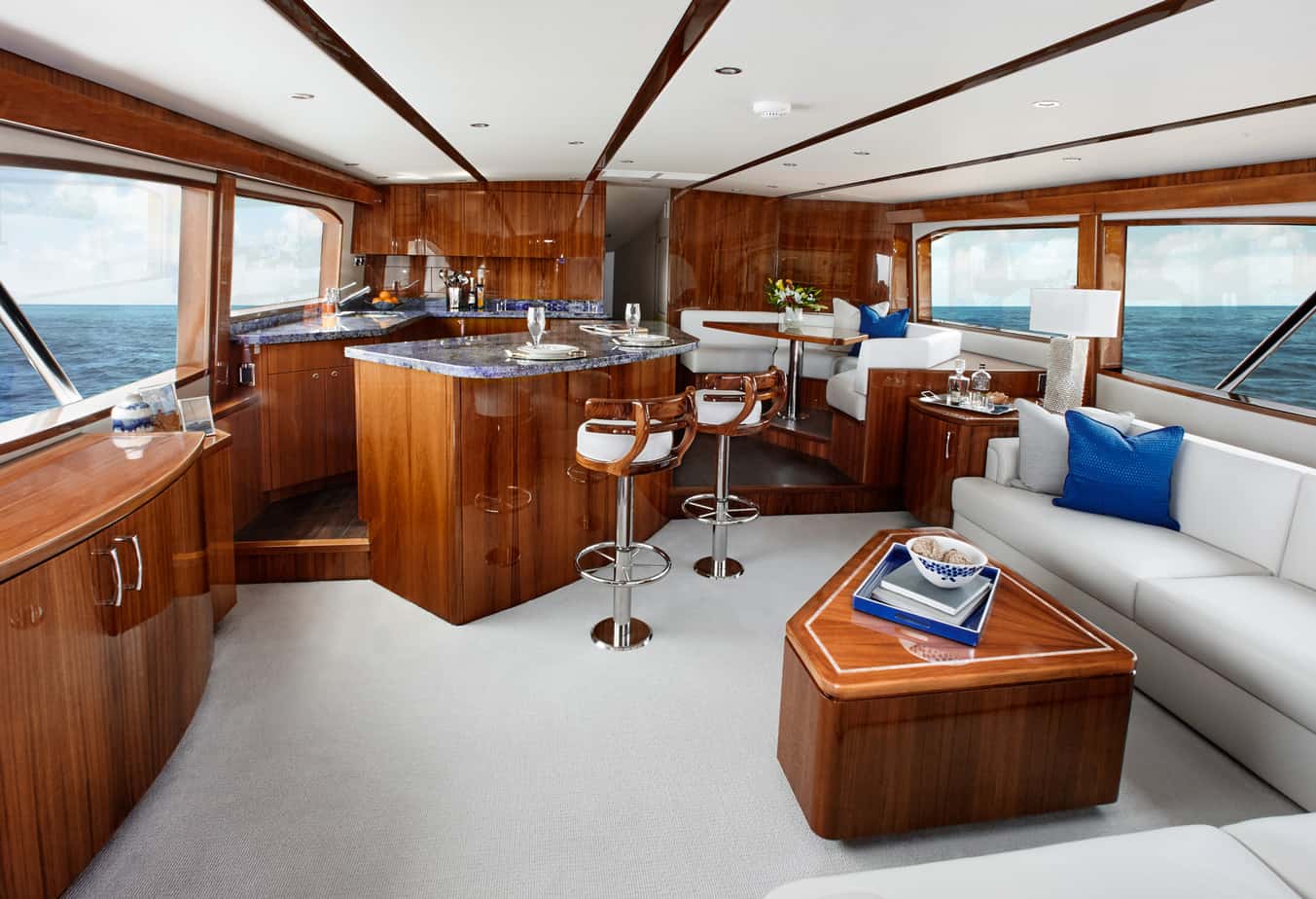 Best Convertible Boat Types FAQs
Choosing the best convertible boat type isn't as easy as it might seem. You need to understand several aspects of these boats for you to make the right decisions. Here, we have highlighted some of the frequently asked questions about convertible boats to give you an overview.
Question: Why Is a Boat Called a Convertible?
Answer: Convertibles are incredible designs of boats dating back to ancient times. Such ships include amenities and features of a sportfish and a motor yacht. Ideally, a convertible boat can convert to a cruising yacht or a fishing yacht as needed.
Question: What Makes Convertibles the Best for Bluewater Fishing?
Answer: Most people prefer convertibles to express boats when considering bluewater fishing for several reasons. Convertibles come with huge cabins that offer ample interior space. 
Another significance of convertible fishing boats is that they have a flybridge that can be used for entertainment purposes, besides being useful in angling. In addition, such boats have an elevated flybridge that gives the captain much advantage to spot fish-attracting offshore features such as flotsam, weed lines, and rips.
Question: Why Do Most Boats Have a Flybridge?
Answer: When you are fishing and get lucky to catch a fish, the flybridge is your battleground. It is the best platform for maneuvering the boat when battling with a fish. Usually, most convertibles, especially those designed for sportfishing, come with a small flybridge helm station. This design comes in handy when angling. 
Question: What Makes Convertible Boats Be In-demand?
Answer: Over the years, there has been a decline in the demand for 40′ and 50′ boats. Such a trend follows a significant rise in the need for express and center console fishing boats. Nevertheless, convertibles are still commanding a high demand in the market. 
The large cabin, comfortable interior, and significantly sufficient storage make convertible boats highly desirable even in the face of the big express fishing boats. 
Question: Are Convertibles Boats Expensive?
Answer: Each convertible boat attracts a different price tag. Usually, the cost of convertible boats is primarily dictated by the features of the specific boat. For example, you will likely spend more for a boat with premium features and sufficient storage space than one with limited storage and standard features.
Conclusion
Having a convertible boat will come in handy whether you are a fishing enthusiast or someone who loves to go on family cruises. However, considering the number of models and types in the market, it can be a daunting task to choose a convertible boat that will serve you satisfactorily.
One of the most important factors to consider when thinking of a convertible boat purchase is performance. You don't want to get stuck in the deep sea with a boat that runs at less than 20 knots and cannot overcome deep sea waves. Also, it would help if you focused on other aspects such as comfort, available space, cost, construction, and overall design. 
We have discussed all these elements herein, and we hope this guide will help you choose a convertible boat that aligns with your tastes and preferences. Do you have your choice for the best convertible boat model yet? We believe that the Viking 68C tops our list of the best convertible boat types for its comfort, diverse uses, and sufficient storage.
Looking for more interesting readings? Check out: