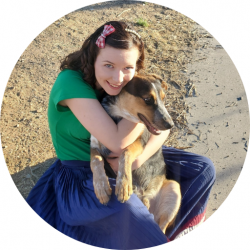 Latest posts by Brieanna Savard
(see all)
Finding your dream of a boat to send you flying across the cool waters of a lake is, in a word, daunting. There are so many different crafts to choose from and the final decision is based upon so many factors! Make, model, price, space, speed, appearance, comfort, and features are some of them. Let us delve more deeply into this problem and discover a little more about each problem, and some of the best lake boats out there. Come with me, and we may just find the perfect one for you!
All of my lake boat recommendations are founded upon the dependability, good reviews, brand reputation, and positive owner experience I have found whilst researching each one.
What You Need to Look For in a Lake Boat
There are many aspects you need to consider before investing your hard-earned cash- if you are into being debt-free like myself- in the dream that will transport you to paradisal jaunts on the lake.
First of all, you must decide which type of boat you want to own. From deck boats to yachts, you have a wide variety to choose from. Here, listed below, are a few of the most popular types of lakewater-worthy craft and the strengths and weaknesses of each.
Deck and Pontoon Boats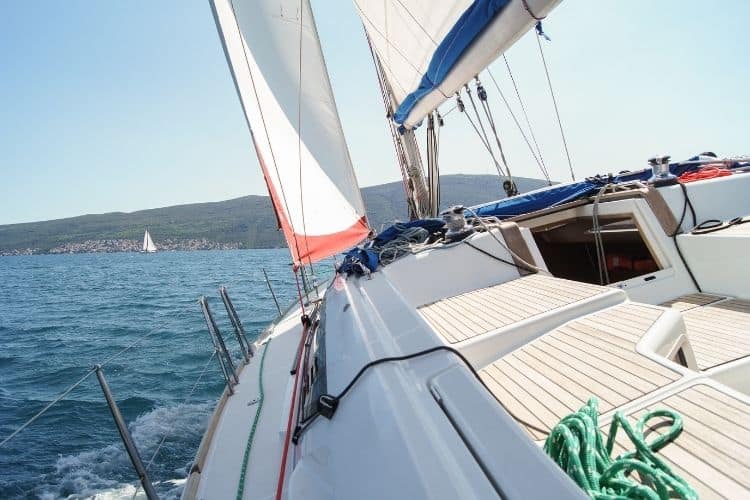 Both deck and pontoon boats are versatile, with space for their many entertainment amenities, fishing and recreational water sports gear. They are a perfect choice for those who want not only a sports boat, but a luxury craft as well. Families and parties of more than two or three will enjoy these boats, as they are roomy for cruising and enjoying a relaxing day on the lake.
Deck and pontoon boats are able to hold from about five to up to twelve or fourteen people, and deck boats, in particular, are ideal for multi-purpose cruising- whether the occupants fish, wakeboard, water ski, swim, tube, or lounge on the deck. Maximum horsepower (depends upon make and model) averages around 150-350 HP per outboard motor.
Deck boats go faster than pontoons, as deck boats have a full hull underneath, and pontoon boats rely on two tube-like pontoons to float. Always do your wakeboarding and waterskiing behind a reliable deck boat that performs like runabout, unless your pontoon boat is sufficiently upgraded for watersports- as many modern pontoons are.
Pros
Spacious/ some makes are able to hold up to 14 people
Versatile and fun
Lots of storage space for food, drink, and equipment
Some models have bimini tops for protection from sun or light rain
Many upgrade options are available
Great for families and large parties
Highly entertainable boat
Constructed with fiberglass or aluminum
Quite stable
Wide bow on most deck boats
Used deck and pontoon boats' base prices are around $5,000 to $10,000
Used deck and pontoon boats average around $10,000 to $30,000
Some pontoon boats are now equipped with more pontoons, thus making them faster
Cons
Brand new deck and pontoon boats are very costly- averaging at about $40,000-$60,000 and going up to hundreds of thousands.
Pontoons not recommended for rough waters or very rainy weather
Pontoon boats with twin pontoons may not go very fast
Good Brands For Deck Boats
Good Brands For Pontoon Boats
My Recommendations – New
2021 Hurricane SunDeck OB 235 OB Deck Boat
Optional features can be included, such as fishing or other upgrade packages, flooring, and engine options. Brand new, this deck boat would cost around $63,000. If this was my boat, I would choose Black Cherry for the hull and Bimini top colors.
2021 Princecraft Jazz 210-2S Pontoon Boat
I like the Magnetic Grey color with the Champagne Edition accents and Teak Supreme Solid Dark Grey floor covering. With these upgrades added, and nothing else, the total comes to $16,373 without taxes included.
My Recommendations – Used
Cabin Cruisers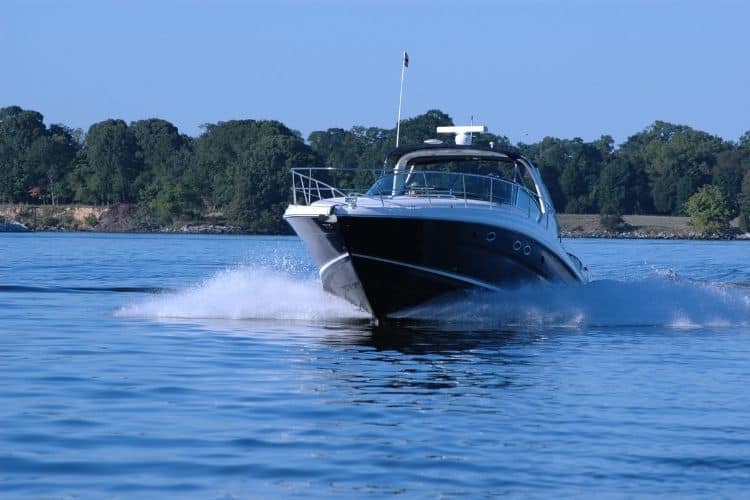 These lovely boats are powerboats in which passengers and crew alike are protected inside a cabin, and thus can be driven during storms, in the bay, sea, lake and river, and in very cold or hot weather due to provided heating and air conditioning.
Some can even be slept in, and those cabin cruisers are equipped with one or more berths, depending on the size of the boat. Other amenities may include a galley, head, electric system, power generators, and hot water heater.
Overall, these features make this boat a wonderful, miniature floating cottage, and will be something to be very proud of if you own one, and will be instrumental in making lasting memories with your loved ones.
These boats are like small yachts (some even being rigged with sails) and because of their size- usually under 45 feet- they are not officially considered yachts (even though many dealers call them yachts as an unofficial name) and do not require a professional crew.
Imagine yourself comfortably settled within a spacious cabin, dreaming the day away as you gaze out onto calm waters or stormy seas- off on an adventure to foreign lands. Is this the type of boat you are looking for?
Pros
Perfect alternative to an RV
Some cabin cruisers cost less than an RV
Equipped with a roomy cabin, which includes a galley, staterooms, head (nautical term for bathroom), and living space in some models- depending upon size
Features and amenities are almost unlimited, and can be upgraded to suit your needs
Perfect choice for families and friends who want to stay a few nights on the water!
Some cabin cruisers have sails, and some have motors alone
Older used cabin cruisers range in average price from $10,000 to $35,000
Wide range of prices depending upon size, year, and shape each one is in
Old, rare cabin cruisers range from around $100,000 to $400,000
Cons
If you are looking for a day trip boat, rather than a water RV, you may want to reconsider for your budget's sake, as they do cost a bit to keep up
Some newer cabin cruisers cost more than $1,000,000
These boats are not the best choice for serious fishermen as they are built for luxury
Some used cabin cruisers do not include berths
Good Brands
My Recommendations – New
2021 Selene 38 Voyager
This, the Selene 38 Voyager (also known as Archer) is my personal favourite of the cabin cruisers I have recommended. She is so lovely with all the wood interior throughout, and the rooms and amenities make her look just like a little old-fashioned house! Also, take a look at the vintage helmsman's wheel.
Wouldn't you adore steering it while seated on that comfy, padded captain's bench? If this were to be mine, I would choose my model to be painted a lovely dark green like its front picture. Her price is not listed, but the manufacturers or dealers can be contacted about this through email or telephone.
2020 Four Winns Vista 355 Coupe
If you prefer a more modern, ultra-clean-looking cabin cruiser, you may like this Four Winns Vista 355, which is furnished with a neutral grey, white, and black palette. Her interior even lights up with glowing bright blue LED lights, making nighttime exciting and mysterious.
The price can be found out by contacting the company. To find out prices of other Four Winns craft, or of this one with your choice of upgrades, email the company, and they will let you know the price.
2021 Grand Banks Eastbay 44
More traditional than Four Winns Vista 355, and more modern than Selene Voyager 38, this Eastbay 44 is perfect for family or friends who want a cozy, but comfy cabin cruiser. Warm lights infuse the cabin with a lovely sense of home. Prices can only be found out through the model inquiry form. She too, like Selene, has an old-fashioned styled helmsman's wheel in the cabin.
2021 Tiara Sport 43 LE Sizzle Luxury Cruiser
I would almost like to get this Tiara 43 LE Sizzle just to drive her along a sun-lit bay to the violin music of the above video…!  Joking aside, she is a very good boat, with sunlight able to stream through on all sides of the hardtop-covered deck, and through small windows to the cabin below; a wide, roomy aft cockpit complete with a fold-down terrace that can double as a swim platform- which, when raised resumes its role as the side of the boat; and even a TV.
Her style within is not old-fashioned like the Selene 38, but very clean, and good for those who like easily kept up, modernly elegant furnishings.
The model has multiple configurations, so you can design just where you would like every little area to be, and the lounge module (complete with two seats, together with cupholders, foldable footrests, and teakwood table, and a grill and counter behind the seats) rotates to three separate positions. The price can be requested through contacting the company. They should get back to you within a few days.
My Recommendations – Used
Sailboats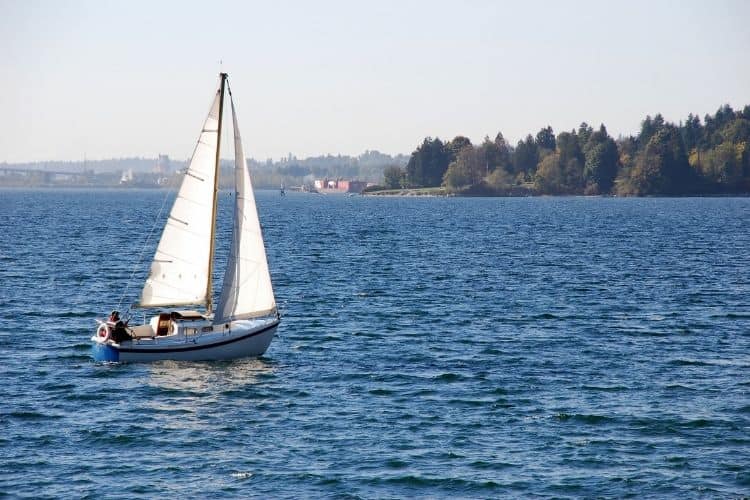 Sailboats have been around longer than any of the above-mentioned boats, and continue to entrance with their artistic look which has been pictured in many famous drawings and paintings. I doubt they will ever cease to be loved by true boat-adoring folks, just as they are loved by me and mine.
They are unique in that they take true skill and knowledge of traditional seamanship in maneuvering them. Each sail is special, and each position is something that one must memorize if they do not want to capsize on the water or turn their sailboat the wrong way.
There are many types of boats that fit into this category, mainly because it has been built upon over hundreds- even a couple of thousands- of years. Broken down below are the sub-category boats of the sailboat line. I am sure you have heard of many of these names, and will delight in the reading of their names again!   
Catboat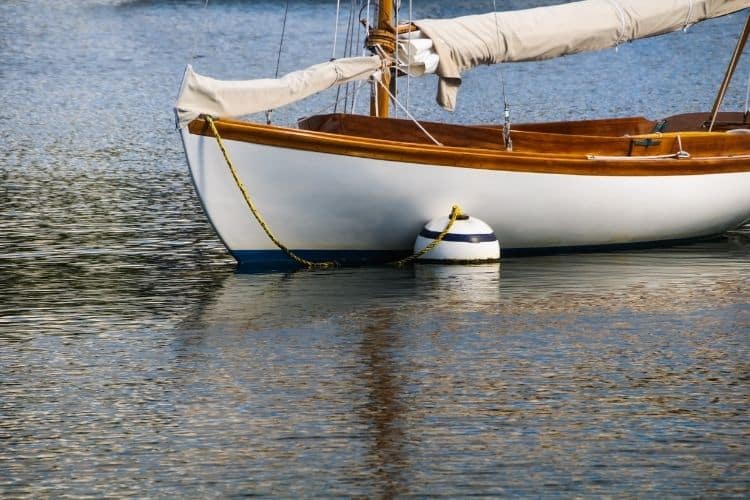 Modern versions of this type carry only one sail from a single mast placed far forward in the bow, but many traditional ones carried multiple sails using the gaff rigging technique. Many have a shallow draft, and the majority are built with a centerboard on the bottom of each catboat, though some are equipped with a keel instead.
The origin of the name is unstable, the craft possibly being called a "catboat" because cats would try to get the fish that the men had just caught, or because each one is swift and stealthy as a cat.
Strengths
Simple in style and maneuverability
Very nice for pleasure sailing on a lake
Weaknesses
Difficult to sailing upwind
Not preferable for racing
Not for sleeping on board
My Recommendation: Beetle Cat Catboat – Custom Made
This lovely catboat, in particular, can be custom ordered from the online Beetle Cat Boat Shop, which company is physically located in Massachusetts, and was first founded in 1921. Since then, over 4,000 Beetle Cats have been produced.
The base price without any options chosen is $19,995- which very reasonable for a brand new, made-to-order sailboat! She is fashioned with a keel and a single sail, though as far as I can see, the base price does not include a sail- which, if added, costs $1,000 extra.
Secondhand Catboats For Sale
This list is from Smart Marine Guide and includes a selection of used catboats for sale.
Yawl
A Yawl as a type of sailboat (for yawl can also mean a small boat belonging to a large ship) is different from a catboat. The title can be very confusing, as it can describe a sailboat with a certain type of rigging- which is also called the sailplan- or a certain type of hull used.
We will stay with the rigging meaning, as the yawl with the special Norse-influenced clinker-built hull is now almost extinct and was used mainly in the 19th century in Britain. As a sailplan, the yawl sailboat is furnished with two masts, upon which the sails are fore-and-aft rigged usually equipped with two sails on the mainmast, and a mizzen sail set on the mizzen mast close to the rudder stock.
This yawl sailboat is quite similar to a ketch, but her mizzen mast and sail are noticeably smaller, and her mizzen is mainly for balancing the helm, and not for moving the boat.
Strengths
Simple to be sailed single-handed
Beautiful to look at upon the water!
Weaknesses
The setting of the mizzen is difficult
Most are unable to provide onboard sleeping
My Recommendation: Caledonia Yawl Denman Marine
This is a truly poetic piece of boat craftmanship. Isn't it lovely how she sails? Aside from her looks, this yawl model is made by a reputable and high-quality company based in Tasmania, Australia called Denman Marine. A small amount of Tasmanian workers build these boats, overseen by professional boatbuilder, Andrew Denman.
If you would like to find out the price lists of the Caledonia, or to purchase one, go to the bottom of the page I linked to the title above, and click "Contact Us".
Used Yawls For Sale
Sorted from low to high-priced, this list from YachtWorld might contain your favorite yawl!
Schooner
According to Wikipedia, "The name 'schooner' first appeared in eastern North America in the early 1700s. The name may be related to a Scots language word meaning to skip over water, or to skip stones."
This group is one of the largest in this list of sailboats, and these sailboats are perfect for sailing with a group or mass fishing, storing the many fish aboard.
Each schooner is equipped with two or more masts, based on its size and rigging configuration. With two masts, the foremast is usually shorter than the mainmast. Schooners can be gaff-rigged, Bermuda-rigged, or staysailed.
For a lake sailing boat, the schooner I would recommend would be a Bermuda-rigged schooner, as they are much smaller than most, and can be used much better for pleasure sailing, racing, or fishing instead of carrying passengers or cargo- for which purposes very large schooners are used.
Strengths
Strong and dependable- especially if you have a crew of about three who knows what they are doing!
Can be even taken out to sea
Perfect for overnight sleeping
Weaknesses
Cannot be handled singly by any average sailer. It has been done by some sailers with an exorbitant amount of experience and seaworthiness.
My Recommendation: Built 2000- Refitted 2020 Fraser Eleonora Schooner 162 Feet Long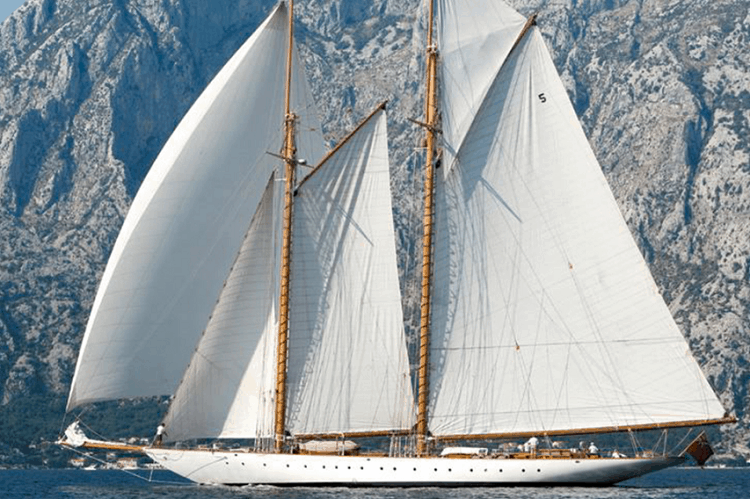 This marvelously beautiful schooner, albeit $8 million dollars, is definitely worth her weight in gold if you want to travel around the world to parts unknown in your own little ship.
This is NOT a lake boat, but I had to add it, as her beauty is unsurpassed, and brings nostalgia to the viewer of those old days where ships like these predominated the seas. Also, she is a replica of the 1910 Herreshoff schooner Westward, which was, in her days, one of the best racing schooners around.
Boats.com Used Schooners For Sale
This is a great list of used schooners for sale on Boats.com, sorted from lowest to highest prices. The lower-priced ones should be smaller, and thus more suited for lake enjoyment.
Ketch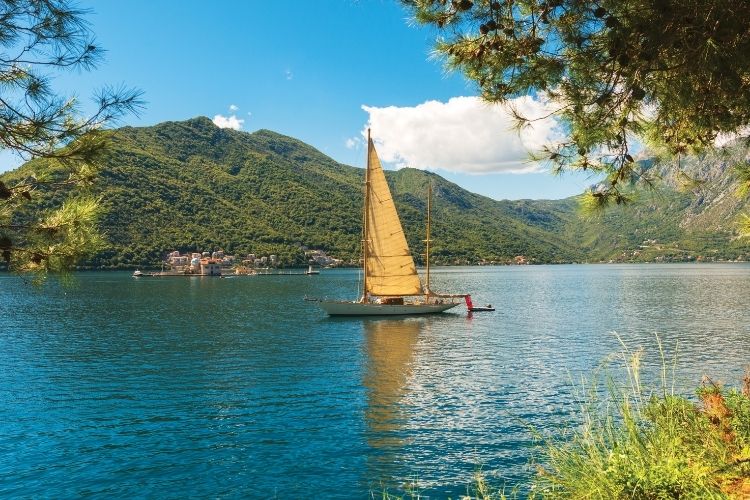 This lovely sailboat is rigged with two masts, the mizzen being shorter than the mainmast. The sailplan is much like a yawl's, but, as I mentioned before, the yawl's mizzen is much shorter than the ketch's. She is also similar to a sloop, her mainmast almost always fitted into the same position as the sloop's. Her sailplan consists of 3-4 sails depending upon how you rig it.
According to Vocabulary.com, the name "ketch" was originally spelled "catch," from the Middle English cacchen, for "to capture, chase."
Ketches are more often sailed in Europe than the United States, and if more headsails are added, the ketch would become a cutter-ketch. It is usually 40 feet or more in length, but in the 17th century, New England ketches were smaller craft used along the coast. By the 18th century, they were replaced by schooners, as 1700 records show. They do require a crew to handle the vessel.
Strengths
Dignified and beautiful to watch
Because of the multiple sails, it is easy to lock the helm and let the sails work in steering the vessel
Depending upon size, can be an overnight sleeper
Weaknesses
Quite expensive compared to other sailboats- the sloop for instance
As with most sailboats, you need to know how to manage a ketch, and must have a crew, especially since each has 3 or 4 sails
My Recommendation: 1980 Hans Christian 43T Ketch
The Hans Christian 43T is a beautiful, traditional-looking ketch with a perfect length of 43 feet. She is rigged with four sails, and is remarkable in many ways. Fitted with gorgeous teakwood interior paneling and detailing, a 65 HP Perkins engine, bronze hardware on deck, and much room inside the beautiful cabin, she is destined to make someone a very happy owner.
Currently listed on PopYachts.com, the price they are asking for is an affordable $200,000. If I had the money and lived right by a lake or sea, I would jump at the chance to visit this ketch in California, and perhaps make a decision in owning her myself. (With a good crew already in line to work for me, of course!)
Other Used Ketches For Sale
Here is also a lovely long list of many used ketches from all over the world on YachtWorld. Many are just as expensive as a brand new sailboat, but I have refined the search to be under $1,000,000.
Cutter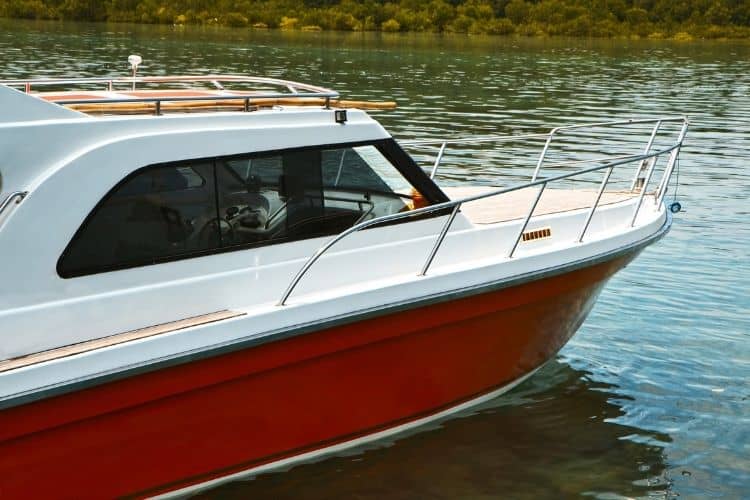 Quite similar to a sloop, the cutter as a sailboat is differentiated from one by having more than one foresail. Also, the mainmast of a cutter is set further back than the mainsail in a sloop, so the cutter can carry a jib headsail.
Her chief ability used to lie in racing, but nowadays many cutters are cruising craft. In older times, however, cutters were usually gaff-rigged, hosting one mast and a bow-sprit, and used for working craft. Military men and harbour pilots used them very often.
Strengths
Very good for cruising and pleasure-boating
Some are large enough to house berths
Weaknesses
Not very easy to tack
The three sails are more difficult to manage
My Recommendation: 1984 Mason 53 Cutter
Perfectly beautiful inside and out, this vintage cutter is kept clean by the present owners, and is reasonably priced on PopYachts for $199,900. Speaking for myself, I would be proud of a sailboat like this, and wish I could have a ride in her at this very moment!
She is housed in Corpus Christi, Texas right now. If you like this model, and don't live in the United States, or want a boat closer to your house, you can easily Google "Mason 53 cutters for sale." There is a host out there available for purchase.
Boat Trader Cutters For Sale
Sorted from high to low, you can browse the cutters available on the Boat Trader link I attached to the title above. There are many to choose from, but let me warn you. If you don't want a fixer-up sailboat, look for a cutter priced a bit higher than the first ones the list shows.
Sloop
A sloop is built with only one mast, upon which are usually rigged with one headsail and one mainsail (fore-and-aft-rig), but can also be bermuda-rigged or gaff-rigged. Also, she can carry one or more square-rigged sails, andan optional bowsprit.
According to Wikipedia, "The name originates from the Dutch sloep, which is related to the Old English slūpan, to glide. In naval terminology, "sloop-of-war" refers to the purpose of the craft, rather than to the specific size or sail-plan, and thus a sloop should not be confused with a sloop-of-war."
Strengths
Most popular sailboat
Very manageable- typically furnished with only two sails
Rigging is very inexpensive
Perfect for upwind sailing
Overnight sleeping quarters
Weaknesses
If the sloop is longer than 45 feet, multiple sails must be added for stability and ease of handling
My Recommendation: 2021 Beneteau Oceanis 40.1 Sloop-Rigged Sailboat With Inboard Engine
This sloop is called a yacht, and she is, unlike traditional sailing vessels, equipped with an engine.
She is roomy and easy to keep clean, fitted with a lovely beige and white interior throughout, and has three cabins in which are eight berths, a saloon, two heads, and various other wonderful features and amenities.
Used Sloops For Sale
From Boat Trader, this list is very long and offers many different sloop options in terms of size, engine vs. sail alone, number of berths, etc.
Fishing Boats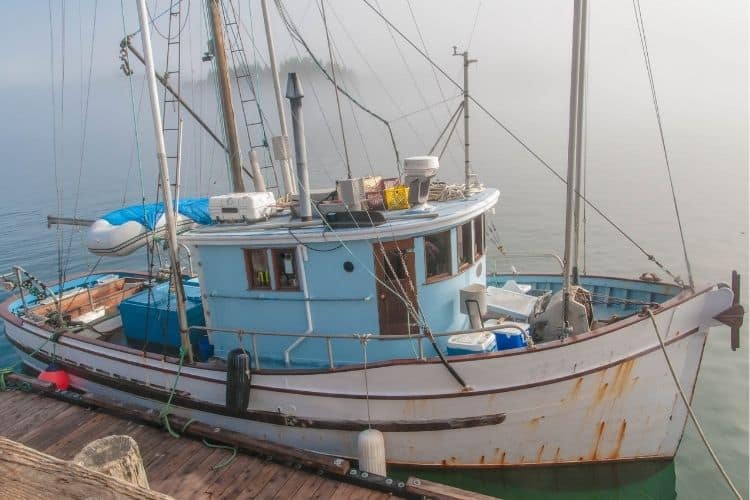 "Fishing Boats" is a term that includes many types of boats, but this section, in particular, is dedicated to aluminum, wood, or fiberglass freshwater fishing boats. They are lightweight and not typically used for pleasure boating or any other watersports other than the one mentioned in their name.
Anglers dedicated solely to being just that will probably find the boat of their dreams in this list! Most that I am going to mention are motorized, but the first under "used" is a beautiful little rowboat.
Pros
Perfect for serious freshwater fishing
Good for small or larger groups depending on size
Upgraded boats specifically for fishing
Cons
Cannot be used for racing, pleasure boating, spending the night on board, or watersports
Most are not built for saltwater fishing
Good Brands
My Recommendations – New
2022 Carolina Skiff 21 LS Sport & Fish DC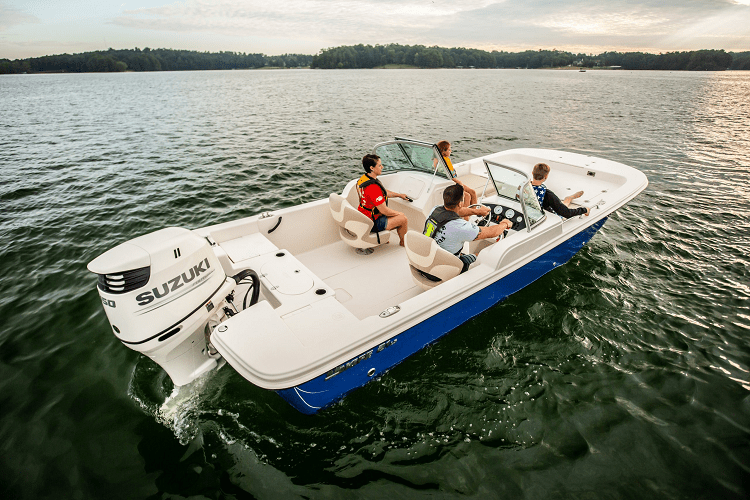 As mentioned in my article on Carolina Skiffs, this fishing craft is different than the other Carolina Skiff models in that she is upgraded especially for fishing, and contains many features and accessories useful to fishermen. Quoting myself, the article says about this particular boat,
"The Sport and Fish DC has two adjustable bucket seats provided with two flip-down cup holders for driver and passenger, with console instruments and steering wheel at the driver's side of the console, and a tackle tray with grab rail at the passenger's. The deck is self-bailing, and the windshield is partitioned between the two console bucket seats to allow walking through."
You can choose from a lovely variety of colors and additional options that may purchase if desired. This model's cost can be requested from the company.
2022 Nitro Z17 Bass Boat
This model is definitely a fisherman's dreamboat. Fitted just for fishing, her flat deck, many storage compartments, and fore and aft pivoting fishing seats are destined to make your heart excited. Without any additional upgrades the total price of this bass boat comes to $30,995.
Lund Predator 1870 SS
Die-hard anglers will thrill at the sight of this amazingly simple-yet-wonderful fishing boat. She has much room for storage, a slip-free deck surface, side console with simple instrument panel, and four padded seats total, and a capacity of seven persons.
With the option of a camouflaged hull, instead of a plain green-brown finish, (I would choose Mossy Oak Breakup), the cost comes to $23,390. Quite a reasonable price for such a rugged, dependable boat such as this, isn't it??
My Recommendations – Used
Watersport Boats
Also called ski, wakeboard, and sport boats, these high-performance motorboats will give you the thrill of your life. Whether riding or driving within the boat, or wakeboarding/waterskiing along behind, you are sure to feel both the power and smoothness of the swift watersport craft you have chosen.
Pros
Ideal for water-skiing, wakeboarding, wake surfing, racing, speedboating, pleasure cruising, etc.
Cons
Not a good choice for very young children or those who get seasick when driven fast
Is not typically used for fishing or lounging
Children must be fully supervised and all passengers must wear lifejackets for safety and security
Good Brands
My Recommendations – New
2022 MASTERCRAFT NXT22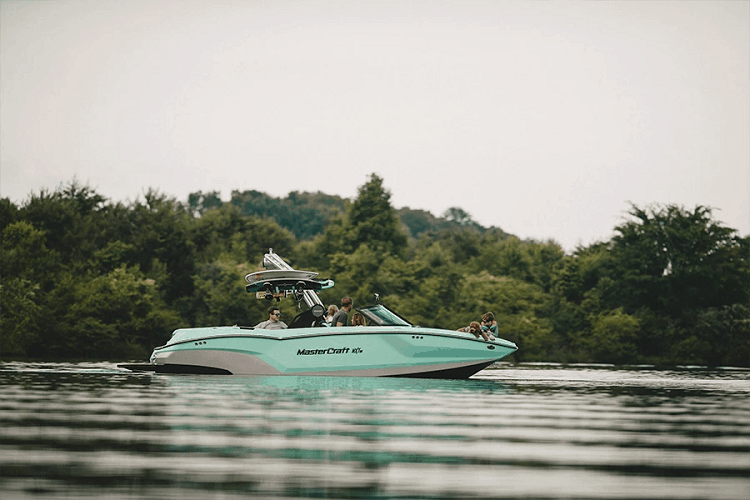 This is a huge, beautiful watersport boat designed to accommodate up to 14 passengers, and destined to give her wake surfers behind a marvelous time. Fitted with the new SurfStar system, you can make custom-sized waves based on the age, ability, and daring of whoever is surfing in the NXT22's wake.
2022 Super Air Nautique G23 Paragon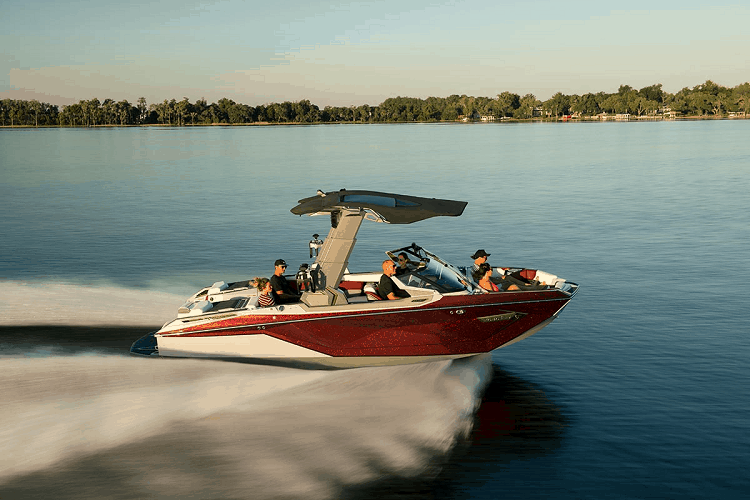 Luxury paired with high performance. In every 23 feet of this watersport boat is seen quality and endurance, and a total of 16 people can ride in it at once.
Her engine is a 600 HP, and like the craft above, her wake surf waves can be customized through the included Nautique Surf System with Waveplate technology. The standard stereo system features are simply fascinating- hosting a sum of 12 loudspeakers, an amplifier and audio head unit, which things make up the JL Audio® M6 Series Studio Elite stereo package with DSP technology.
To discover the price, click the red "Find a Dealer" button in the top right corner.
My Recommendations – Used
FAQs
Question: What Should I Get first if I Am Unsure of What Type of Boating I Want to Do?
Answer: If you want to start out small, but want a boat that can do many things, I would suggest looking for an all-purpose motorboat, such as a deck boat or watersport boat. With the majority of each of these, you can cruise, lounge, swim from, fish, wakeboard, tube, or waterski.
Question: What is the Least Expensive Boat on This List?
Answer: It really depends upon the brand, year, and shape the boat may be in. For example, if you wanted a cabin cruiser, but found many that were too expensive, and found some very inexpensive deck boats, you cannot rely upon that research to determine which craft, in general, is less expensive.
Instead, look for the lowest-priced model of each kind of boat you are considering, and compare the prices that way. Also, it may be better to pay one or two thousand dollars extra to get certain amenities you have your heart set on.
Question: What is the Type of Boat you Recommend for a Family for Cruising and Fishing on a Lake?
Answer: I would say a deck boat. They are reliable and sturdy, not too large and not too small, and have a variety of simply wonderful built-in features and optional upgrades. They can be used for fishing and tubing, eating and lounging, swimming and snorkeling, and many other activities as well!
Looking for more interesting readings? Check out: