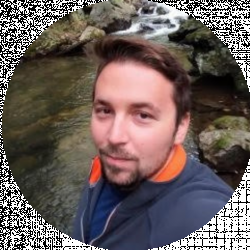 Latest posts by Coty Perry
(see all)
A cabin cruiser provides you with everything you may need to spend a day or a couple of days out in the water. You can retreat to your cabin for some shade and relief after being out in the hot sun all day.
When it gets to that time of the night where cold starts creeping in, you can get warmth from the cozy confines of your cabin. A cabin in your cruiser changes the whole boating experience. It sometimes makes you feel more at home than in your "real home."
If you are looking for this kind of boat, you have come to the right place. This article gives you everything you need to know about cabin cruisers. Read on to know more.
Our Top 10 Cabin Cruiser Picks
Are you looking for a cabin cruiser that meets your needs and is within your budget? If so, you have come to the right place. We perused through testimonials and ratings from boat enthusiasts and owners to compile the following list of the top cabin cruisers.
Let's get started!
Scout 380 LXF Cabin Cruiser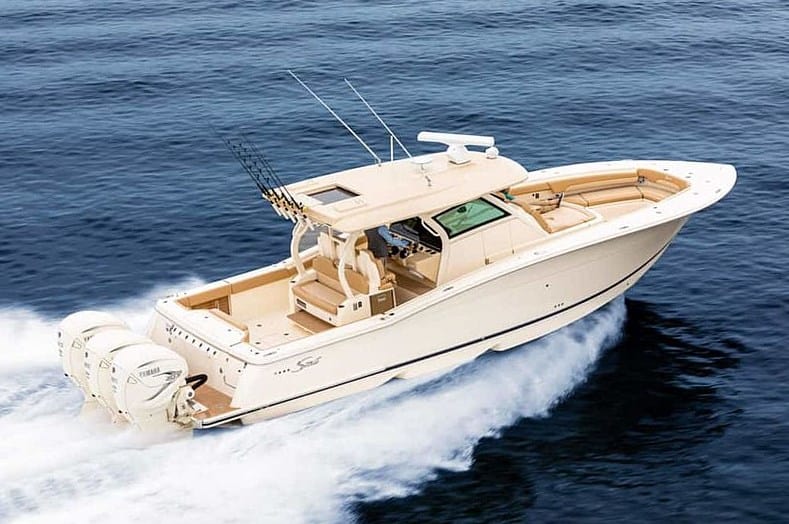 Are you looking for an innovative and luxurious cabin cruiser? Scout is popular for its attention to detail and high-quality craftsmanship. The 380 LXF comes with features that other cabin cruisers don't have. They come with electronically-actuated articulating rocket launchers as well as a hidden electronically-actuated entertainment station.
You can reveal the hidden entertainment station with the press of a button. It's complete with a tackle drawer, sink, cutting board, grill, and extra storage space. Fortunately, all these things are compactly stored away. This means you can store them out of sight after you have finished using them.
This is a perfect cruiser for entertaining because you don't have to cook inside the cabin. You have the option of taking the grill outside and cooking with your friends and family as you enjoy the ocean breeze.
With the touch of a button, the articulating rocket launchers can be either lowered or raised. As a result, loading, unloading, and accessing rods becomes much easier. The launchers work in conjunction with the SureShade awning. This means when the SureShade awning is engaged; the rocket launchers are also engaged automatically.
Other features that the cabin features include a TV, a comfortable seating area, and a table for you to eat, drink, and relax. The good thing is the seating area also doubles as a bed. Why? In case you are tired, you can take a nap on it.
The cruiser comes with a fully equipped kitchen with everything you may need. They include a microwave, fridge, stove, sink, as well as cabinet space for storage. You can host several guests comfortably. This is thanks to the ample seating space on the boat's deck. Note that for additional strength and stability, 380 LXF has an epoxy-infused hull with carbon fiber/E-Glass.
The high-tech digital helm onboard system makes the model ideal for boaters who enjoy advanced technology. For example, it has a Garmin touchscreen. When you look at the luxurious seating and other great features, you realize this is a cabin cruiser that is worth every penny.
Pros
Electronically-actuated hidden entertainment center

SureShade awning for extra shade on sunny days

It comes with a digital helm on-board system

Carbon fiber/E-Glass and Epoxy-infused hull

Electronically-actuated rocket launchers

It features a comfortable seating area with a TV and a table
Cons
Only available in white

Small cabin limited to 1 bed
Cutwater C-30 Sedan Cabin Cruiser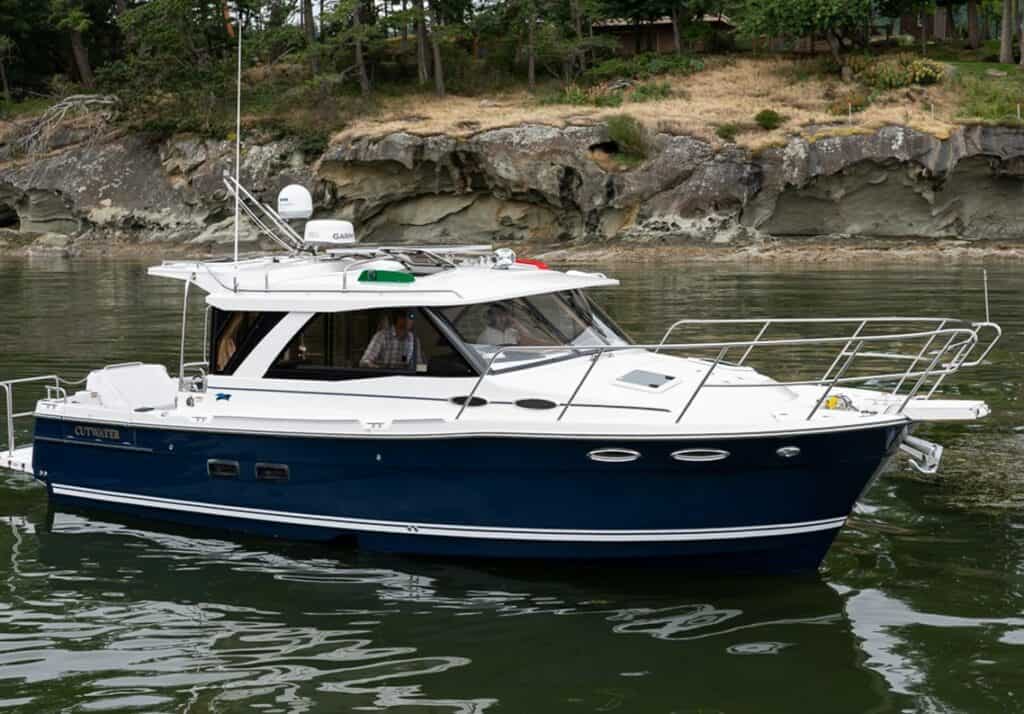 Do you want a fully equipped, customizable boat that meets your needs? If so, you should consider the Cutwater C-30 Sedan cabin cruiser. There are three colors to choose from, namely white, Caribbean sand, and midnight blue.
To make the cruiser perfect for your needs, choose your trim package and the add-ons you'd like. If you want to entertain guests or have family outings in the middle of the ocean, this boat comes with sufficient space for the same.
It has a convertible seating area in the cockpit which can accommodate up to 4 adults. Take note if you need extra space, the seats can be tucked away. If you want to reverse the dinette seat to accommodate more guests, the cabin bulkhead has an opening in its panel to make it easy.
Apart from the double seat built into the transom, this watercraft also has a pair of cushioned observation seats. They are stored underneath the flush hatchets. What distinguishes it from the rest is the spacious, luxurious cabin. Inside is a dinette for four people that can also be converted into a bed. It's large enough for three adults.
The kitchen is spacious, giving you enough room to cook for family or guests comfortably. It features a microwave, oven, stove, double sink, and a large fridge. Additionally, there is plenty of room for storage.
Note that the Cutwater C-30 Sedan also includes a forward stateroom with an extra double bed and additional storage. Furthermore, there's plenty of room both above and below the deck. For a serious boater who treasures optimal cruising performance on long trips, the Cutwater C-30 Sedan cabin cruiser's 435-hp Volvo diesel inboard will handle such needs.
Pros
Extra spacious

Large kitchen

It features a variety of trim packages and colors

Stepped Keel hull design

435-hp Volvo diesel inboard
Cons
Features such as air conditioning are available as add-ons for an extra cost

Not-budget friendly
Glastron GS 259 Cabin Cruiser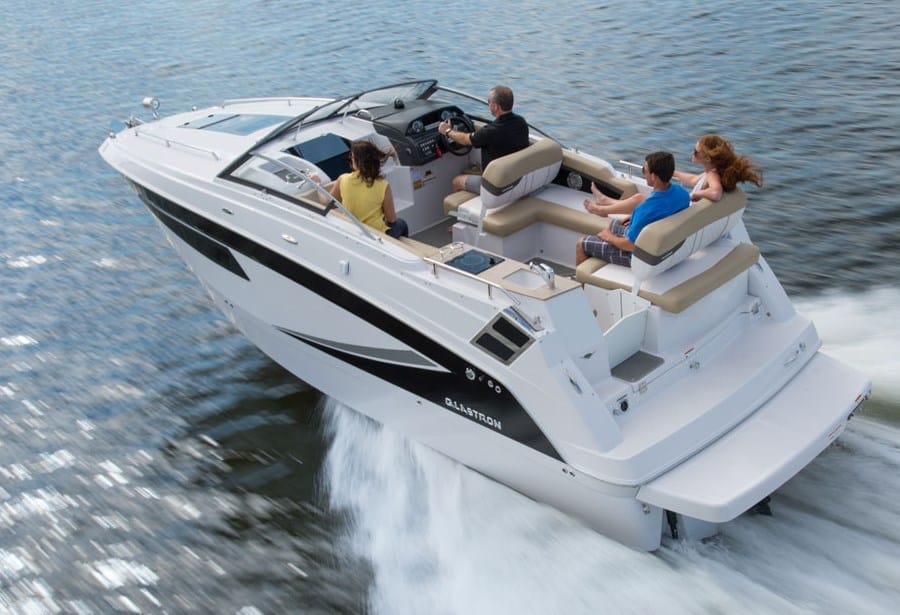 This particular cabin cruiser is ideal for spending a day on the water with family. It has a lot of versatility, thanks to the adjustable cockpit. This allows you to convert the seats into a large sun lounge.
There is a full-service refreshment center with a grill. It means you don't have to go inside the cabin to cook a burger or grab a cold drink. However, if you want to retreat to the cabin, there's a large couch that doubles as a queen-sized bed. It's able to accommodate five people.
Even though the kitchen is not large, it features a breakfast center complete with a sink, microwave, and fridge. To ensure every ride you take is smooth and stable, the boat uses an SSV (Super Stable Vee) hull design. Therefore, you can make tight turns with minimal choppiness or rocking.
If you want a quick-to-plane cruiser that's easier to handle and steer, go for the Glastron GS 259.
Pros
Cockpit seats are easily convertible into a sunbed lounge

It comes with an eating area complete with a grill and fridge

Two beds that accommodate up to 5 people

SSV hull design offers more stable cruising performance

Made of stainless steel for durability
Cons
Small kitchen

Fairly small and cramped cabin
Jeanneau VELASCO 43F Cabin Cruiser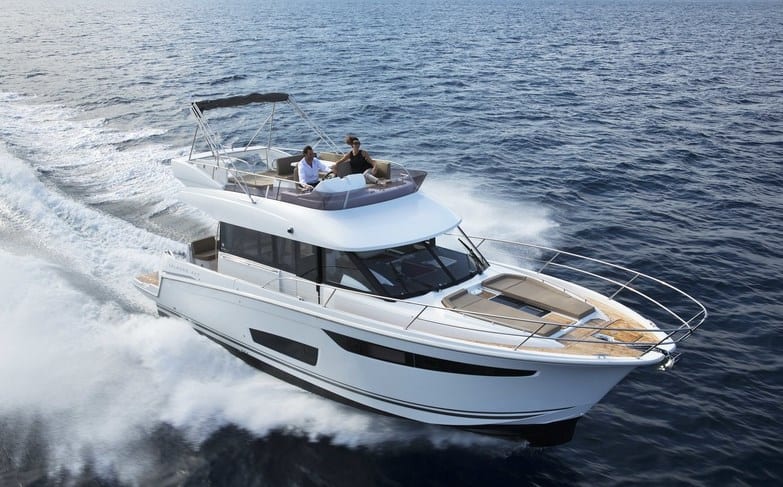 VELASCO 43F cabin cruiser by Jeanneau is a great choice if you are looking for a cruiser that is top of the line as far as comfort, space, and luxury go. The boat is huge complete with two heads and two cabins.
To make the cruiser your family's home (away from home), the cabins are extremely spacious to fit all the essentials you may need. It comes with a modern kitchen equipped with a microwave, fridge, double sink, oven, and stove. This enables you to cook a variety of meals conveniently.
There's a comfy U-shaped dinette with ample space and a retractable table in the center of the dinette. However, what makes this model popular is the awesome bathroom. Some people state that it resembles something straight out of a 5-star hotel. It comes complete with polished hardwood cabinets, a glass shower, and comfortable seating.
VELASCO 43F also features enough beds to comfortably sleep up to 6 people. A feature that differentiates this watercraft from the rest is the massive modern cabin. That said, the double thrusters and shaft drive give this model optimal cruising performance. They make you feel as though you are gliding over the water.
Pros
Three beds able to comfortably accommodate up to 6 people

Spacious and modernly designed cabin

It features four levels, two heads, and two cabins

Integrated radar arch for a polished look

Ample seating in the cockpit

It comes with double thrusters and shaft drive
Cons
Lacks outdoor grilling

Only available in white
Rinker 370 EX Cabin Cruiser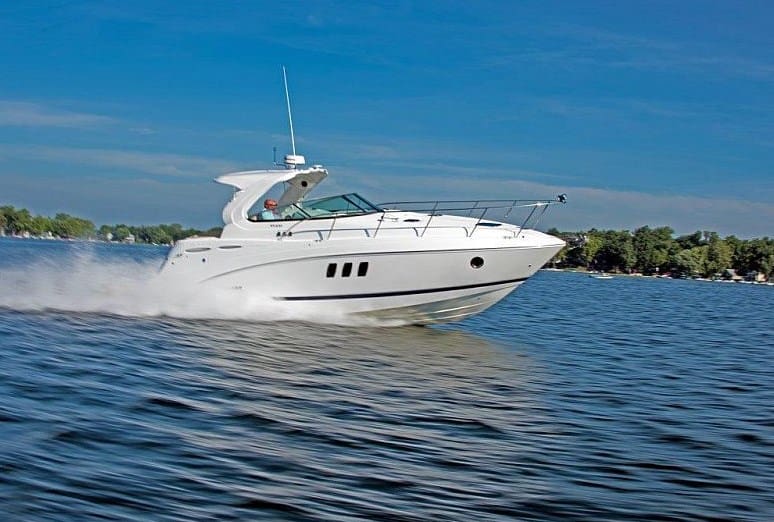 Even though most boaters love large and spacious cruisers, some prefer smaller ones. In case you are one of them or you are looking for a cruiser to just entertain your partner or small family, then the 370 EX cabin cruiser by Rinker could be your best bet.
The cockpit is not huge, although there is enough room for 5 to 6 people. On the upside, the eating area comes complete with a freezer, fridge, sink, and an electrical outlet for a blender. This is combined with a space for a cutting board.
The seats are well arranged, allowing people to face each other. This makes the boat perfect for socializing and hanging out above the deck. To make the cruiser feel like home, its cabin is cozy and equipped with all the essentials you may need.
They include a communal living room space featuring two comfy couches. Each comes with a dining table and a TV. The kitchen features everything to ensure you can comfortably cook anything you want.
Additionally, the cabin has a separate bedroom with one large bed that can sleep, three people. If you have several guests staying for the night, you can set them up on the couches. Another good thing about the cabin is that it has 6'11" headroom. The height makes it spacious and less cramped.
To make controlling and maneuvering the boat easier, it uses auto glide trim tabs with joystick controls. If you are an amateur or beginner, such features make for a great boating experience.
Pros
Conveniently placed eating area

Spacious cockpit for up to 5 or 6 people

For privacy, the bedroom is separate from the living room

It comes with auto glide trim tabs and joystick controls

Cozy cabin with one large bed and two couches
Cons
It comes with only one bed

The kitchen lacks an oven
Sea Ray Sundancer 350 Cabin Cruiser
This is another great choice if you want something smaller. Sundancer 350 cabin cruiser by Sea Ray is perfect for a small family or couple. It has enough seating for up to 5 people in the cockpit. This comes together with two small cots and one large bed in the cabin to sleep up to 4 people.
For a family with 1 or 2 children, this is a perfect size. The kids can sleep in the cots as the parents sleep on the larger bed. With this boat, you can cook without entering the cabin. The deck features a sink and grill on the backside of the cockpit.
However, if you want to do your cooking inside, the kitchen is fully equipped. It comes with a fridge, sink, microwave, and stove. The model also has two couches and a TV, meaning after a long day in the sun, you can hang out inside the cabin.
The cabin is designed and built in an open floorplan style. On the downside, the steps provide a bit of a barrier between the sleeping area and the living room. It's good to note that there is a lack of privacy because the bed is out in the open.
Pros
It has a grill and a sink outside, making it easy to cook on the deck

Compact and cozy design (best for small families)

Fully equipped kitchen with a sink, microwave, fridge, and stove

It comes with two small cots and one large bed

Two couches and a TV
Cons
The kitchen lacks an oven

The bedroom lacks privacy
32 C100 Aspen Escape Power Cat Cabin Cruiser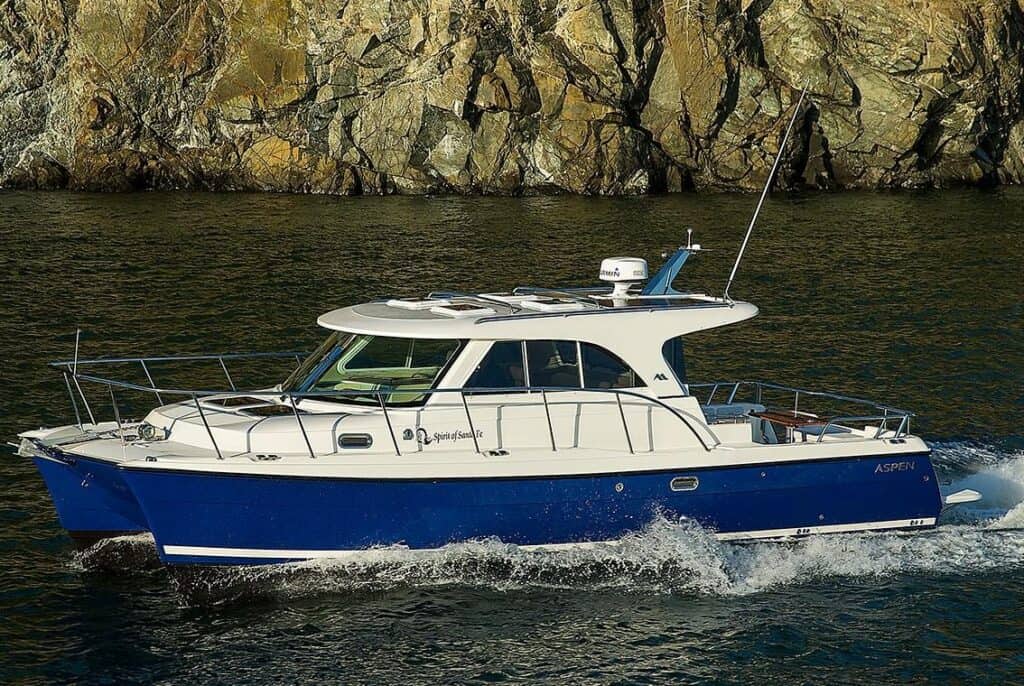 Do you want a cabin cruiser with asymmetrical hulls? 32 C100 Escape Power Cat by Aspen is unique and different from the other cabin cruisers. Something that may seem strange with the model is one of the hulls is 35% wider than the other.
However, because of the type of engine this boat has, the hull's asymmetry enables it to run in a straight line anytime you take your hands off the wheel. This helps create compensation for engine torque. The result is you get a smooth and even high-speed cruising experience under 30 MPH.
Taking into account how large the model is, it may not be the fastest moving boat out there. The good thing is, it goes at a pretty decent speed. The unique hull's design is not the only feature that makes this cabin cruiser great, though. It comes with a spacious cockpit, ideal for fishing or hanging out with your family.
You can stay hydrated while out in the sun all day because the cockpit has two refrigerators. This enables you to entertain your guests with a cold drink. You can also store your day's catch in the cockpit.
There is no noticeable difference between the inside and outside of the boat. Both are spacious and full of awesome amenities. The cabin has a king bed located in the private bedroom area. There is also a convertible dinette (queen bed) that can sleep up to 6 people. Lastly, the smaller hull section has space for a single bed.
Are you thinking of hosting a couple of friends for the night once in a while? Don't worry. There is enough space for everyone to sleep. You can also cook a variety of meals for them considering the kitchen comes fitted with all the essentials you may need. These include a microwave, fridge, sink, oven, and stove.
Pros
Asymmetrical hulls help compensate for engine torque

Large cockpit best for entertaining large groups of people

It comes with two refrigerators in the cockpit for storing drinks and fish if you are fishing

Enough beds for up to 6 people

Fully equipped kitchen with a microwave, fridge, sink, oven, and a stove

It features low vibration levels
Cons
Only available in white

A bit low (maximum of 30 miles per hour)
Sea Ray 370 Venture Cabin Cruiser
Are you looking for a small but powerful cabin cruiser? Although the size of Sea Ray 370 Venture Cabin Cruiser is small, it shouldn't deceive you. The boat features a large and spacious cabin with a queen-size bed and a full-size settee that can sleep up to 5 people.
There's a large equipment and storage room where you can access the generator, water heater, and air conditioner. Even though the kitchen lacks an oven and stove, it comes fitted with a fridge, sink, and microwave. This means you still have the freedom to cook a variety of dishes.
That said, the cruiser also has another fridge in the cockpit. It comes together with a retractable table that can be put up when you need it. Once done, you can easily tuck it away to create more space.
The design of the Sea Ray 370 Venture was made bearing both convenience and comfort in mind. A pair of Mercury's 300 HP Verados outboard is one of the standout features in this model. They are conveniently located under the aft sun pads.
Their location not only allows you to easily access and protect them from water, but it also keeps them out of your way. The result is more space in the cockpit. The design prolongs their life while ensuring better performance.
Note that the outboards also allow your boat to cruise through shallow waters easier and safely.
Pros
Enough space for up to 5 people

Compact design with large storage

The Dynamic Running Surface system produces low vibration and sound levels

Spacious cockpit with a fridge

It comes with Mercury 300 HP Verados outboard for optimal cruising efficiency
Cons
The kitchen is small with no stove or oven

Not best for entertaining large groups of people
Hunt 44 Express Cabin Cruiser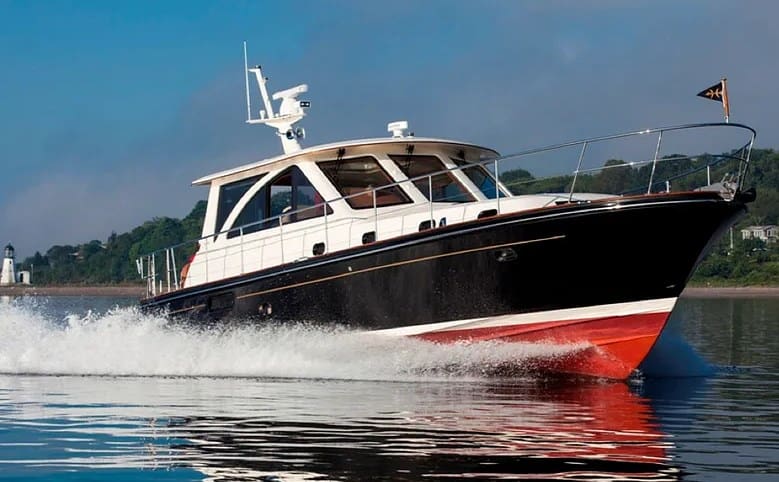 If the Sea Ray 370 Venture seems small for your needs, then the Hunt 44 Express Cabin Cruiser may be what you are looking for. Despite the cruiser being roomy, it features a flush deck that creates an open atmosphere that's ideal for entertaining a large group of guests.
Both the cabin and above deck portion are extremely spacious. Below the deck are two bedrooms. It means the cabin can be used by two couples who want to sleep in private. The convertible settee also creates space for six people to sleep comfortably.
The kitchen is equipped with a dishwasher, microwave, sink, fridge, and a two-burner stove. On the upside, there is more space to cook because the storage area is built into the kitchen walls.
The kitchen amenities, the ample cabin space, and the ability to host six people for a night while maintaining privacy make the cabin perfect for hosting overnight parties. Don't forget the model comes with an onboard washing machine. This is a great feature for those who want to spend a long weekend on the lake or ocean.
An amazing thing about this cruiser it's just as luxurious and equipped above deck as it is below. The cockpit is spacious, with plenty of seating for entertaining a large group of guests. Other features include an ice maker, an electric grill, and a fridge.
This means that you don't have to go down into the cabin to cook a burger or mix up a drink. Instead, you can stay above deck and continue entertaining your guests.
Pros
Enough beds to sleep up to 6 people

Two separate bedrooms for added privacy

Fully equipped kitchen with essentials like a dishwasher, microwave, fridge, and stove

It comes with a washing machine

Spacious cockpit with an ice maker, grill, and fridge

It features a deep V-hull for cruising smoothly through choppier waters

Computerized dynamic positioning for easier control and maneuvering
Cons
The kitchen lacks an oven

Only available in white
Sabre 38 Salon Express Cabin Cruiser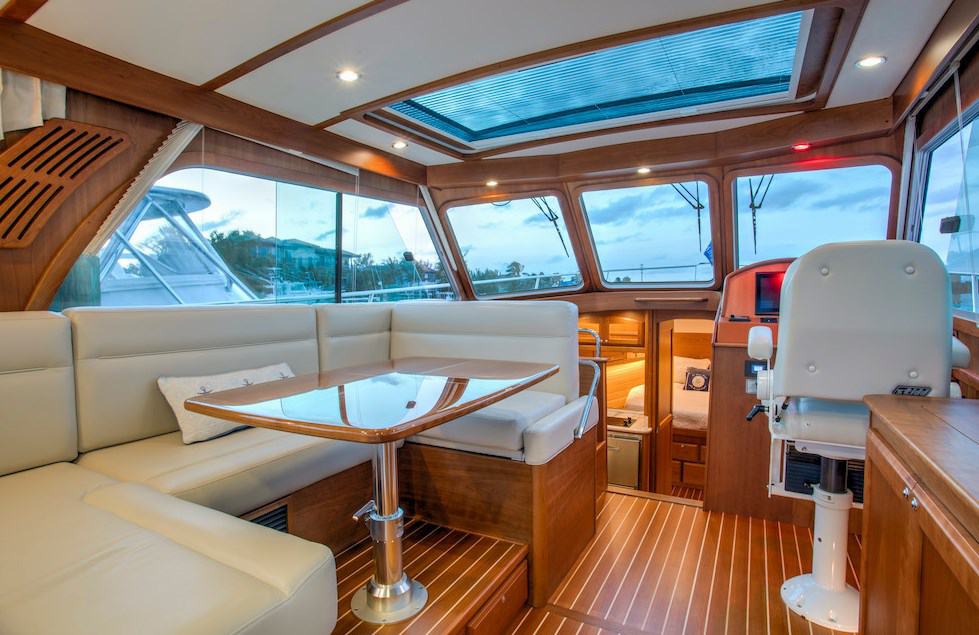 Would you like a cabin cruiser with a practical and nautical design? If yes, the Sabre 38 Salon Express Cabin Cruiser is a good choice to enjoy with your friends and family. It combines both traditional and classic craftsmanship with the latest state-of-the-art technology.
This creates a unique watercraft perfect for relaxing with your family or entertaining guests. The cockpit comes complete with a polished cherry wood table. You can slide it out of the way when you are not using it to get additional space.
Inside the salon is a U-shaped seating arrangement together with another cherry wood table. About three steps down from the salon, you'll find yourself inside the cabin where the master bedroom and kitchen are located.
The kitchen is fitted with a sink, microwave, fridge, stove, and ample storage. This enables you to prepare your dishes comfortably. Being a few steps from the salon, the kitchen is separate from the common area. Though, it's still close and open enough to interact and talk with guests in the salon while cooking in the kitchen.
The bedroom is large enough to accommodate one queen-sized bed that can sleep up to 2 adults or even two adults and one child. In case you want some privacy, it comes with a door you can close.
The boat comes fitted with smaller engines. These allow your watercraft to reach higher speeds with less horsepower. As a result, you increase its efficiency and performance. For smoother maneuvering and control in shallow waters, the model features IPS pod drives with joystick controls.
If you are a boater with a small family, this is a great boat for you. The reason is its practical design and ease of control.
Pros
Fully equipped kitchen with essentials such as microwave, fridge, and stove

You can easily talk and interact with people in different areas of the boat

Closable bedroom door for privacy

An efficient small engine that enables the boat to ride faster with less horsepower

IPS pod drives with joystick controls

It features a classic nautical design
Cons
The kitchen lacks an oven

Only enough sleeping space for two adults or one child and two adults
Cabin Cruiser Buying Guide
Now that you have a list of the 10 best cabin cruisers, it's time to take a look at what you should consider before you purchase one. Our selection criteria above were based on ratings and reviews from current cabin cruiser owners and boat experts. The two main factors to consider are the type and size of the boat. Here we go!
Types of Cabin Cruisers
If you didn't know, there are several types of cabin cruisers to choose from. Their differences lie in their purpose and design. That said, there are three main types of cabin cruisers. Read on to know more.
Canal Cabin Cruisers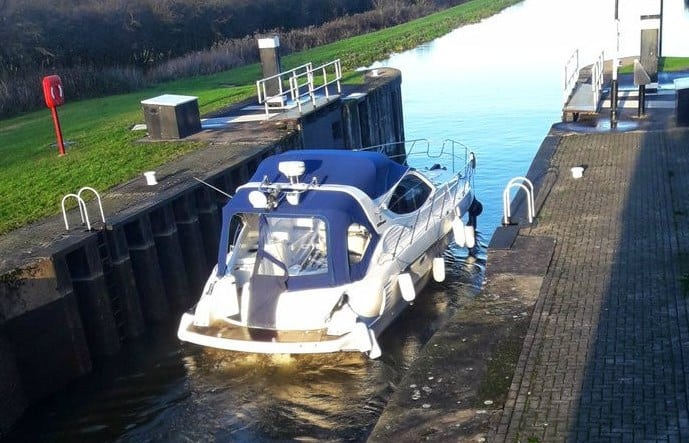 Even though they are not popular in the United States, they are a staple of the United Kingdom's riverways and canals. They can be described as small cabin cruiser boats similar to the Downeast cabin cruiser shape. However, they have a flatter hull that is great for navigation in shallower and calmer water.
Their design is more suited to long-term cruising. Their nature is very similar to a houseboat. Take note they are not suited for rough water considering they are designed for canal and river navigation. It may be the reason why they are not popular even in the used US boat market.
Downeast Cabin Cruisers
These are a type of boat designed mainly for fishing. They have sleeping quarters and their design evolved from the lobster fishing vessels of New England. Keep in mind Downeast cabin cruisers are better outfitted for fishing than sport fishing cabin cruisers. For instance, they may have specialized equipment like extra heavy downrigging equipment and trap hauling cranes.
These cabin cruisers combine the ability to remain at sea for several days with the comforts of a home. Consider them if you plan on getting a sleeper boat for frequent day trips. They are also great for long-term leisure cruising, overnights, and weekend outings.
Sport Fishing Cabin Cruisers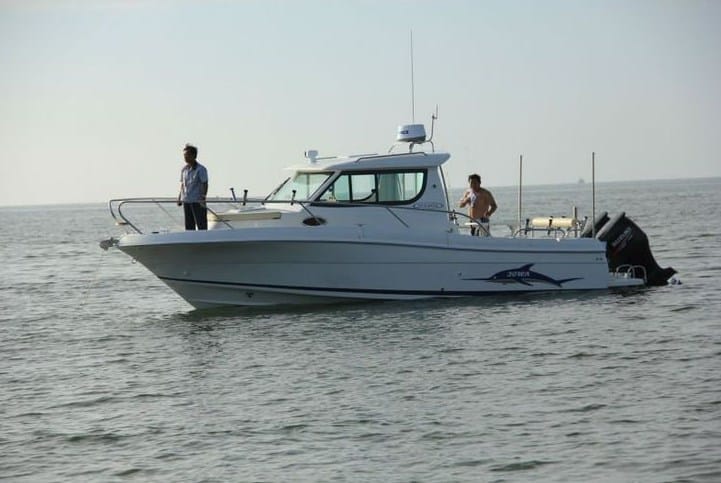 Generally, these are very deep v hulled boats. They come with a cabin that houses many of the amenities and features of a boat combined with ample deck space. Most are outfitted with between 2 to 4 engines.
The difference between these cabin cruisers and others is they are equipped with gear and features designed for fishing. Things like bait freezers, livewells, and rod mounts are common on these watercraft. If you plan on fishing for large sport fish such as swordfish and tuna, then this is the best type of cabin cruiser to get.
Cabin Cruiser Sizes
If you are looking for a cabin cruiser and you are looking for a good length, think about getting 30 feet +. The longest cruisers are about 55 feet with the smallest being about 20 feet. They are classified as Class 1, 2, or 3 vessels.
Keep in mind the weight and size of your boat determines whether or not you have a tailerable cabin cruiser. Additionally, it will determine if you have to get professional assistance when getting your boat into or out of the water. Remember, boats that are under 12 feet high and 8 feet 6 inches are legal to tow in most states.
Length
One of the largest size ranges for individual leisure powerboats that can be operated by a single individual is a cabin cruiser. Most boat manufacturers that produce these types of boats develop something that is approximately 20 to 55 feet long. However, the majority of boats are within the 20 and 40 feet range.
These types are normally used on coastal waterways for family entertainment, fishing, or leisure cruising. Some are sized perfectly to be transported and used on smaller lakes and rivers.
For instance, if a boat is between 16 and 26 feet, it's categorized as a Class 1 vessel.  Class 2 vessels measure 26 feet to less than 40 feet. More than 40 feet and less than 65 feet is a Class 3 cabin cruiser. The class determines the safety gear and equipment that must be present onboard.
Weight
The weight of your cabin is affected by the size. On average, a 25-foot long cabin cruiser weighs about 5,500 pounds. There is an average of approximately 200 pounds for each additional linear foot.
Weight is a crucial consideration considering it affects your ability to transport, tow, trailer, and launch your boat. Usually, a vehicle can tow the trailer and boat. However, the weight of both at once may exceed the limits set up for local bridges and roads.
Since the average dry weight of a cabin cruiser is more than 5,000 pounds, make sure the dry weight of the trailer and boat should match the towing capacity of your car. In such scenarios, you need a truck because tow-capable SUVs and cars can't safely tow such weights.
Why Should You Go for a Cabin Cruiser?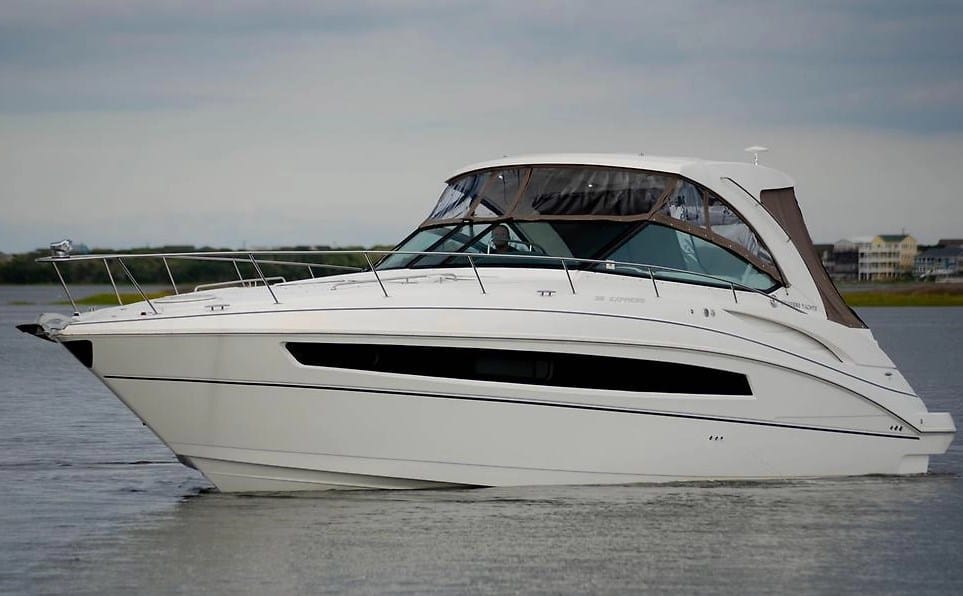 For starters, they don't need shore power when out at sea. It's because many of the larger watercraft have dedicated generators. They are used to power accessories like entertainments devices, lights, fridges/freezers, and so forth.
The size of cabin cruisers is one of their advantages considering they have plenty of room for various activities. The majority come with an optionally enclosed or fully enclosed helm together with a swim platform. They also offer higher comfort levels in rougher waters compared to smaller boats.
The customizability and options offered by cabin cruisers compared to dedicated-purpose boats make them popular among boating fans and enthusiasts. Since you are not limited to a specific sub-type, it's easy to find a model that allows you to cruise, fish, or go island-hopping.
Cabin Cruisers FAQs
Question: Is a Cabin Cruiser A Power Boat?
Answer: Yes, it is. It's simply a type of powerboat that accommodates its passengers inside the structure of the craft. Most of them feature a small dining area and an aft cabin with a double bed.
Question: Are Cabin Cruisers Best for the Sea?
Answer: Yes. They are a popular class of power-driven boats with 1 or 2 motors. They are designed and built to tour along coastal waters, waterways and cruise long distances deep in the sea.
Question: What Distinguishes a Cruiser From a Cuddy?
Answer: Cabin cruisers surpass basic needs as they tend to feature larger and more berths with lots of vertical space. They also have plumbing, a full marine head, and a gallery. On the other hand, a cuddy tends to meet basic needs. They have a porta-potty, a V-berth, and have a minimal vertical space below the deck.
Question: How does a Mid-Cabin Boat Look Like?
Answer: It's an express cruiser that comes with a cabin under the forward cockpit sole. Some people tend to mistake them for aft cabins which are at the transom, as opposed to a mid-cabin which is in the middle ahead of the motors.
Bottom Line
There are many factors you need to consider when looking for a cabin cruiser. Size is one of the crucial factors to consider. With this in mind, go for the Hunt 44 Express Cabin Cruiser if you plan on entertaining many guests overnight. It's also great for long holidays.
For an intimate small family outing, we recommend the Sea Ray Sundancer 350 Cabin Cruiser. It's great for a family with a small child. The rest of the boats have their unique features you can go through to compare and make a sound decision.
For more interesting readings check out: