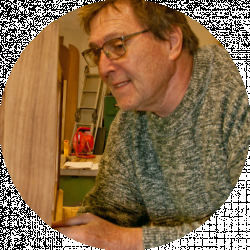 Latest posts by Mike Lillyman
(see all)
Cuddy Cabin vs Cabin Cruisers
I have heard it said that a Cabin Cruiser is just a Cuddy Cruiser with Headroom, but there is a lot more to that than just Headroom. Here we will go through the various options of both boats to find out which one is the better choice for you. Cuddy Cabins are snug and compact, whereas Cabin Cruisers offer a far greater range of facilities. But, of course, it all depends on how you spend your time on the water so let's compare the features of both boats to see which one suits you better. The fundamental difference between the two boats stems from the following:
The Cuddy Cabin boats have a snug cabin with a 'V' berth in the bow area. There is limited Headroom, and the 'V' berth can accommodate two adults.
Cabin Cruisers have a Headroom in the cabin and have a bathroom (Heads), sometimes a separate shower, and a small galley (kitchen).
This differentiation makes it easier to compare the two types of boats, and we can explore the benefits of each one to allow you to make an informed opinion of which one would suit you better.
To get some idea of the features of both types of boats, you may want to scan through some of the top-rated boats of each type.
Let's start with some highly rated Cuddy Boats
The Bayliner VR5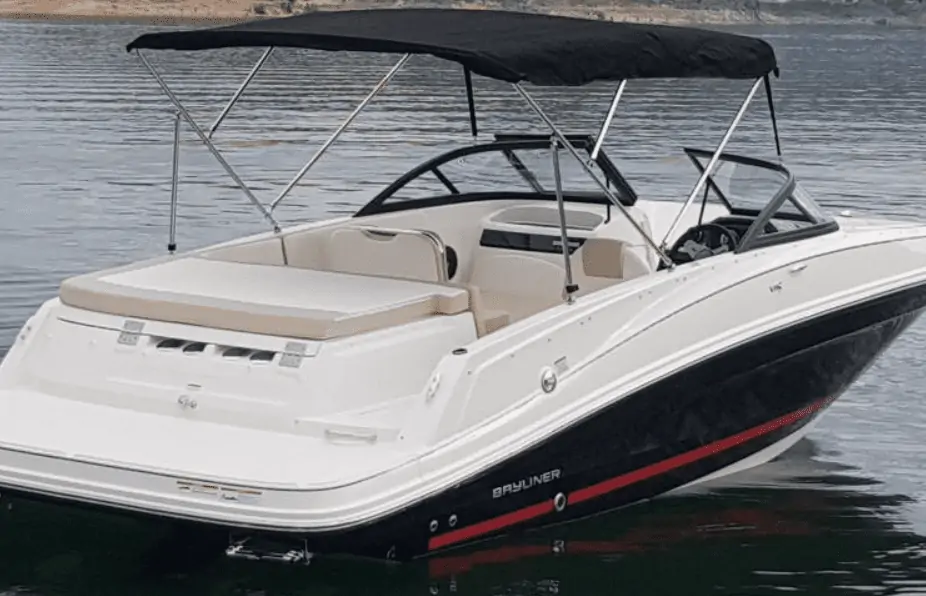 This is a top-rated Cuddy boat. It has a large storage area and can take eight people on board. Clever seating arrangements and well-designed swimming platforms make this the ideal day boat. The Headroom in the 'V' berth cabin is restricted to around four feet. Overnight accommodation is basic, and the boat is really geared for daytime fun.
The CormateT24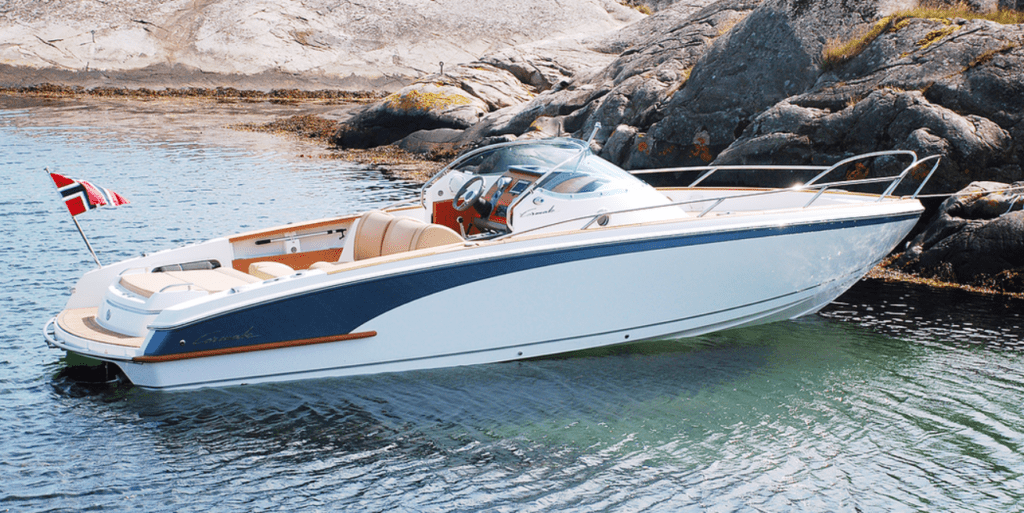 A Norwegian boat and a great example of the speed expected of Cuddy Boats. The standard version can hurtle along at fifty knots with incredible fuel efficiency. The high freeboard makes this one of the driest Cuddy boats around. This is one of the few Cuddy boats that offer concealed heads and some essential galley equipment. Certainly, one of the faster Cuddy boats that can provide overnighting comfort. If you are looking for a great Cuddy boat with some overnighting ability, this should be high up on your viewing list.
The Sting 610 DC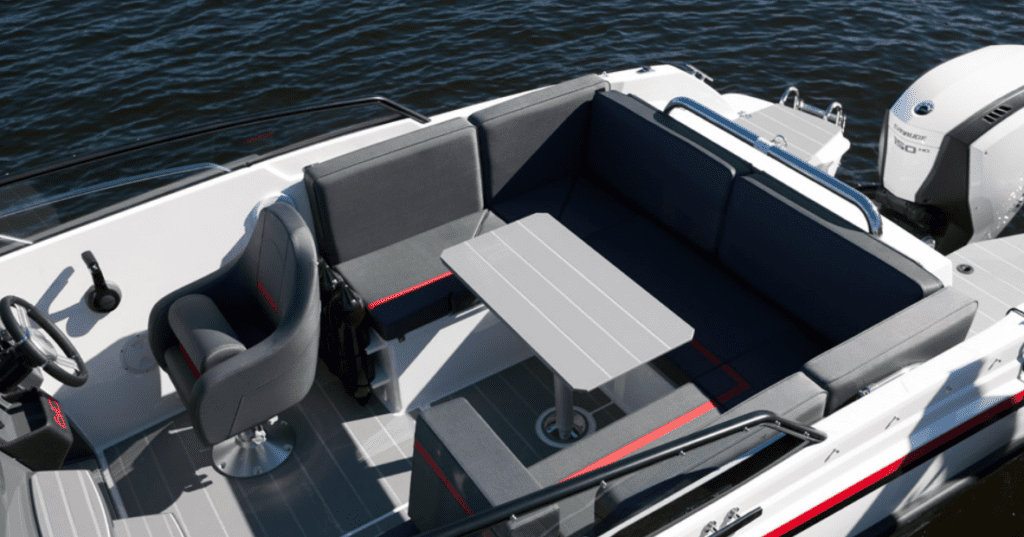 Is a great entry-level Cuddy with limited cabin space but a tremendous responsive performance. The 150 HP outboard will get you moving at over 40 knots. The name gives a good indication of the intended use of the boat. DC means Day Cruiser, and that is what the boat is all about. Great fun for the day. The 'V' cabin is functional but lacks any amenities such as windows or toilets. This is very much a dayboat but with great deck features.
The Yamarin, 65 Day Cruiser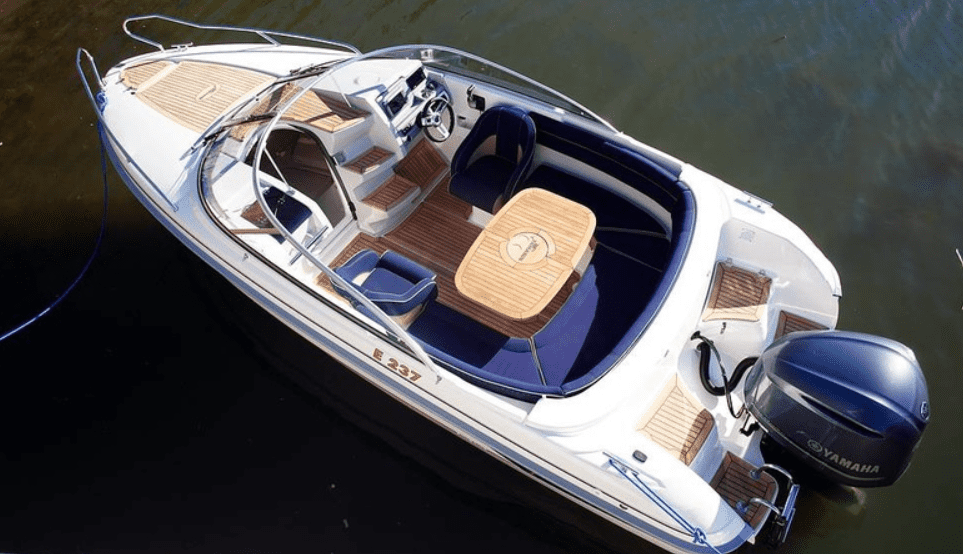 This is a prime example of what a Cuddy boat is all about. It has a wonderfully fitted and safe cockpit area, and the standard 225 HP outboard will thrill the heart of any skiing guest. It has a fairly deep draught for a Cuddy boat at a little less than four feet. An interesting feature of this boat is that it provides a freshwater system as an option—a lovely daytime comfortable fun boat.
The Beneteau Flyer 6,6 Sundeck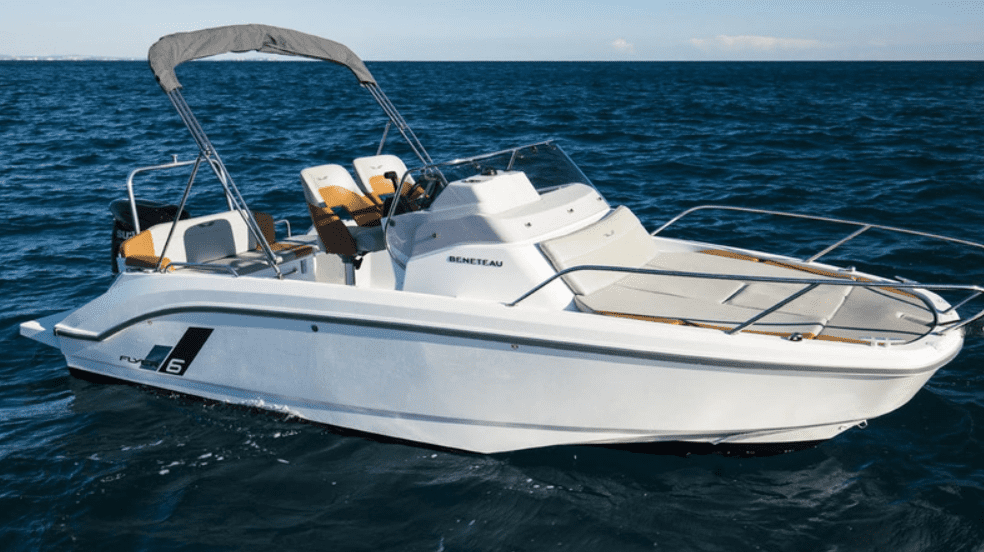 Part of the formidable Beneteau range this model has a 200 HP outboard for sizzling performance. The 'V' berth cabin has a small marine toilet, and the cockpit can convert into a double berth. One of the easiest Cuddy boats to tow, it offers the choice of different water sports destinations. The 'Sunpad" on the foredeck provides great daytime comfort but does restrict the Headroom in the 'V' berth.
Three top-quality Cabin Cruisers
The Back Cove 40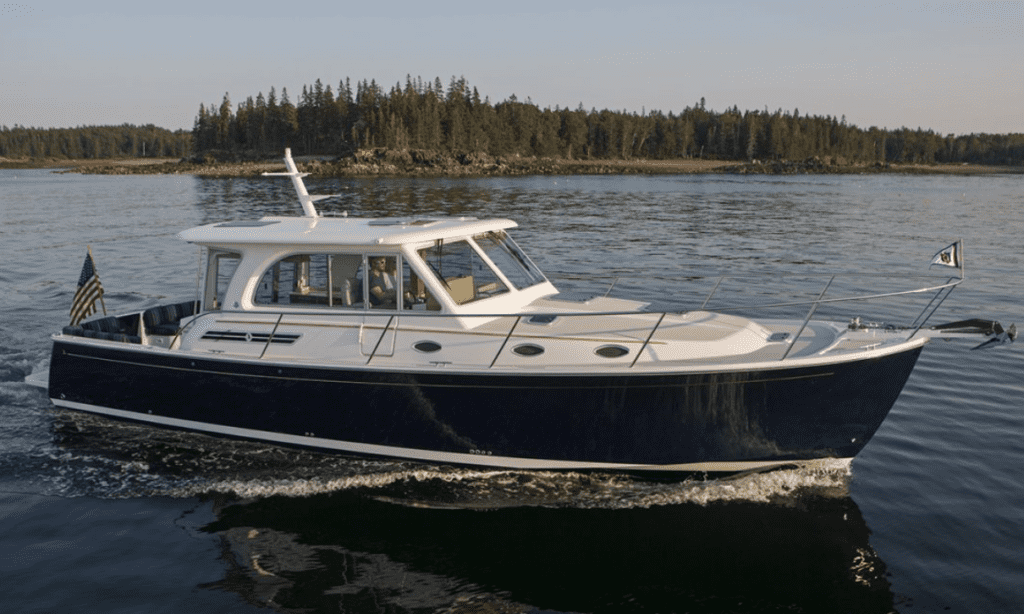 The two 300HP outboard engines provide a cruising speed of 24 knots, and there is the option to fit a third outboard to bump up the cruising speed well into the thirties. The fuel tank of 250gallons gives it a range of over 200 nautical miles. There is accommodation for four guests on board with a separate bathroom and shower, a fully equipped galley with a microwave, two plate cookers, and a refrigerator. Clever design features like the transom gates make for excellent daytime enjoyment. If you are looking for the ideal Cuddy and Cabin combination, this must come pretty close.
The MJM43z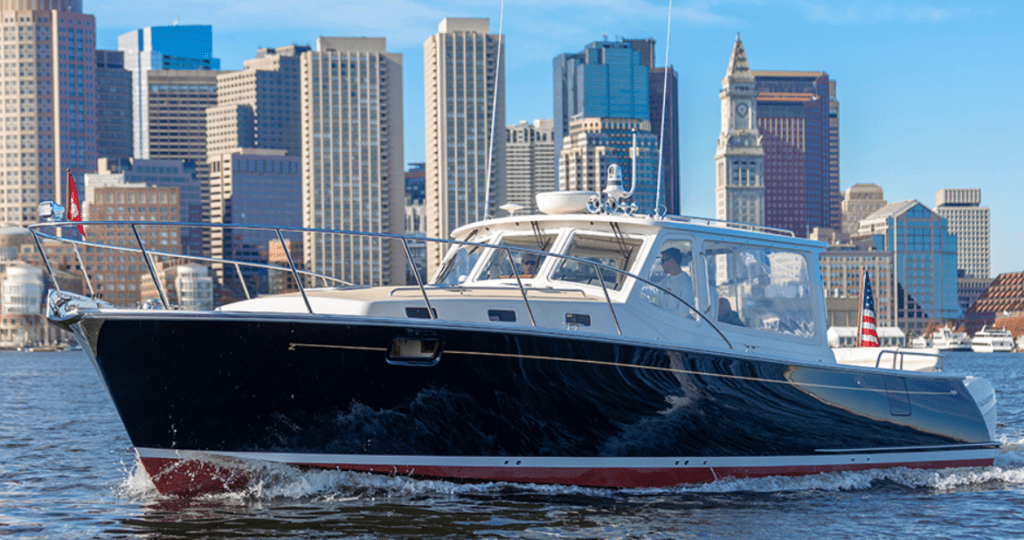 The well-designed hull is powered by three 350 HP outboard engines providing a top speed of over 40 knots. The six-foot-six-inch Headroom in the forward stateroom offers comfortable accommodation below the deck, while the saloon can convert into additional accommodation for two guests. With a full entertainment system on board and a comprehensive galley, including a freezer, the boat provides superb comfort. In addition, the boat boasts a Category 'A' Ocean Certification making it a serious contender for coastal areas.
Hinckley Sportboat 40C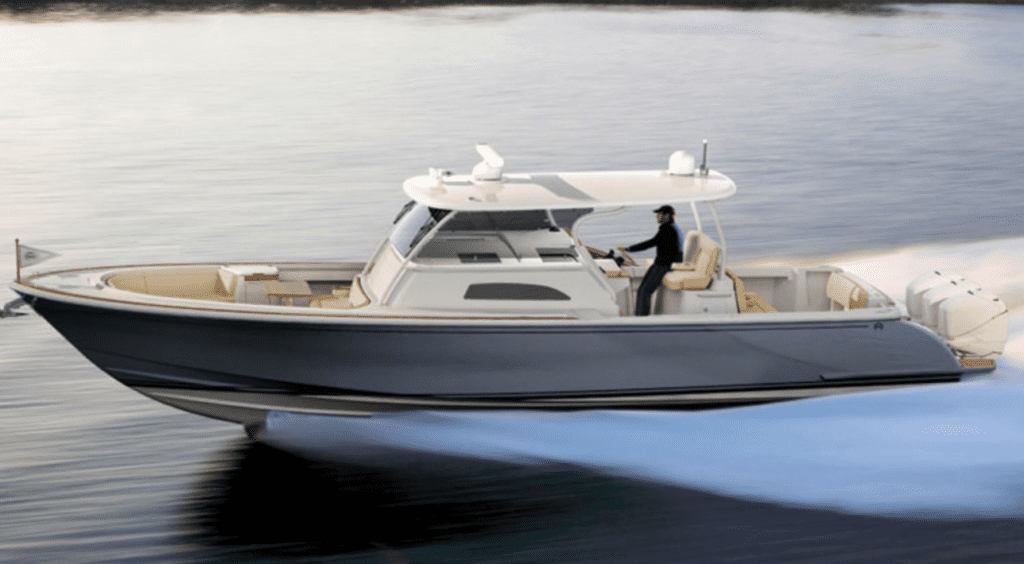 This Cabin Cruiser has a whopping 450 gal fuel tank providing a range of over 340 nautical miles at an average speed of 25 knots. Six-foot-six headroom below decks in air-conditioned comfort along with separate bathroom and shower offers superior comfort. The galley is comprehensive and even includes a cappuccino machine. Deck comforts are lavish with a beautiful forward deck seating arrangement. This is a real family pleaser allowing skiing as well as fishing. I don't think there is anything I don't like about this boat.
Here are the main differences between Cuddy and Cabin Cruisers
Weight
Cuddy boats are lighter, making them easier to tow. This makes them suitable for towing home and saving on boatyard fees as well as maintenance. This also allows you to travel to different water bodies. Cabin Cruisers are often too heavy to tow or require a heavier tow vehicle.
Versatility
Cuddy boats can be used for towing skiers and other water toys. They are highly maneuverable and very responsivHowHowever, Cabin Cruisers are not designed for carving up the water.
Draught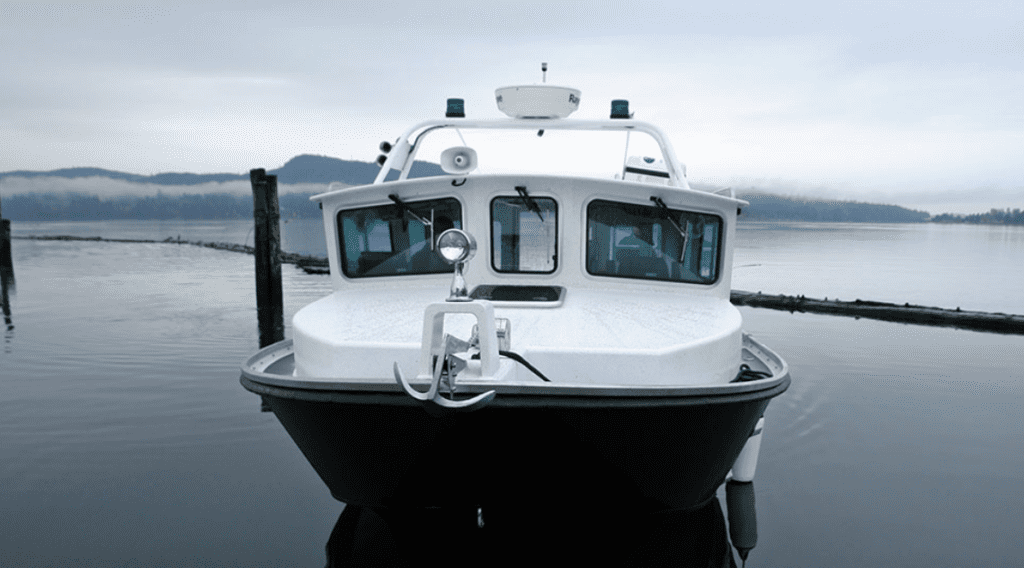 Cuddy boats have minimum draught allowing you to explore shallow coves. However, Cabin Cruisers tend to need more water, especially if they have inboard engines.
Storage
Cuddy Boats have some storage area, but this is limited to the 'V'berth area, whereas Cabin Cruisers have significantly more storage area.
Length of stay on the water
Cuddy boats are limited to perhaps overnight for two people whereas Cabin Cruisers can accommodate two to four people for more extended periods.
Headroom
Cabin Cruisers have above six-foot Headroom below decks, and the steering position is protected from the weather.  Cuddy boats have limited Headroom and limited weather protection at the steering position.
Bathrooms (Heads)
Cabin Cruisers have separate bathrooms, often with separate shower whereas Cuddy boats lack these facilities.
Toilets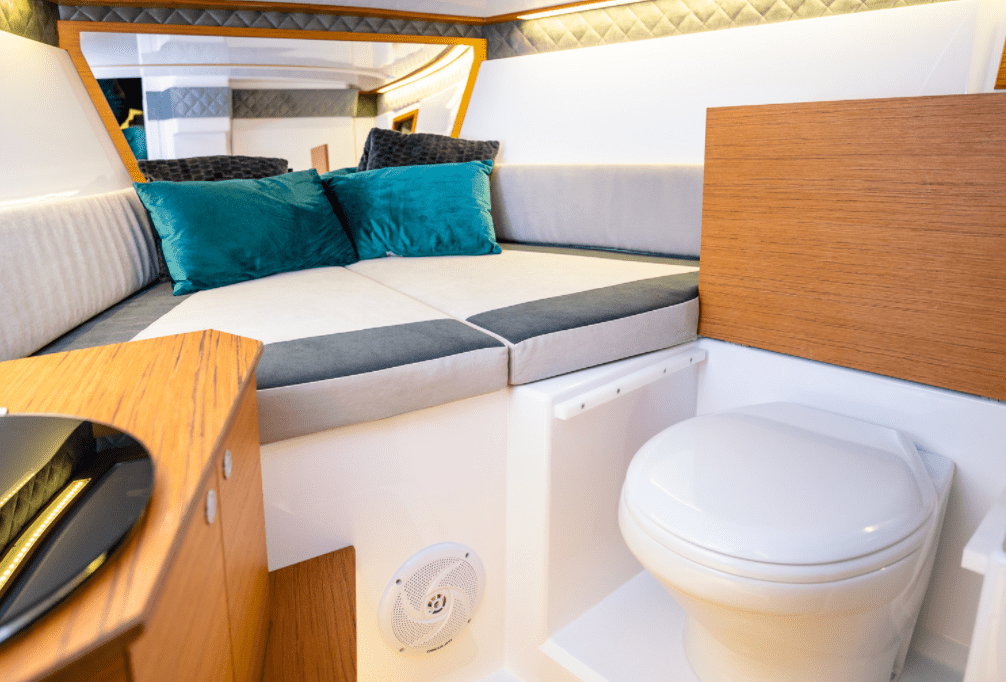 Cuddy boats may have a small marine toilet, whereas Cabin Cruisers typically have a fully functional toilet system with holding tanks.
Galley
Cuddy boats may have an external griller or a microwave, while Cabin Cruisers have fitted galleys with a cooker, microwave, fridge, and freezer.
Entertainment system
Cuddy boats lack these facilities whereas they are fairly common on Cabin Cruisers.
Air Conditioning
Air conditioning is normally restricted to Cabin Cruisers. Cuddy boats rely on natural ventilation.
Cost
Cuddy boats are generally less expensive than Cabin Cruisers.
Maintenance
Cabin Cruisers incur greater maintenance primarily because of a broader scope of equipment on board.
Let's start on Land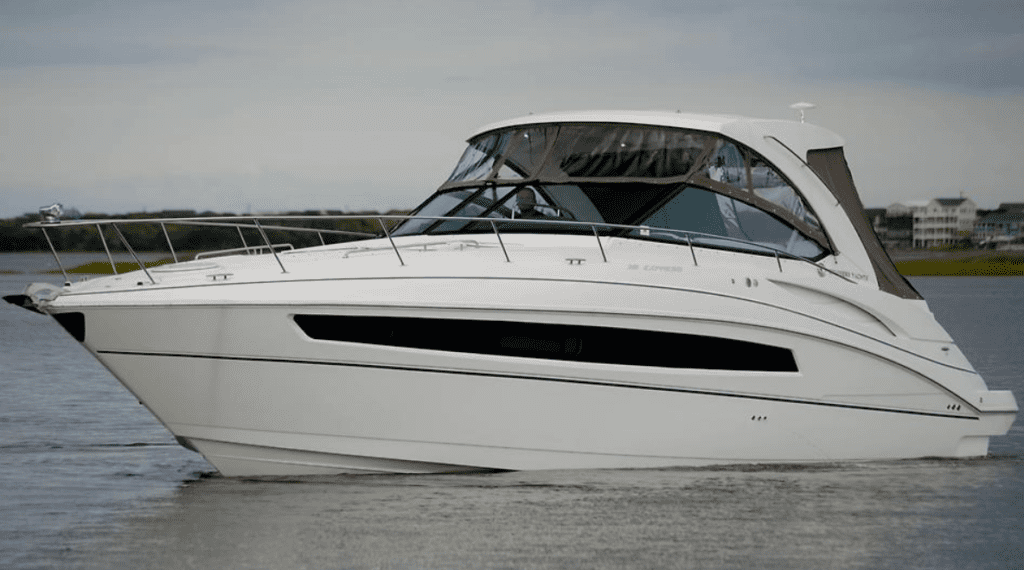 Cuddy Cabin boats tend to be smaller and lighter than Cabin Cruisers. The typical Cuddy Cabin ranges from twenty to twenty-five feet but can get up to thirty feet long. The smaller size and lower weight allow the Cuddy Cabin to be trailed around, so if you can select different bodies of water to visit, then the Cuddy may have the edge over the Cabin Cruiser.
Cabin Cruisers, being heavier, higher, and bigger, are more difficult to tow. In addition, the weight may require a bigger towing vehicle, and launching becomes a significantly more complicated process because of the boat's weight.
So in the towing department, the Cuddy scores a point.
'On the Water' comparison
Cuddy Cabins are nimble in the water. They can be used for skiing and tubing activities and are fast and responsive. They will have a higher top speed than Cabin Cruisers and get to that speed quicker. Cuddy Cruisers are great for zooming around. Ideal for family and friends to spend the day on the water skiing or towing one of the fun inflatable towable toys.
Fairweather is what the Cuddy Cabin boat thrives on. Sunshine and warm water are the essential elements in the Cuddy Cabin cocktail.
Cabin Cruisers are a little more sedate, but that is not to say they lack excitement. Many of them are happy to cruise at speeds in the high thirties and early forties, so they are by no means slow. However, it would not be clever to try to carve up the water with Cabin Cruisers.
Their weight and inventory are not intended for such teenage antics. Cabin Cruisers are all too happy to sacrifice a little adrenaline-pumping action for the convenience of a galley, bathroom with a separate shower, and a bedroom with Headroom.
Space in the Sun
Choosing a boat always involves a compromise. Cuddy Cabins give up deck seating to get some cabin area. Cabin Cruisers also give up some deck seating and sacrifice some performance to gain the home comforts of a galley and a bathroom.
I mentioned that the Cuddy Cabin was the favored boat in fair weather. All boating magazines show blue skies and happy guests sipping drinks while sitting in the sun. Cuddy Cabins are geared for that.
The barbecue grill handily fitted over the rail with the promise of succulent food to feed the hungry crew and guests with the kids splashing on the swimming platform. This is the world of the Cubby Cabin, and it is a beautiful world.
It is beautiful so long as the weather stays good, but when the wind comes up, and the clouds move in, then things change a little, and Cubby Boats will head for the shelter of the Marina as guests hurriedly look for windbreakers and jackets to keep warm.
Unfortunately, Cuddy Cabins have little protection from foul weather. The kids can scamper into the cabin, but the poor skipper is at the mercy of the elements. A bimini cover may protect you from the sun, but it is of limited use to keep the driving rain away.
Comfort when the weather turns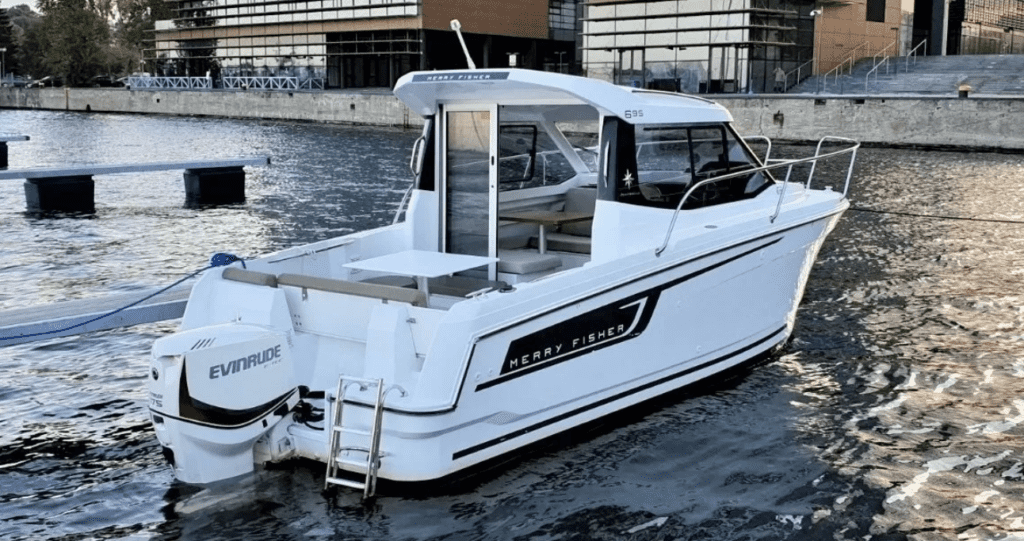 Cabin Cruisers, on the other hand, are geared to keep things comfortable if the weather turns. The steering position is protected from the weather, and guests can move inside to be warm and dry. In addition, the galley can provide warming drinks and tasty snacks to keep everyone happy.
Grumpy boat owners have all too frequently moaned about when they left home the sun was shining only to find a wet and soggy marina on arrival. This would be the end of the boating day for Cuddy Cabins, but for the Cabin Cruisers, things are not so bad. A rainy day on a Cabin Cruiser is when to attend to all the little things that crop up, calling for the toolbox.
The galley can serve up a warming drink, and you can curl up on the couch in the cabin with a good book and wait for the weather to improve.
So in times of the weather not coming to the party, the Cabin Cruiser has the upper hand.
It's all a question of time
One of the deciding factors in choosing the right boat for you is the distance to get to the boat. If you are a short distance away from your favorite body of water, then a couple of hours on the water is fine. However,  If the time to get to the boat is substantial, you will want to spend a longer time on the boat, quite possibly, overnight.
Another issue to consider is where the boat is going to stay. Cubby cabins lend themselves to being towed home as that saves boatyard costs and allows for maintenance to be conveniently done at home.
Cruisers tend to stay in the water either at the Marina or moored in the water. This saves the trouble of launching every time you want to use the boat. So with Cabin Cruisers, there is the element of the convenience of having the boat ready to set off with little dockside activity.
So it would seem that Cabin Cruisers have the upper hand in this area, but Cuddy Cabin owners will happily trade this for the freedom to travel to different boating destinations. So if you happen to live in an area with several boating venues, Cuddy Cabins would allow you greater venue flexibility.
It's not only Headroom
Lying down in the snug 'V' berth on a Cuddy Cabin Cruiser, you may wonder what all the fuss about Headroom or the lack of it is valid. For kids, a 'V' berth is a lot of fun. The world has shrunk to the appropriate size for them, but adults are forced to adopt crouching positions which are not quite as comfortable.
Cuddy Cabins are snug and intimate, providing the weather plays along. There are few Cuddy Cabins that offer aircon facilities, so natural ventilation is essential. Deck hatches do a great job in this regard, but when rain forces them closed, the cabin can get hot and stuffy.
Many Cuddy Cabins have toilets as part of their inventory. These are very different from the conventional type of toilets, and the marine toilet is often located under the ' V' berth and serves to increase the area of the 'V' berth. There is no separate bathroom for the portable marine toilet, and it will have to be taken ashore to be emptied. (https://www.practical-sailor.com/belowdecks-amenities/portable-marine-toilets-for-small-boats)
Cabin Cruisers adverts highlight the standing headroom feature as well as the separate bathroom. More points are scored if the boat has a separate shower. Because Cabin Cruisers are intended for longer stays onboard, these features are important, but they are just as welcome for the single overnight visit.
Holding tanks for wastewater are an integral part of the inventory on Cabin Cruisers, and the contents of these tanks will need to be discharged at dockside facilities.
Home comforts on Cabin Cruisers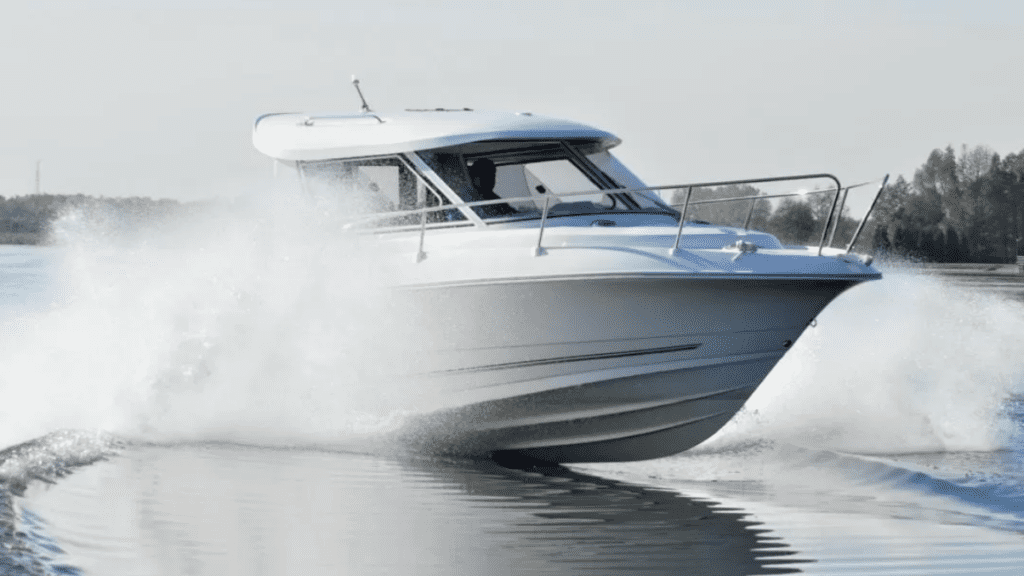 A galley also separates the Cuddy from the Cabin Cruiser. Hauling an ice-filled coolbox onboard is one way of keeping things cool on board, but a fridge on board is far more comfortable. Dining alfresco around the griller is a great social event, but if you would like to sit down at the dinner table for a meal, I'm afraid the Cuddy Cabin will not provide that type of service.
So when it comes to 'home comforts,' the Cabin Cruiser has a greater selection of features, but you will need to weigh up which of them are important to you.
FAQ's
Question: Do you need a license to drive a Cuddy or Cabin Cruiser?
Answer: The requirement to have some qualifications to drive a boat largely depends on where you live. Some states have no qualifications required, while others insist on some qualification or attendance at a boating safety course.
Many States have the requirement depending upon the age of the skipper. The US Coast Guard Captains License is a popular qualification but is not a legal requirement to operate a boat.
It would be best to check with your local authority before venturing out on the water.
Question: How much maintenance is required for Cuddy and Cabin Cruisers?
Answer: Because Cabin Cruisers have significantly more equipment, onboard their maintenance requirements are greater than the Cuddy Cabin. A significant issue is the maintenance required as a result of the boat staying in the water. Marine growth will have to be removed on an annual basis, and this will also involve docking costs if the boat is too big for a trailer.
Cuddy Cabins can be housed at home, often in a shed or garage. The effects of the weather are minimized under these conditions, while the Cabin Cruiser floating at the Marina enjoys no such protection.
Question: Do I need special lights on my boat for night sailing?
Answer: No matter the size of your boat, you will require special navigation lights on both Cuddy and Cabin Cruisers. The type of lights is dependant on the size of the boat. For boats under forty feet, port and starboard, lights are required together with a white stern light while underway and an all-round white light while at anchor.
Conclusion
Both the Cuddy and the Cabin Cruiser have many appealing features, and your choice of boat will depend mainly on the amount of time you intend to spend on the water. For day trips that may extend to one overnight passage, the Cuddy Cruiser will be great for two people; however, if you envisage longer passages, including more than a single night on board, the Cabin Cruiser's appeal increases.
Similarly, the number of people on board also plays an important deciding factor. For two people, the Cuddy is cozy and intimate. Kids will love the Cuddy Cabin, and I know many parents who have converted the aft deck seating into two bunks and happily spend a night on the water with the kids safely tucked up in the 'V; berth. That is great for a night providing the weather plays along, but for any more than two people, the space of the Cabin Cruiser is a significant drawcard.
Most boat owners spend a day on the water, and usually, this would involve using the deck seating. This seating is used the most, and deck space is often the deciding factor in choosing a boat. Remember that Cuddy Cabins diminish the amount of deck space because the'V' berths have to be at least six feet long to accommodate one or two adults. The Cuddy Cabin is a great feature to accommodate sleepy kids or stow equipment and save you schlepping it on and off the boat every time you head out on the water.
However, if you are looking for more than that in terms of space or amenities, then the Cabin Cruiser with Headroom, galley, bathroom, and separate shower would make your time on the water so much more enjoyable.
For more interesting readings check out: