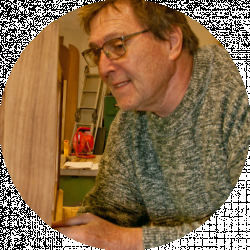 Latest posts by Mike Lillyman
(see all)
Pontoon boats have a couple of advantages. They are relatively cheap. They are incredibly roomy and, best of all, are remarkably stable. All these factors combine to give you a wonderfully diverse range of ideas to make your boat the most comfortable vessel around. Here we will home in on some great ideas to lift your vessel from a floating box to a boat of spectacular live aboard convenience.
Monohull boats of similar length have nowhere near the space that a pontoon boat possesses.  So let us have a look at some Amazing Pontoon Houseboat Ideas that will offer you a number of ideas to make the very best use of all that space.
What is unique about a Pontoon Boat?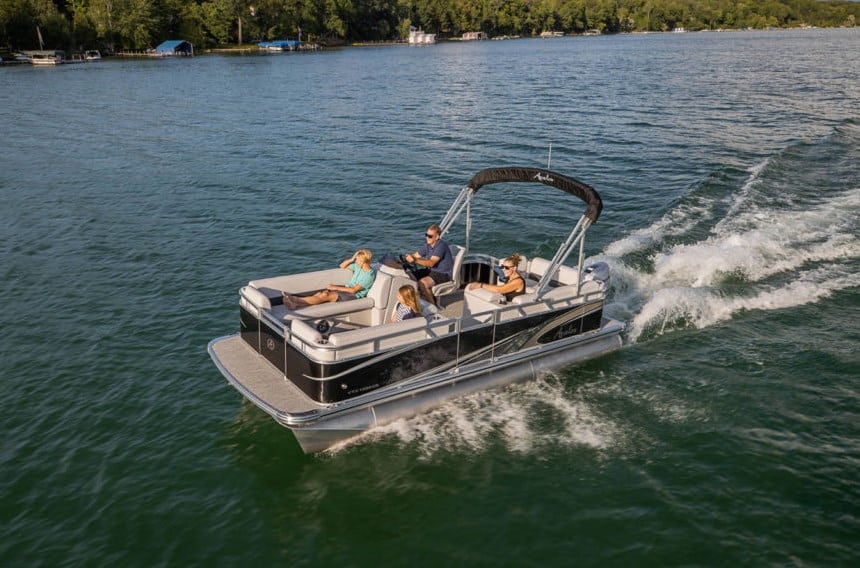 Pontoon boats have two or sometimes three hulls. Because the hulls are at the extreme sides of the structure, the boat is incredibly stable and free of monohull boats' listing moments. Pontoon boats have a bridge that connects the two hulls, and sometimes a third hull is added in the center of the boat to assist in floatation.
The platform created by the pontoons and the bridge makes the ideal foundation for the House Boat.
A short note of warning. Pontoon boats don't like a lot of weight, so avoid the temptation of adding heavy items, except, of course, an inverter which we will see a little later; this adds a new dimension to convenience onboard.
Let's begin with the incredibly versatile Swimming platform
Ask any Pontoon Boat owner what they see as an essential item of equipment. They will tell you it is the Swimming Platform. Swimming Platforms come in a variety of designs, but essentially they all share one common objective. Getting people in and out of the water as efficiently as possible is their purpose. If you have ever tried to get back on board a boat with no Swimming Platform, you will understand how disarmingly difficult it can be.
Swimming Platforms are most commonly fitted to the transom of the boat, so are outboard motors. It is essential to make sure that the two do not interfere with each other. There is also a serious safety factor involved here. A spinning propeller close to swimmers is something to avoid, so take care with the design of the swimming platform.
Some designers have solved this problem by having the swimming platform located on the side of the boat. These custom-designed platforms flip part of the deck seating over to create a swimming platform on either side of the boat.
Neatly avoiding the danger of the spinning propeller, but, like most things, there are other problems associated with side-mounted swimming platforms. Unless the boat has a swimming platform on either side of the boat, the mooring may be limited.
Swimming platforms can begin as relatively simple affairs consisting of a hinged platform around the waterline and then grow in complexity, finally ending up as hydraulically controlled decks that can be raised and lowered from the bridge or a control station on the Stern.
Simple swimming platforms bolted to the transom have the disadvantage of being difficult to get from the water. It's a bit like trying to get out of the deep end of a swimming pool with no steps. More sophisticated platforms have ladders fitted to them. The ladders have one, two, or three steps that make getting out of the water so much easier.
Platforms that can be raised and lowered into the water are more expensive but have some significant advantages. First, they can be positioned below the surface, which makes alighting so much easier. Best of all, they can be used as a cocktail seat where you and your guests can happily sit and toast the Goodlife. Some top-of-the-range models also contain storage areas for drinks.
Swimming platforms are a fantastic way to maximize the enjoyment of the water and will be the 'go-to spot' for your guests on a sunny day.
Platforms that are hydraulically powered require some source of electrical power, generally in the form of batteries. These need to be charged, which leads us to the following excellent Pontoon Houseboat Idea: Solar Panels.
Solar Panels for Pontoon Houseboats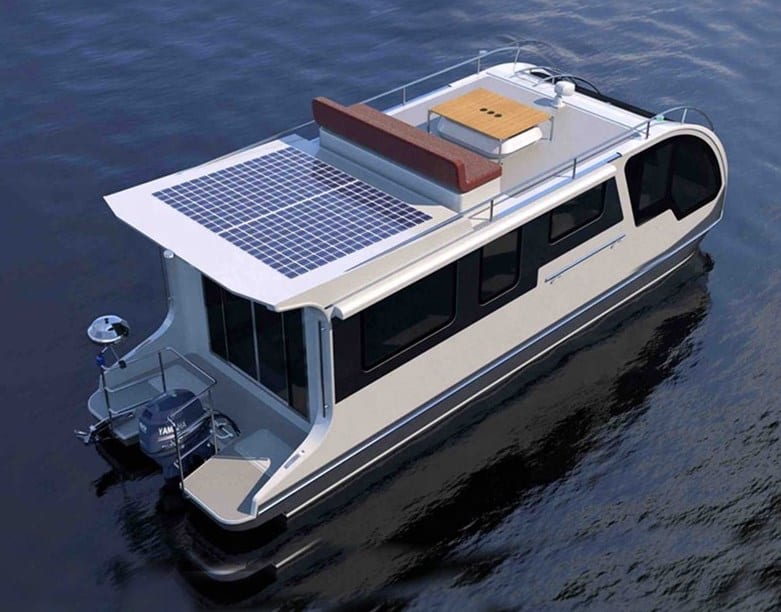 Solar Panels bring the convenience of home onboard your Pontoon Houseboat. You do need a couple of other bits of equipment, but the panels are the source of the power. Solar Panels serve the dual function of providing energy and creating roofing. Flexible panels can also be fitted to gently curving sections of the deck.
The number of Solar Panels that you can fit depends on the size of your boat. Still, the generally rectangular shape of Pontoon Houseboats provides a significant advantage in the efficient housing of panels.
Once the ancillary equipment has been fitted and an inverter is connected, you are ready to enjoy all the home comforts and more. It's a little like having a home extension cable onto the boat, and it can handle most appliances and equipment.
Inverters are heavy, well the battery, or for larger units, the batteries, are the weighty components. So they need to be stored somewhere low down but protected from the chance of getting wet.
With the inverter charged up, the world of home comforts can comfortably settle down on your Houseboat. A chilled beer or soda is always available from the freezer. Lights for nighttime activities are no problem, as are most other low-energy-sapping devices.
The genuinely remarkable advantage of solar panels is that they work whenever the sun shines, so you can be pretty sure that even if you have not had the chance to get to your boat for a while, the batteries will be fully charged. With this available energy source, why not fit an underwater video camera and have the screen positioned so the crew and guests can view what goes on under the boat.
There is a vast range of cameras and screen combinations available, from those setups dedicated to finding fish to units that are permanently mounted to the underside of the boat. My suggestion is to find a camera fitted to a bracket that allows it to be brought back on board when not in use. Cleaning, maintenance, and security are all made easy with this arrangement.
Apart from the saving graces of a video screen showing the underwater life to kids on a rainy weekend afternoon, the underwater video camera is a helpful aid when approaching new mooring spots. While we deal with the video camera, why not try a fishing camera. Great for tag and release fishing. The camera is attached to your line and films the fish being reeled in. No longer will you have to suffer the incredulous look from your listeners as you regale about the monster you caught last week. Simply replay the video to prove your Poseidon acumen.
So having electrical power is excellent, but the other essential item for your Pontoon Houseboat is Water.
A water supply is Essential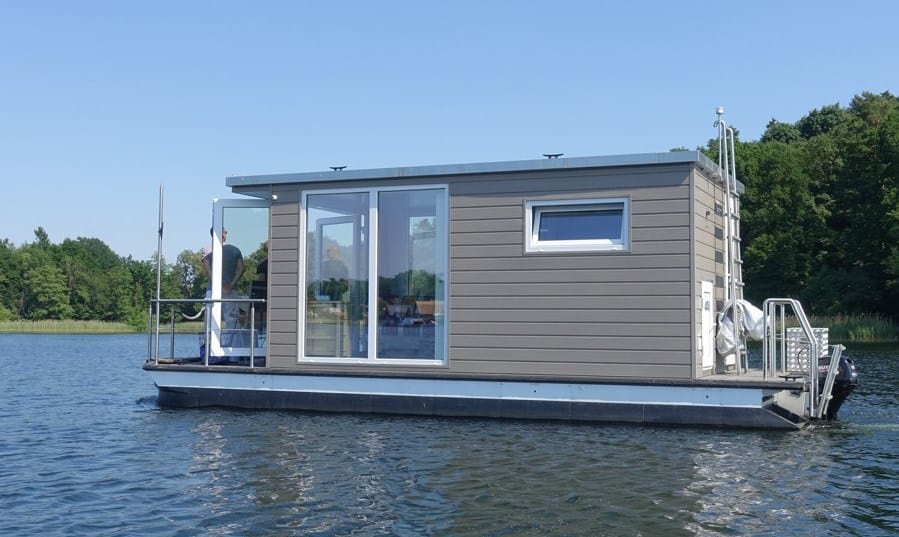 It sounds crazy to talk about water when surrounded by it, but there are many issues regarding the supply and discharge of water on your Pontoon Houseboat. Let's start off dealing with the water supply.
The water supply is divided into drinking (potable) and nondrinking water. Nondrinking water refers to water used for flushing toilets and water used for washing down the boat. This is water taken directly from the source and pumped into the system directly via a self-priming pump.
Potable water is usually stored in a tank positioned inside one of the pontoon hulls and sometimes two hulls. The tanks are either filled with clean water at a marina or through a filter system to obtain water from where you are floating. There is an enormous range of filter systems available both for fresh and seawater). The most appropriate design for you depends on the size of your Pontoon Houseboat, the type of water you sail in, and the amount of time you spend on the water.
Having a dependable supply of water onboard allows for the convenience of a bathroom. So let's be nautical and call the bathroom 'the Heads.' Positioned in the Heads would be a toilet, hand basin, and, if big enough, a shower. Toilets require a Black Water storage tank. There are macerater pump systems with their own holding tanks that make the plumbing dead easy, but again you will need to comply with local regulations regarding the discharge of Black Water
The other type of water that needs to be removed from the Pontoon Houseboat is the Greywater.
Greywater is water that has been used for showering and general washing. Biodegradable soaps and detergents are encouraged, but it would be essential to become familiar with local legislation regarding the discharging of Greywater. A Greywater holding tank is typically fitted into one or two of the pontoons.
Now that we have dealt with the items that make the pontoon Houseboat super comfortable, let's look at some great entertainment ideas.
Some Ideas to make the House Boat the best Party Boat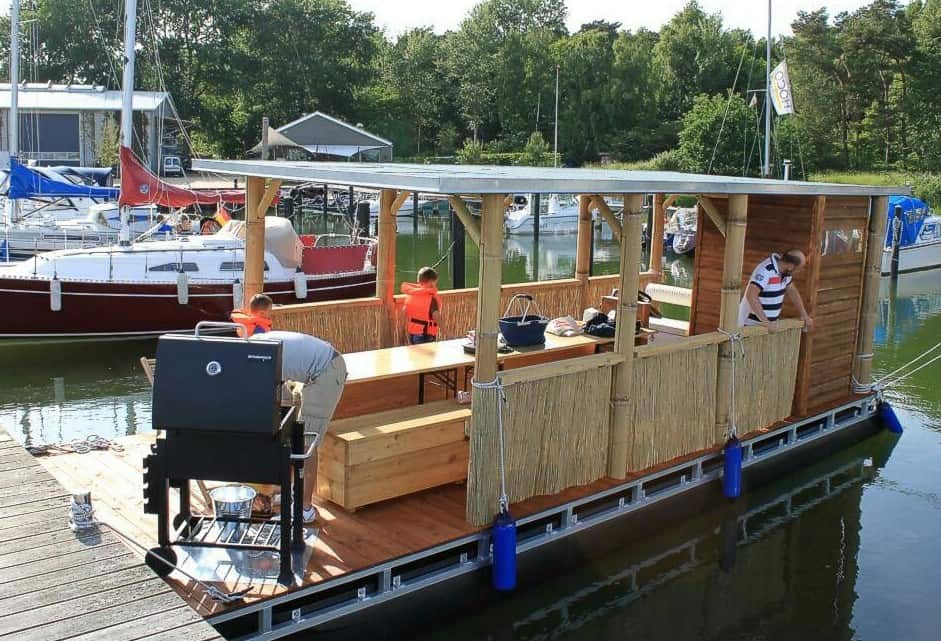 A Griller is the number one piece of equipment to create a fantastic party atmosphere on board. There are so many different designs and makes of great grillers available, so look at the range (https://lilgrill.com/best-boat-grill/) to find one best suited for your Pontoon Houseboat.
Grillers have all the advantages when it comes to cooking on board. They have their own source of power or can be hooked up to the gas supply onboard, and they can be positioned conveniently over the rail to allow for easy access while not taking up any space onboard.
Grillers allow the host to join in with the guests while cooking, so I would rate having a great griller onboard as one of the best bits of equipment. A little note of caution regarding the storage of meat and other foodstuffs: make sure that raw food is appropriately stored in a cool box or refrigerator to avoid any contamination.
Having a fun crowd of guests onboard is excellent, but after a couple of hours in the sun, they will be looking for some protection to avoid painful sunburn. This is where a well designed and constructed Bimini top is the star performer (https://www.globosurfer.com/best-bimini-tops-for-boats/)
The Bimini Top allows guests and crew the benefits of spending time on deck and being protected from the sun. The brilliant idea is to design the Bimini Top that can extend over the Swimming platform.
Some other fun ideas for your Pontoon House Boat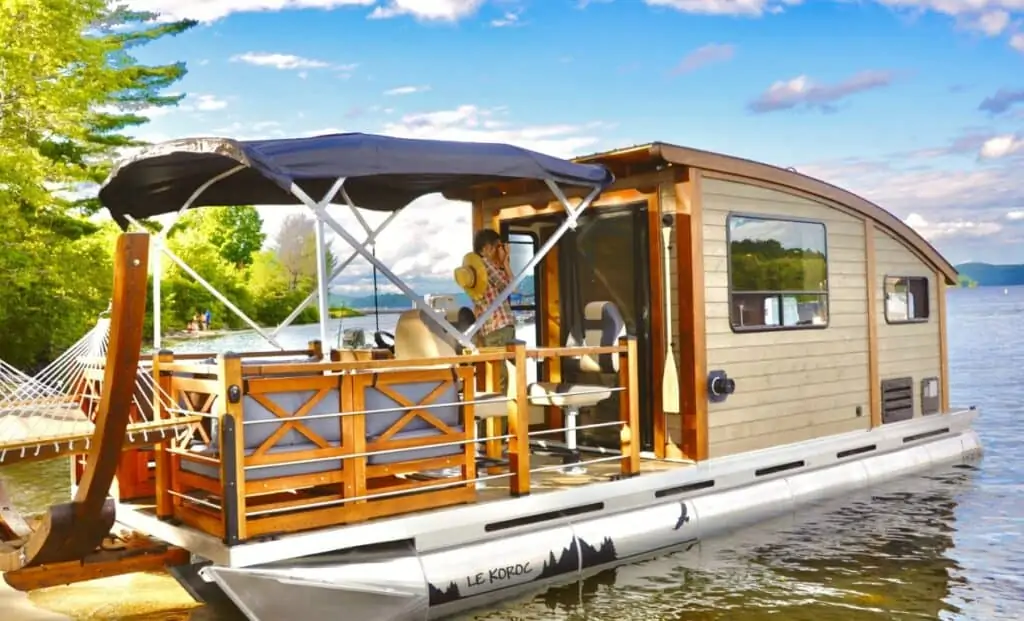 Loungers are a great addition to the Pontoon House Boat. Guests can wallow in the water alongside the swimming platform. Loungers come in a variety of forms, but those with seats and backrests are better. The great idea is to tie the loungers together so that they stay around the Swimming Deck.
While loungers are great for adults sipping a cold refreshment, kids will love the floatation mats that come in various colors and sizes. Of course, these mats can never be too big, but the great thing is that they roll up and take little storage space. The typical size of these floatation mats is sixteen feet by six feet so that the kids can have a fun time with their friends on these mats.
On the more expensive side of things, a PWC (Personal Water Craft) may be just the thing to add a little speed to your time on the water. Starting at around $ 5 000, they are fantastic fun and can be used to swiftly head back to the marina to fill up with ice and other essentials. In addition, they can serve a real purpose in assisting in maneuvering the House Boat in tight areas, so that is the line I would take in making a case for why the PWC is essential.
Moving down the economic scale, Personal Boats cover a wide range of boats from kayaks, canoes, and even electric surfboards. They all provide enormous fun and healthy exercise for kids and adults. Having a crowd onboard your House Boat is a lovely social time, but these crafts allow you to slip away for some quiet time. Best of all, it's all healthy exercise. Most of these Personal Boats come in inflatable versions, which makes stowing them so much easier.
FAQs
Question: How should Blackwater be discharged?
Answer: There are stringent regulations regarding the discharge of Blackwater from vessels, and Pontoon Houseboat owners must comply with them. The site (https://www.h2oinc.com/blog/2020-boat-sewage-regulations-what-boat-owners-need-to-know) sets out clear rules regarding the release of Blackwater, but there is another side to this issue. We all enjoy boating and being out on the water.
Enjoying boating implies that we all share the responsibility of keeping the water we sail in clean. Regulations are one thing, but adopting responsible boating practices will encourage all boat enthusiasts to have a cleaner and healthier environment.
Question: Are there any restrictions on lights on Pontoon Houseboats?
Answer: Having nighttime lighting on your Houseboat is a valuable convenience. Subdued lighting in a sheltered cove will not cause any disruption to other boat users in the area.
The situation is different if you are positioned near a busy waterway. Here you will have to comply with regulations and also ensure that your, shall we say, recreational lighting cannot be confused with regulation lighting.
Having bright lights tied up in a marina may interfere with other guests in the marina, and appropriate consideration should be given to neighboring boats.
Question: Can Pontoon Houseboats beach Stern to?
Answer: Houseboats tend to concentrate activities on the aft deck and swimming platform areas, so it would seem an excellent idea to approach welcoming sandy beach stern-to. Well, nothing is preventing you from doing so, but additional caution is required to avoid any damage to your boat.
The significant danger is that your propellers are going to hit the sand before the hulls. You can raise the propellers to avoid this with outboard motors, but you will be at risk for your propellers and rudders hitting the sand with inboard engines.
Mooring in Marinas is almost always stern, but the dangers of doing a similar thing on the beach make it a risky business. Something I would not recommend.
Conclusion
There is an almost irresistible urge to go boating. We talk of 'Sailing away,' but there is something so carefree and relaxing about listening to the quiet lap of waves against the hull and the sun going down over a tranquil sea. Pontoon Houseboats, with their shallow draft, allow you to explore sheltered coves and bays.  The generous size and shape of Pontoon Houseboats provide for a far more relaxed utilization of space. Added to this is the feeling of stability that a pontoon arrangement delivers. In normal conditions, Pontoon Houseboats will remain level. Drinks will not tumble from the table or slide crashing to the deck, and by a large, your guests will not get seasick.
You do, however, have to remember that Pontoon Hulls are not good at carrying weight. This is significant because the additional weight will reduce the freeboard height, so take care of the additional weight you bring on board. Remember also to consider the extra weight of guests coming on board. Some discretion may be required in this regard. Happy sailing.
For more interesting readings check out: