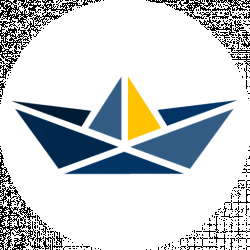 Latest posts by Jeanne Murugami
(see all)
In the mathematical sphere, tri means three. It's no different with tri boats that encompass a hull fitted with three floats made from either aluminum or fiberglass material. These floats are the basic floating mechanisms that define the efficiency of a tri-hull boat. Therefore, let's review some top-notch and highly rated tri-hull boat types and models.
For sailors, stability is paramount since it defines a boat's safety. This principle of stability is incorporated in tri boats for sailors to realize the boat's full potential and increased stability and capacity. That's why most tri-hull boat manufacturers design their boat models with the ability to offer comfort and overcome any sea conditions.
However, with the many tri types, you'll find the tritoons, which are pontoons on three floats. Similarly, there are also the trimaran types and models which embrace the same floating technique.
Here we'll focus on the trimaran boats that are sometimes referred to as cathedral or tunnel hull boats. We'll categorize or pay attention and emphasize the boat's price, stability, speed, weight, and tube filler.
Corsair Trimaran: Best Tri-Hull Boat for Deep Sea Sailing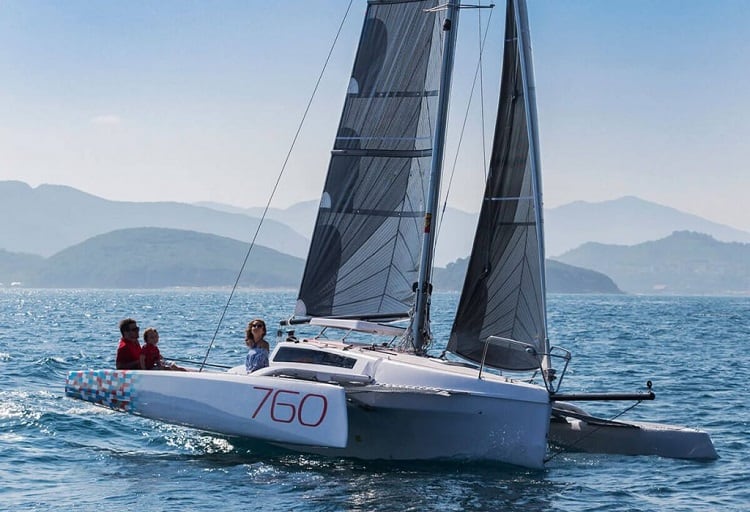 Corsair is one of the most popular and trusted trimaran brand manufacturers. However, the brand is also well known for manufacturing other tri boat types and models. It has a diverse series, but the most popular are the 25, 48, and F27. This series incorporates different and futuristic features which enthusiastic sailors highly regard.
Sailors mostly use the Corsair trimaran boats for either racing or adventure because their high-performance capabilities make them a perfect choice for boating racers.
Some standout features include a small cabin, which is spacious enough to hold two or three persons simultaneously. It's also fitted with a 455hp outboard or what the manufacturer refers to as a motor sail.
The beam is exceedingly wide, and the draft has a deeper depth. This increased depth is effective in rough waters since it allows the boat to stay sturdy and dry regardless of the sea waves. Also, it creates extra space for inhabiting and storage which is otherwise with most trimaran boats.
The boat's mainsail is foldable, which eases logistics and storage. With this modern work of art trimaran boat, engineers have made them even better with elevated efficiency.
Pros
It weighs less but performs more.

The Corsairs carriage capacity is huge.

Increased stability.

It's very spacious.

The boat is easy to maintain, operate and own.

It weighs less but will carry more weight.
Cons
Dragonfly Trimaran: Best Tri-Hull Boat for Family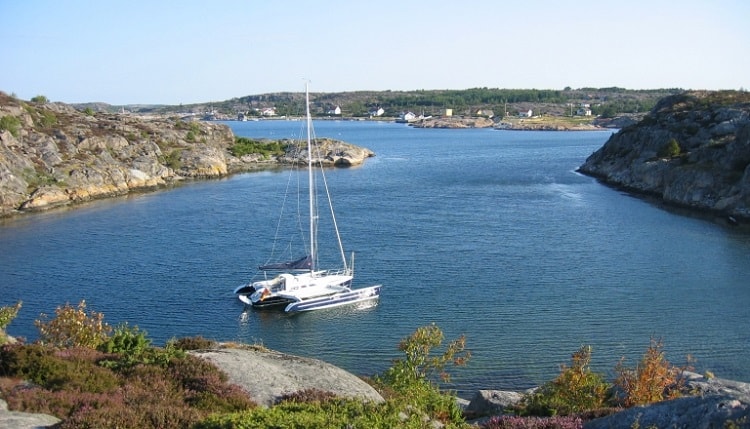 Like the various trimaran types, the Dragonfly trimaran comes in different series, the 25, 28, 32, and 40. Here, we'll review the 40 series, the latest, most sophisticated, and refined performance. Each Dragonfly is a work of art and can be individualized. The choice of material is unlimited in case you want it custom-made.
This is where you find the assorted series with various features and capabilities. Nevertheless, the Dragonfly 40 model's technical beauty, high power, flawless, serrated edge design ensures the trimaran maintains its functionality.
Its handling is refined and improved compared to the previous series. A spacious and stylish cockpit incorporates modern interior designs that offer comfort and safety.
The 40-model comes in two distinct versions, which are the standard and ultimate versions. However, the latter has higher performance, especially if the boat is cruised using the sail mechanism. It comfortably accommodates eight persons maximum.
They'll say perfection is never achieved, but today, Dragonfly designers have perfected and purified the Dragonfly trimaran boat potency.
Pros
Spry performance.

Easy to ride or sail.

The trimaran offers extra comfort.

The trimaran comes with a motorized system.

It hits 13 knots effortlessly.

Its compact design allows for better performance.
Cons
Its operation is a bit complex for a novice or beginner.
Weta Trimaran: Best Easy to Sail Trimaran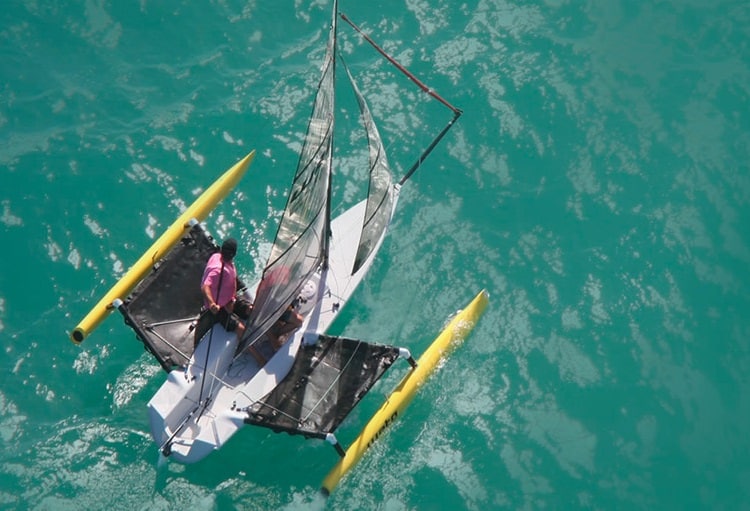 It's one of the few handcrafted trimarans you'll find around. The hull is all carbon fiber, and the cavities are filled with foam to increase stability and improve the boat's buoyancy. The carbon fiber is known to be very light, which tremendously aids in its performance. The Weta trimaran is easy to sail, and you'll be surprised by how fast the boat sails.
The mainsails are specially designed to sail the boat under any wind conditions. If the winds are strong enough, the tri-hull will reach 20 knots maximum speed. Setting up the boat is not very demanding, and the tri-hull boat comes with a beach trolley for fast launching. If you love sailing with family, it has more than enough space.
Its storage compartments are sizable, and they're designed to stay dry regardless of the water conditions. For the Weta manufacturer, the focus is to give users with a robust and sturdy boat that either novice or seasonal sailors can use. 
Pros
The Weta tri-hull boat is very stable.

It's lightweight and versatile. 

It offers greater buoyancy.

High performance.

The boat is relatively fast.
Cons
Neel 65 Evolution: Best High-Performance Trimaran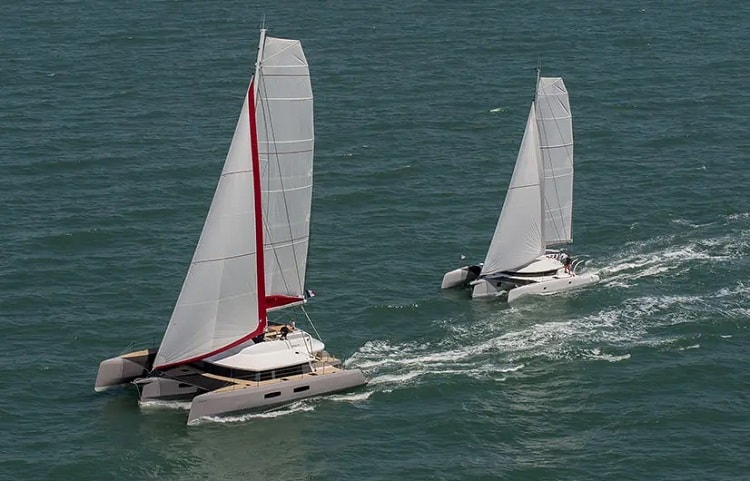 The Neel 65 Evolution trimaran is meant for racing enthusiasts or sailors with the need for speed. This tri-hull boat is designed and engineered through a collaboration between Neel and Tensyl racing company.
Tensyl has fitted the try hull with technology that analyzes the boat handling, then compares the data with the boat's specifications. This allows the boat to apply the right sailing safety margins while also regarding the load weight on the boat.
The technology is tailor-made for only the 65 Evolution, and you won't find it in other models. Its exterior is made from either foam or PVC, which is vacuum bonded then covered with glass fiber.
This strengthens and improves the boat's structural integrity enabling it to overcome the roughest ocean or sea conditions. The floating boards are made using honeycomb polyester, which is also vacuum bonded.
The Neel 65 Evolution comes with a diesel engine delivering 150 HP and a 263gal fuel reservoir. It hits 10 knots with ease, and it's possible to sail the boat using the mainsails instead of the engine.
The mainsails are uniquely designed to sail the boat under just a few breezes. It's also fitted with a freshwater tank that holds 263gal, enough to serve you for a few days when you're out there in the ocean.
All interior fittings are tested to ensure they'll stay intact under all ocean conditions.
Pros
This fiberglass tri-hull boat is perfect for offshore sailing.

It's perfect for racing.

The boat is designed with the safety factor in mind.

It uses a mainsail and an engine to sail.

Much technology is available on deck.

It's very spacious.

It's possible to take long trips with the 65 Evolution.
Cons
The maintenance of fiberglass is costly.
Farrier F22 Trimaran: Best Versatile Tri-Hull Boat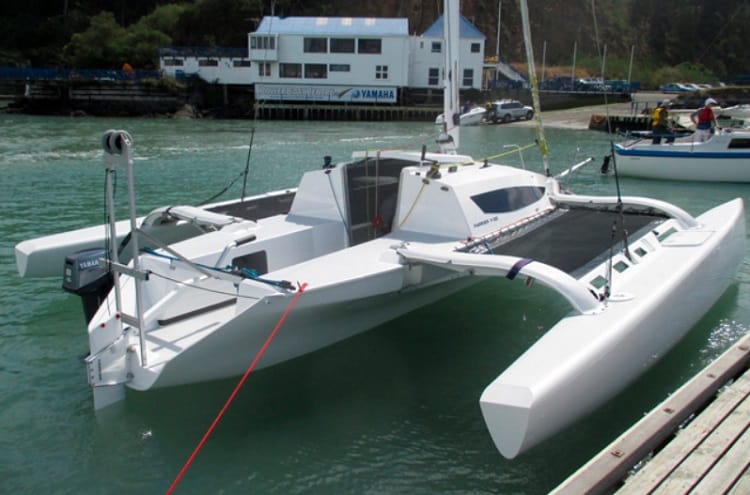 The Farrier F22 trimaran is a speedy, compact, high-performance boat that comes in diverse series. The three series include the F-22, F-22S, and F-22R. The maker categorizes them as standard, standard premium, and premium models, respectively.
The difference between the three series is the features, and it's possible to have yours custom-made by the manufacturer. The hull is made using two carbon fiber layers, and a thin foam layer is sandwiched between the two.
Then a layer of a water-resistant NPG Gelcoat is applied inside and outside the hull. Another vinyl ester coating follows this. All this guarantees the buyer that the hull will be leak-free for years if the boat stays accident-free. The farrier F22 has a third-generation beam that folds and doesn't require brackets.
This has greatly helped to eliminate beam corrosion problems that previous models experienced. It's equipped with the latest folding system to unfold and close the floating boards. This makes transportation, rigging, and launching stress-free.
For safety, the manufacturer ensures there are no foot traps on the whole deck area. You'll find massive waterproof storage lockers in the cabin for your luggage.
To help rotate the mast, the F22 is fitted with rotation control. The two masts are controlled individually for the S series, but one control rotates both masts simultaneously for the R series.
Pros
The cabin hatch opens to a standing level.

It has outboard brackets to fit an engine.

It stays dry when sailing.

Ideal storage compartments.

It weighs less
Cons
Not best for choppy waters.
SeaRail-19 Trimaran: Most Affordable Tri-Hull Boat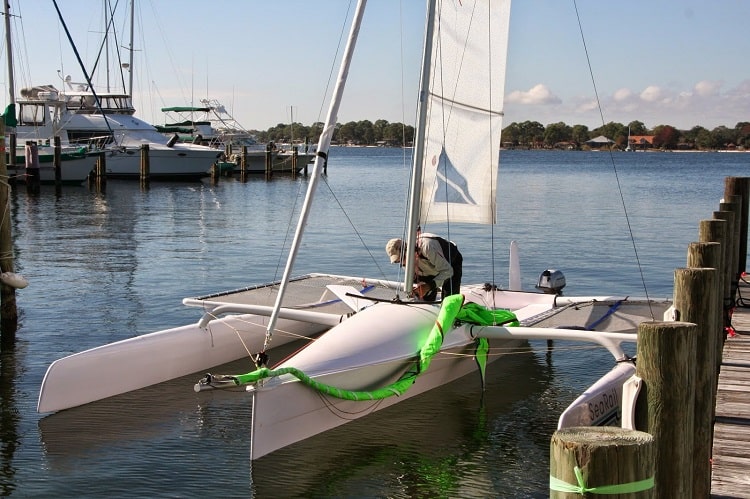 Among the many top-rated tri-hull types and models, you'll find the SeaRail-19 trimaran. It's a boat tailored to fit different sailors, and it's perfect because of its performance, affordability, and lightweight.
Therefore, if you're looking for a luxury boat that will offer an amazing and relaxing sailing experience, the SeaRail-19 offers exactly that. Its floats fold and unfold, and according to the manufacturer, it takes only two people just 15 minutes to rig and launch it.
The maker uses premium carbon fiber, an unsinkable PVC foam, and a marine-grade gel coat. It weighs 700lbs, and it carries six adults meaning it's possible to take a sail with your family if you wish. The standard model has an outboard mount, but the fabricator could fit an outboard engine at an extra cost if you wanted.
Pros
Affordable.

It's lightweight, and this allows it to sail fast.

Compact and rigid design.

It's very stable.

The boat is unsinkable.
Cons
It gets wet when sailing.
WindRider Tango Trimaran: Best Small Tri-Hull Boat

Trimaran boats come in different shapes and sizes. This dictates the best way to use the boat. If you need a small and affordable tri-hull boat,  the WindRider Tango Trimaran should top your list.
With its size, the trimaran carries only one person, and its setup will take you just a few minutes. You don't need to be a professional sailor to sail it, but a little bit of sailing knowledge is recommended. However, with the WindRider Tango, you can use it as your training boat if you're a novice.
It has a sporty design which is the most notable feature of this trimaran, making it perfect for racing. The boat uses two cruising systems, the mainsail, and a foot pedal.
Its design makes it almost impossible for the boat to capsize. The boat weighs just 140 lbs, and because of its small size, you can transport it using a truck, trailer, or roof rack.
Pros
It's Lightweight.

Perfect for beginners.

It's possible to control it hands-free.

Easy to assemble and disassemble.
Cons
It's not suitable for offshore sailing.
Diam 24 OD Trimaran: Beat Tri-Hull Boat for Racing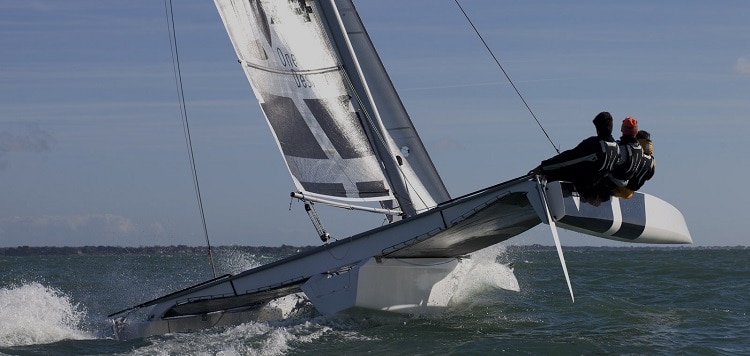 The Diam 24 OD trimaran is specifically designed to allow an avid racer to enjoy speed and glide. Its agility is incomparable, and it will withstand the roughest sea waters.
The main hull, beams, and floats are made using carbon fiberglass, polyvinyl chloride foam, and a generous gel coat layer. Even though the floats don't fold, they offer enough firmness, which is needed in racing.
Its standout feature is autonomous handling which means it needs no mechanical help to sail, and its manual handling requires minimal human interaction. The boat's coupling mechanism creates efficiency during assembly.
With its perfectly balanced design, the Diam 24 OD trimaran is seaworthy. The boat measures seven meters long and has a 6-meter beam. It weighs half a ton and carries four persons maximum.
Pros
It's a strong and sturdy racing boat.

It stays intact under extreme conditions.

Best for offshore sailing.

Its rotating carbon mast ensures it's easy to control.
Cons
It takes too long to assemble.

Beam couplers are prone to corrosion.
Factors to Consider When Buying a Tri-Hull Boat: Complete Buyer's Guide
Price
Buying a tri-hull boat requires making crucial decisions, and you can't circumvent it if you want to acquire a state of art boat. You need to ask yourself if the boat's price tag offers an equilibrium with its features and stability.
Are you getting your money's worth with the tri-hull boat? Today's tri-hull boats incorporate modern features and technology, which is somehow reflected by their high price.
Nevertheless, you're assured of finding a tri-hull boat that fits your budget without compromising on the standard features. Similarly, the availability of diverse models from different manufacturers creates price competitiveness.
This comes hand in hand with advanced features. Thus, it's possible to find an acme model with wonderful features and a modest price.
Filler Used in the Floats Tubes
The tri floats tubes are the reason these boats have great stability and performance. But it depends on the space filler used, which is either foam or ballast. Foam-filled floats or logs are the most favored and common among sailors because they don't add extra weight to the boat. As long as they're airtight, you're good to go.
Ballast filled increases the boat's weight which has a domino effect on its overall weight, thus diminishing its performance. Note that each filler has its benefits; therefore, it depends on how you intend to use the trimaran.
Weight
The tri hull's weight is the gross weight of the boat. Nonetheless, we have to refer to the Archimedes principle, which greatly influences a tri-hull boat. Displacement is the major factor here, even though tri boats are accustomed to planning. This means they float on water when sailing instead of sinking like the V-shaped hull boats.
The planning guarantees that a tri-hull boat will cause minimal displacement. However, if the boat is too heavy, it will sink and displace more water.
When cruising through the choppy sea, this will increase the boat's resistance or drag. In turn, it reduces lift which minimizes the boat's speed. Usually, you want a boat with less drag for trimmed high speed. Therefore, ensure you check the weight of the hull if you want efficiency and high acceleration.
Stability and Speed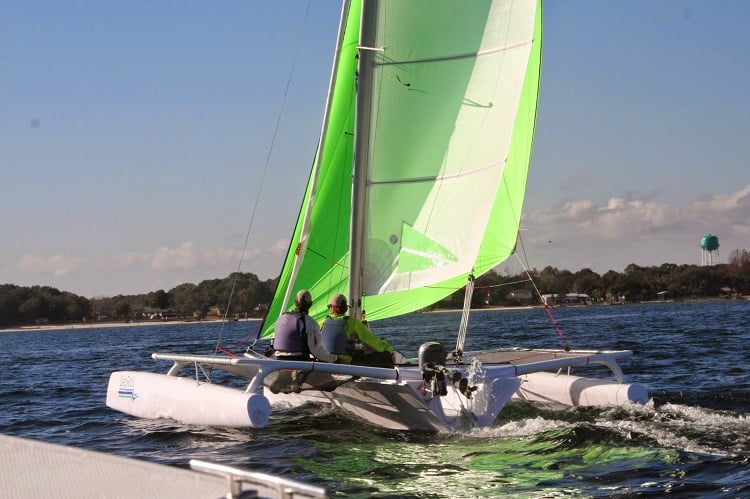 Tri hull boats will effortlessly clock high speeds above 50mph and their stability will remain uncompromised. The two floating tubes on the side are the difference between the trimaran and pontoon boats. The tubes allow greater stability and acceleration, but it depends on the sea conditions.
The boat might experience a rough ride if the waters are rough, considering it glides on the water, unlike V-shaped boats. But this doesn't destabilize the tri-hull boat, neither does it affect its speed. Therefore, if you're an angler or sailor with a preference or thrill for speed and stability, you should contemplate this first.
Frequently Asked Questions
Question: What's the Advantage of a Tri-Hull Boat?
Answer: Trimaran boats offer many benefits to avid anglers and sailors. With three tubes, its weight is equally distributed to each floating tube which ameliorates its stability. Likewise, the safety standards are improved since the two side floats protect the center hull tube from damage. Its exceptional flotation capability is also another advantage the trimaran beholds.
Besides that, a tri-hull boat is very spacious, and some of the latest models will hold up to 13 persons at a go.
Question: Are Trimarans Safe for Rough Waters?
Answer: Good seamanship dictates the ability of a sailor to get through bad weather in case you get caught up in one. This is regardless of the boat type and model. However, a tri-hull should withstand the agile sea conditions, especially if it's a sail and outboard power enabled.
Question: Is There a Difference Between Trimarans and Monohulls?
Answer: Yes, there is. The major difference between the two is in their flotation mechanisms. As the names suggest, tri means three while mono means one. Trimarans have a huge deal advantage over the monohulls because of the number of floating logs. These floating tubes create greater buoyancy, and some trimaran models are unsinkable.
Also, the stability and speed of the trimarans are phenomenal when compared to monohulls. 
Question: Are Trimarans Easy to Navigate or Sail?
Answer: Trimarans are very easy to sail, and they take water cruising to a whole new level. They are perfect boats for inshore sailing mainly because they don't have a keel which limits other boats. Their handling is similarly made easy by their lightweight enabling you to navigate and cruise at high speed with ease.
Question: What Are Trimarans Used For?
Answer: Tri hull boat types and models are used for diverse functions. But many trimaran models are mostly used for racing, sailing, or recreation.
Is it Possible to Have a Trimaran with An Outboard and A Sail System?
Of Course, it's possible. The zenith of the trimaran boat is the ability to incorporate the two sailing systems. This boat is considered as the transition between the monohulls and catamarans. They are the only models with the ability to use sails and an outboard concurrently.
This does increase the boat's efficiency, and if one system fails, the other falls in place and keeps you sailing.
Question: How Fast Can a Trimaran Go?
Answer: Trimarans might not be super boats, but they sail fast enough to be involved in recognized races. Some trimaran models have 20 knots top speed while others will comfortably clock 40 knots.
The size of the tri-hull, engine, or outboard will determine the trimaran's speed. Nevertheless, the wind's strength will determine the trimaran's speed if you're using a mast. 
Conclusion
Any asset buy requires risk assessment analysis to reach and make a credible decision. It's the reason we've reviewed some of the best tri-hull boat types and models. All this is meant to furnish you with trustworthy information that you won't find elsewhere.
Therefore, if you want to acquire a trimaran boat, you are bound to find one that suits all your needs on this long list. However, if you're undecided or uncertain which tri-hull boat stands out from the rest, we'll make a recommendation.
The Neel 65 Evolution is the Pinnacle of tri-hull boats. Its design exudes efficiency and reliability. If you check the carrying capacity, you'll be impressed, and it's very spacious.
This trimaran uses a mainsail and an outboard to sail. It has a unique technology that helps it maintain utmost safety, making it hard to capsize regardless of the ocean or sea condition. If you value safety and have a knack to sail for days in the deep ocean, then the Neel 65 trimaran is the perfect tri-hull boat for you.
Looking for more interesting readings? Check out: