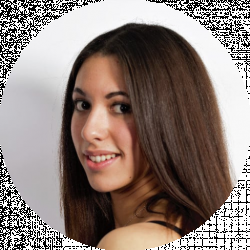 Latest posts by Alice Smith
(see all)
A Catamaran, also known as a cat, is an excellent watercraft for both sailing and cruising. It is basically a boat with two hulls instead of one. A monohull, or what you think of as a regular boat, has only one. A hull is the main body of a boat, including the sides and the bottom.
Catamarans come in a variety of types and models. So, if you're in the market for one, this article will help you understand everything you need to know.
What is a catamaran?
Catamaran boat types and models, as well as their advantages and disadvantages
What are they used for?
How to Select the Best Catamaran for You
Where can you get them? And,
The price of them
What Is a Catamaran
For those of you who are new to boating, let's go over the basics. As mentioned above, a catamaran is a boat that comes with double hulls. The two hulls are built to provide as much balance to the boat as possible. The hull is positioned such that it lies beneath the water's surface. The placement of the hull makes it safer and simpler for the boat to sail when high tides and fast currents strike with full force.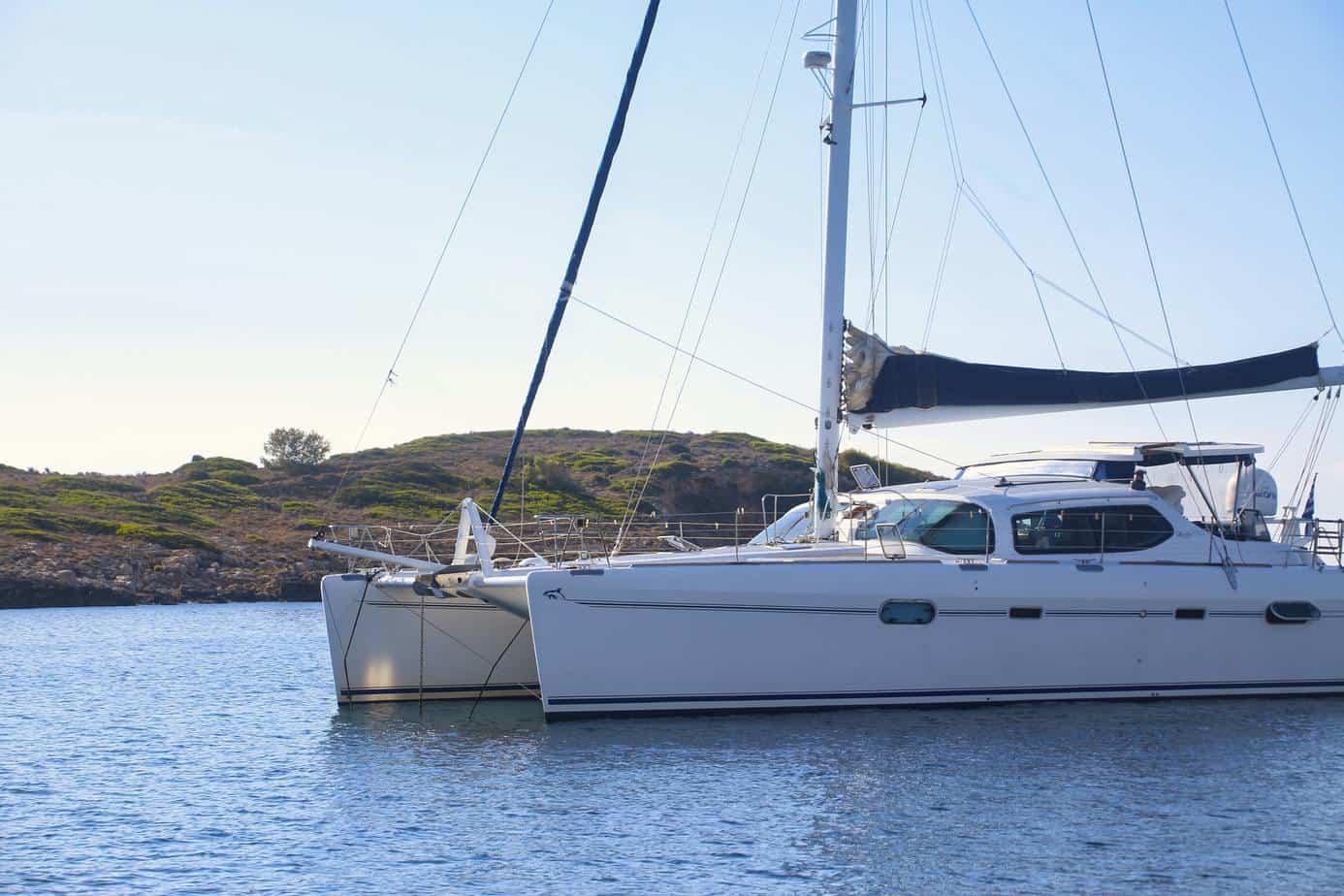 What Is A Catamaran Used For?
Over the years, the catamarans have evolved from being just a sailboat or fishing boats. The design and the construction have been modernized as well the usage and activities.
The catamaran was first designed for fishing, hence the double hulls, which provide balance. Today, the catamaran types and usage has grown into various branches. Now catamarans are one of the best boats for cruising and sailing.
What Is The Difference Between A Catamaran And A Normal Boat?
If you're only recently getting into boating, it might be a little tricky to tell the difference between two boats.
However, there are a few ways you can tell the difference between a monohull and a catamaran.
Shape
Hands down, the most visible difference between a catamaran and a monohull is the shape. A regular sailing boat has one hull which is the bottom. Catamaran boats, however, are a multi-hull. So instead of one, the catamaran boat has more than one point of contact with the sea. A platform across the top joins the two hulls, bringing them together as one vessel. Having two hulls, less of the catamaran is below the water, allowing you to sail it in shallower seas.
Sailing Experience
The extra hull on catamarans slow them down, so this is not the fastest among your choice of watercraft. Though both luxurious, a catamaran is not as fast as a yacht. Many seasoned boaters will tell you that sailing a yacht can be quite exciting due to its speed and the ease of changing directions.
Compared to monohulls, the heavy weight of catamarans makes them more stable on the water. It moves a little with the water, but it does not heel over as easy as a yacht would. This makes the catamaran an excellent option if you are a beginner or boating with children. It allows children to walk around on deck comfortably.
Freedom Of Movement
You might think the catamaran would be difficult to pilot around just it is heavy, but actually it's not. A catamaran is easier to pilot than a monohull. It has two separate engines, which allows you to adjust your position using one or both engines quickly.
A catamaran is able to turn 360 degrees within its own length. Furthermore, due to the fact that a catamaran has two hulls, wind speed and direction have less of an impact on it. The wind does affect the catamaran in the same way it does a monohull watercraft, but it only affects one hull, so the second one helps keep it steady.
Board And Carbin Space
Catamarans can be much larger than monohull watercraft since they have two hulls and a platform in between.
The catamaran is relatively wide, so it has a lot more space to maneuver about the water. As you may know, some monohulls, for example, are difficult to maneuver.
On a catamaran, the extra space is usually used to provide more seating areas like relaxing and socializing.
Most rooms are usually en-suite, but everyone on board would likely share the toilets on most monohull sailing watercraft.
Also, the galley area is large enough that it has a counter space and other domestic essentials such as a
cooking range,
dishwasher,
microwave,
fridge and freezer, lounging areas, and other stuff that makes your sailing experience a luxurious one.
Price
 Catamarans are more expensive than most monohulls due to their features and size.
They also have higher marina fees since they occupy more space in the marina.
For the nights you spend at a marina, you'll burn twice as much fuel in a catamaran as you would in a monohull. Overall, because of the two engines, the fuel cost will be doubled.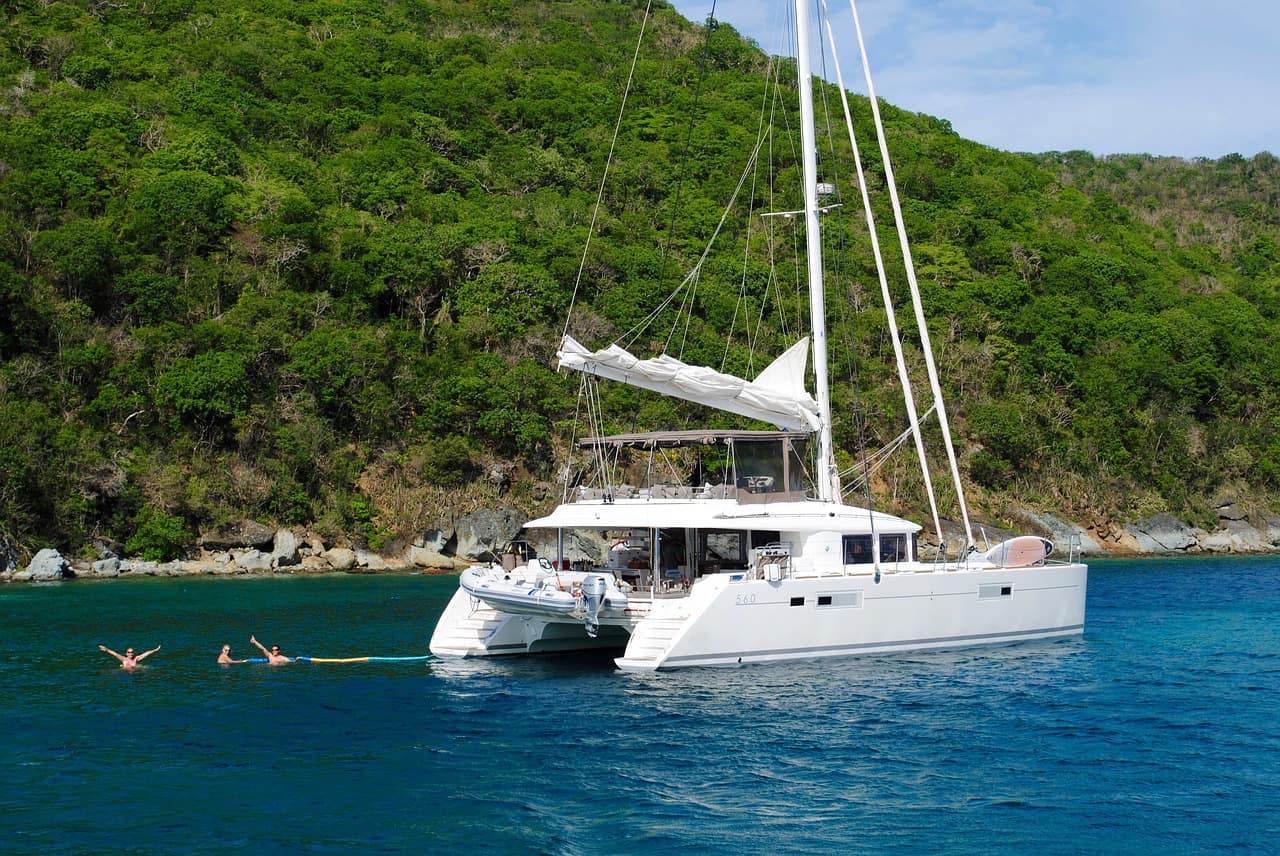 Types Of Catamarans
There are two major types of catamarans:
Cruise Catamaran
Sailing Catamaran
Cruise Catamarans
If you've ever been on a catamaran cruise, you know how wonderful the experience can be. The cruise catamarans boats are also known as luxury or ferry catamaran. They provide the highest amount of luxury to their passengers, and the addition of engines makes the trip more appealing to those concerned about safety.
The cruising catamaran is considered one of the fastest boats. It is able to travel to and fro at high speed.
The Stena Voyage, which operates on the Irish Sea, and the Victoria Clipper IV, operating between Seattle and Victoria in the USA, are prominent examples of cruise catamarans.
Sailing Catamaran
 If you have an interest in experiencing the life of a sailor, then the sailing catamaran is for you. This type of catamaran is used for recreational purposes by people interested in sailing. It does not have residing areas, meaning it is not designed for human comfort. In a day, the average journey length a sailing catamaran can achieve is up to 300 nautical miles.
Top Five Catamaran Models In 2021
Here are some of the newly released catamaran models in 2021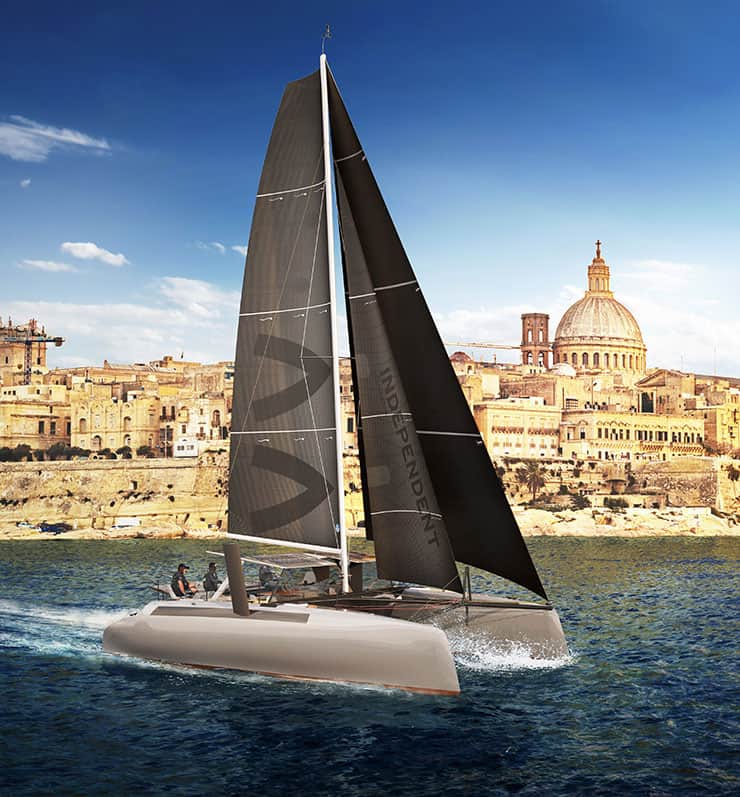 The Independent Catamaran's IC36 is known to be one of the fastest Catamaran models. If what you're looking for is a high speed Catamaran for cruising, then you should definitely consider IC36.
The IC36 has ultra-narrow hulls, high-displacement bows, and a spinning carbon rig with composite supports as an option.
Ultra-narrow hulls allow the boat to maintain stability even at high speeds on the sea surface.
The displacement hulls allow the boat to travel more smoothly through the water. Boats with displacement hulls move through the water by pushing the water aside. Because of how the hulls are designed, they cut through the water with very little propulsion.
You can clean up the leading edge of the airfoil by rotating the mast into the wind. This also helps eliminate turbulence.
The spinning carbon rig raises the lift force and advances the lift angle forward. By doing this, it allows you to travel faster and direct more accurately.
Special Features
In every category of boats, there is a series of unique features which makes them stand out. Most of these features can only be found in new catamaran models.
Let's take a look at some special features of the IC36.
Space – The IC36 catamaran is a very spacious model. It comes with enough space to hold up to eight people, and additional domestic essentials such as a fridge, two-burner stove, and shower.
Design and Safety – Many boaters claim that this catamaran model has a reputation of being unsinkable. As you know, one of the major reasons for capsizing is an overweight boat. The IC36 is constructed in epoxy-glass composite with local Kevlar
reinforcement and foam core. To further ensure safety, there are three buoyancy chambers in each hull. These help to maintain the weight below 3 tons, thus lowering the chances of capsizing.
Speed – The independent catamaran's IC36's speed reaches up to 20 knots and more. This is because of the light weight and the high-performance rig of this model.
Specifications
LOA: 11.00m / 36ft 1in Beam: 6.20m / 20ft 4in
Draught: 0.85-2.00m / 2ft 9in-6ft 7in
Displacement (light): 2,500kg / 5,512lb
Price ex VAT: €295,000 (for RAW)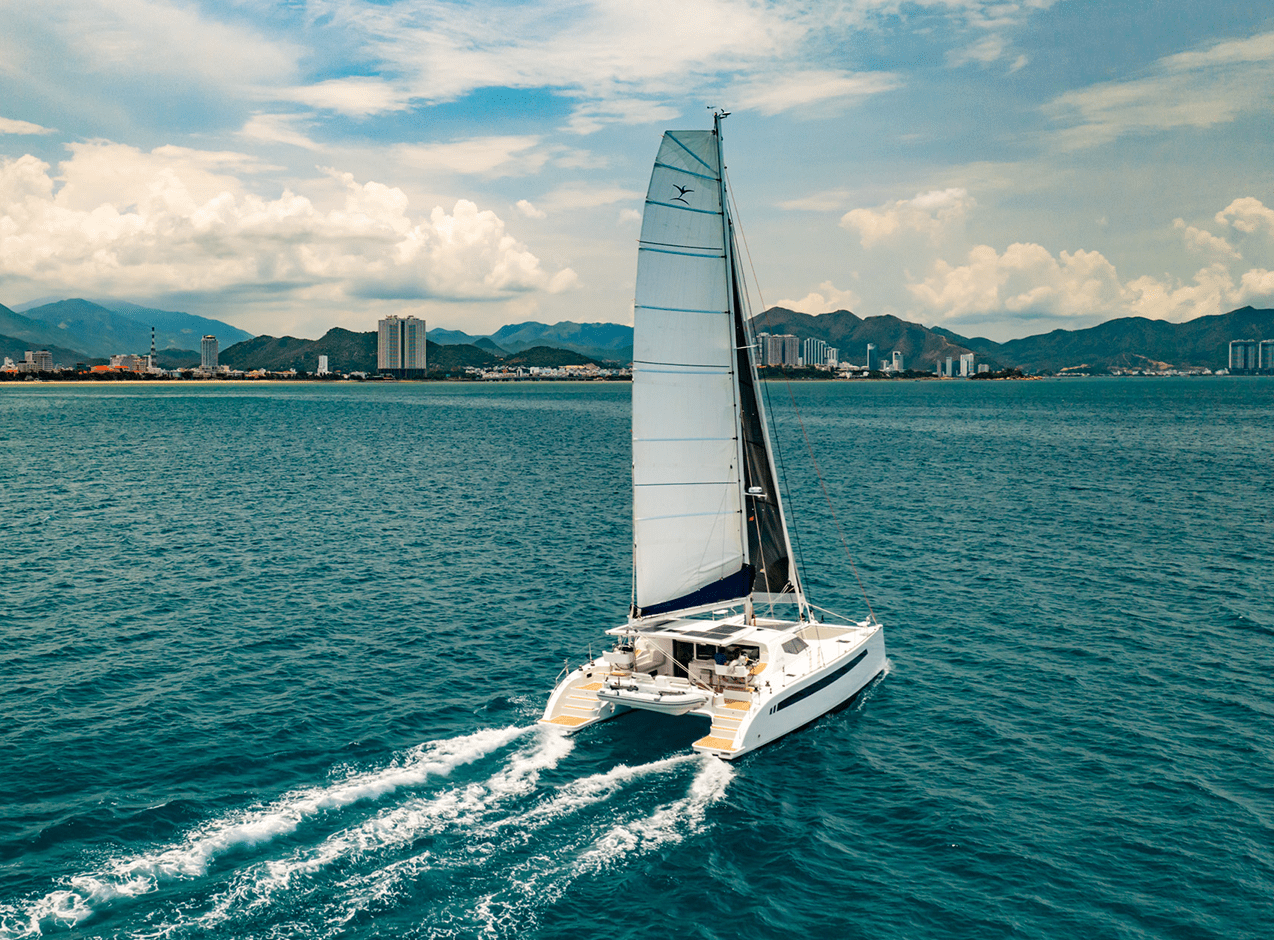 When it comes to cruising, this multiple award-winning catamaran is well renowned for being one of the best. The seaweed 1600 is capable of sailing anywhere and with anyone.
The blue water luxury cruising catamaran sets the bar for offshore sailing. Its easy seating configurations, twin shielded helms, and vast open cockpit space makes it stand out from other catamarans.
Special Features
Here some special features of the Seawind 1600.
Safety – While the Seawind 1600 provides you with comfort and luxury, here are ways it's been designed to offer safety.
Dual Helm Station – Every model of the Seawind 1600 has a dual helm station. It is positioned in a way that it offers 360 degree visibility even on the largest 1600 – allowing the captain to sail in crowded congested condition. And it also helps the captain keep an eye on the crew when offshore.
Large Targa Tops – The targa tops protects you from harsh offshore conditions such as rain and sun. You can pull it out from the ceiling right above the helm, and then back in whenever you want.
Panasonic Opening Widows – This offer ventilation and visibility. Finally, it's safe to say that Seawind 1600 offers the protection of a pilothouse watch, with the visibilty of a Catamaran.
Engine Bay – The seawind 1600 is well engineered. Everything in the engine is well labeled and easy, this provides easy access for maintenance.
Joinery – The cockpit joinery, cushions and stainless steel are high quality.
The solar panels which are on the roof, are recessed. There is a guttering system for collecting fresh rainwater. The interior and exterior furnitures such as the cabinetry are high quality veneer with solid edges.
Specification
Beam: 25ft 10in
Draft: 2ft 1in (boards up); 8ft 6in (boards down)
Displacement: 28,000lb (light ship)
Sail area: 1,558 ft
Fuel/Water: (GAL) 200/155
Engine: 2 x 57hp Yanmar
Price: $900,000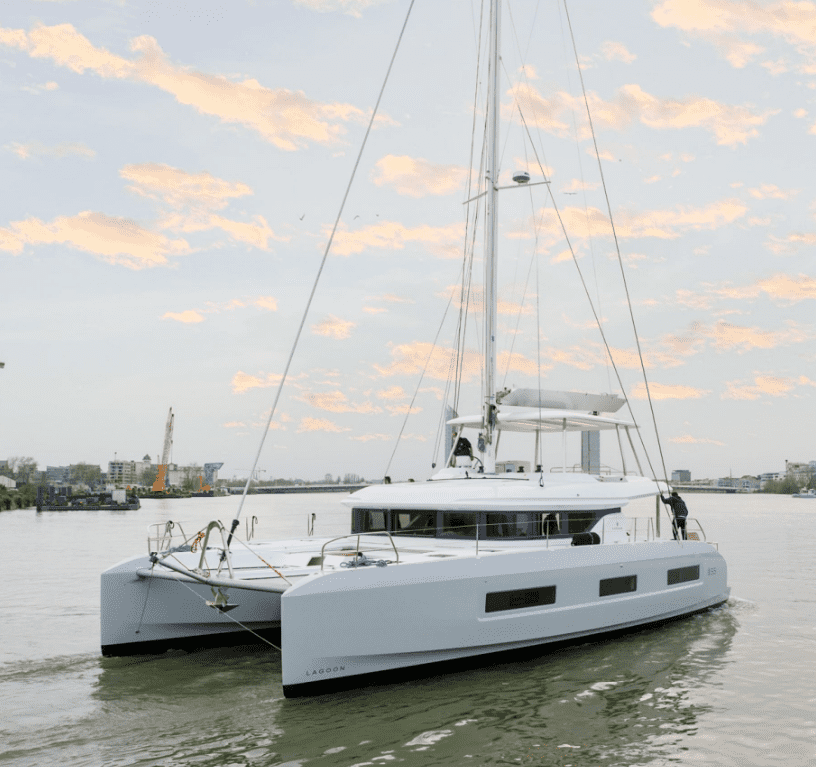 If all you want is a high quality not very luxurious regular boat, then the Lagoon 55 should be an option for you. The priority of this model, as with all Lagoons, is on comfort and ease of usage over speed and maneuverability.
Special features
Here some special features of the Lagoon 55.
Space – The lagoon 55 offers more social space on the flybridge. The flybridge is spacious enough to contain a fridge and a bar.
Convenience – On the forward half of the coach roof, there is a movable sunpad. Most boater complain about their sunpads because it gets stepped on too often. Having a movable sunpad is very convenient, because you can walk through without stepping on it, which makes it last longer.
Forward Cockpit – This catamaran model features the first specialized forward cockpit from Lagoon. The structural design makes the aft beam disappear completely which makes the rear cockpit stand out elegantly. The forward cockpit is joined to the saloon by a drop-down window.
Specifications
LOA: 16.56m / 54ft 4in
Beam: 9.00m / 29ft 6in
Draught: 1.55m / 5ft 1in
Displacement: 26,500kg / 58,433lb
Price: $2,500,000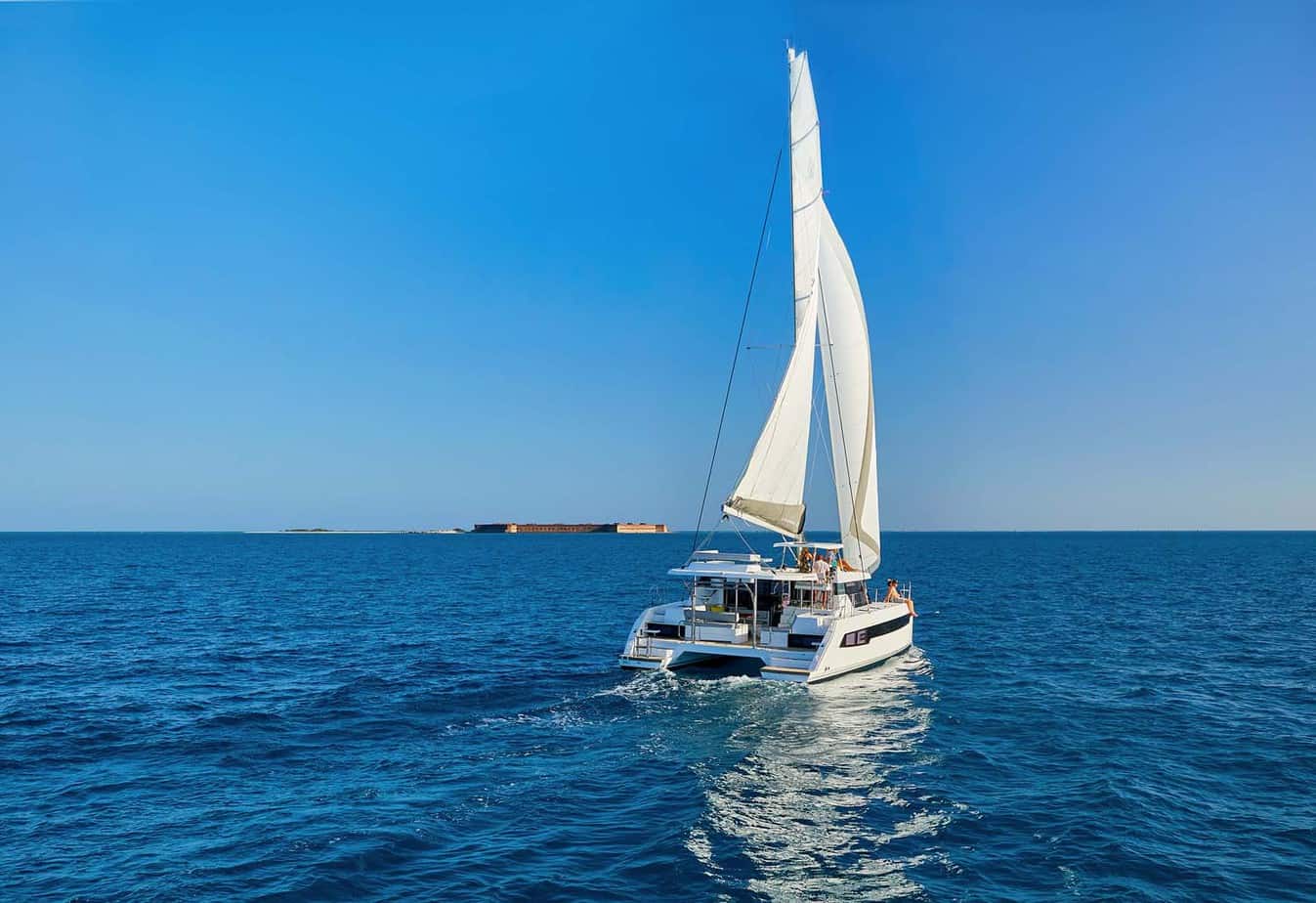 The Leopard 42 is another great catamaran model for 2021. The interior and exterior design of the Leopard 42 was inspired by the recent models, making it very interesting to boaters. If you want a catamaran to cruise with your partner or a small group of people then this is an excellent choice.
Special features
Here are some special features of the Leopard 42.
Design and Construction –The boat is designed to carry multiple crew members without weighing down the catamaran.
Space – The Leopard 42 is also a very spacious cat. The cockpit and the saloon are separated, and the seating of the cockpit and saloon is focused on the forward galley. Every cabin has a ample floor space, and each of them have their own private bed and shower. Also, there is a normal-length door that leads to the foredeck.
Performance – The performance potentials of this model is highly rated. The geometry of the rig and the sail layouts were designed to boost the efficiency of the rig plan. The hulls of the Leopard 42 have also been refined and designed so it can move very fast and easy.
Specifications
LOA: 12.67m 41ft 7in
Beam: 7.04m 23ft 1in
Draught: 1.40m 4ft 7in
Displacement: 12,460kg 27,469lb
Price ex VAT: €399,000
The Fountaine Pajot Samana 59 combines comfort, safety and elegance. The helm of the boat was especially designed for smooth and efficient sailing . The side-windows are long, which brings a horizontal and modern look to the boat. The roomy Fountaine Pajot Samana 59 is an excellent choice for vacations with family and friends.
Special Features
Below are some special features of this catamaran.
Space / Large Cockpit – The spacious Foutaine Pajot Samana 59 has 6 equal sized cabins. On the large cockpit, measuring 27.5 square meters, there are three seating arears and a large dining table. The dining table on the cockpit can fit 10 to 12 people.
Large Flybridge – The Fountaine Pajot Samana 59's flybridge measures 30 square meters, making it the largest in its category. On the flybridge, there is a lounge with a table for your guests. In addition, there is a kitchen with a fridge, and plancha in the salon, as well as two double sunbathing mattresses at the back of the flybridge. The helm station is located in front of the flybridge, and both sides of the helm are easily accessible. Also, you protect yourself from the sun, wind, and rain with an integrated cockpit tent and an electric shade panel.
Design – This model is perfect for both quiet and intimate trips as well as lively get-togethers. The Fountaine Pajot Samana 59's intelligent design can be utilized for all occasions, allowing you to spend quality time with family and friends.
Specifications
LOA: 18.21m / 59ft 9in
Beam: 9.46m / 31ft 1in
Draught: 1.40m / 4ft 7in
Displacement: 25,500kg / 56,217lb
Price ex VAT: €1,302,900
Conclusion
A catamaran is a multi-hulled watercraft that is for its luxurious and elegant appearance. It provides sailors and cruisers with luxury, comfort, and optimal safety. The most obvious difference between a catamaran and a regular boat is that a cat has two hulls, whereas a typical boat has only one. The hulls are built to be of equal size and provide the boat with stability. Although it is highly pricey, the catamaran is an excellent choice for beginners. The catamaran is available in a variety of styles, brands, models, and prices. This article goes through the various types, brands, and models of catamaran in great detail. Which is everything you need to know about the Catamaran, especially as a beginner.
FAQS
Question: Are catamarans good for long distance?
Answer: Yes, as a matter of fact the new models have been built and designed to travel up to 200miles in a day. The hulls of the catamaran are more sturdy and comfortable, providing balance and stability.
Question: Is it difficult to sail a catamaran?
Answer: Because of its stability, the catamaran is much easier to move around. So to answer the question, yes it is easy to sail.
Question: How long can a catamaran last?
Answer: Normally, the life span of a boat depends on the type, how often it's used, the construction materials and how well it's maintained. However, an average catamaran can last up 15 to 25 years.
Question: Do catamaran flip easily?
Answer: No the catamaran do not flip easily, because they are highly stable.
Question: How long does it take to cross the Atlantic in a catamaran?
Answer: Sailing across the Atlantic takes roughly 3-4 weeks, but if you're lucky, take shortcuts, and have a speedy sailboat, you can reduce it down to two weeks.
Question: Are catamarans good for beginners?
Answer: Yes, catamarans are ideal for beginners. They are by far the most reliable options, despite the fact that they may be more expensive. Because a catamaran has two hulls, it is often wider. As a result, your chances of capsizing are quite slim.
Question: Do catamarans need ballast?
Answer: Underwater, a Catamaran is a Stable and Safe Platform. Catamarans, unlike monohulls, do not have ballast in the keels, hence they rely on beam and buoyancy for stability.
Question: How fast do catamarans sail?
Answer: Catamarans can travel at speeds of 15 to 30 mph, with the fastest reaching speeds of well over 60 knots. Sailing catamarans can travel twice as fast as monohulls. Also it can cut through the water more efficiently.
Question: How much does it cost to maintain a catamaran?
Answer: A catamaran's maintenance will cost between 5 and 15 percent of the boat's value. As a result, a $300,000 cat will cost between $15,000 and $30,000 every year. This figure excludes major renovations and covers the expense of annual haul-outs, insurance coverage, and yearly boat service and repairs.
Question: How much is insurance on a catamaran?
Answer: On average, annual catamaran insurance will cost roughly 1.5 percent of the boat's value. The cost of insuring a catamaran is determined by the boat's hull value, location, and intended use.
Question: How often should a catamaran be maintain?
Answer: Normally, routine maintenance will prolong the lifespan of your boat. However, with a catamaran, how often you need maintenance depends on how often you use it. The general norm is to service after every 100 hours.
Question – Why are there trampolines on catamarans?
Answer: The trampolines on the boat is used for a lot of thing. First, it allows water to move swiftly through it which the bow to rise, preventing the vessel from flipping.
Looking for more interesting readings? Check out: