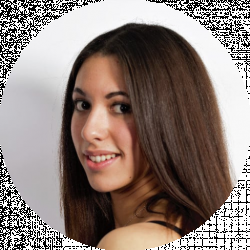 Latest posts by Alice Smith
(see all)
No one wants to be the person who has "the marine toilet problem." But if you are considering buying a boat, RV, or any other type of vehicle that needs a portable bathroom, it is important for you to know what makes up this type of toilet.
Marine toilets are used on boats to eliminate waste. This blog post will cover all of your bases so you can make the best decision possible when choosing a product. If you want more information on how marine toilets work and where to find them in stores near me, keep reading!
What is a Marine Toilet?
A marine toilet is a type of toilet that is designed for use on boats and ships, and are they are often referred to as sea toilets or heads. They provide a safe and easy method for people to have access to sanitation while at sea. Marine toilets work in a similar way to regular toilets, but they have been adapted to deal with the unique challenges of using them on boats.
There are some key features that any good marine toilet should have, including the ability to flush overboard. For instance, a traditional toilet would have water spilling from the toilet bowl as the boat rocks. Plus, using a regular toilet would leave the boat with an unpleasant odor due to spills.
Another issue is that marine toilets need to be able to handle large quantities of waste at once since they are used when many people are on board a boat. They also have to deal with additional water pressure from being deep in the sea and must resist corrosion caused by saltwater.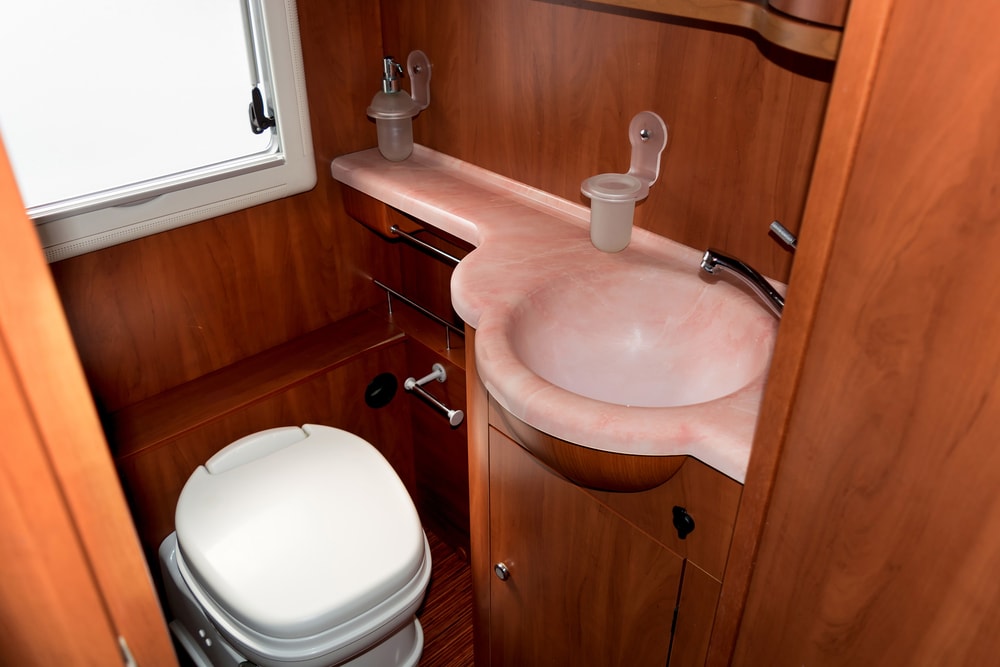 How Do Marine Toilets Work?
Marine toilets use a system of tanks and pumps to move the waste from the toilet bowl to a holding tank on board the boat. The tanks can be either manual or automatic. Manual systems require someone to pump the waste out of the holding tank, while automatic systems do this automatically.
The basic principle behind how marine toilets work is that they separate liquid and solid waste. The sewage goes on one side of the tank, and freshwater goes on the other side. When you flush a marine toilet, it mixes together with seawater to create what's called "slurry". This slurry then travels through a hose at high speed when flushed out into open waters.
What are the Different Types of Marine Toilets?
So, let's talk about the different types of marine toilets.
The four main types are:
Manual marine toilet
Electric marine toilet
Vacuum marine toilet
Portable marine toilet
Manual Marine Toilet
A manual marine toilet is the most basic type of sea toilet. It consists of a bowl, a tank, and a pump. The waste from the bowl is pumped out of the tank and into a holding tank on board the boat.
This type of marine toilet is best for smaller boats, as it doesn't require any electricity to work. It also tends to be cheaper than other types of marine toilets. However, manual systems do require regular pumping in order to keep them functioning properly.
Electric Marine Toilet
Electric marine toilets work in a similar way to regular toilets. They have an electric pump and tank system that moves the waste out of the toilet bowl and into a holding tank on board the boat.
They use electricity from either batteries or solar panels to power this function, which means you don't need any manual pumping like with some other types of marine toilets.
Electric marine toilets are suitable for any sized boat, and they tend to be more durable than other types of sea toilets due to the materials used in their construction (such as stainless steel). They also require less maintenance overall since there is no manual use involved. However, like with manual systems, you do need regular cleaning to maintain them.
Vacuum Marine Toilet
A vacuum marine toilet is a more advanced type of sea toilet. It uses a system of vacuum pumps to move the waste from the bowl to the holding tank on board the boat. This process happens very quickly, which means there is less chance of any spills or odors.
This type of marine toilet is suitable for boats of all sizes, and it does require an electric pump to function. However, they are more complex than other types of marine toilets due to the vacuum system used in them. This means that there will need to be a greater degree of maintenance involved with owning one compared to manual or electric systems.
Portable Marine Toilet
Finally, a portable marine toilet is the most basic type of portable toilet. It consists of a seat and a tank that sits underneath it. When you're finished using it, you simply detach the tank and dump its contents into an appropriate waste disposal area.
This type of marine toilet is best for small boats or when there isn't a lot of space onboard. It's also the most affordable option. However, it can be less comfortable to use than other types of toilets, it doesn't have a lot of features, and is the most unpleasant to clean.
What are the Benefits of Owning a Marine Toilet?
There are many benefits to owning a marine toilet, including:
No need for expensive pump-outs – Marine toilets use a tank system to separate the sewage and fresh water. This means you don't need expensive pump-outs every time you go out on your boat, since there isn't any manual pumping involved with them.
Reduced odors – A marine toilet will reduce the number of unpleasant smells that come from using a marine head (which is what most people call these toilets), especially when compared to some portable options like chemical or composting toilets. These types of systems are also much easier to clean than porta-potties!
No holding tanks are required for solid waste – Since all marine toilets have an inbuilt container that separates liquid and solid wastes, having one on board your boat doesn't require extra storage space for holding anymore.
Convenient location – Marine toilets are normally located in the same area as your normal head, which makes them very easy to use. This can be especially useful for smaller boats that don't have a lot of space on board, since they provide multiple functions within one unit!
What do Marine Toilets Consist of?
A marine toilet is essentially just an upgraded version of what you might think of as a regular boat toilet. It uses most or all of the same parts with some variations and improvements:
Bowl – this basin contains the water used to flush out waste from it into the tank below
Pooling Tank – after flushing has occurred (or by manually pouring water down), wastewater will collect here
Separator Tank – there is usually another tank above where fresh drinking water is stored. This is to prevent any sewage smells from entering the boat and contaminating your drinking water supply
Holding Tank – this tank stores all the wastewater until it can be disposed of in an appropriate way (usually dumping overboard, but make sure you check local laws).
What Should You Look for in a Marine Toilet?
When choosing a marine toilet, you need to consider the size of your boat, the number of people who will be using it, and how often you will be using it. You also need to think about what type of tank system you want – manual or automatic.
Here are some specific things to look for when making your decision:
Manual or Electric
This is the first decision you need to make. If you have a smaller boat or it's just for yourself, then a manual system might be best. If you have a larger boat or multiple people will be using it, an electric system would be more practical
Tank Size
Marine toilets come in all shapes and sizes, so be sure to pick one that has a large enough tank for you and however many people will be using the toilet.
Size of Your Boat
This is probably the most important consideration, as you don't want a toilet that's too big or too small for your boat. This is especially important if you want an automatic system, as most of them are custom-sized.
Pump Size
If you go with a manual system, you'll need to make sure the pump is powerful enough to move the wastewater up and out of the boat.
Ease of Cleaning
Since marine toilets can be a little more complicated than regular boat toilets, it's important to find one that is easy to clean. Look for models with accessible and easily removable parts.
Odor Control
As mentioned before, one of the biggest benefits of marine toilets is that they tend to produce fewer smells than other types of portable toilets. Be sure to look for models that have this feature.
Ease of Finding Spare Parts
This is especially important if you want to ensure the toilet will last as long as possible. Be sure that finding spare parts for your specific model won't be too difficult or expensive, because sometimes they can be hard to find.
How Many People Will be Using the Toilet?
Another thing you need to consider when choosing a marine toilet is how many people will be using it. If there are only one or two of you, then a smaller and more compact model should do the trick. But if there are more of you, then you'll need something with a little more storage space.
Price
Of course, price is always a factor! Marine toilets vary in price considerably depending on the type of system you purchase and how fancy it is. Decide what your budget will be before making any purchases so you don't go over-budget or buy something too cheap
The Major Differences between Marine and Household Toilets
There are a few key differences between marine and household toilets that you should be aware of before making your decision:
Marine toilets are built to withstand the harsh environment of being on a boat. This means they are typically more durable and can handle rougher treatment.
Marine toilets usually have a smaller footprint than household toilets, so they take up less space on your boat.
They also tend to be easier to clean because all the parts are easily accessible and often easier to detach and move.
Marine toilets often come with odor control features, which is helpful when trying to minimize any unpleasant smells.
Lastly, marine toilets are typically more expensive than household models, but it's important to remember that you get what you pay for!
Our Top Marine Toilet Recommendations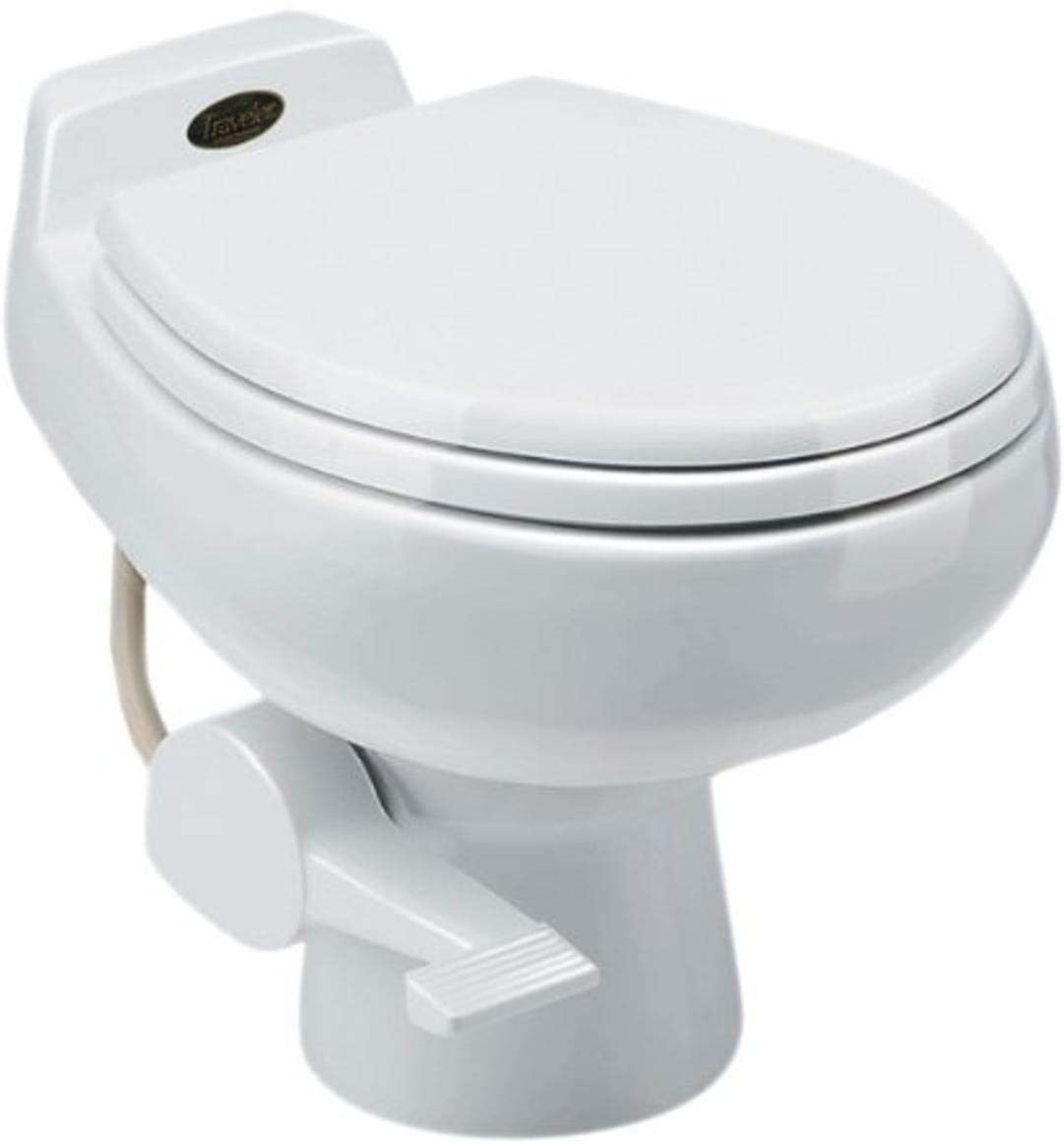 Dometic SeaLand is a basic-looking toilet that will complement your vessel's interior design. It's true that it isn't as large as a regular toilet, but you won't have any issues utilizing it. Another advantage is the well-designed flushing system, which ensures good head odor mitigation in the marine environment.
SeaLand Traveler 510 is made of long-lasting china and will endure a long time. It's also designed with smooth edges that make it easy to clean, which is certainly a bonus. It doesn't have a tank of its own, but instead, it connects to the boat's water supply and holding tank.
A minimal amount of water is needed to operate this toilet. The pump system, on the other hand, makes excellent use of it and effectively cleans the bowl. And the anti-siphon vacuum prevents wastewater from mixing with clean water.
Pros
Great head odor control
Easy to clean
Flushes with only a pint of water
A built-in anti-siphon device, which keeps the freshwater supply clean
Comfort is enhanced by the household-sized chair
Well made with high-quality materials make it very durable
Cons
A bit more expensive than other models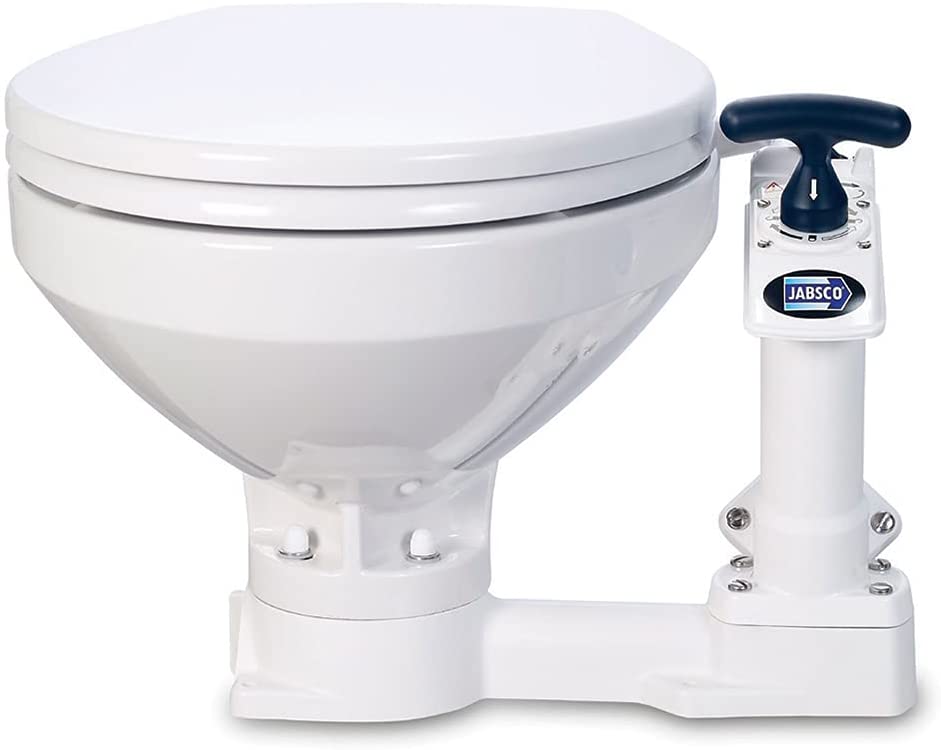 The name JABSCO is well-known throughout the world for producing high-quality manual and electric toilets for over 20 years. They are also recognized for their Twist 'n' Lock design, which gives excellent protection against siphonic flooding and excess backflow.
The self-priming drive allows you to set it up above or below the waterline, and reliable pumping power is provided by this manual and best marine head. It also has an adjustable mounting option, which allows you to reverse the pump's installation procedure. As a result, you may install the pump on either the right or left side, which is extremely convenient, plus the automatic vacuum breaker makes it even easier to pump.
The toilet is available in both standard and compact versions, ensuring that it will be suitable for most people. It's the ideal marine toilet with a manual pump for its outstanding and dependable flush system.
Pros
Automatic vacuum breaker for simple pumping
Adjustable mounting option to suit your vessel
The Twist'n'Lock handle protects against backflow from waste
Crevice-free and easy to clean
Cons
Be careful with installation as it will leak if done incorrectly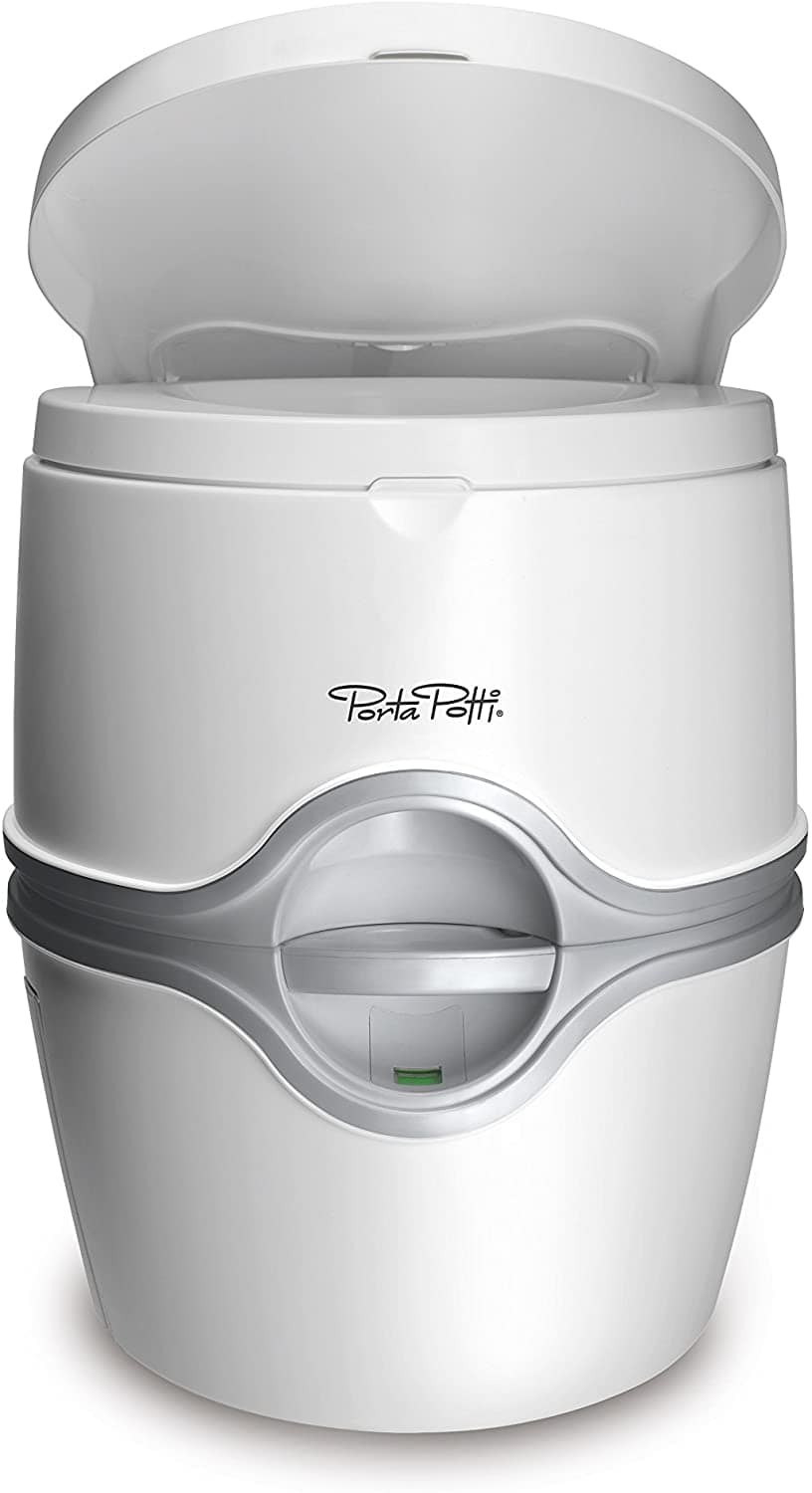 If you like a marine porta potty that is primarily concerned with appearance and design, this one is for you. We should all be grateful for the excellent flexibility of this portable and compact model, which has earned it a place on our shortlist. Plus, it's also highly compatible with other automobiles, such as RVs, as well as boats.
This toilet's ergonomic holding grip makes cleaning straightforward. It also features an integrated toilet tissue or paper basket, as well as a tank level gauge to make usage easier.
Another advantage of this product is that it has been designed to have no odor and leave no leaks. There's no need to worry about unpleasant smells or toilet paper sticking to the back of this toilet, thanks to its securely fastened valve and revolving pour-out spout. You can also dispose of waste and toilet paper without any backsplashes.
It also comes with a hold-down kit for extra stability when placed on the floor. So you won't have to worry about it moving while you're on the road.
Pros
Securely fastened valve prevents odor and backsplashes
Integrated toilet tissue basket
No leaks or odors
Compatible with a variety of automobiles
Cons
The pump can sometimes fail and is then costly to replace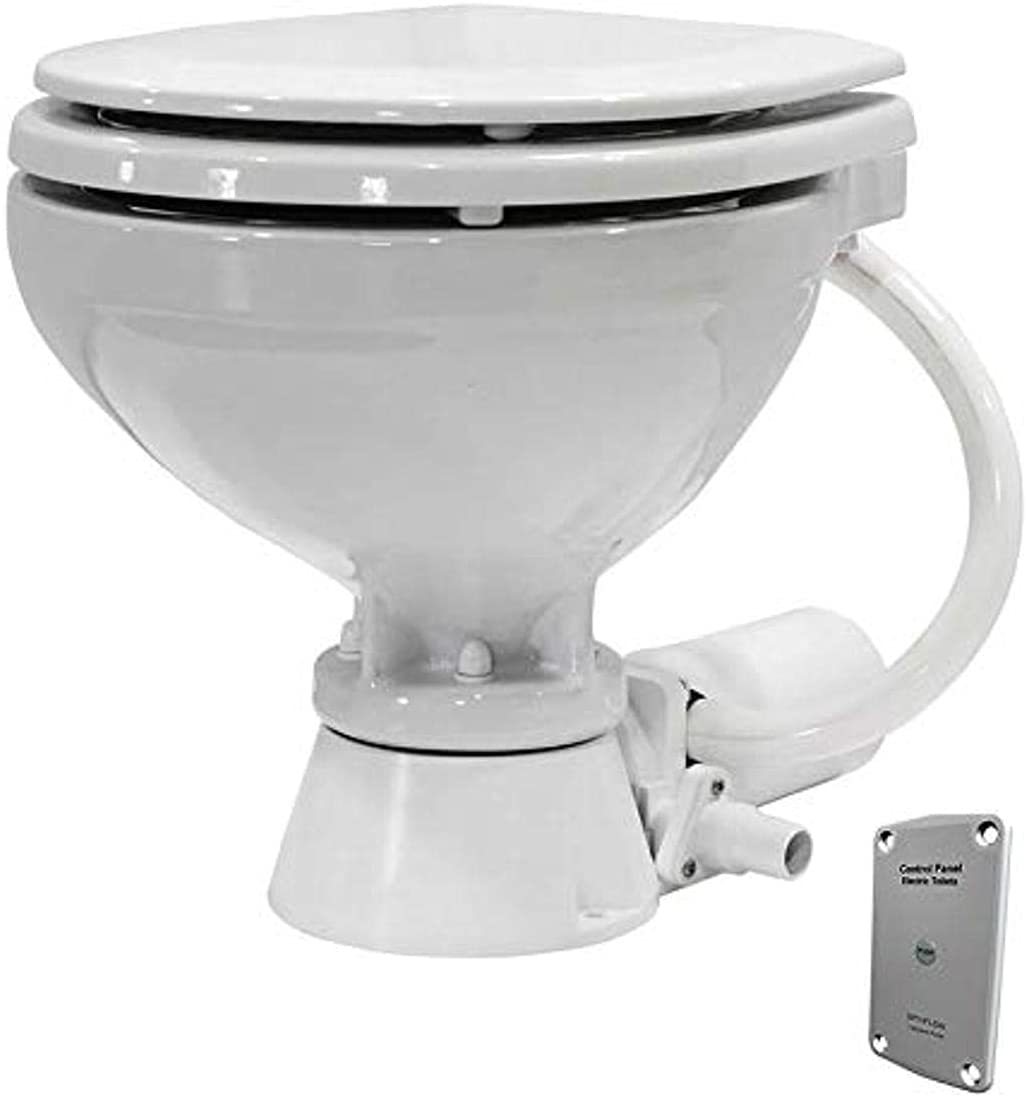 If you put comfort above all else when shopping for an electric marine toilet, JOHNSON PUMPS is a good choice. This product's handy small design complements all decor styles. The toilet is equipped with a pressure-release valve for easier waste emptying and discarding, ensuring a smooth trip, and maximum comfort on the water.
Another thing that makes this product stand out is that it is rust and corrosion-free. Put simply, this means you won't have to worry about the ocean salts. You also won't have to worry about tricky installations, time-consuming maintenance, or a toilet that is complicated to use. Another benefit of this product is that it features standard fastenings, which do not require any special tools.
With a very quiet flushing system and extremely hygienic design, this Aqua-Loo is perfect for those who are looking for a fuss-free and easy-to-use electric marine toilet.
Pros
Pressure-release valve eases waste disposal
No rust or corrosion problems
Standard fastenings – no special tools needed
Extremely hygienic design
Cons
Not the most reliable customer service
What Criteria Did We Use to Come up with These Suggestions?
To come up with these suggestions, we used criteria such as convenience and comfort for the user. We also took price into account to make sure it would be accessible to all budgets.
First, we looked at the size. We noticed that many marine toilets are larger than your standard toilet, meaning they're not as portable and compact. We wanted to make sure the toilets on this list were suitable for a range of different boat spaces.
Second, we took into account what material it was made out of. Marine toilets are not typically made out of plastic, so we focused on other materials including stainless steel, porcelain, and aluminum alloy for a more durable design that is also rust-free.
Third, we considered the price range that would be most comfortable for buyers on a budget or looking to splurge more than usual when buying this product. Everyone has their own priorities they're concerned with when shopping and so it was important to have a variety of different price points.
Finally, we looked at the customer service ratings and durability of each product. We know how frustrating it can be when you don't have a warranty or your toilet breaks down after only a few months of use. That's why we took this into account as well to provide the most reliable options with the most reliable warranties.
With these criteria in mind, we were able to come up with a list of the best marine toilets for any situation and at all different price points. We hope that this helps you find an option that works well within your budget.
Top Marine Toilet Q and A:
Question: What is a marine-grade toilet?
Answer: A marine-grade toilet is a type of toilet that is specifically designed for boats and other water vessels. They are typically made out of more durable materials, such as stainless steel or aluminum alloy, to prevent rusting and corrosion.
Question: How much water does a marine toilet use?
Answer: A marine toilet typically uses less than one gallon of water per flush. However, some models can use much more than this.
Question: How do you maintain a marine toilet?
Answer: Maintaining a marine toilet is typically very easy. Most models do not require any special tools or chemicals to keep them in good condition. It is important to flush the toilet regularly with fresh water and to clean the waste tank as needed.
Question: How do you flush a marine toilet?
Answer: You can flush a marine toilet by using the manual lever or by pressing a button on the electric model. This will release the wastewater from the tank and send it to the nearest septic system or sewer connection.
Question: Why are marine toilets called heads?
Answer: Marine toilets are called heads because the back (or the bow) of ships used to have a figurehead on them. Since, when they were sailing, the wind blew from the front of the ship to the rear, the back of the ship was where the toilet would go. So, people would use it to relieve themselves closest to the figurehead, and so it became known as the head of the ship.
Question: Can you put bleach in a marine toilet?
Answer: No, you should never put bleach in a marine toilet. This can corrode the material and disturb the septic system or sewer connection.
Question: How do I clean a marine toilet?
Answer: The best way to clean a marine toilet is by using fresh water and paper towels. This will remove any waste or debris until you can empty the tank.
Question: What is the most reliable marine toilet brand?
Answer: There is no definitive answer to this question. However, some of the most reliable marine toilet brands include Johnson Pumps, Jabsco, and Porta Potti.
Question: What is the best price for a marine toilet?
Answer: There is no definitive answer to this question. However, there are a variety of different marine toilets that range in price from around $100 to $600.
Question: What is the life expectancy of a marine toilet?
Answer: There is no definitive answer to this question. However, some high-quality marine toilets can last for decades if properly maintained and cared for. However, some break after only a couple of years.
Conclusion
We hope that this guide provides you with the information you need to choose a marine toilet for your boat or other water vessels. We considered all of the most important factors and included products at various price points, so they should be relatively affordable no matter what your budget is like.
Though all the marine toilets on this list are great choices, our favorites are the Dometic SeaLand Traveler 510 Marine Toilet and the JABSCO Twist n' Lock Manual Marine Toilet because they are compact and can be used with or without a holding tank.
Overall, with a little bit of research and the right knowledge, you'll be able to find a marine toilet that suits your needs. Whether you're on a budget or looking for something extravagant, there are plenty of options available from reputable brands with warranties. We hope this article has been helpful in providing some insight into how to choose the best option for your boat.
Looking for more interesting readings? Check out: