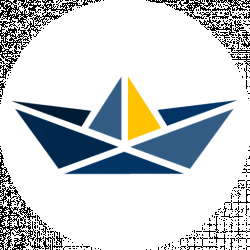 Latest posts by Jeanne Murugami
(see all)
After taking a boat trip, it's a good idea to hose your boat with water regardless of whether it's fabricated using corrosion-resistant material or not. It's because degradation is bound to occur when sand, dirt, saltwater, and other residuals stay stuck on the boat's surface for a long time. 
It's clear to see how vital a washdown pump is in keeping your boat in good shape. In this top washdown pump guide, we'll give information to show how washing it is important.
We will also take the time to provide you with a complete guide that will help you understand the right washdown for your boat. Therefore, be assured that this article will eliminate any doubt you might have from other discordant reviews regarding washdown pumps.
Top Washdown Pump Guide: 10 Top Washdown Pumps
Before making your purchase, it's imperative to be aware of a few features to consider before purchasing a washdown pump. These include the amount of water produced, sturdiness, pressure, weight, priming, noise level.
But first, let's take you through some premium washdown pumps. Our review features the best washdown pumps by performance, durability, budget, and features.
Shurflo Aqua Pump: Best Premium Washdown Pump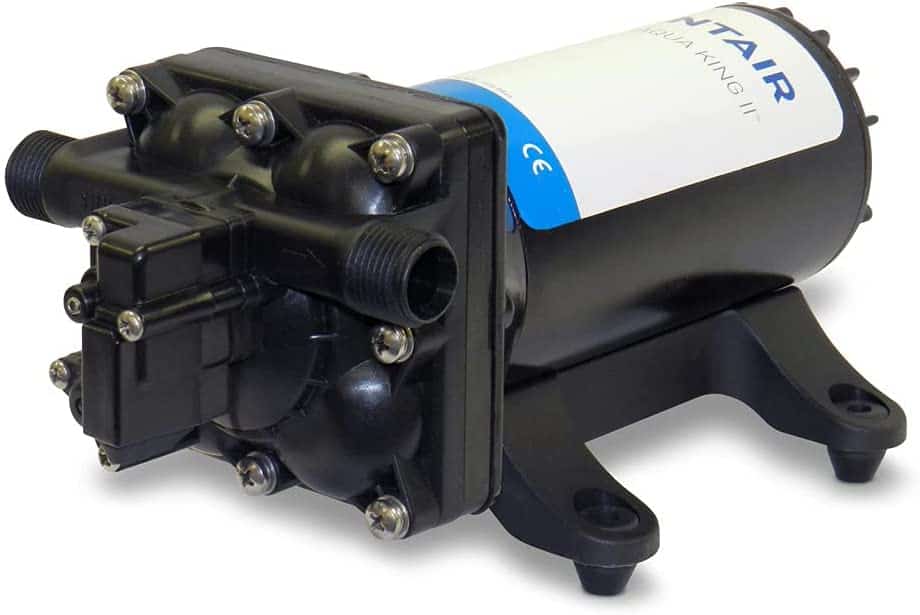 Every boat owner wants a washdown pump that encompasses reliability and good features. That's why we bring you the Shurflo Washdown Pump, which is strictly a freshwater pump. 
However, if you happen to have a preference for sailing in saltwater, you should connect a saltwater purifier to the washdown, and you're good to go. Its unique design exceeds customers' expectations with its fabrication hence ensuring it runs smoothly.
Another fantastic feature is its ability to run dry, and it won't get damaged. That's why it's fitted with an automatic switch which you must set first to function. Even though it will run dry, it's wise to switch the pump off when it's not in use so that it doesn't drain your battery. The washdown pump requires a 12V Direct Current (DC), which most boat batteries deliver.
All you need is to build a simple circuit to be able to draw power from the battery. The motor is coated with an electro layer making it corrosion resistant. All the electronic parts come sealed to avoid any case of short-circuiting.
It delivers mind-blowing pressure, and there is an automatic switch to shut off the pump if it exceeds safe PSI levels. To protect the Shurflo washdown pump, the maker has installed a check valve to mitigate the possibility of backflow.
Pros
It's versatile.

Heavy-duty.

Easy to install.

Capable of running dry.

It's tranquil.

It runs smoothly hence, very quiet.

The pump diaphragm is corrosion resistant.
Cons
Warranty is only valid when purchased directly from the maker.

Expensive.
Seaflo Water Pump: Best Marine Washdown Pump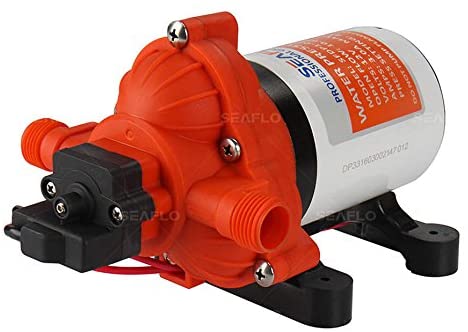 For a sturdy water pump that will provide you with enough pressure and water to hose your boat, then the Seaflo Water Pump is what you need. It delivers 45 PSI water pressure and produces three gallons per minute. With that kind of pressure and water, cleaning is easy and takes less time. 
This washdown weighs just under five pounds, and with its four-screw mount, it's possible to fit it anywhere, as long as the mounting pilot holes will not cause leakage in the boat.
It needs 12V power, and the maker provides you with a circuit to source power from the boat. This accessory has a breaker that protects both the pump and the boat's electrical components. 
It comes with a four-year warranty, and during that duration, the manufacturer will change any damaged parts for free. The Seaflo model is self-priming; thus, no air settles in the pump or the piping system, ensuring it's constantly filled with water. 
This aids in alleviating the possibility of your boat getting damaged, considering this model doesn't run dry. The washdown pump has a pressure shut-off system to keep the pressure at the required level. All water inlets and outlets are half an inch threaded, and the water hoses also have the exact measurement.
Pros
It's highly rated.

High-quality and robust pump.

Easy to mount.

Pocket-friendly price.

The pump has a reliable PSI shut-off system.

It's quiet and delivers good pressure.
Cons
Piping threads on the pump might not fit properly.
Flow Max Water Pump: Best Heavy-Duty Washdown Pump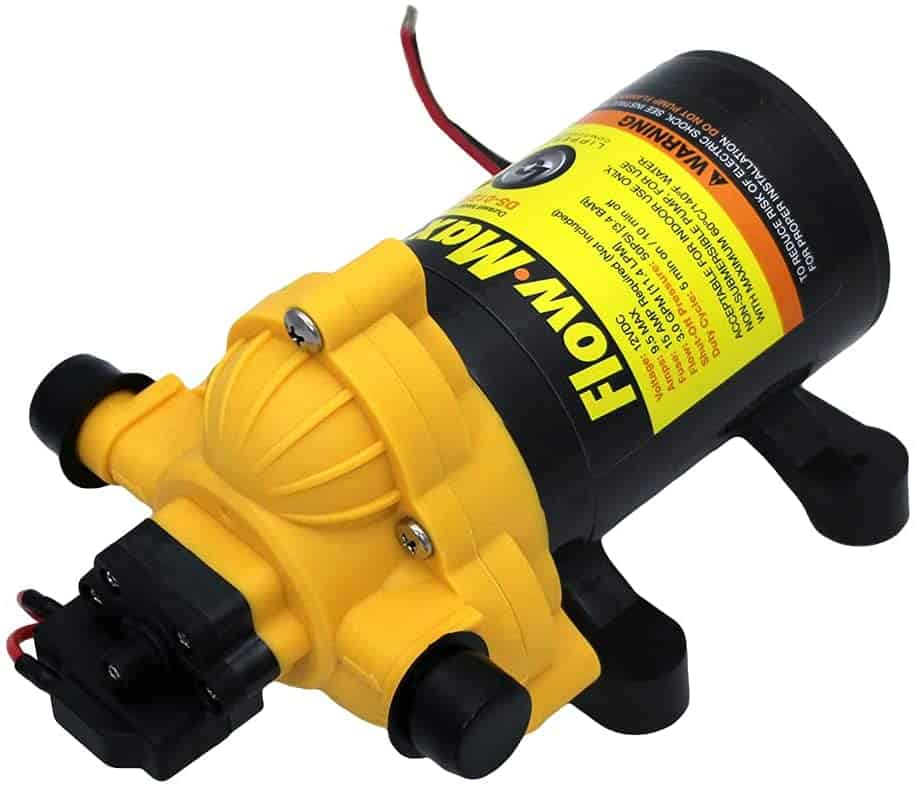 With its compact size and lightweight, you'd think that the Flow Max Water Pump can't perform, but that's not the case. It's one of the few heavy-duty washdown pumps that's highly rated because it has an edge in every department compared to other models.
 It delivers three gallons a minute, but the pressure-flow averages 50psi for intensified cleaning. It's nearly impossible to find a model which produces that much pressure.
The pump's powerful motor stays corrosion-free, and this is ideal for ocean anglers.  For its power, the washdown pump is compatible with both 12V and 115V power sources, meaning it uses either direct current (DC) or alternating current (AC). 
Its Flow Max screen system is a work of the art technology that acts as a filter medium to keep debris from entering the pump. To ensure the pump serves you for a long time, the manufacturer has designed it to run dry without experiencing damage.
It's also self-priming, and the Flow Max washdown pump is certified by the CSA.
Pros
It's strong and performs well.

Durable.

It runs dry.

It doesn't cause vibrations; hence, very quiet.

The pump delivers significant water pressure.
Cons
Flojet 03526 Water Pump: Best Compact Washdown Pump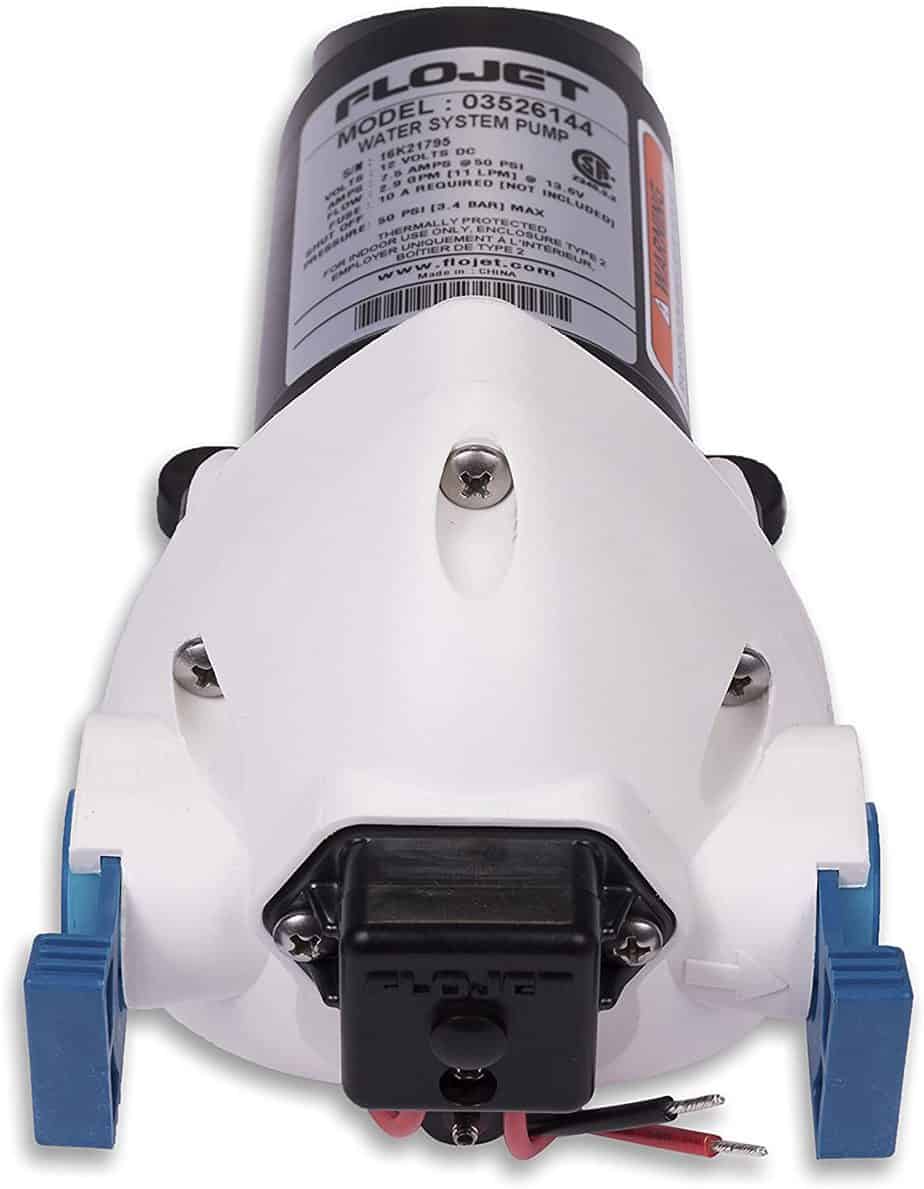 Sometimes, the size of your boat is not always the determinant of what size of a washdown pump you should acquire. It's possible to find a water pump that's small and economical but performs relatively well. The Flojet washdown pump fits this description of a small but strong water pump with excellent performance. It uses an automated water system to control all the pump's functions.
This washdown pump has three housing chambers. Sieving occurs in these chambers to ensure it eliminates the tiniest debris to keep the pumped water clean. Also, the tanks or chambers reduce the need of having an accumulator tank on the side. The Flojet Washdown motor produces 50psi, which delivers 2.9 gallons of water per minute.
All the port fittings are the snap-in type; therefore, you won't require any tools for its installation. It has a self-priming capability able to suction water from a nine feet height. Just like most prime models, dry running isn't an issue with this pump. Hence, if the water from your live well dries up without your knowledge, you don't have to worry about the washdown breaking down.
All materials used to fabricate this water pump is corrosion resistant, and it uses either DC or AC.
Pros
Great water pressure.

It's very compact.

The pump has three small tanks.

It's capable of heating water.

Easy to install.

Quiet.
Cons
It's small for some boats.
ProGear 3200 RV Water Pump: Best Portable Washdown Pump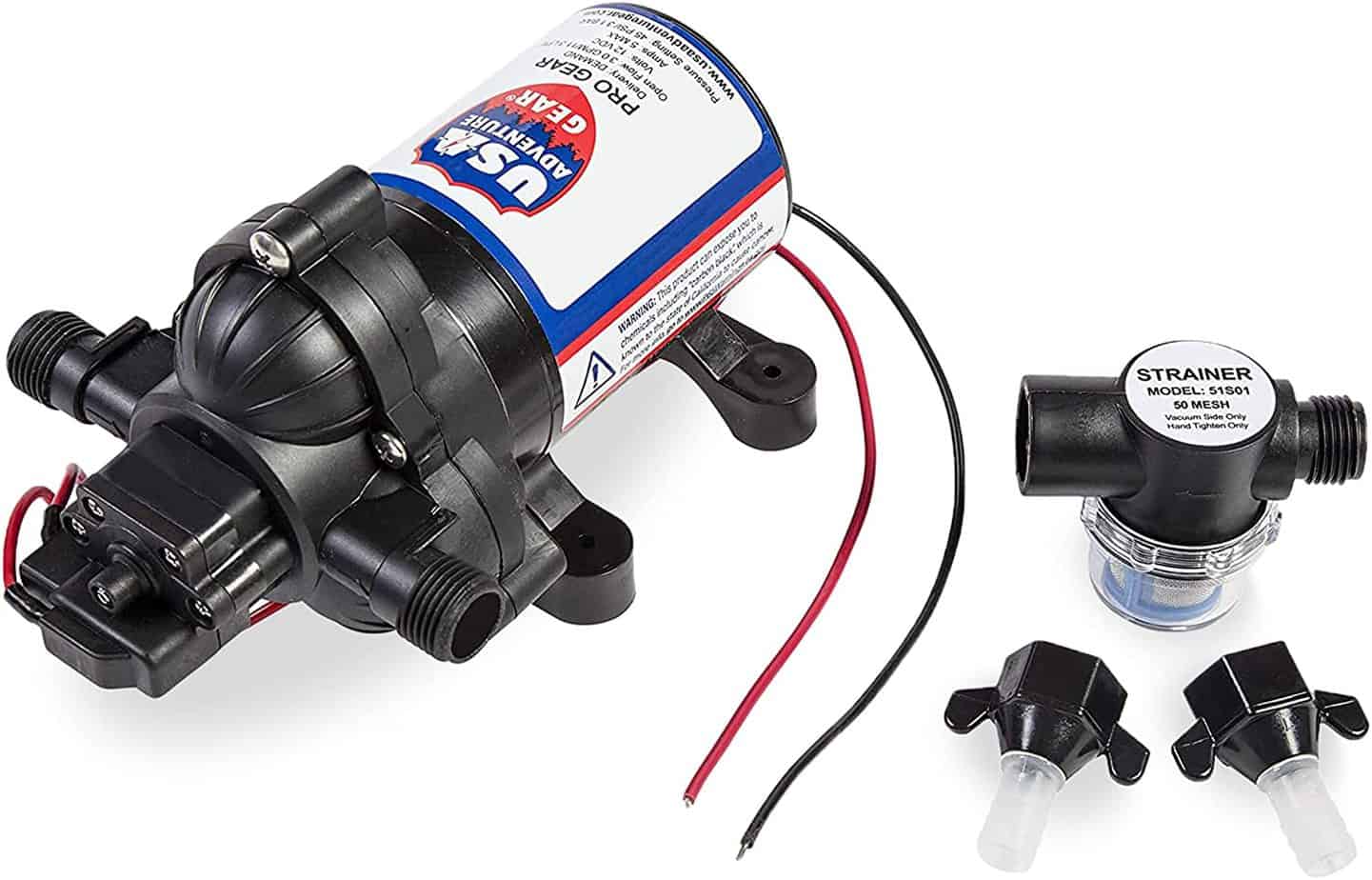 In a class of its own, the ProGear 3200 RV Water Pump design facilitates its portability. It weighs just four pounds, and since it's easy to install, it's why many anglers tend to favor this washdown pump. Its automated pressure shut-off pressure switch cuts off power when the pump exceeds 45psi, which is the recommended pressure by the maker. Nonetheless, this water pump can reach 150psi maximum pressure, but a bypass is required to experience this water pressure.
Its eight-foot lift is quite commendable, and it produces three gallons per minute (GPM). It has three chambers in its diaphragm mainly used to heat water. The maker has installed a check valve that stops backflows related to change in water pressure. The ProGear washdown pipe is CSA certified; hence you are sure of its quality and safety.
Pros
High quality.

Good pressure.

Economical.

It has a built-in check valve.

The pump has an automated shut-off system.
Cons
Johnson 10-13407-07 Marine Pump: A Prime Washdown Pump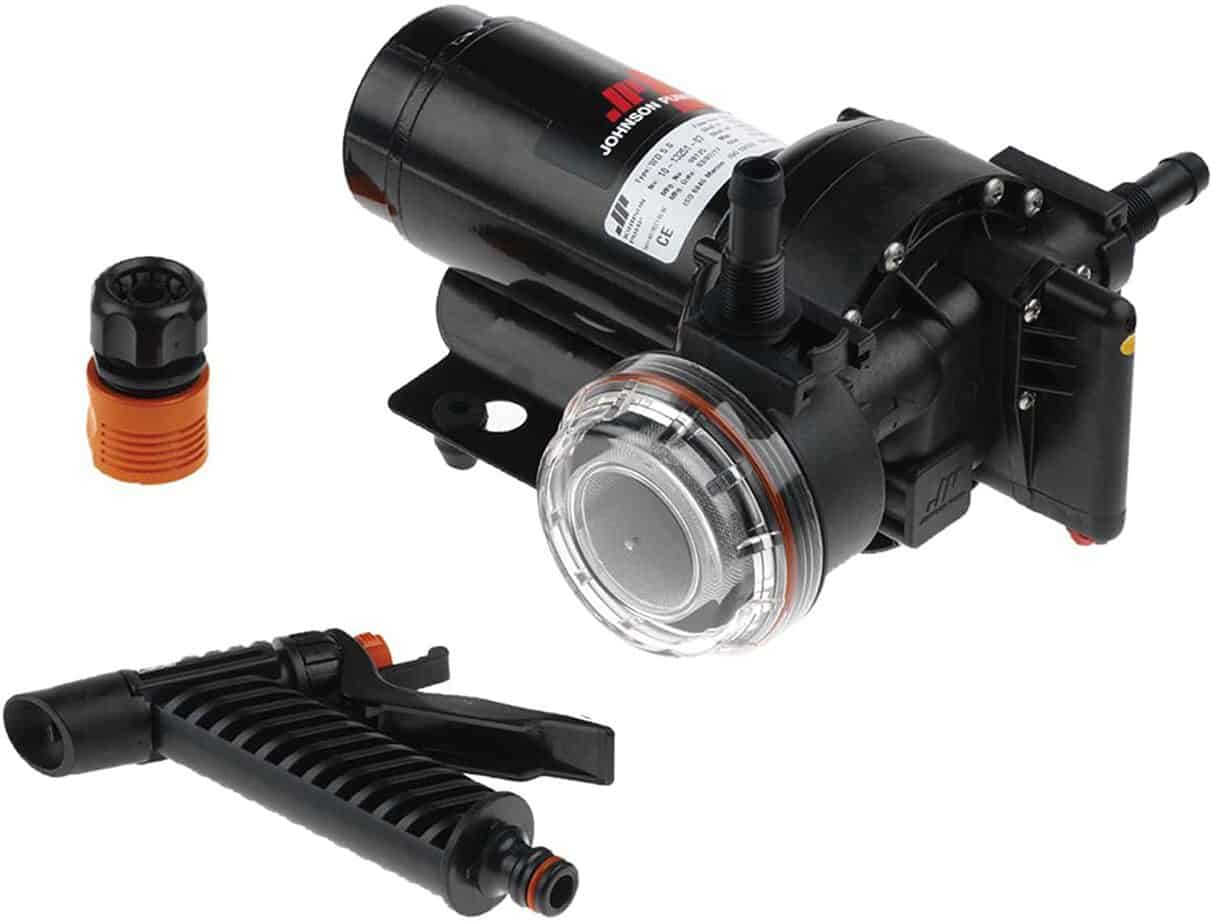 The Johnson company is known for its quality marine boat equipment. That's no different from the Johnson Marine Pump, which the maker built to serve and suit sailors or anglers. It's a diaphragm type of water pump and uses Santoprene rubber, which increases the pump's sturdiness. It's a commonly used rubber for heavy-duty machines, including dryers, washing machines, refrigerators, among others.
It produces 70 psi water pressure, and it automatically shuts down when the pump reaches that level to stop it from breaking. The Johnson marine pump delivers 5.2 gallons per minute which is the highest among its peers. Its construction comes with five chambers to store enough water to keep you going when cleaning your boat. Its self-priming ability enables it to draw water to a height of 1.5 feet. The motor uses either 12V or 12V DC power, and the maker issues you with cables and a circuit with a 20-ampere fuse.
Therefore, its installation isn't that complicated. All the pipe connectors are threaded to enable a quick connection. The maker incorporates an overheating protection system that launches when there is an overheat to protect the pump.
Pros
It's easy and low cost to maintain.

The pump's performance is exemplary.

It operates quietly.

Reasonable price.

Self-priming.

You get a spray nozzle.

It's very durable.
Cons
It might not work if it's underpowered.
Gioyonil Pump: Best Light Duty Washdown Pump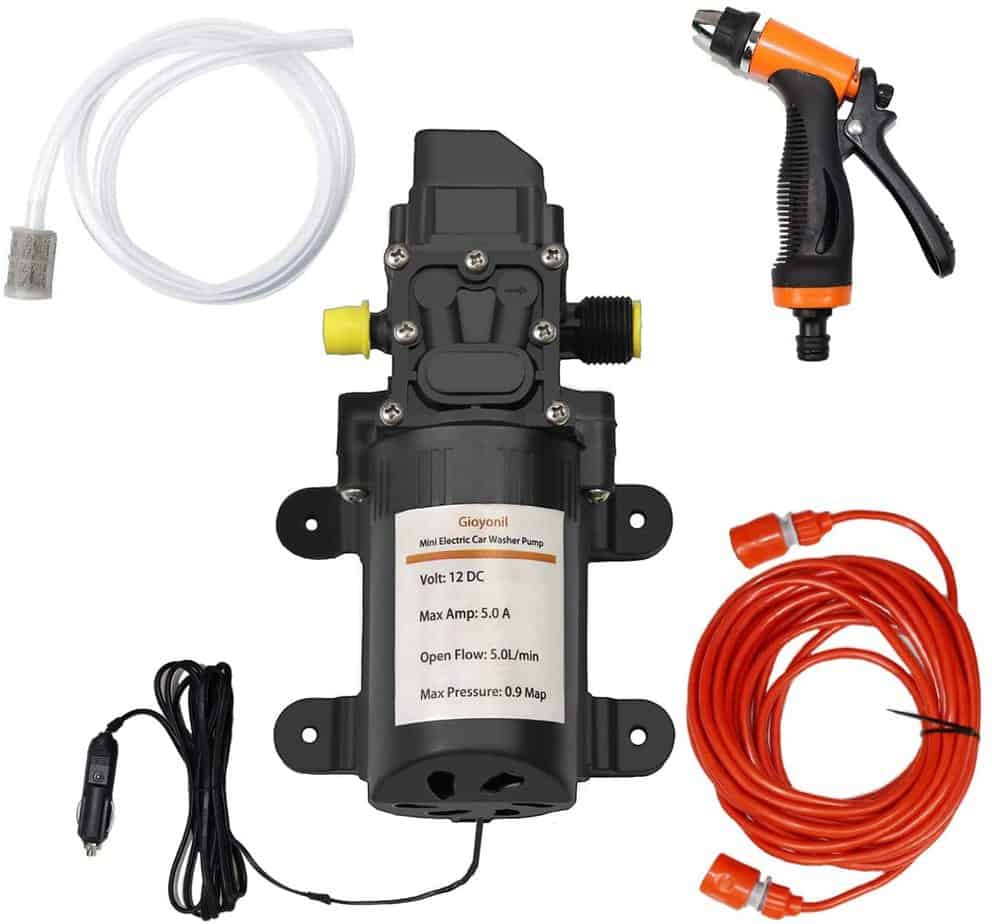 When compiling a product review list, we ensure that we include most types and models. Our main concerns are the price and the pump's strength or power. The Gioyonil Washdown Pump is a light-duty pump that weighs 2.6lbs, and this enhances its portability. Hence, regardless of where you want to undertake your cleaning, you just carry it with you.
Its water pressure flow is impressive at five liters per minute with a maximum pressure that raises to 120psi. The pump uses just 12 DC and has a cable fitted with an intelligent cigarette charger inserted in the female cigarette port to draw power. The Gioyonil water pump comes with a spray nozzle with three modes to meet your diverse applications. The spray nozzle comes with a 26.24 feet hose pipe included in the package. The maker uses polypropylene for its housing fabrication, and the motor coils are copper.
All this facilitates longevity and ensures it stays corrosion and chemical resistant. Upon purchasing this washdown marine pump, the maker gives you a year's warranty.
Pros
Its price is a bargain.

It's lightweight and portable.

High performance.

Efficient.

It occupies a tiny place.

The maker provides you with all washdown pump kits.

No electrical connections are required.

Decent water pressure.
Cons
Amarine Boat Pump: Best Self Priming Washdown Pump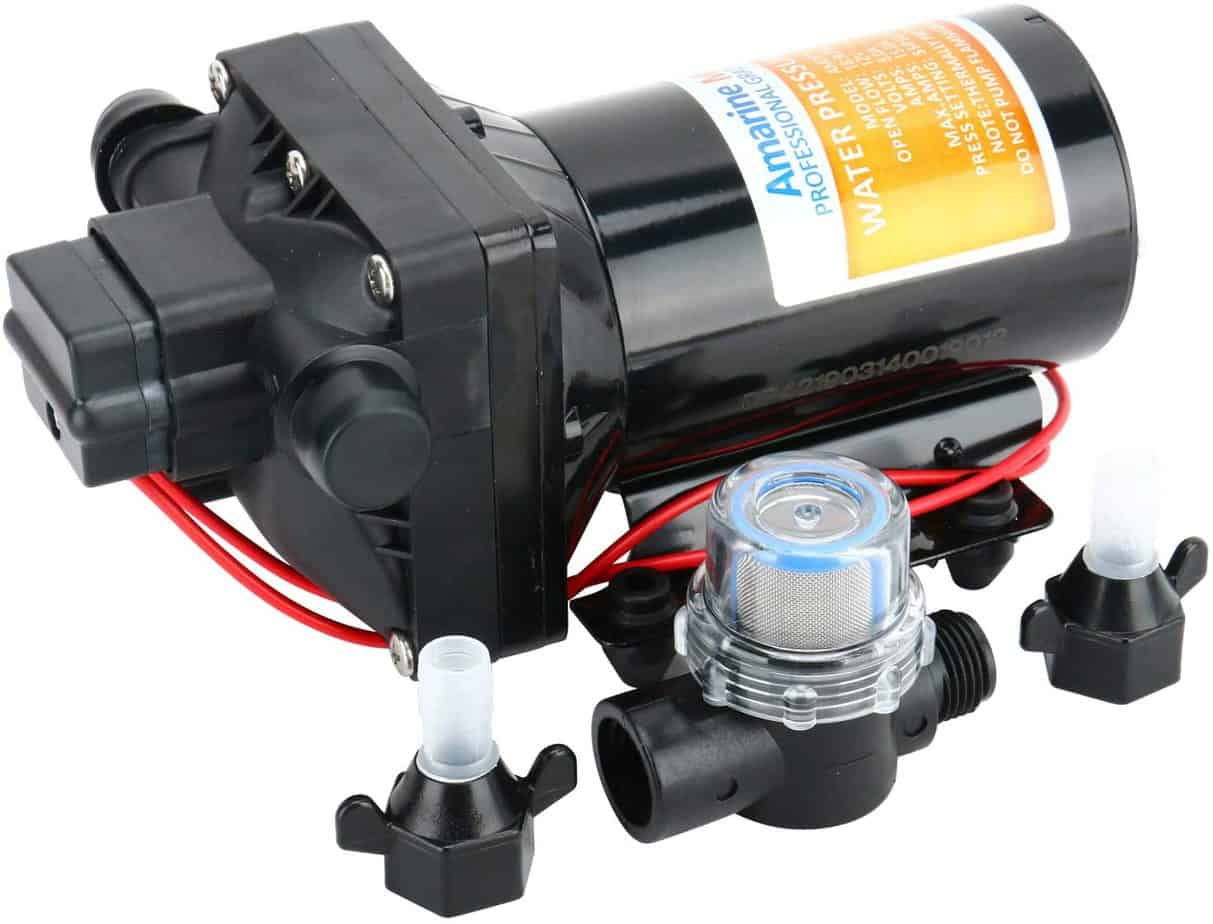 The Amarine Boat Pump has a sleek design which is what you notice first. Its installation, operation, and functionality are not complicated, something you'll love. It has a built-in automatic thermal overload to switch the pump off if it overheats. Also, the maker has installed a check valve, and with the double diaphragm, this pump will run dry and won't break. 
Among the many models, you should understand that there are freshwater and saltwater pumps or some that pump both. However, the Amarine pumps freshwater only. It has an easy connection system, and the pump draws minimal power from your battery. The maker's ideology is to provide users with a sturdy pump that consumes low power. 
It's able to pump five gallons per minute with a 55psi maximum pressure. This washdown is self-priming and prims 6 feet up. With this pump, you get multiple pipe fittings, and its threaded connections allow you to connect them to any outlet. Since the maker has bypassed the pump, it produces minimal noise, runs smoothly, and reduces the wear and tear of the whole machine.
Pros
Operates smoothly

The pump consumes low power.

It's very silent.

Easy installation.

The pump runs dry without getting damaged.
Cons
The leg stands will slip off if it's not firmly secured.
Everflo EF5500 Pump: Best Smart Washdown Pump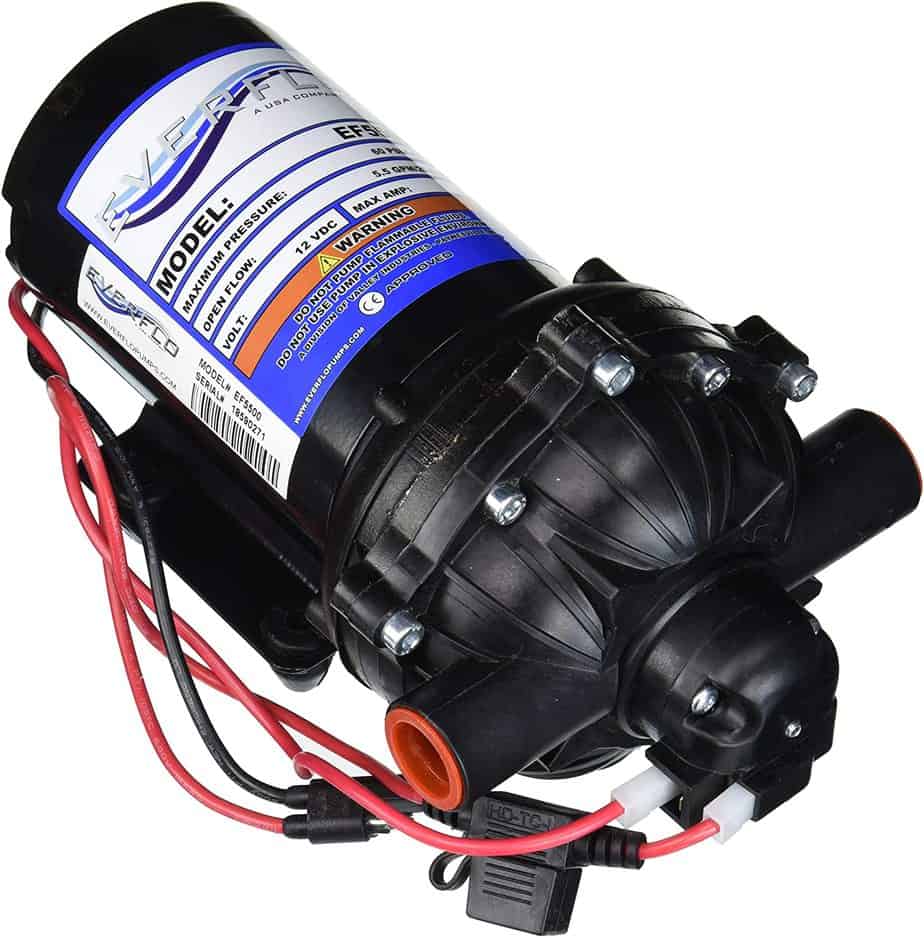 Advancements in technology offer a platform to develop products with intelligent technology. Across the boat pump reel, you'll find intelligent washdown pumps designed with modern technology to provide users with advanced performance. In that list, there is the Everflo EF5500 Pump. It is a high-intensity pump that handles 60psi water pressure delivering five gallons an hour.
The pump weighs six pounds, and it's fabricated using polypropylene, making it lightweight and increasing durability.  It has built-in Viton valves that are fitted in place of check valves. The former is ultramodern, and this raises its performance and efficiency. All components used in this intelligent washdown pump are premium, which explains why the pump is very versatile.
It automatically switches off when water is not flowing to save your batteries energy. Thus, it means the water pump can run without water, and it won't break. It's fitted with a one-push  Honeywell switch, and it needs 12V power. The Everflo EF5500 washdown pump can pump any type of water, sanitizers, and disinfectants, just to mention a few.
Its pressure switch is manual, but the little knob winds pretty smoothly to adjust the pressure you need.
Pros
High-performance and durable.

The price is friendly.

It's premium quality.

It pumps chemicals.

The pump switches off automatically.
Cons
Due to vibrations, the stream will pulsate. 
DC House 42-Series Water Pump: Best Multi-functional Wash Down Pump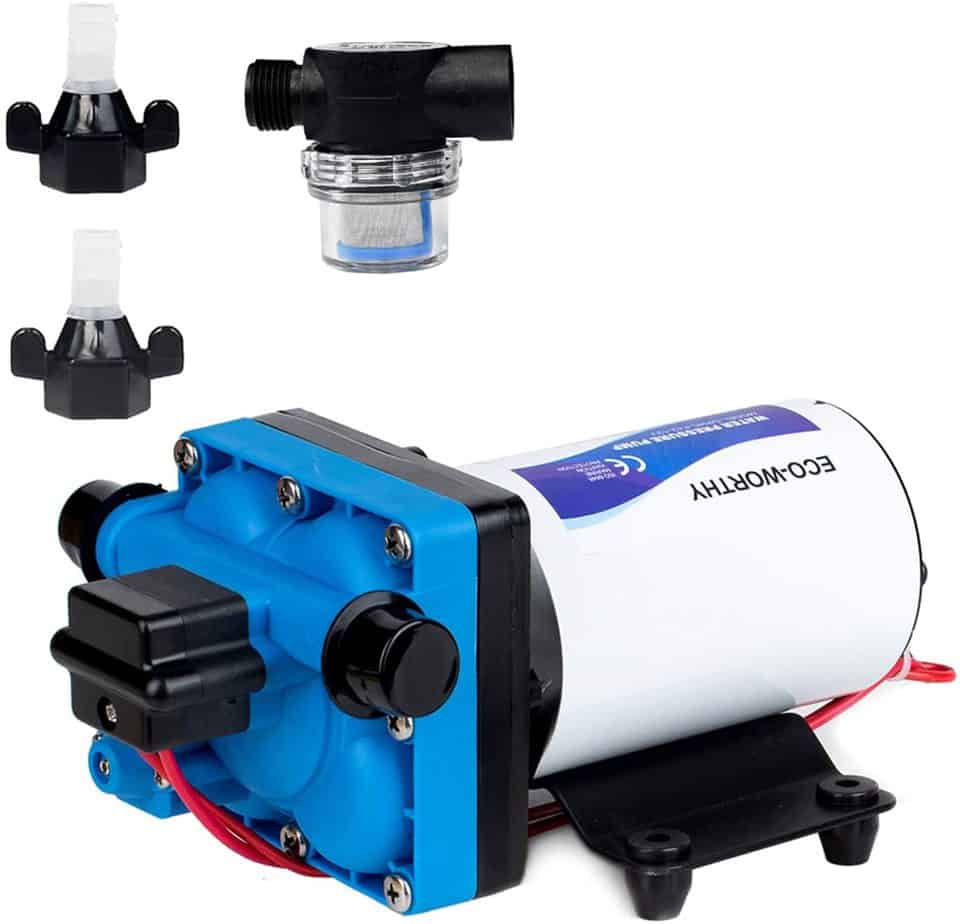 When acquiring a water pump to clean your boat or yacht, multi-functionality is something to consider. The DC House 42-Series Water Pump is the latest model in its series, with upgraded features compared to its predecessors. Its standard feature is the self-priming ability that allows it to lift water at a 9.8 feet height. The pump's flow capacity is excellent since it will deliver 5GPM.
A unique feature of the DC House pump is the inbuilt adjustable pressure switch. The switch allows you to choose the amount of water pressure you need, and you don't find this in the diverse models available. It will produce 40 psi to 80 psi but note that it's set to shut off at 55psi. During operation, this water pump runs smoothly hence, making minimal noise.
This washdown pump comes with a four-year warranty.
Pros
It has a high flow.

Thermal protection.

Easy to install.

High-performance.

Durable.

Tremendous pressure.

Quiet.
Cons
The automatic pressure switch fails sometimes.
Top Washdown Pump Guide: Factors to Consider Before Acquiring a Washdown Pump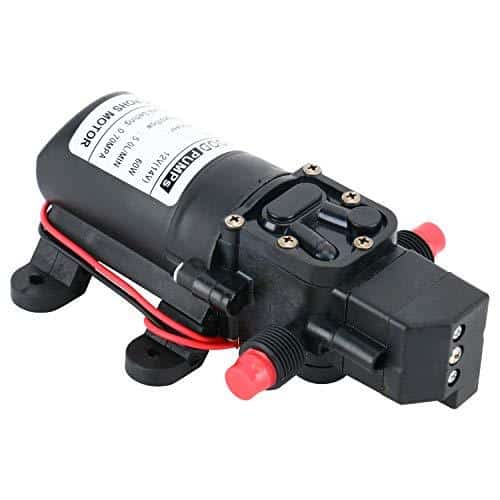 Marine washdown pumps offer a steady means to clean your boat regardless of your location. When you look at the different models and series available, it's vital to have a buyer's guide to ensure you get the critical information needed before making a purchase.
That's why in this top washdown pump guide, we will facilitate you with this necessary information. Therefore, here are a few things you have to consider.
Water Pumped by the Washdown
The most common washdown pumps are the freshwater type, but finding others that accommodate cleaning with salt water is possible. In addition, you'll also find water pumps that facilitate pumping disinfectants, detergents, and sanitizers. You should check on this because some models are susceptible and will get damaged if you feed them with water or liquid that the manufacturer doesn't recommend.
The Pressure
The PSI is the unit for pressure, and it's the most critical factor that shouldn't be left to chance. Without enough pressure, getting dirt from your boat is impossible. You need a minimum of 40 psi water pressure to facilitate proper cleaning. Nonetheless, some models will reach 150 psi, but this pressure is dangerous since it will damage the boat's surface, especially the color.
Therefore, if it's possible to find a pump producing at least 60psi, you're good to go.
The Pump's Performance
Performance is determined by the pressure the pump produces and the amount of water it delivers per minute. Most pumps provide three gallons per minute, while the high-quality pump models four to seven gallons of water per minute. It all depends on the surface area you're cleaning.
Noise Level
Noise level is something manufacturers are reducing with each new series. No one wants a pump that's making too much noise. The noise dissipated by the washdown pumps depends on the motor and material used to fabricate the casing. For pumps built with PVC, they will make noise compared to those with a metal casing. Also, the mounting affects the noise. If the water pump is not mounted correctly, vibrations will occur, leading to heightened noise.
Price
If you look at the price tag on most water pumps, they average $60 to $70. The most expensive on the list above costs around $180. But a higher price tag doesn't mean a sturdy and high-performing water pump. We've seen some affordable boat pumps that cost below $60. Therefore, compare the price and features and see whether you're getting your money's worth.
Frequently Asked Questions (FAQS)
Question: Why are You Buying The Washdown Pump?
Answer: We already know that you're searching for a marine-grade water pump. But there are diverse models meant for various jobs. However, some models are multi-purpose and if you're wise, consider acquiring such pumps to save you from buying a different pump depending on the cleaning or pumping job.
How Do I Choose a Washdown Water Pump?
Answer: The best way to choose a washdown water pump is by comparing the two vital features, the PSI and GPM. These two mean the pressure and water delivered through the hose measured in gallons per minute. If these two ratings are high, you'll clean better and faster.
Question: Can I Adjust the PSI On MY Washdown Water Pump?
Answer: Not all models accommodate this functionality. But most boat pumps can adjust the PSI automatically or manually. The automated models will reach a certain pressure level and switch off, but you have to change the PSI for the manual models.
Question: How Long Will a Washdown Water Pump Last?
Answer: The models considered to be inferior have a life expectancy of 100 hours, but prime models will go up to 500 hundred hours which is quite significant.
Conclusion
It's always a daunting task to go through the millions of pages available on the web to find an A-Class product. That's why in this top washdown pump guide, we've drawn together viable and feasible information for you.
When buying a washdown pump, you shouldn't be adamant about getting some advice or help. That's why we'll chip in and try guiding you towards the most superior boat water pump on this long list.
Guided by thorough research, we'll pick the Johnson Marine Washdown pump because of its steady features and performance. Through the years, the maker has refined the pump to visage robustness and reliability. High-quality material is used in its fabrication, and it produces 70psi water pressure. Its priming power enables it to lift water to a 1.5 vertical height, and its installation is easy.
The pump water also automatically switches if it overheats. What you see from the features is a washdown pump that will not disappoint in its performance. Hence, it's a suitable choice, and it might surpass your expectations.
For more interesting readings check out: