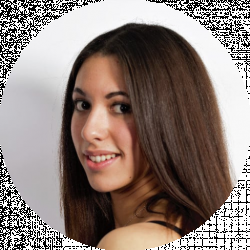 Latest posts by Alice Smith
(see all)
If you are looking to buy your first boat, you may consider affordability and value for money above all. Though, if you have money to spend, this is far less of an issue. As someone new to boating, wanting to get acquainted with the thrill of it all while spending the least possible amount is usually a common desire.
Bayliner boats are affordable, with basic yet comfortable amenities, and relatively inexpensive. Naturally, because you pay less, you get less. Brunswick owns Bayliner.  Since the 1980s, they have been providing the market with high-quality engines at a low price point.
How to Choose the Best Bayliner Boat for You
Due to Bayliner's wide range of offerings, we will be looking at some deck boats perfect for outdoor time with family and friends.
Here are a few series to consider when shopping for your first Bayliner boat.
Bayliner DX Series
The Bayliner DX series boasts spacious modern deck boats, which are perfect for families.
Two models belonging to this series that we would be looking at closely are the DX 2200 outboard and the DX 2250 sterndrive.
DX 2200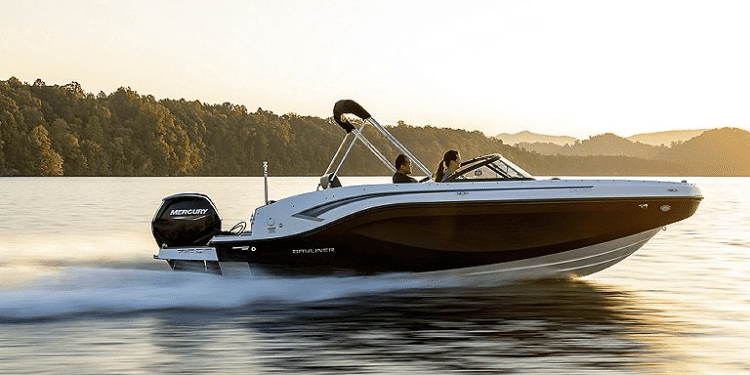 The DX 2200 and 2250 come as a complete boat and motor package. They are 21 feet 7 inches in length and sport a 8 feet 6 inches long beam. Below are some of the features of this model:
Engine – The DX 2200 comes with a 150 Horsepower (HP) EFI four-stroke outboard engine. However, it can be upgraded to the 200 HP ECT 4.5L Alpha 1 stern drive, with additional engine options available.
Seating & Design – The interiors are very spacious and can accommodate about 12 people. The BeamForward™ design on this boat means that the entire beam stretches into the bows offering even more space for activities and extra comfort for seating.
Floor plan – The floor plan is dual console and possesses a living room-like setting which makes for a very homely experience while simultaneously offering the thrill of outdoor freedom.
Entertainment center – The boat can also double as an entertainment center as the rear branch seat is reversible and can be repurposed into an outfacing sun lounge.
DX 2200 Specifications
Length: 21'7″ (6.59 m)
Beam: 8'6″ (2.59 m)
Draft: 2'9″ (81 cm)
Trailer Height: 7'10"
Fuel Capacity: 55 US gals (208 L)
Base Engine / Drive: MerCruiser Outboard
Engine HP: 150-200
Fuel Type: Gas
Deadrise: 20°
Approximate Weight with Standard Engine: 3,999 LBS
Approximate Weight with Trailer: 4,065 LBS
Maximum People Weight: 1,522 LBS
DX 2250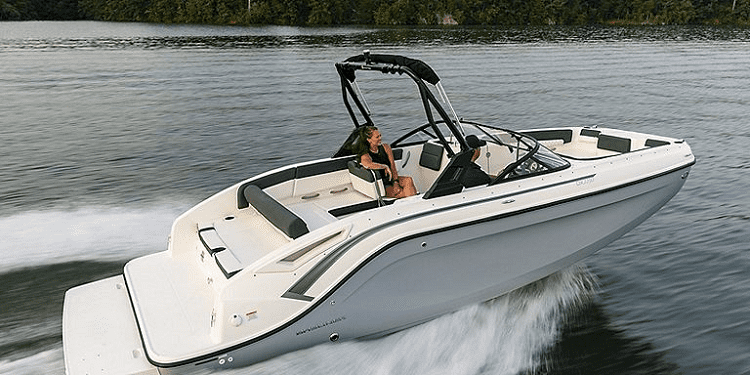 The DX 2250 is very similar to the DX 2200 in terms of appearance and offerings. Here are some special features of this model:
Engine – On the other hand, it sports a 200 HP MerCruiser ECT 4.5L MPI sterndrive engine. Like the DX 2200, the engine is upgradeable to a 250 HP ECT 4.5L sterndrive.
Design – Onboard, the DX 2250 is fitted with rich upholstery made of high-density foam, comfortable at all ends of the boat. This offers similar consistency as you move from the bow to the stern. At the bow, you get LED split navigation lights and rear underwater lights to aid nighttime vision.
Seating Capacity – The bow is a U-shaped lounge that allows seating facing either direction. The maximum seating capacity on the boat is 11 people. However, the companion seat has a headrest that provides extra seating space or a comfortable outfacing seat for anglers.
Floor Plan – The floor plan is similar to that of the DX 2200. The floor is of a non-skid standard to further ensure safety, allowing children to jump in and out without fear.
DX 2250 Specifications
Length: 21'7″
Beam: 8'6″
Draft: 2'9″
Trailer Height: 7'10"
Fuel Capacity: 55 US gals
Base Engine / Drive: MerCruiser Sterndrive
Engine HP: 200-250
Fuel Type: Gas
Deadrise: 20°
Approximate Weight with Standard Engine: 3,999 LBS
Approximate Weight with Trailer: 4,065 LBS
Maximum People Weight: 1,522 LBS
 
Other Special Features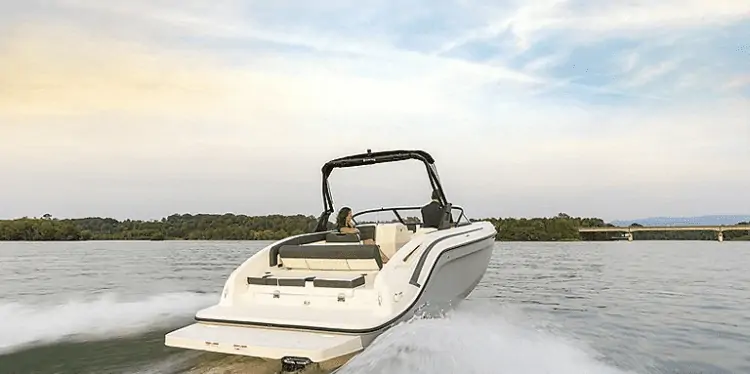 The DX series also has a large storage area tucked in under the seating areas, with the in-floor ski locker offering even extra room. On the port is another large enclosed compartment for additional storage. Between the cockpit and the transom, there is an in-floor cooler for extra storage.
Convenience Features
The DX series possesses a cockpit cover (full windshield) and locking center panel, filler cushion, bow table, cockpit table, and refrigerator. Behind the captain's chair is a dedicated wet bar with a freshwater sink offering convenience for food preparation.
As an add-on, you can get a Bimini top or the Xtreme tower top with an integrated Bimini top which makes performing jumps and tricks exciting.
Entertainment Features
Onboard are transom speakers to ensure music is available to entertain family and friends on a day out or a small party. The storage station in the helm offers USB 12 volt and AUX input to keep music at your fingertips.
The built-in cup holders and film storage trays in the sun lounge also provide USB outlets atop the built-in storage underneath.
The ergonomic footrest and tilt steering on this series also increase the comfort and satisfaction that boaters should expect.
On the DX2200, there is an extended swimming pool. Although, a swimming pool can also be added to the DX 2250 but with an extra cost. The full-beam integrated swim platform has a swim ladder that allows accessible entrance and exit into the water.
Sports Features
The addition of a ski tow pylon makes this traditional deck boat even more versatile and can be repurposed for tow sports and tubing. Another optional add-on available is a wakeboard rack for water sports.
To offer a wholesome fishing experience, a bow casting platform with a seat, fishfinder, and trolling motor basket can also be added.
Bayliner Element Series
Like with the DX series, we will look at the Bayliner Element series focusing on the Element M15 and M17. The element series was introduced in 2013 and has since then found footing in the affordable boat segment.
Element M15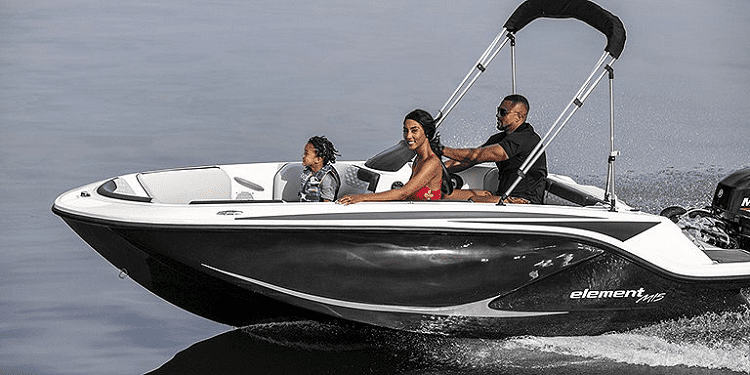 The Element M15 is a 15 feet deck boat that is simple like most Bayliner boats. It is easy to handle and tow due to the signature M Hull foundation of Bayliner boats. The M Hull creates side-to-side stability, which ensures that you do not fall off or dove when the boat turns. This makes it an excellent option for first-time boaters and their family. Due to its small size, this boat is recommended for small groups.
Engine and Fuel Capacity
The M15 comes with a 40 HP Mercury Fourstroke ELPT standard outboard engine that can be upgraded to 50 HP. While this engine power is no way near the 150-250 HP of the DX series we looked at, the M15 can still go as fast as 20-30 miles per hour.
This is partly due to its weight and length. The engine build also makes for optimal fuel consumption. The 12-gallon fuel tank can go on for as long as a fuel day without the need to refuel.
Design & Seating
Onboard, the M15 is a nook-style seating fitted with premium upholstery. Bayliner has been peculiar with offering comfortable seating areas despite the low cost of their boats. There are also bench seats at the rear of the bow area.
Entertainment – For entertainment, the bow area is fitted with Jensen speakers, which offer premium audio quality.
Space management – The driver area utilizes space expertly, considering the small size of the boat. It has an armrest to ensure comfort while navigating. The throttle control is beside the armrest, ensuring that navigation is smoother while maximizing available space.  While still utilizing space efficiently, like the DX series, usable storage space is available beneath all the seats. This is also nicely finished giving a premium feel to this low-cost boat.
The M15 is sold in packages. These packages are offered to assist boaters with equipping their boats with informed options instead of individual selections that make the choice process cumbersome.  Here is what each package includes:
The EX package – Bundles a full boat cover, red hull color sides, waterproof 120-watt AM/FM stereo with MP3 capacity, 500GPH bilge pump (automatic), bimini top with boot (6′), and mooring cover.
The EXL package – Adds a digital depth finder at the dash, bow filler cushion, extra cockpit flooring (grey mat), and hull color choice. The color options available are white, black, and red.
Element M15 Specifications
Length: 15'2″
Beam: 6'7″
Draft: 2'1″
Trailer Height: 5'9″
Fuel Capacity: 12 US GAL
Base Engine / Drive: Mercury Outboard
Engine HP: 40-50 HP
Deadrise: 17°
Approximate Weight with Standard Engine: 1,385 LBS
Approximate Weight with Trailer: 1,755 LBS
Maximum People Weight: 705 LBS
Maximum people capacity: 5
Element M17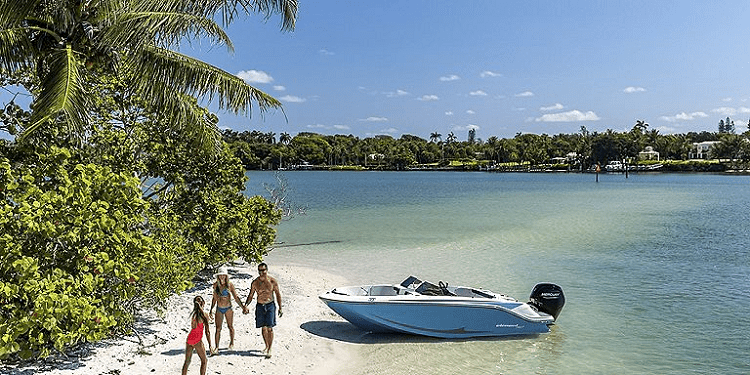 The element M17, like the M15, also sports the M hull design, which allows for stability and precise handling. It appears to be an upgrade to the M15, offering more room and extra options. We will discuss these extra additions as we go further.
The M17 sports a 17 feet longboard, with a ramped-up 60-90 HP engine depending on the option you decide to choose.
The M17, by default, comes with a 60 HP Mercury FourStroke Outboard Non-DTS engine. This can be upgraded to a 60 HP Mercury Command Thrust Outboard, 75 HP EFI Mercury FourStroke Outboard Non-DTS, or 90 HP EFI Mercury FourStroke Outboard Non-DTS engine.
The M17 can fit seven people, an improvement to the five on the M15.
Its nook-style setting is excellent for hangouts, and there is also the option to transform the boat to a sun lounge due to the improved fullness of the cushion.
Bayliner has paid more attention to the upholstery with this model, with a lot of work to ensure this model offers an enhanced aesthetic.
The flooring is similar to that seen on the DX 2250, with more attention to the non-skid design.
Storage is also robust, with the under-seat areas repurposed efficiently. There is also a built-in cooler for drinks.
Like the M15, the M17 is also offered as packages. These packages were created to cater to specific needs customizable by desired use of the boat.
M Fishing Package – Offers Aerated Livewell, Fish Finder, Bow Casting Platform and Seat, Trolling Motor Bracket with 12V Plug.
MX Package – Offers a Bimini top with Boot, Auto Bilge Pump, Waterproof AM/FM Stereo, Snap-On Bow Well and Cockpit Cover, Ski Tow Pylon.
M Comfort Package – Improves upon the MX package by adding a Stainless Steel finishing, Bow Block Off, Bow Filler Cushion, and Portside Lounge Seat.
Element M17 Specifications
Length: 17'0″
Beam: 7'6″
Trailer Height: 6'8″
Fuel Capacity: 18 US GAL
Base Engine / Drive: Mercury Outboard
Engine HP: 60-90 HP
Deadrise: 16°
Approximate Weight with Standard Engine: 1,987 LBS
Approximate Weight with Trailer: 2,457 LBS
Maximum People Weight: 1000 LBS
Maximum people capacity: 7
Factors to Consider When Buying a Bayliner Boat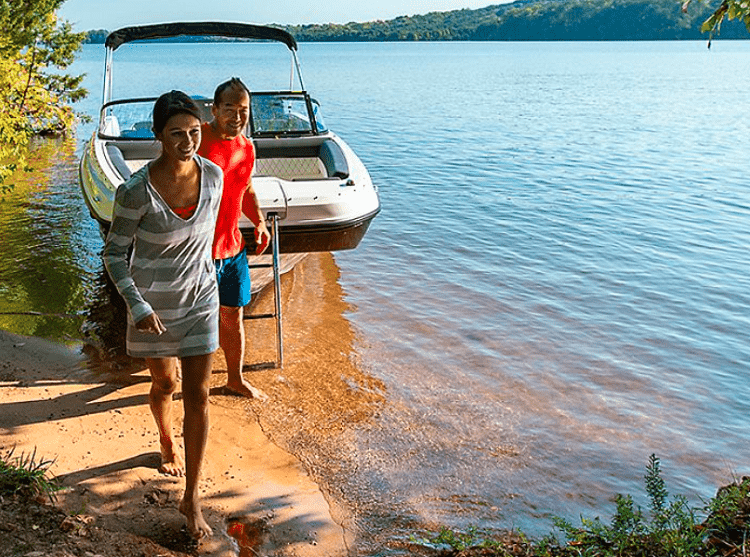 Power
The major drawback of choosing a Bayliner is that they are often underpowered. This means that they cannot run as fast as most others. If you are looking to get a boat just for cruising, this should not cause concern.
Price
Choosing an inexpensive new Bayliner may be a better option for first-time boaters than buying a used one. Also, be careful with used Bayliner boats as most may not have been appropriately handled and maintained by the previous owners, who are often first-time boaters.
The DX series boat prices range from $40,000 (United States Dollars) and upwards. The element series, on the other hand, costs about half this price. The prices may differ according to your dealer.
Engine
The choice of engine drive on your new boat may also make or mar your boating experience. With sterndrives, you will require more effort to maintain your boat and keep it in top condition. This could account for why outboard boats have gained more popularity over the years despite their less appealing aesthetics.
Maintenance
You will need to wax, gear lube, trim lube, flush, buff, perform oil changes more frequently with the sterndrive. This could be as frequent as after almost every one hour of being in the water. With outboards, maintenance can take much longer.
While sterndrives may give you more room and a better appealing appearance, you may want to avoid them if you do primarily saltwater boating to prevent possible corrosion. It is also noteworthy that outboards can be pretty expensive to repair should they get damaged.
The Dealer
One of the most important factors to consider when buying a Bayliner is the dealer. Your choice of the dealer is very important for one primary reason; after-sales service and warranty claims.
Being a part of Brunswick, Bayliner boats get maximum coverage for most parts and engines. To ensure you maximize the possibility of getting the best value, the dealer you choose will be very crucial.
FAQs
Question: Is Bayliner a Model or a Brand?
Answer: Bayliner is a brand.
Question: What Company Owns Bayliner Boats?
Answer: Bayliner is owned by the Brunswick Corporation, the largest boat manufacturer in the world.
Question: How Much Does it Take to Maintain Bayliner Boat?
Answer: Annual maintenance of a Bayliner costs 10 percent of the boat's cost. If you have a Bayliner boat of $30,000, 10 percent of it, which is $3000, goes to maintenance.
Question: How Often Should a Bayliner be Maintained?
Answer: A Bayliner boat, just like every other boat must be maintained at least once a year.
Question: How Much Does a Brand New Bayliner Boat Cost?
Answer: New Bayliner boat cost ranges from $20,000 upwards, depending on the model.
Question: Do You Need a License to Drive a Boat?
Answer: Yes, you need a license. In some states, boaters are required to have a license or certificate, while others have age limits.
Question: Do You Need a License to Rent a Boat?
Answer: If you're trying to rent a boat, make sure you confirm the rules. Sometimes, a rented boat may or may not come with a captain. However, if yours do come with one then it is likely you may not need a license. If the boat does not come with a captain then you do need a license.
Conclusion
On a final note, depending on your budget and your choice of use, you can now decide which Bayliner might be best for you. The DX series combines the spaciousness of a deck boat, and the sporty feeling of a bowrider, or the simple and chic Element series allows a more relaxed boat setting for small groups.
Looking for more interesting readings? Check out: