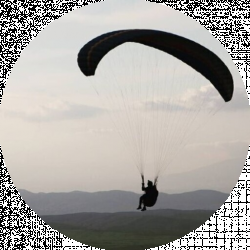 Latest posts by Mehmet Atalay
(see all)
The Bayliner Element E16 is a deck boat of the Element series with a Bayliner M-Hull design. Deck boats are similar to bowriders, but they differ in their width, which allows for a larger deck surface. Of course, a feature like this translates to an extra deck area, which means more room for family and friends and seats and storage.
Deck boats are perfect when your family is larger, and your boating dreams are greater than a bowrider. As the deck boat type says, the Bayliner Element E16 offers many deck areas.
The distinctive M-Hull shape of the boat results in a running surface that is exceptionally stable, predictable, and easy to operate. Because of its familiar, automotive-style handling, it is also straightforward to operate for inexperienced sailors.
Bottom Line Up Front
The Bayliner Element E16 is a good boat for a pleasant day on the water, whether on a lake or for near-shore activities. It's simple to transfer with the included trailer.
The boat is a deck boat, which means it has more deck width and is more spacious than a bowrider. The Bayliner Element E16 also has a revolutionary M-shaped hull that improves the boat's stability and comfort. It has good performance for a 16′ boat, but keep in mind that this is not a speedboat; rather, it concentrates on simplicity and ease of usage.
The design is straightforward, and it provides ample area for sitting, laying down, or sunbathing while chatting. The Element E16 has a nice aft sundeck. A beautiful swimming platform makes it easy to get into the water.
So, to summarize, the Bayliner Element E16 is a decent alternative for everyday boating in the 15.000-20,000$ price range, especially with many used options available. 
Bayliner Element E16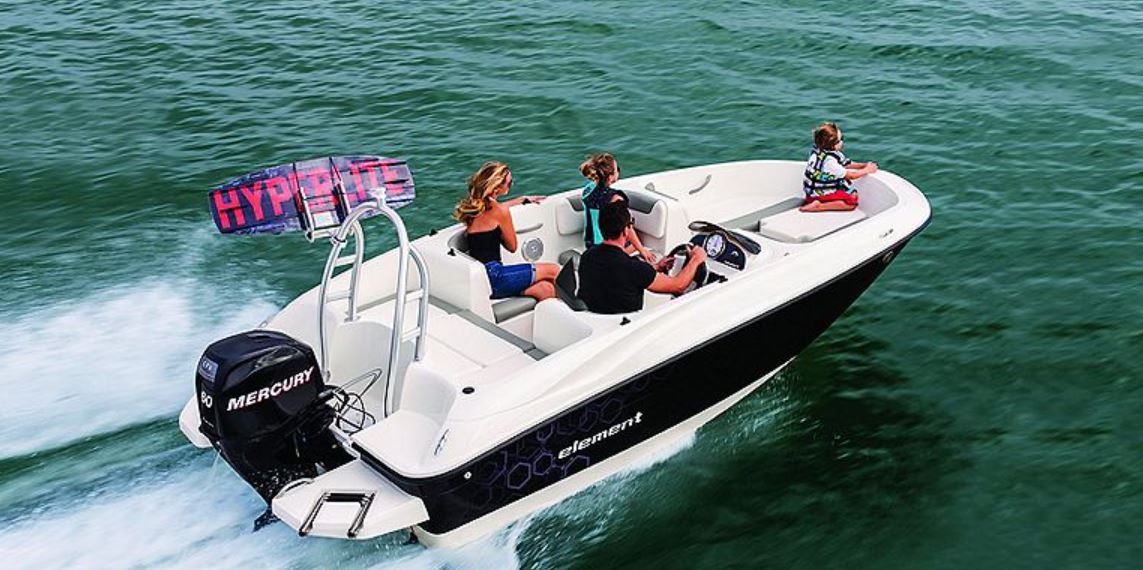 Design
As previously stated, the Bayliner Element E16 is a planing boat with an M-hull. The M-shaped hulls are meant to recover the bow wave and use it to generate an airflow that reduces friction drag. This design has a conventional V-shape in the center with M-shaped skirts on the side.
As mentioned before, this is a planing boat, which means the boat is supported by the hydrodynamic lift rather than the hydrostatic lift as it speeds up. As a result, there's a lot less drag and improved performance at higher speeds.
This is accomplished by an M-shaped hull with a central displacement portion and a deck extending laterally to support two vertical parallel skirts. The skirts produce planing tunnels on opposing sides of the center displacement section, allowing the bow wave to be recaptured by the skirts.
In comparison to V shape hulls, this hull design provides the Bayliner Element E16 with more stability and smoother driving in exchange for a bit less trim sensitivity. 
The hull of the boat is bonded to a one-piece fiberglass deck above the bond line. It's the perfect structure for quick clean-up and maintenance and a solid, straightforward design. 
The deck's seat bases are sculpted into it. They are identical to the helm seat in the main cockpit area, and both port chairs are scalloped into the deck to provide a nice sitting area.
The little swim platforms are scalloped into the stern and extended for easy access to the water towards the aft of the boat. One of the platforms also has a three-step ladder to help you get back on the boat after swimming.
All seats have storage beneath them, and an optional detachable cooler may be put beneath a center filler cushion in the free space. The battery is located under the starboard seat, while the removable 12-gallon fuel tank is located next to the port. A single, large speedometer is mounted at the helm. A windscreen tops the helm.
Specifications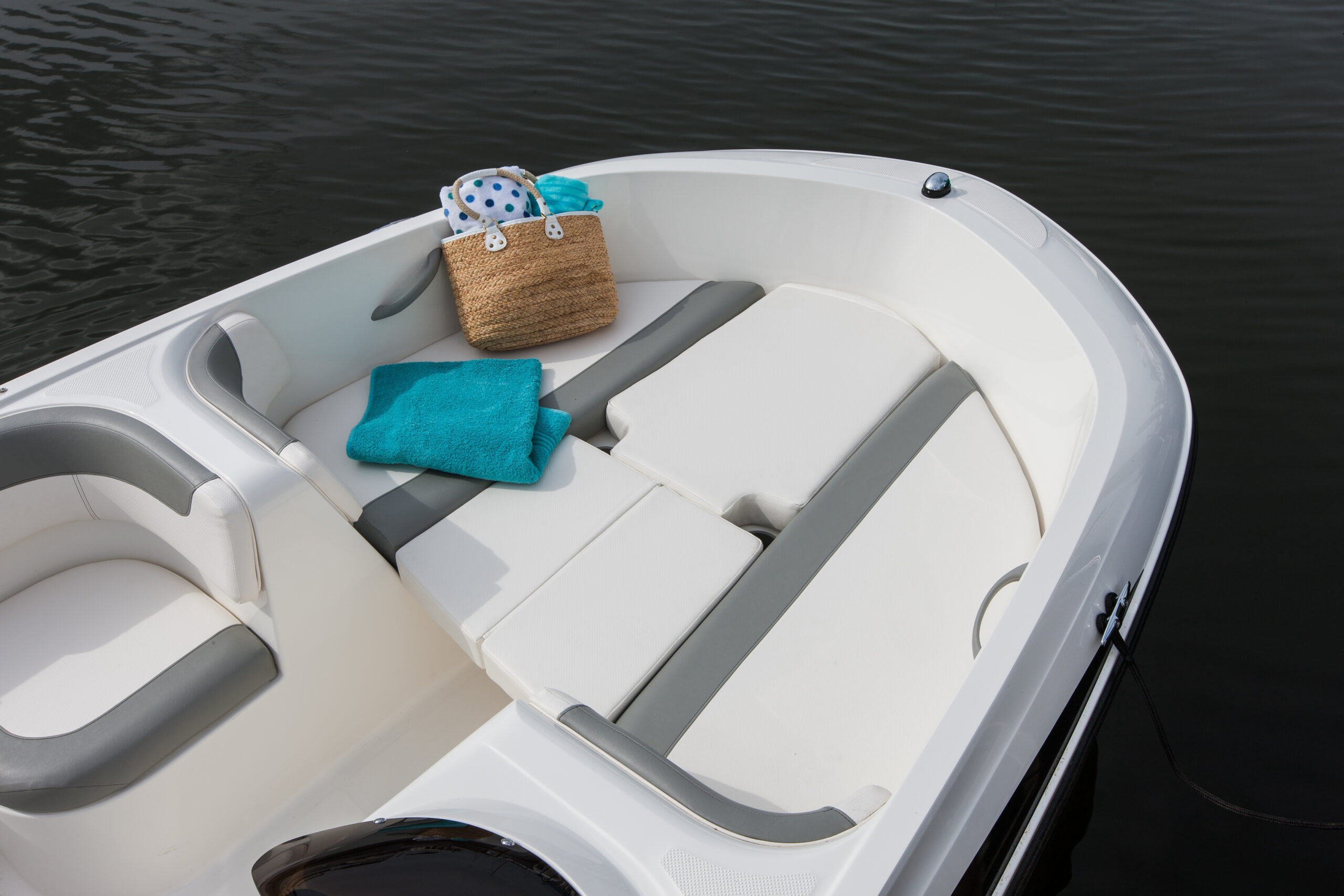 The boat's specs and design are dominated by simplicity. Bayliner aimed to build a stable, comfortable, sporty, and spacious boat.
Table 1: Bayliner Element E16 2021 Specs – Source: Official Brochure
| | | | | | |
| --- | --- | --- | --- | --- | --- |
| Length Overall (LOA) | 16' 2" | 4.93 m | Max People Weight | 850 lbs | 386 kg |
| Width (Beam) | 7'5" | 2.26 m | Fuel Capacity | 12 gal | 45 L |
| Max People Capacity | 6 | 6 | Draft Down | 2' 3" | 0.69 m |
| Max Horsepower | 80 hp | 80 hp | Height on Trailer | 5' 7" | 1.7 m |
| Deadrise | 17 Degrees | 17 Degrees | Beam on Trailer | 7' 11"  | 2.4 m |
| Approx Weight w/Standard Engine | 1,570 lbs | 712 kg | Storage Length | 20' 1"  | 6.12 m |
| Approx Weight w/Trailer | 1,970 lbs | 894 kg |   |   |   |
The following are some of the boat's possible options:
Hydraulic Steering System: Oil pressure is used to regulate the steering in a hydraulic system. Moving the steering wheel on larger or high-powered boats provides a smooth, lightweight feel.

Bimini, 6' Top with the Boat

Wakeboard Rack

Bow Speakers (x2)

500 GPH Bilge Pump (Automatic): A bilge pump is a type of water pump that is used to remove bilge water from a vessel.

Digital Depth Indicator
Performance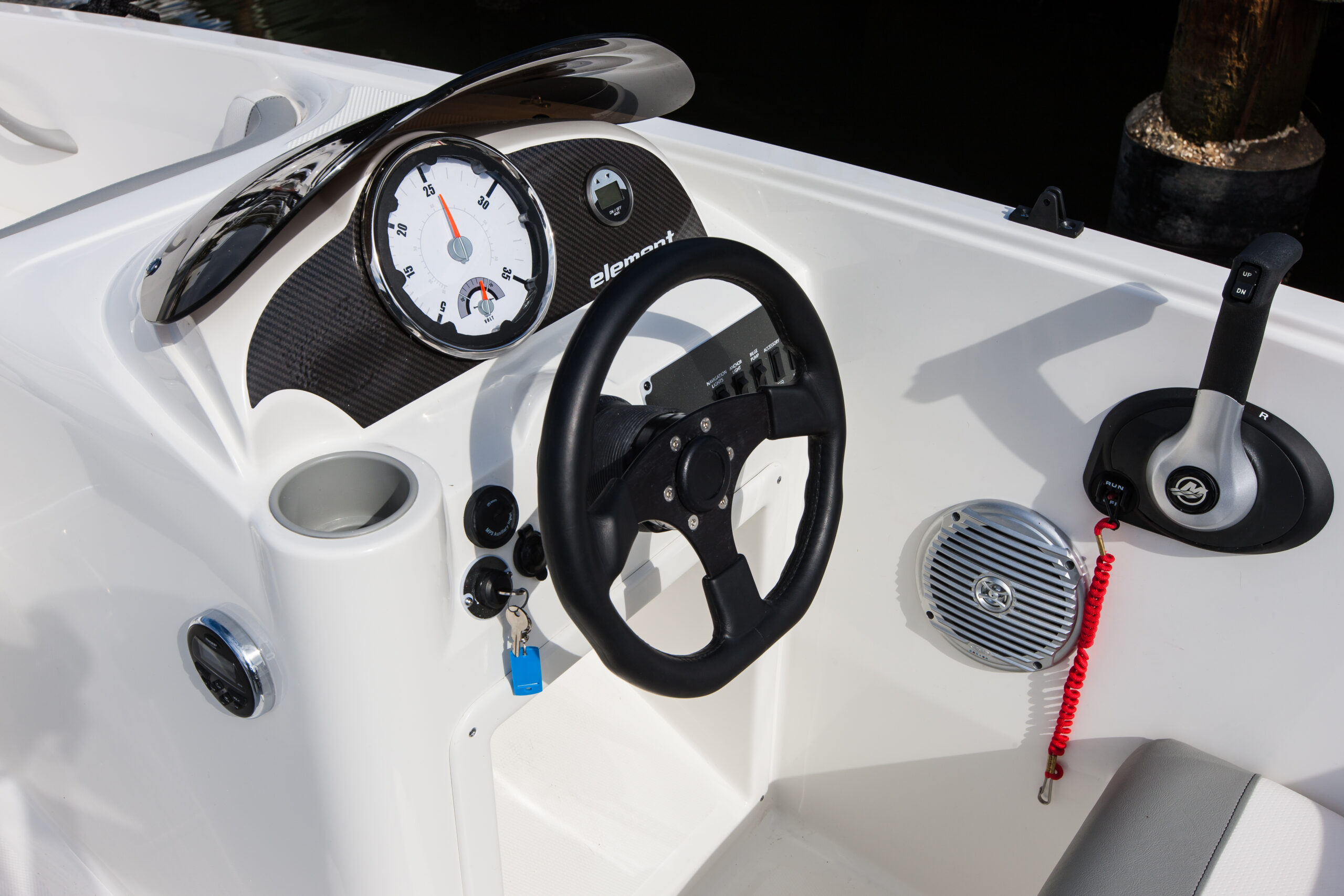 Bayliner Element E16 comes with three engine options. These are
60 hp Mercury FourStroke ELPT CT EFI Outboard

60 hp Mercury FourStroke ELPT Outboard

75 hp Mercury FourStroke EFI Outboard
The Mercury 60 hp outboard engine is one of the most popular on the market. Mercury says that its engines offer greater low-end torque for acceleration, improved fuel economy, and overall performance. EFI stands for "enhanced fuel injection," which means that it improves efficiency.
Table 2: Mercury FourStroke 60hp EFI Specs – Source: Official Website
| | | | |
| --- | --- | --- | --- |
| HP / kW | 60 / 45 | Dry Weight | 247 lbs / 112 kg |
| Engine Type | Inline 4 | Fuel System | Electronic Fuel Injection (EFI) |
| Displacement (CID / CC) | 60.8 / 995 | Trim System | Power Trim |
| Full Throttle RPM | 5500 – 6000 | Shallow Water Trim Range | 20 degrees |
| Fuel Injection System | 2 Valves per Cylinder – SOHC | Remote Fuel Tank (Optional) | Yes |
| Alternator | 18 amp / 226 watts | Lubrication System | Wet Sump |
| Recommended Fuel | 87 Octane / up to 10% Ethanol |   |   |
The Bayliner Element E16's cruising speed is approximately 20 mph, while the boat's top speed is around 30 mph. You can go a little quicker with the 75-horsepower engine option. Please keep in mind that this is a deck boat with a little expanded space for your family or friends, not a speedboat.
The boat's M-Hull Design improves stability on the water, reducing swaying and making boating accessible to beginners.
Where to Buy 
You may discover local Bayliner yacht dealers by visiting the following link. You may also utilize Bayliner's dealership feature to list secondhand boats on the same page.
Another alternative is to hunt for secondhand boats on the internet, which has a plethora of possibilities. A used 2015 Element E16 costs as little as 15,500 dollars, while a 2019 Element E16 costs $18,000 dollars. Price rises of up to 23,000 dollars are possible for newer models with less time on the water and better optional packages.
Alternatives
Tahoe T16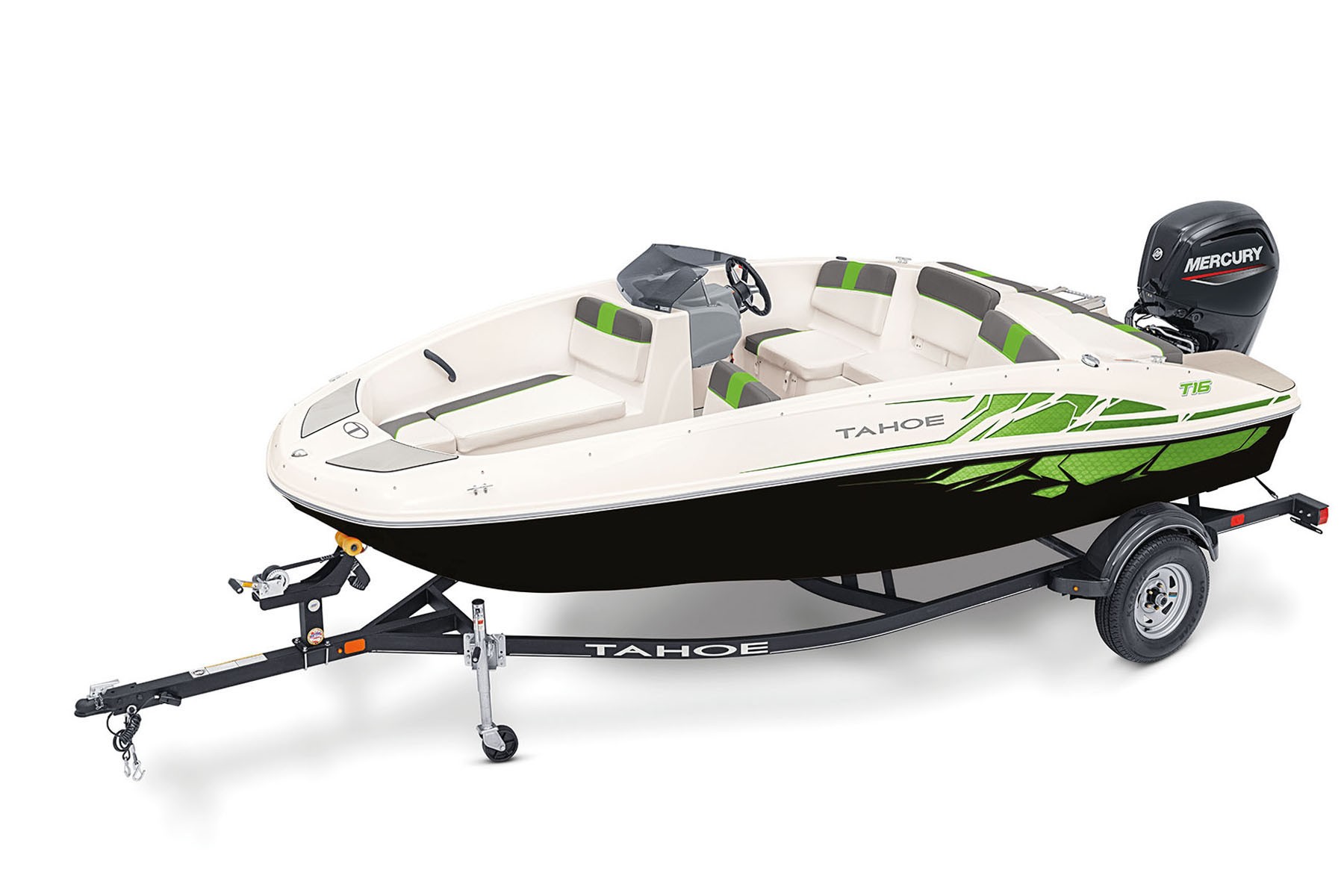 Tahoe T16 shares the same dimensions as the Bayliner Element E16 but is distinguished by its classic V-shaped hull. A standard automated bilge pump and a depth detector are included in the T16's sporty package. Aft, a wide lounge mirrors the cockpit bench seating with flip-open driver and passenger chairs and twin bow lounges open to expose storage. Both boats can accommodate a total of six persons. 
The Bayliner Element E16 features a little more room in the back, with additional seats and more comfortable swimming platforms. Apart from that, the two boats' cockpit consoles and fuel tank differ. Tahoe favors an integrated gasoline tank over the detachable fuel tank on the Bayliner Element E16.
When comparing two boats based on customer satisfaction, the Tahoe's V-shaped hull provides for a more dynamic ride. This hull type is popular for offshore sport boating because it cuts smoothly through waves rather than poinding. The M-shaped hull of the Bayliner Element E16, on the other hand, is more stable and forgiving, making it simpler to operate with a bit less agility. 
Table 3: Tahoe T16 Specs – Source: Official Website
Basic Specs
Engine Options

Length

16' 5"

Mercury 60 ELPT FourStroke

Max Recommended HP

75 HP

75 ELPT Four Stroke

Fuel Capacity

13 gal.

 

Max Person Capacity

6

 

Average Hull Weight

1500 lbs

 
Stingray 172SC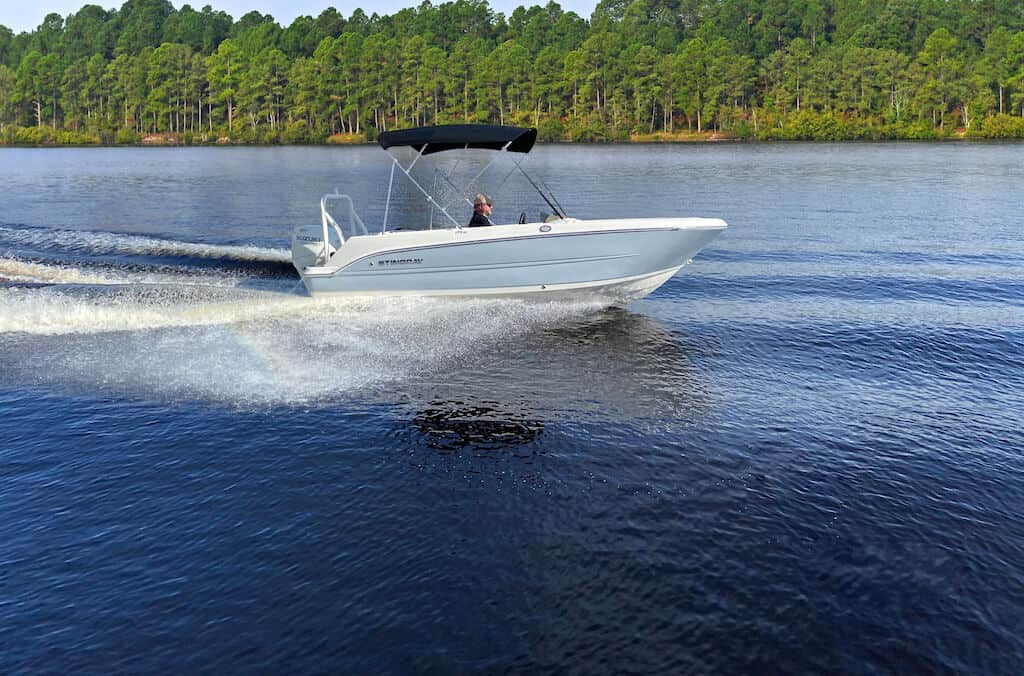 172SC, a 17-foot deck boat from Stingray, is another deck boat. Even though it is not in the same length class as the others by a foot, it has a Z Plane Hull, and I wanted to add a third hull design to the list. 
When submerged, Z-planes operate as horizontal planing faces. The outside edge of the Z-plane works as a spray release when it is extremely close to the water's surface. The hull shape of this design creates no bubbles or vortices as it moves through the water.
If you prefer a longer and more powerful deck boat, the Stingray 172SC is an option. And, of course, it is far more costly, costing roughly $28,000.
Table 4: Stingray  – Source: Official Website
| | | | |
| --- | --- | --- | --- |
| Engine | Suzuki 90 HP | Livewell Capacity | 6 gal |
| Length Overall | 17'3" | Max Bow Length | 58.5" |
| Max Capacity | 7 People | Cockpit Width | 69.0" |
| Fuel Capacity | 12 gal | Deadrise  | 18 Degrees |
Conclusion 
The Bayliner Element E16 is a pleasant, easy-to-use, and innovative deck boat that may be used for day-to-day activities on lakes or offshore boating. The boat is designed to be simple and innovative. This makes it simple to use for beginners while yet providing excellent stability on the water.
The boat's deck features a lot of seats, which helps to create conversation zones on the deck. The sunbathing spaces are adequate for a boat of this size. Consumer pleasure is ensured by features such as a rear-facing swimming platform.
The Element E16 comes with a trailer that can be towed, and transporting it is simple. Spending time on the water on weekends for daily activities is a good option for this price.
FAQs
Question: Is a Bayliner Element a Good Boat?
Answer: The Bayliner Element E16 is a nice boat for its price range and class. The boat has an M-shaped composite hull, which is unique. It's a good boat choice for six-person families with lovely sitting areas and storage possibilities.
Question: How Fast Does the Bayliner Element E16 Go?
Answer: The Bayliner Element E16 has a top speed of roughly 30 mph and can cruise at around 20 mph. It comes with a Mercury FourStroke 60 HP engine as standard.
Question: How Much Does a Bayliner Element E16 Cost?
Answer: A used 2015 Element E16 may be sold for as low as $15,500, while a 2019 Element E16 could be had for $18,000. For newer models with less time on the water and better optional packages, price increases of up to $23,000 are likely.
For more interesting readings check out: