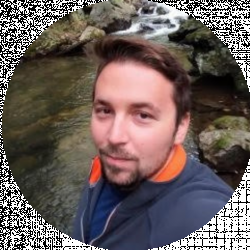 Latest posts by Coty Perry
(see all)
Mercury Marine is a renowned name in the boating industry. This is why finding the top 20 HP mercury outboard may be a challenge. For the 20 HP Mercury outboard motor, there are 6 options to choose from.
Knowing the best one for your needs may be a challenge. This is why I came up with this article. It's designed to give insight into the types of Mercury 20 HP outboards available. Read on to know more. 
Bottom Line Up Front
The 20 HP Mercury outboard motor is a great option for small boats. If you don't like it, go for the Tohatsu 20 HP if you want a multi-function tiller.
The Honda BF20 is best for those who hate delayed starting and hard starts. Choose the Suzuki DF20A if you are an environmentally conscious individual. 
Top 20 HP Mercury Outboard Motor Options
What most people don't know is that each 20 HP Mercury outboard motor has its unique features. However, they have similar features when it comes to things like the engine's performance. 
This is the reason why I created a table with all the top 20 HP Mercury outboard motor options. It shows the different models available and their respective differences. I talked to Mercury engineers and the design team to understand these outboard motors. This is what I was able to come up with. 
20 HP Mercury Outboard Motor Features
Mercury Marine's new 20 HP outboard motor has been redefined as a new class of versatile, compact, and lightweight outboard. You get more comfort, control, and power in a smaller lightweight package. Read on to learn more about this product. 
Tiller
These outboards have a new tiller that is exclusive to Mercury. It's ergonomically designed to provide comfort on a different level. It's also fully adjustable allowing for an effortless single-hand control.
The 20 HP Mercury outboard motor uses a center tiller mount design that features an exclusive steering adjustment. It's one of a kind considering it allows you to change the steering arc to accommodate the right or left operation.
This is done using a simple socket and Allen wrench. Also, you can fine-tune the outboard's tiller arm horizontal angle up to 18 degrees.
The advantage of this feature is improved leverage and added comfort. This will ensure controlling the boat's direction is a breeze. Suffice to say the engine can track effortlessly to the direction you want. 
Another key feature is the exclusive right or left-hand throttle function for improved comfort and control. The throttle grip rotation matches the boater's preference. There's a simple throttle mechanism under the cowl. It's used to switch the throttle grip for either right or left-hand use. 
At the tiller's handle end, there's an easy-to-reach stop button. Its purpose is to easily stop operation.
Another great feature of this tiller is the easy-to-operate shift lever located near the throttle grip. There's also a simple throttle tension knob. It's designed to ensure you can fine-tune the throttle friction to suit your preferences. 
Performance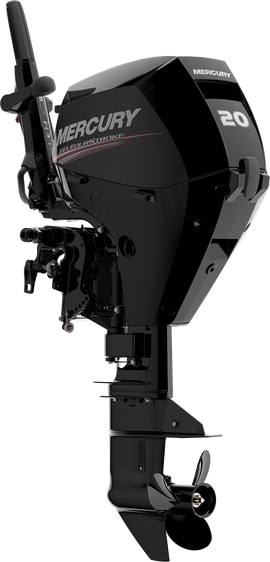 Mercury 20 HP outboard motors deliver exceptional performance. This is to ensure superior fuel efficiency and improved boat handling. These lightweight powerhouses debut at 99 lbs. (45 Kg.), making them among the lightest 20 HP outboards in the market. 
The engine is a 333 CC 2-cylinder 4-stroke. The configuration is a 2-valve per cylinder single overhead camshaft. It offers a maintenance-free valve train and low friction. 
On the electric start models, you get a 12 ampere, 145-watt alternator generating 9 amperes when trolling. The core of the outboard motor is an EFI (electronic fuel injection) system. It allows the motor to start faster and easier while offering instant throttle response in any weather. 
Manual starts are possible thanks to the innovative battery-free EFI control system. It comes with a built-in decompression relief rope. Starts are easy for anyone because of this system.
It requires less maintenance because it's a pressurized fuel system. EFI also ensures the outboards run smoother by maximizing power output and lowering fuel consumption.
Maintenance 
Under the cowl, there's a maintenance schedule offering an overview of routine maintenance and a basic operation guide. The maintenance schedule has 100 hour and 300-hour inspections and checks. It includes a QR code for contacting Mercury Marine for more information.
Servicing the fuel system is a breeze. A powerhead oil filter drain hose is provided for draining the filter before removal. There's a filter catch tray for catching any drips that may remain. All models have freshwater flushing if you use the garden hose connection on the engine's side near the front.
Durable
Mercury's pre-treatment painting and priming process are designed for saltwater use. It ensures the long-term protection of aluminum castings. Low-copper aluminum alloys prevent corrosion and deliver the best protection against the same. 
Models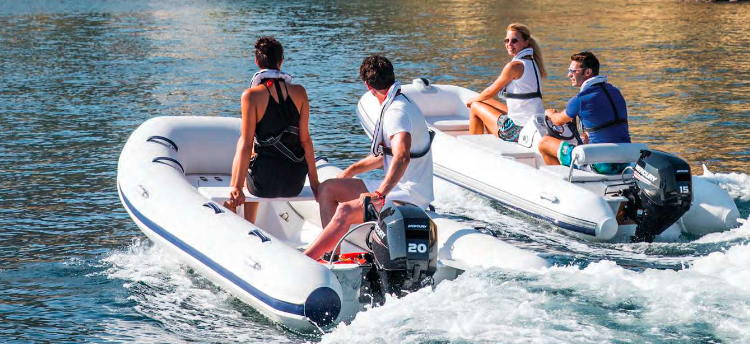 Check out the table below for the different specifications of each model.
Model
Engine

Type

Shaft
Alternator

Amp/Watt

Start
Trim
Full

Throttle

Gear

Ratio

MH
Inline2
15"
N/A
Manual
Manual
5,700 – 6,200
2.15:1
MLH
Inline2
20"
N/A
Manual
Manual
5,700 – 6,200
2.15:1
EH
Inline2
15"
12/145
Electric
Manual
5,700 – 6,200
2.15:1
ELH
Inline2
20"
12/145
Electric
Manual
5,700 – 6,200
2.15:1
ELHPT
Inline2
20"
12/145
Electric
Power
5,700 – 6,200
2.15:1
ELPT
Inline2
20"
12/145
Electric
Power
5,700 – 6,200
2.15:1
EL
Inline2
20"
12/145
Electric
Manual
5,700 – 6,200
2.15:1
Pros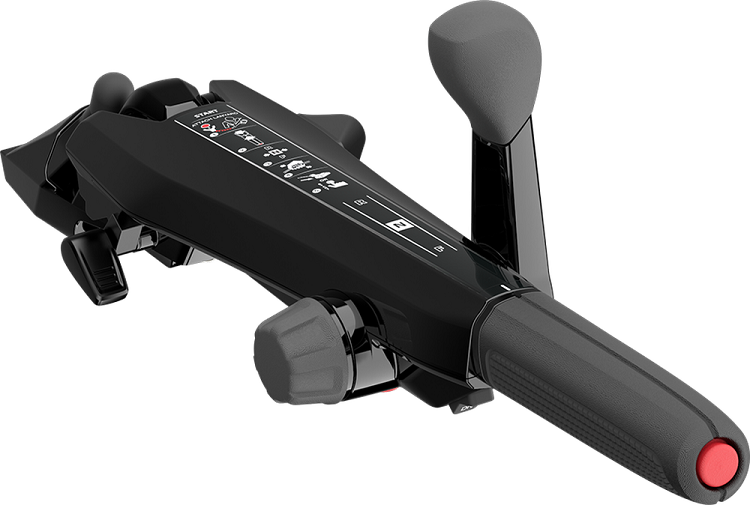 3.2-gallon fuel tank

Electronic Fuel Injection

3 gears (F, N, and R)

Water-cooled

3-year warranty

Choose from 6 models

Fully adjustable tiller

Right hand and left-hand use
Cons
Not for environmentally conscious people 

One color option
Top 20 HP Mercury Outboard Motor Alternatives
From the above information, you have learned everything about the Mercury 20 HP outboard motor. If the product hasn't piqued your interest, I got you covered. 
I talked to owners and boating experts to find alternatives to the 20 HP Mercury outboard motor. From the information I gathered, I was able to come up with three of the best options. Check them out below.
Tohatsu 20 HP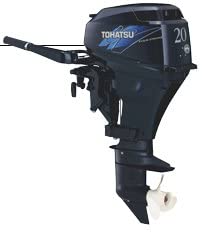 The first thing I liked about this model is the multi-function tiller handle. It comes with PTS (power tilt switch), friction adjusting screw, front shift, and stop switch.
They are integrated into the tiller handle to make your boating experience comfortable. Additionally, there's a carrying handle on the front that you can tuck away when you don't need it. 
Tohatsu 20 HP comes with a user-friendly, high-quality water separator. It's a simple and unique separator that doesn't need tools to drain the water. 
Compared to the previous model, the tilting weight has been reduced by 26%. The weight reduction is the result of moving heavy components like the driveshaft and crankshaft 30 MM forward. This means you can easily tilt manually. 
The outboard motor uses battery-less EFI (electronic fuel injection) operation. You can choose from a variety of options including remote, power, and manual tilt. The VST (vapor separator tank) is designed to integrate the fuel cooler, regulator, and high-pressure fuel feed pump. 
Pros
ECO Sport design and development concept 

Simpliq Technology

Easily replaceable canister style oil filter

CARB 3-star rating and EPA approved
Cons 
Only available in 4-stroke
Suzuki 20 HP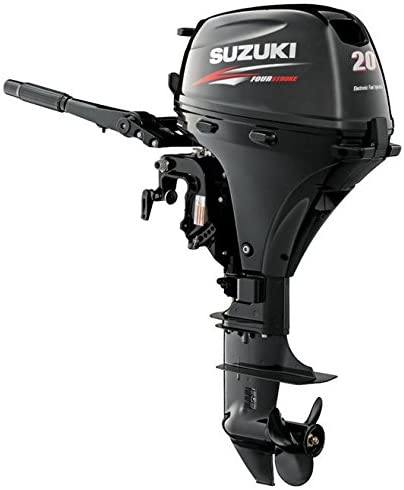 The DF20A is Suzuki's 20 HP outboard motor. It's the most technologically advanced portable outboard due to its state-of-the-art designs. For starters, it holds claim to being the first battery-less EFI 4-stroke in the world. 
The motor uses a new fuel injection system with lighter and smaller components. Lean Burn Control technology ensures these products deliver reduced emissions and fuel economy. This means you get to go further for less. You also get a power tilt and tiller handle model. 
To deliver more efficient and cleaner operations, Suzuki uses several of its advanced technologies. Furthermore, the technologies ensure the DF20A conforms to the RCD Directive 2003/44C of the European Parliament. It has also received the coveted 3-star rating from CARB.
The Suzuki DF20A is the first outboard to offer fuel injection. Additionally, all new components were designed as lightweight and compact as possible. They include the new throttle body, fuel injectors, vapor separator, fuel cooler, and inline high-pressure fuel pump. 
Pros
3-star CARB rating

Lean Burn Control technology

Battery-less smooth EFI operation

Options for manual and power tilt
Cons
Pricier than most in its class
Honda 20 HP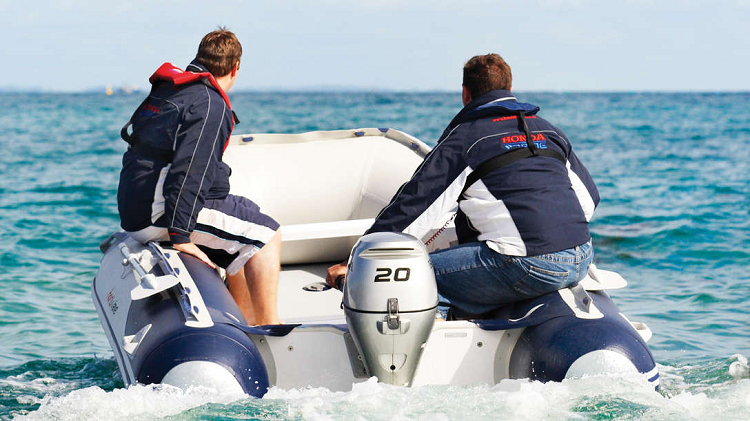 This is a reliable and efficient 4-stroke outboard motor. Combined with the long-stroke design it offers optimum torque in all RPM ranges. 
Starting is easy thanks to a built-in compression release together with a digital CDI system to set ignition timing. This reduces the effort required to pull-start the outboard by 40%. 
BF20 is convenient to mount and easy to transport because it's the lightest 4-stroke model in its class. You will be happy to know it's available with Power Thrust.
The design is developed to increase performance for heavy loads. Power Thrust uses a 4-blade propeller to create 15% more thrust in forward and 60% more in reverse. The result is improved performance and maneuverability. 
There is an exhaust relief feature that increases power in reverse. It's done by reducing cavitation around the propeller blades. 
The exhaust relief is found above the cavitation plate. This allows the prop to run in exhaust-free and clean water. The engine also has the highest CARB 3-star rating. For optimal operation, the Honda BF20 uses PGM ignition. The system uses a microprocessor to accurately control ignition timing. It works not only during start-up but also across the entire RPM range.
Pros
Uses PGM ignition to control ignition timing

Available with Power Thrust Technology

Easy to transport and mount

Long-stroke design
Cons
The tiller handle doesn't have advanced controls
How Much Horsepower Do You Need?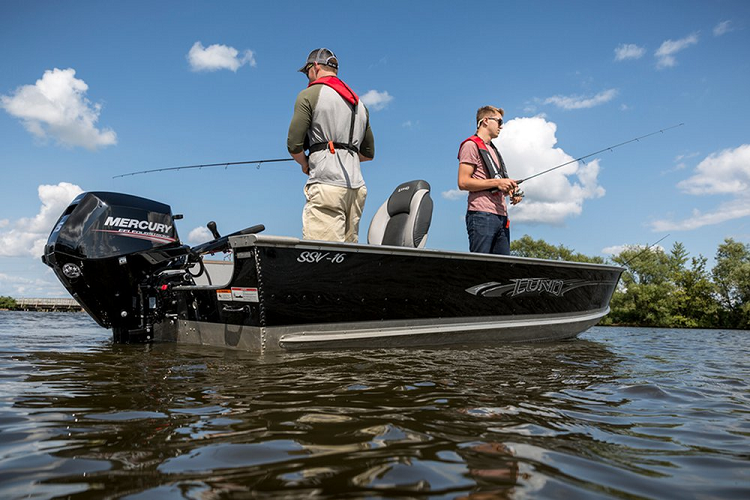 The amount of horsepower you choose is going to depend on the size of your vessel. Here's a quick guide to determining the best horsepower for your boat:
Under 10 feet: for small craft, like canoes, dinghies, and sailboats 

10 – 15 feet: boat of this size usually requires 15 – 20 horsepower

15 – 25 feet: this is the common size for recreational boats. If you travel for longer distances you need something in the 200 – 300 horsepower range. However, 75 – 90 horsepower is fine if you plan to stay close to shore

Over 25 feet: you need to consider 200 – 300 horsepower
20 HP Mercury Outboard Motor FAQs
Question: How Fast is the 20 HP Mercury Outboard Motor?
Answer: According to outboard testers and boat fans, this outboard has a pitch of 5 and a top speed of about 20 MPH. Take note that various factors such as boat weight and outboard condition may reduce the speed.
Question: How do I Know When My Mercury 20 HP was Manufactured?
Answer: Every 20 HP Mercury outboard has a serial number located on the transom bracket of the engine. Last I checked, the serial numbers displayed a 2 digit number at the lower section of the label.
The two digits are the last two digits of the year the outboard was manufactured. For instance, an outboard built-in 2020 will have the number "20" on the lower right section of the label. 
Question: Who can I Contact if I Experience Engine Problems on My Mercury 20 HP Outboard?
Answer: When you purchase any Mercury outboard, the contract is between you and the seller or company. There are more than 4,300 authorized Mercury sales and repair centers in Canada or the United States.
The service technician at the center will assess the problem. They will then take action depending on the type, extent, and cause of the problem.
Question: What is MPP (Mercury Product Protection)?
Answer: MPP is a factory-backed extended service contract for your Mercury 20 HP outboard motor. It covers a wide variety of systems and parts, including labor.
The company's Gold and Platinum plans are designed for new engines or those that are still covered by their standard warranty period. To enjoy MPP, you must meet all eligibility requirements. 
Bottom Line
The 20 HP Mercury is a great outboard for anyone looking for an affordable and efficient Mercury outboard for their small boat. With 6 models to choose from and a fully adjustable tiller, it's a good investment. However, some people may feel this is not the outboard motor of choice. 
If you want something different, go for the Tohatsu 20 HP mentioned above. It's great for people looking for a 20 HP outboard with great features and a multi-function tiller handle.
For environment-conscious people, I suggest the Suzuki DF20A because of its Lean Burn Control technology. Choose the Honda BF20 for the best ignition timing starts and Power Thrust technology. 
If all these outboard motors did not suit your needs, check out my buying guide. It has everything you need to know to choose the right 20 HP outboard motor for your needs.
Looking for more interesting readings? Check out: