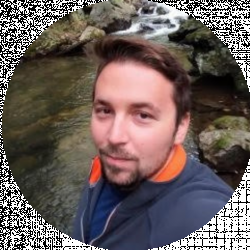 Latest posts by Coty Perry
(see all)
Choosing the right outboard motor for your boat can be a challenging task. You have to consider a lot of factors starting from the brand and fuel type to the engine configuration. You also need to be conversant with your boat shaft length, power, and speed. The number of gears that you want should be very clear in your mind.
It's a challenge considering there are a plethora of options to choose from. But once you identify the type of engine you require for your boat it's easy to make the right decision. Whether small or large, gas-powered or electric-powered, the most important thing is if the outboard meets your requirements.
Our Top 8 50 HP Outboard Motors
Getting the right outboard may be a bit challenging especially if you are a boating amateur. To make it easy, we prepared a list of the top 8 50 HP outboard motors for your perusal. This was after rigorous interviews with boat lovers together with research from online video outboard reviews.
Additionally, we have provided you with a buyer's guide to show you the factors that you need to put into consideration as you plan to buy the perfect 50Hp outboard. Read on to learn more.
4-Stroke 50 HP Honda BF50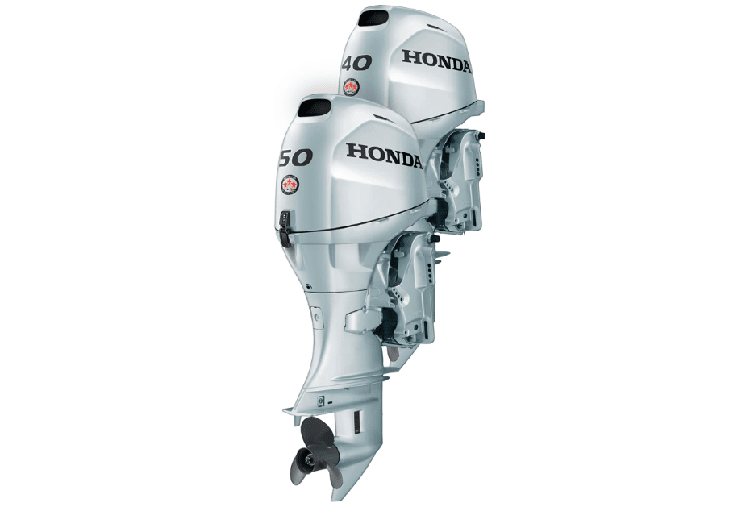 Honda BF50 is among the lightest 4-stroke 50 HP outboard motors in the world. For easy operation and improved handling, it comes with an ergonomically designed center-mounted tiller handle.
As with all Honda models, BF50 also enjoys the benefits of Honda's advanced 4-stroke technology. These include low emissions, quiet operation, and unparalleled easy starting. The motor has low maintenance costs and fuel consumption rates. It's available in 2 different types – L and X.
Honda is renowned for its top-notch performance and durability. For easy starting and warm-up, BF50 has an autostart feature that adjusts the air-fuel mixture. There is a gas-assisted tilt feature that enables the motor to tilt easily when running in shallow water.
The good thing with this model is that debris and saltwater can be flushed out of the engine via the freshwater flush port. Thanks to the patented non-linear rubber mounts, you can comfortably enjoy smooth operations at any speed.
Apart from having a 3-year limited warranty, BF50 also comes with a standard 10 amp charging system. This ensures that your battery remains charged while allowing you to operate the boat's electronics. Note that the powerhead is located directly over the transom bracket pivot point. As a result, vibration and stress at the transom are substantially reduced.
Pros
Light, compact design
Durable and reliable
Non-linear mounting system
Over-Rev protection
Low-oil-level and overheat warning systems
3-year warranty
Cons
Certification limitation
Only available in 2 types
4-Stroke 50 HP Tohatsu MFS50A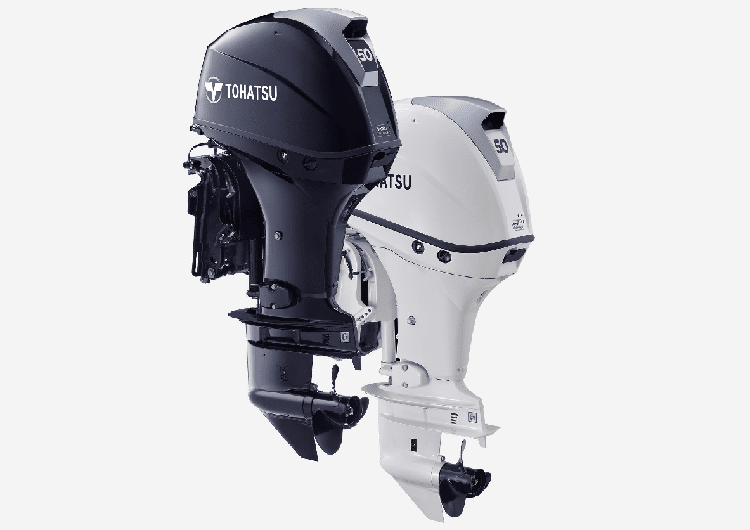 Are you looking for a 50 HP outboard with an advanced EFI system? If yes, then check out the 4-stroke Tohatsu MFS50A. Besides being fuel-efficient, it comes with a canister-style oil filter for easy replacement.
The ultra-lightweight design makes the motor the lightest in its class (97 KG). If you prefer a tiller control with an electric start and power trim, the remote control box can be replaced with a multifunction tiller handle. Tohatsu MFS50A features 2 different builds – EPTL and EPTs.
EPTS consists of a remote steering, power trim, electric start, and a short shaft. On the other hand, EPTL has a remote steering, power trim, electric start, and a long shaft. Both models come with a tachometer, trim meter, and a side mount remote control box.
They all have a 7-year warranty. That said, you can get it in either Beluga White or Aqua Black colors.
Pros
7-year warranty
Sleek and sporty cowl design
Multifunction tiller handle
Fuel efficient
It features an advanced EFI system
Cons
Only available in 2 colors
Pricey
4-Stroke 50 HP Yamaha F50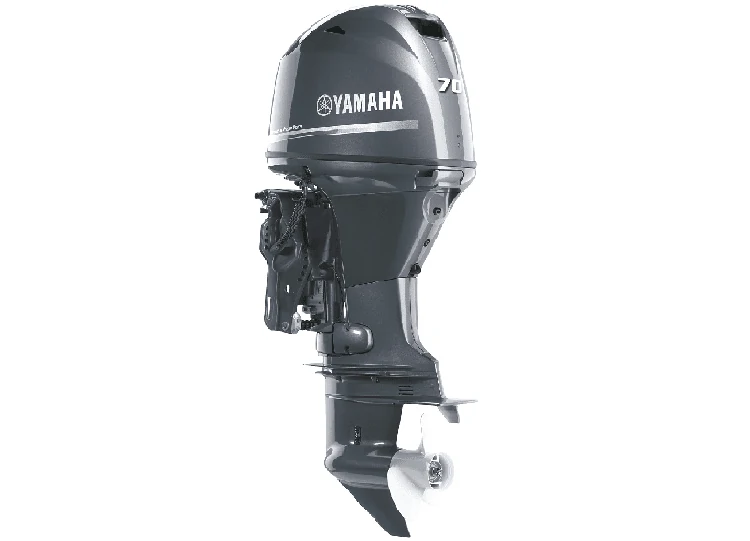 Yamaha F50 has a silky-smooth 4-cylinder engine configuration matched with a sleek low-profile cowling design. The outboard features a high-end single overhead camshaft 996 CC marine engine. It delivers an excellent power-to-weight ratio, fuel efficiency, and exceptional refinement.
The F50 delivers impressive power and torque with low noise levels and emissions, thanks to the combination of the Electronic Control Module with Multi-Point Injection System. Depending on the driver's demands and combustion conditions, airflow is efficiently delivered to all 4 cylinders. All air is pulse tuned just before it gets to the EFI system.
As a result, this promotes a clean and efficient burn for maximum power. The motor has the best fuel economy in its class. You can precisely adjust the engine's idling speed using Yamaha's Variable Trolling Controller. It can be conveniently adjusted in 50 RPM interval increments from 650 to 900 RPM.
The Prime Start feature makes starting a Yamaha outboard easy. With this model, you don't need to "warm-up" your engine by revving it in neutral. Yamaha comes with a push-button control feature which makes engine trim and tilt adjustments easy, smooth, and quick.
To flush salt and debris from the outboard without having to run the engine just connect a hose to the easy access connector. The 12V 16-Amp high-output alternator ensures that power to start the engine is always available.
Pros
Large single throttle valve
Variable trolling control
Prime Start feature
Freshwater flushing system
Labyrinth exhaust system
Cons
Hard to use user's manual
Not ideal for small boats
2-Stroke 50 HP Yamaha 50 Hetol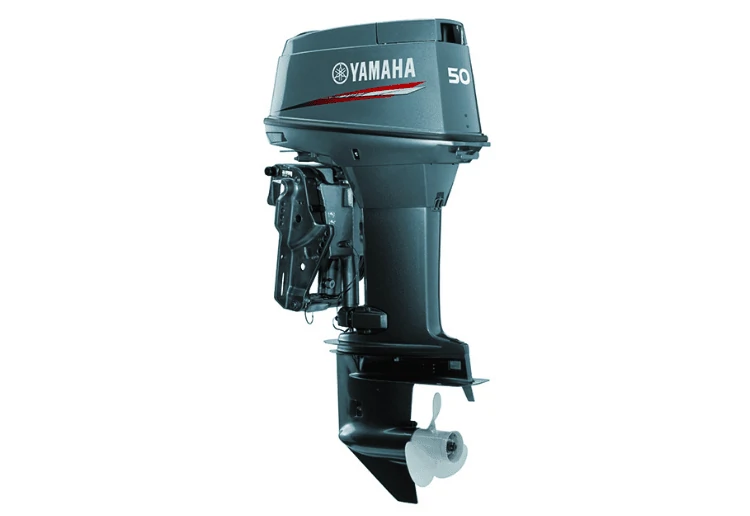 Yamaha 50 Hetol is a 698 CC outboard with a maximum operating range of 4,500 to 5,500 RPM. It's driven by Yamaha's proven 3-cylinder power units combined with pulse tuning and loop charging. Fortunately, you don't have to struggle with premixing the oil and gasoline thanks to Yamaha's oil injection system.
Yamaha systems constantly monitor the engine load which enables you to know the right amount of oil to inject. Yamaha Microcomputer Ignition System is standard on this model. On the larger-displacement models, you can be assured the engine is fine-tuned and has optimal fuel efficiency.
To ensure a quick start at the turn of the key, the Prime Start Auto Choke supplies the proper amount of fuel while setting the optimal ignition timing. For good response, high-performance, compactness, and smooth quiet operation, the tilt cylinders and power trim are combined into a single unit. This motor is a great choice for deep waters.
Pros
Prime Start Auto Choke
Single unit PTT
Oil injection system
Optimum fuel efficiency
698 CC
Cons
Lacks a freshwater flushing system
Not best for shallow waters
4-Stroke 50 HP Suzuki DF50A

Do you want a compact, yet powerful long shaft outboard motor? If so, the 4-Stroke 50Hp Suzuki DF50A is your best bet. It's the ideal engine for most boating applications including heavy crafts and pontoons. The standard weight of the outboard is 104 KG.
With the Suzuki easy start system, starting is so simple. After keying in, you don't have to hold the key. You only need to turn it once and the system stays engaged till the engine starts. The motor has a full-throttle operating range of 5,000 – 6,000 RPM.
Even though the design is simple, the motor is very effective. It features a maintenance-free timing chain that runs through an oil bath to keep it lubricated. Thanks to the hydraulic tensioner, it automatically keeps the chain adjusted correctly.
Pros
Easy start system
Self-adjusting timing chain
5,000 – 6,000 RPM
Low maintenance cost
Budget-friendly
Cons
A bit noisy
Not ideal for small boats
4-Stroke 50 HP Mercury EFI Command Thrust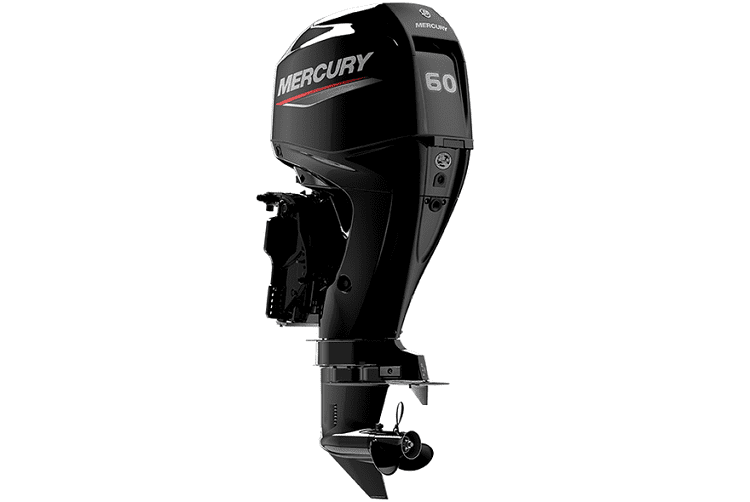 Mercury outboards rule the water. Do you want to know why? Read on! They come with a comprehensive boat propulsion monitoring system. Its work is to supply detailed engine status and performance data for all engine functions. Some of the engine functions include battery voltage, fuel levels/flow, troll control, RPMs, speed as well as trim.
To keep batteries charged and fishing electronics humming, Mercury EFI features a robust electrical system with a high-output alternator. From fiberglass fishing boats to heavy boats, this model delivers the thrust and low-speed control needed to take you from point A to B.
The 50 HP Mercury undergoes the same corrosion resistance processes during manufacture that is the same as the higher horsepower models. The outboard comes with an engine guard for protecting the engine. It constantly monitors the critical sensors and provides an early indication when corrective action is needed in case the engine does not operate as intended.
To keep the batteries charged and the fishing electronics running, the motor features a high-output alternator. The low-end torque offers excellent acceleration. If you want improved fuel efficiency, and instant throttle response, get Mercury EFI outboards.
Pros
Comprehensive boat propulsion monitoring system
Robust electrical system
Best for high-end boaters
Corrosion-resistant
Engine guard
High-output alternator
Cons
Pricey
Can't perform well when used without an alternator
2-Stroke 50 HP Evinrude E-Tec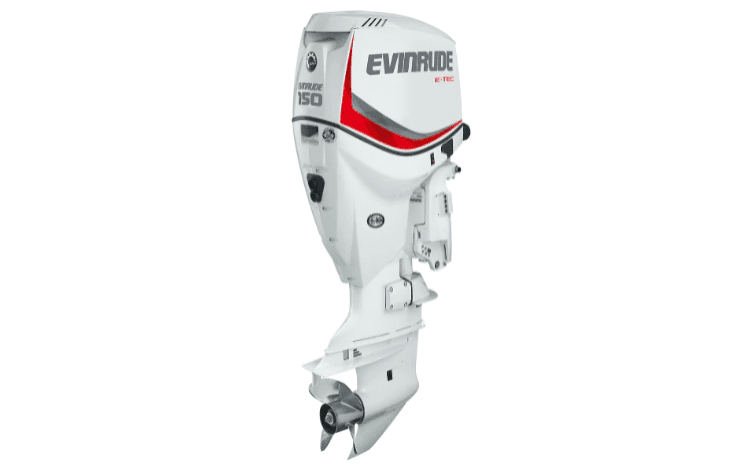 50 HP Evinrude Etec is a direct injection motor. The engine performs exceptionally because it's an Evinrude E-TECHO series. It's also designed for extra speed and power. Consider this model if you like pushing limits in torque, speed, and horsepower.
Compared to a 4-stroke engine, this 2 stroke motor produces 80% lower CO emissions. It's not only quieter to operate but it also requires little to no maintenance. Evinrude E-Tec outboard motor has made BRP proud as it's the only marine manufacturer to win the EPA's Clean Air Technology Excellence Award.
Do you worry about boating in winter? If so, worry no more. Why? It's because the auto winterization feature fogs the engine in minutes. Keep in mind the engine doesn't require exhaust valves, camshafts, or even belts. Therefore, compared to a 4-stroke outboard, there are fewer parts prone to malfunction or wear out.
Pros
3-year warranty
Durable and reliable
Direct injection motor
Long shaft
Electric start
Cons
Pricey
Lacks exhaust valves
4-Stroke 50 HP Yanmar Dtorque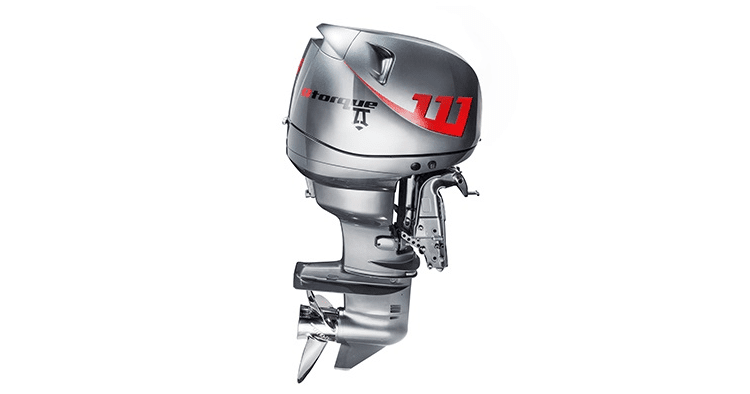 In diesel engineering, the Yanmar Dtorque Turbo outboard has set a new benchmark. The propeller shaft delivers 50 HP thanks to the 804 CC twin-cylinder aluminum powerhead. The motor's performance surpasses the leading 70 HP fuel-injected, 4-stroke gasoline outboard. It has a remarkable torque output of 111 NM at 2,500 RPM.
When powering heavy loads at low RPMs the product offers exceptional performance. The fuel efficiency is excellent, averaging less than 12 L an hour at wide-open throttle. Dtorque is one of the safest options because diesel is less flammable than gasoline.
The turbocharged engine comes with a unique dual counter-rotating crankshaft system. The technology helps reduce noise and vibrations. Dtorque is the world's smallest diesel outboard with an impressive performance.
Pros
804 CC twin-cylinder aluminum powerhead
Remarkable torque
Excellent fuel efficiency
Low noise and vibration
Uses diesel which is substantially less flammable than gas
Cons
Not ideal for high-end boats
Low speed
Outboard Motor Buying Guide

While sticking within your budget, it's always good to consider all the other aspects. For instance, thinking about the long-term impact is crucial to arriving at the ideal outboard motor that meets your preferences. Some of the factors you need to look at include:
The Size of Your Boat
Checking and confirming your boat size is not only a good consideration but it's also vital. If you get the measurements wrong, it can result in a string of problems. For example, if your boat is bigger than what the outboard can handle, the motor will overwork itself and wear away fast.
This could end up creating potential safety issues with the boat's plane. On the other hand, a large motor fitted on a small boat can burn the spark plugs and cause overheating.
When buying an outboard you can either choose a 2-stroke or a 4-stroke. This depends mostly on your boating lifestyle and expectations. For instance, you need a 2-stroke motor if you like taking your boat on occasional fishing trips. It's light, affordable, and easy to repair.
Alternatively, opt for a 4-stroke motor if your expectation is power-packed performance. The main difference between the two is that 4-stroke motors function on gas alone while a 2-stroke works with a mixture of both gas and oil.
Type of Fuel Injection
There are 3 different fuel injection systems for outboard motors. They can either use a carbureted system, Electronic Fuel Injection (EFI), or Direct Fuel Injection (DFI). How they operate makes the difference.
A carburated system which is the oldest lags behind EFI and DFI alternatives in terms of fuel economy. The model relies on the airflow and fuel amount that enters the engine
DFI systems are precise. They inject fuel right into the engine cylinders
EFI models control the air and fuel using electronic systems
Among the 3 types, carbureted systems are the cheapest. However, both DFI and EFI come out as far better choices when you weigh in all the qualities.
Fuel Efficiency
A 3-cylinder is going to use less fuel than a 4-cylinder engine. The less weight a motor has to move contributes to fuel efficiency. However, a professional boater might look at it from a different perspective.
When you put a small motor in a big boat, the fuel savings you get with the 3-cylinder will now have to work extra hard. As a result, it will require more fuel to operate. This is when purchasing a 4-cylinder becomes the smarter decision.
The Horsepower
Get the right horsepower for your boat if you want optimal performance from your outboard motor. You need to ask yourself a few questions before determining how much horsepower you need. They include:
How fast do you want to ride?
How much are you concerned about fuel?
How many passengers do you intend to carry?
Next, you need to factor in the size of your boat, after answering the questions.
Small Boats
These include dinghies, sailboats, and canoes. A maximum of 10 horsepower is enough for lake boating and smaller bodies of water.
Long and Light Boats
Long boats are usually around 10 to 15 feet. For example, the 10-foot and 15-foot aluminum or fiberglass boats don't need a ton of horsepower to get going. For a decent amount of power, you'll only need 15 to 20 horsepower.
Boats Ranging 15 To 25 Feet
Most recreational boats including coastal vessels used for activities such as fishing or cruising in the ocean fall into this category. Take note 75 – 90 horsepower provides enough power to do recreational activities along the shore. However, if you prefer traveling far and faster, then you need more horsepower. AT this point, think in the range of 300 horsepower or more.
Boats Over 25 Feet
Boats of this size perform well with 2 outboard motors ranging from 200 – 300 horsepower. A single outboard is not ideal. The extra power enables you to make a quick comeback after going for some distance. If you are into fishing, this is something you don't want to miss.
Hull Capacity
Before deciding on your ideal choice, ensure that your boat's hull can handle the weight. If you have an older boat, you can attest to this. It's the case if the boat was designed for the old school 2-stroke motors. Today's outboard motors are heavier and bigger.
When choosing a 4-stroke motor, you should aim at staying within 20 to 40 pounds of your original motor's weight. Something you need to remember is that a lighter motor creates less draft.
Maintenance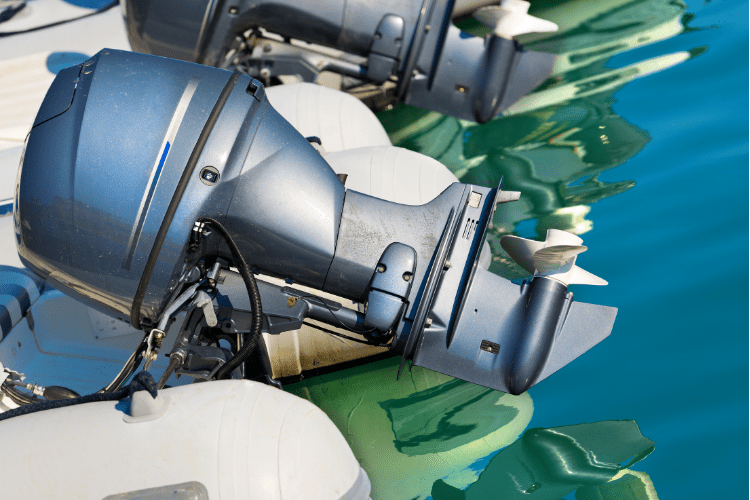 After buying an outboard, you need to take care of it if you want to get the most value for your money. Regular maintenance prolongs your motor's lifespan. Here are some maintenance tips for your motor.
Always check for any signs of water in the fuel
Check the fuel tank to ensure no corrosion or damage
Ensure that you periodically inspect the primer bulb and fuel line for any signs of wear and tear. This helps prevent leaks and the formation of weak spots
What To Do After Every Boat Ride
If you want your outboard to serve you for years, ensure you follow the following instructions.
You need to flush out your engine after a ride with your watercraft. It doesn't matter whether you've spent the whole day in a freshwater lake or not
As you flush, check the water flow in the water pump. Disconnect the fuel line and burn out all the fuel in the carburetor once the flushing is complete
Observe the engine cowling to confirm whether there are any signs of leakage. Ensure you consult a certified marine technician or mechanic if you find one
Next, wipe down all the parts and spray an anti-corrosive coating. A lubricant should then be applied to all the moving parts
Finally, cover your engine with a canvas or plastic material
50 HP Outboard Motors FAQs
Question: Which Is the Lightest 50 HP Outboard Motor?
Answer: Among all the 50 horsepower 4-stroke engines, Honda BF50 is the lightest.
Question: What's The Fastest Speed of a 50 HP Outboard?
Answer: It depends on the type/weight of the boat. On average, a 50 HP can ride between 15 and 47 miles per hour. 50 HP may not seem that much. However, you may be surprised by how far it can get you if you are using a low-weight racing boat.
Question: Which Is The Standard Weight of a 50 HP Motor?
Answer: 237 lbs.
Question: How Many CCs does a 50 HP Outboard Motor Feature?
Answer: Approximately 697 CC.
Bottom Line
50 HP outboard motors are perfect for both short and long boat rides. You have the option of getting a 2-stroke or 4-stroke, and diesel or gas. To find your ideal choice, go through the listed products. Alternatively, use the buyer's guide for further directions if you don't get what you prefer.
All 50 horsepower motors are great in their unique ways. However, our top pick is the 4-Stroke 50 HP Mercury EFI Command Thrust outboard motor. The reason we rank it higher is because of the robust electrical system combined with the comprehensive boat propulsion monitoring system. They enable the motor to run effectively with great noise control.
Alternatively, you can go for the Honda BF50 if you are looking for a lightweight outboard. For those who prefer diesel, we recommend the 50 HP Yanmar Dtorque. Remember, there is always a 50 HP outboard to suit every boater's needs.
Looking for more interesting readings? Check out: