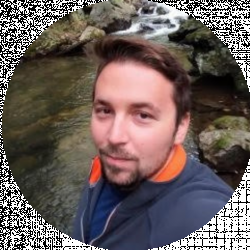 Latest posts by Coty Perry
(see all)
A 15 HP outboard motor provides medium power and speed to small/mid-sized boats. It makes traveling on the water an easy process. What makes it unique is the exceptional control of the boat's direction. Whether it's a 2 stroke or a 4 stroke, a 15 HP motor performs as intended. It's engineered to tackle both shallow and deep waters.
Our Top 9 15 HP Outboard Motors
Are you looking for a 15 HP outboard motor that apart from meets your requirements and doesn't break the bank? If so, go through our top-rated 50 HP outboards to find one or get an idea of the features of these products.
We used online video reviews and testimonials from boat owners and sellers to prepare a list of the top 9 15 HP outboard motors in the market. We have also provided a buyer's guide in case our list doesn't have one that meets your needs. Here we go!
4-Stroke 15 HP T4 Leadallway
Are you looking for a 15 HP outboard motor that's perfect for both inflatable and fishing boats? If yes, the Leadallway 4-stroke outboard motor is your answer. Apart from featuring a smart black design, the model runs on gasoline.
For a good grip, it features a safe grip on the throttle, and it weighs 10.8 KG. The combination of 4-stroke power with the air cooling technology improves the reliability of the outboard. The standardized parts of the gasoline engine are easy to replace and are usually pocket-friendly.
The motor has a unique design that is easy to carry. The oil tank has a large capacity with a compact lubricating system. Pressurized circulating oil is directly used between the bear and the components offering a continuous throttle operation of over 20 hours.
Compared to a 2-stroke 15 HP version this model is more steady, smooth, and safe. It features the European and American CE second phase EPA certification. Aside from the motor being environmentally friendly, it's also fuel-efficient making it a favorite among many boaters. Some of the great features of this Leadallway outboard are its superior start-up performance, corrosion resistance, and energy efficiency. If you are an environment-conscious boater look no further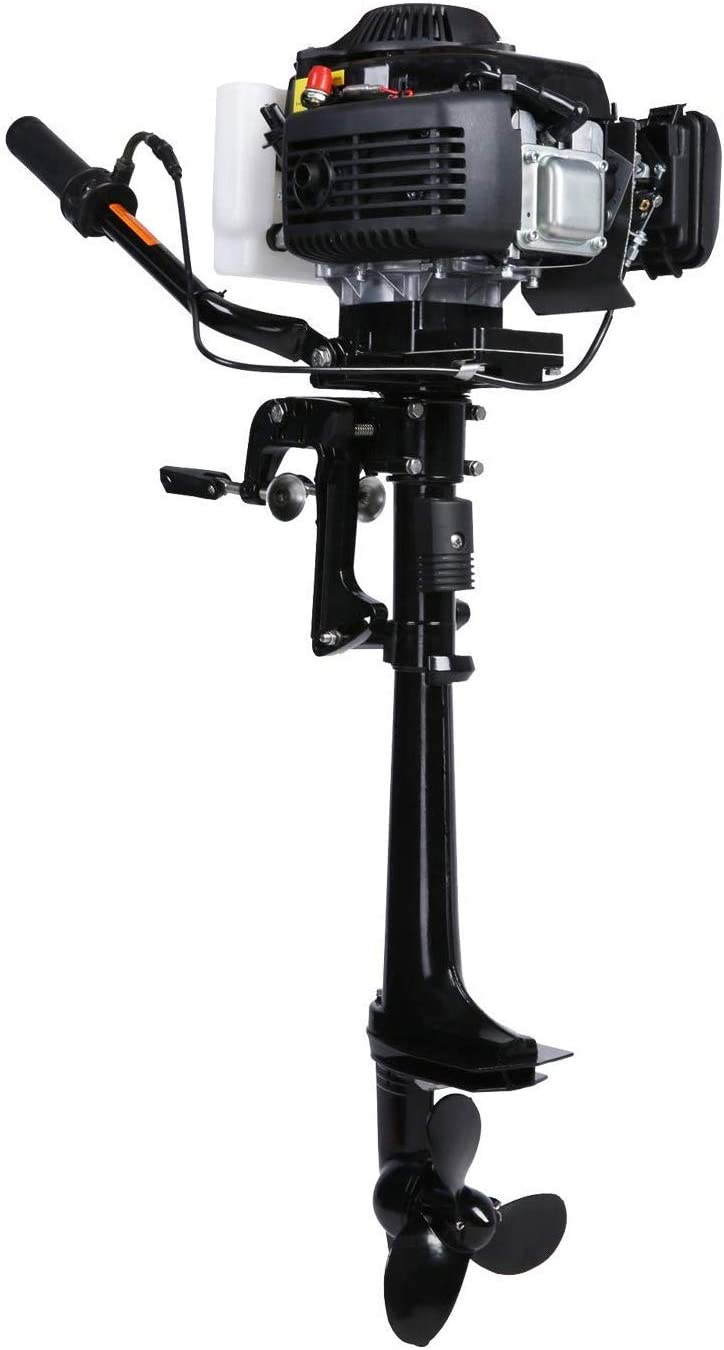 Specs
Weight: 10.8 Kg
Engine type: 4-stroke
Fuel Type: Gasoline
Operation: Manual
Pros
Easy to maintain
Portable and durable
Easy to start
Corrosion-resistant
CE and EPA certified
Cons
Not the most affordable 15 HP outboard
Not ideal for big boats
2-Stroke 15 HP Sea Dog Water Sports
Would you like a 15 HP outboard motor that has a compact structure and is powerful? Then this Sea Dog Water Sports is a great option. For starters, it comes with a 1-year warranty. Additionally, the motor performs well in both salty and fresh water.
It features a 3-blade propeller design. One of the unique features of this product is you can reverse without changing gears. It's a perfect fit for most boats designed for 15 HP outboards. They include small yachts, sailboats, fishing boats, and inflatable boats.
This model comes with a maneuverable safe twist throttle grip control. That said, it's corrosion-resistant and light. The engine air cooling system ensures the performance is higher than those of its competitors.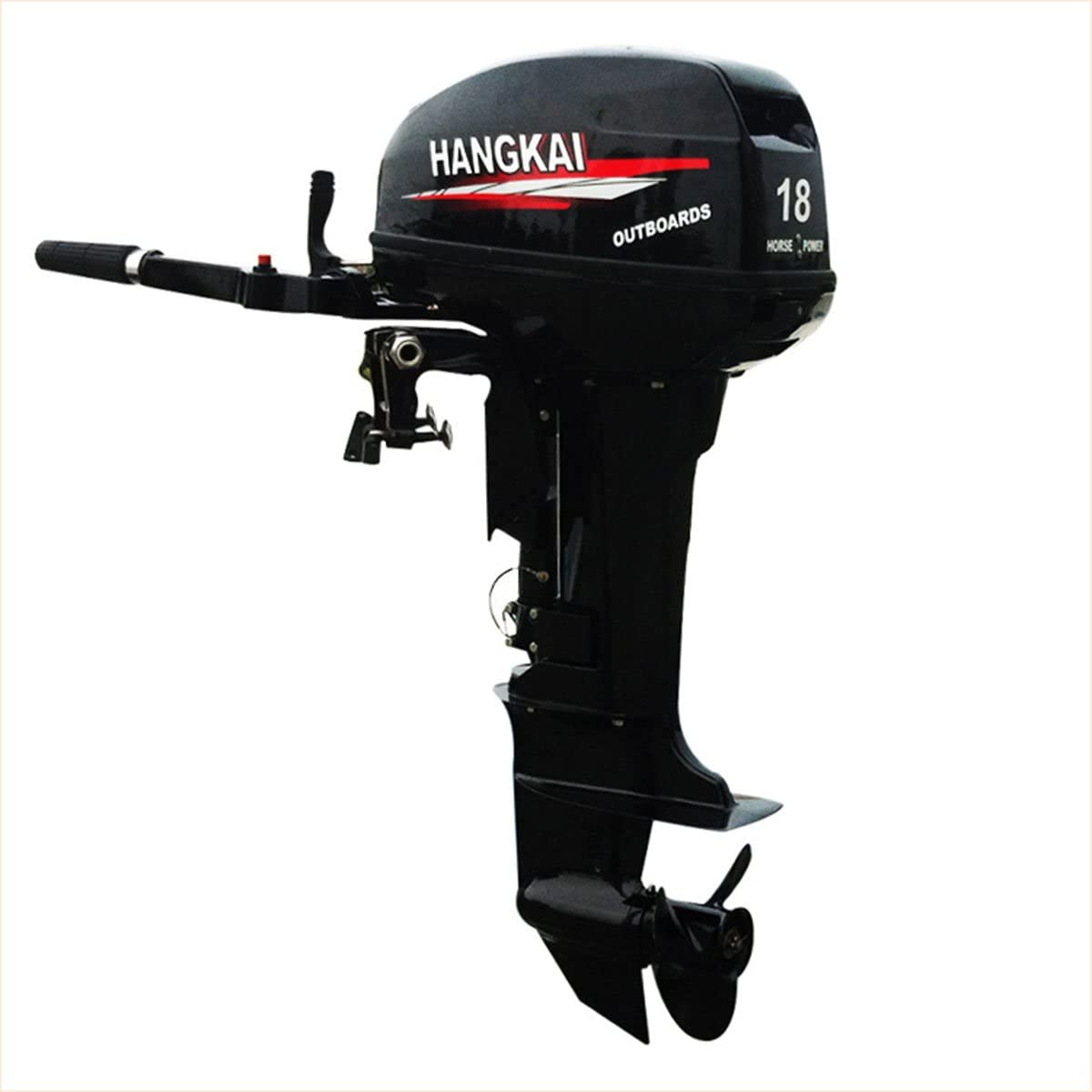 Specs
Material: High strength aluminum
Engine type: 2-stroke single cylinder
Gear position: Forward and neutral
Warranty: 1 year
Pros
Best for both salty and freshwater
It features an anti-corrosive build
3-blade propeller design
Easy to reverse without changing gears
Durable
Cons
Not ideal for deep water
Hard to use the user's manual
2-Stroke 15 HP Hangkai Short Shaft
Are you looking for a 2-stroke 15 HP outboard motor with a 360-degree complete steering control? Take a look at the Hangkai 15 HP outboard motor as it is one of the best outboards with such features. It comes with a 1-year warranty and is designed to prevent water damage.
For trouble-free starting, the motor features a CDI ignition system. Additionally, the innovative large recoil wheel also enables the motor to start easily. The good thing with this model is the smooth performance thanks to the vibration reduction system. You can easily shift the gears from forward to neutral to reverse.
The quiet operation with low emissions makes the product worth every coin. Apart from featuring a 24-liter fuel tank with a hose, the motor is also CE certified. It's light and compact with a carrying handle. Another great feature is the water cooling system is controlled by a thermostat.
For ultimate corrosion protection, it's built using a high-grade marine aluminum alloy. The low oil indicator prevents the machine from seizing as a result of low engine oil levels. Luckily, you won't have to worry about your safety when using this motor thanks to the safety lanyard feature with an emergency shutoff.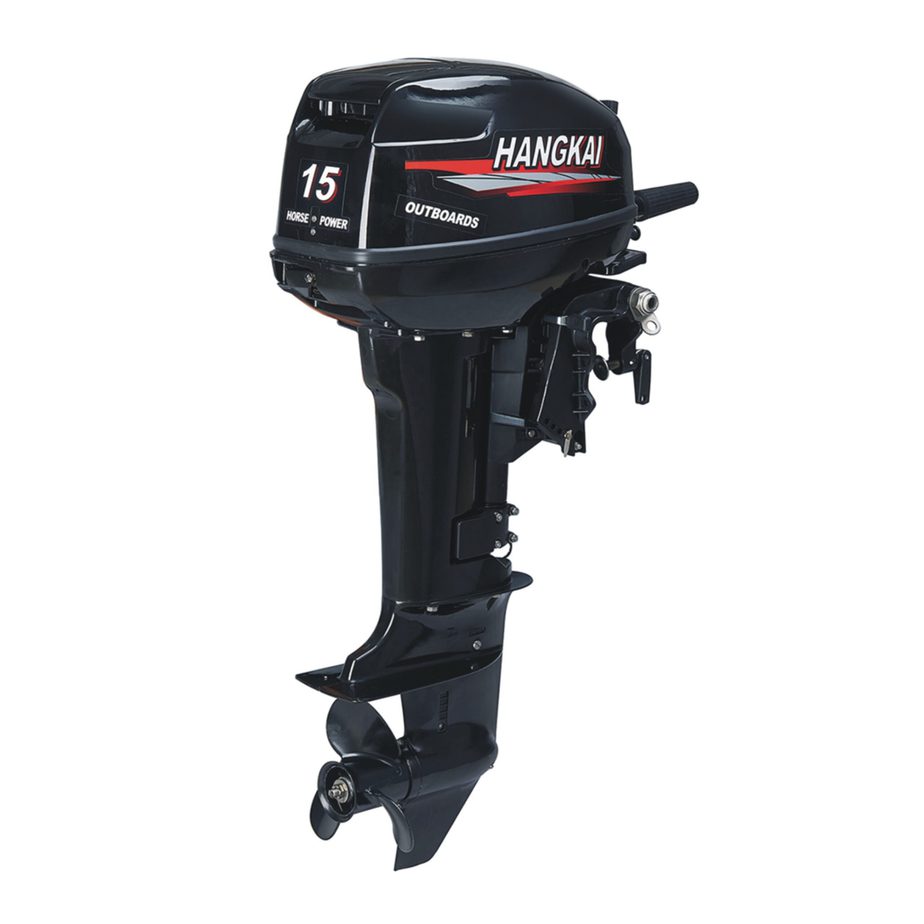 Specs
Engine type: 2-stroke
Material: Aluminum alloy
Gear Position: Forward, neutral, and reverse
Warranty: 1 year
Pros
CDI ignition system for easy start
Effective vibration reduction system
It comes with a thermostat
CE certified
It features a safety lanyard with an emergency shutoff
Clutch protection
Cons
Not budget-friendly
Not a fast motor
4-Stroke 15 HP Cozyel
The 15 HP Cozyel 4-stroke motor comes with reinforced nylon brackets to increase durability. It's designed and built to be environmentally friendly. As a result, it runs on standard gasoline. For superior corrosion resistance, the motor features a durable cast aluminum build.
You should refuel the engine in a well-ventilated area and when it's off. Take note that the fuel tank should not be overfilled. To ensure this the filler neck should have no fuel. Ensure that you close it well. Lastly, don't forget to clean the machine in case of any fuel spillage.
With the 15HP Cozyel model, it's important that you only use an oil designed for 4-cycle engines. If you use 2-stroke engine oil, you'll experience piston ring sticking, exhaust port blocking, or even spark plug fouling.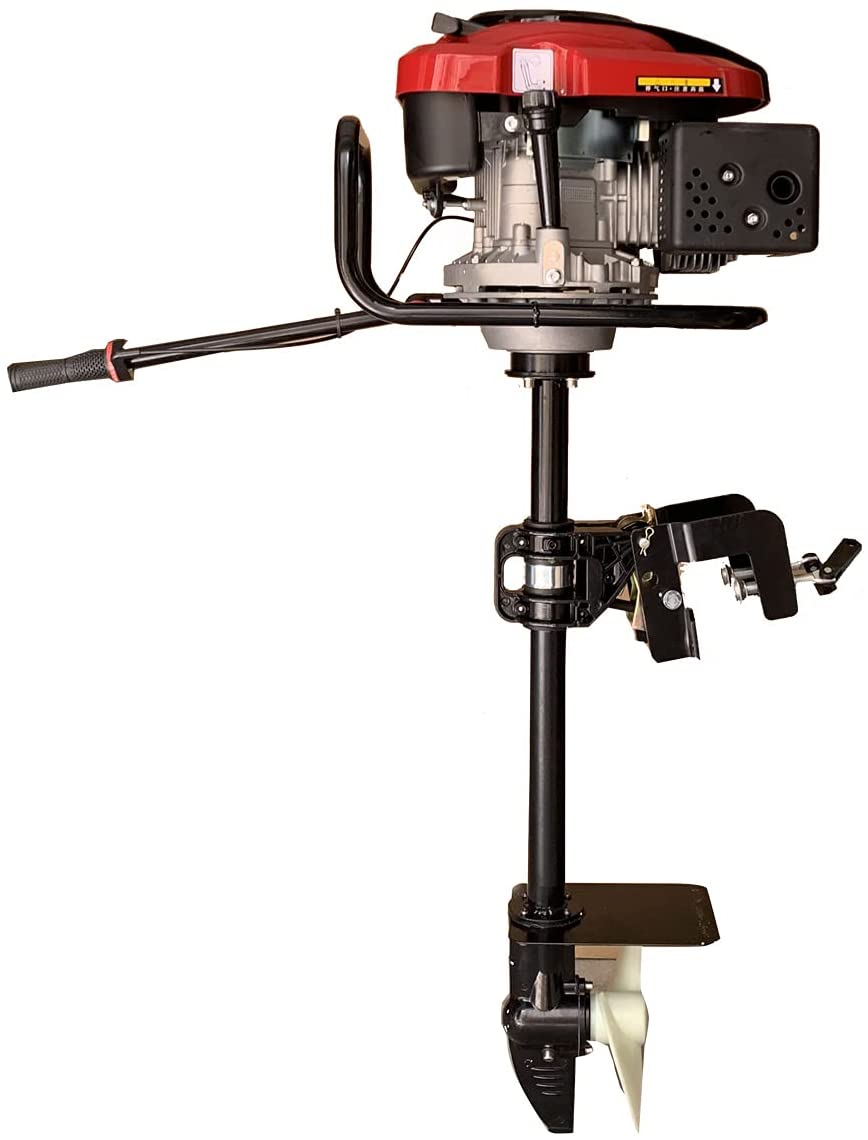 Specs
Engine Type: 4-stroke single cylinder
Material: Durable cast-aluminum
Mode of operation: Manual
Warranty: 1 year
Pros
CDI ignition system for easy start
Environment friendly
3-blade propeller
Durable
Anti-corrosive build
Cons
Not ideal to use 2-stroke engine oil
Not allowed to overfill the fuel tank
4-Stroke 15 HP MFS15 Tohatsu
The MFS15 HP Electronic Fuel Injection (EFI) has taken Tohatsu outboard motors to another level. Apart from being one of the lightest 4-stroke EFI models in the market, it's also battery-less. It comes with extra features such as a higher power-to-weight ratio. This is the most important factor when it comes to small horsepower outboards.
Tohatsu made a great success in drastically reducing the vibration and sound level on the new 15 HP EFI outboard. Some of the advantages of having an EFI system include the crisp acceleration throughout all the RPM ranges and the quick startup without choke.  This is in addition to the increased fuel efficiency at wide-open throttle.
Tohatsu outboards deliver products with reputable reliability. The MFS15 is no different and it's also light and compact. For easy oil filter replacement, it comes with a canister-style filter. The model features a large-capacity oil reservoir for optimum lubrication.
For crisp takeoffs, MFS15 has a tuned intake system. Apart from having an ultra-low emission, the motor is both EPA and CARB certified. The advanced cross-flow induction helps provide a smooth operation.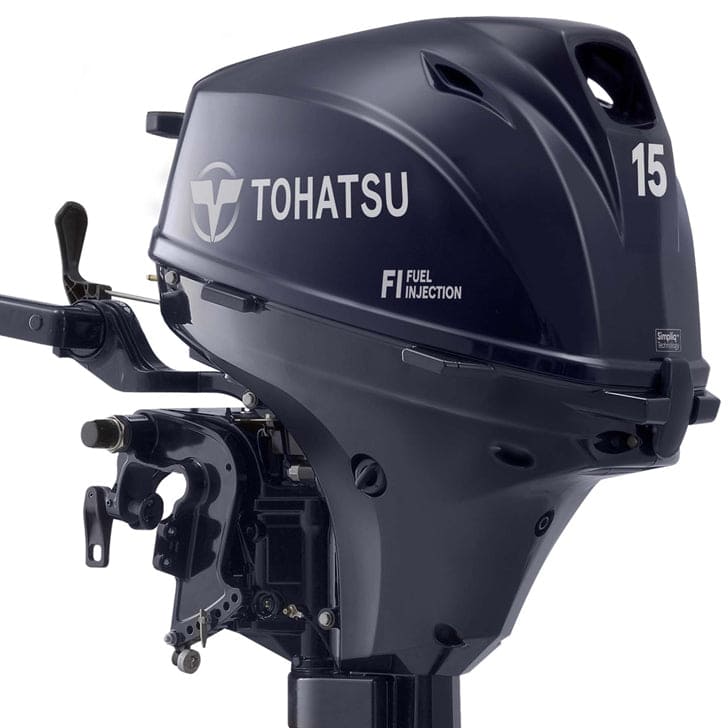 Specs
Engine type: 4-stroke
Material: Aluminum
Warranty: 2 years
Mode of operation: Electric
Pros
It features a large capacity oil reservoir
EPA and CARB certified
Ultra-low emissions
Crisp acceleration on all RPM ranges
Light and compact
Cons
Not budget-friendly
Complicated to use
4-Stroke 15 HP Suzuki DF15AES2 15" (Short Shaft)
The new Suzuki DF15AES2 version is an excellent choice of power for medium to large-sized inflatables, skiffs, and Jon boats. It comes with an electric start push-button together with an in-built 12V charging system.
As with all the portable Suzuki models, the thru-cowl manual start pull cord is still maintained. Being one of the quietest 4-strokes ever built and the lightest outboard in its class, the 15 HP is one of the best examples of Suzuki's excellence in engineering.
The good thing with the outboard is the forward-mounted gear shift lever. As a result, you get a twist-grip throttle with tension control. Aside from the model featuring start-in-gear lockout protection, it also comes with a thru-cowling manual backup starting. There is also a freshwater flushing port that comes together with multi-layer corrosion protection.
Suzuki DF15AES2 features low oil pressure and overheating warning systems. It's also a great option for those who love to move in shallow waters.
Specs
Engine type: 4-stroke
Material: Aluminum
Warranty: 2 years
Mode of operation: Electric
Pros
Light, compact, sleek design
Saltwater rated
It features a fresh water flushing port
Best for shallow-water activities
Start-in-gear lockout protection
Over-Rev limiter
Cons
Not ideal for deep waters
Not the most affordable
4-Stroke 15 HP Mercury EFI ProKicker Outboard Motor
Are you looking for an outboard motor that delivers superior torque for greater acceleration control? Then take a look at this outboard. The Mercury 4-Stroke ProKicker is fast with controlled throttle response and reliable starting in all weather.
For precision control, it comes with a 4-blade, deeper gearcase, and a high-thrust propeller with a matching gear ratio. Apart from the heavy-duty skeg with rugged durability, the motor also features a robust gear and bearing system.
Mercury EFI delivers all the power you may need to control a bigger boat. It features the fastest power tilt in the market at this horsepower level. The high-thrust 4-blade propeller offers perfect trolling speed control. This outboard motor is ideal for aluminum tiller, Jon utility, inflatable soft hull, and sailboats.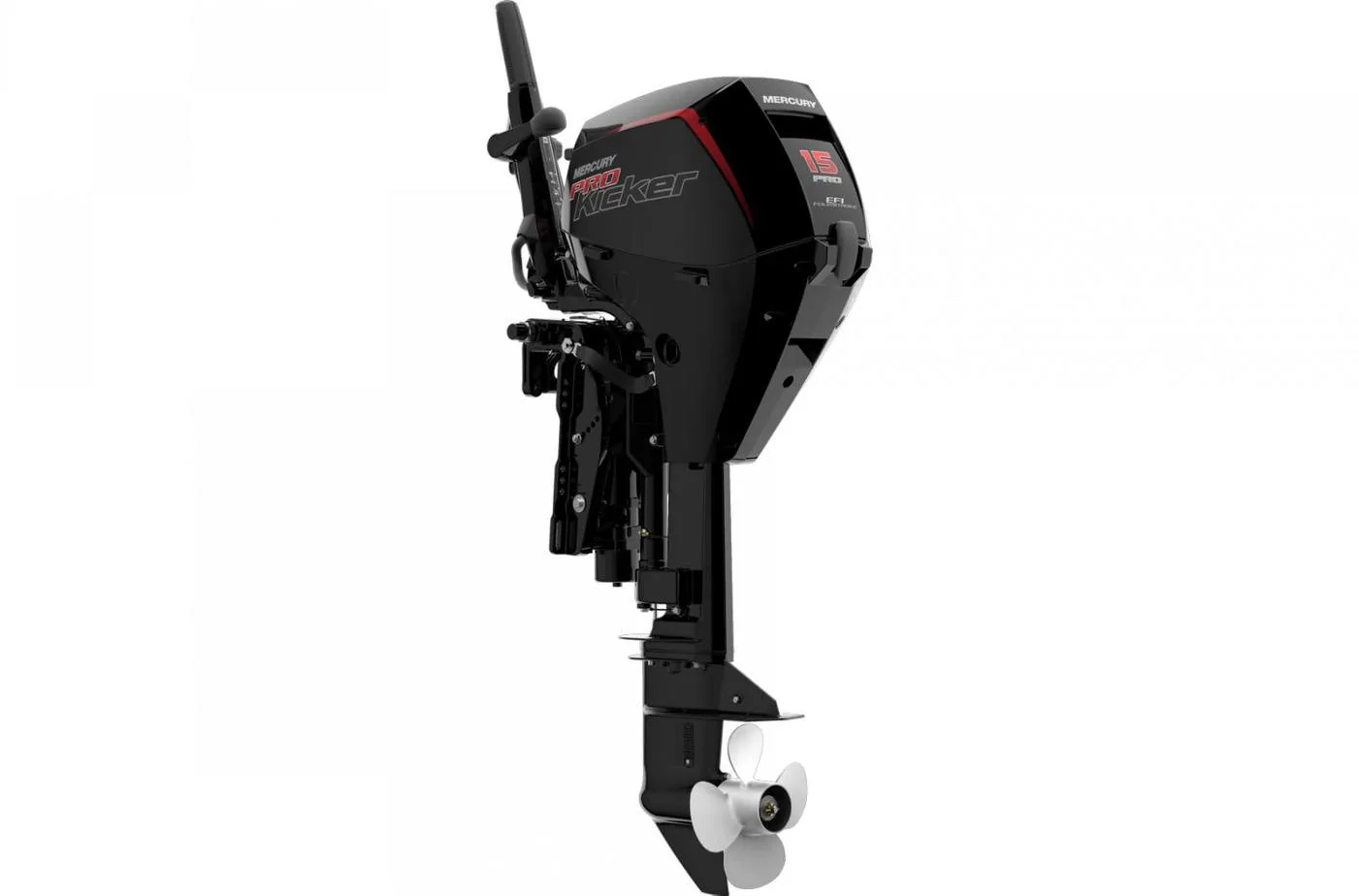 Specs
Engine type: 4-stroke
Material: Aluminum
Mode of operation: Electric
Warranty: 2 years
Pros
Easy to drive
High thrust 4-blade propeller
All-weather start
Robust gear and bearing system
Heavy-duty skeg
Cons
Not the most budget-friendly
Not suitable for small boats
4-Stroke 15 HP Parsun F15AFWS
The Parsun F15AFWS, despite being lightweight for its class, boasts about its muscular performance. The outboard is a delight to use, whether when fishing on your favorite spot or just taking a leisurely weekend cruise.
It features greater flexibility and durability. What distinguishes it from the rest is not even its light and compact nature but the fact that Parsun F15AFWS features renowned and high-quality Parsun technology. For easy starting, it features an innovative CDI ignition system with an electric start.
For consistent engine temperature, the water cooling system is controlled by a thermostat. You can get the shaft in different lengths from 15 to 25 inches. The 12V DC together with the lighting coil makes the outboard unique.
Aside from featuring a heavy-duty aluminum propeller, F15AFWS is also CE and EPA-certified. It comes with a separate 24-liter fuel tank and hose. For short-distance rides on shallow water, opt for the Parsun F15AFWS outboard motor.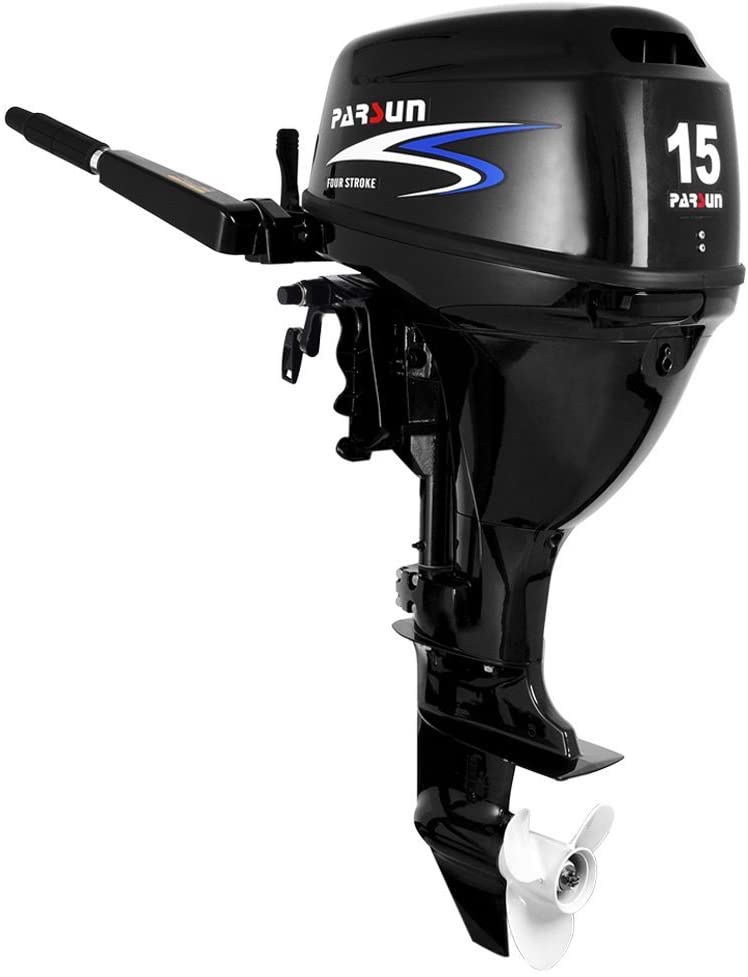 Specs
Engine type: 4-stroke
Material: Aluminum
Mode of operation: Electric
Warranty: 1 year
Pros
Best for shallow waters
It features a vibration reduction system
CE and EPA certified
Ultra-low emissions
It comes with a heavy-duty aluminum propeller
Cons
Not ideal for deep waters
Can't operate without a thermostat
2-Stroke 15 HP T15 Calon Gloria
If you want a simple and reliable 2-stroke outboard motor, then the 15 HP T15 Calon Gloria motor is a perfect choice. For corrosion resistance, it comes with a zinc coating on the internal water passages. The start-in-gear protection enables safe starting.
The loop-charged induction is the reason why this model has a smooth operation. It's also light and easy to transport. For consistent engine temperature, the cooling system is controlled by a thermostat. T15 Calon Gloria is durable thanks to the stainless steel water pump housing.
The high-grade aluminum alloy provides the product with protection against corrosion. Lastly, the start-in-gear feature assures you of safe engine starting.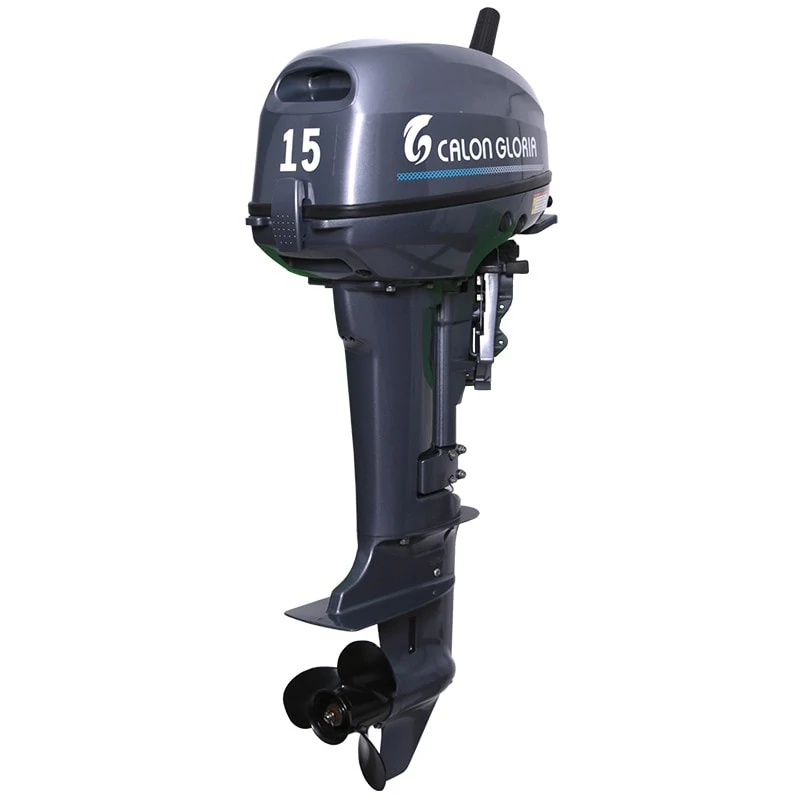 Specs
Engine type: 2-stroke
Material: Aluminum alloy
Mode of operation: Electric
Warranty: 1 year
Pros
Easy to handle and operate
Aluminum propeller
CDI ignition system
Start-in-gear protection
Cons
Not ideal for the long rides
15 HP Outboard Motor Buying Guide
It doesn't matter whether you are an avid boater or an amateur, you have to spend some time analyzing the different models and types of watercraft before buying one. One thing you need to know is that a 15 HP outboard motor is an important investment to a serious boater.
Considering how big and powerful it is, it's a great option for your boat. Even though some people say it's bulky, it still provides a good amount of speed.
Fortunately, the model is compatible with both small and large boats. If you go through our buyer's guide, you can make an informed decision with regards to the outboard motor that fits your requirements. The following features will help you choose wisely.
Control
When it comes to outboard motors, there are specific components that improve the owner's overall control. Reversing is one of every boaters' common challenges. As a result, 360-degree steering is a welcomed feature since it makes the process easier. You can get absolute control over the motion and speed of your boat thanks to the grip throttle handles.
Safety Functions
15 HP outboard motors come with specific features that improve the safety of your boat. For example, the 360-degree steering control feature helps tackle the challenge of maneuvering your boat. This means you substantially reduce the chances of accidents. The safe grip twist throttle enables you to avoid mishaps by ensuring your grip on the throttle doesn't slip.
Materials
Most of the 15 HP outboards are made with durable metals. To protect the motor against inevitable splashes which occur from time to time, plastic coatings are used to provide waterproof housing. Additionally, they also provide extra reinforcement to the motor.
Size Requirements
This type of motor fits onto most boats effectively and safely. What you need to check is whether your boat has enough space for an outboard motor. It should be positioned in a secure location away from the areas passengers use.
Engine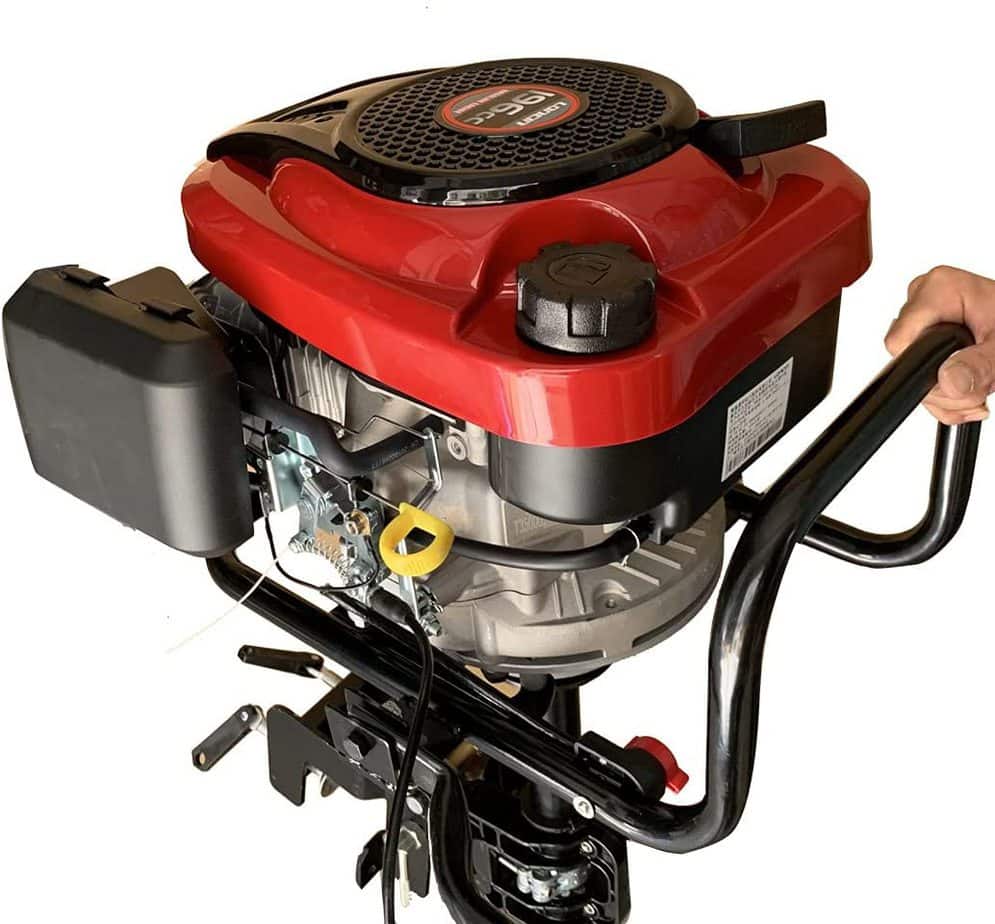 Generally, 2-stroke and 4-stroke motors are all good options. It depends on how you want to use them. Always take time to learn about the 2 engine types before you embark on deciding the one you want.
As for the 2-stroke engines, they offer a better and faster throttle response. However, they aren't the best for trolling/idling and low-speed riding. Compared to the 4-stroke engine, the 2-stroke tends to have more noise and vibration.
Even though the 4-stroke motors might be a bit larger and heavier, they feature better speed control and are more fuel-efficient. Don't forget that they are also quieter than the latter.
Shaft
Most inflatable boats require a short shaft (15"). However, fishing boats, yachts, and similar-sized boats require a long shaft. You must get the measurements right. A short shaft fitted on a long transom affects not only the water flow but also the cooling and performance of your motor.
On the other hand, a long shaft on a short transom is even more dangerous.  Any thrust point which is too low in the water may capsize the boat.
Motor Weight
The size of your outboard should match your boat size to ensure that you get sufficient power for speed, maneuverability, and safety. That said, riding on a small outboard gives you the advantage of easy lifting and carrying.
Manual or Electric Start
All in all, an electric start option makes starting your boat easier. However, the privilege comes at a cost. You will have to get a 12V marine cranking battery.
Maintenance
The maintenance cost combined with the associated downtime of the motor you choose should always be in your mind. For instance, the 4-stroke engine has more moving parts. This means that it requires frequent service. On the other hand, a 2-stroke direct fuel injection (DFI) engine requires a constant supply of oil.
What is the Performance of a 15 HP Outboard Engine?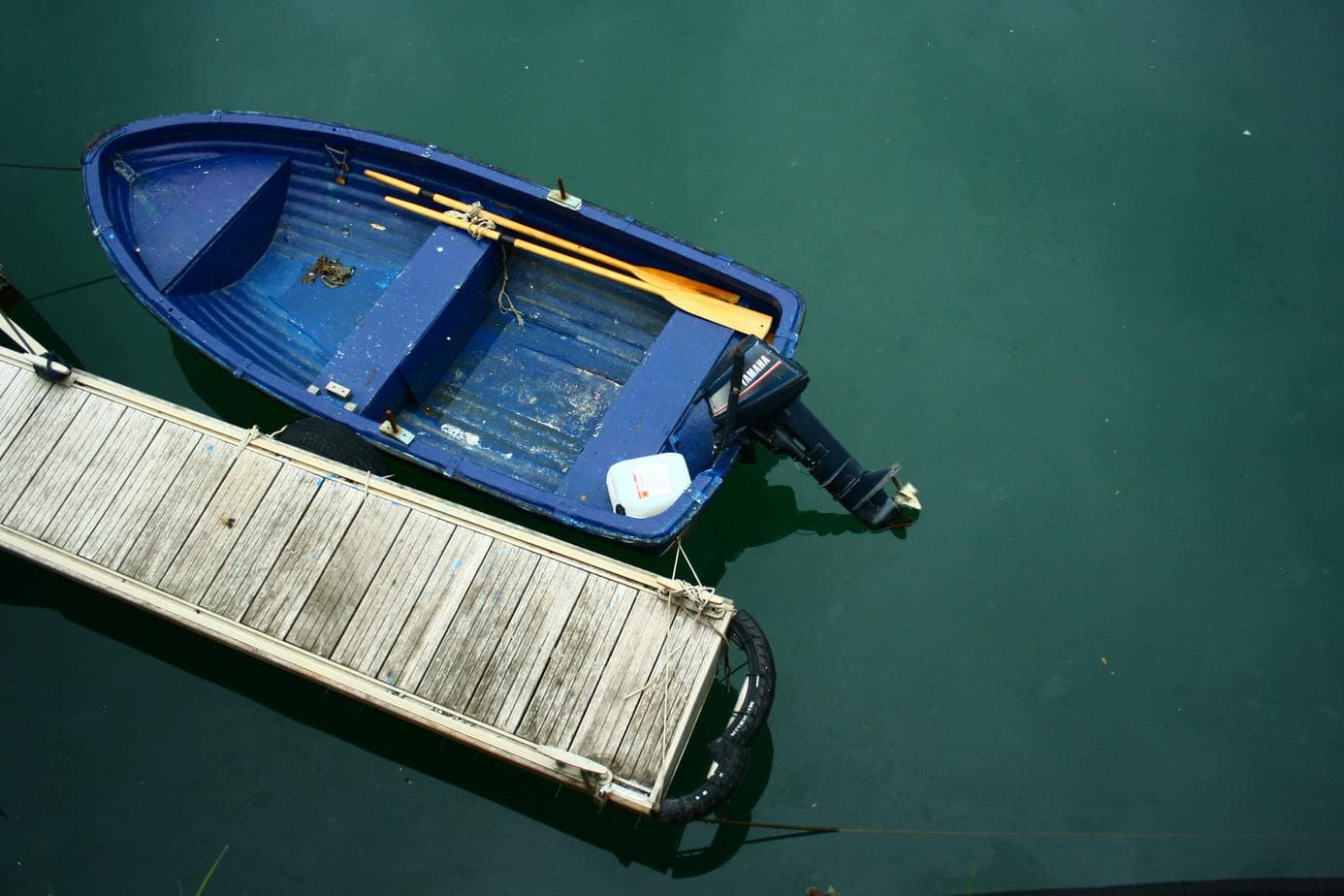 It's crucial to know the elements and features of an outboard motor before going deeper into the best 15 HP outboard engines. These engines are mainly built to propel the boat from the transom. That said, the outboard should always conform to the driveshaft and powerhead.
The most interesting thing about 15 HP outboard engines is that they work the same way as other outboard motors. After the motor spins the shaft, the shaft then spins the propeller which moves the boat. Additionally, it's easy to change the motor in case it needs to be repaired or replaced.
Which is the Best 15 HP Outboard Motor Between a 2-Stroke and a 4-Stroke?
Generally, you only have 2 options when it comes to shopping for a 15 HP outboard motor. It's either a 2-stroke or a 4-stroke. Some differences though exist between the 2 which are worth considering.
For instance, a 2-stroke motor uses a mixture of both oil and gasoline. As a result, the exhaust valve emits approximately 20% of unburnt fuel.
Despite 2-stroke motors being lighter and more powerful, they are less environmentally friendly. The 4-stroke motors, on the other hand, burn on pure gasoline using a cylinder to ensure the lubricating oil is circulated effectively. Note that in this model, gasoline, and oil never mix. As a result, they are more durable and quieter.
Advantages of a 15 HP Outboard Motor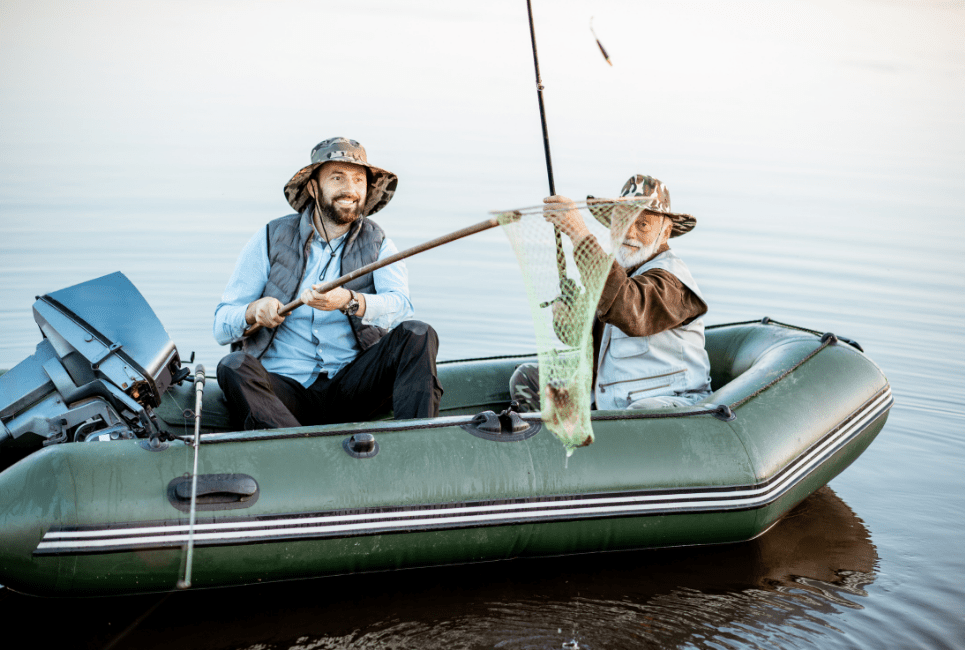 For an upcoming professional boater, a 15 HP motor is the way to go. If you prefer to row your boat then be ready to use a lot of energy. Luckily with a 15 HP outboard motor, both time and energy can be spared. Secondly, if you want to go long distances you need a motor.
The good thing with a 15 HP motor is that if you plan on spending the better part of your day out on the water, you can upgrade your gas tank. Lastly, the speed of a 15 HP motor is higher compared to that of outboards with a lower HP.
15 HP Outboard Motor FAQs
Question: Which Brand Produces the Lightest 15 HP Outboard Motor?
Answer: Suzuki. Its 15 HP version is a true reflection of Suzuki's excellence in engineering. In its class, it's the lightest of all.
Question: What is the Standard Fuel Consumption Rate of a 15 HP Outboard?
 Answer: A 15 HP motor burns an average of 2.5 gallons an hour.
Question: How Many CC's Do 15 HP Outboard Engines Feature?
Answer: Most of the outboard engines come with 420 CC.
Question: How Long can an Outboard Motor Run Off-Water?
Answer: An outboard motor should not be operated off-water. But in case it does, it should not run for more than 10 seconds.
Bottom Line
Without a doubt, there are numerous factors that one needs to take into account before choosing a 15 HP motor that satisfies their requirements. Ensure that you look at every model listed in our review. If you don't get one that meets your needs, feel free to go through the buyer's guide. It will help you to make the right decision.
Our top pick is the 4-Stroke 15 HP Suzuki DF15AES2 15" (Short) Outboard Motor. Why? It's compact and light. Additionally, it features start-in-gear protection together with an Over-Rev limiter for optimum safety. However, the rest are good options if you find the Suzuki DF15AES2 doesn't suit your preferences.
Looking for more interesting readings? Check out: