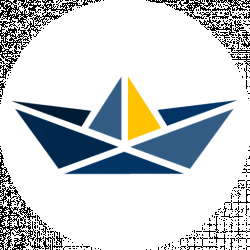 Latest posts by Jeanne Murugami
(see all)
Are you a fishing buff but still have an interest in doing more than just fishing? If yes, you need a versatile vessel that will deliver on your angling needs without compromising your luxury cruising interests. 
And I bet you also don't mind a boat that will support watersports for your family to enjoy swimming and all sorts of fun on the water during summer. If so, getting one of the best cuddy cabin boats is a perfect steal for you. 
What are Cuddy Cabin Boats? 
A cuddy cabin boat combines a cabin cruiser's versatility with a family bowrider's agility. These crafts are effortless to operate and are comfortable at the same time. They'll handle your day-to-day water usage and offer overnight accommodation inclusive of the amenities you might need, assuming you intend to spend some nights out on the water occasionally. 
See them as an excellent balance between a floating luxury yacht and an RV. And even more impressive, they deliver comfort comparable to some larger vessels while costing much less.
But with the vast array of cuddy cabin boats out there, finding a suitable model for you can prove to be a daunting task. In our guide, however, we'll assist you in narrowing down the choices. After thorough research, we believe we have the 8 Best Cuddy Cabin Boats that would suit you best. Our review features the best cuddy cabin boats by performance, price, and comfort features. 
The 8 Best Cuddy Cabin Boats
Rinker Captiva 296 Cuddy Cabin Boat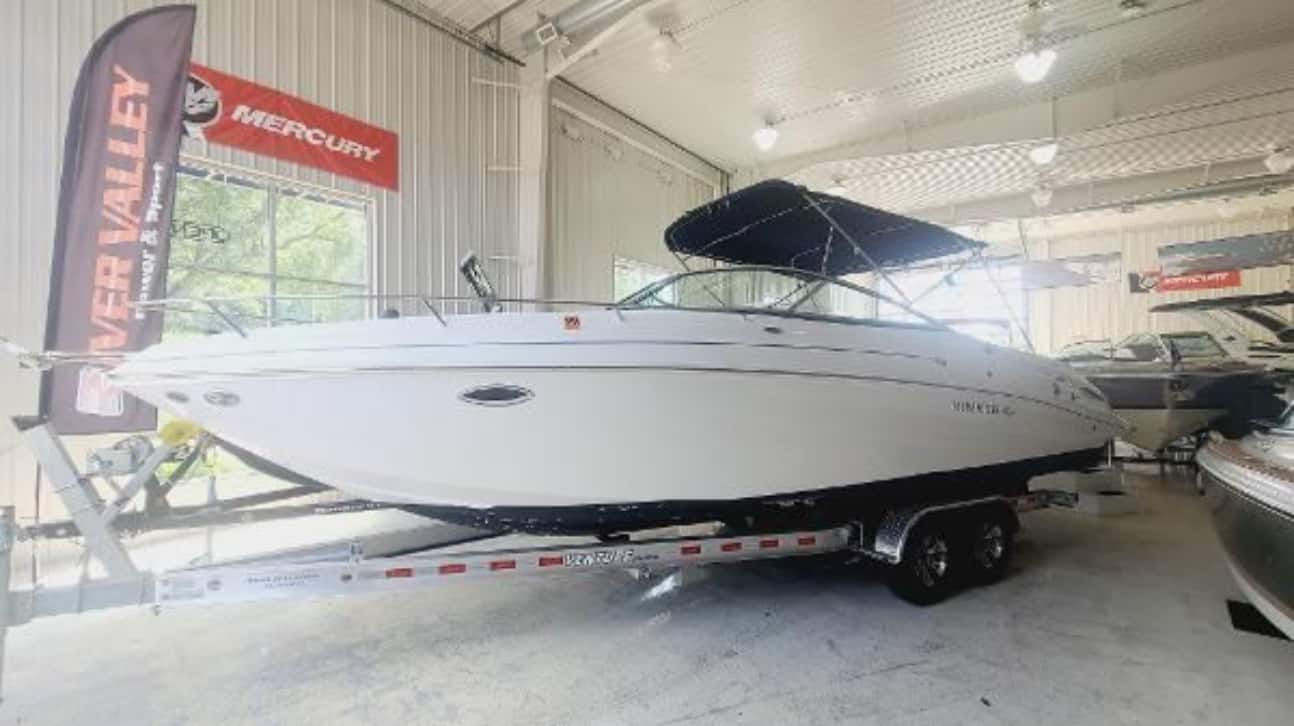 Having a cuddy cabin boat extending to 30-foot or so territory is, in other words, another type of comfort zone. And with the Rinker Captiva 296 Cuddy, you get nothing less, making it an ideal model for overnight stays.
With this boat, you gain more over heavier, deeper counterparts in cost savings and runabout sleekness, and exceptional performance. Rinker's runabouts are renowned for their aerodynamic design, and the Captiva 296 Cuddy proves just that. Its foredeck appears more streamlined rather than bubbled.
The boat's handling is agile and doesn't compromise its stability, something other boats fail to achieve. It then features a Volvo Penta 8.1-liter engine that easily tops speeds up to 50 mph. Besides the excellent overall space, other features that make the Captiva 296 Cuddy stand out are the Rinker's embossed headboard and the cherry-veneer trim.
The four-position four rumble seat is quite notable as well. You can use its varying configurations to stretch out the sun pad or complete the cockpit. It then incorporates deep storage compartments to pack equipment and other necessities for a few days on the water. As a bonus, the 296 also includes a Lowrance chart plotter as part of the base package. 
MJM 36z Cuddy Cabin Boat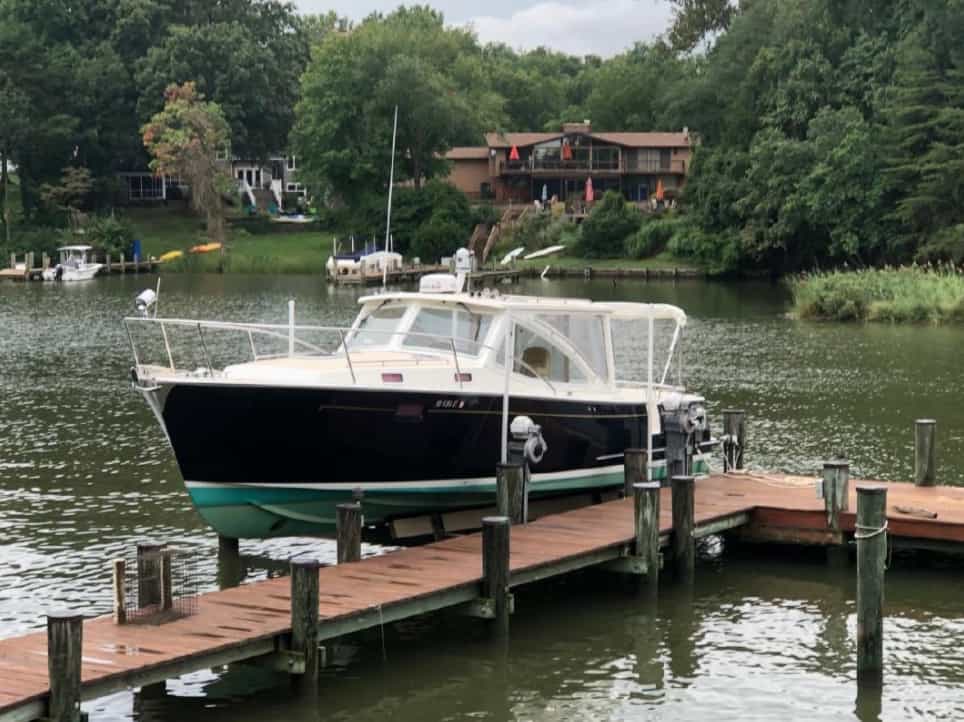 If panache, efficiency, and convenience are what you're after, the MJM 36z is a steal for you. It comes with a 4:1 length-to-beam ratio, which gives it big-water capability other than delivering easy handling. It propels effortlessly, making its ride soft enough to mistake it for a wider boat.
You'll also like its oven-cured, pre-impregnated epoxy construction which integrates a faultlessly finished, light, and robust hull. Through this, the 36z attains impressive speeds at the expense of minimal horsepower. And adding to the efficiency are its saltwater-ready, dual Volvo Penta diesel drives at the stern.
Even in open seas, the MJM 36z delivers an all-time balanced feel by cutting through the slops. With four passengers aboard and a full tank, it proves its efficiency by cruising at two mpg, sometimes even better. 
The boat's cockpit is nothing but a big sensation. Its starboard side-access and port boarding doors are not unique but uber-convenient at the same time. It then boasts expansive lounges inside and under the cockpit's top, offering an entertainment space big enough to match a back porch. The cockpit lies on one level from the helm to the transom and boasts user-friendly joystick controls that make docking a breeze as well.
Doral Venezia Cuddy Cabin Boat
There are quite a few compact cuddy cabin cruisers that ideally combine standing headroom below with sleek lines. Cutting among the lot is the Doral Venezia Cuddy Cabin, which besides delivering standing headroom, will also accommodate up to four passengers in an easily managed, compact package.
The boat's hull swanks a wide beam which easily accommodates a forward cabin big enough to allow for a rounded dinette. It also showcases the manufacturer's intention of allowing luminescence and natural light to enhance the sizable cabin's openness. And even though compact, the head and galley facilitate practical functioning through their realistic proportions. 
It then displays varying seating areas up top. There's space to accommodate three passengers joining the skipper at the helm and on the adjacent lounge. Further, a wraparound rear seating zone with a wet bar and voluntary refrigerator makes an ideal focal point for entertainment purposes.
The Venezia is available in a broad assortment of diesel and gas engines in dual and single configurations. You'll enjoy motor options ranging between 270 and 375 HP. But if we were to recommend one, we'd go for the midrange 300 HP Volvo, which comfortably attains a top speed slightly surpassing 40 mph and is economical as well.
Doral Elite 235 Cuddy Cabin Boat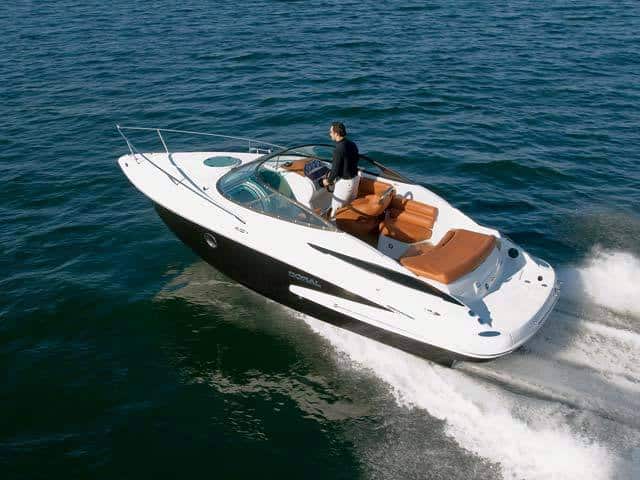 This Canadian-built boat is undoubtedly an "elite" model, judging from the leather-like upholstery to the teak-trimmed cockpit. In other words, the Doral Elite 235 Cuddy Cabin adds emphasis and pays attention to detail, thanks to Doral's adherence to thorough, quality-control programs. This has seen the 235 Cuddy bag NMMA certification alongside the European CE rating.
The vessel comes with a 20˚ deadrise hull and a deep cockpit, making it a perfect cuddy cabin for open waters operation. Its construction doesn't employ standard mechanical fasteners but a rather extensive plexus and composite laminates bonding. Therefore, expect nothing less of a rattle-free ride with the Doral Elite 235 Cuddy.
It's pretty hard for wave-taming hulls to attain top speed for a given engine. Nonetheless, the Doral 235 strikes an ideal balance between water penetration and lift. And using a 320 HP power plant, it remarkably delivers top speeds of up to 50+ mph.
The boat's transom platform is extensive and hence enough to hold a swim party. There's a four-step deep ladder to facilitate effortless reboarding. Passengers who love staying out of the wind and dry will love the plenty of seating space from the cockpit's wraparound bench alongside a dropped transom walkthrough for easy access to the dock. 
Sea Ray 270 Sundancer Cuddy Cabin Boat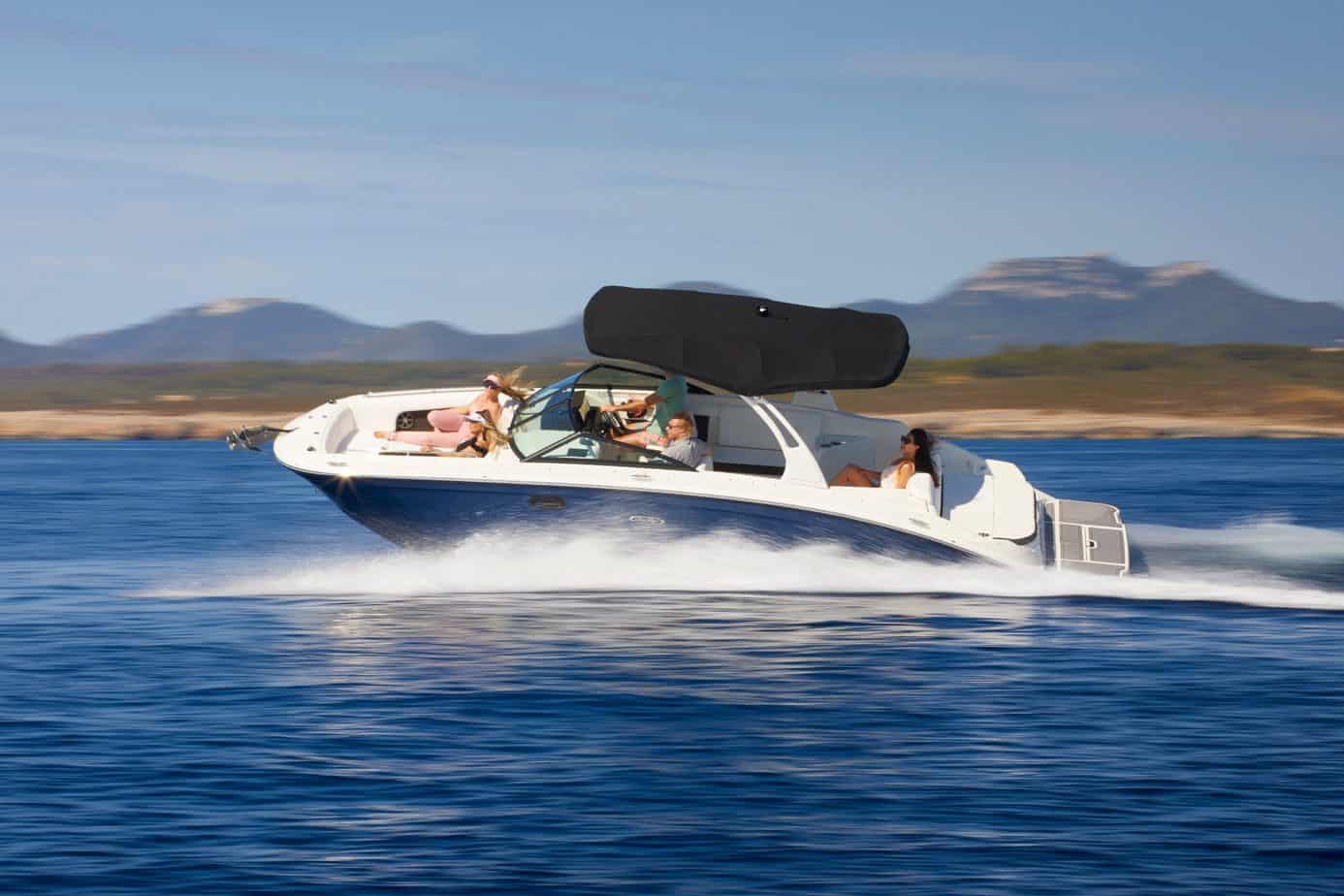 Functionality and ample space are only some of Sea Ray 270 Sundancer's appeal. And from eyeballing this craft, you'll notice a few distinctive characteristics which enhance its versatility. 
If you board the boat through the portside entryway, you'll notice that the 270 Sundancer is built to impress and entertain. Its cockpit is roomy and boasts a noticeable 9-foot-wide beam. Like larger Sundancer models, it also incorporates luxurious add-ons such as the electrically actuated engine hatch and a cockpit wet bar.
Adding to the 270's entertainment aura is a curved, L-shaped port side lounger that integrates interior storage. The cabin and the cockpit are other storage fitted with handles alongside features that add more convenient rooms below and topside. For instance, an aft seat is adjacent to the swim deck, which unfolds to a platform that accommodates two people.
Whether you are an overnighter or a day-tripper, this cuddy cabin will deliver home-like comfortable accommodation. It comes with a MerCruiser MX6.2 SeaCore 320 HP sterndrive powerful enough to attain speeds nearing 40 mph. The 270 assures smooth handling even under full throttle, making it a precise summation for a vessel that can pull tube riders, cove out, and cruise.
Rinker 276 CC Cuddy Cabin Boat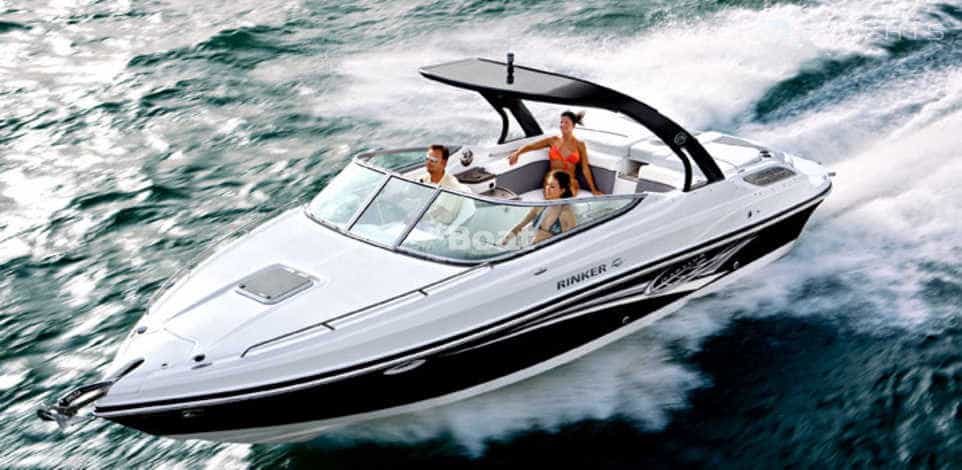 If venturing into coastal waterways is your thing, or rather you need a craft that will smoothen out large-lake chops, the Rinker 276 CC is what you need. After Rinker's success with the 276 Bowrider, the company designed a cuddy cabin model for their lean-running hull. And the result is the 276 CC which balances passenger-soothing practicality and athletic performance.
The large cockpit is the boat's focal point, and if you wish to overnight occasionally or escape from the sun, it comes with an excellently appointed forward cabin. Its aerodynamically carved radar arch complements the sleek closed bow to deliver mounting points for a canvas or Bimini cover. And with the enclosure in place, the Rinker 276 CC cuts it among three-season cruising boats.
It has a couple of engine options, with the ideal midrange power plant being the MerCruiser 350 HP sterndrive. It brings the vessel up on plane in only five seconds before topping up the speed to roughly 40 mph. However, speed buffs can opt for an upgrade to a 425 HP sterndrive instead.
During fair weather, you can use the 276 CC for water sports. A central walkway leads to the boat's vast swim platform, and the tow point on the arch supports tubing, among other watersports.
Stabicraft 829 SC Cuddy Cabin Boat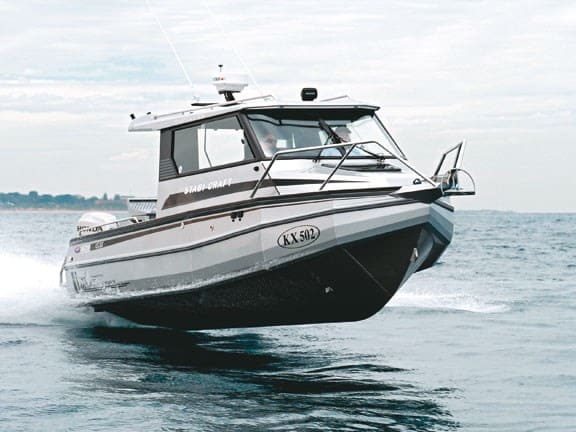 Next, we have a rough-weather and rugged-ocean performer, the Stabicraft 829 SC. It's not surprising to find this vessel showcasing excellent performance in adverse conditions, given Stabicraft's renowned reputation in the industry.
In this cuddy cabin, stability and safety are paramount. All thanks to the enormous stepped chine making up the boat's underside and a ring of airtight chambers. The bow's shape allows the vessel to cut through choppy water, with the stern bringing the 829 up to place quite effortlessly. 
The hull's center boasts an air-filled section that, alongside the encircling pontoon, makes the Stabicraft 829 virtually unsinkable. And even more impressive, its deck has self-draining capabilities.
One thing is for sure; this vessel is a fishing beast. It comes with a vast deck surface with each of the gunwales featuring two rod-holders. Its live-bait tank is fully plumbed with a filleting board atop, which has each of its sides integrating more rod holders. Across the cabin overhang's back are an additional eight with more extra rod storage in the long side coamings.
Moreover, the 829 employs a forward-mount Sea Star steering system that links up well with dual four-stroke Honda BF200 counter-rotating engines with other engine options to pick from as well. Its NMEA 2000 I-Command gauges work together with a Lowrance chart plotter to provide relevant information to the skipper. On the pilothouse are side windows that slide aft to facilitate airflow.    
Intrepid 327 Cuddy Cabin Boat
Any avid boater would like a single vessel encompassing all important boating aspects. In other words, if an all-around craft is what you crave, the Intrepid 327 Cuddy Cabin is your prize. It is a dependable cuddy model built for speed while offering notable luxury as well.
In terms of power, Intrepid provides an assortment of motors to choose from. You have options from the all-time reliable Yamaha, to Evinrude, Mercury, Suzuki, all of which deliver exceptional outboards for the 327 Cuddy, typically in a twin-motor configuration. 
The boat's versatility is nothing to question. It comes with a convertible bed in the interior cabin, which besides being a bed at night, can also convert to a lounging space during the day. The boat's cabin incorporates storage and cabinetry but can also accommodate a refrigerator. Anytime you wish to freshen up, the 327's head delivers plenty of space to comfortably go about your personal needs with a sink, a toilet, and more so, a shower. 
As the skipper, you'll enjoy ample room to pilot the boat and stay in control all through your sailing expeditions. And the seating is adjustable and comfortable to accommodate anyone, and to enhance visibility, it integrates LED navigation lights to boot.
Are Cuddy Cabin Boats Worth It?
Before asking, "which cuddy cabin boat is good?" it's vital that you understand that: different people have varying definitions of "good." Cuddy cabin boats vaunt some remarkable qualities, which we'll look at below. 
Nonetheless, depending on what you're expecting from a vessel, the advantages may be impressive or not. So, to understand better if a cuddy cabin boat model is the best for you, we'll examine a few pros and cons in detail. That way, you'll have better insight into what suits your requirements ideally.
Pros of Cuddy Cabin Boats

Lively Cruising Experience   
Cuddy Cabins are versatile since they strike an excellent balance between bowrider boats and cabin cruisers. Hence, like bowriders, they can accommodate anglers, carve turns and support watersports activities such as skiing and tubing.
Like cabin cruisers, on the other hand, they provide storage for items, deliver interior space to keep you from elements, and allow passengers to wade around, hang out and cruise as well. They are both luxurious and sporty, allowing everyone aboard to get the best out of their on-water experience.
Additional Storage Space
When you have passengers and their luggage aboard, sometimes the space tends to get cramped quickly. But that's highly unlikely with cuddy cabins. They are often extensive to even allow movement around and therefore boast enough space to hold luggage that could be using up deck space.
Besides that, cuddy cabins feature storage compartments all around to keep items safe from elements. Additional storage also comes in handy, especially when you're tubing, skiing, or wakeboarding and you need space to store wet swimsuits, etc.
Sleeping Space for Overnighting or Napping
Going out on a long water expedition is fun but can get exhausting at times. But that's a non-issue with cuddy cabin boats as they offer a protected, shaded space where you can enjoy a nap without offboarding the craft.
The same applies to overnighting. Their sleeping space allows you to sail overnight and spend the night on the water without getting off the vessel. And speaking from personal experience, sleeping aboard a cuddy cabin can be as cozy as sleeping at home.
Protection from Adverse Elements
Cuddy cabin boats offer a shaded interior space to keep out adverse elements without having to dock. So, when the sun or rain gets too much or the wind too strong, you can easily take a break without setting up any shelter.
Included Galley Area and Toilet  
Finding bathroom spots during boating can be difficult, and so can preparing food. Luckily enough, cuddy cabins often feature a galley area and a toilet (also known as head in nautical terms). Thanks to their interior layout, you and your passengers can sail without being concerned about where to use a restroom.
They also provide extra accommodations than typical bowrider vessels, making them ideal for more extended expeditions.
Trailerable
Cuddy cabins often come in decent lengths – 18 to 28 feet. And even with such sizes, it's still possible to tow them to different water bodies. An average model will weigh about 3000 pounds. Add that to the trailer's weight, and that's easy to pull even using a Toyota Prius. 
Fishing Capabilities  
As mentioned earlier, cuddy cabin boats are versatile enough to accommodate an angler's needs. And over time, several fishing boat manufacturers are now making cuddy cabin vessels ideal for fishing purposes.
You'll even find standard models coming with ample storage for rods, tackle, other gear, and most will also accommodate additional fishing equipment, e.g., extra rod holders, etc. Also, some anglers find the forward cabin of a cuddy cabin to be an excellent casting deck.
The Not So Good about Cuddy Cabin Boats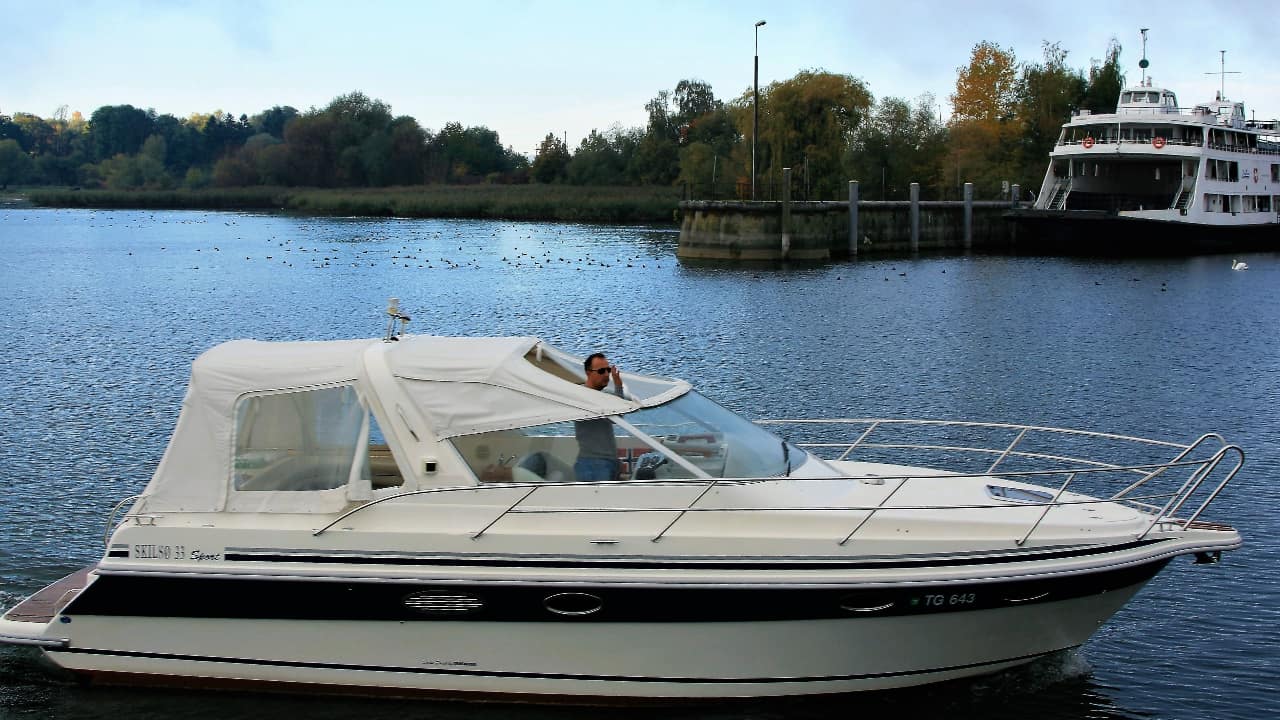 Cuddy cabin boats are impressive. But like with every other vessel, they too have drawbacks. Below are some disadvantages accompanying cuddy cabin crafts.
Relatively Short to Stand In
Not being tall enough to stand in may not be a drawback for everyone, as some don't mind stooping over when accessing the cabin. Even so, constantly stooping over and sometimes kneeling around the place can get awkward and slightly uncomfortable, particularly for tall persons. Most cabins have heights ranging from 4½ to 5 feet.
Less Seating Capacity Compared to Other Boats
An interior cuddy cabin is typically beneath the bow, whereas that space is characteristically an additional lounge seating space in the case of bowriders. For this reason, cuddy cabin boats tend to have minimal seating capacity compared to other boat types.
Restricted Access to the Bow
The bow area would generally be a walkable deck or seating space on other boat types and thus easy to access. But that's not the case with cuddy cabin boats. With the interior cuddy cabin being under the bow, access above this area is restricted.
Also, right behind where the bow starts is the boat's windshield that you'll have to climb over to get on the bow's topside. And since there's nothing on the bow's topside anyway, climbing atop is practically useless.   
Frequently Asked Questions
Question: What Is the Difference Between a Cuddy Cabin Boat and a Yacht?
Answer: Cuddy cabins have their share of similarities to yachts. For example, they are suitable for long-distance cruising, and they also deliver several facilities that aid in keeping passengers as comfortable as possible during long-haul outings.
Unlike large yachts, cuddy cabins are slightly smaller and don't necessarily require a professional onboard crew.
Question: Can You Fish from a Cuddy Cabin Boat?
Answer: Yes, you can. However, cuddy cabin boats are the most suitable vessels for fishing as there are specialized fishing boats out there. Remember, they are versatile, and hence their design tries to achieve an excellent compromise between fishing, cruising, and water sporting. 
But you can still equip your cuddy cabin with fishing equipment such as extra rod holders, fishing chairs, coolers, etc., to make your fishing expeditions easy and fun.
Question: Which Brands Make the Best Cuddy Cabin Boats?
Answer: Different boat brands take pride in their cuddy cabin boats, which are pretty competitive in the market. Here are a few notable boat manufacturers with the best cuddy cabin models out there.
• Bayliner
• Rinker
• Intrepid
• Doral
• Sea Ray
• Stabicraft
• Cobalt Boats
Wrapping Up
Cuddy cabin boats are often referred to as the "best of both worlds." We now know that's due to the ideal mark they strike between cruiser and bowrider vessels. And thanks to their versatility, that sentiment remains correct.
However, it's paramount that you pay attention to what exactly you expect from a cuddy cabin. Then pick the one model that checks out most of your expectations and go for it. The eight cuddy cabin boat models reviewed above make an excellent choice for any boating enthusiast. But in our opinion, we recommend the Rinker Captiva 296 Cuddy Cabin Boat. It's luxurious, spacious, and takes versatility to another level.
For more interesting readings check out: