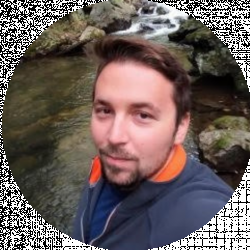 Latest posts by Coty Perry
(see all)
9.9 Yamaha is a mid-powered outboard motor. It provides nimble, lightweight, and efficient power. It is one of the few 4-stroke compact outboards with a SOHC 212cc inline 2-cylinder under 90 pounds.
Considering its size, it provides exceptional speed and acceleration. This makes it the most suitable outboard for small tinnies and inflatables.
Are you looking for an impressive outboard with a new, shorter tiller handle? If so, then consider the Yamaha 10 HP outboard motor. It features the option of manual or electric start. Thanks to the ergonomic design, Yamaha 9.9 HP outboard motor will take you anywhere you want.
Bottom Line Up Front
Yamaha 9.9 HP is a high-thrust outboard motor that offers the option of a V MAX SHO sport cowl to mount, remove, and store. Besides being extremely quiet, it has excellent fuel consumption. The outboard motor delivers smooth and reliable performance with low emissions.
Alternatively, get the Honda BF 10 HP if you are looking for a well-oiled and solidly engineered outboard motor with modern styling. If you prefer speed, then choose the Mariner Mercury F9.9 HP. It is the fastest in the 10 HP class with a top speed of 17knots.
Yamaha 9.9 HP Outboard Review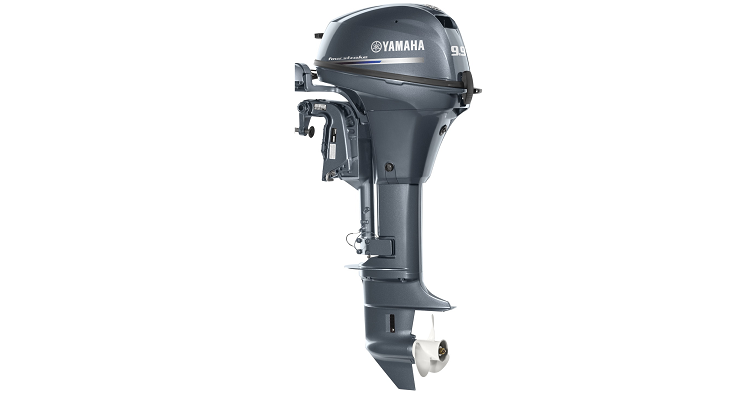 The F9.9 Yamaha comes with carrying handles, on-side storage capability, and resting pads. These features make it easy to mount, remove, and store. The combination of the power tilt feature with the forward-mounted controls makes the operation easy.
If you prefer spending the whole day skimming the marsh or fishing in the lake, this outboard can serve as an excellent kicker. It's very popular with a high-thrust T9.9 format.
For a smooth and reliable operation, the outboard motor features a CDI Microcomputer Ignition. It helps monitor the atmospheric conditions, engine speed, and throttle position. As a result, you can adjust ignition timing with precision to achieve optimum ignition performance.
Phase Five TM anti-corrosive paint system and the YDC-30 alloy provide a tough 5-layer barrier against corrosion. If you didn't know, this kind of corrosion protection is standard on all Yamaha 4-stroke outboard motors.
The overheat protection and low oil pressure warning are some of the key features of the Engine Warning System. Other features include over-rev protection, shift-in prevention at open throttle, and start-in-gear protection. They automatically reduce the maximum RPM to 2,000.
For maximum reliability, incoming air is routed through the Air Intake Labyrinth System. Here water is trapped and drained before entering the engine. All the moving parts of the SOHC system should always stay lubricated. The pressurized oil delivery system incorporates a compact and durable oil pump.
Yamaha 9.9 Features
For optimum performance and smooth running, F9.9 comes with various features. They include:
212 CC 2-Cylinder
In the low to mid-speed ranges, the 4-valve, 2-cylinder, and single overhead camshaft deliver sufficient torque
Easy Start Decompression Device
Yamaha 9.9 HP comes with an auto decompression device fitted to the camshaft for easy pull starting. When the manual pull start is engaged, this system releases pressure in the cylinder. As a result, it allows for light and convenient pull starting.
Ergonomic Carry and Control Handles
F9.9 Yamaha features large comfortable grips located on the front and back of the engine. These make carrying, mounting, and removal of the engine easier. To make the outboard compact and easy to carry, the tiller handle folds back neatly.
Ergonomic Shift Lever and Tiller Handle
The side-mounted shift selector provides added user convenience. The twist-grip throttle is large and comfortable ensuring you can easily control the engine. The kill switch and the throttle cable enable the tiller to deliver superb handling and maneuverability.
Fresh Water Flushing System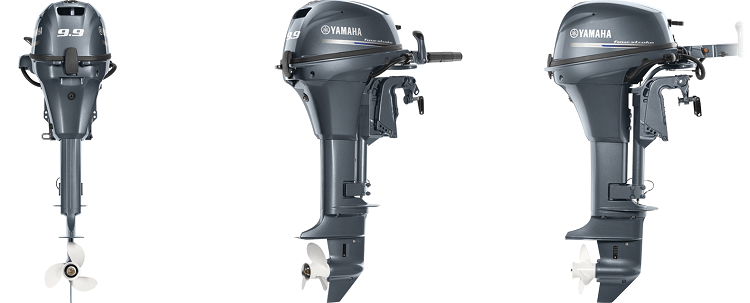 If you want to flush salt and dirt from the outboard, then connect a hose to the easy access, front-mounted connector (optional). If you want to reduce corrosion while extending your engine's life, then ensure that you flush your engine after every use.
Labyrinth Exhaust System
At low RPM, Yamaha's labyrinth exhaust system minimizes the engine noise. F9.9 features a water-sealed outer wall around the exhaust muffler. It helps reduce the exhaust noise levels for a quiet operation. This enhances cooling which in return protects the exhaust system against corrosion.
Manual Tilt Shallow Water Drive
Yamaha 9.9 HP comes with a 3-step shallow water drive system which is extremely useful for shallow creeks, estuaries, and rivers.
One-Piece Cowling
F9.9 Yamaha features a 1-piece outer cowling design with an intake air drain system. This efficiently drains water that enters the cowling during normal engine operations. Before the incoming air enters the engine's intake, it is first routed through a labyrinth of passages that help trap and drain water.
Prime Start
Thanks to the Prime Start feature, starting a Yamaha outboard looks as easy as starting a car. It enables the engine to be started cold. This is by automatically controlling the engine 'warming up' process to eliminate the need for a conventional choke.
Rest Pad for Vertical Storage
The F9.9 Yamaha engine can be laid down on its back vertically thanks to the special rest-pads. Alternatively, the engine can also be laid on its side.
Portability and Displacement
Yamaha 9.9 HP features a displacement of 212 CC. Weighing less than 90 pounds, it's light and one of the most impressive power-to-weight ratios in this horsepower class.
Compact Design
The 2-cylinder engine comes with a streamlined intake manifold and a single-overhead-camshaft platform. These provide an efficient and compact design.
Control and Smart Evolution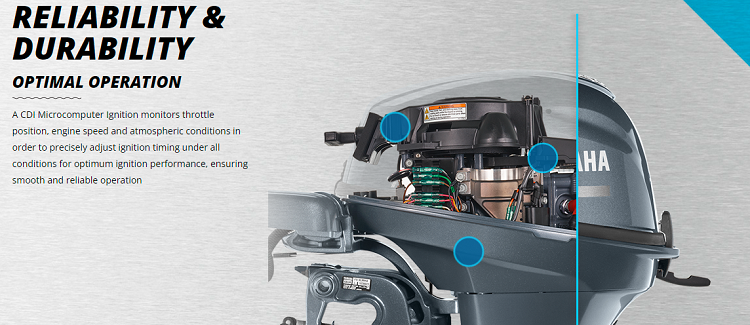 For more comfortable operation, Yamaha 9.9 HP features a new shorter handle. Additionally, for more stable and flexible storage, when the handle is hinged back, it tucks in tighter to the cowl.
Storage and Portability
F9.9 Yamaha comes with inbuilt front and rear handles that make it easy to carry. You don't have to worry about cowling scuffs or oil leakage. This is thanks to the resting pads combined with the easy oil retention system. They allow for convenient on-side storage.
Propeller Protection
Yamaha's Shallow Water Drive helps keep the propeller and the lower unit out of harm's way in shallow water.
Pros
2-cylinder, 4-stroke engine
212 CC engine capacity
It comes with carrying handles and rest pads
CDI Microcomputer Ignition
Smooth and reliable performance
Fuel efficient
Protection from damage on shallow waters
Cons
Not the most affordable in its class
Yamaha 9.9 Alternatives
If the Yamaha 9.9 HP outboard doesn't meet your needs, then take a look at the alternatives highlighted below.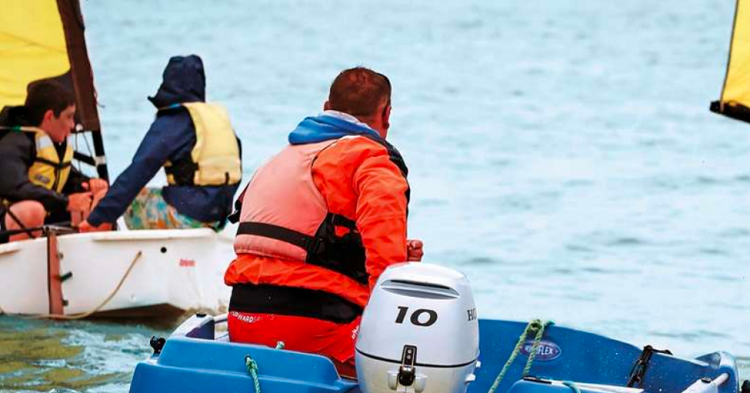 The BF 10 HP from Honda is a 4-stroke twin-cylinder engine with a capacity of 222 CC, a pull start, and a remote fuel tank. At 5,000 – 6,000 RPM, the motor has a power output of 7.4kW. The good thing about this outboard is that everything is well-oiled and solidly engineered with modern styling.
When it comes to performance, BF 10 HP features a top speed of 14.8 knots, which is the lowest for 9.9 HP petrol-powered engines. Note that it takes only 16 seconds to accelerate from 0 to top speed.
At top speed, it produces noise levels of 90 dB while when cruising the noise level is at 75 dB. However, when idling it's quiet at 59 dB. Even though it features well-positioned handles, BF 10 HP is the heaviest on our list (42Kg). Besides having a 6-year warranty, one of the setbacks about this outboard is the front-mounted gearshift.
Pros
6-year warranty
Remote steering/electric start
Low noise levels
Large engine capacity (222 CC)
Remote fuel tank
Cons
It has a front-mounted gearshift
Heavy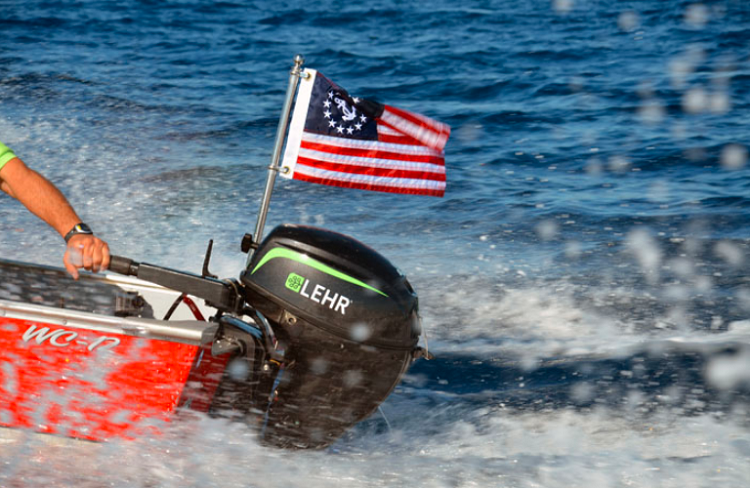 Lehr's propane-powered outboards are gaining popularity in the market. This is due to their low emissions and cleaner refueling. They come with a pressurized gas line that connects to an external 6 Kg cylinder. The outboard features an engine capacity of 212 CC with twin cylinders that deliver 7.2 kW at 5,500 RPM.
One thing you'll love about this outboard is that it's available in both short and long shafts, all with an optional electric start. However, there is a slight loss of power when using propane fuel despite the 9.9 HP power rating.
It is easy to start the outboard since it doesn't feature a choke or primer pump. On the upside, even though the gears are mounted at the front of the engine, the gear action is smooth. When storing the engine, the well-placed handholds ensure storage is done easily with minimal effort.
Pros
Light
Environmentally-friendly
Easy to start
Slick styling
It has an engine capacity of 212 CC
Cons
Not quiet
There is slight power loss when using propane
Mariner Mercury F9.9 HP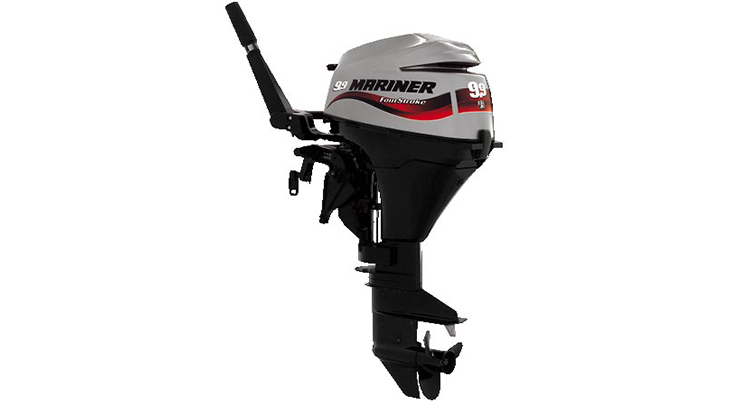 This outboard motor features a twin-cylinder engine with an electric start option. Between 5,000 – 6,000 RPM, Mariner Mercury F9.9 HP generates 7.28 kW (9.76 HP). This is coincidentally the same capacity as Suzuki. To protect the motor during storage, it has a thick forward-facing carry handle.
Apart from being the fastest engine on my list, Mercury comes with a 5-year warranty. It has an impressive acceleration with a top speed of 17 knots. It takes only 15.7 seconds for the outboard to accelerate from 0 to 17 knots.
When idling, the noise level is at 60 dB. This rises to 79 dB when cruising while at top speed it's at 92 dB. The 'twist-and-go' throttle is used to engage gears for you. To go astern, twist one way and the other way to go forward.
It's easier to use this method than using a separate lever. However, it takes a bit of time to get used to the process. To rev it in neutral, use a button on the cowling to disengage the gears. For easy lifting, the bulky handle offers the leverage required.
Pros
It's light (32Kg)
Easy gearshift
5-year warranty
It takes 15.7 seconds to reach the top speed
Moves to plane swiftly
Cons
Maybe a challenge to operate
Not quiet
Suzuki DF9.9A Outboard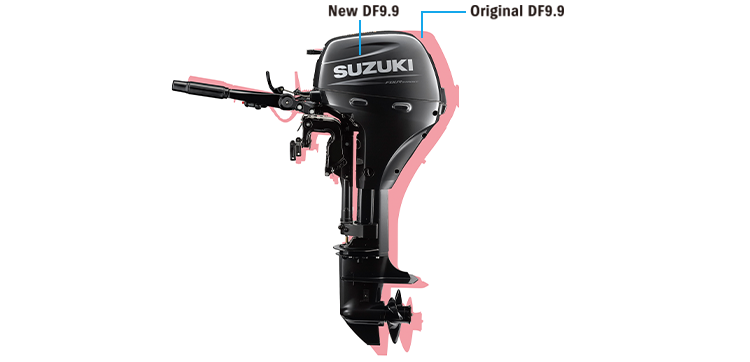 The DF9.9 revs slightly higher making 7.3 kW (9.79 HP) of power with the optimum range being between 5,200 – 6,200 RPM. It has an engine capacity of 208 CC with a connector to the generic fuel tank.
It comes with a 5-year warranty. DF9.9 from Suzuki takes 16.5 seconds to reach 15.5 knots. This makes its performance to be in the middle of the range. When idling it measures a modest 60 dB, which rises to 78 dB at cruising speed and 91 dB at top speed.
Note that water sprays into the boat due to the long shaft at higher speeds. So to avoid that, you need to control your speed. This outboard features a separate ring on the end of the tiller, a throttle, and a resistance adjuster which engages gears by twisting.
The user-friendly setup works brilliantly by creating a basic form of cruise control. The smart-molded stand enables you to know on which side to lay it down. The high-quality materials and ease of use justify its higher price.
Pros
2-cylinder engine
User-friendly
Smart-molded stand
Easy to engage gears
Gets to plane easily
Cons
At high speeds, water sprays into the boat
Not fast
10 HP Outboard Motor Buying Guide
Whether you are a novice or an avid boater, you must spend some time analyzing different types of motor. Do you want tips to ensure that you get the best 10 HP outboard motor?
If yes, I got you covered. After rigorous interviews with boat enthusiasts, I came up with the following checklist for buying a 10 HP outboard motor.
Power
Generally, I can say that as a rule of thumb, 5 horsepower per ton of boat is what you need. However, when considering factors such as headwinds and rough water, you may need more horsepower. Note that how you intend to use your boat also determines how much power you'll require.
Speed
If you prefer high speeds, then you'll need plenty of power. The size and weight of your boat, the hull design, and the weight of your cargo all play a big role in determining your speed. Keep in mind you'll need to hit 8 – 12 MPH just to get your watercraft to the plane.
2-Stroke or 4-Stroke Engine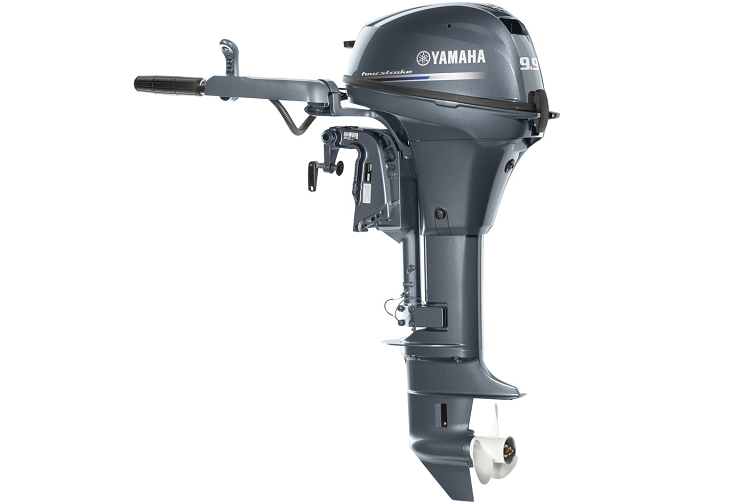 Whether you buy a 2-stroke or 4-stroke motor doesn't matter considering they are all good choices. However, they both feature advantages and disadvantages. It's recommended that you take time to learn about the 2 types of outboard motors before you decide which one is good for you.
2-stroke outboards use a mixture of gasoline and oil. The downside is that the exhaust valve emits about 20 percent of unburnt fuel. Even though these models are light and more powerful, they are less environment-friendly.
On the other hand, 4-stroke outboards operate on pure gasoline. They have a cylinder to ensure that the lubricating oil is circulated properly. One thing you need to know about this model is that oil and gasoline never mix. This makes them more durable and quiet.
Shaft
Most inflatables require a 15" (short) shaft. However, yacht and fishing boats require a long shaft. Ensure that you get the measurements right. This is because a short shaft on a long transom affects the cooling and performance of your motor.
Keep in mind a long shaft on a short transom is more dangerous because a low thrust point in the water may cause the boat to capsize.
Motor Weight
Take note the size of your outboard motor needs to match the size of your boat. This ensures that you have sufficient power for safety, speed, and maneuverability. That said, smaller outboards have the advantage of easy lifting and carrying.
Outboards with a horsepower ranging between 2 – 10 HP weigh 35 to 90 pounds. 20 – 30 HP outboards weigh about 100 to 160 pounds.
Manual or Electric Start
An electric-start option is the best because it makes starting your outboard easy. Take note your choice depends on your budget and your desire for convenience. This privilege, however, comes at a cost since you'll be required to buy a 12V marine cranking battery.
You should note that retrofitting a manual outboard with an electric start might be more costly than buying a new motor with an electric start.
Maintenance
Whichever type of motor you choose, always keep in mind that it has a cost of maintenance and downtime associated with it. A 2-stroke motor, for instance, features a Direct Fuel Injection (DFI). This means that it requires a constant supply of oil. 4-stroke outboards, on the other hand, have more moving parts and thus require more frequent service.
How Do 10 HP Outboard Motors Perform?
Before buying an outboard engine, it is necessary to know its elements and features. Outboard engines are designed to propel the boat from the transom. They should always conform to the driveshaft and powerhead.
10 HP outboards are similar to marine power systems. The shaft spins the propeller which in return transmits an impulse on the boat. The good thing about outboard motors is that they are easy to repair or replace.
Yamaha 9.9 HP FAQs
Question: How Fast is a Yamaha 9.9 HP Outboard Motor?
Answer: Yamaha 9.9 HP features a top speed of around 20 MPH.
Question: Does Yamaha 9.9 Feature an Electronic Fuel Injection?
Answer: Yes it does. Yamaha 9.9 HP comes with a Precision Multi-Point Electronic Fuel Injection on the T60 and T50. It delivers the exact amount of fuel required for optimum efficiency and performance.
Question: Which are the Best Outboard Motors?
Answer: Yamaha, which is a renowned outboard motor brand, is one of the popular leaders in the boating industry. Other good brands in the market include:
• Suzuki
• Honda
• Mercury
•Coleman
Question: Which is the Best Fuel For a Yamaha Outboard?
Answer: Yamaha outboards are generally designed to operate on lead-free petrol.
Bottom Line
The Yamaha 9.9 HP is among the few 4-stroke outboard motors that feature SOHC 212 CC inline 2-cylinder. This compact engine weighs below 90 pounds. It has exceptional speed and acceleration for its size making it best for inflatables and small tinnies. The outboard also offers excellent fuel efficiency, reliable performance, and low emissions.
If the Yamaha 9.9 HP doesn't meet your requirements, then choose the Mariner Mercury F9.9 HP if you prefer speed. It features a top speed of 17 knots. With it, you only need 15.7 seconds to accelerate from 0 knots to 17 knots. Alternatively, choose the Honda BF 10 HP if you want a well-oiled and solidly engineered outboard with modern styling.
Looking for more interesting readings? Check out: