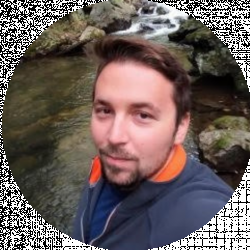 Latest posts by Coty Perry
(see all)
Yamaha is renowned for producing reliable and technology-driven outboards in the boating industry. In the beginning, the brand used to manufacture 2-stroke outboards. However, in the late 1980s, they ventured into the production of 4-stroke outboard motors. One of its best 4-stroke motors is the Yamaha 425 HP (XTO) outboard motor.
After thorough research from online boat reviews and interviews with boat enthusiasts and Yamaha's development team, I was able to compile a detailed review of the Yamaha 425 HP.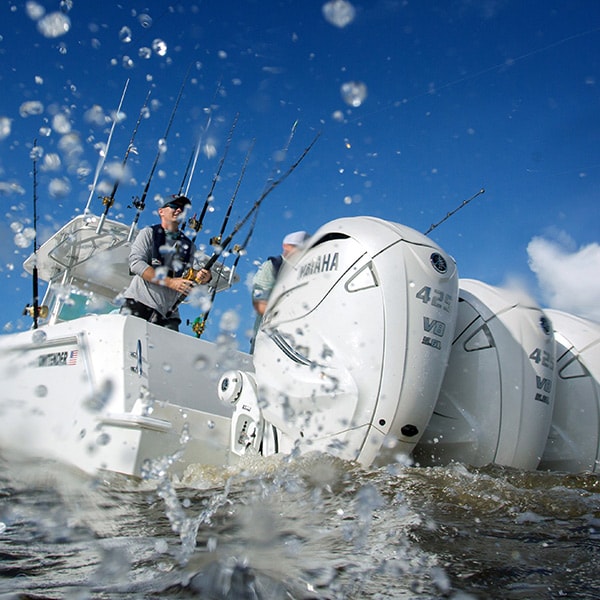 Bottom Line Up Front
If you want a powerful outboard and don't like the Yamaha 425 outboard, then opt for the Mercury Racing 450R. It's light with an incredible power-to-weight ratio giving you the highest horsepower (550 HP) you can ever get. If fuel efficiency is not a priority, go for Suzuki DF350A outboard. It has the second-highest compression ratio of 12.0:1, meaning knocking is next to impossible.
Yamaha 425 HP Outboard Review
Yamaha runs the highest compression ratio (12.2:1). Its fuel efficiency is unparalleled, with stronger and responsive delivery of power throughout the range: this big displacement Yamaha V8 outboard is designed to push large boats and heavy loads with ease.
Everything about Yamaha 425 HP is "upsized" and "over-built" to create the best highest thrust big boat saltwater outboard motor. For instance, the engine comes with an oversized gearcase featuring hardened gears. For longer service life, the motor has heavy-duty motor mounts, special iridium spark plugs, a dual-chamber oil pump, and a 2-stage water pump. 
For faster heat transfer, reduced friction, and increased fuel efficiency, XTO features plasma-fused sleeveless cylinders. This beast of an engine opens up to a new class of large outboard-driven boats. It delivers more reliable and premium quality engineering solutions. 
With the introduction of Yamaha's first fully integrated power system, XTO is not only the most powerful, but it's also the most technologically advanced outboard. The power system combined with a revolutionary integrated electric steering system results in an effortless boating experience. 
The outboard comes with a premium CL7 multifunction display, Helm Master joystick docking and positioning controls, and advanced 'drive-by-wire' throttle controls. Such features make this outboard a dream come true for most boat owners. Let's take a look at its features. 
5,559 CC V8 Engine
XTO features a 5.6 Litre, 32-valve, 4-stroke engine with direct fuel injection (DFI). It delivers enough power to push large and heavy offshore vessels. The motor is quiet and maintenance-free with consistent valve timing thanks to the self-tensioning chain, which is immersed in an oil bath.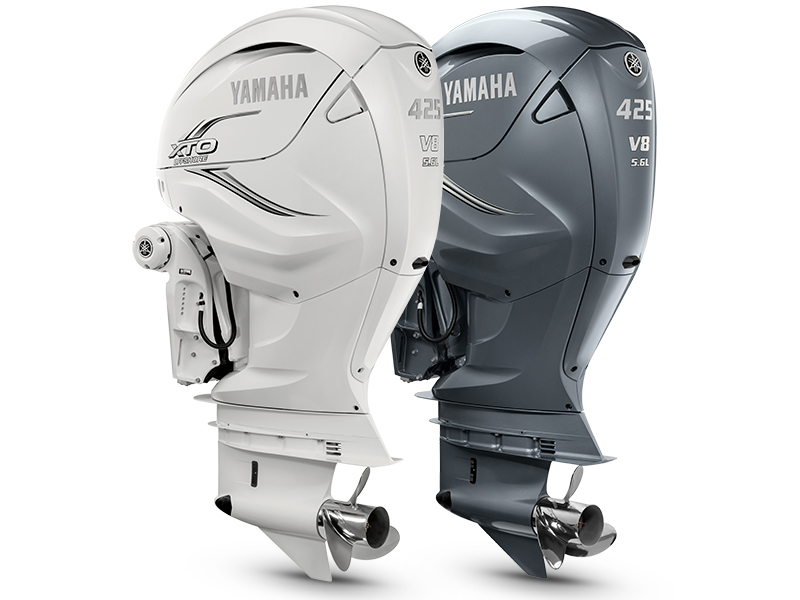 Integrated Electric Steering
XTO features the first industry 'steer-by-wire' system, which uses an electric motor to directly move the outboard safely without an electric pump or hydraulics. As a result, the system (also known as electro-hydraulic steering) delivers leak-free and maintenance-free steering. It's packaged in a clean rigging set-up that uses less power. 
Fully Integrated Power System
This sophisticated and powerful engine management system helps control the main relay, fuel pumps, DI, ETV, and the isolator charging unit. It's also in charge of the power trim and tilt (PT&T) operation. Each system can be centrally controlled and maintained, allowing warning signs to be seen at early stages.
High Output Alternator
The F425A flywheel/stator assembly comes with a new and innovative design. This powerful 3-winding, 3-phase charging system generates up to 90 Amps. When idling, the engine can easily generate 55 Amps of power. It means you get a stable supply of power to run a wide variety of electrical devices. 
Direct Fuel Injection
To spray fuel at high pressure directly into the combustion chamber, XTO comes with a 3-stage fuel pump system. It's designed for improved burning of fuel that results in more power production and improved fuel efficiency. 
In-Water Gear Lube Servicing
Yamaha 425 HP is easier, quicker, and cheaper to service. The main reason is that the lower unit gear lubricant can be drained or replaced while the boat is on the water. 
Multi-part Cowling System
The cowling system is designed and built with easy-to-remove parts. What makes XTO Offshore a unique outboard is the integration of cowling with engine covers that uses fasteners and a special one-piece seal. This makes it easy for you to access specific sections of the powerhead and mid-section for servicing without risking water intrusion and corrosion. 
Redesigned Lower Unit
To handle extreme loads and highly corrosive marine environments, Yamaha 425 HP features high-quality marine-grade stainless steel components and hardened gears. The redesigned lower unit performs better than its counterparts and, it offers higher top speeds with greater stability. Another upside is with the XTO; you can change your gear oil while the boat is moored, thanks to the new gear-oil replacement system. 
Exhaust Fan and Outlet
An effective rotary cooling fan is integrated into the flywheel of the motor to address the potential of any residual heat buildup. When it comes to heat control, Yamaha is always the best. Even when at low engine speeds, its cooling system is still effective at drawing heat from the flywheel. 
Plasma Fusion Cylinders
Through plasma fusion, XTO comes with a cylinder wall surface that is 50% harder than steel. The feature removes the need for conventional steel cylinder sleeves, significantly reducing the weight of the outboard. As a result, you get an improved power-to-weight performance because of the improved fuel efficiency and increased engine capacity. 
Thrust Enhancing Exhaust Routing
When in reverse, the blade slippage is decreased significantly. The exhaust gases are ducted through a 'relief' bypass which is above the anti-cavitation plate. This not only helps reduce vibrations throughout the boat but also improves the braking of the outboard. 
XTO OS Series/SDS Propeller
Yamaha 425 outboard is designed with large surface area blades. They generate extreme thrust for excellent acceleration, top-end speed, and reduced ventilation. Yamaha's Shift Dampening System (SDS) assures you of a smoother, quieter, and clunk-free gear shifting. 
Integrated SBW
This revolutionary, steer-by-wire, fully electric unit offers a silky smooth operation. It has virtually effortless steering inputs. Other advantages of SBW include:
Attractive with a very clean appearance

Minimal maintenance

Compared to typical hydraulic systems, it has a faster steering response

No separate interconnecting harnesses, hoses, steering pumps, or modules

Easy installation – free of fluids or air to purge

When compared to F350 models, it allows 7 degrees more tilt 'up' angle
When connected in multi-engine mode, each engine constantly monitors the position of the 'permanent engine.' SBW, on the other hand, controls all the components to ensure there's sufficient distance between the engines. It's a dual-monitoring system, meaning in the event there's a malfunction, the boat can be maneuvered with the backup system. 
The design allows the rudder to be adjusted manually, making the Yamaha 425 HP's steering stable and reliable in any weather condition. The good thing with XTO is that it can be configured to effectively handle various conditions that the boat might encounter. 
Yamaha 425 HP Accessories
Now that we have looked at the features let's take a look at the accessories. From my research, I was able to compile the following list of features.
CL7 Premium Touchscreen Gauge
Yamaha has developed a user-friendly 7-inch touchscreen with Digital Electronic Control (DEC). Apart from being having GPS navigation and being customizable, it can monitor up to 4 outboards. It can also connect to a fish finder, camera, radar, and sonar.
Helm Master System
XTO features an optional integrated Helm Master System. It allows for precise boat positioning and easy joystick-controlled docking to deliver an effortless boat ride. To bump the joystick in any direction or change the boat's angle, you just need to twist the joystick. Additionally, you can easily set direction, location, or drift settings.
Yamaha Shift Dampener System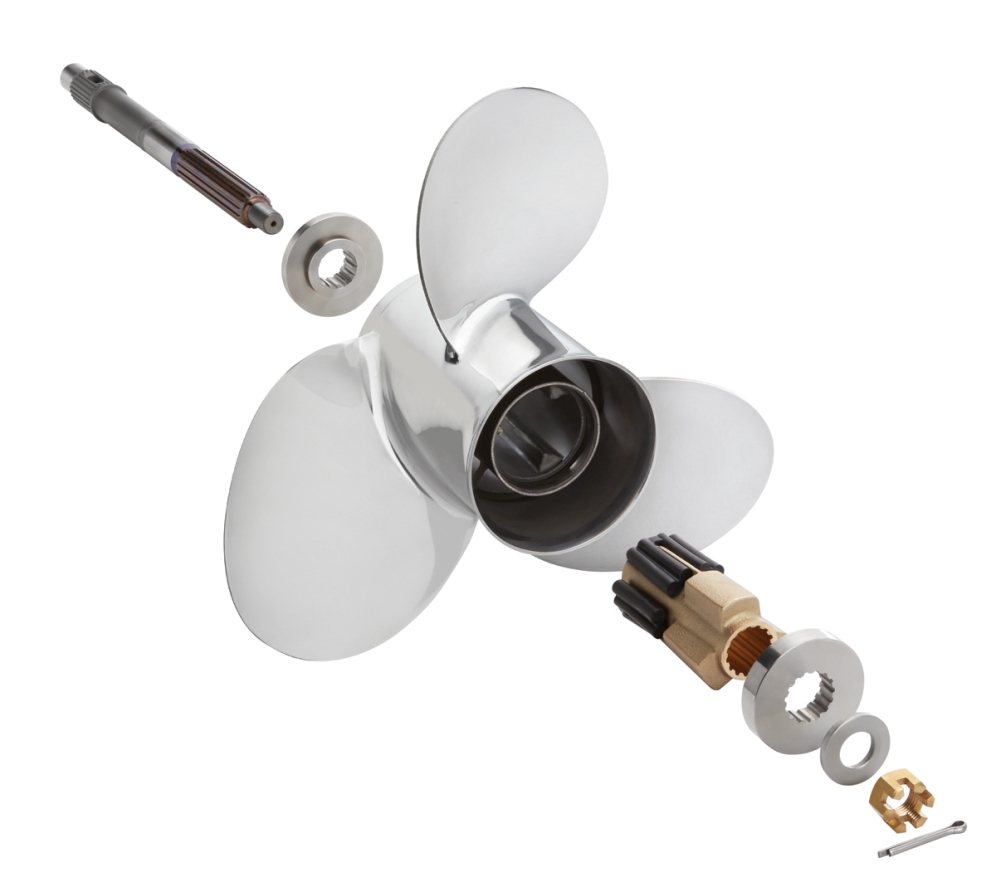 Most Yamaha mid-range and high horsepower props feature Yamaha's exclusive Shift Dampener System (SDS), and the Yamaha 425 outboard is no different. When the engine shifts in and out of gear, the system absorbs all the forces produced. This results in smoother, quieter, and clunk-free shifting.
Pros
It has two flushing methods

The iridium plug lasts long

Multiple installations are possible in a single boat

Direct fuel injection

5,559 CC V8 4-stroke engine
Cons
It's heavy, making it not suitable for small boats.
Yamaha 425 HP Alternatives
If Yamaha 425 doesn't meet your needs and you are looking for an alternative, I got you covered. Go through the four best alternatives listed below. I believe you'll find a great match that satisfies your preferences.
Mercury Racing 450R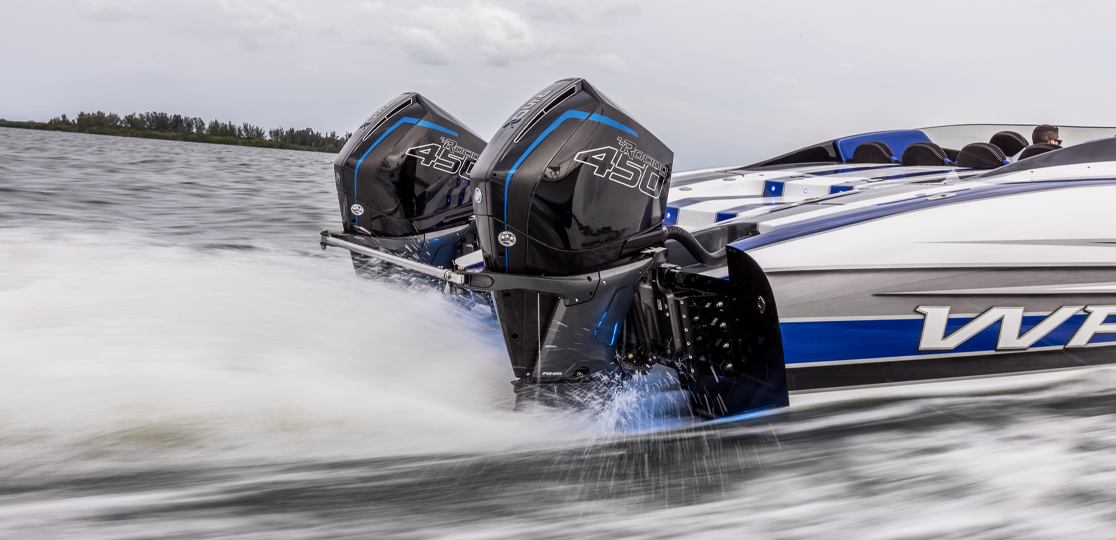 Mercury 450R comes with incredible power to weight ratio to achieve maximum horsepower. At open flow, it has between 5,800 – 6,400 RPM. Thanks to the mercury transient spark technology, you can control the torque output to increase the outboard's performance. 
450R delivers 550 horsepower in raw power from a 4.6 Litre V8 engine. It is light (689 pounds) for a 450 horsepower engine making it very easy to navigate. Apart from featuring a 3-year warranty with an extended warranty of 5 years, this model is durable and has low maintenance costs. 
Pros
Durable with low maintenance costs

The transient spark technology boosts performance

Fuel-efficient

Lightweight

Convenient oil check access (placed on top of the cowl)
Cons
Pricey

Not best for small boats
Mercury Verado 400 HP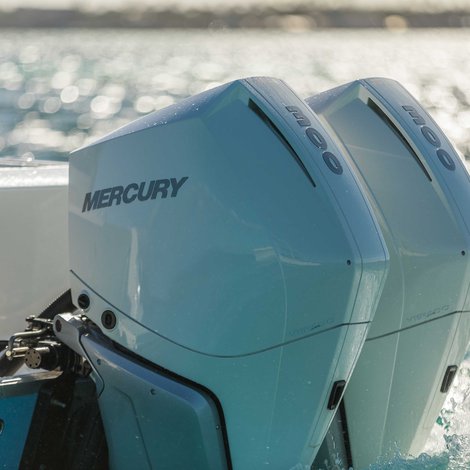 This outboard is a fit for large boats based on its effective inline-six design. The demand for bigger and bolder outboards with recreational power preference has taken over the boating world. This has pushed Mercury Marine to unveil its new 400 Verado outboard. 
Its design is based on the 350 Verado, which was launched in 2015. Verado 400 comes with an inline-6 powerhead with a dual overhead cam and 24 valves. To boost power and efficiency, it has a supercharger. 
Combined with a 5.44-inch 1.75 HD gear case, the model is built for a max RPM of 6,200 – 6,800, depending on the prop selection and installation. This means that 400 Verado has a gear ratio of 1.75:1. Its engine is designed for more speed and performance since it's more for racing than for recreational use. 
Compared to the 952-pound Yamaha 425 XTO, Mercury boasts that Verado 400 is the lightest in its class, coming in at 668 pounds. Suzuki V-6 DF350 follows closely at 727 pounds, while the Seven Marine's V-8 527 is the heaviest weight at 1,094 pounds. Additionally, 400 Verado boasts the best horsepower-to-weight ratio at 1.67 horsepower per pound. 
Pros
It has an efficient inline-six powerhead

24 valves

Dual overhead cam

It features a supercharger

Lightweight
Cons
The engine burns more fuel

Not best for shallow waters
Suzuki DF350A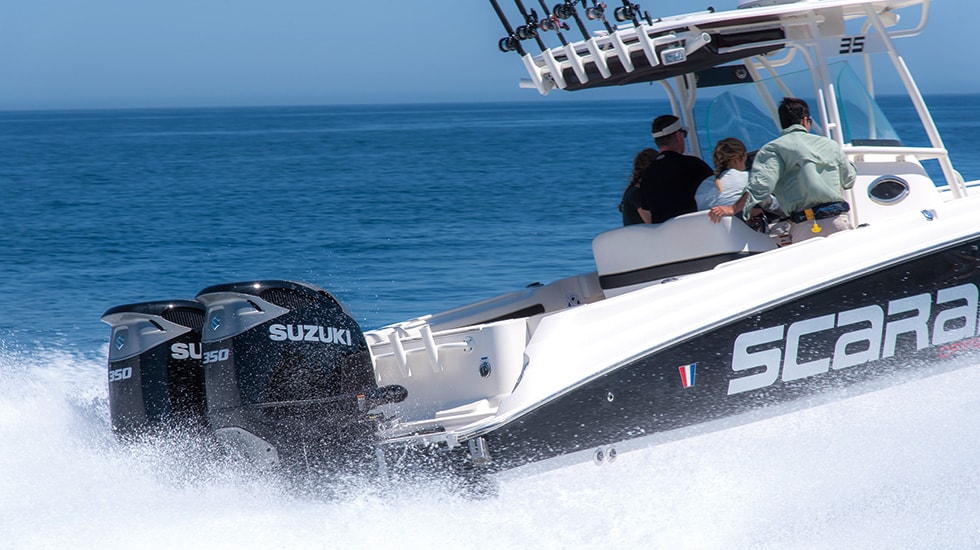 In terms of efficiency, the Suzuki DF350A is the most economical in its category. To increase the hook and negate torque effects, it uses a pair of counter-rotating propellers. The engine comes with a 4.4 Litre tank. DF350A has the second-highest compression ratio of 12.0:1. This means the possibility of the engine knocking is next to impossible.
The dual-fuel intake system ensures that every point of the motor receives all the fuel it needs. The system is not only designed to keep the engine running without hiccups, but it's also built to deflect water particles when cruising at high speeds.
Pros
The counter-rotating blade counters torque effects

Double fuel intake

It has a smaller lower unit

Environment-friendly (fewer emissions)

4.4 Litre tank
Cons
Not fuel-efficient

Cases of missing parts
Honda BF250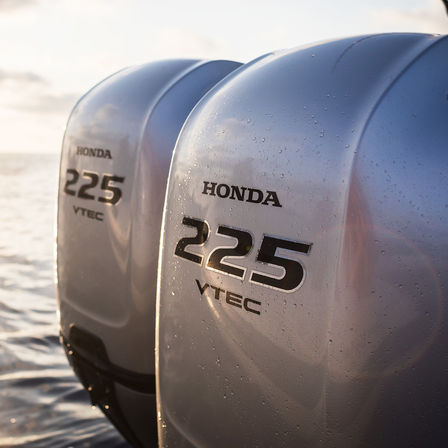 The outboard is designed to use 5.2 gallons of fuel per hour for cruising at speeds of 67 MPH at 3,500 RPM. Variable time and lift control features are some of the revolutionary technologies used by BF250 to operate the intake valve at low RPMs, after which it engages the higher RPM profile. 
For quick starts, the Programmed Fuel Injection (PG-MFI) ensures each cylinder gets the required fuel and air. To have complete control of the ignition timing, PG-MFI uses a microprocessor. Advancing the ignition timing at hammer time dramatically improves the acceleration and performance of the outboard because of the boosted low-speed torque.
That said, to maximize fuel efficiency and acceleration, the lean-burn control automatically adjusts air/fuel mixture. As a result, this boosts the torque at low RPMs. However, what makes the BF250 outstanding is the enhancements it features to improve reliability, maintenance, and performance. 
Pros
Offers high fuel efficiency

Able to tilt up to 68 degrees

5-year warranty

It has excellent power

Durable and reliable
Cons
Requires a lot of maintenance

Pricey
Outboard Motor Buying Guide
Every boat owner dreams of getting the best outboard motor that lasts long. For starters, the choice you make should be based on whether you can afford the outboard or not. I find it wise to determine a budget and work from there. Once you have a budget, some of the features you need to consider for your outboard motor include:
Hull Capacity
When choosing among the best outboard motors, you should always consider the hull capacity of your boat. It should be enough to handle the weight of the motor when mounted on the transom. 
It's always mentioned somewhere in the user's manual, so don't forget to ask for it when making a purchase. If you don't exceed your boat's recommended outboard weight, 2-stroke outboard engines can be replaced with a more powerful 4-stroke engine. If you overload your boat more than its hull capacity, the outboard tends to be counterproductive. It affects speed, maneuverability, and safety in bad weather conditions. 
Boat Size
Under-powering your boat is one of the worst things you can do when choosing an outboard motor. Compared to a larger boat, a smaller boat has different needs that don't require a lot of power. It's wise to keep to the limit of the motor shown on your boat's capacity plate. This way, you can avoid under-powering your boat. 
Long Vs. Short Shafts
The length of your shaft affects the performance of your outboard in the water. Go for a shorter shaft length if you have an inflatable boat or a dinghy with a lower transom. On the other hand, longer shafts are suitable for large boats (above 25-feet long).
It goes without question that having the right length of the shaft is directly related to your boat's operational safety and efficiency. If it's too long, it may make your boat unbalanced and cause it to flip. On the other hand, if it's too short, it may not be fully submerged, making it operate ineffectively. 
Start
Choosing a manual or electric start is straightforward. Go for electric if you are looking for an easier and quicker start. All you need is a push of a button, and you are good to go. For example, if you find yourself drifting towards rocks and you need to get away before you damage your boat, an electric start comes in handy.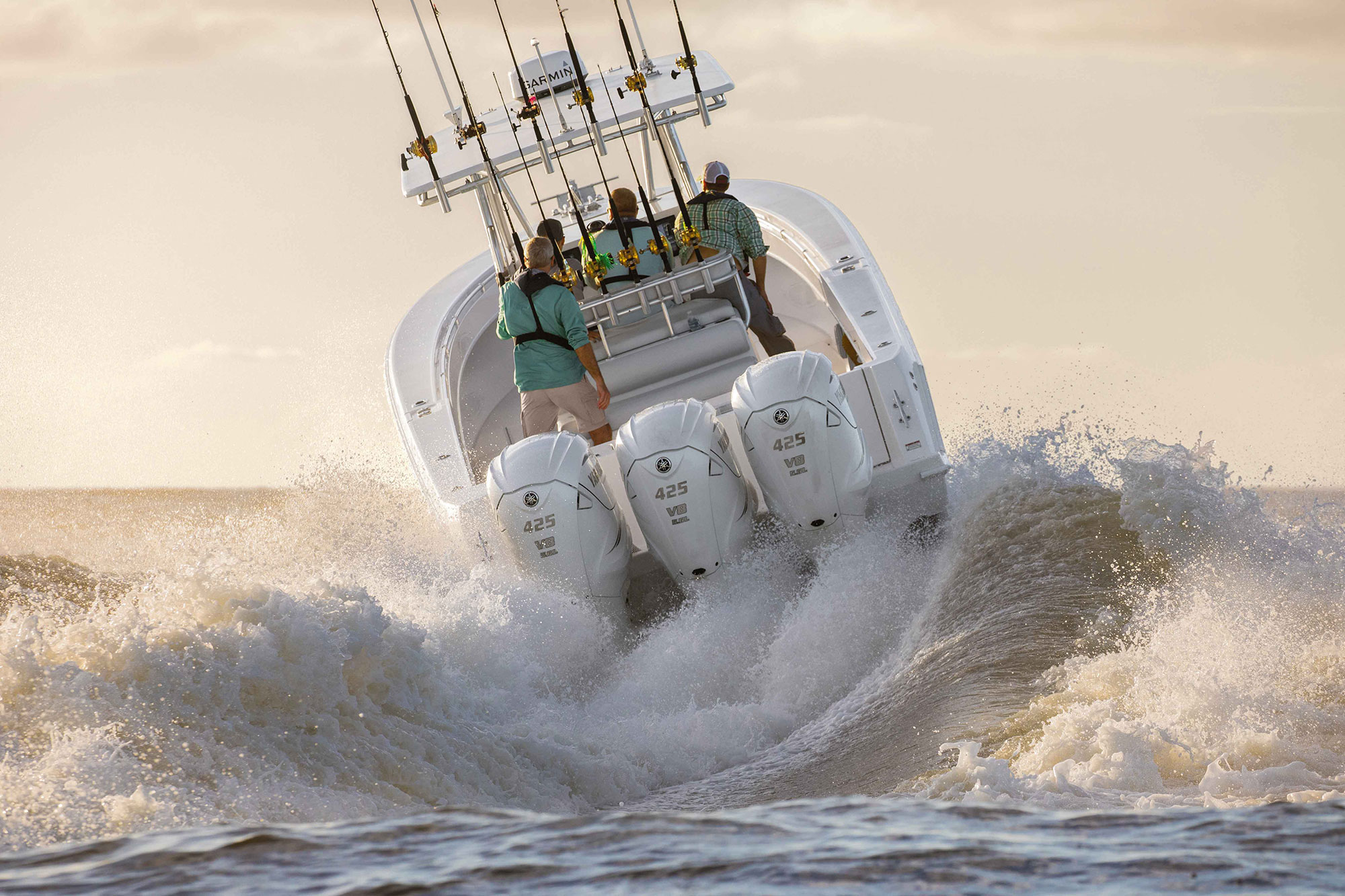 Steering
The two steering options are a steering wheel or boat tiller handle. It all depends on how you plan to use your motor. So what are the merits and demerits of each? Check them out!
Steering Wheel vs. Tiller Handle
I prefer the tiller handle as I find it enhances the steering control on an outboard. Many modern boaters are accustomed to a steering wheel. However, I have discovered that a tiller gives me more control. 
Traditionally, tiller handles were only seen in smaller outboards. Currently, they are gaining popularity and can be seen on large horsepower motors. For example, Mercury offers their newest tiller handle on 115 HP outboards and higher. 
Gears
The number of gears determines how you will maneuver your boat. Some have two gears, while others have three. The two gear option comes with forward and neutral. Three gear options are forward, neutral, and reverse. 
I prefer the three gear option, especially when using high-power outboards like the Yamaha 425 outboard. Why? For safety reasons. These outboards are powerful and can reach high speeds. If I want to brake suddenly, I engage the reverse gear. 
Power Source 
Gas and Electric are the two types of power sources for your engine. Gas-powered outboards are the most common. They range from 1.4 HP to upwards of 300 HP. Engine configurations vary as they can come with one to eight cylinders and can be either 4-stroke or 2-stroke. These motors are controlled by a throttle on the tiller handle or hydraulically hooked up to a steering wheel. 
The electric ones aren't as popular and common. For starters, they are smaller than their gasoline counterparts. Secondly, their power is measured in pounds of thrust. On the plus side, they are usually cheaper than their gasoline counterparts. Such outboards are suitable for kayaks, small yachts, and fishing boats.
Yamaha 425 HP Outboard Motor FAQs
Question: Is Yamaha 425 Loud?
Answer: The sound level of XTO 425 is very low such that it gives a low hum at cruising speed. At around 4,000 RPM, the motor becomes slightly louder but not irritable. At 5,000 RPM, there is a raspy tone that some people have found irritating.
Question: Is XTO 425 the Biggest Yamaha Outboard Motor?
Answer: Yes, it is. This 4-stroke outboard is the company's highest-horsepower outboard as of December 2021. 
Question: How Long Does the 4-Stroke Yamaha 425 HP Outboard Last?
Answer: A 4-stroke engine provides about 1,500 hours of run time. This will last 7 – 8 years based on the average use of 200 hours per annum. However, the outboard can last for 10 to 20 years if you change the oil after every 50 hours of operation and regularly flush the engine. 
Question: Are Yamaha Outboards Manufactured in Japan?
Answer: Yes, they are. However, they are produced at four production bases: Yamaha Motor da Amazonia Ltda, MBK Industrie in France, Yamaha Kumamoto Products Co. Ltd, and the Fukuroi South Factory in Japan. 
Bottom Line
The shape and appearance of the Yamaha V8 XTO Offshore are more appealing to anglers. As for professional boaters, the look and styling of an outboard is not an important feature. What's important is the power, performance, ease of maintenance, economy, and user-friendliness of the outboard; in all these areas, XTO Offshore 425 stacks up well.
All these outboard motors are great on the water. The DF350A is not for people who are conscious of fuel consumption, while the Mercury Racing 450R is designed for boat races. If you didn't find a motor on my list that suits your needs, use my buying guide. It will help you get an outboard motor that will suit all your needs.
Looking for more interesting readings? Check out: