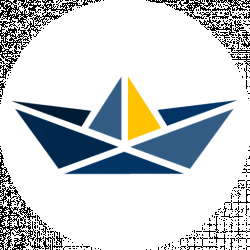 Latest posts by Jeanne Murugami
(see all)
Without a doubt, acquiring one of the best winch straps for your boat is a well-thought investment, especially in terms of convenience. Whether you intend to pull your boat out of the water and load it on a trailer or are just anchoring it, an ideal winch strap is a must-have for boat owners. 
But don't just get any winch strap out there. The reason being, you need an incredibly durable, functional, and reliable winch strap if you want your boat to always stay firmly attached to the seaboard anytime you mount in or hop out of it. 
So, what makes up the best boat winch straps? Are you well-versed with enough knowledge about the valuable and practical features that an ideal winch strap should have? If not, getting the right winch strap for your boat could be strenuous given the vast array of options flooding the market. 
But don't fret because our guide is here to make the whole process of identifying the right strap and the final buying decision a breeze. We'll focus on the various features a perfect boat winch strap should possess, review a few top-tier picks, tackle some frequently asked questions, and include any other relevant pieces of information regarding winch straps. Let's do this!
Types of Boat Winch Straps
Before picking a winch strap, you must familiarize yourself with the varying types out there. And their variance is mostly in terms of material, with the different fabrics having their respective pros and cons. The types include:
Polyester Winch Strap
When talking about winch straps, polyester cuts it among the best fabrics there is out there. Thanks to its minimal water absorption and high strength. Even when wet, this material has minimal stretch, meaning; it only stretches a bit beyond its initial length. 
Besides that, it's also abrasion-resistant and very soft to the touch. For such reasons, most polyester winch straps tend to be quite costly with such benefits and more justifying the high price points. 
Nylon Winch Strap
Nylon is another notable alternative fabric for boat winch straps. Unlike polyester, it's more elastic, making it ideal for boat owners who need a winch strap with a bit of stretch. 
What's more impressive is how it recuperates quickly, or in simple terms, it reverts to its initial length and form almost immediately. However, as time goes by, the constant stretching of nylon could lead to its longevity.   
Polypropylene Winch Strap
While polypropylene boasts having exceptional water resistance, its breaking strength is inferior. At the same time, it's highly prone to abrasion, and also, because of it being less safe than polyester and nylon, it's pretty uncommon.
When handling minimum weight, a polypropylene winch strap is commendable. However, when using it for hoisting and pulling, it may not be the best choice.
The Six Best Boat Winch Straps
Seamander Boat Winch Strap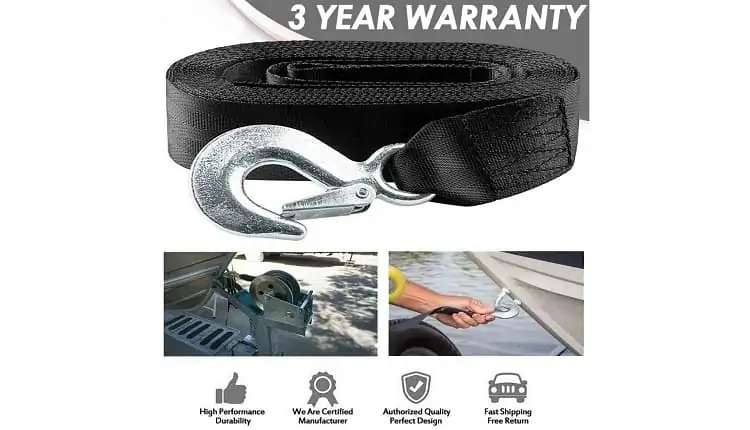 The Seamander Boat Winch Strap is an ideal option for budget-conscious people. Even at such a reasonable price, this strap still delivers decent quality and performance. Besides being affordable, it's effortless to install and tighten and only needs minutes to complete the process.
The strap's durability is top-notch. It features industrial-grade Polyester fabric, giving you the confidence of not needing another strap replacement anytime soon.
With such high-strength webbing, it's strong enough for any load with a maximum capacity of 4500 pounds. This means it can secure even heavy boats at a minimal stretch and will stay tightly woven over years of use.
The strap's stitching is notable as well for ensuring tight attachment to the hook. And unlike cheap counterparts, it also showcases technical stitches that make the nylon thread stronger and won't easily fray. The hook incorporates a safety latch and is rust-proof, thanks to the Zinc coating.
To enhance satisfaction, Seamander promises a two-year warranty for the strap and a no-questions-asked refund if you dislike its performance within the warranty period.
Pros
An ideal pick for budget-conscious people

Effortless to install and use

Premium industrial-strength construction for excellent durability

Two-year warranty with an unconditional refund

High capacity of 4500 pounds
Cons
The hook's quality is subpar 
GearAmerica GASTRAPGEN Winch Strap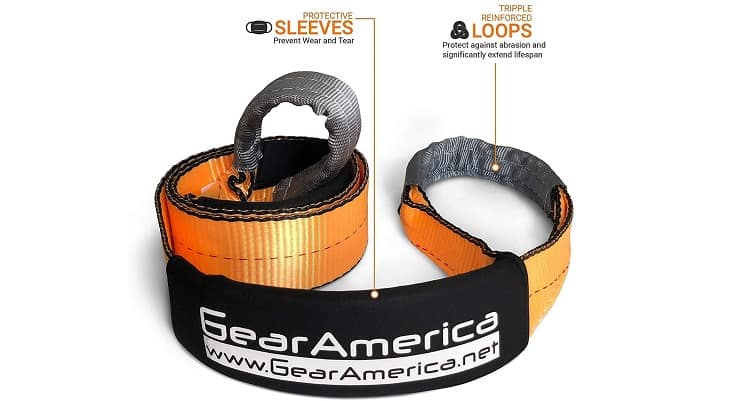 GearAmerica is a well-known and reliable brand for winches and related accessories. And their winch strap continues to prove that by being one of the best in the world. Besides maximum performance, it also delivers a load of flexibility.
Additionally, the GearAmerica winch strap's construction is commendable. It uses polyester with military-grade webbing, and hence, it's undoubtedly going to last a long time.
Best part? This strap comes with a lifetime warranty. In other terms, this means that irrespective of whatever happens to the winch strap, the brand will cover all your extra costs.   
Part of the package is a bag, which is handy when trying to hold towing supplies from misplacement. It then brags an impressive capacity of 35,000 pounds, meaning it's ideal for towing huge boats, heavy trees, and vehicles with much ease.
It then includes large double-web loop ends. And not only do they showcase exceptional reinforcement but padding as well. For that reason, this GearAmerica winch strap will endure the wear that results from the high tension typically occurring at connection points.    
Pros
It's ideal for towing hefty items, including large boats

Lifetime guarantee to ease your mind

UV-resistant and can endure any temperatures

Lab-tested to reduce chances of accidents

Includes a drawstring bag that helps secure towing supplies

Military-grade webbing hence impressive durability

Adjustable protective sleeves
Cons
It tends to begin unstitching after years of use
Shoreline Marine Boat Winch Strap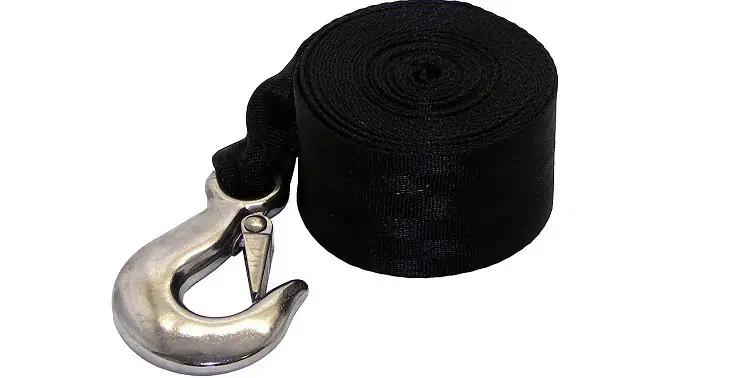 Next is another excellent option for budget-conscious buyers looking for an affordable boat winch strap. Like the other options in our list, the Shoreline Marine Boat Winch Strap is from a reputable brand with roughly 30 years of experience in manufacturing boating accessories. As such, its reliability is nothing to question.
Moreover, this winch strap comes with a premium, top-tier construction that makes it both tear- and rip-resistant. It features Polyester webbing, which is also pretty impressive in terms of water resistance. Unlike nylon counterparts, the Shoreline Marine winch strap won't stretch and tolerate mildew and mold every time it gets wet.
Part of its construction also includes a plated hook, which swanks a heavy-duty construction. Besides corrosion, it also resists rust making the strap perfect for use in marine environments. The hook then integrates a spring-loaded safety flap, which opens and closes for better attachment security when pushed.
Lastly, this winch strap is adjustable. While it has a 20-feet length, it allows adjustments if you need shorter lengths for particular applications. Its capacity is only 1500 pounds which only makes it suitable for personal crafts and small boats.
Pros
Premium polyester construction for durability and excellent functionality

Resists mildew and mold formation

Plated, heavy-duty hook with a spring flap

Rust and corrosion-resistant

Fully adjustable length 
Cons
A low load capacity of only 1500 pounds   
Goldenrod 6249 Winch Strap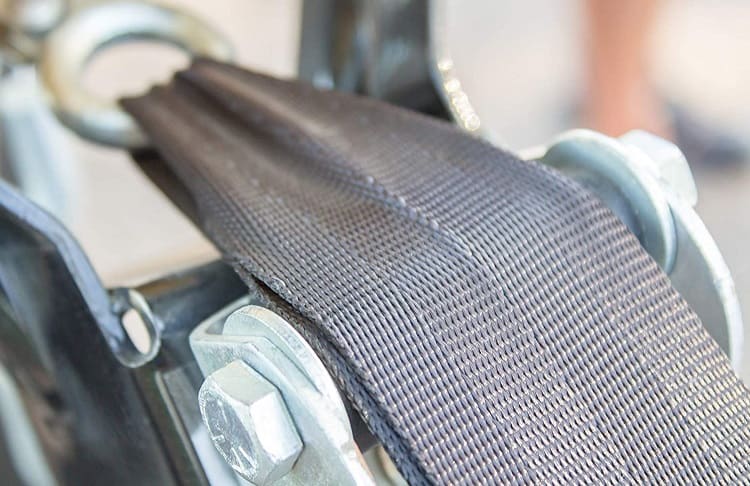 For a long time now, Dutton-Lainson has built a legacy by delivering top-notch marine products. Since 1886, the manufacturer has been in this industry, and hence, the reputation itself is compelling enough to pick the Goldenrod 6249 Winch Strap.
It best suits winches with a weight capacity of 2600 pounds but has its breaking strength at 4000 pounds. Such exceptional strength is pretty remarkable and can rival the performance of a steel cable.
Another excellent feature of this winch strap is the galvanized hook. It incorporates a coating that offers protection from rust and other factors that may accelerate wear.
At the same time, it's extensive enough to work with an ordinary eyebolt. The ¾-inch throat opening makes it easy to snap the hook on your boat. And with an integrated secure clasp, the hook remains locked.
You'll also like how effortless the Goldenrod 6249 is easy to install. In other terms, it's ready for assembly right out of the box with the package, including the assembly hardware you need. Because of the smooth fabric, the strap spools quite easily preventing friction and thus reducing fraying.
The only downside with this winch strap is in the replacement bolt, whose dismal quality is nothing less disappointing.
Pros
Highly reliable winch strap

Includes a durable, large galvanized hook

Effortless to install

Leaves adequate room in the spool

Exceptional, sturdy construction  
Cons
Poor quality replacement bolt
Fulton WS20HD0600 Winch Strap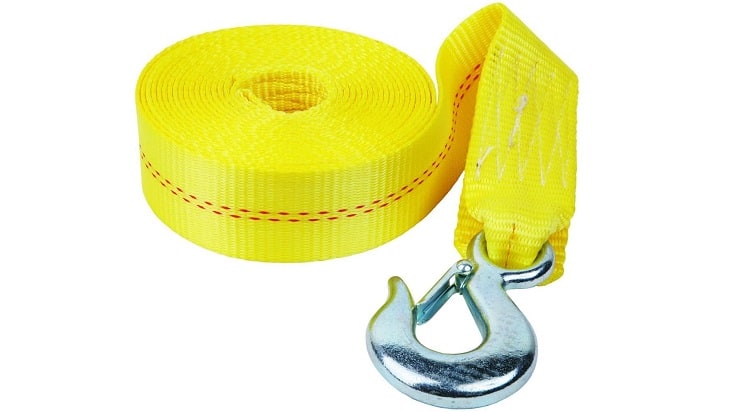 If a heavy-duty boat winch strap is what you're after, the Fulton WS20HD0600 is a steal for you. Its first notable feature is the bright yellow color. Through this, it displays excellent visibility, which translates into a perfect option for use even in low-light conditions.
What's more impressive is its working load capacity of 4000 pounds. Its breaking strength, on the other hand, is at 10000 pounds, which is notable. And unlike other counterparts in our list, this Fulton Winch Strap uses nylon web and not polyester. 
Hence, its fabric is softer than the latter, but that doesn't mean it compromises its durability. It is resistant to abrasions as well and stretches up to 30% when handling hefty loads. Therefore, ensure you observe the weight capacity to avoid accidents. 
Complementing the strap is a die-cast, sturdy metal hook. As you'd expect, it's galvanized to keep out rust, corrosion, and other similar issues altogether. It includes a spring-loaded latch that locks the hook in whenever you connect it. Holding the clip in place is the sewn-in loop which aids in keeping the load secure.
Further, this winch strap includes a limited five-year warranty from Fulton. The company assures that the belt is tested, inspected, and hardly defects within the warranty period. Nonetheless, take into account that this five-year warranty is only valid to the initial buyer.
Pros
Sturdy nylon web construction

Bright color to enhance visibility in low-light conditions

Robust, die-cast metal hook

Includes a limited five-year warranty

Remarkable load capacity and breaking strength
Cons
The think strap tends to rub on the bolt  
Botepon Marine Boat Winch Strap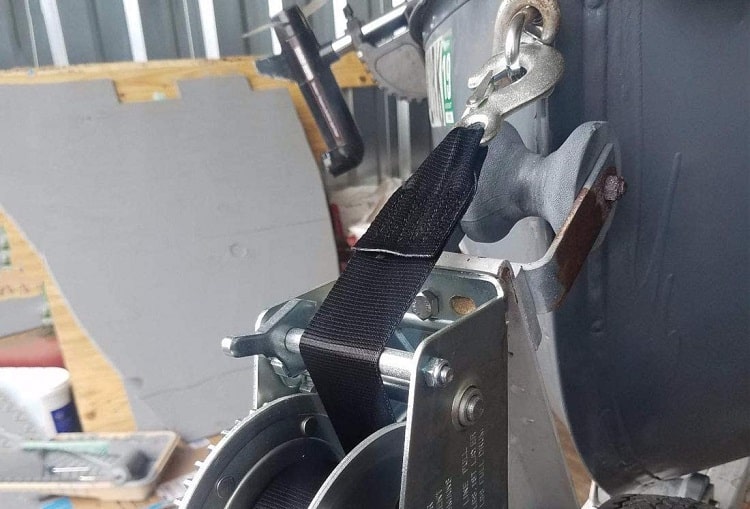 Closing up our list is the Botepon Marine Boat Winch Strap. As usual, it's 2-inch wide and 20-feet long in size. Its working load is good, working at 2600 pounds while its breaking strength is 4500 pounds.
Like the majority of winch strap options, it also uses heavy-duty polyester fabric. Its stretch is minimal and, therefore, will keep your load in place, making your towing experience much safer by effectively securing your boat even at high tension. The stitching on the strap is impeccable, enhancing its longevity.
It then incorporates a hook forged from #45 steel, which is more tensile and robust than most. For that reason, expect it to serve you for many years with excellent functionality. 
The hook then features a Zinc coating for extra protection against corrosion and other elements that propagate wear. This makes it suitable for use in marine settings where there's exposure to saltwater and UV rays.
If you still have durability and quality concerns about the winch strap, Botepon promises a two-year warranty. If it fails within this period, the manufacturer assures to replace the strap, demonstrating their confidence in its quality.
On the downside, the clip is pretty sharp and therefore scratches the strap. This may increase the chances of fraying, affecting the strap's durability. However, try filing the clip eye to blunt it a bit.
Pros
Robust forged steel hook

Heavy-duty, durable polyester fabric

Notable working capacity and breaking strength

Reasonable price point

Two-year warranty to replace faulty straps

Corrosion and UV resistant
Cons
The clip eye is too sharp and may fray the strap         
Features to Consider When Buying the Best Boat Winch Straps
Again, picking the best boat winch strap can be overwhelming, but at the same time, this is not an excuse for you to make a hasty decision. Below are a few vital considerations you must consider.
Size and Capacity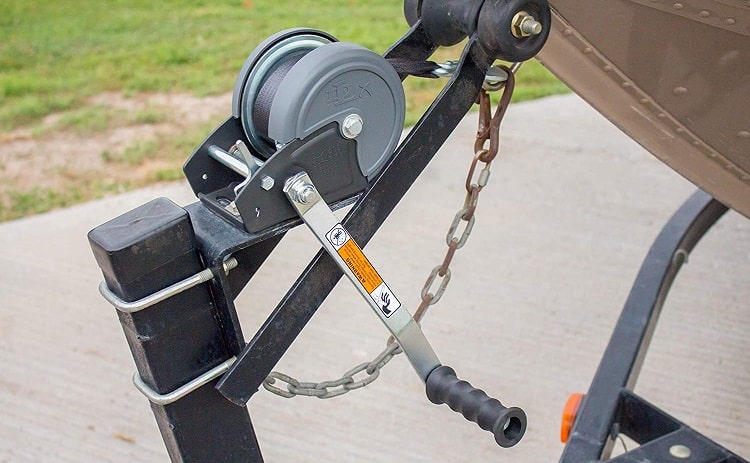 When talking about the strap's size, we're simply referring to its width and length. Consider winch straps that are at least two inches wide, as this is what drums work with often. On the other hand, the size should be at least 20 feet, which most brands offer.
Also, you ought to understand two crucial technical specifications for you to learn about a winch strap's capacity. Firstly, check the working load limit, which we define as the maximum weight a winch strap can accommodate in a typical setting or condition. And in most cases, it's 1/3 of the strap's breaking strength.
Speaking of breaking strength, it is the second crucial technical specification you must consider. It denotes the strap's weakest point, or rather, the point at which the belt cannot handle the weight and thus fails.
Compatibility
We can all agree that not all winch straps are the same. And hence, you should find one that's most appropriate for your winch assembly. Consider a belt from a brand same as that of the winch on your trailer if possible. 
You should also identify if your winch is electric or manual and get a winch strap that's compatible with whichever. Regardless of whether your winch is a single-speed or 2-speed, see that you pick a strap matching your setup.
Stitching
Keep in mind that the strap's stitching has a significant influence on its durability. So, a belt with low-quality stitching is likely to break when handling heavy loads. In the same way, a winch strap with top-tier stitching will most likely remain sturdy in situations where the load is heavy.
We would therefore recommend a strap that features double stitching, which translates to more reinforcement. Also, ensure that the stitches are nothing but thick enough to accommodate even weighty loads. 
Hook
Boat winch straps come with a hook at one end, which often features stainless steel. Select an option with a big hook that's enough to fit in your boat's eyebolt where you will attach the strap. 
Moreover, consider a winch strap that includes a zinc coating which proves to be handy in enhancing protection against corrosion and rust. You may also want to ensure the clasp is effortless to open. 
Ease of Use
An ideal winch strap should be effortless to install. It should include a hook on one end and a stitched loop at the other. You may be lucky to find a winch strap that consists of a bolt from the manufacturer, which you'll use to attach one strap's end to the winch drum.
UV Protection
Winch straps tend to degrade after constant exposure to unforgiving UV rays. And one of the first noticeable signs of damage is the change of color. With time, it starts getting brittle as well, which results in it being more fragile.
Therefore, excellent UV protection is vital when picking a strap to ensure it doesn't degrade quickly, even with regular outdoor use.
Frequently Asked Questions
Question: What Are the Best Boat Winch Strap Brands in the Market?
Answer: Like with other products, you'd also like to ensure that you only invest in the appropriate winch strap for your boat. For that reason, it's vital that you make it a tradition to only bank on tested and tried manufacturers with a renowned reputation for producing top-notch products.
There's a broad assortment of brands producing boat winch straps. Nonetheless, not all brands are reliable and credible in terms of functionality, durability, and performance. With that in mind, research varying manufacturers who have already proven their expertise in the industry to make sure that you don't go off track.
Here are some of the most trustworthy and dependable winch strap manufacturers you could check out.
•Seamander 
•Goldenrod
•GearAmerica
•Shoreline Marine
•Fulton
Question: What Size of a Boat Winch Strap Should I Buy?
Answer: If you wish to determine the most appropriate winch strap for your craft, first ensure that its strength rating is more than or at least similar to that of the winch. Besides that, also make sure that both the strap and winch are rated for your boat's weight.
Even so, there's a standard size for most winch straps, with most being 20 feet long and 2 inches wide. This size will comfortably fit standard winches. If you need a shorter strap, you could cut it even though the size is ideal for most situations.
Also, be sure that the winch is made for a webbing-style strap and not a mere rope or cable. Be sure to keep in mind that winches designed to accommodate webbing straps often boast a width of not less than 2 inches and a drum diameter not exceeding 1¾ inches.
Question: Do Winch Straps Come With a Warranty?
Answer: Yes, most brands do. However, that is reliant on the specific winch strap you pick. You'll find most standard options having a one-year warranty, others two years, and even some with a warranty cover of up to five years. The longer the guarantee coverage, the better.
Question: Where Can I Buy the Best Winch Strap?
Answer: Although you can still get an ideal winch strap in-store, we recommend purchasing online. The reason being, online purchases tend to be highly convenient.
Amazon, for example, boasts a broad assortment for different price ranges. Even more notable, purchasing online allows you to compare choices, which translates to finding one even on a strained budget.
Wrapping Up 
When it narrows down to the most dependable, durable, and functional winch straps, you can hardly go wrong with options from trustworthy brands. All you need is a list of features you think are must-haves for you. Then, judging by our reviews, find the one winch strap that tries to cover most, if not all, of them.
By doing so, we believe it will be much simpler for you to find the best boat winch strap for your craft. We tried to cover any relevant information on winch straps, including a buying guide and some suggestions of what we consider as the best picks out there.
In other words, any of the options reviewed above would make an excellent investment for you. 
But if you're still unsure about which winch strap suits you best, why not try the Seamander Boat Winch Strap. Thanks to its industrial-strength construction, it has a high load capacity of 4500 pounds, is very affordable, and is highly durable.
Looking for more interesting readings? Check out: