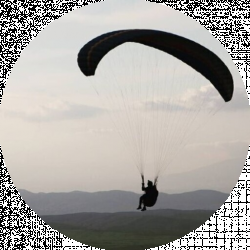 Latest posts by Mehmet Atalay
(see all)
I'm going to pass by the Honda 2.3 Outboard Motor. Honda is what I'd like to talk about first. But when it comes to Honda, I'm not sure where to begin. This is a corporation that manufactures engines for every purpose and application under the sun.
Honda engines are currently being used in a variety of applications, including Formula 1 vehicles (which, by the way, won the 2021 F1), aircraft (including the Honda Jet), motorcycles, and even power generators, demonstrating their success. Honda engines may be found all over the place, and they are also used in maritime engines, as you may have noticed. Their engines are well-known for their performance, reliability, and creativity, all of which are reflecting the innovative side of the company.
In the present day, Honda Marine is based in Alpharetta, Georgia, and distributes a complete line of four-stroke marine engines with outputs ranging from 2 to 250 horsepower. The BF2.3 Outboard Motor from Honda is the smallest member of the series, with a power rating of 2.3 horsepower. When it comes to BF2.3, Honda claims that "the best things come in small packages."

Bottom-Line Up-Front Summary
Its lightweight and compact design, accurate throttle control, air conditioning, 360-degree steering, and simple starting make it an excellent choice. Honda 2.3 has been on the market for a long period. With Honda engines' well-known dependability, it takes a lot of attention.
Because of its air-cooling technology, the Honda BF 2.3 is suitable for muddy or shallow seas. It is simple to operate and offers the same level of comfort as a 2.3 horsepower engine. However, it may not be as quick as other outboard engines and is noisy when compared to others in the same horsepower class.
If you want the most lightweight outboard with an air conditioning system, the Honda 2.3 should be your choice with its dependability. If you want greater torque and a quieter run, and extra weight isn't an issue, you may investigate heavier engines with larger engine displacement in the same class.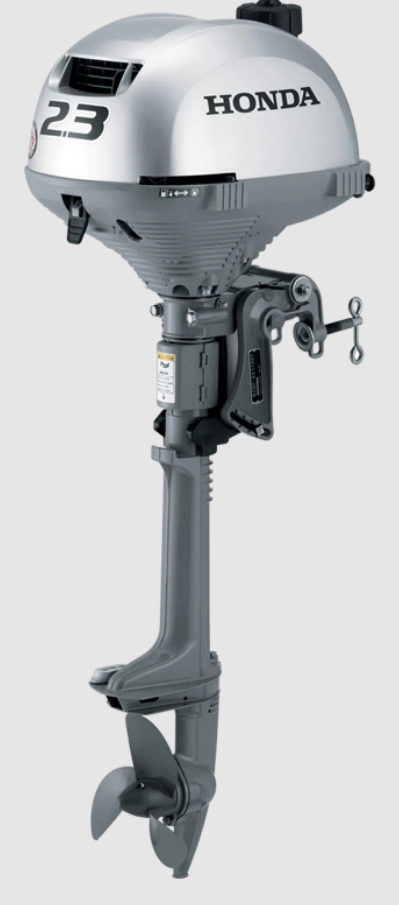 Honda BF2.3 portable outboard engine is the smallest member of the Honda Marine outboard motors as I already mentioned. It is also one of the world's lightest four-stroke outboard engines. When BF2.3 was introduced, it replaced the Honda BF2 which was already existing for a while. As we already mentioned Honda's big experience in producing engines is no surprise, they packed so many advanced technologies and innovations into such a small package.
Honda BF2.3 is weighing just 29.5 lbs. but delivers fifteen percent more power compared to its predecessor combined with twelve percent more fuel capacity in its internal tank. Having an internal tank Honda is again showing this engine is designed to be completely portable.
This internal tank allows BF2.3 to operate up to 60 minutes at full throttle on one tank of fuel according to Honda. With full 360 degrees steering, pivoting tiller handle, and a centrifugal clutch with twist grip throttle handling and maneuvering are quick and easy while working as it is easy to carry it.
The single-cylinder engine can move on shallow water, which is quite important for small boats, that is also thanks to its air-cooling system. Without a water pump for cooling, you don't have to worry about clogging or pollutants.
Honda 2.3 Outboard Performance
Four Stroke and Two Stroke
Understanding the differences between two-stroke and four-stroke internal combustion engines is essential to fully comprehend the benefits of the Honda 2.3. The Honda 2.3 features a four-stroke engine, which has certain advantages, but why is this so important to the engine? Most of the internal combustion engines operate on either a four-stroke or a two-stroke cycle, whether they employ spark ignition or compression ignition. The fundamental cycles of all engines are the same, with only small differences in design and purpose. This engine is a marine engine.
Engine Cycle 4 Stroke:
First Stroke – Intake Stroke
Second Stroke – Compression Stroke
Combustion
Third Stroke – Expansion Stroke
Exhaust Blowdown
Fourth Stroke – Exhaust Stoke
Engine Cycle 2 Stroke:
Combustion
First Stroke – Expansion or Power Stroke
Exhaust Blowdown
Intake and Scavenging
Second Stroke – Compression Stroke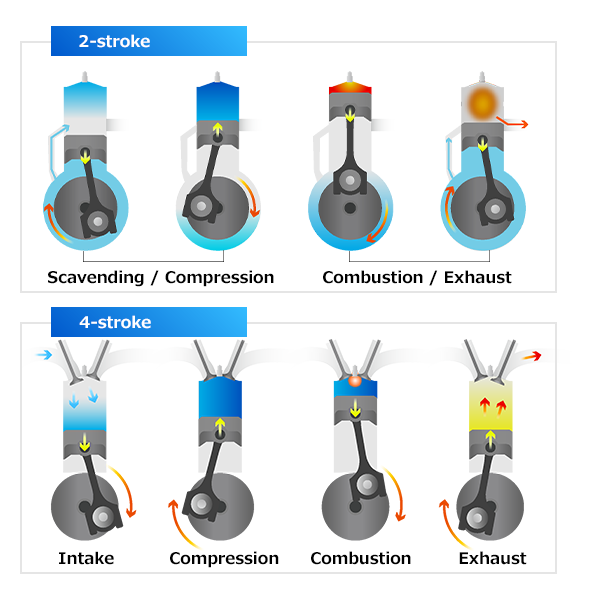 Two-stroke engines' fuel contains a little amount of oil. The piston simply goes up and down twice to complete the cycle of intake, compression, combustion, and exhaust. Instead of valves, scavenging ports are used to draw in air and expel it from the cylinder. Because combustion happens with each crankshaft turn, a 2-stroke engine produces more power and does so faster. Despite this, two-stroke engines are less efficient and less eco-friendly (remember the oil mixed).
Four-stroke engines, on the other hand, combine power, reliability, and efficiency while lowering pollution. The 4-stroke engine's lack of ports also helps it last longer. Thus 4 stroke design of Honda BF2.3 makes the outboard engine more reliable with good fuel efficiency, with no oil mixing.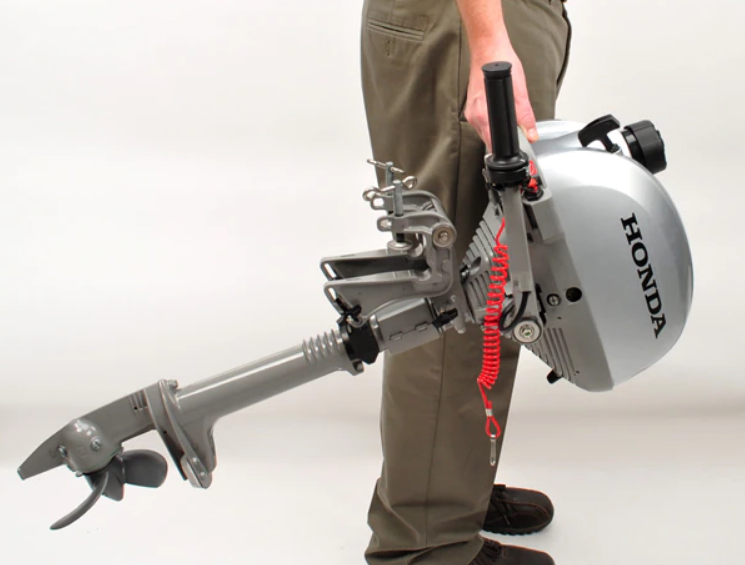 Table 1: Honda 2.3 Outboard Motor Specs and Performance Source: Honda Marine Official Webpage for BF2.3
| | | | |
| --- | --- | --- | --- |
| Type | 4-Stroke OHV, 1 Cylinder/2 Valve | Fuel Tank Capacity | 29 US gal (1.1L) |
| Displacement | 57.2 cc (3.49 cubic in) | Gear Ratio | 2.42:1 |
| Bore & Stroke | 45 mm x 36 mm (1.8 x 1.4 inches) | S Type Transom Height | 418 mm / 16.5 in |
| Full Throttle RPM Range | 5,000-6,000 RPM | L Type Transom Height | 571 mm / 22.5 in |
| Rated Power | 2.3HP (1.7 kW) | S Type Dry Weight | 13 kg / 29.5 lbs |
| Cooling System | Forced Air | L Type Dry Weight | 14 kg / 31 lbs |
The BF2.3 has 15% more power than the BF2, but it also has several additional advantages. As the throttle is increased, the Honda's 2.3 Outboard's Centrifugal Clutch automatically engages the propeller and maintains a constant idle for effortless trolling.
Because of the 360-degree steering and the integrated centrifugal clutch, there are no gears to fail, and safety is maintained because the propeller does not start spinning until you are ready to raise the throttle. There is a 1.1-liter fuel tank inside the engine, which may last up to 60 minutes depending on the weather and the boat's weight.
Maintenance
Honda supplies the required maintenance schedule for regular use of the Honda 2.3 outboard. It can be easily found on the Honda website. Yet some of the figures are given here:
Table 2: Honda BF2.3 Servicing Source: Honda User Manual
| | |
| --- | --- |
| Engine Oil | Check after each use and change after the first month or 10 hrs. and then every 6 months or 50 hrs. |
| Spark Plug | Check-adjust/replace every 6 months or 50 hrs. |
| Propeller and Cotter Pin | Check after each use |
| Fuel Line | Check after each use and replace every 2 years if necessary |
| Fuel tank and tank filter | Clean every 6 months or 50 hrs. |
Honda stresses the need for adequate maintenance in salt water or dirty water operations. In this type of working setting, more regular maintenance may be required. After each usage in salt or contaminated water, flush your outboard with fresh water to avoid these issues. To keep marine creatures from developing on the gearcase of your motor when moored in salty water, raise the motor's gearcase. Check the outside of your outboard for scratches against corrosion and store it out of direct sunlight.
Prices
The price of the Honda BF 2.3 for the 2022 model year is between 950 and 978 dollars, depending on whether the shaft length is 15 inches or 20 inches. Used models, on the other hand, maybe purchased for far less money. According to the available used alternatives on the internet, this outboard motor is far more popular in the United Kingdom than it is in the United States. This engine is available for purchase in the United Kingdom for 760 pounds.
Cons
Most customer complaints are related to the model's engine's noise level and the quality of the materials used in its production. Aside from its contribution to the engine's low weight, plastic is employed in a variety of applications and may require special attention while handling.
In addition, because it is air-cooled, some customers have complained that it is excessively noisy when in use. Furthermore, due to the design, you need to be cautious that the caps are properly closed to avoid leaks while tilting out. If noise is a significant source of concern for you, you may want to consider other options.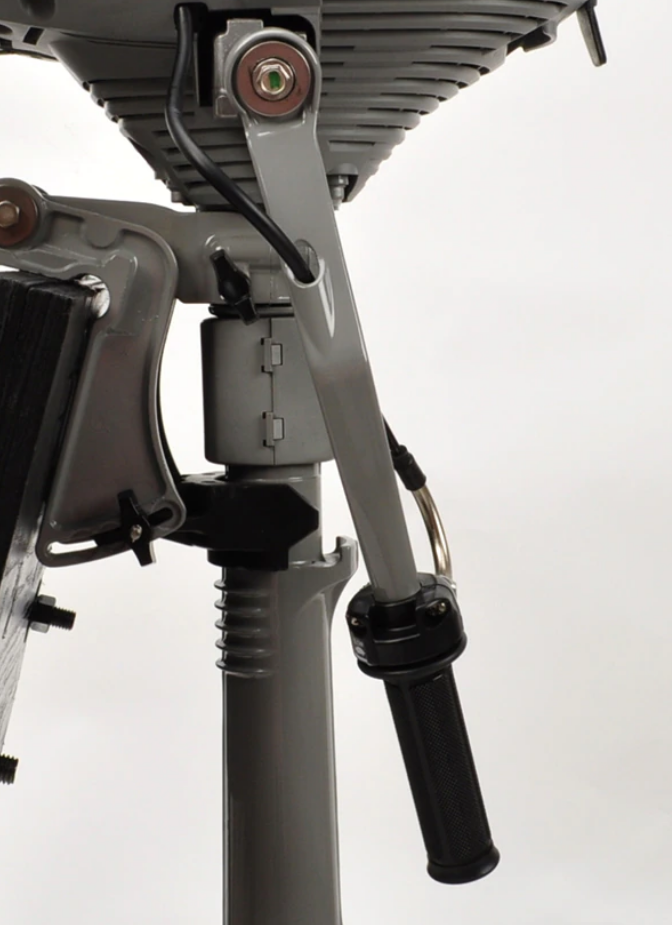 Owner Reviews
The Honda 2.3 outboard engine comes with a five-year guarantee, which is one of the best features of Honda outboard motors in general. Five years from the date of purchase, any new Honda Marine outboard motors purchased for recreational use from an authorized dealer will be assured against defects in material or workmanship.
Keep in mind that this lightweight motor has been on the market for a very long period, which is a solid indication that it is in high demand. Users like the lightweight and small proportions of the vehicle. However, as I already stated, there are certain disadvantages. It has a simple design, with numerous plastic components, and several owners have reported corrosion issues with their vehicles.
Alternatives
Below are several viable alternatives to the Honda 2.3 outboard engine.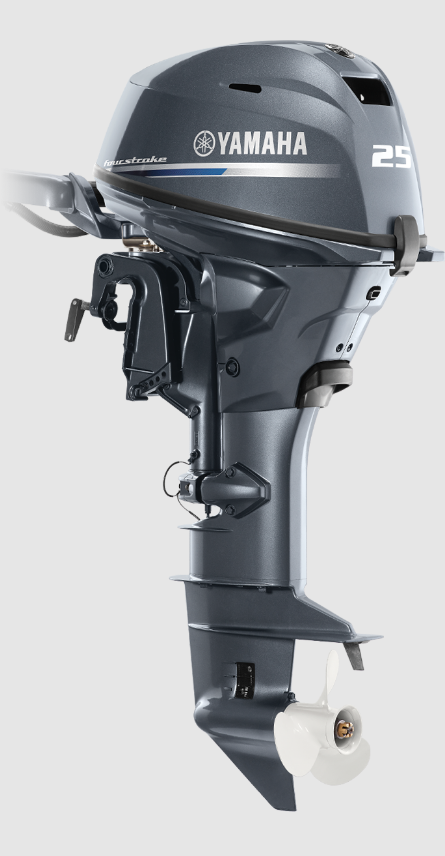 Yamaha's smallest portable one-cylinder motor, like the Honda BF 2.3, has a four-stroke engine. It is 3.5 kg heavier than the Honda 2.3 and weighs 17 kg (37 pounds). It is also somewhat larger. It has useful features including built-in carrying handles, resting pads, an oil-leak prevention system, and the ability to store on the side, which is excellent for portable engines.
The downside of this engine is that it is heavier than other outboard motors, yet you may appreciate it because it has a solid feel to it. Furthermore, the 72cc engine will provide more torque than the Honda's 57cc engine. This outboard engine is also backed by a 5-year warranty from Yamaha.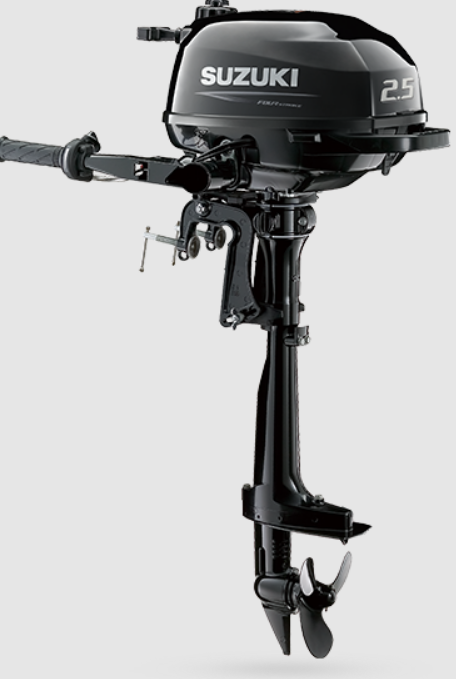 Suzuki's DF2.5 portable outboard motor is the company's smallest 4-stroke engine. It weighs only 13.5 kg (30 pounds), which is quite close to the Honda BF 2.3. The DF2.5 engine is water-cooled, as opposed to the Honda engine, which allows it to operate more quietly.
However, keep in mind that air cooling provides the advantages I previously described for the BF 2.3 engine. This little engine is equipped with a recoil starting method that is simple to use. It has a piston displacement of 68 cc, which is once again greater than Honda's.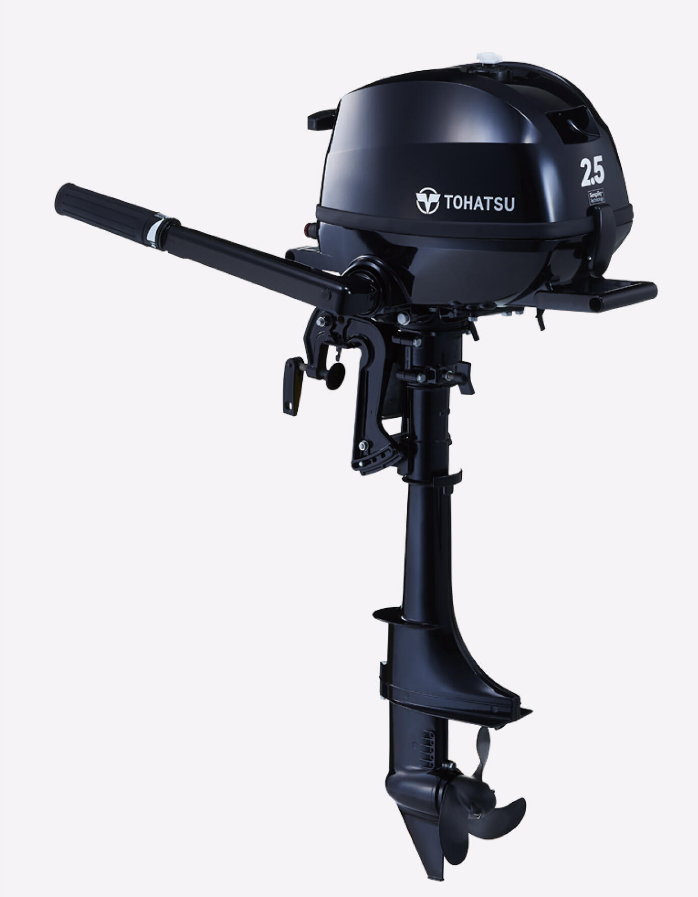 According to the maker, users may store this engine on three different configurations without worrying about oil leaks because it was designed to be lightweight and easy to carry and store. The Tohatsu 4-stroke with a 2.5-horsepower output is the ideal outboard for a small canoe, dinghy, or sailboat. In addition to having the biggest displacement block in its class, this compact outboard provides you with the greatest power possible in a tiny size.
Tohatsu, like Suzuki, is cooled by water, in contrast to Honda, which is cooled by air. It has a forward-neutral shifting system and may be steered in all directions. The engine has a displacement of 85.5 cubic inches, making it the largest of the alternatives I listed.
Conclusions
The Honda BF 2.3 is ideal for muddy or shallow waters due to its basic air-cooled system. It contains a lot of features that make it simple to use. It is easy and dependable, as well as portable. However, the performance and noise issues may be a detriment to you. If you value lightweight and convenience of use, as well as the ability to operate the engine in dirty or shallow waters, the Honda 2.3 should be your first pick. However, if you want additional torque and a quieter engine, the Honda 2.3 is not for you.
FAQ
Question: How fast is a 2.3 Honda outboard?
Answer: The speed depends on the boat and how many people are on board, but at full throttle, it may reach speeds of roughly 5 knots for a single person and 4.5 knots for two people.
Question: Is a Honda 2.3 air-cooled?
Answer: Yes, the Honda 2.3 is air-cooled, which means it is ideal for filthy or shallow water due to the lack of a water pump for cooling. On the other hand, it is noisier than water-cooled engines.
Question: How much does a 2.3 Honda outboard weight?
Answer: The dry weight of the S type is 13 kg (29.5 lbs), whereas the dry weight of the L type is 14 kg. It is unquestionably one of the lightest outboards on the market.
Question: Are Honda outboard motors made in China?
 Answer: Honda has been producing all its 2 and 5 hp engines in China since 2015 to fulfill rising demand. This signifies that the Honda 2.3 is made in China.
Looking for more interesting readings? Check out: