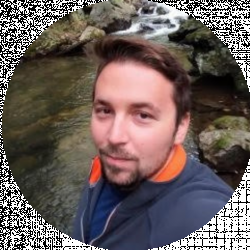 Latest posts by Coty Perry
(see all)
Owning a boat is a perfect way to chill and spend some time in the open waters. Just like cars and planes, a boat also requires some accessories. One of the most essential accessories on your vessel is a quality bilge pump. If you want to get a great boating experience, consider investing in a premium quality Attwood bilge pump.
Apart from high performance, it also guarantees your safety. There are numerous options that you have to choose from when selecting the best Attwood bilge pump. Check them out below!
Bottom Line Up Front Summary
The Attwood 4505-7 bilge pump is the best Attwood pump on this list. If you don't like it, the alternatives are the Oasis Marine for large vessels or the Tsunami 4608-7 for smaller vessels.
Our Top 10 Attwood Bilge Pumps
It's not easy to find an Attwood bilge pump that will suit your needs. That's why we compiled reviews of the best Attwood pumps for your perusal. If you are looking for a bilge pump that will meet almost all your requirements, from performance to pricing, then read on.
We have also provided a buying guide to inform you about the factors that you need to consider when looking for the best bilge pump. For more detailed information, take a look at our review. We aim to not only help you shop more confidently but to also get value for your money.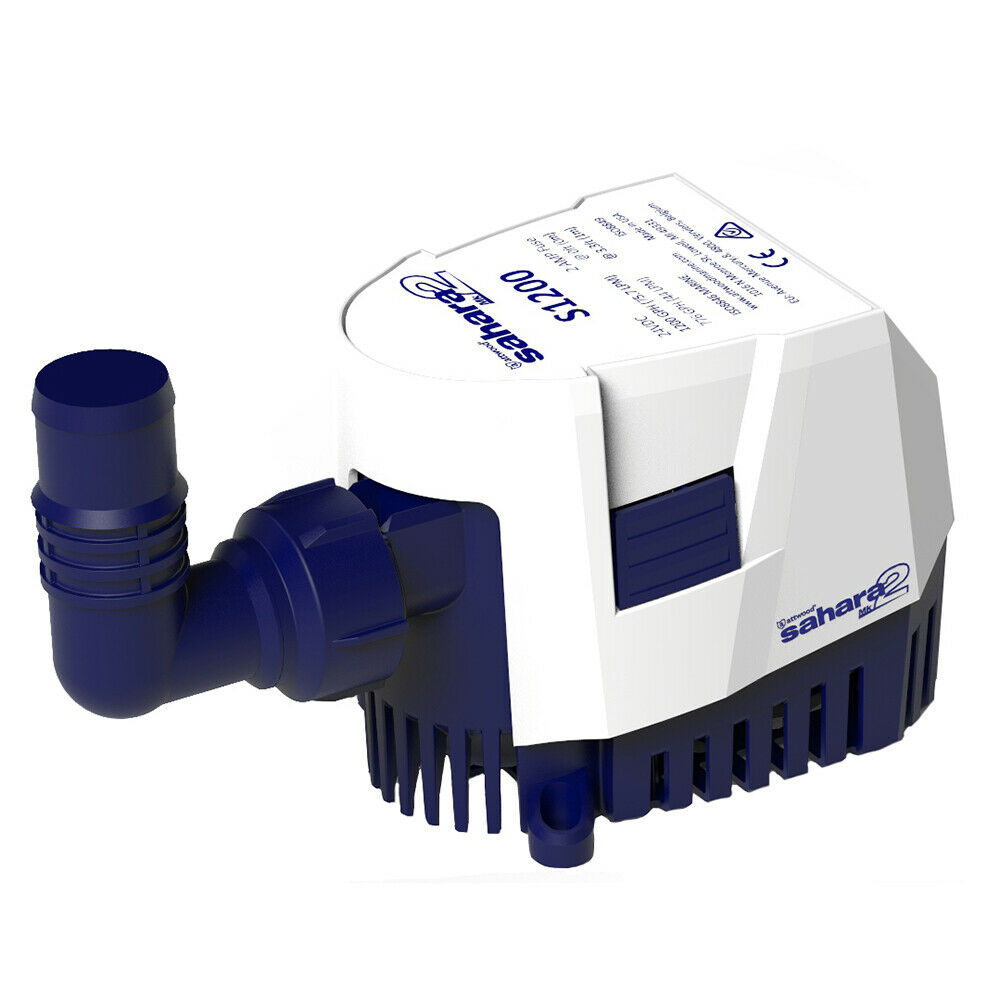 Are you looking for a bilge pump that comes with a patented X-Air Impeller? If yes, consider the Attwood Marine 5513-7. It will not run dry and burn out thanks to the patented X-Air Impeller which prevents air locking.
It features a 90-degree rotatable elbow outlet which enables you to install the pump anywhere on your boat. Additionally, there's a single-hand pump cartridge release. It makes it easy for you to access the pump even if it's located in the hardest-to-reach area of your boat's hull.
What distinguishes the pump from the rest is the universal backward-compatible design which comprises a 7-pump mounting hole pattern. Marine 5513-7 features a SteadySwitch designed to reduce the pump's cycling.
On the upside, you don't have to remove the hose. This saves the time taken to replace the cartridge. To prevent overheating that may cause failures like leaking and a blown fuse, the pump has an improved motor cooling/heat dissipation system.
Pros
SteadySwitch
It features a universal backward-compatible design
Improved motor cooling/heat dissipation system
90-degree rotatable elbow
Single-hand pump cartridge release
Cons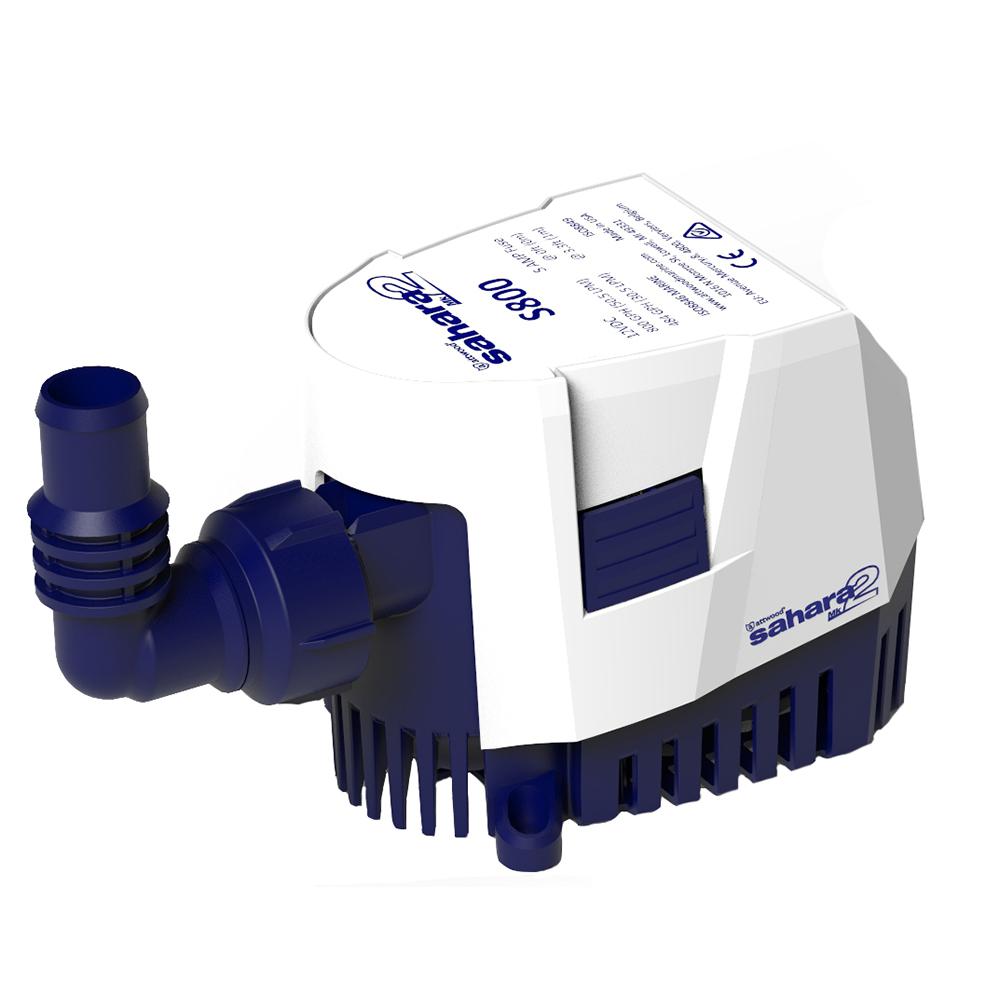 If you are looking for an automatic bilge pump designed to last long, the 800 GPH Attwood Sahara Mk2 is a great option. It comes designed for cool-running combined with quality components such as steel-reinforced seals, stainless steel shafts, and permanent magnet motors.
Sahara Mk2 is the only automatic bilge pump that features a patented X-Air Impeller. It ejects all the trapped air in the pump and pipe network preventing air locking. For both freshwater and saltwater applications, this is the best automatic Attwood bilge pump. Additionally, you get a straight outlet and a check valve.
You don't need to worry about how you'll access your pump. The single-hand pump cartridge release feature enables you to access the pump even if it's located in the hardest-to-reach area of the boat's hull. Like Marine 5513-7, this model also has a universal backward-compatible design.
Compared to Mk1, Sahara Mk2 gives you 40% better protection against electrolysis and water ingress. This is two times better than its counterparts.
Pros
Straight outlet with a check valve
Universal mounting pattern
SteadySwitch
Patented X-Air Impeller
Automatic pump
Cons
Some users have reported cases of missing parts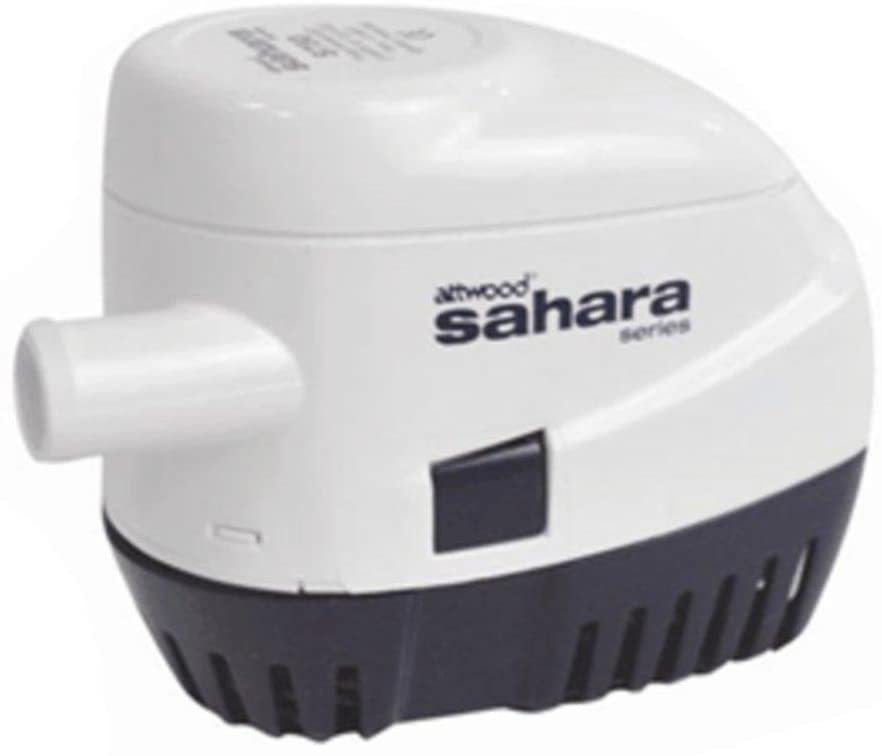 Are you looking for a reliable mid-tier pump that can accommodate tight bilge spaces and mid-sized boats? If so, check out the Attwood Sahara S750. It's a complete package with top-notch performance. This compact pump that comes with a 3-year warranty offers value for your money.
Aside from being available in 12V and 24V, the model comes with a mercury-free switch and 36" 16-gauge caulked and tinned copper wire. At open flow, the pump features 750 GPH and 625 GPH at 3.3" head.
Pros
Reliable
Mercury-free switch
3-year warranty
16-gauge tinned copper wire
Durable
Cons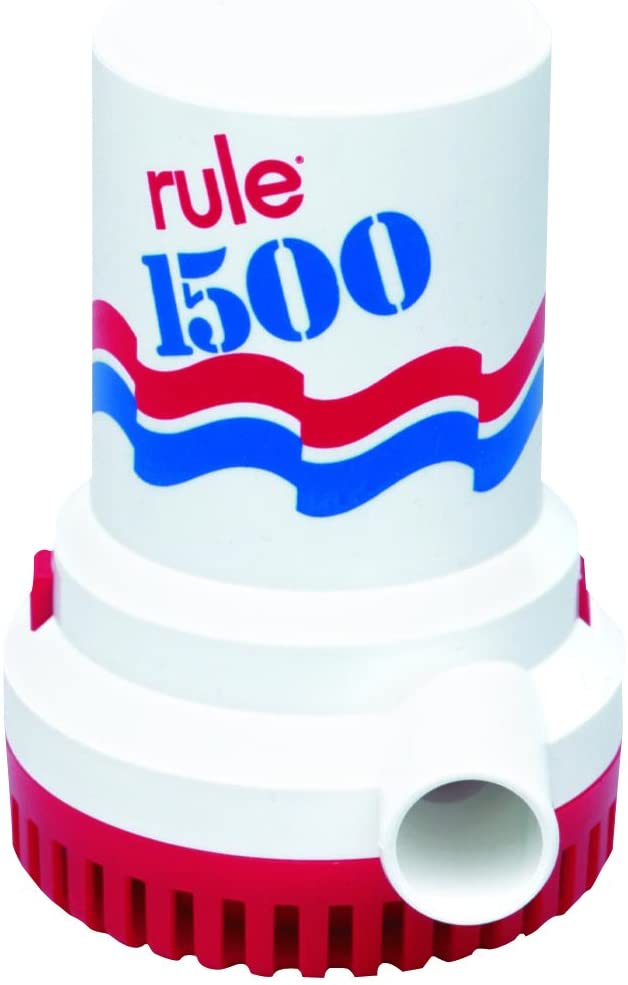 Would you like to own a non-automatic 1,500 GPH Attwood bilge pump? If yes, consider the Rule 02 Marine bilge pump. Take note it's 12-volt is the only option available. The pump is ideal for vessels longer than 20 feet. This is because it meets almost all the automatic switch pump requirements for larger recreational boats.
The patented X-Air Impeller ensures there is no burn-out in case the pump is running when there is no water in the bilge. The stainless steel shaft protects the pump from the adverse effects of saltwater (corrosion). Rule 02 Marine is a high-capacity pump suitable for yachts and larger boats.
Apart from offering you a silent and vibration-less operation, this model is compact and efficient with a long-life motor. Apart from meeting ABYC specifications, it is also CE and ISO 8849 marine certified.
If you want an Attwood pump that comes with ignition protection and exclusive Rule moisture tight seals, opt for the Rule 02 Marine Attwood bilge pump. It's an NMMA listed product with excellent performance.
Pros
Quiet with minimal vibration
Stainless steel shaft
Corrosion-resistant
ISO 8849 and CE certified
Meets ABYC specifications
Cons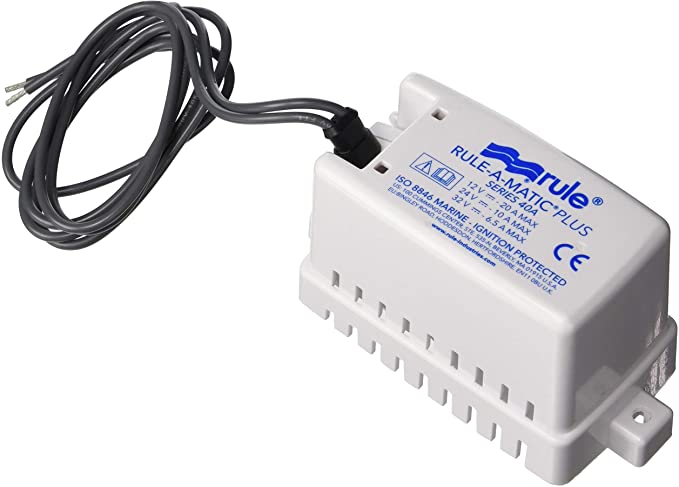 If you are looking for a white bilge pump with a float switch, then this should be at the top of your list. It's available in 3 voltage options namely 12V, 24V, and 32V. The pump is designed and built to draw up to 20 Amps.
When the water level reaches 2" (51mm), the pump automatically switches on. If the water levels drop to 3/4″ (19mm), the pump switches off. This makes Matic best for operating high water alarm systems.
To protect against debris and jamming, this model is sleek and rugged featuring a strong and fully integrated impact-resistant cover. For extended durability, it has a 14 gauge abrasive-resistant marine-grade wire.
Pros
14 gauge abrasive resistant marine grade wire
Inbuilt test feature
Fully integrated impact-resistant cover
Float switch
Durable and reliable
Cons
A bit complicated to operate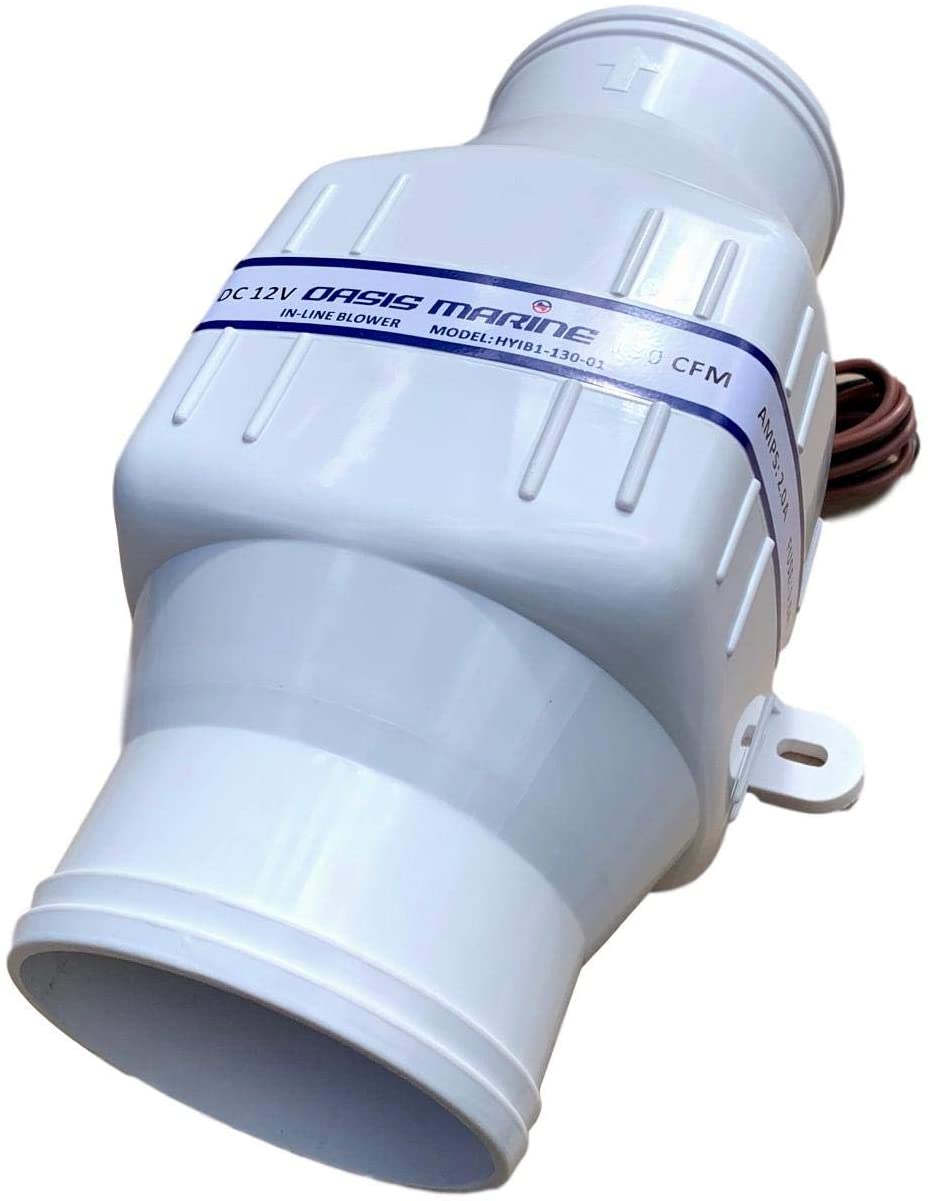 This is an automatic Attwood bilge pump with a 1 1/8 inch outlet and a built-in float switch. It means you don't have to buy a float switch separately. It features a 12-volt system drawing a maximum of 20 Amps.
The maximum gallons per hour (GPH) for this pump is 1,100. For easy cleaning, it comes with a snap-off strainer. The good thing with the pump is that it comes with a rugged watertight impact-resistant housing with blocked marine wiring and stainless steel shaft. It also has a 2-year warranty. Oasis Marine is not only durable and reliable but it offers an awesome performance in both salty and freshwater.
Pros
2-year warranty
1,100 GPH
Rugged watertight impact-resistant housing
Snap-off strainer
Built-in float switch
Cons
Not recommended for small boats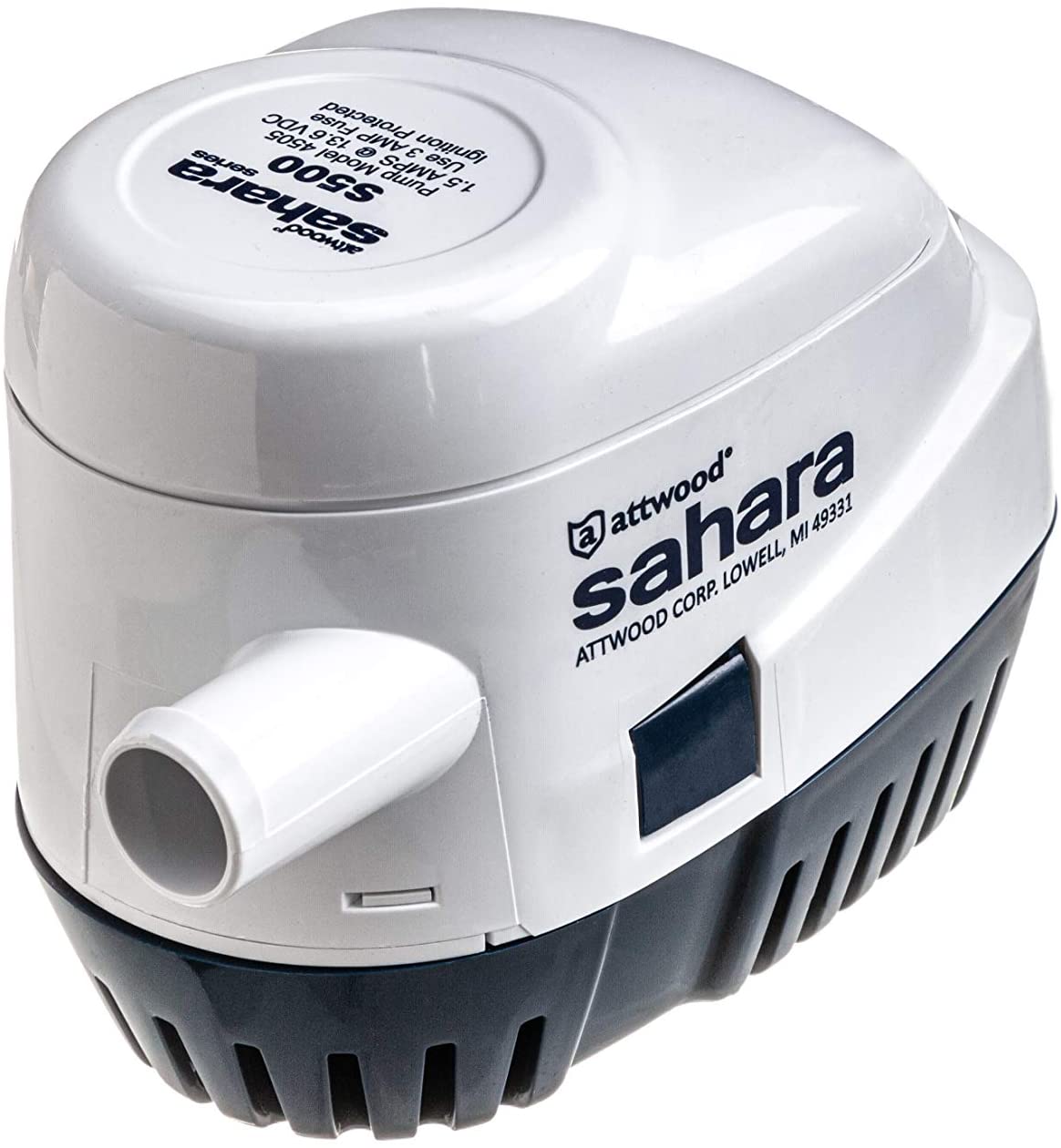 If you own a large boat, this automatic bilge pump may be perfect for your needs. When you need to install it in tight areas, you don't have to modify the boat. Keep in mind it comes as a complete package with a strainer, mercury-free switch, and wire seals.
However, you should note that this product only allows horizontal mounting. At open flow, the bilge water pump is rated at 500 gallons per hour. That said, it features a 16-gauge caulked and tinned copper wire that is 29-inches long, and a 1.5 Amp-12V draw pump. This is together with a 3/4-inch interior diameter hose.
Having been manufactured by an award-winning brand in engineering and manufacturing, Attwood 4505-7 is a top-notch product. For any 20-feet vessel, it satisfies the requirements you may need in an automatic switch bilge pump.
The good news is that you don't have to spend a lot to ensure water is kept out of your vessel. On the downside, you need to inspect the bilge pump's motor frequently. At times, it may not be powerful enough to remove all the water in the system.
Pros
Easy installation even in tight spots
500 GPH at open flow
Performs well on different sized vessels
¾ inch interior diameter hose
Mercury-free switch
Cons
Needs frequent motor inspection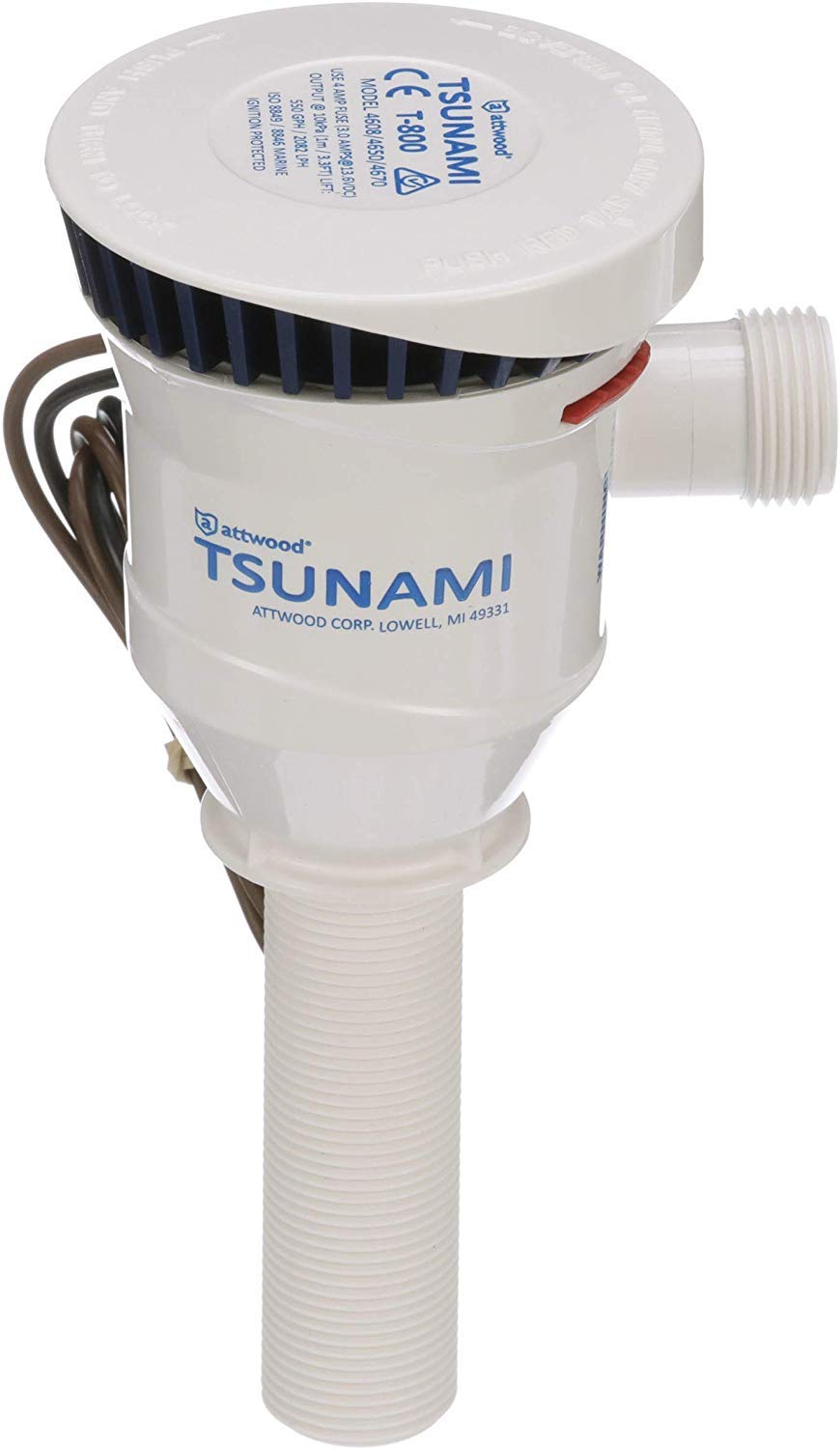 Tsunami is one of the best manual bilge pumps in the market. It's a high-end product that features a compact design with gilt-edge craftsmanship. Many users are impressed by its dependable bilge pumping performance.
It comes with a 500 GPH rating and has high-quality bearings with alloys, brushes, and cutting-edge magnets. Fortunately, you can replace or interchange the motor core. The cartridges are also easy to replace. If you don't intend to spend a lot of time cleaning and maintaining your pump, Attwood Tsunami is a great option.
In case of leaks brought about by misalignment, this model comes with a patented shaft seal that impedes them. Tinned and caulked wiring is present and designed to protect against water damage, wicking, and withstand corrosion.
Tsunami has 12 Volts with a ¾ inch barbed outlet which can be easily linked with a 29-inch wire. Apart from being a breeze to set up, it does not take up much space. Unfortunately, it's a challenge to get a hose that fits the discharge port.
Pros
Replaceable/interchangeable motor core
Easy-to-replace cartridges
Easy to clean
Minimal maintenance
Awesome performance
Cons
Difficult to get the right hose for the discharge port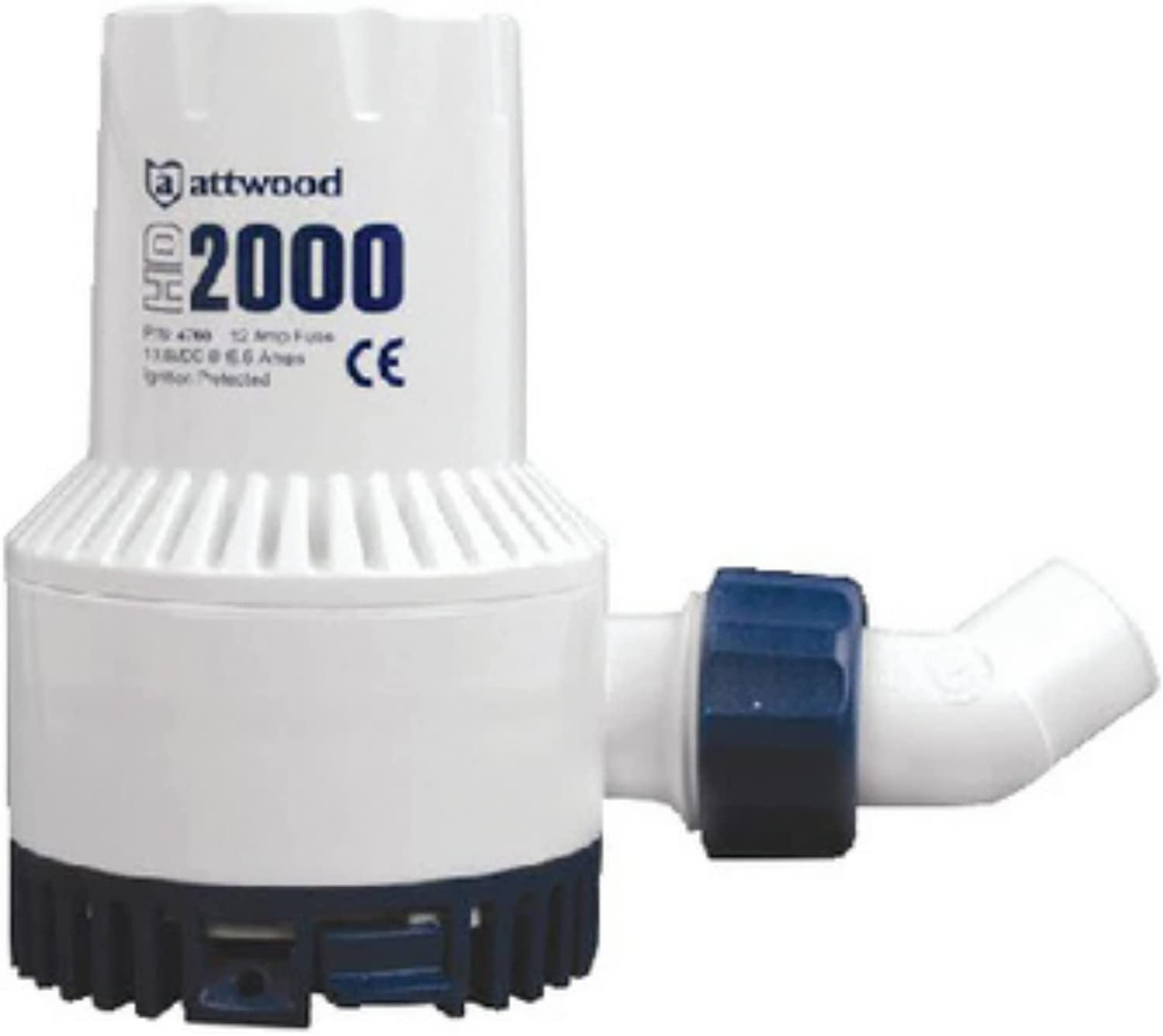 Are you looking for a submersible heavy-duty 2,000 GPH bilge pump for your vessel? Attwood 4760-4 features a blasting power of 17-feet head pressure. The swivel base can be locked into 8 different mounting positions.
The pump is fitted with quality bearings, alloys, and magnets. They are designed to withstand unpredictable usage cycles and harsh pressure. 4760-4 features an open flow rate of 2,000 GPH. It's suitable for large vessels meaning it may not work well on boats of less than 20 feet.
Pros
2,000 GPH flow rate
High-pressure outflow
8-way mounting on a swivel base
Durable and reliable
Excellent performance
Cons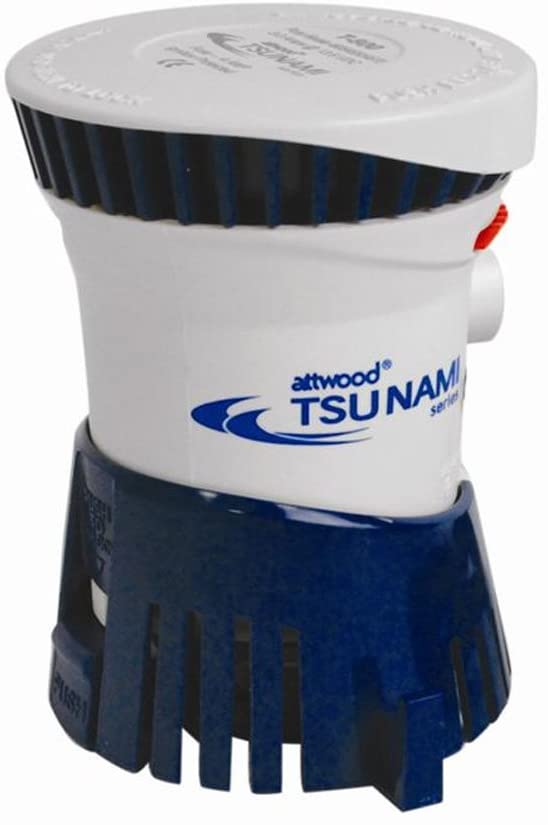 Do you want an Attwood bilge pump featuring innovative engineering and a compact design? Check out Tsunami 4608-7 as it offers such features and more. This powerful T800 model features an open flow output of 800 GPH with a voltage of 13.6 volts. Alternatively, you get a nominal voltage of 12V to give you an open flow rate of 760 GPH.
It comes with high-quality bearings, magnets, alloys, and state-of-the-art brushes. To prevent leaks caused by misalignment, the pump has a patented shaft seal. There is also caulked and tinned wiring that helps prevent water damage, wicking, and is corrosion-resistant.
Pros
Compact design
800 GPH output
Patented shaft seal
High-quality bearings
Awesome performance
Cons
There are cases of missing parts
Attwood Bilge Pump Buying Guide
Every boater desires to have an effective and responsive bilge pump for their watercraft. However, before you come to a decision it takes time and other resources to go through each to know the best pump for your boat. To make things simple, we have come up with the following checklist.
Type of Boat
When selecting a bilge pump it's important to concentrate on the type of vessel. You should also not overlook the type of water (saltwater or freshwater).
For instance, an electric bilge pump is the best option for watercraft with an outboard motor. In large vessels, it's important to get an electric pump because it's waterproof. No matter how long you submerge it in water, it will work as intended without any problems.
For offshore racing, sailboats use two Attwood bilge pumps. The first pump should be positioned on the cockpit. The other one needs to be positioned under the deck.
Pump Capacity
Different models of pumps are designed for various underwater applications. Most of them differ when it comes to the amount of water they pump out at any time. The amount of water that is pumped out per hour is measured in terms of GPH.
If you are using a small vessel, you should look for an Attwood bilge pump that comes with around 1,000 GPH. For larger vessels or larger bilge compartments, you need to consider increasing the number of bilge pumps or the GPH.
Electric versus Manual Power
An electric pump could assist in eliminating accumulated water in no time if you have an average-sized watercraft. On the other hand, you may opt for a manual pump if you own a Kayak or similar boat.
Vessels that come without an electric confection require a manual pump. It's important to note that if water exceeds the bilge pump, it could pose a hazard to the electrical system. With time, this may break down the device.
Boat Size
Boat size is a crucial part of your buying decision when investing in a bilge pump. If you wish to make a difference, a bigger pumping device is ideal for a large boat. However, don't forget that size goes hand in hand with the type of boat you are using.
Diaphragm or Centrifugal Pump
Have you ever used a large Attwood bilge pump? If you are a serious boater you must have come across centrifugal and diaphragm pumps. However, there is a question that you need to ask yourself. Are you able to tell the difference between the two?
Centrifugal pumps lack a self-priming feature. This means that unless they sit in the water they can't function. Bilge pumps don't come with a self-priming feature. However, they do feature a durable and inbuilt strainer with low maintenance.
Diaphragm pumps, on the other hand, function differently. They can lift water via a hose and then expel it effortlessly. To prevent clogging problems it's advisable to use a matching strainer and other practical tools.
Bilge Compartments
Does your vessel come with separate bilge compartments? If yes, it's good to take time and identify the solutions available. In such a scenario, a single bilge pump may not be the solution. Additionally, you may need one pump for a specific compartment and a different one for another compartment.
Choose a diaphragm pump model because you can relocate it to different parts of the watercraft. One of the most popular models according to boat owners and fans is an electric bilge pump. The diaphragm bilge pump may seem a costly alternative, but it's worth it if your boat comes with bilge compartments.
Pumping Switch
There are various types of pumping switches. They come with an integral automatic switch and a separate float switch. Fortunately, an integral automatic switch is now a universal solution.
What you need to know, however, is that it begins working only when it gets in contact with water. A separate float switch, on the other hand, is an excellent option if you want to make your device faster and automatic. The older version contained mercury, but today's model is more eco-friendly.
Attwood Bilge Pump FAQs
Question: Where are Attwood Bilge Pumps Manufactured?
Answer: They are made in China.
Question: Which are the Best Bilge Pump Brands?
Answer: Some of the most popular bilge brands include:
• SeaFlo
• Attwood
• Shoreline Marine
• Aurelio Tech
• Rule
Question: Why is an Attwood Bilge Pump Great for Your Boat?
Answer: Rains, rough seas, hull leaks, or spills cause water to get into the bilge. The only solution to these problems is bilge pumps. They are used to remove this type of water. Attwood bilge pumps are more reliable and durable compared to other models. You require multiple pumps if there is more than one compartment on your boat.
Question: Should Attwood Bilge Pumps Be Fused?
Answer: Yes. They should be fused at not more than 150% of the motor's maximum amps when they are running. You can check their ampere rating on a plate stuck on the side of the bilge pump.
Bottom Line
Owning an efficient bilge pump is crucial for anyone who is in the boating world. Deciding on the best solution might be a challenge considering the plethora of options you have to choose from. For that reason, we have provided a buying guide to enable you to get the best bilge pump for your vessel.
Our top pick is Attwood 4505-7 bilge pump. The reason why we choose it is that apart from being an automatic bilge pump, it can be installed anywhere on your vessel. Additionally, it's a complete package with a strainer, mercury-free switch, and wire seals to make the assembly hassle-free.
Looking for more interesting readings? Check out: